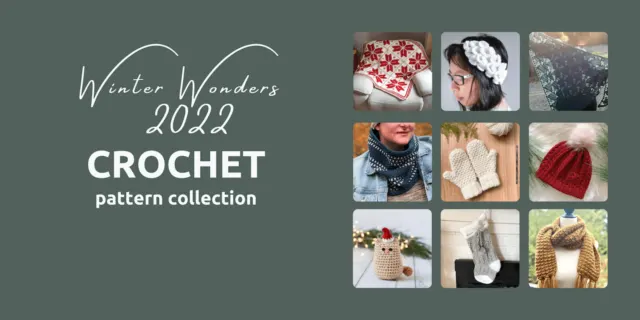 Welcome to the Winter Wonders 2022 Blog Hop!
Event dates: November 1, 2022 – December 3, 2022
I am so excited! This is my second year hosting the amazing Winter Wonders Blog Hop!
This year, my good friends, Sarah of Ned & Mimi and Hannah of HanJan Crochet are joining me as co-hosts.
Plus, there's a total of 43 amazing designers joining in!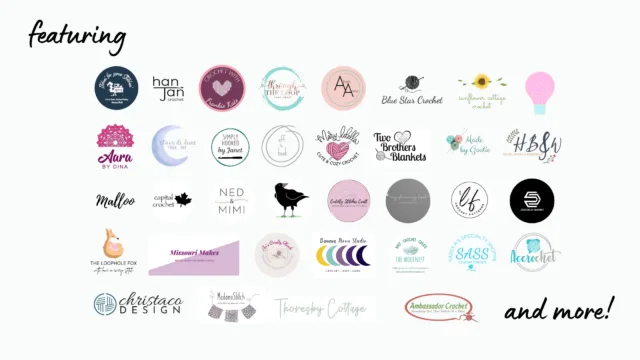 If you have never joined in one of my blog hops before – for the greatest success, be sure to check out the following link:
If you have any issues downloading a pattern during the blog hop, please check out the blog hop FAQs below. It is a valuable resource and usually answers most questions.
If you are still struggling after reading the FAQs, please feel free to reach out to me via the button below. However, please note that I receive thousands of emails during a blog hop. I will do my absolute best to get back to you within 24 -48 hours, but in some cases it may take longer.
---
Don't Forget to Enter Our Amazing Giveaway!
Click on the button below to go to enter the We Crochet sponsored giveaway and get all the details.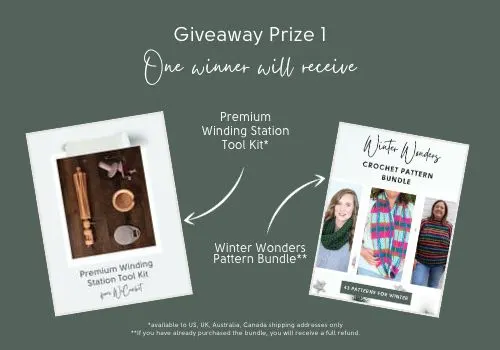 ---
Don't want to jump from post to post each day?
No problem! We've bundled all 43 patterns in the blog hop together and have made it available to you right now in the Winter Wonders 2022 pattern bundle.
---
Winter Wonders
Pattern Bundle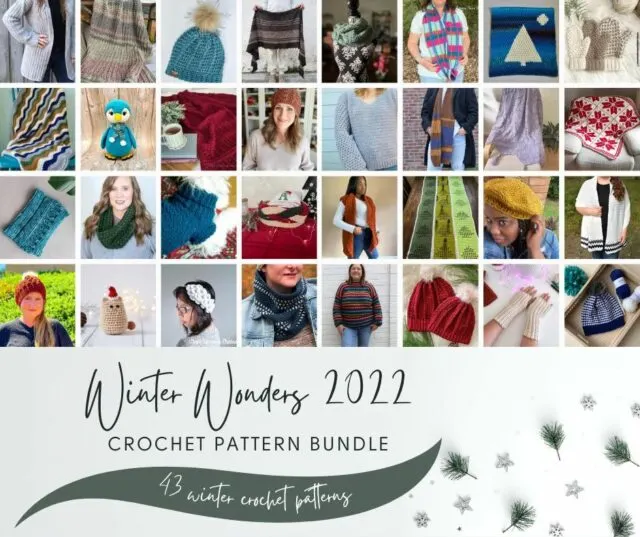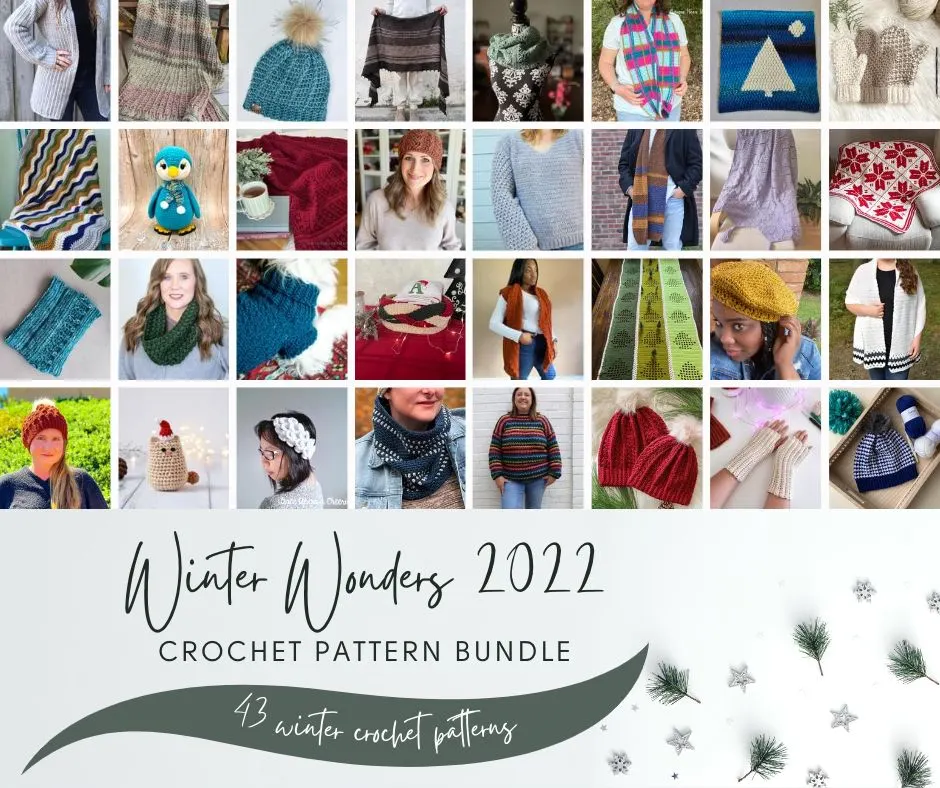 This bundle is valued at over $203, but you can get it today for only $15.99 – that's over 90% off compared to purchasing each pattern individually, so it's absolutely a fantastic deal!
Winter Crochet Projects
Ready to get started?
Scroll down to today's date, take a note of the instructions and/or coupon code, and then click on the black "Get Pattern" button.
Once on the designer's website, scroll down and click on the "Download" button. It should look like the image below.

---
Day 1
Calida Mittens
November 1, 2022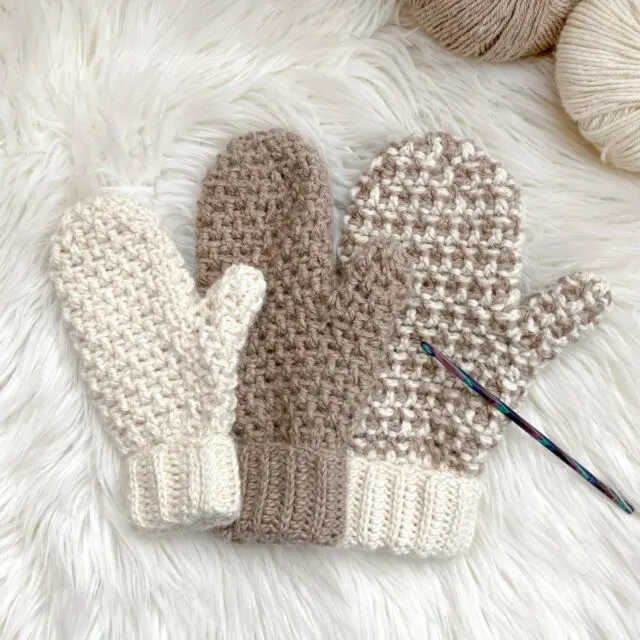 The Calida mittens are oh so warm and cozy, and absolutely perfect for keeping little (and large!) hands toasty during the winter. I absolutely adore the texture in these mitts thanks to the front post and back post stitches. This mittens pattern is written for a whopping 8 sizes from Baby up to Adult XL, so it's absolutely perfect for handmade gift making.

Ned & Mimi
Coupon code: EXPIRED
Day 1
Moonshadow baby blanket
November 1, 2022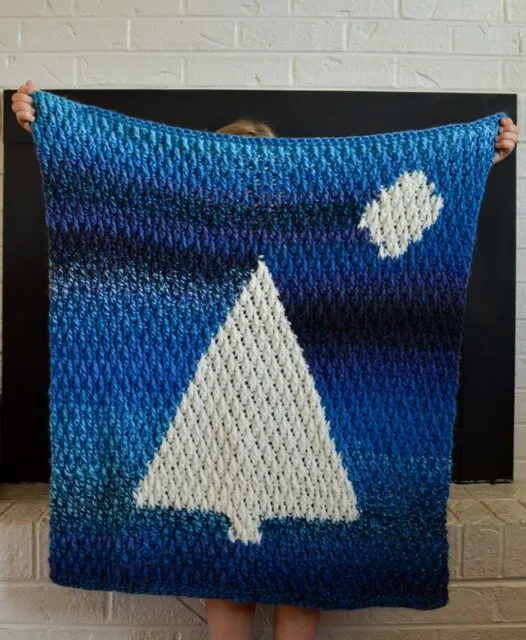 The Moonshadow Baby Blanket is a cute and cozy throw for your little one to snuggle with this winter. Keep your baby warm and comfy while enjoying a gorgeous moon-lit night scene. The beautiful chromatic look of the WeCrochet Chroma Twist in Cousteau creates a night sky that begs your baby to sleep peacefully.

Cute & Cozy Crochet
Coupon code: EXPIRED
day 2
Nordic Snowflake Afghan
November 2, 2022
Snuggle up this winter under this stunning Nordic Snowflake afghan. It uses corner to corner for the snowflakes which when joined are just gorgeous. This also makes it super easy to make to your sizing requirements – just add more snowflakes!
Sunflower Cottage Crochet
Coupon code: EXPIRED
Day 3
Sunburst Beret
November 3, 2022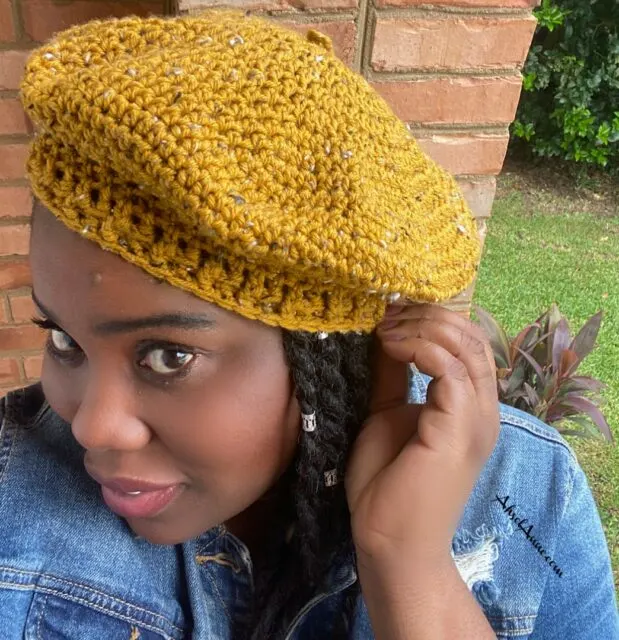 The Sunburst Beret is a stylish addition to your wardrobe by using a few easy-to-create crochet stitches. I used the Brava Tweed Yarn by WeCrochet to create this gem.

Ahsel Anne
Coupon Code: EXPIRED
Day 3
Crown of Light
November 3, 2022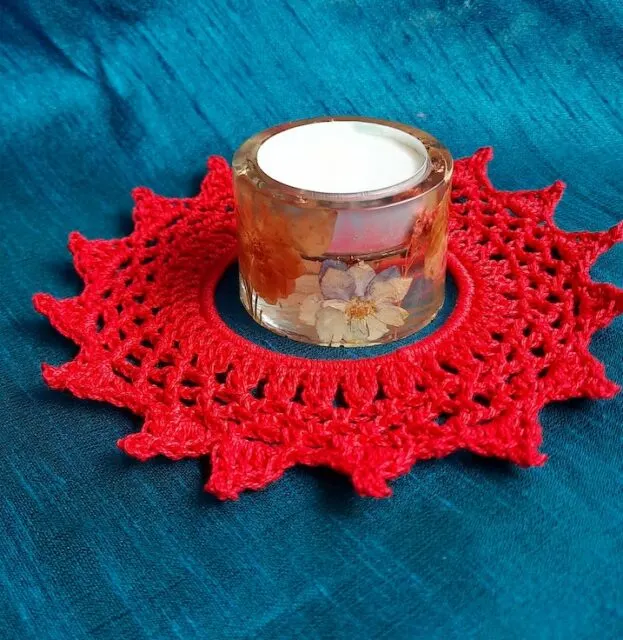 A modified coaster which is worked around a hoop, allowing for a candle/tealight/diya to be placed in the middle. It works up very quickly and has two looks based on whether you block it or not.

Aara by Dina
Coupon code: EXPIRED
Day 4
Glenayr Scarf
November 4, 2022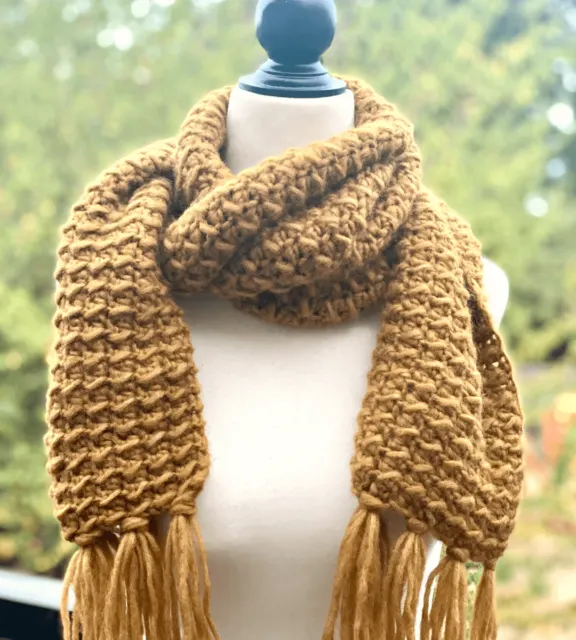 The Glenayr Scarf is an easy pattern to create a scarf for everyone on your gift-giving list. The pattern is beginner-friendly using only basic stitches to create the modern texture.

Through the Loop Yarn Craft
Coupon code: EXPIRED
Let's Get Crafty!
Looking for lots of crafty inspiration, tips, tutorials, and a great crochet community? Join my Facebook group!
Day 5
Sampler Stitch Sweater
November 5, 2022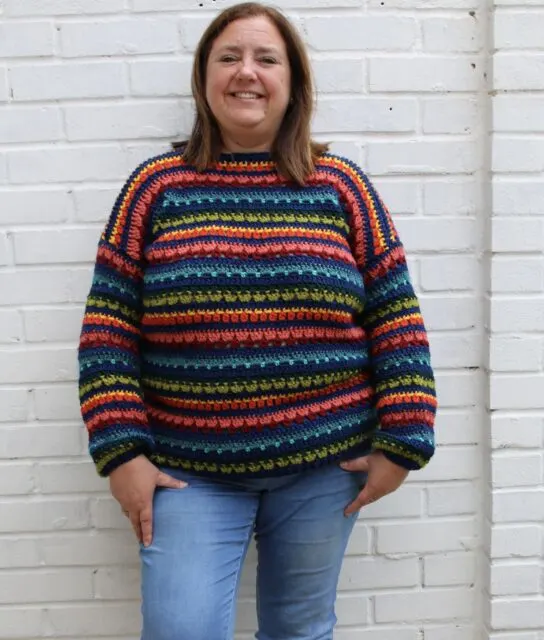 A great colourful stripy sweater. Make this out of stash yarn, any colour combinations make this a one of a kind sweater.

Off the Hook for You
Coupon code: EXPIRED
Day 5
Ridged Fingerless Gloves
November 5, 2022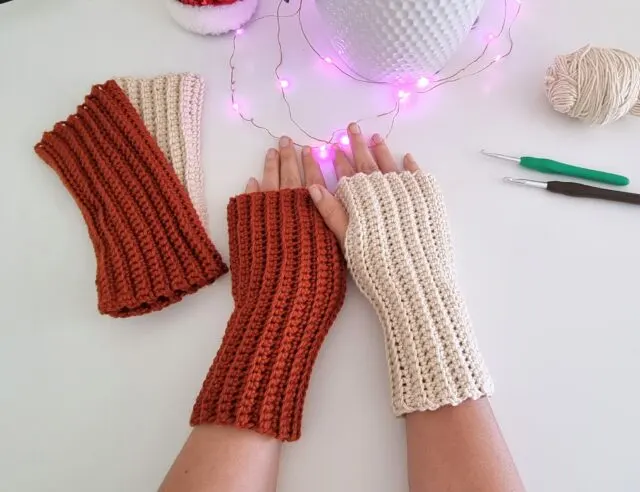 These stylish fingerless gloves are a great addition to your winter fashion accessory. The pattern is easy and quick to work up!

My Crochet Space
Coupon code: EXPIRED
Day 6
Aneira Infinity Scarf
November 6, 2022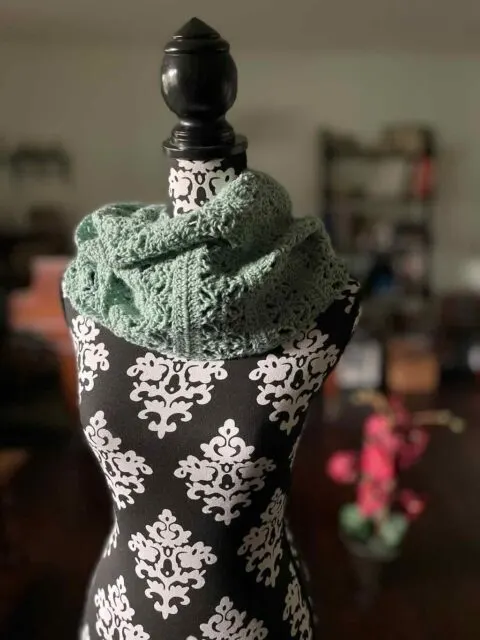 The Aneira Infinity Scarf evokes images of bird tracks in the snow, the delicate impressions lightly disturbing the pristine surface. The Crow's Foot Lattice is a delicate openwork stitch pattern that alternates with solid double crochet sections to create this beautiful image. The scarf is a versatile piece, appropriate for transitional weather and winter alike.


MadameStitch
Coupon Code: EXPIRED
---
Have you missed a few days or don't want to hop from post to post each day?
Get access to all 43 patterns in the Winter Wonders Bundle!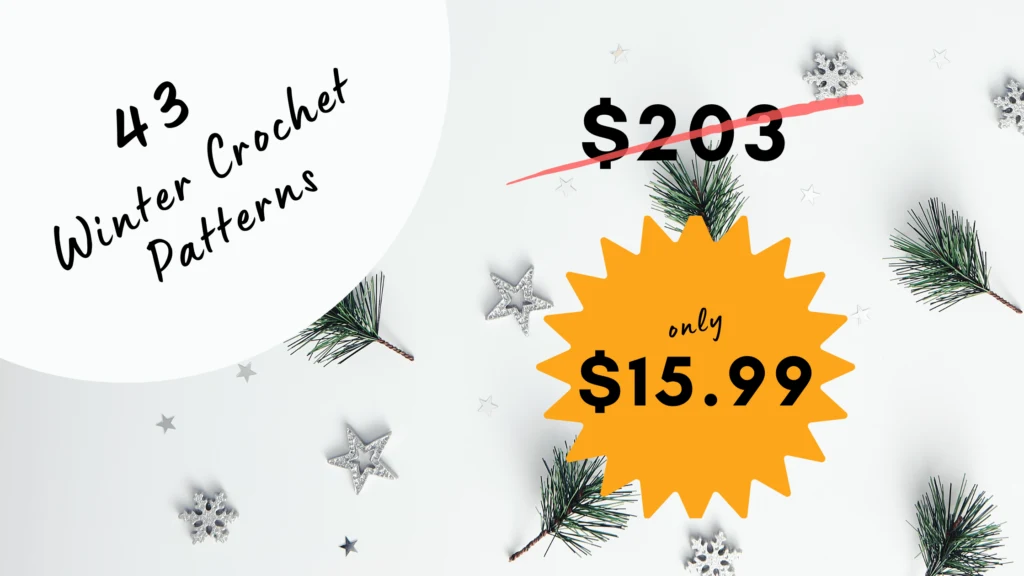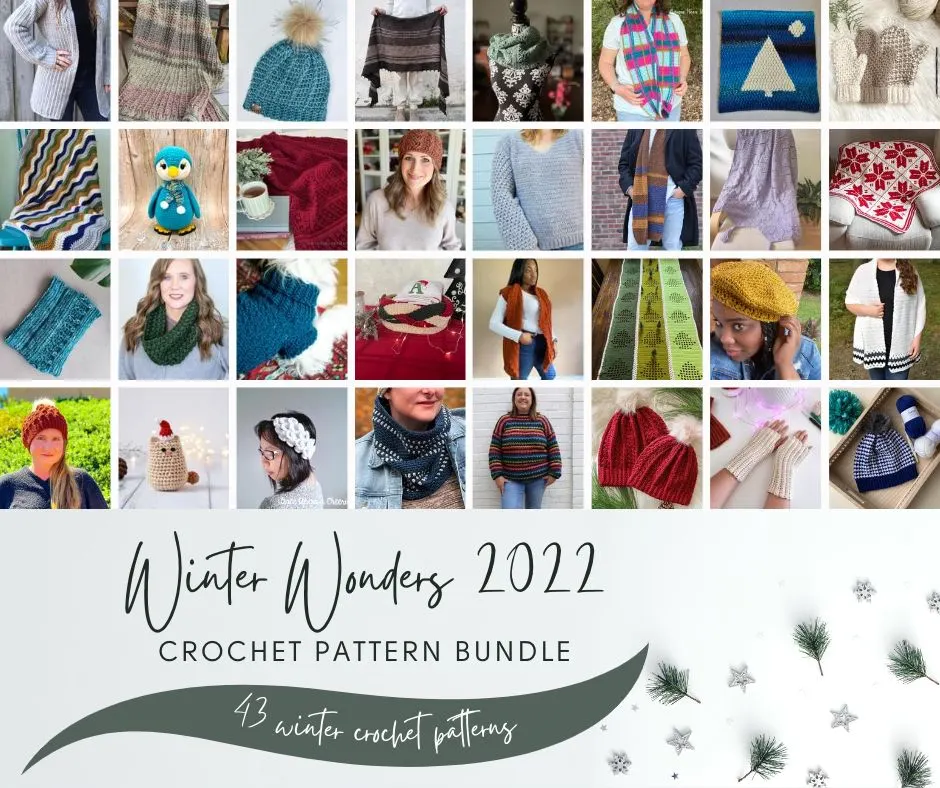 Day 7
Jesse Beanie
November 7, 2022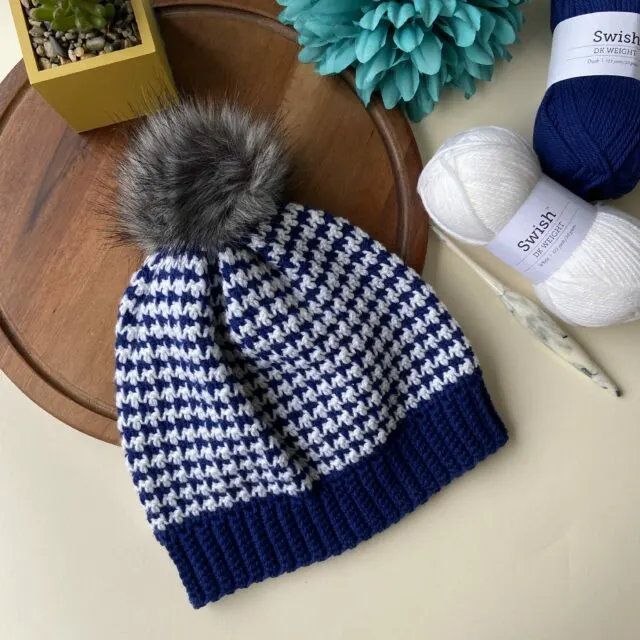 Beautiful crochet beanie using the houndstooth crochet stitch that creates modern winter accessory for the whole family. Pick a main color with different contrasting colors for the stitch pattern to stand out and make matching hats for the whole family.


Blue Star Crochet
Coupon Code: EXPIRED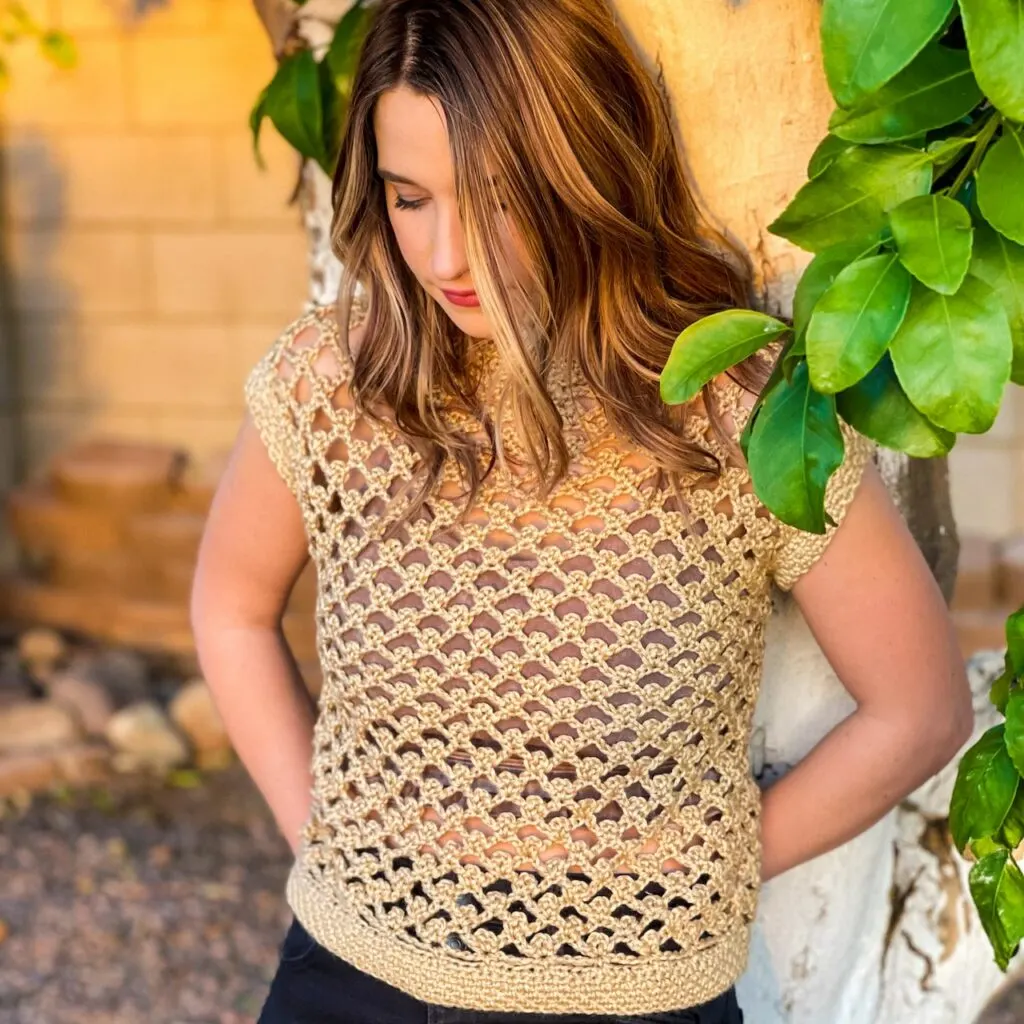 Join the Newsletter!
Subscribe to get our latest content by email & receive a Ravelry coupon code for a FREE crochet PDF pattern of your choice!
Day 8
Savanna Scarf
November 8, 2022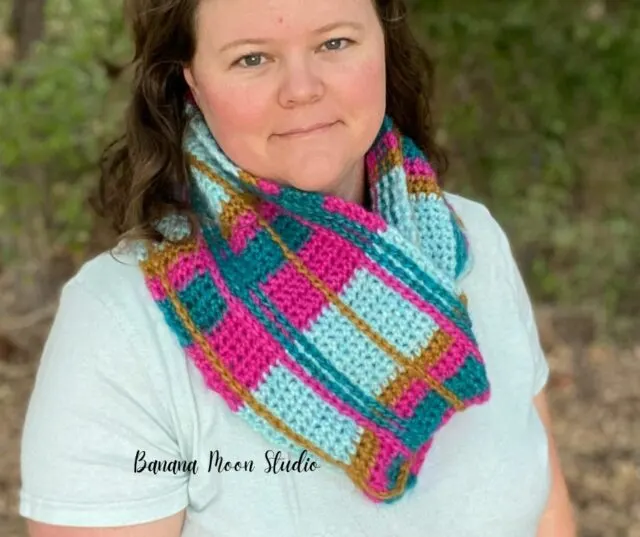 Go plaid with the Savanna Scarf! This easy infinity scarf gives you the opportunity to learn surface crochet!

Banana Moon Studio
Coupon code: EXPIRED
Day 9
Woodland Fox Crochet Ami Doll
November 9, 2022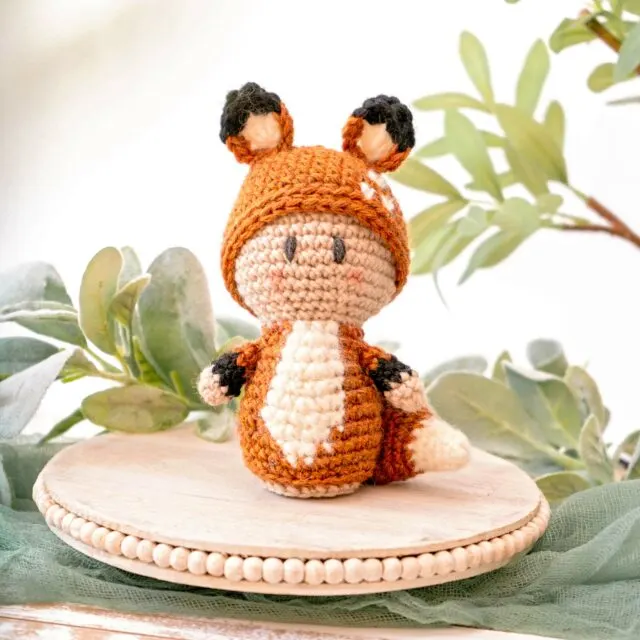 Take adorable to the next level with this cheeky crochet fox. Perfect for a woodland decor theme, or as a gift. This is a great beginner ami crochet pattern or for any level of crocheter. There is a video tutorial to guide you through the steps of amigurumi crochet.

Briana K. Designs
Coupon code: EXPIRED
Day 10
Braided Basket
November 10, 2022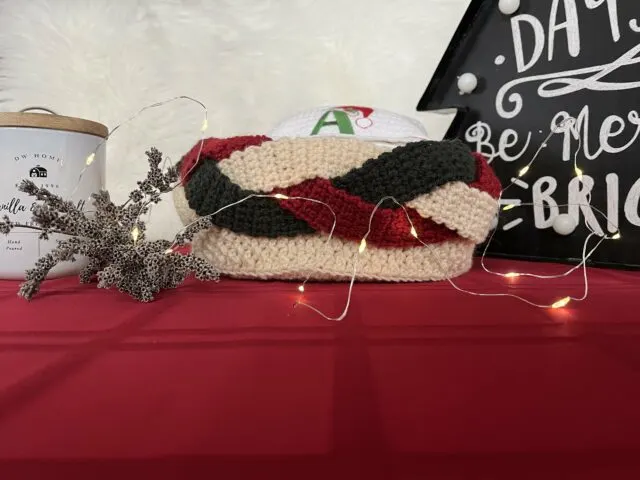 The Braided Basket is a striking home decor piece that you can customize for any season! Worked from the bottom up in the round, this pattern uses post stitches to create an alluring texture and a solid base. The base is crowned by a bold and beautiful braid in three colors. Choose colors for your favorite holiday or season, or go with team colors or a color palette to match your decor. The options are endless!

Clair de Lune Fiber Art
Coupon code: EXPIRED
Day 10
Candy cane crochet ornament
November 10, 2022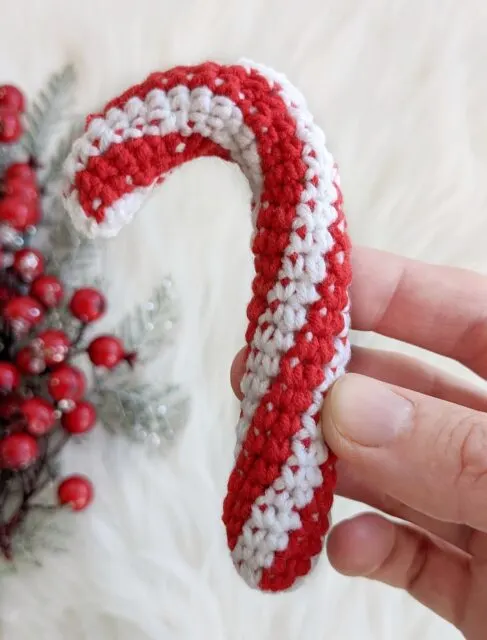 This Candy Cane ornament is a quick and easy project to your holiday season! Perfect for hung on your Christmas tree, home decor, wreaths, and more! Use for something fun and handmade to add to a store bought gift!

Amigurumi_Joys
Coupon code: EXPIRED
Day 11
The Hazel Beanie
November 11, 2022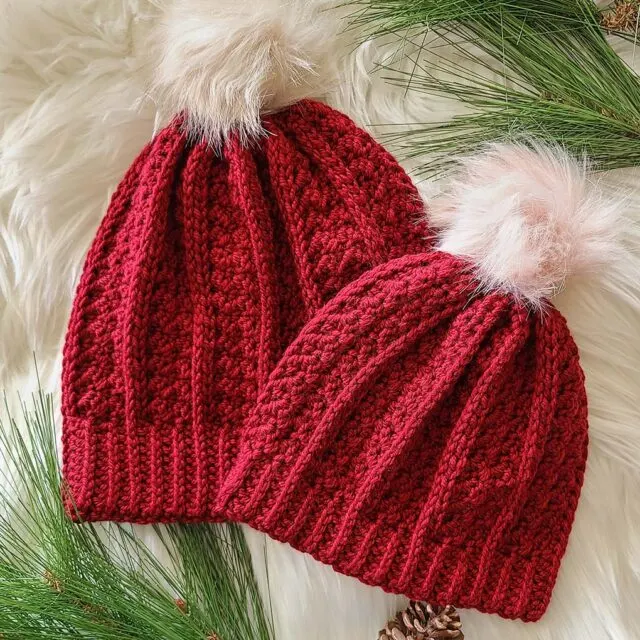 The Hazel Beanie is a wonderfully textured, cozy beanie that comes in 5 sizes with instructions on how to customize it to fit you or your loved one perfectly. Designed to fit comfortably without being too snug or too loose, the Hazel Beanie has a classic fit that will be a staple in your winter wear.

The Loophole Fox
Coupon code: EXPIRED
Love Pinterest?
I do!
PIN this pattern to your Pinterest boards for later.
You can also follow all my boards!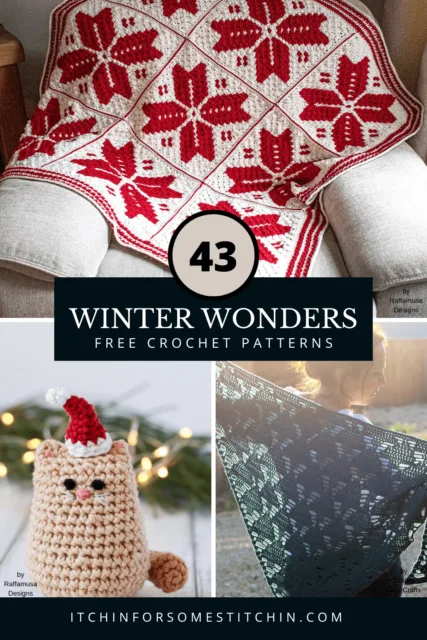 Day 12
Sweet Lazy Blanket
November 12, 2022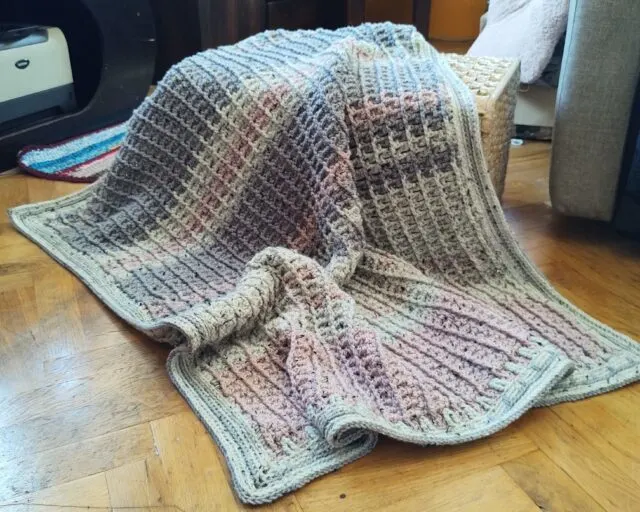 The reversible stitch pattern used for the Sweet Lazy Blanket has a beautiful texture, creating this cozy, soft and gentle feel of warmth.

Frankie Kate
Coupon code: EXPIRED
Day 12
Winter Pine Table Runner
November 12, 2022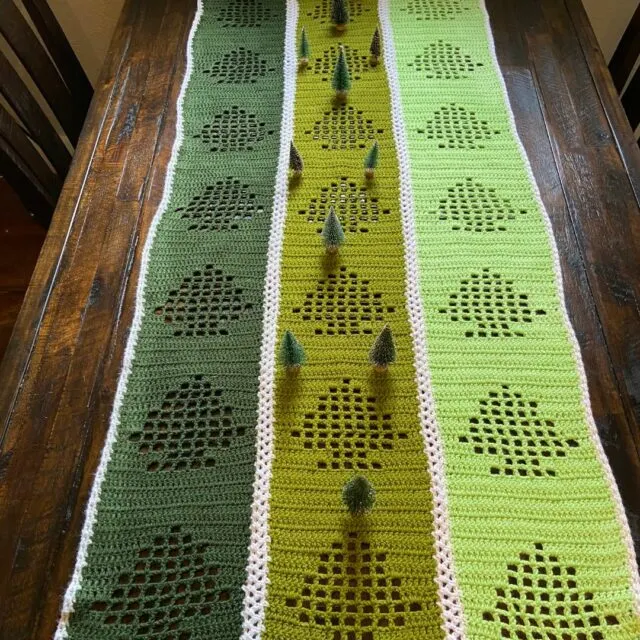 I love to see all the different colors of the Pine Trees during the Winter. The Table Runner brings Winter Pine Trees into your home without going out in the cold.

Jo's Crafty Hook
Coupon code: EXPIRED
Day 13
Henrietta Cable Headband
November 13, 2022
The Henrietta Cable Headband is a quick and easy winter crochet project that will make perfect gifts for all the family! In sizes baby, child and adult, you can make a matching set and use up that yarn stash you have!

HanJan Crochet
Coupon code: EXPIRED
---
Have you missed a few days or don't want to hop from post to post each day?
Get access to all 43 patterns in the Winter Wonders Bundle!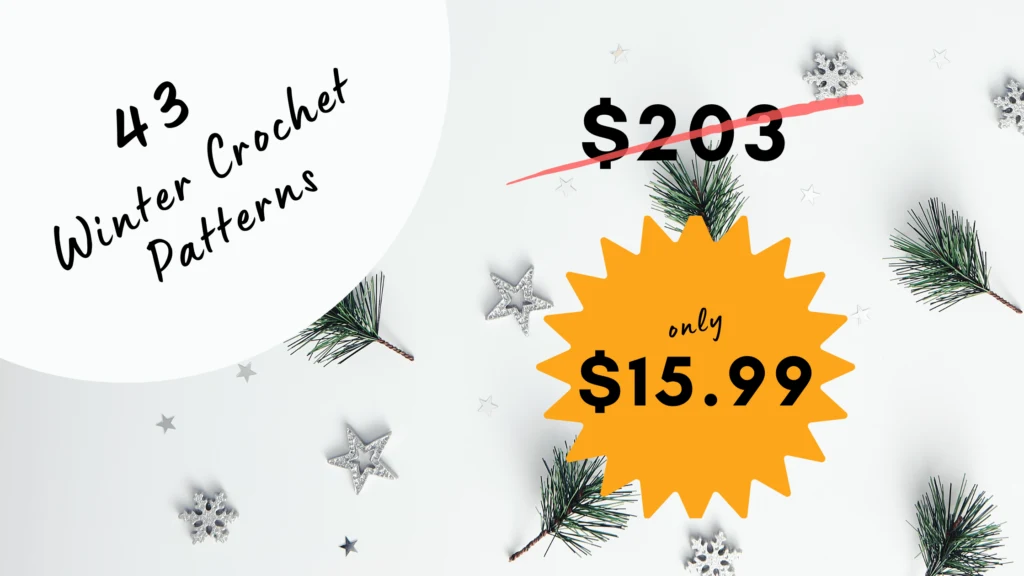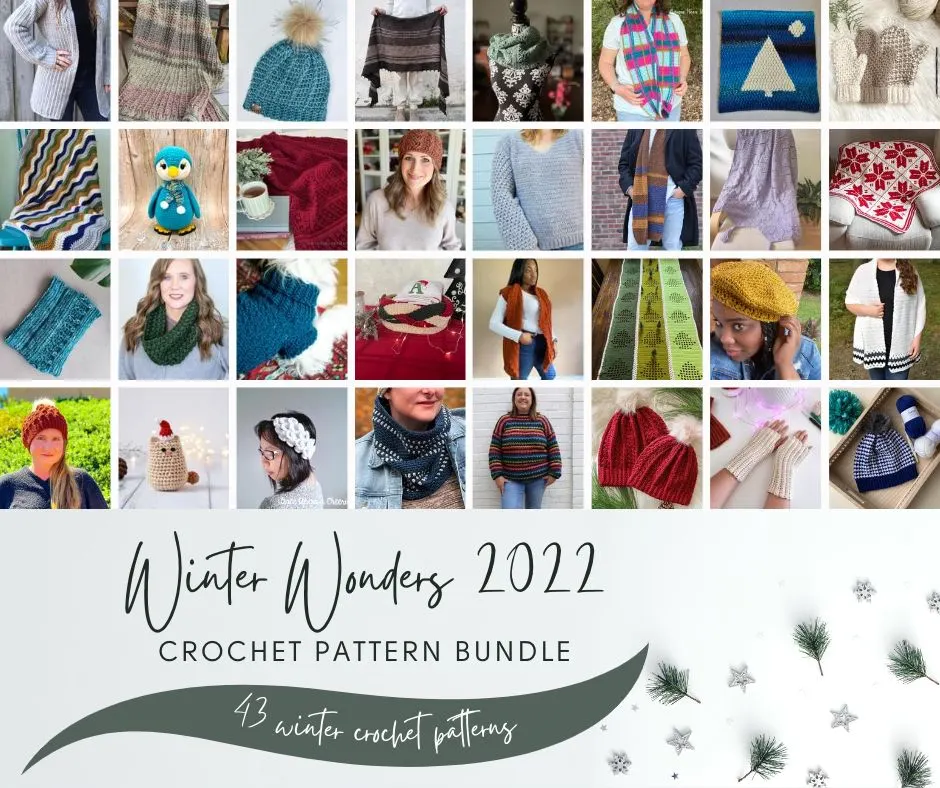 ---
Day 14
Dark matter shawl
November 14, 2022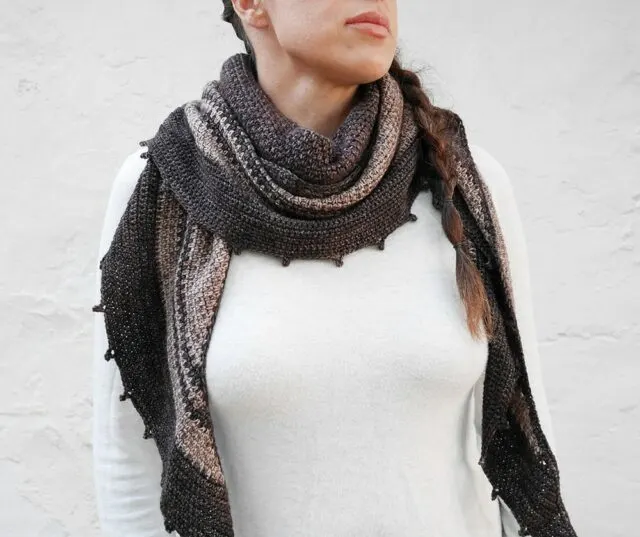 Simple crochet stitches and fingering weight yarn create a lightweight and drapy fabric. The Dark Matter shawl is a crescent shaped shawl with long wings and quite narrow height, perfect to wear on your back or in front under a jacket.

Malloo Knitwear
Coupon Code: EXPIRED
Day 15
Rustic Pines Stocking
November 15, 2022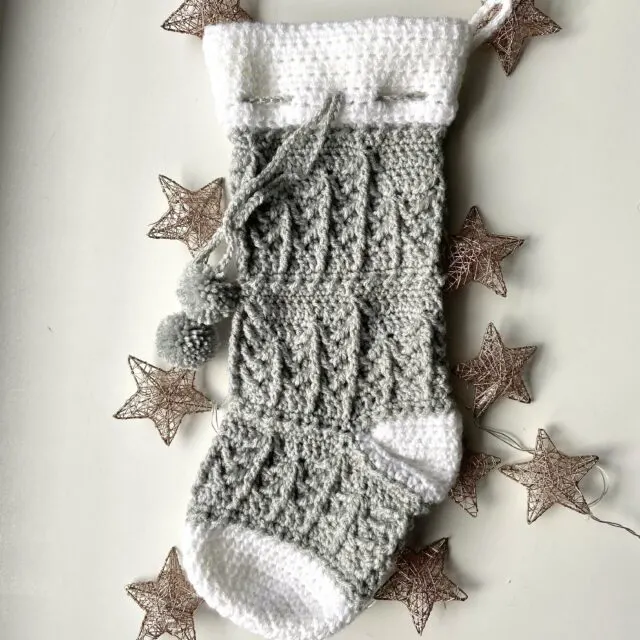 The Rustic Pines Stocking is a textured crochet Christmas stocking. This beautiful stocking uses a fun cable stitch to create the effect of trees. This pattern is written for worsted weight yarn and creates a stocking with plenty of space for all your Christmas goodies.

Crafting for Weeks
Coupon code: EXPIRED
---
Other Patterns I Love & You Will too!
Tapestry Crochet Christmas Tree Square/Potholder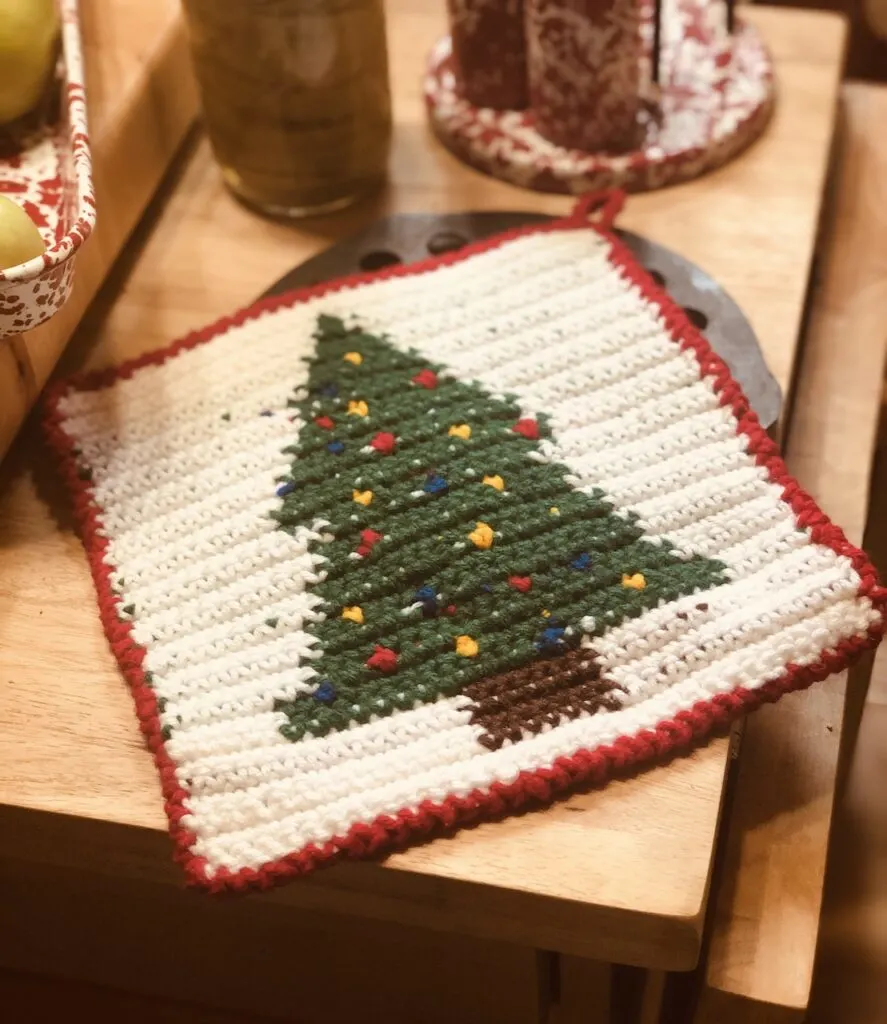 Stripes of Love Christmas Stocking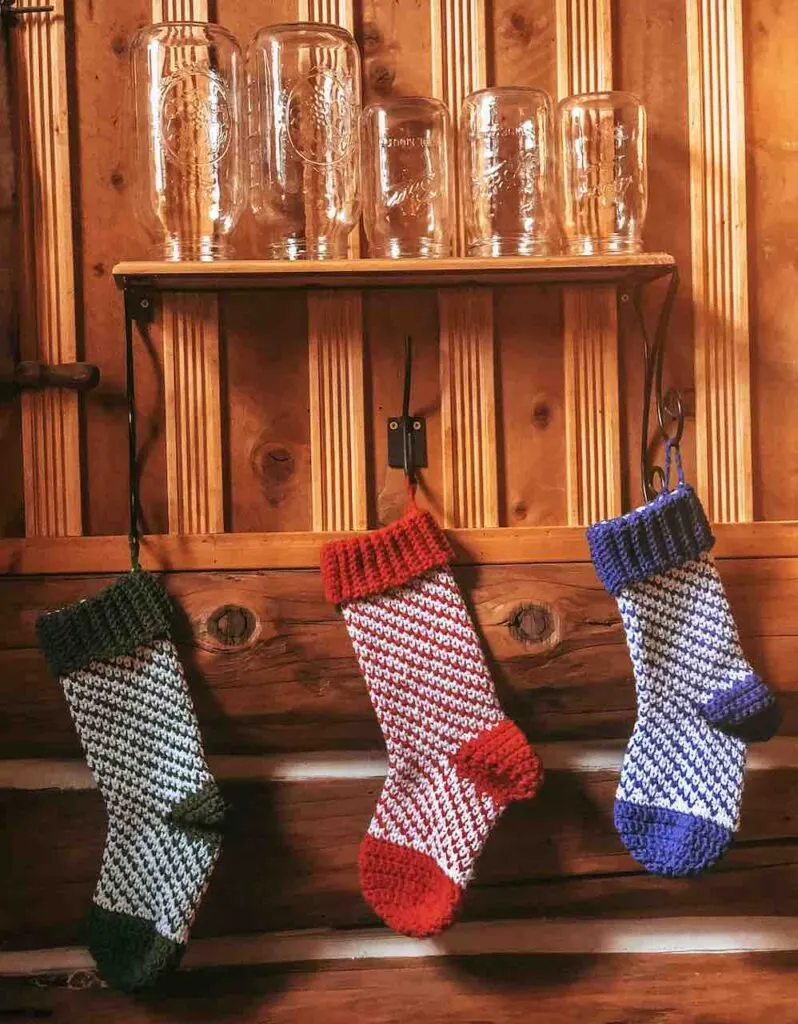 Moravia Cowlneck Sweater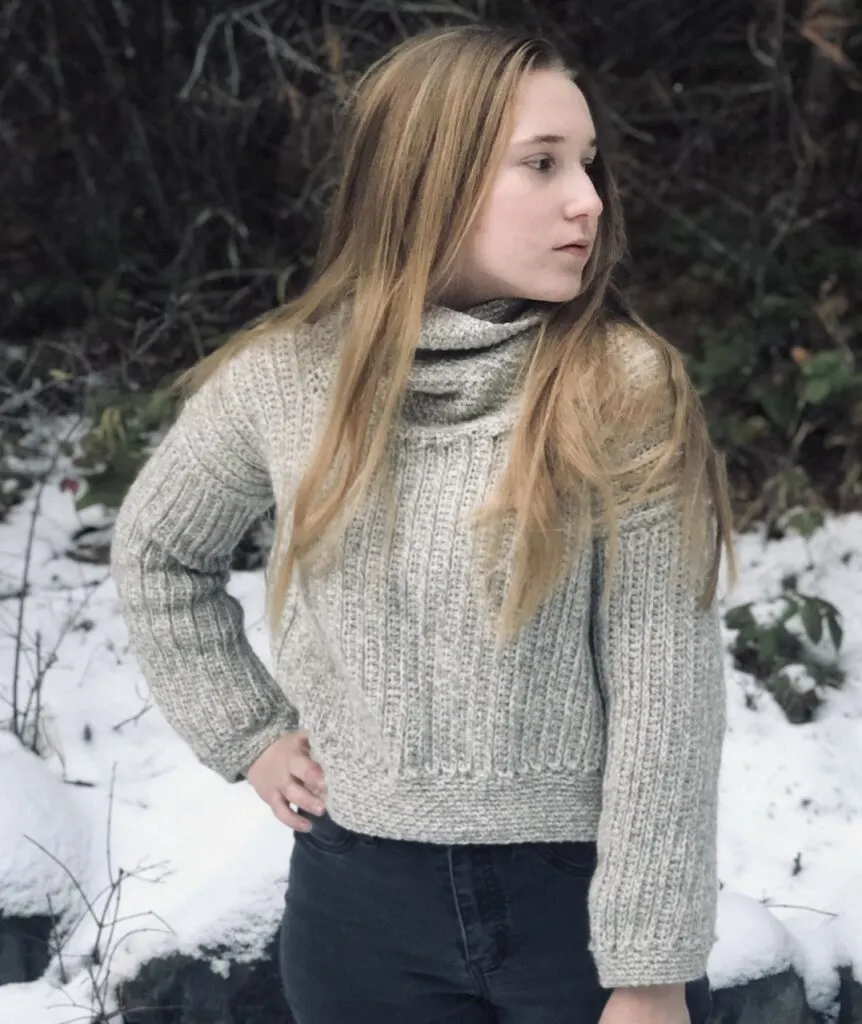 Day 16
Wonderland Sweater
November 16, 2022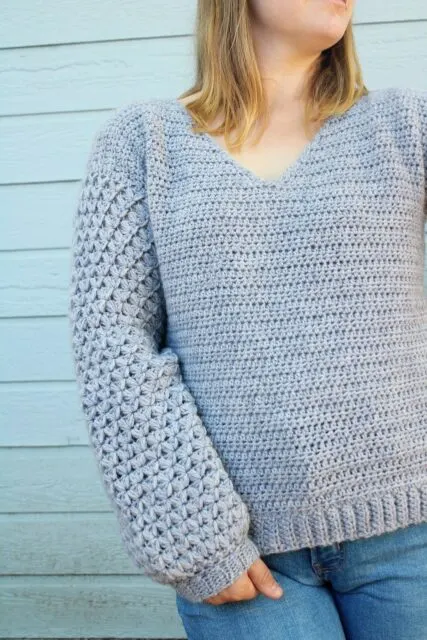 Inspired by the large fluffy snowflakes we see in picturesque winter scenes, the Wonderland Sweater is the perfect cozy layer to throw on before snuggling up near the hearth on a blustery day or venturing into the brisk winter chill to play. A simple half double crochet body panel contrasts with the fabulous snowflake-like texture on the sleeves in a drapey yet warm pullover. The sweater features a v-neck and balloon sleeves that make this garment perfect for dressing up or down. This pattern is sized from 28″-62″ in bust circumference.

Crowchet Creations
Coupon code: EXPIRED
day 17
Winter Color Block Scarf
November 17, 2022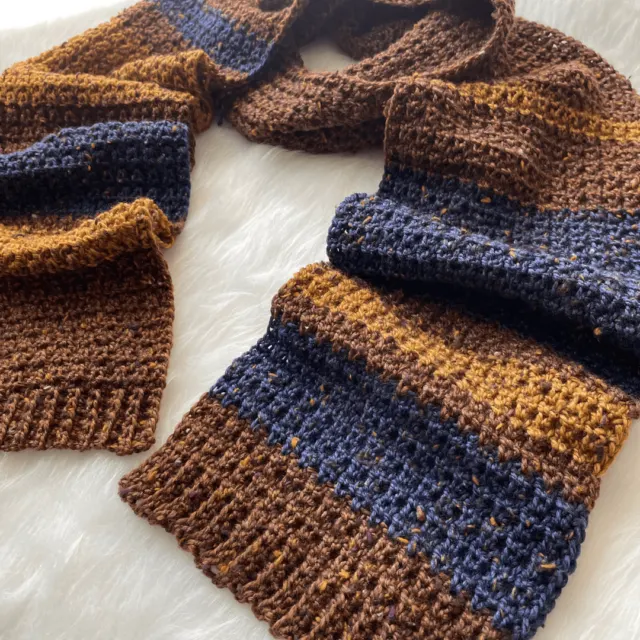 If you want to keep the men in your life warm and cozy scarf, the Winter Color Block Scarf is the perfect gift! It is long enough to style multiple ways and it's worked lengthwise to create a subtle, yet handsome texture.

Remington Lane Crochet
Coupon code: EXPIRED
day 17
Rock River Cardigan
November 17, 2022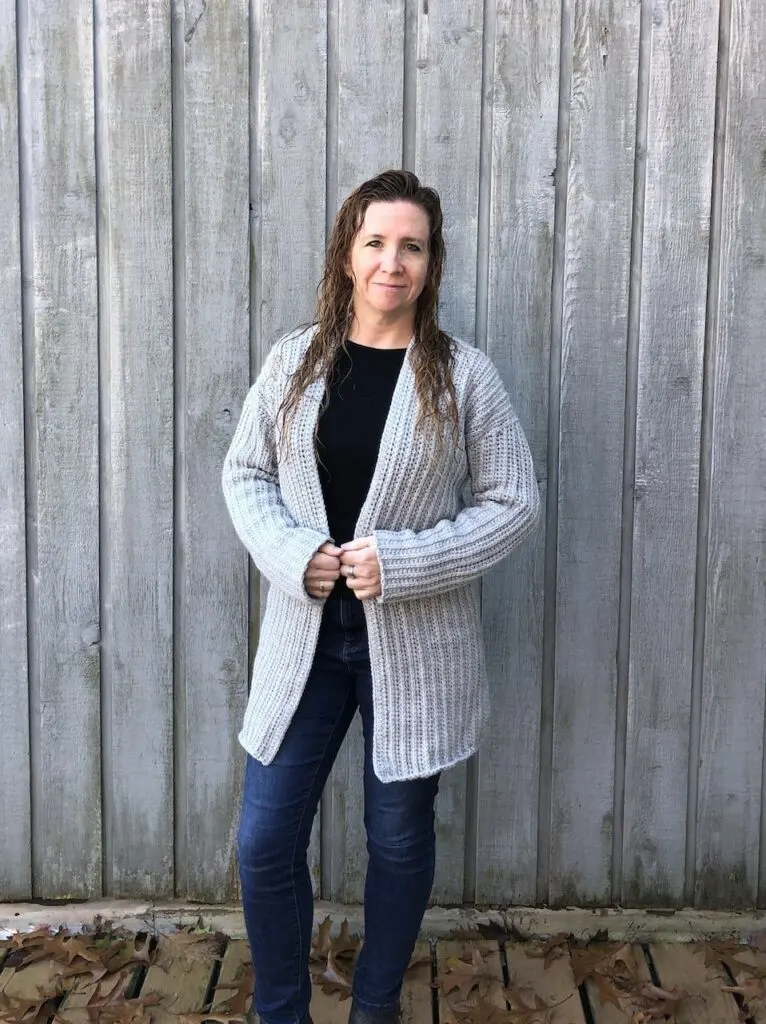 Just a bit of texture, combined with worsted weight yarn and the Rock River Cardigan is sure to keep you warm this winter.

Ambassador Crochet
Coupon code: EXPIRED
Day 18
First Frost Blanket Wrap
November 18, 2022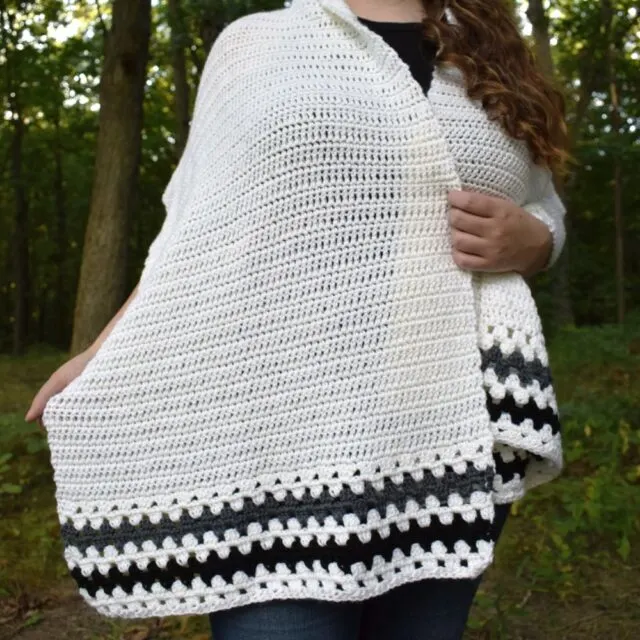 Cozy up on a cold winter day with this wonderful blanket wrap. Granny stripe accents are added to each end for a nice visual appeal to add some color. The main body of this blanket wrap is a 2 row repeat.

Simply Hooked by Janet
Coupon code: EXPIRED
Day 19
Diamonds Blanket
November 19, 2022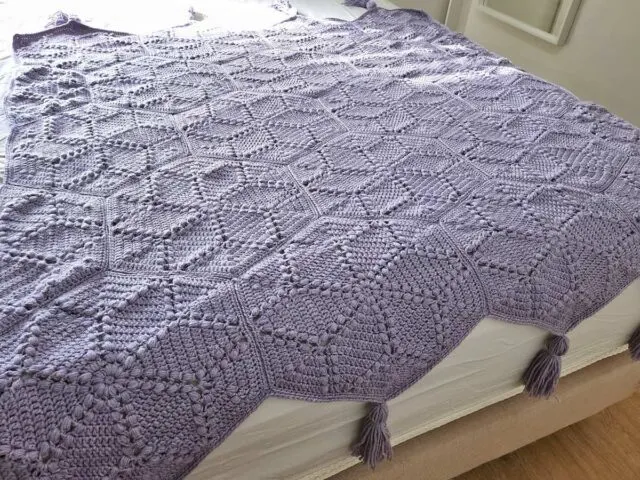 The Diamonds blanket is made with beautiful hexagons joined together, made using the filet technique and fun puffs stitches for extra texture.

Made by Gootie
Coupon code: EXPIRED
Day 20
Sun Ray Beret
November 20, 2022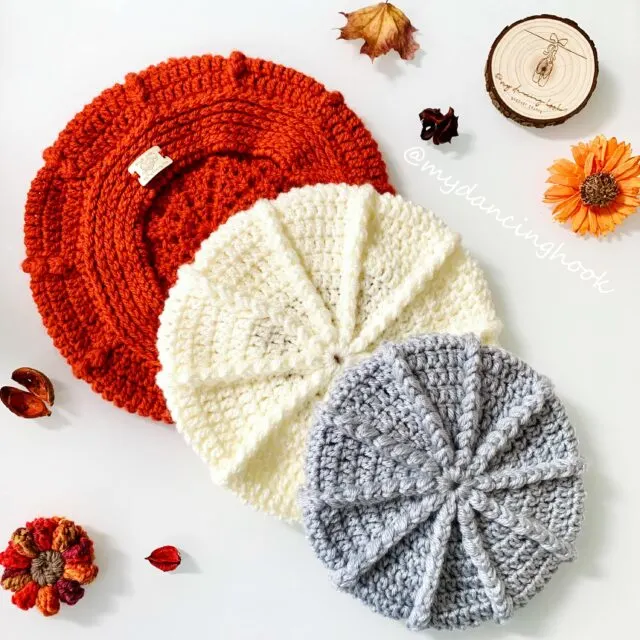 The Sun Ray Beret is an all-time classic, the perfect flattering accessory for the cooler seasons. It is available in 3 sizes from toddler to adult, and is very easy to make and fun to style. Keep it folded flat in your bag and you will be always ready to make a statement!

My Dancing Hook
Coupon code: EXPIRED
Day 21
Pointillism Cowl
November 21, 2022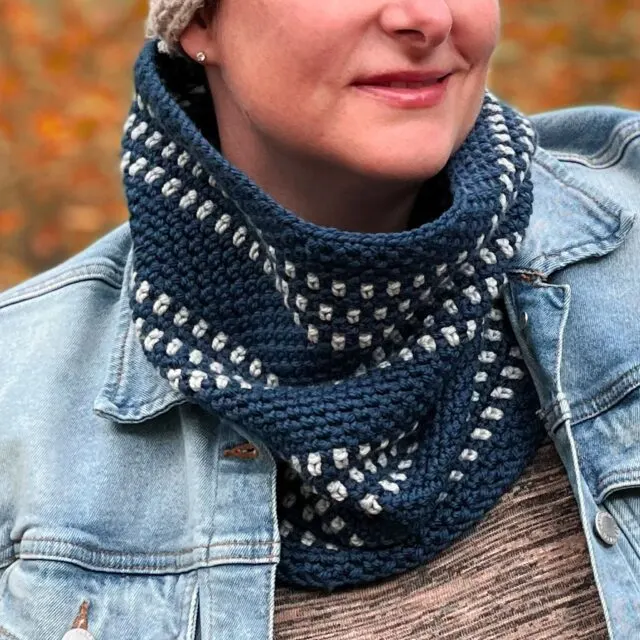 The Pointillism Cowl is a nod to the artistic style of the same name that was popular in the late 1800s. Featuring deliberately placed "dots" to create an aesthetically pleasing series of stripes, this beginner-friendly colourwork pattern is easily customized to create the modern cowl of your dreams.

Capital Crochet
Coupon code: EXPIRED
Have you missed a few days or don't want to hop from post to post each day?
Get access to all 43 patterns in the Winter Wonders Bundle!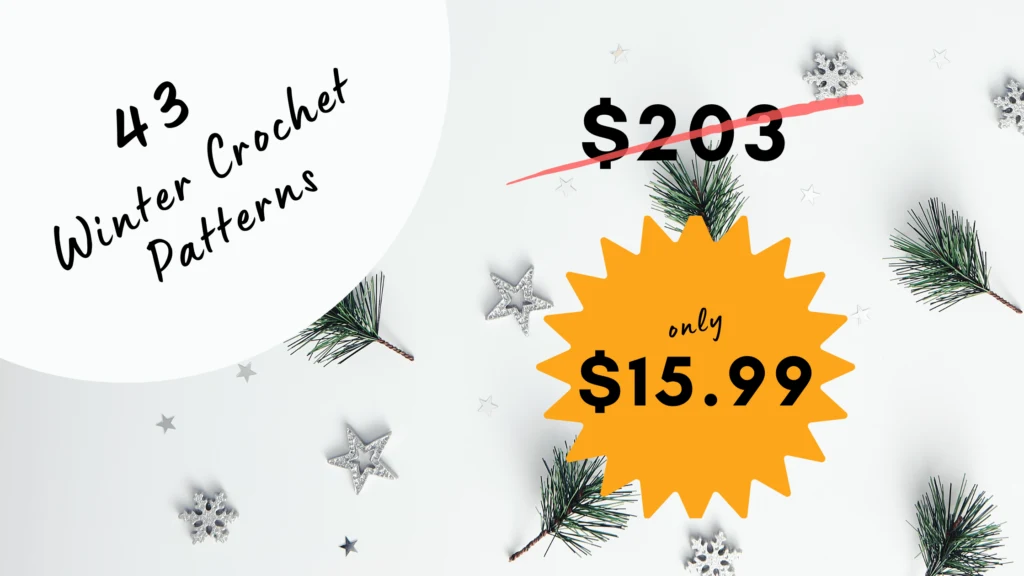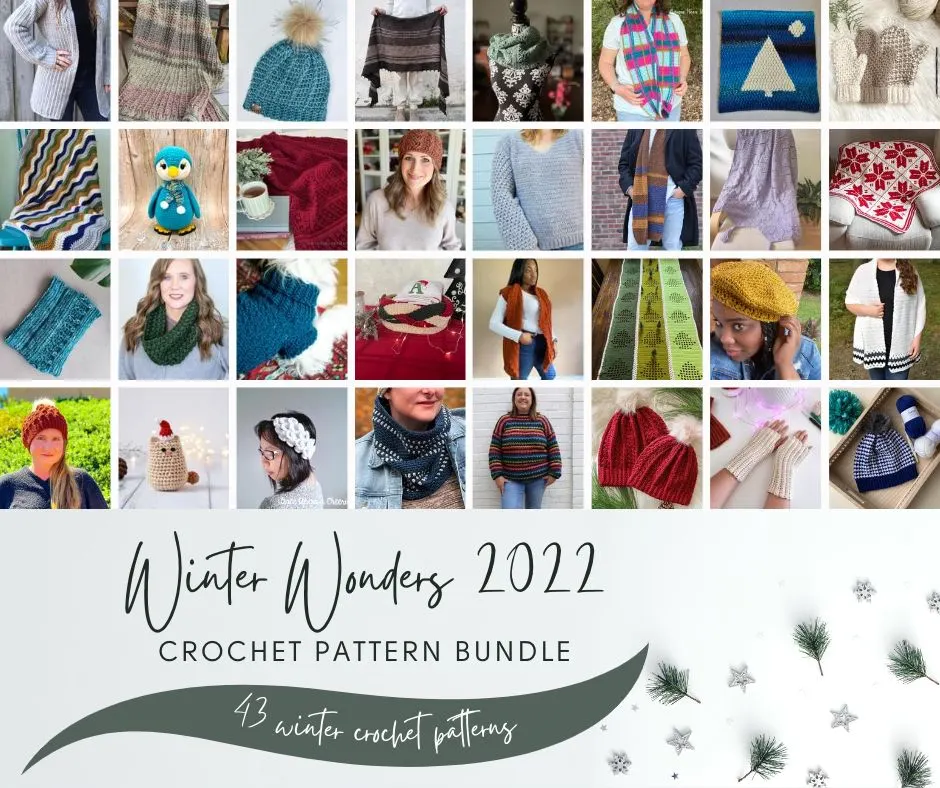 Day 21
SASSy Swirls Bulky Beanie
November 21, 2022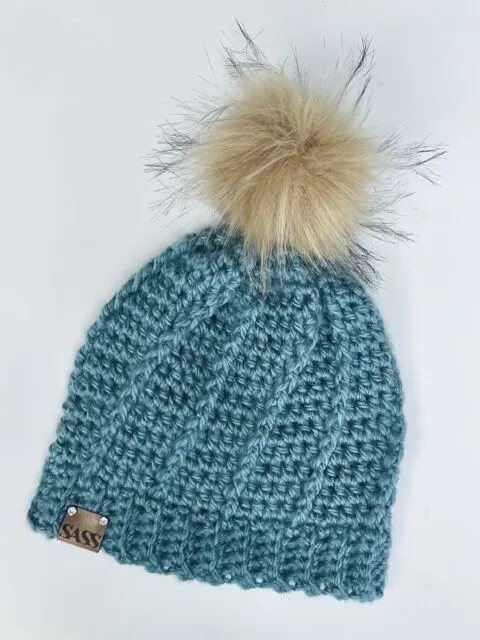 This is an extra cozy beanie that promises to keep you super warm. It's the perfect stylish beanie to add to your Winter accessories!!

SASSy A's Speciality Shoppe
Coupon code: EXPIRED
Day 22
Windin' Vest
November 22, 2022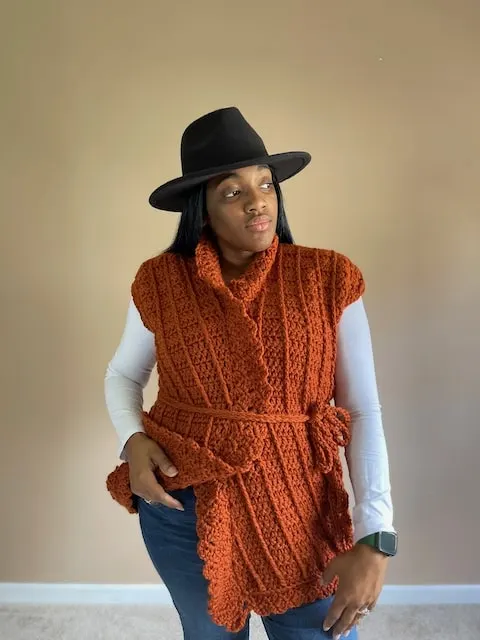 When paired with jeans, boots, a turtle neck and felt fedora, the Windin' Vest becomes a go to for this winter. This crochet vest draws the eyes upward with the winding post stitches, and the collar adds warmth and style.

Creations by Courtney
Coupon Code: EXPIRED
day 23
Braided cowl
November 23, 2022
A lovely braided cowl with elegant stitches and loads of style! A beautiful way to stay wam and fashionalbe in the cold weather season.

Fosbas Designs
Coupon Code: EXPIRED
Winter Pattern Collections
Day 24
Ly Lu Leafhopper beanie
November 24, 2022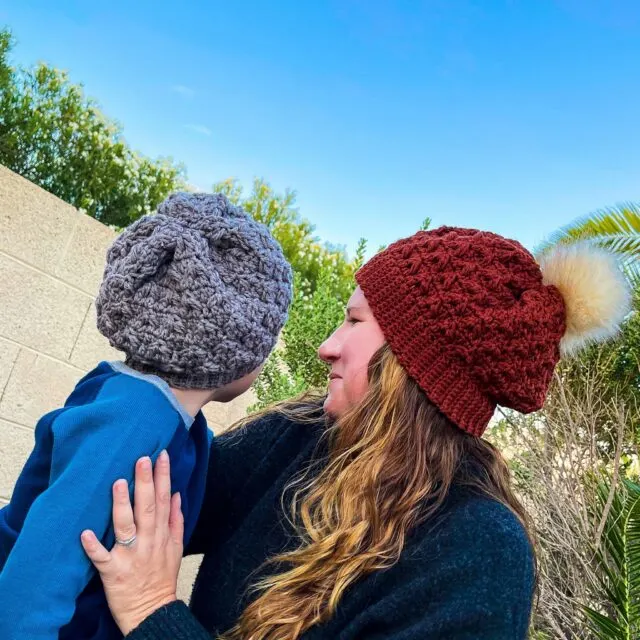 Comfortable, relaxed, and super chic. The Ly Lu Leafhopper beanie has fantastic texture and goes with any outfit in any environment! Adds a sassy touch to jeans and t-shirt or a classy look to your favorite sweater. Stylish enough to wear year-round, yet warm enough to keep your ears toasty in the fall and winter seasons. The perfect crochet accessory!

Itchin' for some Stitchin'
Coupon code: EXPIRED
Day 25
Cora Throw
November 25, 2022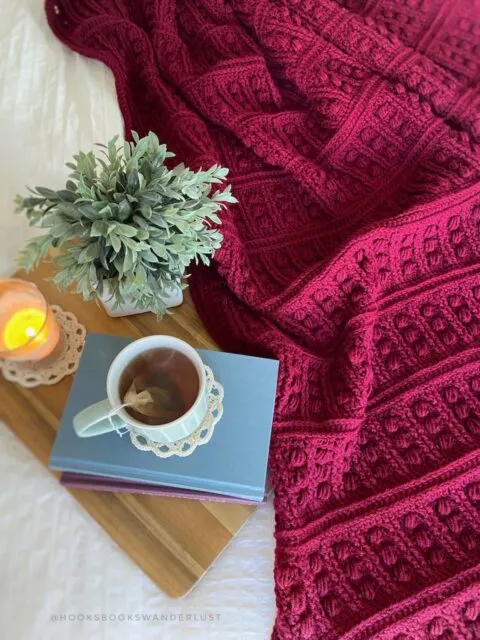 The Cora Throw is a beautiful combination of stitches providing you with tons of texture and visual interest in a worsted weight yarn that is warm without being too warm! It's the perfect thing to cozy up in with a good book and a cup of tea!

Hooks, Books, & Wanderlust
Coupon Code: EXPIRED
Day 25
Boreal throw
November 25, 2022
Grab a cup of coffee or tea and snuggle up with this beautiful, easy, comfy throw pattern. Featuring stripes and waves in bold colours, you'll be warm in no time!

ACCROchet
Coupon Code: EXPIRED
Day 26
Under the tree shawl
November 26, 2022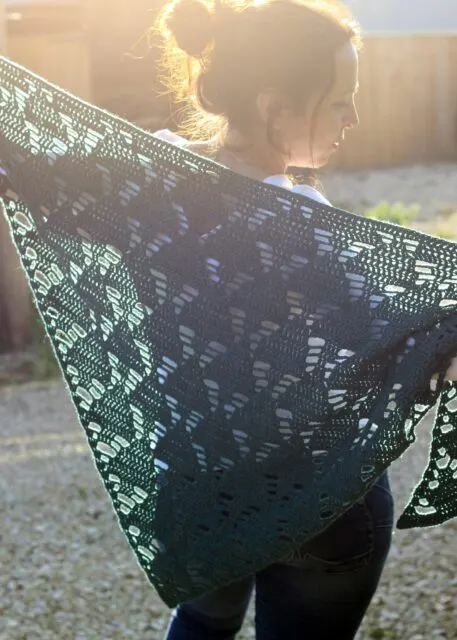 Under the tree is a beginner friendly, festive triangle crochet shawl with a fir tree forrest pattern, designed to remind you of a winter alpine mountain side. This shawl will keep you feeling cosy and festive through the Christmas season and beyond.

Dora Does
Coupon Code: EXPIRED
Day 27
Posh Merino Dog Pullover
November 27, 2022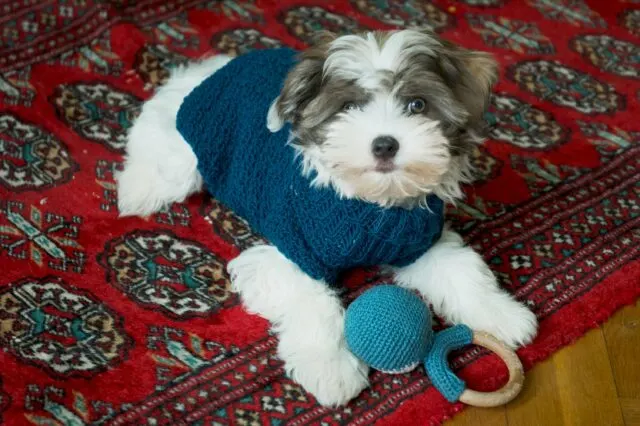 This Dog Pullover in soft Merino Wool is an elegant, light yet warm outfit. Perfect for all dog owners and dog lovers. Also ideal as a gift or for your craft fair stall.

Roxy's Crochet
Coupon Code: EXPIRED
Day 28
Hygge Homebody Cardigan
November 28, 2022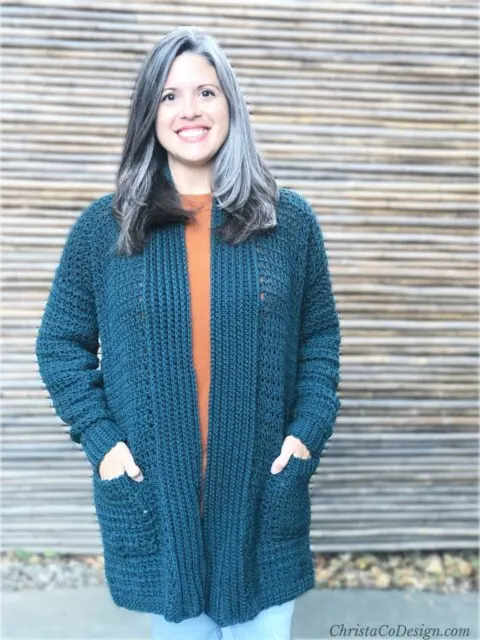 The Hygge Homebody Cardigan is perfect for cozy nights on the couch. This long length cardgian looks amazing over leggings. The shawl collar and patch pockets mean you'll be warm all winter.

Christa Co. Designs
Coupon Code: EXPIRED
Have you missed a few days -or- don't want to hop from post to post each day?
Get access to all 33 patterns in the Winter Wonders Bundle!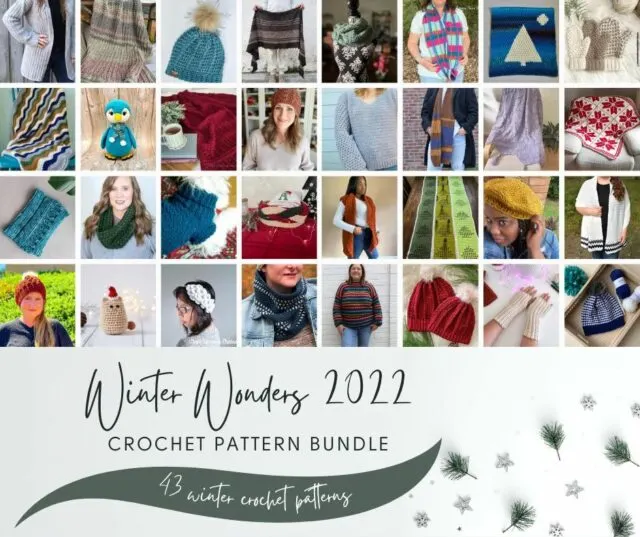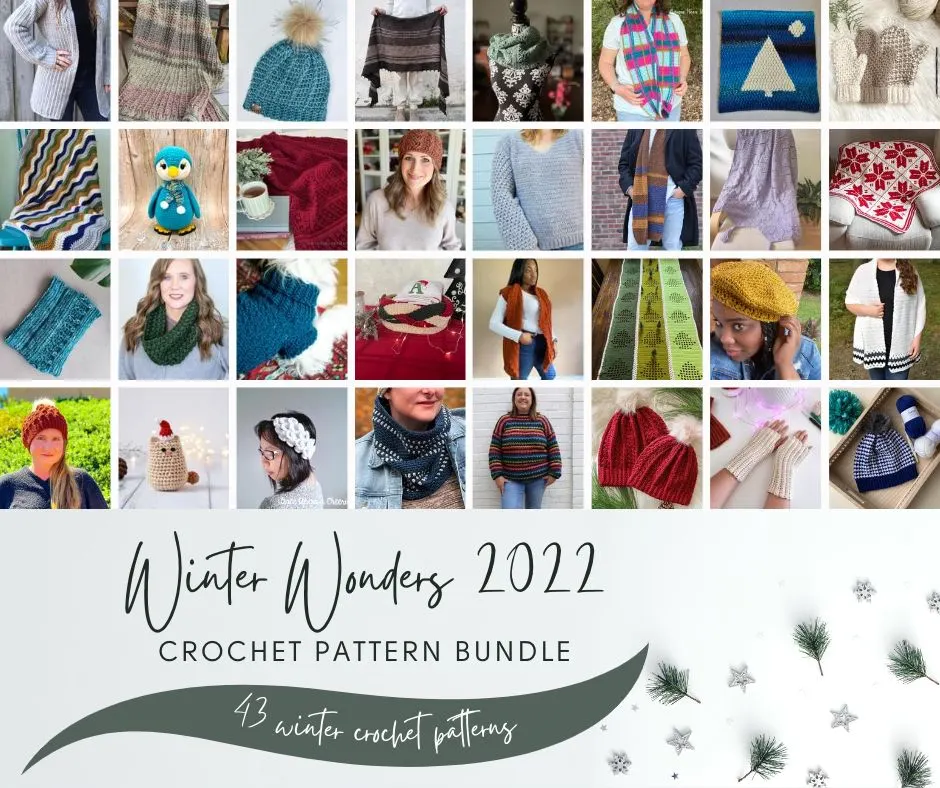 day 29
Gallia Cowl
November 29, 2022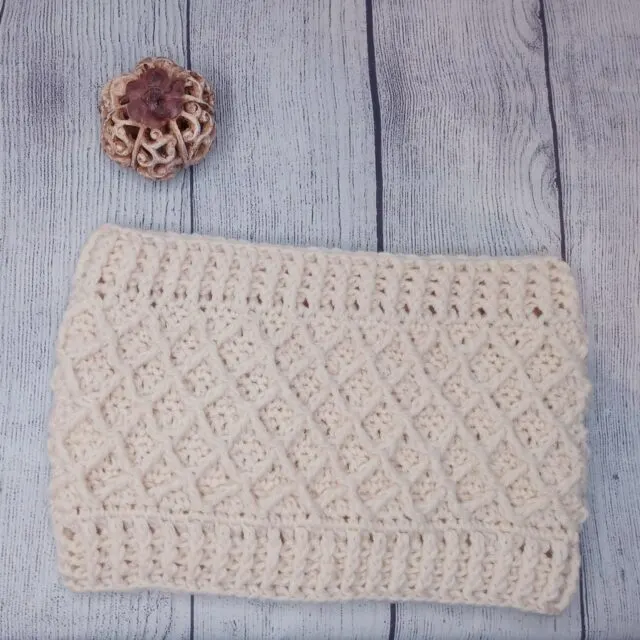 The Gallia Cowl is a beautiful accent piece to any wardrobe, using front post stitches to create the beautiful diamond effect this piece is not only stylish but warm and cozy too!

Missouri Makes
Coupon Code: EXPIRED
day 29
Itty bitty Kitty amigurumi
November 29, 2022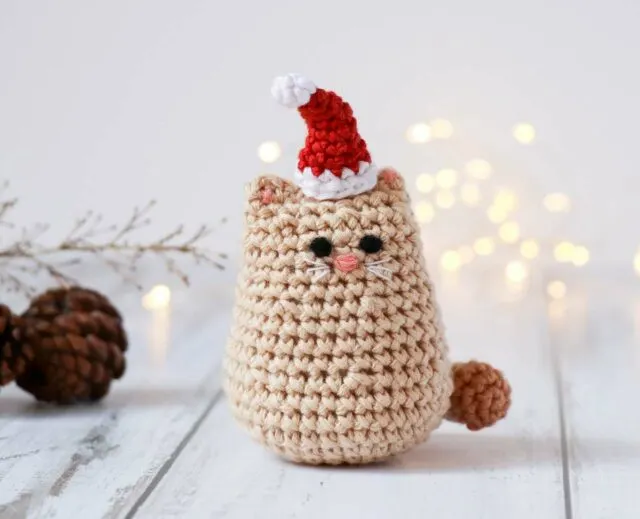 Itty Bitty Christmas kitty is the sweetest little festive cat. This little cat works up very quickly and is small enough to hang on the tree, or to peep out of a stocking. A perfect gift for any cat lover.

Thoresby Cottage
Coupon Code: EXPIRED
Day 30
Striking Stripes Poncho
November 30, 2022
This poncho pattern is cozy and beautiful! The repeating pattern and construction make it an easy pattern, but the stripes make the pattern standout! The pattern instructions show how to create this lovely poncho to measure, so you can make any size. The sample uses 4 colors, but there are also directions for a 2 color option!

The Mother Lode
Coupon Code: EXPIRED
Day 31
Cosy frills neckerchief
December 1, 2022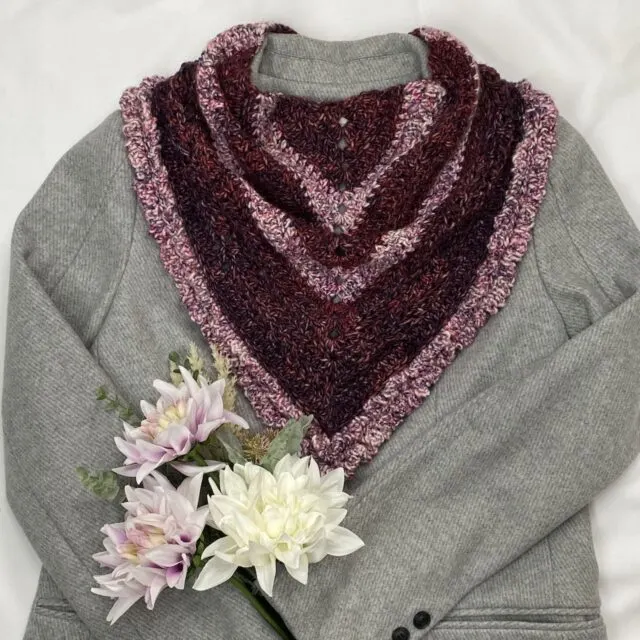 Crochet a quick and easy neckerchief to keep the winter chills at bay. Edged with a pretty frill for a statement accessory

The Woolnest
Coupon Code: EXPIRED
Day 32
Winter Blooms Cowl
December 2, 2022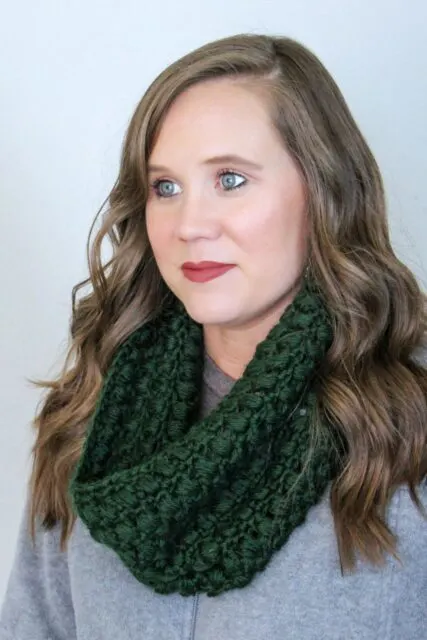 A simply beautiful cowl with a lot of texture that you'll love to wear all season long!

Two Brother's Blankets
Coupon Code: BLOOMS22
Day 32
Odette (Swan Lake) Ear Warmers
November 2, 2022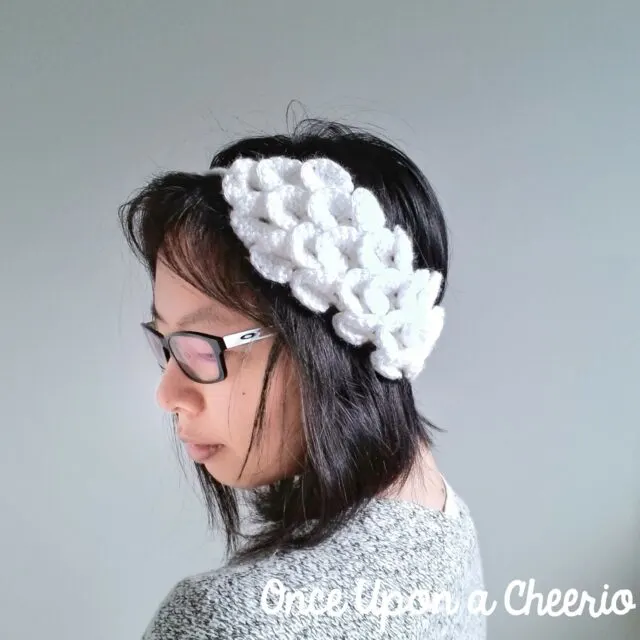 Inspired by Odette of Swan Lake Ballet Have you always wanted to be a ballerina? Live out your ballerina dreams over winter this year with your Odette Ear Warmers, inspired by the ballet, Swan Lake.

Once Upon a Cheerio
Coupon Code: BLACKSWAN
Day 33
Poppy the Penguin Amigurumi Pattern
December 3, 2022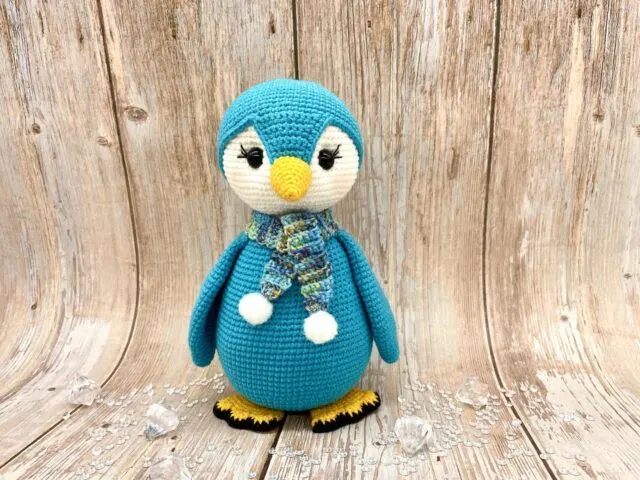 Looking for a cute Amigurumi penguin pattern this winter? Well, look no more! 🙂 This free crochet penguin pattern is the one for you! Her name is Poppy and although she loves to play in the snow, she can't wait to make new friends who will give her lots of warm cuddles. I am sure your little ones will love her! 🙂

Cuddly Stitches Craft
This is a direct download on the designer's website. No coupon code needed.
Did you miss the blog hop?
You can still all 43 patterns in the Winter Wonders Bundle!
Available until December 10, 2022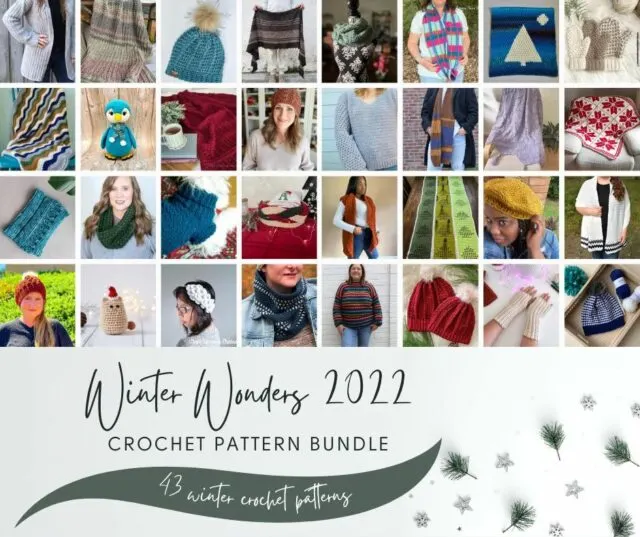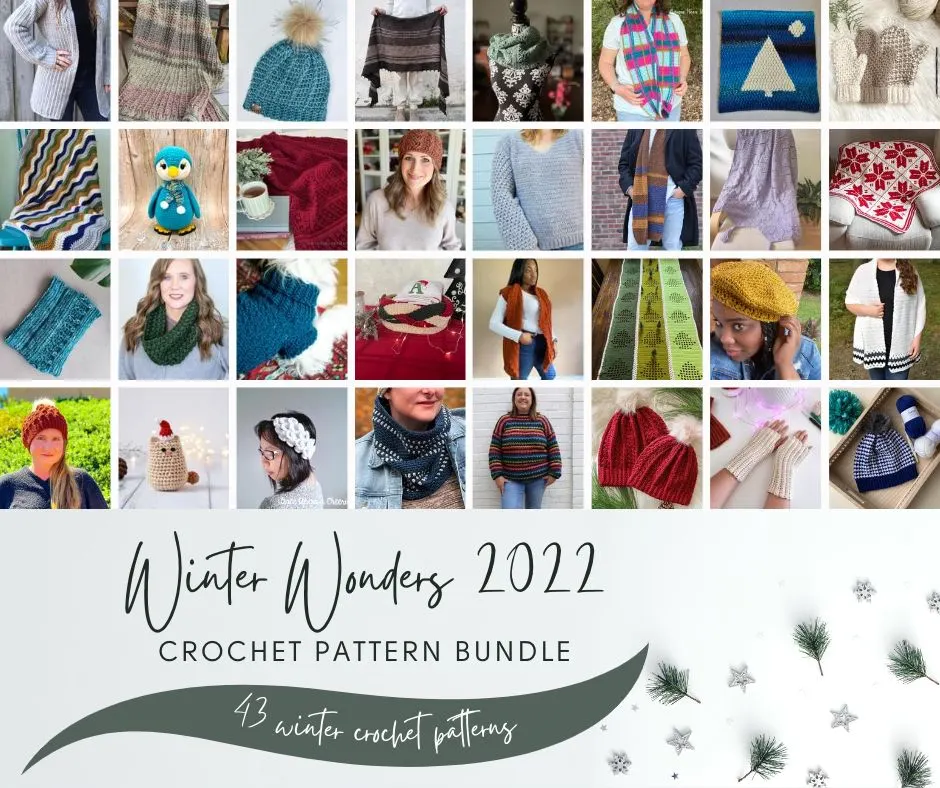 ---
Folks, I truly love all these beautiful patterns.
From garments to accessories and home decor projects there is just so much in this collection to love!
What's your fave?
I have too many to decide! 😂
---
Thank you for coming to my blog! By sharing my content and/or making a purchase you are making it possible for me to continue producing and sharing free content for everyone to enjoy. I sincerely appreciate your support!
Until next time… Happy Crocheting!
Please share!