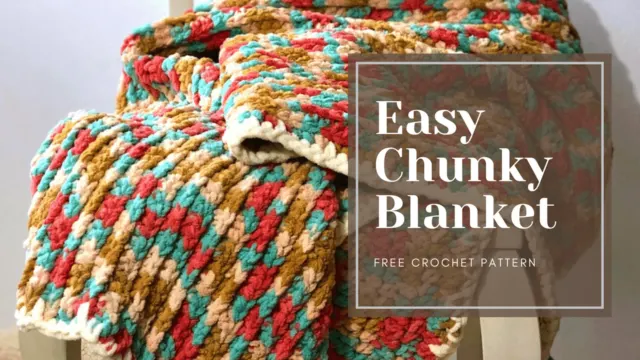 INTRODUCING
A Blanket for Ly
Easy Chunky Crochet Blanket
Can you say cozy? This blanket is luxuriously soft and perfect for cuddling and snuggling. Crocheted using a technique that gives it a lot of texture, you'll love the feel of this super plush blanket. Make a simple lapghan or one large enough to cover your entire bed – either way, you're going to love nestling up in this warm and comfortable cover!
About Ly's Blanket
Difficulty Level
This is a level 2 – Advanced Beginner
Gauge
9 stitches and 5 rows = 4 x 4-inches in pattern (see instructions below) using N/15 10.00mm hook
Finished Dimensions/Sizing
Pattern can be made to your personal preference or use the chart below for general reference.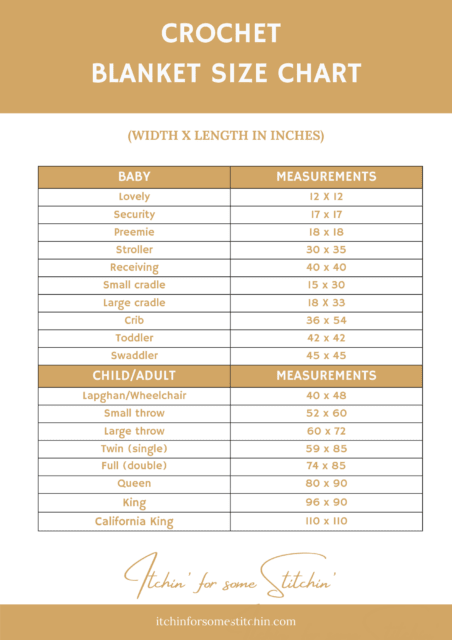 Construction (See Schematic Below)
This pattern is constructed as one square piece.
Trim is added around the outside edge.
Abbreviations
This pattern is written in US terminology.

Special Stitches
3rd loop (aka. diagonal loop or front loop)
Spike stitch – insert the hook into the row below the one you are currently working and then complete the stitch as if it were a single crochet.
Recommended Yarn
Total yardage: 1749 yds / 1599 m (*provided requirements are estimates only)
US/UK Conversion
US terminology UK terminology
Slip stitch (slp-st) = Slip stitch (ss)
Single crochet (sc) = Double crochet (dc)
Half – double crochet (hdc) = Half – treble crochet (tr)
Yarn Alternatives
worsted weight yarn
Other Materials
Crochet Hook size N/15 10.00mm or whatever hook is necessary to obtain the correct gauge.
Measuring tape
Stitch markers (optional)
Scissors
Tapestry needle for weaving in ends
Inspiration
This pattern was designed for my sister-in-law Ly. She had just found out she was pregnant with my now little niece, Lu, and asked me to make her a cuddly blanket she could sit on the couch and relax with. So, I picked a thick super soft yarn and designed something with a lot of texture so that she'd never want to put it down!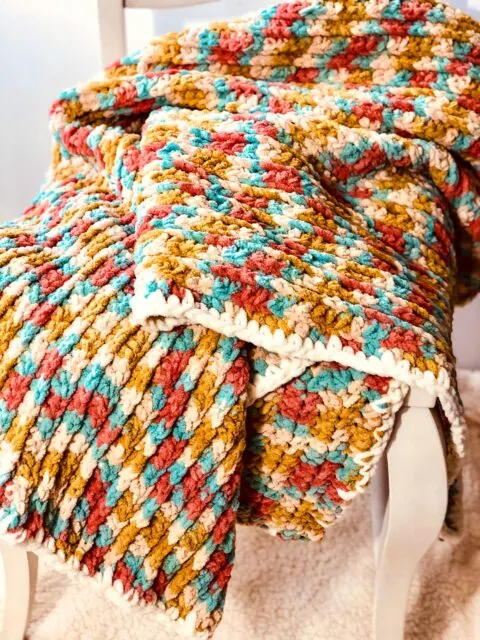 Prefer a PDF?
Get it in these places:
This pattern is available as a large print, ad-free, printable PDF pattern, which includes a stitch chart as well as written instructions.
---
Yarn Details
For Ly's Blanket I wanted a super soft, super thick yarn that my sister-in-law would love to cuddle up with.
I chose Bernat Blanket because it met all the criteria, plus, Ly helped me pick it out and she fell in love with the Sailor's Delight colorway.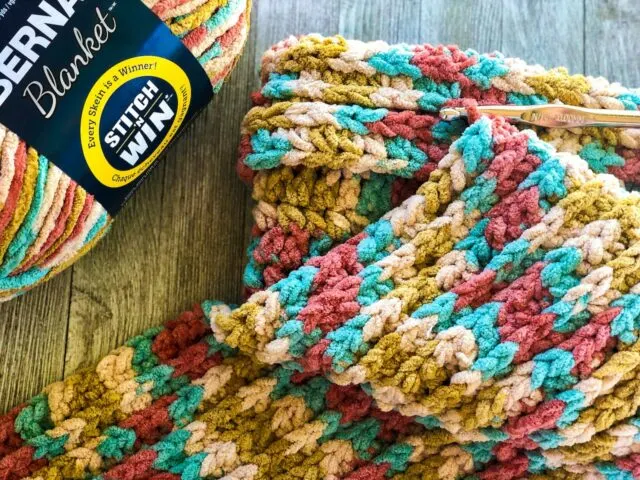 But, I had no idea how amazing the colors would pop in this blanket and couldn't be more thrilled with the final results.
Bernat blanket yarn really is the perfect yarn for crocheting chunky blankets!
Plus, there are so many colors and variations – the different looks you can create with this pattern and yarn are endless.
You can purchase it via my affiliate link below.
---
Other Patterns I Love & You Will too!
Nessa's Ruffle Butt Dog Sweater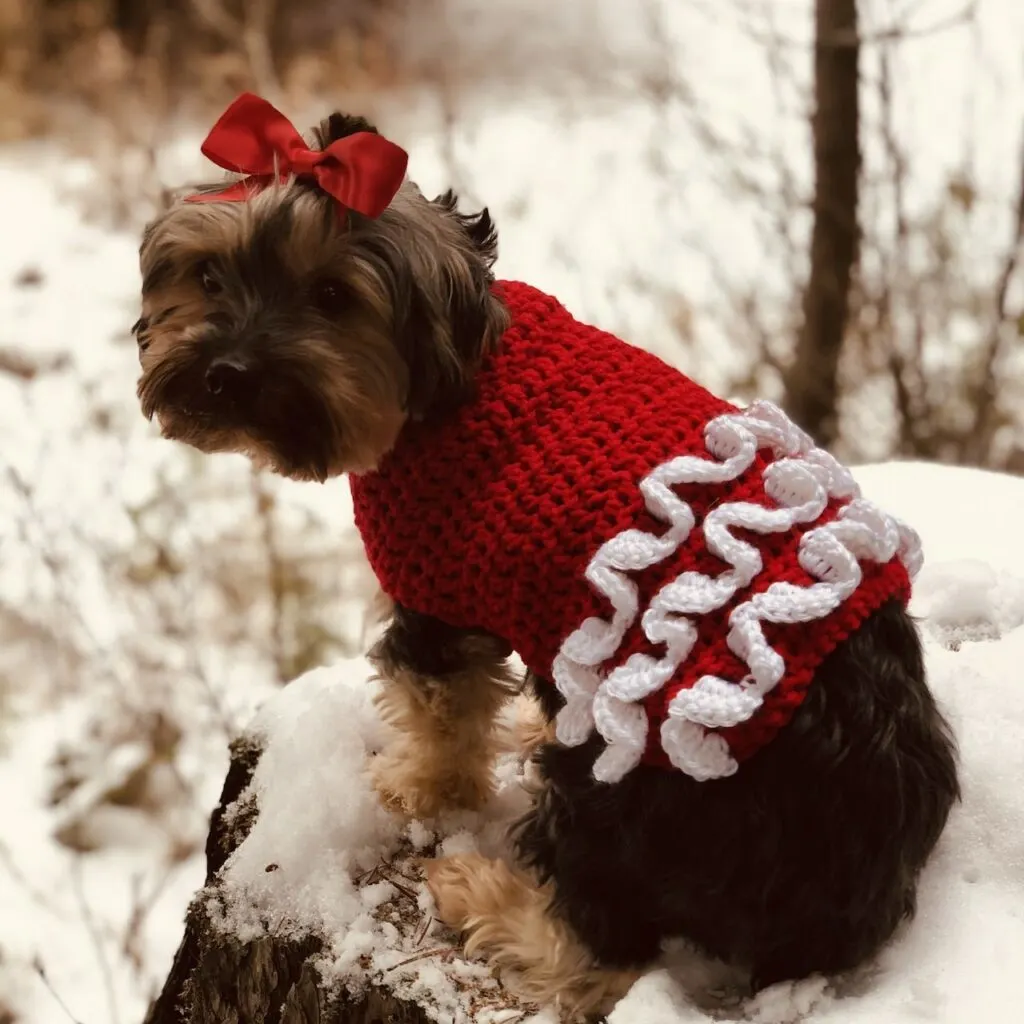 Simply Chic Buffalo Plaid Cowl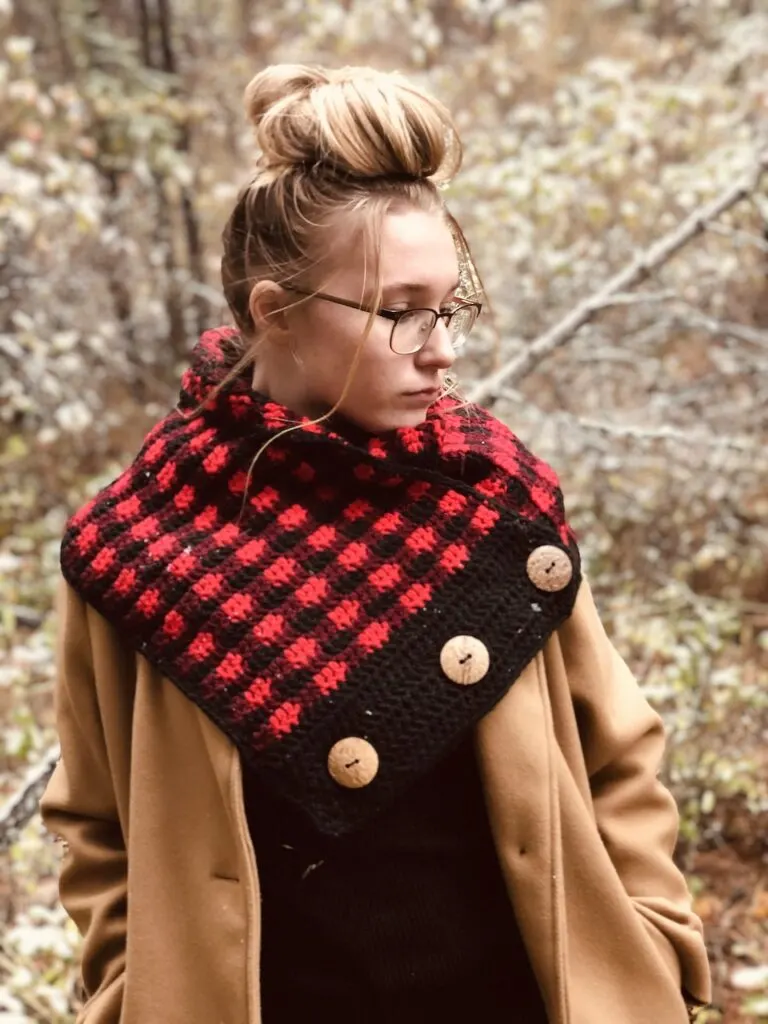 You'll Always Be in My Heart Beanie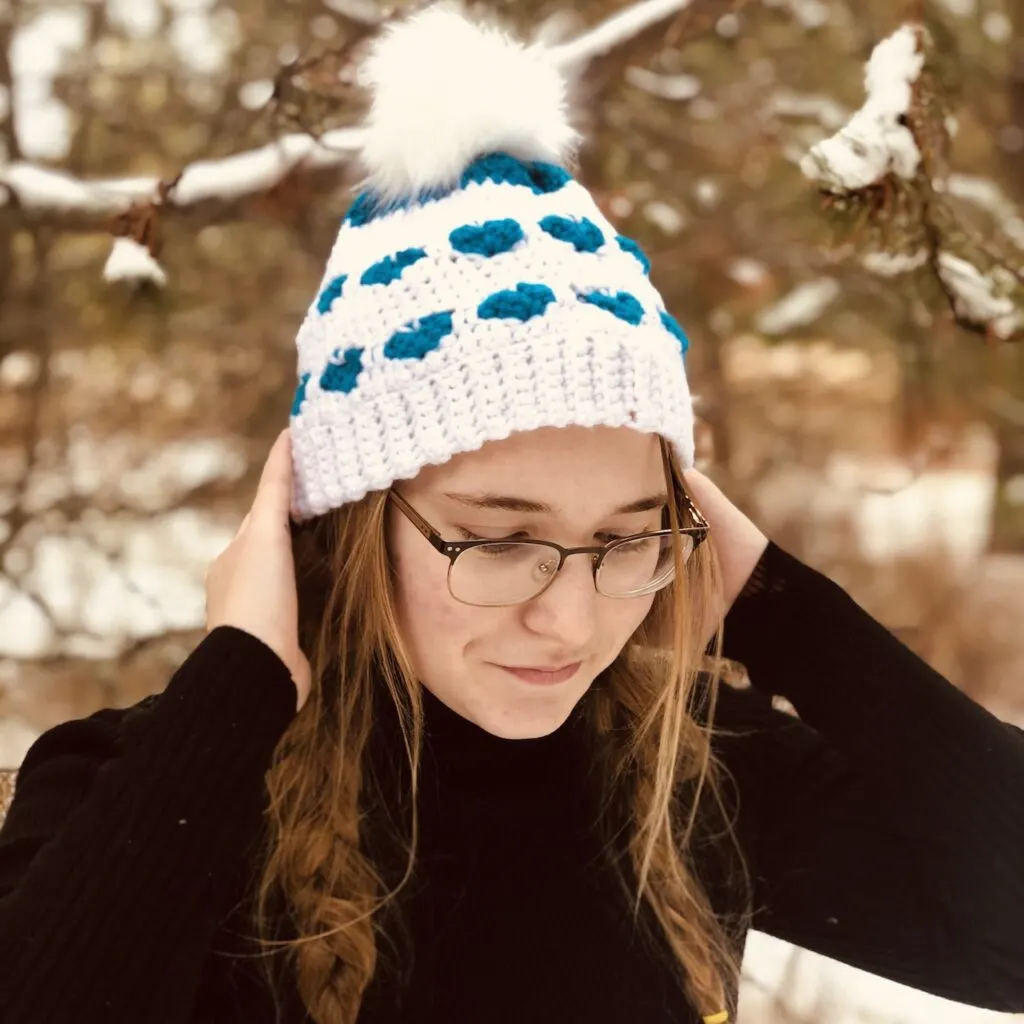 Let's Get Crafty!
Looking for lots of crafty inspiration, tips, tutorials, and a great crochet community?
Join my Facebook group!
---
Pattern Notes:
Read all pattern notes, instructions, and other provided details carefully before starting the project to make sure you understand everything. It could save you hours & a lot of headaches!
Make a swatch that measures at least 10 x 10 cm / 4 x 4 inches using the stitch provided under the Gauge Section. If your swatch matches the gauge, then you are all set to start the project. If the gauge is wrong, you might need to change your crochet hook – increase your hook size if your stitches are smaller & decrease your hook size if your stitches are larger.
All measurements given are unblocked and measured flat pre-wear and pre-seaming as fabric pieces may stretch during/after blocking, wearing, and seaming.
Provided measurements are as exact as possible, but are given as approximates. This is because yarn variances, crochet tension & individual technique might give variations in the result, which changes from person to person.
All color changes in this pattern are made using the slip-stitch (i.e. add the new yarn color with a slip-stitch).
Care Instructions: Hand wash & lay flat to dry or follow instructions on the yarn label.
---
Love Pinterest?
I do!
PIN this pattern to your Pinterest boards for later.
You can also follow all my boards!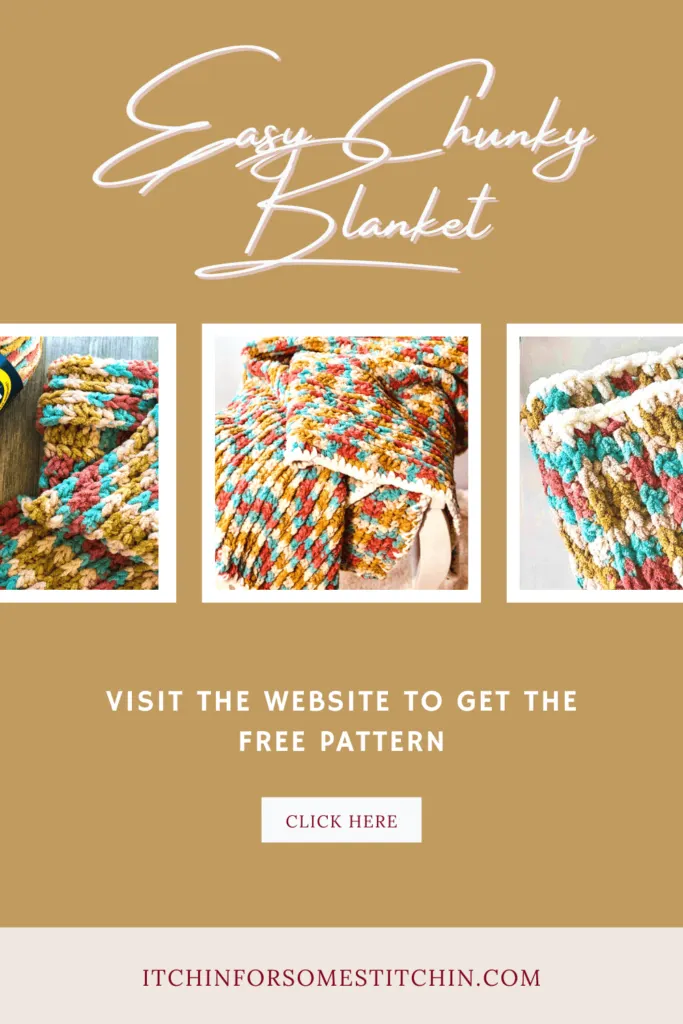 ---
**THIS IS AN ORIGINAL PATTERN. Please see my Copyright Statement for details.
Instructions
This pattern uses the "knit-like" stitch – a two row repeat in which one row you hdc in the 3rd loop and in the other row you hdc into the blo. This creates a ribbing effect.
With color A, chain the number of chains needed to create the length of the blanket you desire per the chart provided, plus 3 chains.
Row 1: Hdc in 4th ch from hook (counts as your first hdc st) and in each ch across.

Row 2: Ch2 (does not count as a st), turn work, hdc in the 3rd loop across to last st, hdc under the top two loops of the last st (this should be the first hdc of row 1 that counted as a st)..
Reference: How to Work in the 3rd Loop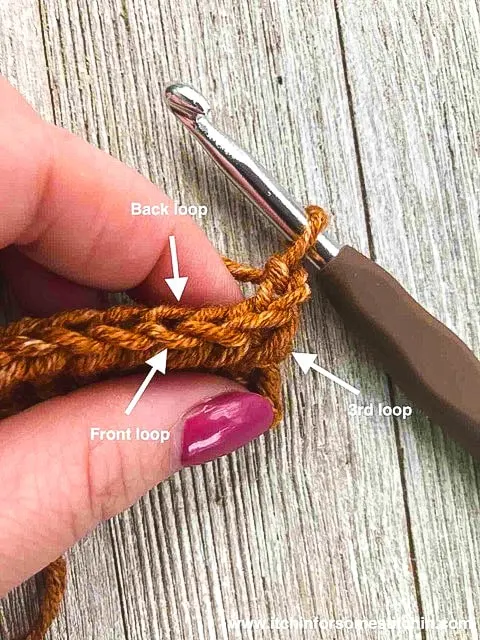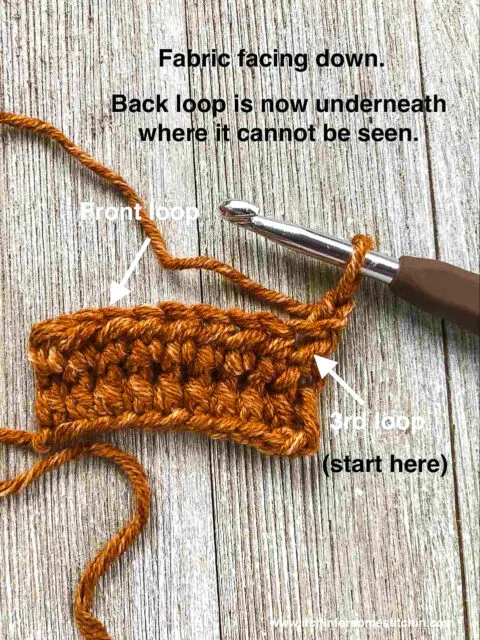 Row 3: Ch2 (does not count as a st), turn work, hdc in blo across to the last st, hdc (as normal, ie. under both front & back loops).
Row 4: Ch2 (does not count as a st), turn work, hdc in the 3rd loop across to last st, hdc (as normal, ie. under both front & back loops).
Repeat rows 3 and 4 until fabric measures the width you desire per the provided chart.

TIP: When the right (textured) side is facing you, work in blo. When the flat back is facing you, work in 3rd loop.
Finishing:
Attach color B using a slp-st (the easiest place to do this is in a corner)
*Sc in the next 3 sts, spike st, sc in the next 3 sts* Repeat from * to * around the entire blanket.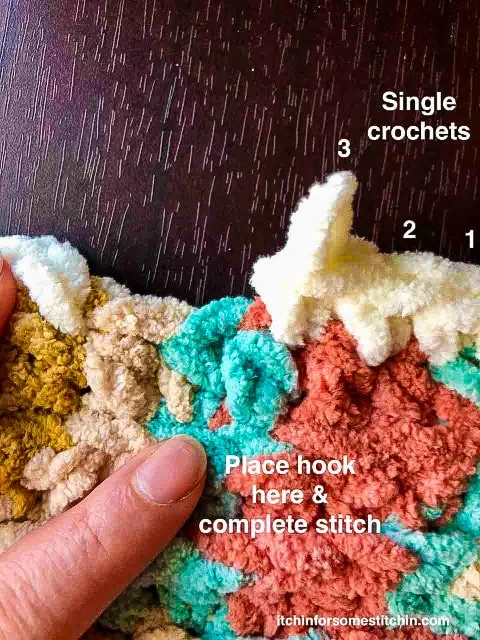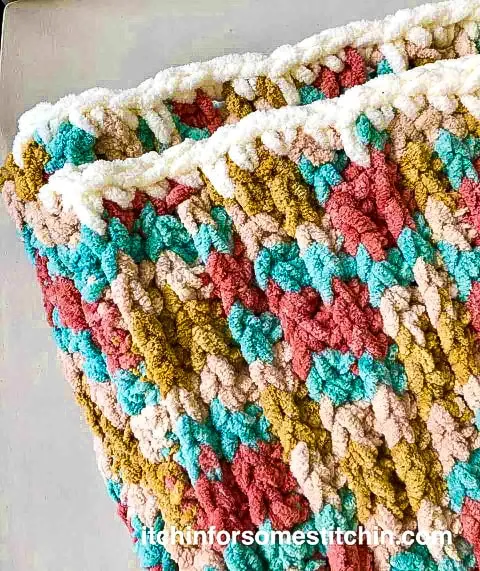 NOTE: When stitching around the rough edges it does not matter specifically where you place the stitches as there is no particular stitch count. Simply place the stitches where possible. For the spikes, go down about 1-inch from the top edge, but try to keep them similar in length with the spikes produced on the clean edges
---