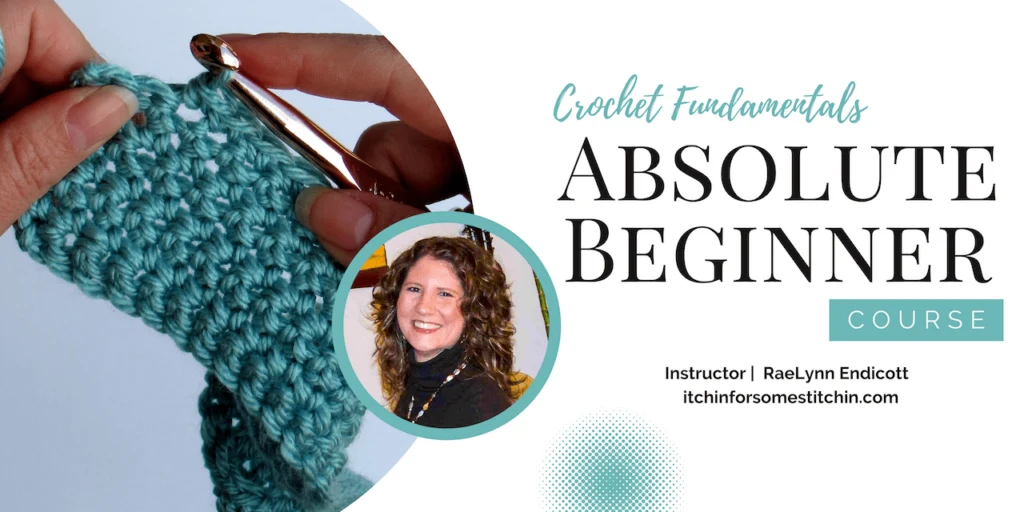 Are you ready to dive into the captivating world of crochet?
Then I have a treat for you!
I am so excited to present the Crochet Fundamentals: Absolute Beginner Course, a comprehensive and enriching journey tailored to absolute beginners and those looking to refine their crochet skills.
Who This Course Is For:
Whether you're a complete beginner who wants to learn how to crochet, someone with a basic understanding seeking to refine your skills, or a seasoned crocheter who may simply need a refresher, the Crochet Fundamentals: Absolute Beginner Course is tailor-made for you!
This course is designed for absolute crochet beginners, but with learners of all levels in mind. It provides a solid foundation for those taking their first steps in crochet while offering valuable insights and techniques to those looking to refresh their memory or improve their crochet skills.
With step-by-step guidance and instruction from a crocheter with over 15 years of experience, this course ensures a beneficial experience for anyone ready to start or continue their crochet journey.
Whether you dream of creating stunning projects or simply want to unwind through the soothing rhythm of crochet, this course is your gateway to a world of creativity and craftsmanship!
See course details below and join me in unraveling the world of crochet!
Course Highlights:
🌟 Instant Access: Begin your crochet journey immediately with instant access to the course materials upon enrollment.
🚫 Ad-Free Experience: Enjoy a distraction-free learning environment with ad-free content, allowing you to focus solely on mastering crochet fundamentals.
🕒 Learn at Your Own Pace: Study at a comfortable pace that suits your schedule, ensuring a stress-free and enjoyable learning experience.
⏳ Lifetime Access: Gain unlimited access to the course, allowing you to revisit and reinforce your skills whenever you desire.
🧶 Experienced Instructor: Learn from a seasoned crochet professional who will guide you through each step, sharing valuable insights and tips.
📚 Comprehensive Curriculum: Explore a well-structured curriculum that covers the absolute basics of crochet, ensuring a strong foundation for your creative journey.
📜 Step-by-Step Instructions: Benefit from detailed, easy-to-follow instructions that take you through each stitch and technique with clarity and precision.
🔍 Interactive Practice: Engage with interactive exercises and projects to apply your newly acquired skills, fostering hands-on learning and confidence.
📖 Bonus Tension Mastery Guide: Elevate your skills further with exclusive access to the Tension Mastery Guide, empowering you to achieve perfect tension and impeccable stitches in your crochet projects.
Unveil the world of crochet with the Crochet Fundamentals Absolute Beginner Course—your gateway to a lifetime of creative exploration, enhanced by the Bonus Tension Mastery Guide!
What Awaits You: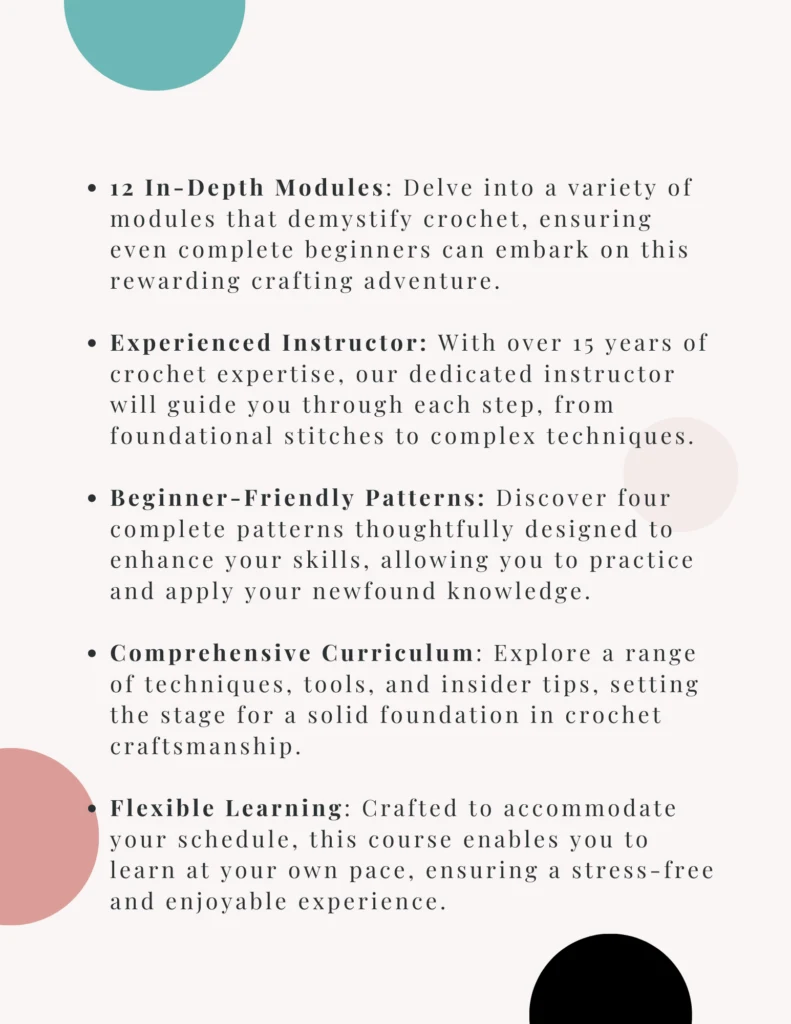 Ready to master crochet?
Subscribe now and get 50% off the Crochet Fundamentals: Absolute Beginner Course!
Sign up below and check your email for the link. Remember, the discount appears at checkout.
Don't miss out!
Hear What My Students Have to Say:
Explore the incredible experiences of those who have taken the Crochet Fundamentals: Absolute Beginner Course journey!
Here's a glimpse into the feedback I've received from my passionate and dedicated students:
I loved the course! There are a lot of good teachers out there on the Internet, but I think you're a great one. You've really shown the basics well. It gave me confidence to try!

Leila McCloud
This course is definitely beneficial! If I had this course way back when, I would not have gotten so frustrated & quit. I am now more confident & excited to keep going with my crochet journey!

Sherri G.
These testimonials reflect the impact of the Crochet Fundamentals: Absolute Beginner Course on my students' lives.
Each success story is a testament to the quality of instruction and guidance you can expect from this course.
Join the growing community of crochet beginners who have unlocked boundless crochet possibilities and achieved remarkable results through this course!