It's time to share my first crochet washcloth pattern!
It's called the Sunny Days Crunch Stitch Dishcloth because it's worked up using the beautifully textured crunch stitch.
And I simply love how it turned out!
Plus, it's absolutely perfect for scrubbing and washing. You're welcome. 😃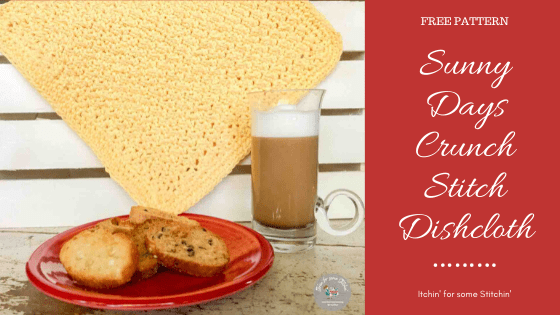 * This post may contain affiliate links. Your support is appreciated! See my full Disclosure Policy for details.
Ya'll this whole "staying in" movement really has me focused on scrap buster projects.
I find myself hunting through my yarn stash, targeting one and then figuring out what I can make out of it.
On my last scavenging event I located a bunch of yellow cotton yarn that I had been using to make dishcloths for my mom.
However, none of them were an original pattern by yours truly.
With washcloth yarn in hand I decided it was high time to create my own!
And thus, this lovely piece was born!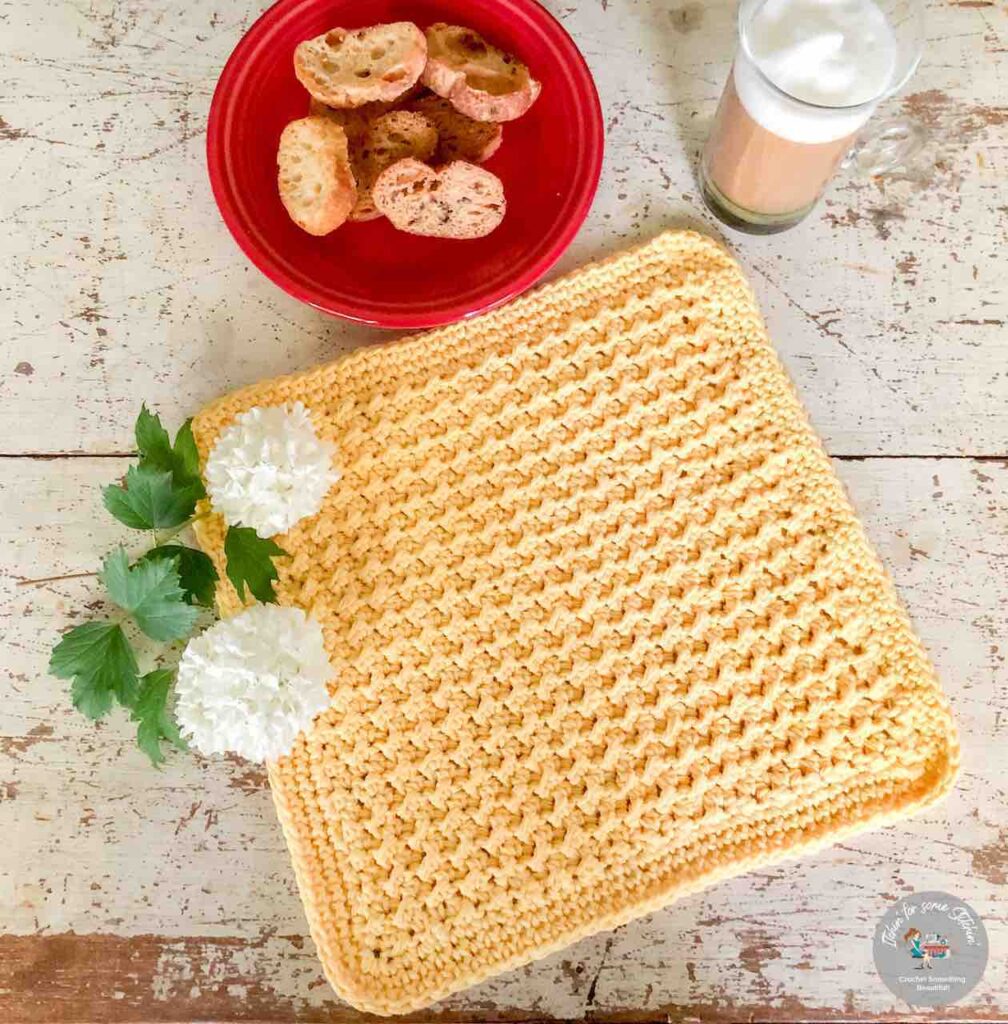 ---
Looking for lots of crafty inspiration, tips, tutorials, and a great crochet community? Join my Facebook group!
---
I simply adore the texture on this cloth!
It's perfect for grabbing all the yuckies and washing them away, which is why I think the crunch stitch is absolutely one the best stitches to use for dishcloths.
Plus, it really is a unique and lovely stitch!
Don't you agree?
And, as it turns out, not as difficult to work up as you might think!
---
Check Out These Other Patterns I LOVE!

Quick and Easy Medium-sized Dog Sweater
---
---
Sunny Days Crunch Stitch Dishcloth Pattern
**THIS IS AN ORIGINAL PATTERN. Please see my Copyright Statement for details.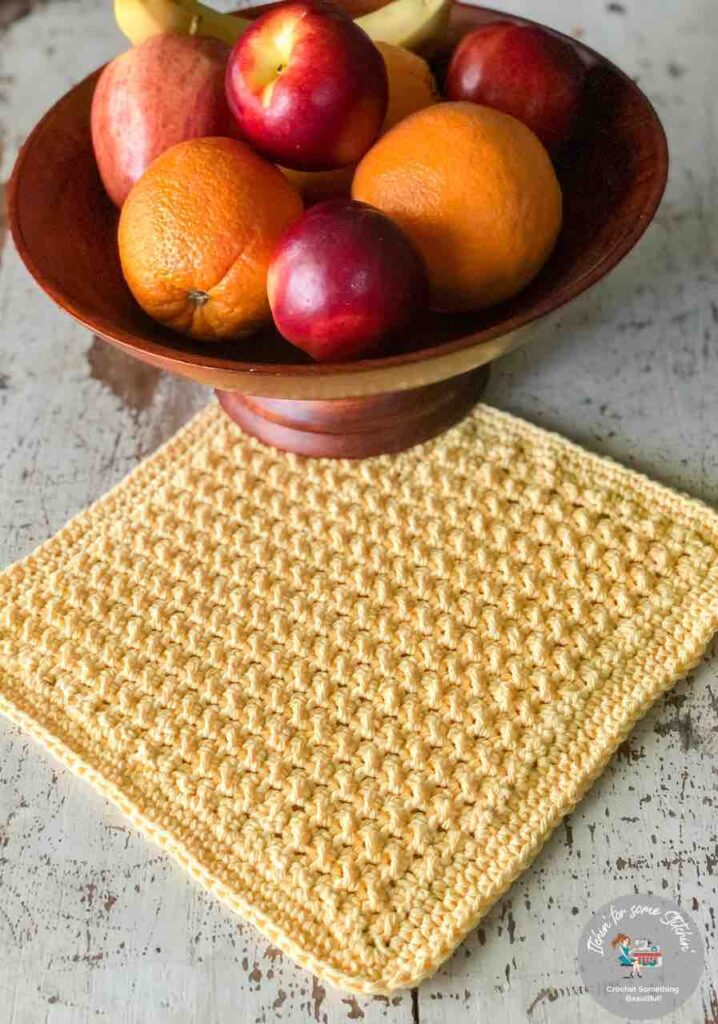 Summary:
This dishcloth is worked using the intricate looking crunch stitch. Yet, it is actually super easy to do because it requires only the slip stitch & the half double crochet to create a fabulous texture that is great for scrubbing & washing. Plus, it's extra-large!
---
Prefer a PDF?
This pattern is available as a large print, ad-free, printable PDF pattern.
Get it in these places:
---
Love Pinterest? I do!
PIN this pattern to your Pinterest boards for later HERE.
You can also follow all my boards!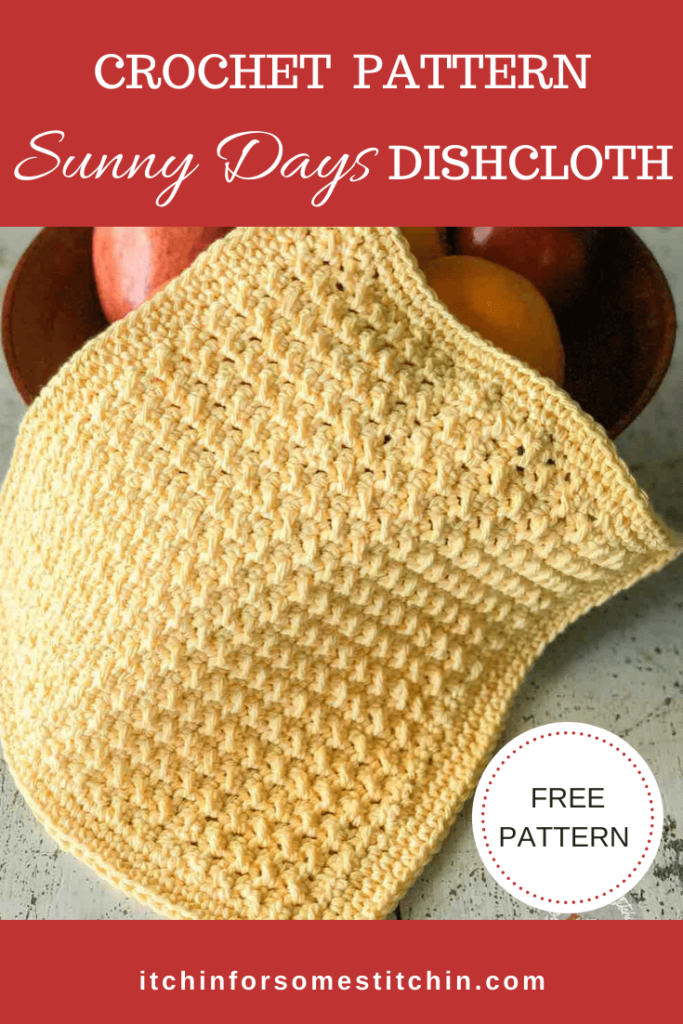 ---
Add this pattern to your Ravelry que HERE.
---
Not a member of my crochet community?
Click on the button below to sign up and receive a my free crochet journal, as well as all future updates, freebies, promos and more!

---
Level of Difficulty: Beginner
Finished Dimensions:
10.5 inches (W) x 10.5 inches (L)
Gauge:
13 stitches and 14 rows = 4-inches in single crochet
8 stitches and 18 rows = 4-inches in crunch stitch
Materials:
~ In this pattern I used 1 skein of Lily Sugar N' Cream, colorway Yellow, 4oz/113g 200yds/184m per skein.
~ Total yardage: 50 to 100 yds
Crochet Hook size H/8-5.00mm
Scissors
Tapestry needle
Blocking materials (Optional) – I used straight pins, foam mat, & spray bottle filled with water.
(Click HERE to find my favorite crochet tools & resources)
Abbreviations:
~Click on the links if you need a review of each technique.
Pattern is written in US terms.
Hook (hk)
Stitch/es (st/sts)
Chain stitch (ch)
Single crochet (sc)
Half-double crochet (hdc)
*__* – Repeat indicated instructions
Special Stitches:
Crunch Stitch – alternating slp sts and hdc sts by slp stitching into hdc sts and working hdc sts into slp sts.
Additional Notes:
Read all pattern notes, instructions, and other provided details carefully before starting the project to make sure you understand everything. It could save you hours & a lot of headaches!
Make a swatch that measures at least 10 x 10 cm / 4 x 4 inches using the stitch provided under the Gauge Section. If your swatch matches the gauge, then you are all set to start the project. If the gauge is wrong, you might need to change your crochet hook – increase your hook size if your stitches are smaller & decrease your hook size if your stitches are larger.
All measurements given are unblocked.
Provided measurements are as exact as possible, but are given as approximates. This is because yarn variances, crochet tension, & individual technique might give variations in the result, which changes from person to person.
This pattern can be made to any size by adjusting the number of chains in the foundation row, just be sure to always alternate slp sts with hdc sts for row 1 and then always slp st into an hdc and hdc into a slp st for all rows thereafter to create the crunch stitch pattern.
Be aware that 100% cotton yarn may have some shrinkage.
Instructions:
Ch 34
Row 1: Slp st into 3rd ch from hk (does not count as a st), hdc in next ch, *slp st in next st, hdc in next st* to end. (32 sts)
Row 2: Ch 1, turn work, slp st into 1st st (should be a hdc), *hdc in next st (should be a slp st), hdc in next st* to end. (32 sts)
Should end with working an hdc into the top ch of the turning ch from previous row
Row 3: Ch 1, turn work, slp st into the 1st st (should be a hdc), *slp st into the next st (should be an hdc), hdc into the next st* to end. (32 sts)
Should end with working an hdc into the top ch of the turning ch from previous row
Rows 4-41: Repeat rows 2 and 3.
Row 42: Ch 1, turn work, work 3 sc into the 1st corner, work 1 sc into the next st and in each sts across to end. Do NOT turn work, but rotate it so you are crocheting down the side of and then around the dishcloth working 3 sc into each corner st. Slp st to close.
Rows 43-44: Ch 1, turn work, sc in each st around, slp st to close.
Bind Off and Weave in Ends.
---
Blocking (Optional):
Block using your favorite method or follow the instructions below.
Step 1. Lay the dishcloth flat on a foam mat & shape it into a square
Step 2. Use straight pins to pin along the edges & corners of the dishcloth
Step 3. Spray the dishcloth until damp with water
Step 4: Let sit for 24 hours
---
What'd I tell you? So easy, right?!
And, you can whip these up in less than an hour!
This is the first of many for me, I think I'll do one in all the colors that match my kitchen.
Easy, quick, fun, and useful – what more could you ask for in a pattern? 😉
---
Interested in more stash buster projects?
Check out:
15 Stash-buster Projects to Keep You Busy While "Staying in"
29 Quick Crochet Projects You Can Do In a Weekend or Less!
31 Quick and Easy Crochet Projects That'll Keep Your Hook a Hookin'!
33 Easy Crochet Patterns That Will Bust Your Stash!
---
Thank you for coming to my blog! By sharing my content and/or making a purchase you are making it possible for me to continue producing and sharing free content for everyone to enjoy. I sincerely appreciate your support!
Until next time… Happy Crocheting!
Please Share!