I have been meaning to share this pattern with you for a long time.
Folks, this is absolutely my favorite crochet dish scrubby pattern!
It's big, it's thick, and it's hands down the best scrubby I have ever used.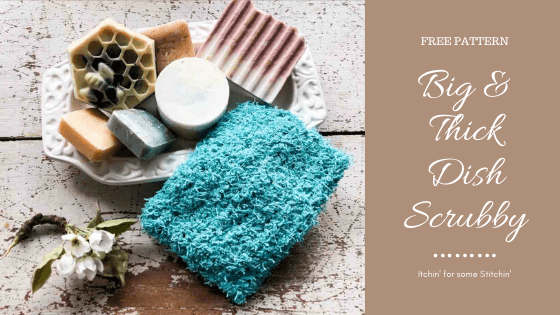 * This post may contain affiliate links. Your support is appreciated! See my full Disclosure Policy for details.
I actually designed this pattern two years ago.
Oh you read that right all right!
Yes, I said two years ago.
I made one for my kitchen, but before publishing it, I wanted to see how well it would work.
Then, of course, I got busy and time raced by.
Two years later I decided to whip some of these up to put in a care package for my mom… and well, that meant it was finally time for this post!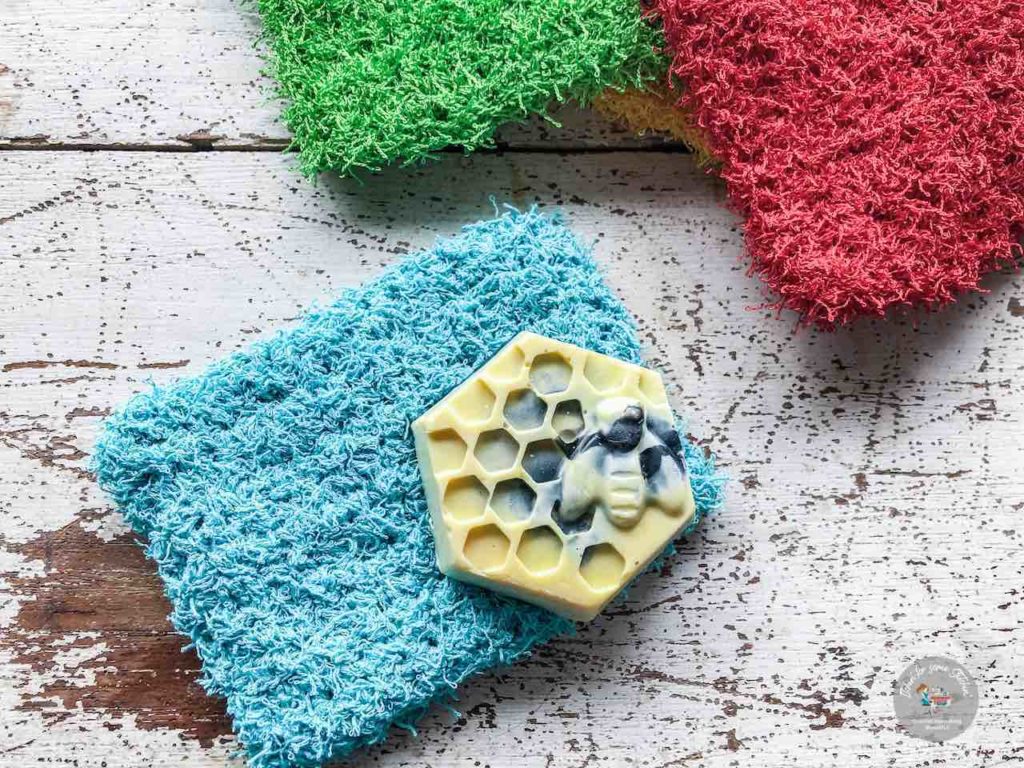 ---
Looking for lots of crafty inspiration, tips, tutorials, and a great crochet community? Join my Facebook group!
---
And I can tell you that after two years, this scrubby held up better than any sponge, washrag, or store bought scrubby I have ever used!
My inspiration for this pattern was a Brillo pad. Do you remember those?
They are thick square steel wool pads used for scrubbing, polishing, and shinning dishes.
Growing up, these are what my mom used to clean the kitchen.
They were great! With one caveat – you had to wear gloves to use them.
Otherwise you'd get bits of steel wool in your hands and fingers!
Well, I wanted a scrubby that was thick like a Brillo pad, but extra large in size and without the pain.
So, I sat down with my hook and some scrubby yarn and voilà – the big and thick dish scrubby was born!
If you've got some extra scrubby yarn in your stash, then you've gotta make these!
---
Check Out These Other Patterns I LOVE!

Quick and Easy Medium-sized Dog Sweater
---
---
Big & Thick Dish Scrubby Pattern
**THIS IS AN ORIGINAL PATTERN. Please see my Copyright Statement for details.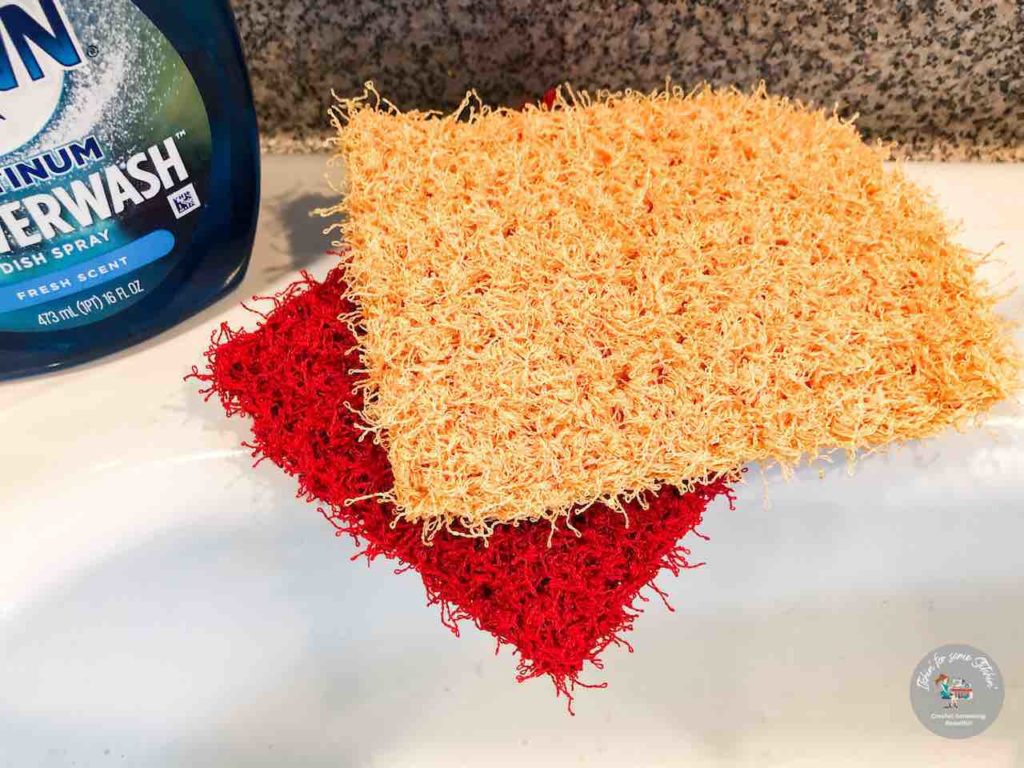 Summary:
These big & thick dish scrubbies are absolutely the best scrubbies you'll ever use. They are super easy to make and come together in less than 30 minutes. Plus they hold up to dish washing, pot scrubbing, and machine washing for months to years!
Prefer a PDF?
This pattern is available as a large print, ad-free, printable PDF pattern.
Get it in these places:
---
Love Pinterest? I do!
PIN this pattern to your Pinterest boards for later HERE.
You can also follow all my boards!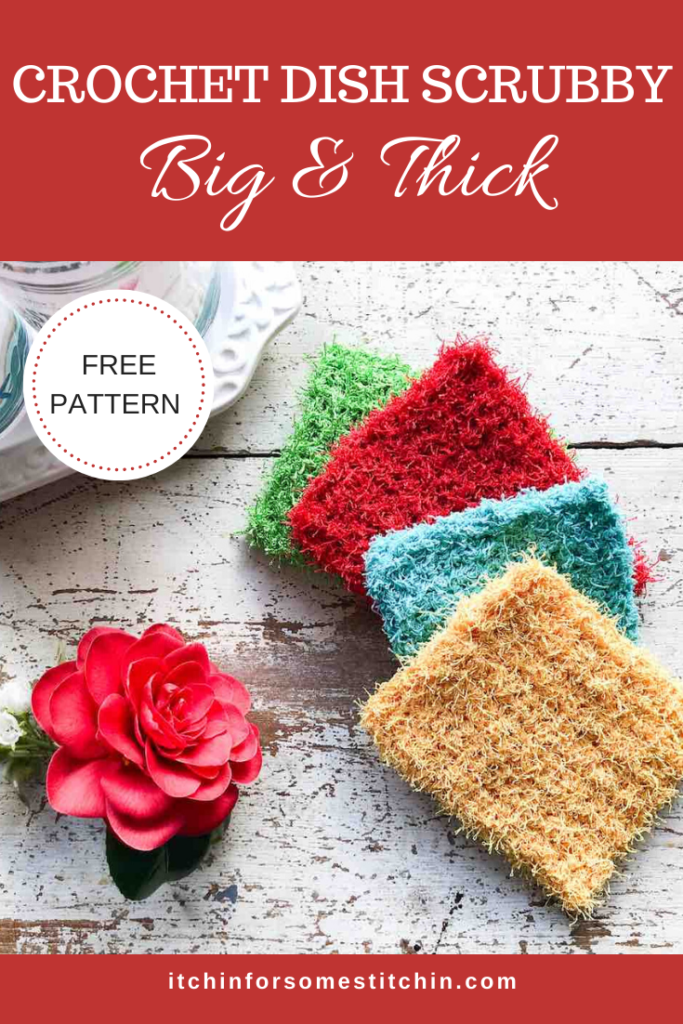 ---
Add this pattern to your Ravelry que HERE.
---
Not a member of my crochet community?
Click on the button below to sign up and receive a free pattern, as well as all future updates, freebies, promos and more!
---
Level of Difficulty: Beginner
Finished Dimensions:
About 4.5-5 – inches (length) by 3.5-4 – inches (width)
Gauge:
13 stitches and 16 rows = 4 – inches in single crochet (sc)
Materials:
Scrubby (100% Polyester) or Scrubby Cotton Yarn (100% cotton)
In this pattern I used Red Heart Scrubby Cotton Yarn in Fiji (blue) 3.5oz/100g 145yds/133m and Red Heart Scrubby in Lime (green), Cherry (red), and Duckie (yellow) 3.5/100g 92yds/85m.
~ Total yardage: 31 to 40 yards (29 – 37 m) for each dish scrubby
I/9 5.5mm hook
Tapestry needle
Scissors
(Click HERE to find my favorite crochet tools & resources)
Abbreviations:
~Click on the links if you need a review of each technique.
Pattern is written in US terms.
Stitch/es (st/sts)
Chain stitch (ch)
Single crochet (sc)
Additional Notes:
If you use 100% cotton some shrinkage may occur.
For seaming, I recommend the whip-stitch technique as it leaves the edges less bulky, but you can also sc or slp-st the edges together.
Instructions:
~ Leave a 12 – inch or longer tail when making the slip-knot.
Ch 16
Row 1: Sc in the 2nd ch from hook and in each st across. (15 sts)
Rows 2 – 30: Ch 1, turn work, sc in each st across. (15 sts)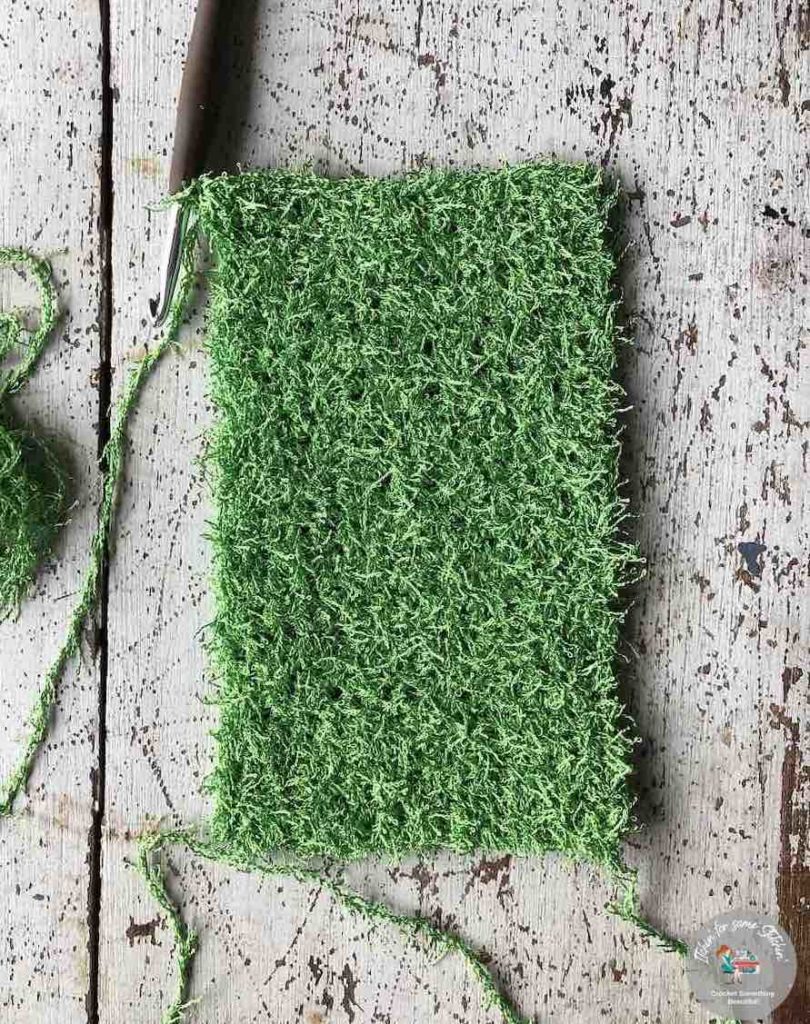 Bind off leaving a 24 – inch tail or longer.
Fold the project in half so the edges along the short side of the project are aligned.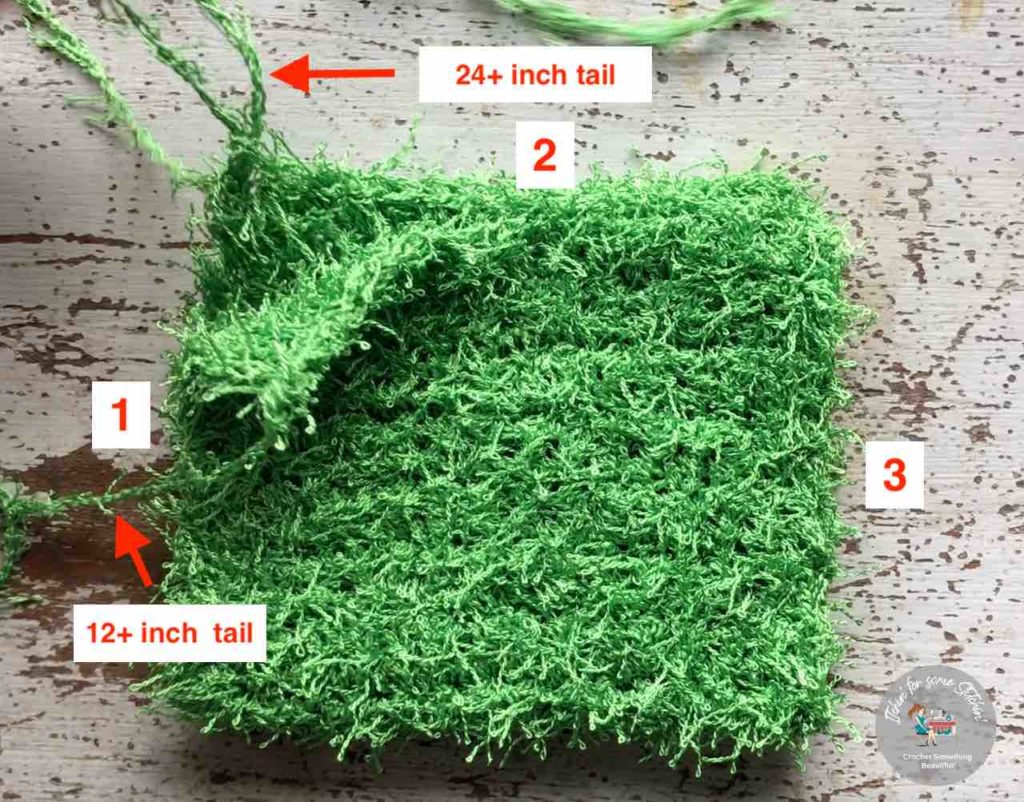 Seam together edges along side 1 using the 12 – inch or longer tail. (See photo above)
Seam together edges along sides 2 and 3 using the 24 – inch or longer tail (See photo above)
Weave in ends
---
Need to see it in action?
---
What'd I tell you? These scrubbies are awesome!
Plus, you can whip them up in 30 minutes or less!
Oh, and, not only did my first scrubby – the one created two years ago – hold up to dish washing, pan scrubbing, and sink scraping, but I washed it once a week too.
Every single week for two the last two years.
And guess what? That little scrubby is still in pretty good condition today!
---
Interested in more stash buster projects?
Check out:
15 Stash-buster Projects to Keep You Busy While "Staying in"
29 Quick Crochet Projects You Can Do In a Weekend or Less!
31 Quick and Easy Crochet Projects That'll Keep Your Hook a Hookin'!
33 Easy Crochet Patterns That Will Bust Your Stash!
---
Thank you for coming to my blog! By sharing my content and/or making a purchase you are making it possible for me to continue producing and sharing free content for everyone to enjoy. I sincerely appreciate your support!
Until next time… Happy Crocheting!
Please Share!