Hey folks!
I am so glad to be sharing my latest pattern with you today.
It's my Quick & Easy Dog Sweater Pattern designed originally for my small Yorkies, but in size medium for slightly larger doggies. ?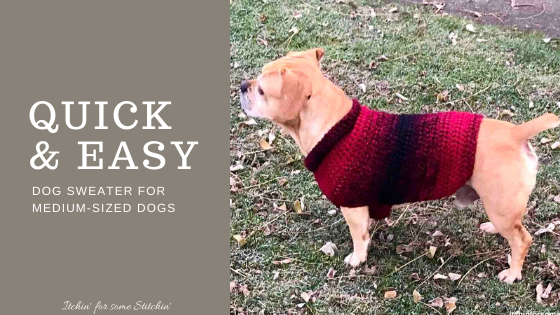 I love dogs!
So much so that I have seven of them. Yep. I said seven.
And my little fur babies deserve the best!
So I am designing each one of them their own sweater.
I actually designed the original version of this sweater several years ago and have since made a version small enough for puppies and even added ruffles for girly dogs.
Since then I have also added a French Bulldog mix to my little fur family and he's a bit larger than my Yorkies so it was time to make another adjustment to the pattern.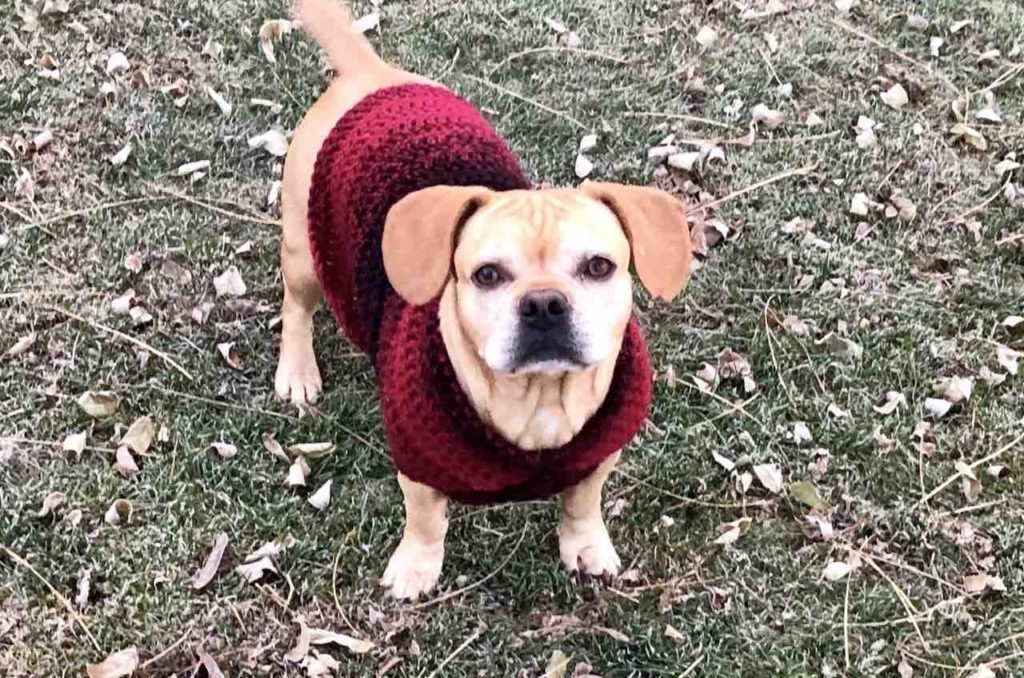 This is Tank. He's about 22 lbs, super long (he's part Doxen) and quite thick around his body.
In human terms I'd say he's a medium-husky. ?
He's absolutely the sweetest thing ever and he just LOVES his sweater!
---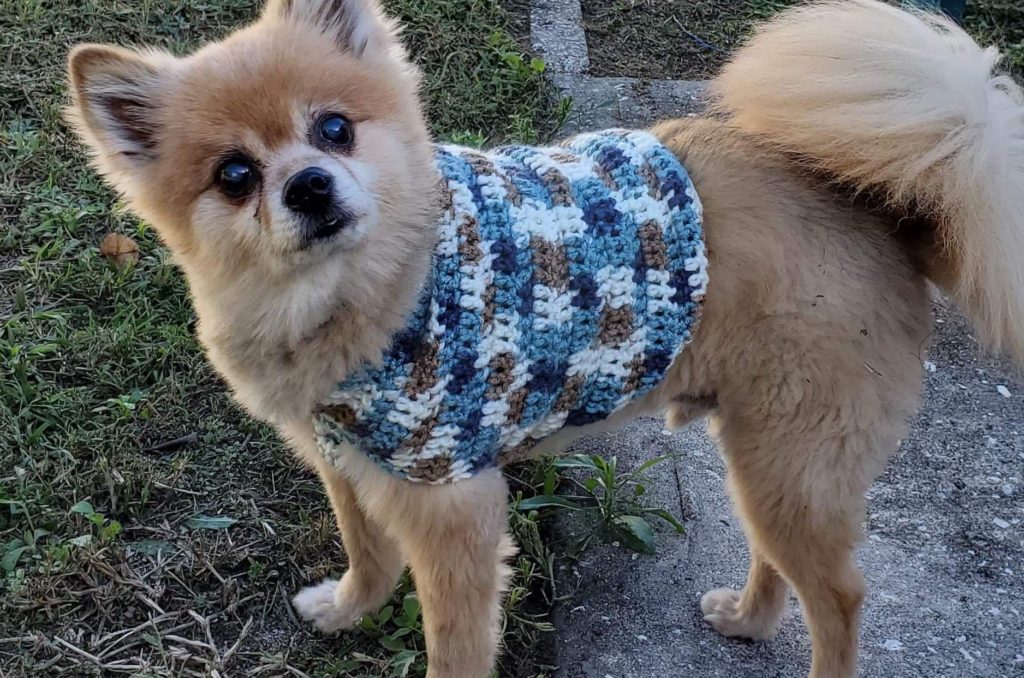 Note: The Quick & Easy dog sweater in medium pictured above was crocheted by one of my wonderful pattern testers, Katie Ober-Fitz.
Would you like to be a pattern tester? Apply HERE!
---
Dog Sweater Pattern for Medium-sized Dogs
**THIS IS AN ORIGINAL PATTERN. Please see my Copyright Statement for details.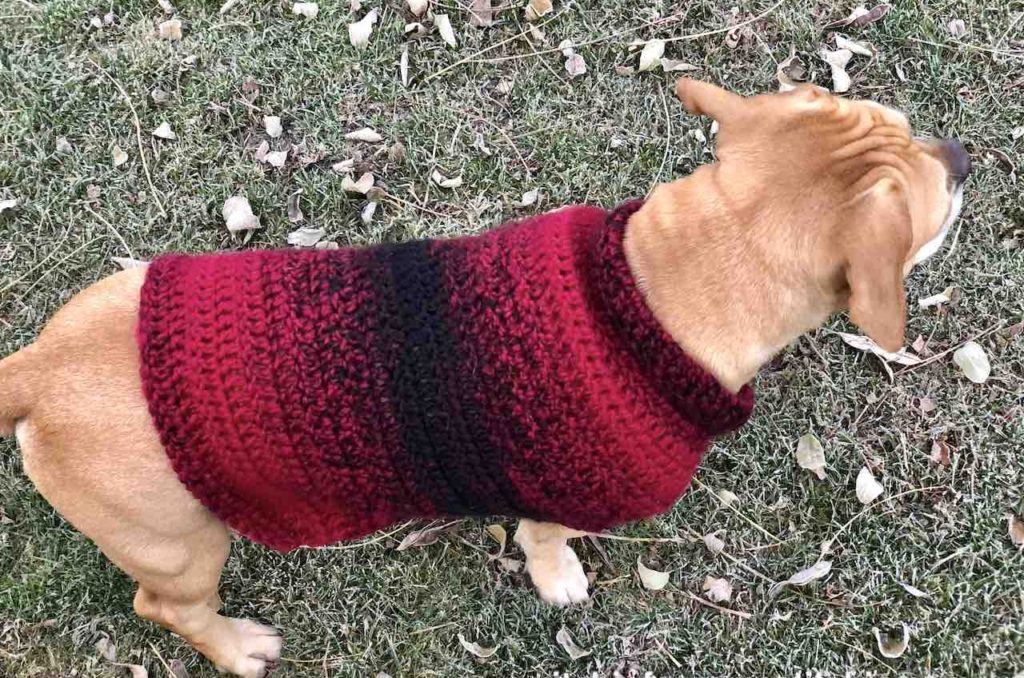 Prefer a PDF?
[list style="style6″]
[li]This pattern is also available for purchase as a large print, ad-free, printable PDF pattern. Get it in any of these places: My Shop.
Etsy.
LoveCrafts.[/li]

Love Pinterest? I do!
[li]PIN this pattern to your Pinterest boards for later HERE. You can also follow all my boards![/li]
Pattern
[li]Add this pattern to your Ravelry que HERE.[/li]
[/list]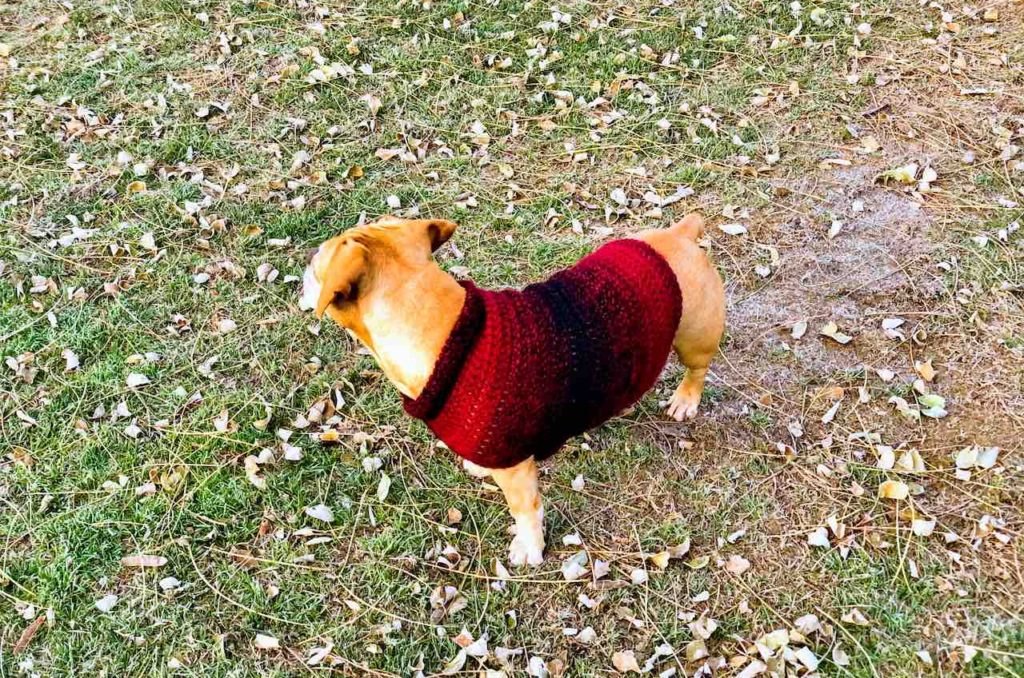 Summary:
This quick & easy crochet sweater for medium sized dogs is warm and stylish. Perfect for keeping your little fur babies fashionable and cozy during the chilly autumn & winter months. Plus, it's beginner-friendly & super easy to put together!
Difficulty level: Level 1 – Beginner
Finished Dimensions:
Back measures about 16 1/2-inches from neck to end.
Chest measures about 6-inches from neck to belly.
Fits dogs approximately 18-29 lbs and approximately 19-21 – inches in length.
Gauge: 4 rows and 13 stitches = 4-inches in double crochet (dc).
Materials:
~ Total yardage: 156 yards
(Click HERE to find my favorite crochet tools & resources)
Abbreviations:
Pattern is written in US terms. *Click on abbreviation names for tutorials
Stitch (St)
Single crochet 2 together (Sc2tog) – This is called making a decrease and it is actually very easy to do! So, please don't be put off by this. You can do it!
Additional Notes:
Read all pattern notes, instructions, and other provided details carefully before starting the project to make sure you understand everything. It could save you hours & a lot of headaches!
Make a swatch that measures at least 10 x 10 cm / 4 x 4 inches using the stitch provide under the Gauge Section. If your swatch matches the gauge, then you are all set to start the project. If the gauge is wrong, you might need to change your crochet hook – increase your hook size if your stitches are smaller & decrease your hook size if your stitches are larger.
All measurements given are unblocked.
Provided measurements are as exact as possible, but are given as approximates. This is because yarn variances, crochet tension, & individual technique might give variations in the result, which changes from person to person.
Some in pattern photos come from the original Ruffled Small Dog Sweater pattern and are depicted using Red Heart Bon Bon yarn (pink & blue).
Instructions:
Back
~ Start at the neckline and work towards the tail.
Chain 48

NOTE: Chain less for dogs of less girth or chain more for dogs of greater girth.

Row 1: DC in 3rd ch from hook working in the BPO and then across. (46 sts)

Rows 2: Ch 2 (does not count as a stitch), turn work, DC in 1st DC from hook and then across. (46 sts)
Row 3: Repeat row 2.
~ Do not bind off. Fold collar in half lengthwise, SC through both halves across the bottom to seal the collar. When you reach the end, do not bind off, simply go ahead to row 4.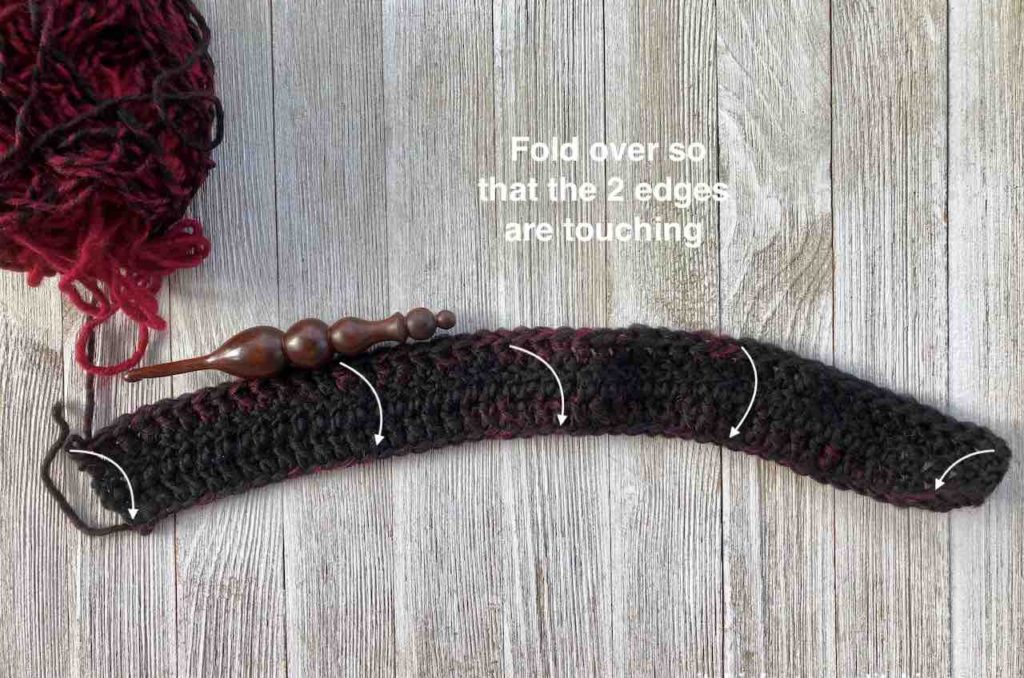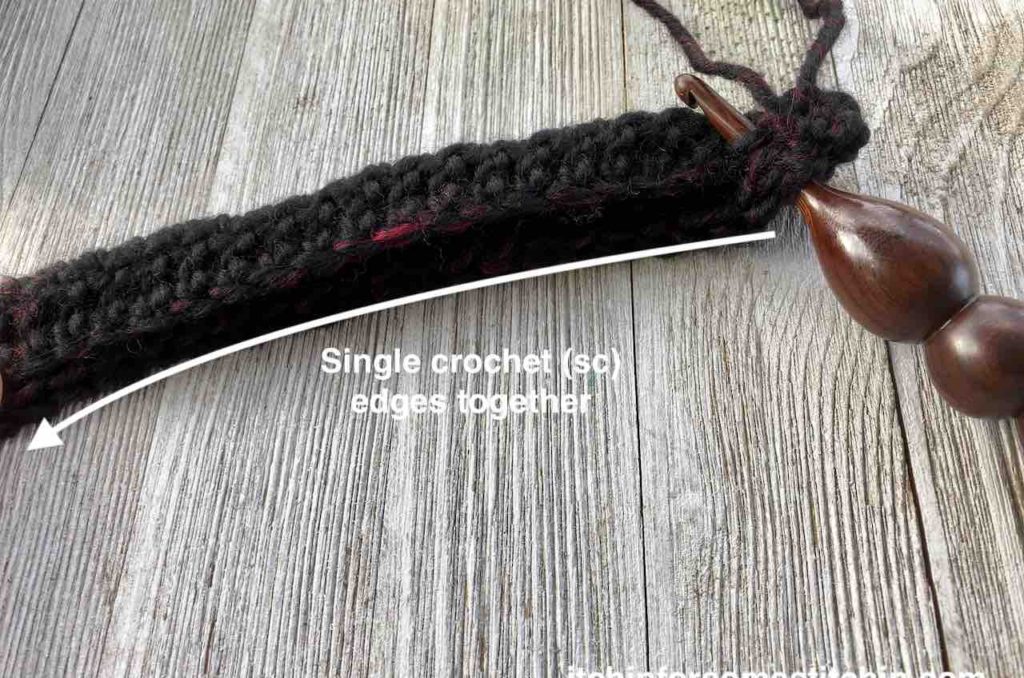 Row 4: Ch 2 (does not count as a stitch), turn work, DC across. (46 sts)
Rows 5 –18: Repeat row 4.
NOTE: Here is where you can adjust the length of sweater. Do less repeat rows for shorter dogs and more repeat rows for longer dogs.
Row 19: Ch2, turn work, Sc2tog the first two stitches, Dc across, Sc2tog the last two stitches. (44 sts)
NOTE: Each time you Sc2tog it reduces your stitch count by one. Since you did it twice in row 19, your stitch count should now be 44 sts.
Row 20: Repeat row 19. (42 sts)
Row 21: Ch 2, turn work, Dc in the next 19 stitches, Sc2tog the next two stitches, Dc in the last 19 stitches. (40 sts)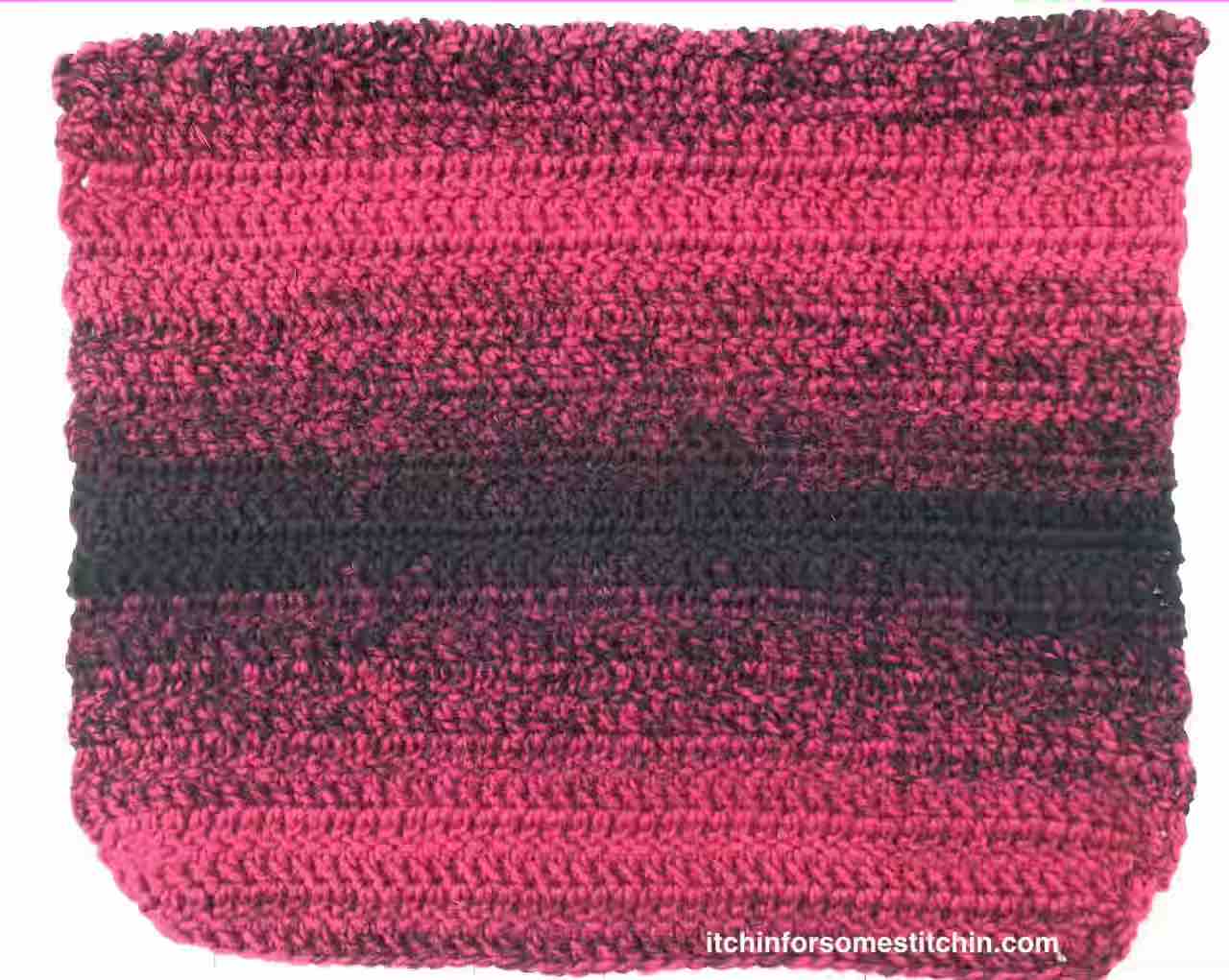 Chest
~ Start at belly end and crochet towards the neck.
Chain 19
Row 1: DC in the 2nd ch from hook and in each ch across. (17 sts)
Rows 2 – 5: Ch 2 (does not count as a st), turn work, DC across. (17 sts)
Rows 6: Ch 2 (does not count as a st), turn work, Sc2tog the first two stitches, Dc across, Sc2tog the last two stitches. (15 sts)
Rows 7 – 13: Repeat row 6 – stitch count will be reduced by 2 sts every row until there is only one stitch left after row 13.
~ Remember this reduces your stitch count by two for each row because you have Sc2tog twice.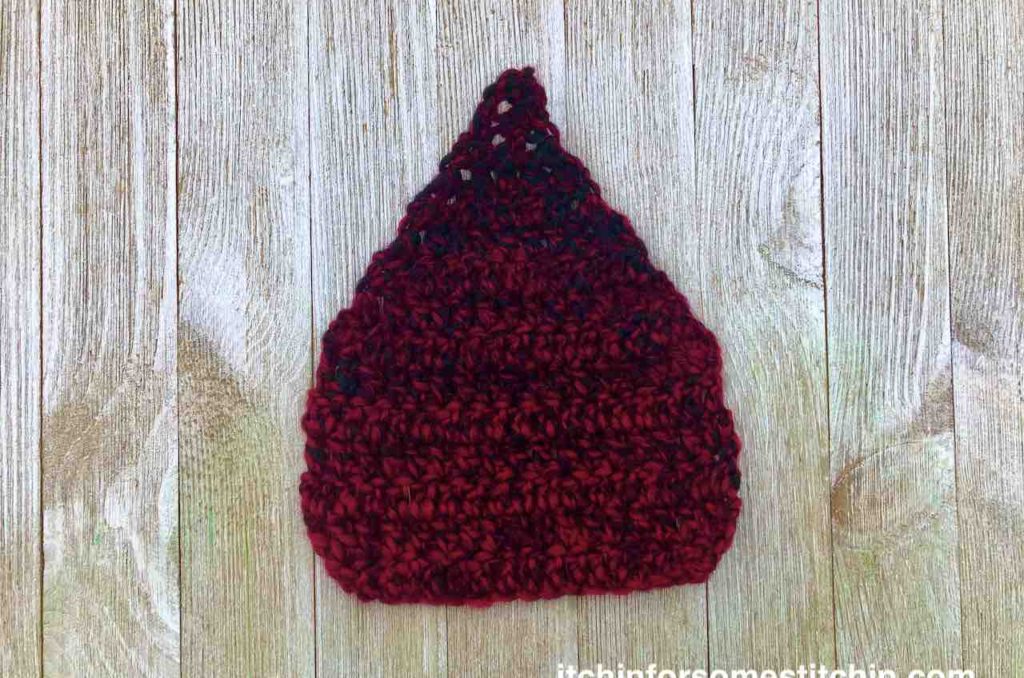 ~ The chest piece should essentially be a triangle shape.
NOTE: If you need a bigger or smaller chest piece, chain more or less, respectively, for the foundation chain. Then follow steps 1-6, repeat step 6 until there is only one stitch left.
Assembly:
Step One
Place chest piece in the center of back pieces with right sides together. So that when the chest piece is seamed in, there will be a slight opening in the neck.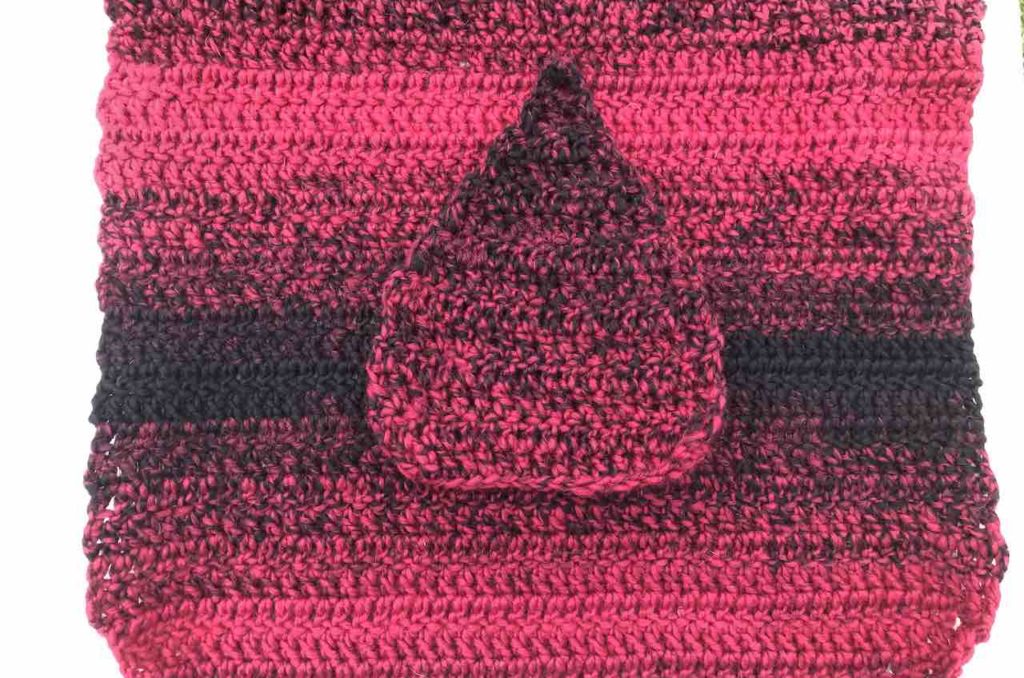 Step Two
Seam in the chest piece.
Fold one side of the back piece down so that its edge aligns with the edge of the chest piece.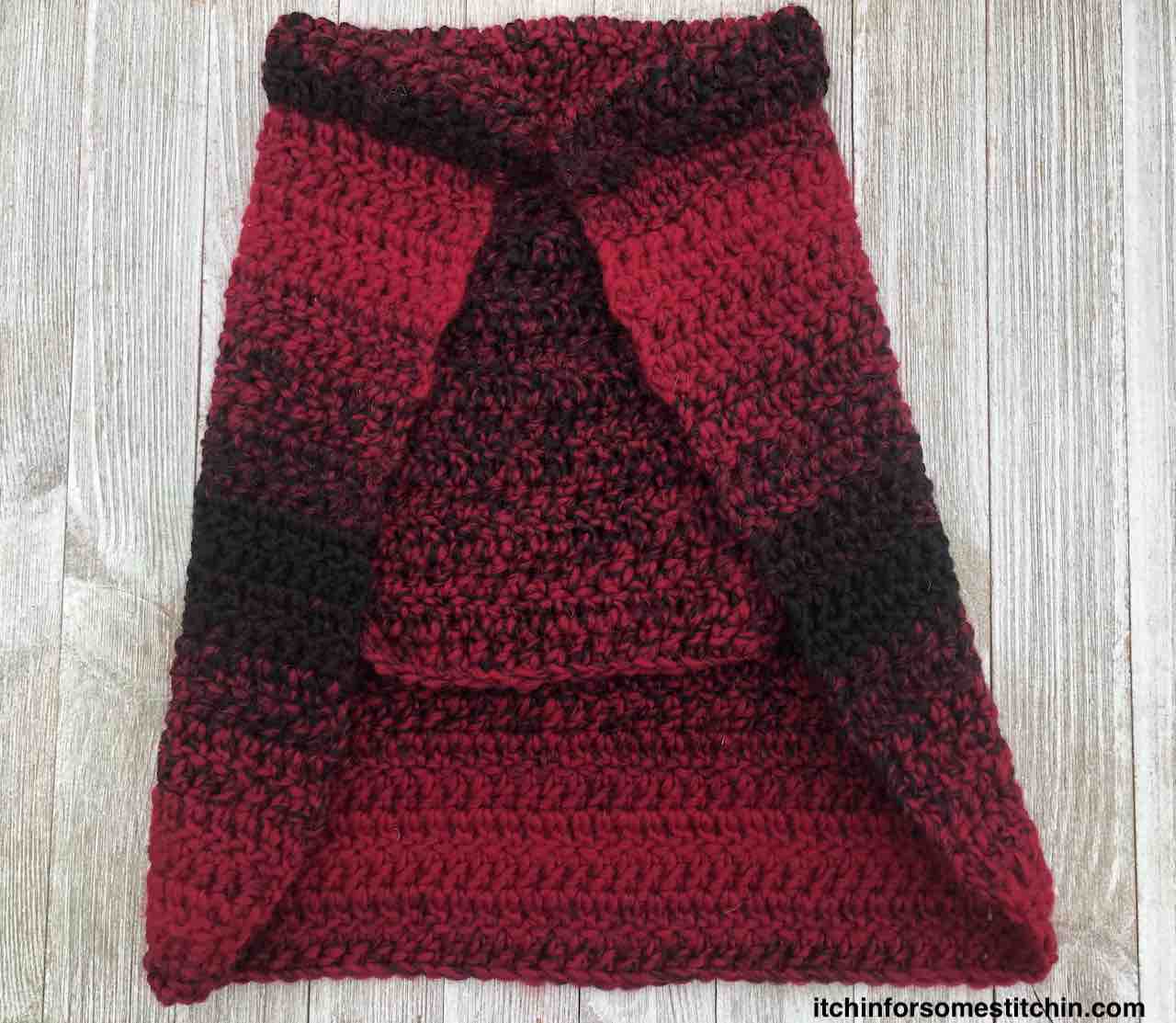 Use the slip-stitch (slp st) to seam in the chest piece.
Leave about a 2-3 inch hole on each side for legs. You can make the holes larger or smaller depending on the thickness of your dog's legs.
~ I used my dogs as models to figure out where to make the holes, but in general, they were about 5-6 inches from the neckline.
Fold the other side of the back piece in to align with the edge of the chest piece and the seaming. Be sure to leave a hole for the dog's leg.
Step Three
Use slip-stitch (slp st) to seam together the slight opening in the neck.
Step Four
Turn sweater right-side out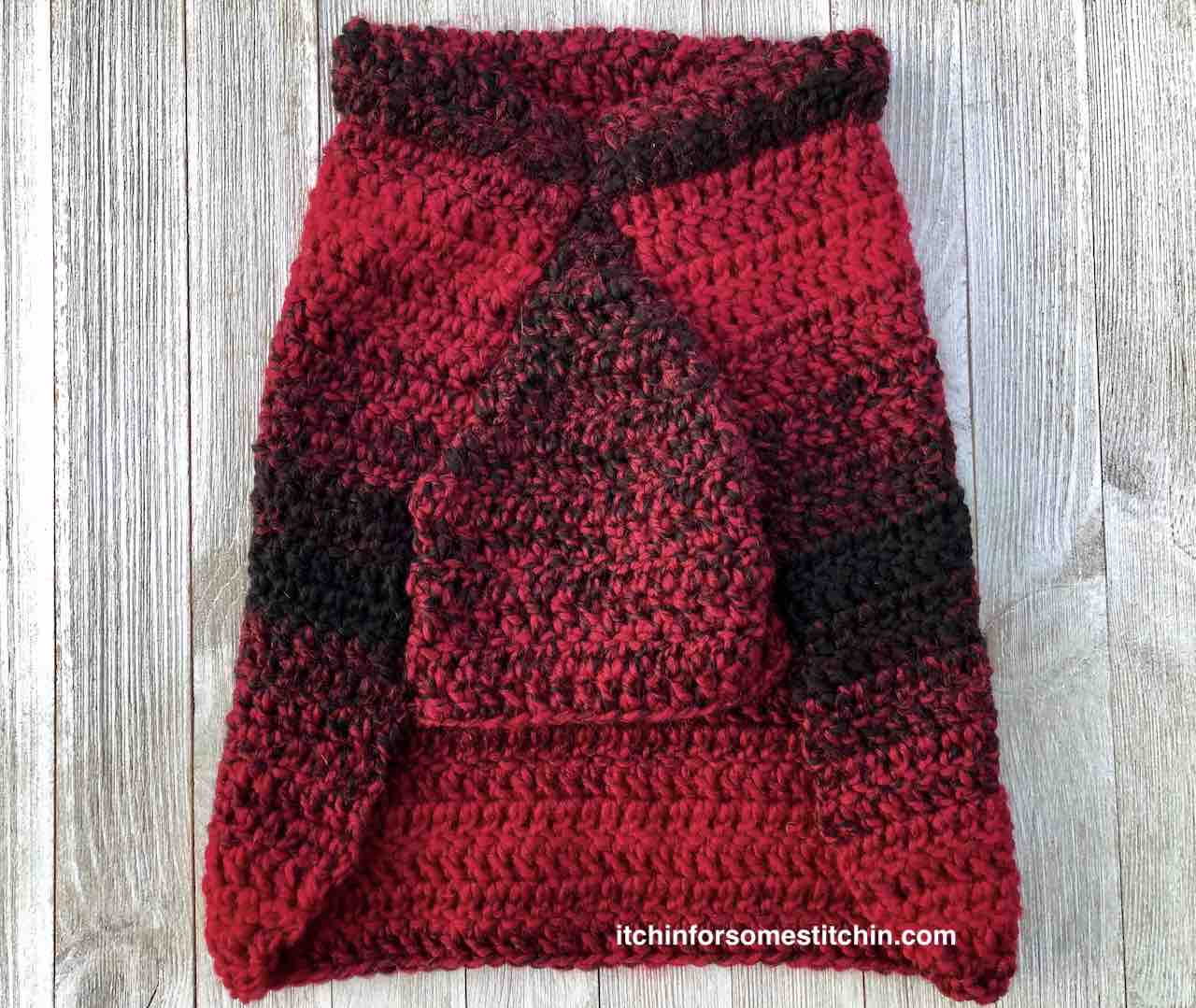 NOTE: Sweaters are machine washable, but do not exceed 400C water temperature.
---
I'd love to see your Medium-sized Dog Sweaters!
Please be sure to follow me on Instagram and share your makes with #itchinforsomestitchin and #quickeasydogsweater. Be sure to tag me! ?
---
Other Patterns I know you'll LOVE!

My Patterns on Allfreecrochet.com
Crochet Seed Stitch Baby Blanket
Ribbed Baby Beanie Pattern for Beginners
The Boho Goddess Kimono Cardigan
Easy Knit-look Crochet Sweater
My Other Videos
---
Thank you for coming to my blog! By sharing my content and/or making a purchase you are making it possible for me to continue producing and sharing free content for everyone to enjoy. I sincerely appreciate your support!
Until next time… Happy Crocheting!