Got nothin' to do this weekend?
Break out your hook(s) or needles because do I have some major boredom busters for you!
I've rounded up 29 quick crochet projects that you can do this weekend – most of them will take less than the weekend to work.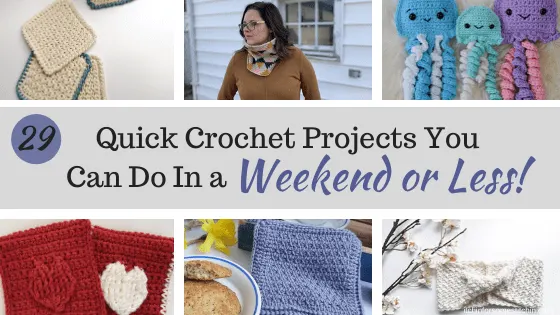 Not only are these projects quick and fun, but also a great way to use up your yarn stash!
29 Weekend Stash-buster Crochet & Knitting Patterns
I'm a homebody.
Give me my spot on the couch, Disney +, a cup of hot coffee, and a crochet hook and I'll be happy.
Oh, and yarn, of course I've gotta have yarn.
Fortunately, I've got a fairly size-able yarn stash in my craft room… and in the office… and maybe a little bit in the basket by my bed…
And it's a good thing too!
Because I've rounded up a bunch of amazing crochet and knitting patterns that can be made using one skein of yarn or less!
The perfect stash busters!
Great for those of you like me who have no problems with staying in for the weekend and even great for those who hate staying in, but have little choice.
---
1. Nordic Textured Crochet Coasters
2. Tunisian Crochet Tresca Potholder
3. Triangular Headband
4. Soap Socks
5. Diamond Reflection Cowl
6. Bobble Earwarmer
7. Marley Beanie
8. Cali the Cactus
9. Cross Bookmark
10. Coco Earrings
11. Forest Trail Headband
12. Two (or more) Colour Cowl
13. Monkey Around Boot Cuffs
14. Tulip Twist Headband
15. Boho Plant Hanger
16. Mason Jar Cozies
---
Looking for fun crochet community filled with lots of crafty inspiration?
---
17. Crochet Ragdoll Jellyfish
18. Arewa Bracelet
19. Two-toned Srunchies
20. Sweet Daisies Potholder
21. Farmhouse Washcloth
22. Suze-Ann Raceback Top
23. Easter Eggs
24. Baby Bunny Hat
25. Embossed Heart Pouch
26. Mini Unicorn Amigurumi
27. Stashbusting Washcloths
28. Freeze Pop Sleeve
29. Llama Wall Hanging
---
There are so many amazing projects in this roundup it's hard to decided where to begin, isn't it?
Here's what I suggest – check your yarn stash and see what yarns you have available and pick the project that best suits the yarn you have.
That way you don't need to make a run to the yarn store.
You can just stay home where it is safe and cozy – just like a true homebody would!
---
Thank you for coming to my blog! By sharing my content and/or making a purchase you are making it possible for me to continue producing and sharing free content for everyone to enjoy. I sincerely appreciate your support!
Until next time… Happy Crocheting!
Please Share!