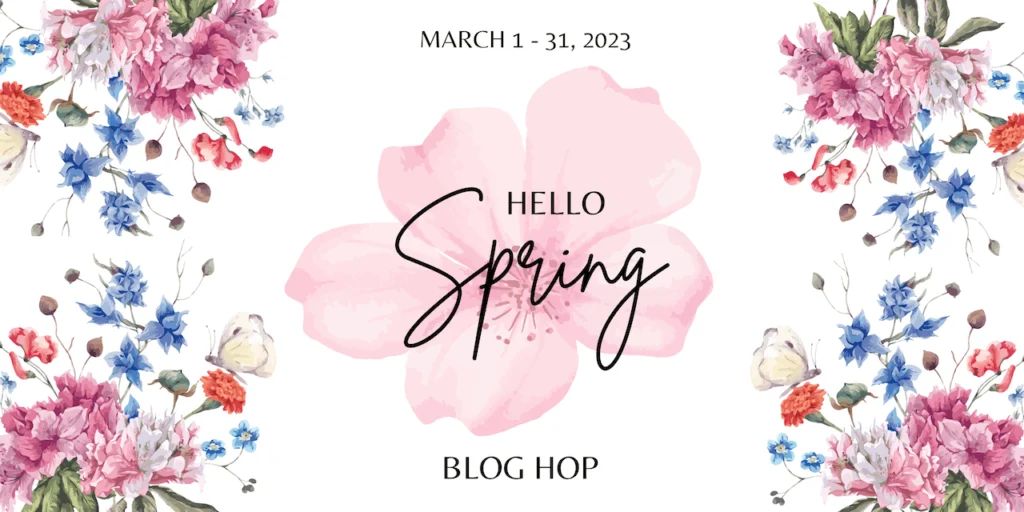 Welcome to the Hello Spring Blog Hop!
Event dates: March 1, 2023 – March 31, 2023
Spring is such a beautiful time of year. I simply love listening to the birds chirp while taking leisurely walk in the crisp fresh air. And when I had my mini-farm spring was always a time for new babies! I adored the little chicks, ducklings, and bunnies that freely roamed our pasture.
In the spring things always seem fresher, cleaner, and more easygoing. A wonderful time to enjoy some relaxing crochet!
So, let me and 30 of my crochet designer friends inspire you. 🌸
We've come together in the Hello Spring! event where you can get up to 31 designs (one design each day in March) for FREE!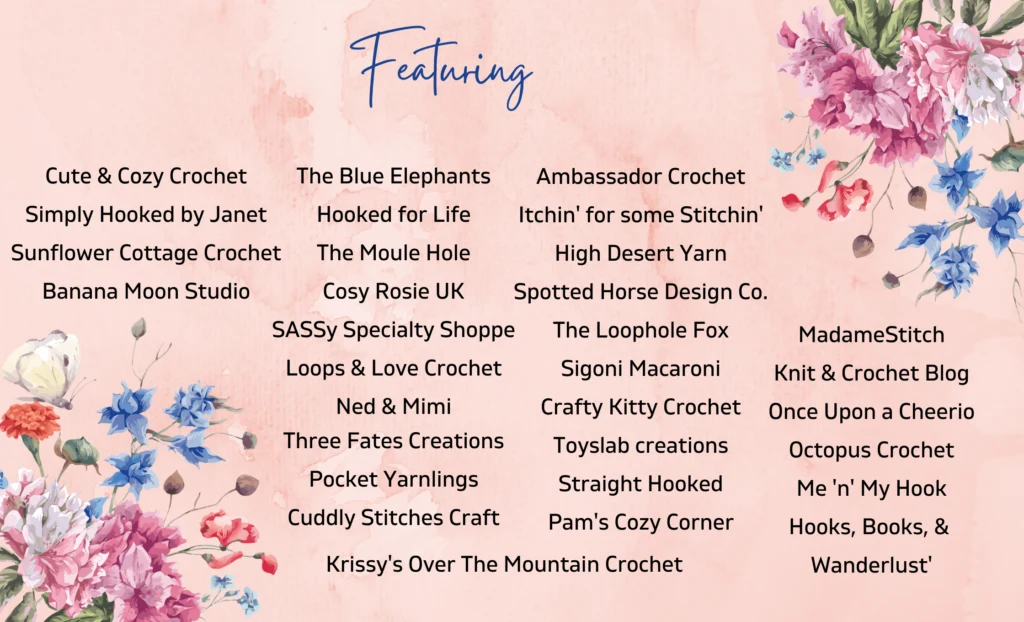 If you have never joined in one of my blog hops before – for the greatest success, be sure to follow the instructions outlined in the following infographic.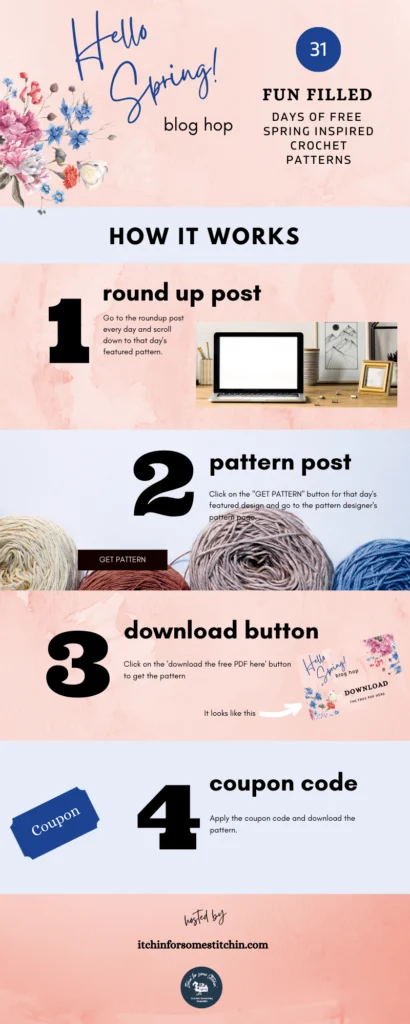 If you have any issues downloading a pattern during the blog hop, please check out the blog hop FAQs below. It is a valuable resource and usually answers most questions.
If you are still struggling after reading the FAQs, please feel free to reach out to me via the button below. However, please note that I receive thousands of emails during a blog hop. I will do my absolute best to get back to you within 24 – 48 hours, but in some cases it may take longer.
---
Don't want to jump from post to post each day?
No problem! We've bundled all 31 PDFs in the blog hop together and have made it available to you right now in the Hello Spring! pattern bundle.
---
Hello Spring!
Pattern Bundle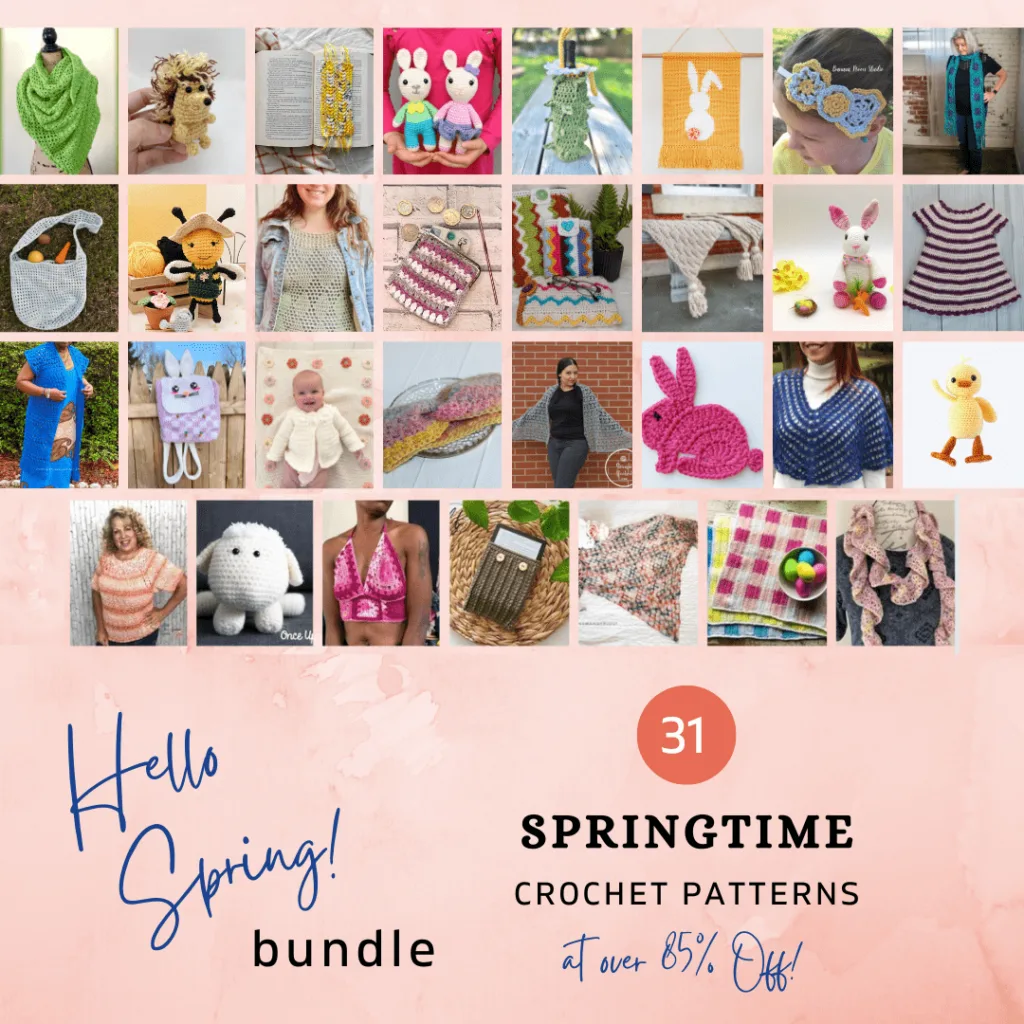 This bundle is valued at over $130, but you can get it today for only $14.99 – that's over 85% off compared to purchasing each pattern individually, so it's absolutely a fantastic deal!
Spring Crochet Projects
Ready to get started?
Scroll down to today's date, take a note of the instructions and/or coupon code, and then click on the black "Get Pattern" button.
Once on the designer's website, scroll down and click on the "Download" button. It should look like the image below.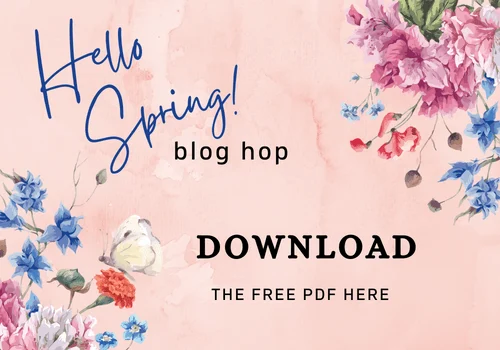 ---
Day 1
Spring gingham Placemats
March 1, 2023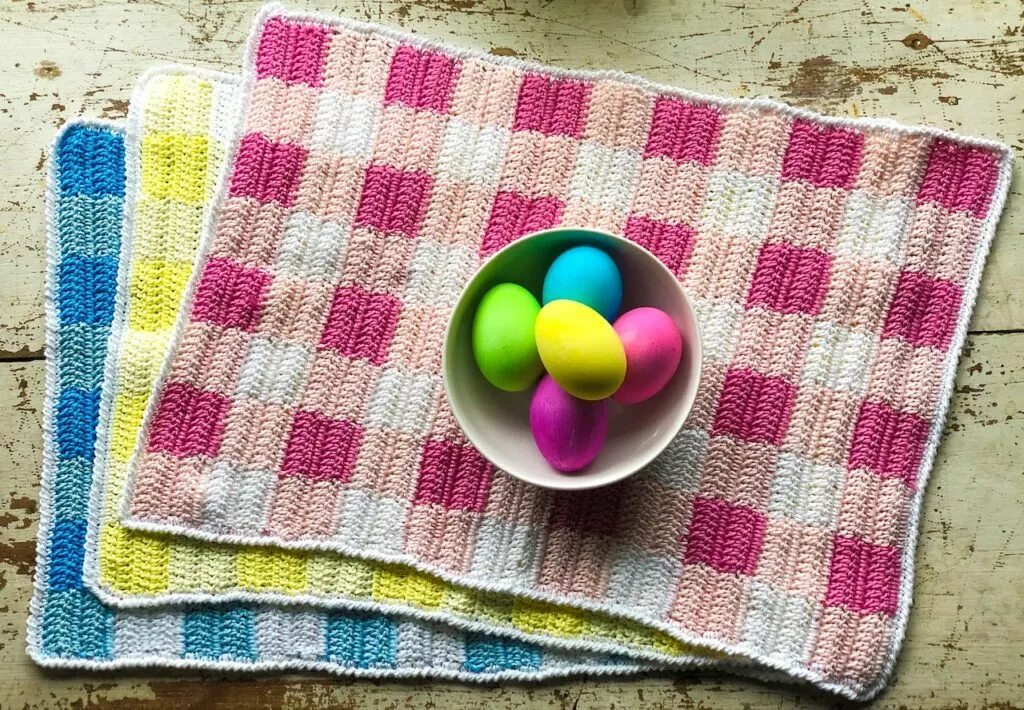 These gingham placemats are a lovely way to brighten up your household this spring. Perfect for dressing up your springtime brunch or Easter table top! Place it beneath a plant, vase, picture frame, or other decorative piece to add a touch of pastel fun to your home decor!

Itchin' for some Stitchin'
Coupon Code: EXPIRED
day 2
Bloom Headband
March 2, 2023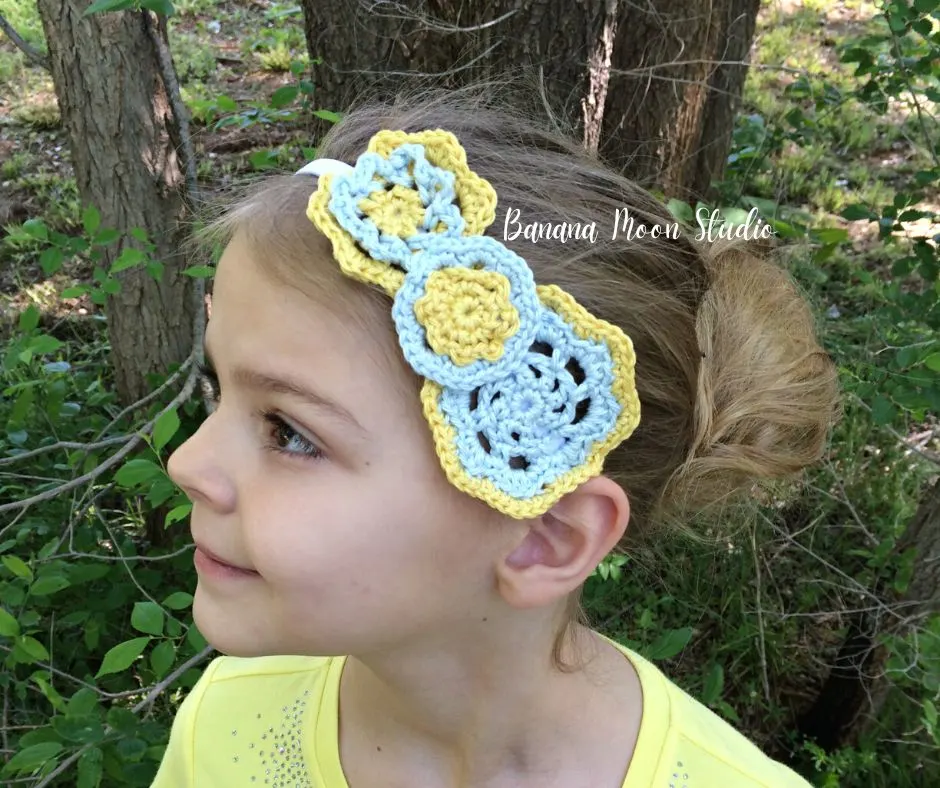 Make a beautiful floral headband to go with a new spring outfit or give it as a gift for a spring holiday!
Banana Moon Studio
Coupon code: EXPIRED
Day 3
Zig Zag Book / Tablet Sleeves
March 3, 2023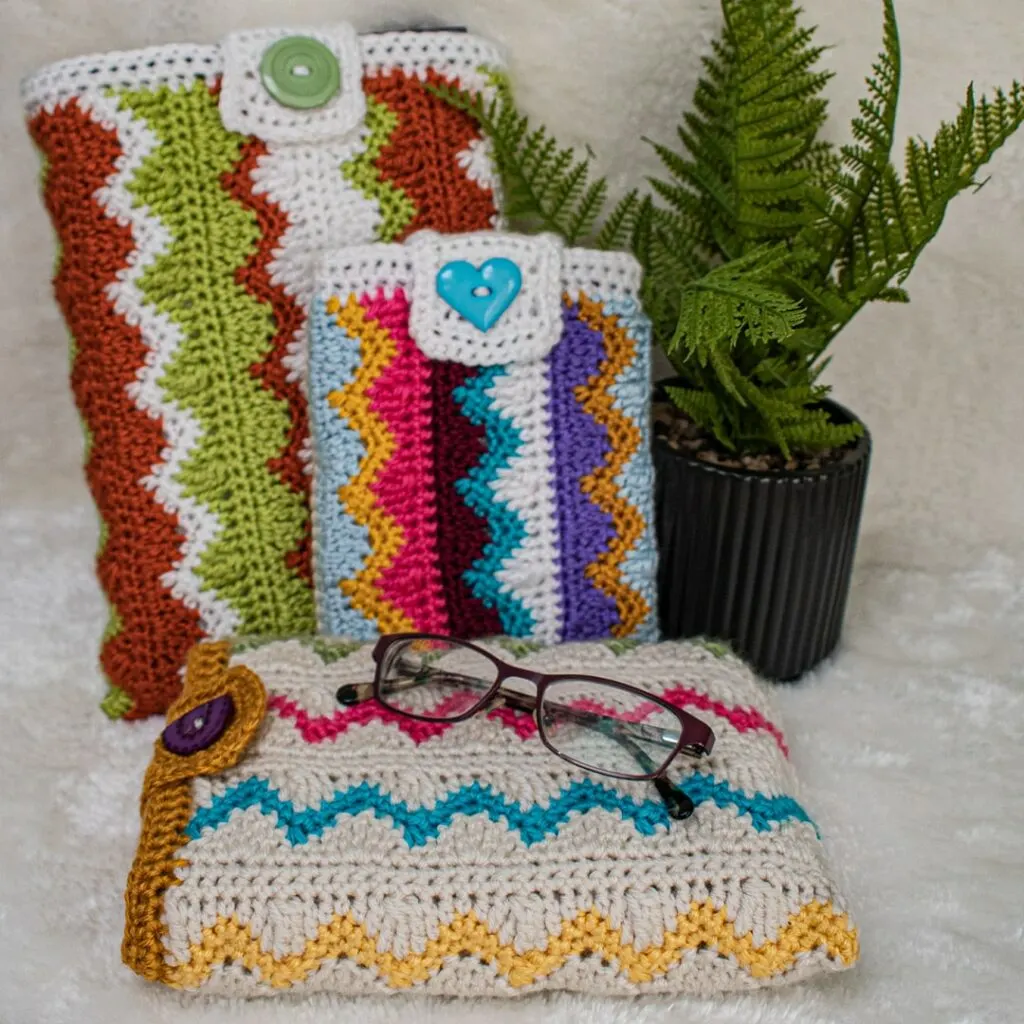 The Zig Zag Book sleeves are a great scrap busting project. You can have so much fun with your colour choices and combinations. They make a perfect gift for book lovers but also fit an Ipad and kindle! This version has optional lining to ensure that your sleeve looks fabulous for years to come.

Sunflower Cottage Crochet
Coupon Code: EXPIRED
Day 4
Over Brook Cotton Tee
March 4, 2023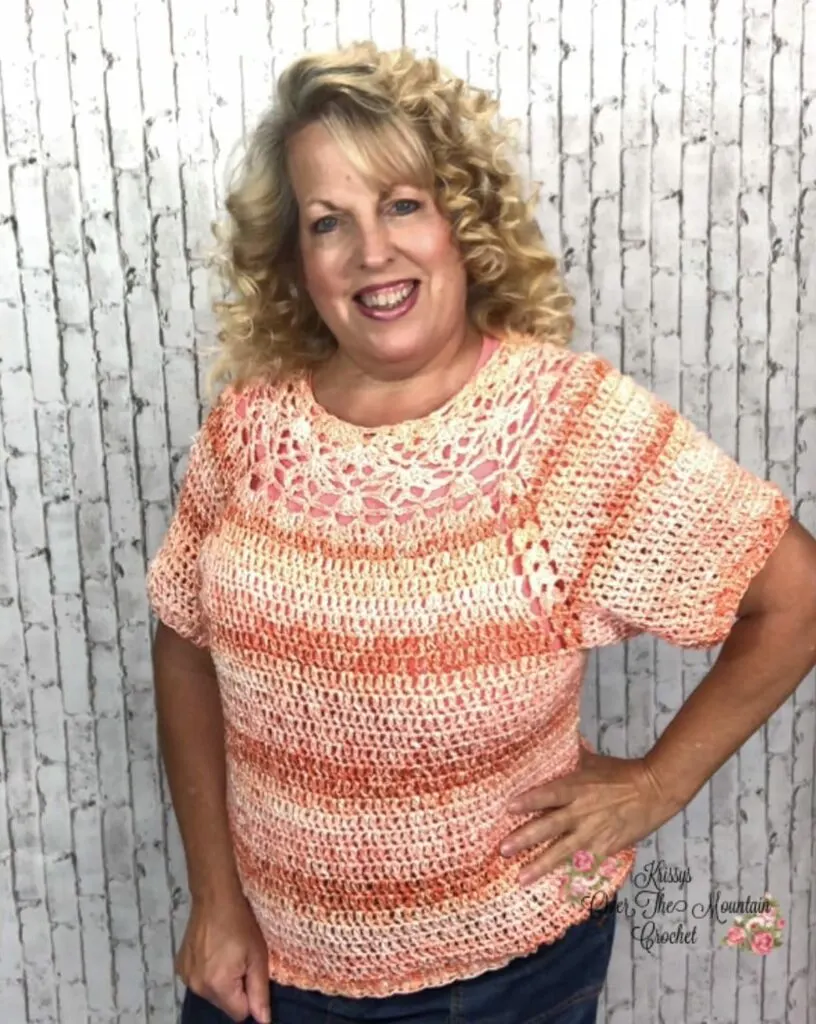 You will love the lace work at the neckline. Sleeves or not sleeves. You get to decide. The bonus is, the yarn is easy to find!

Krisssy's Over the Mountain Crochet
Coupon Code: EXPIRED
Day 5
Duncan the Duckling
March 5, 2023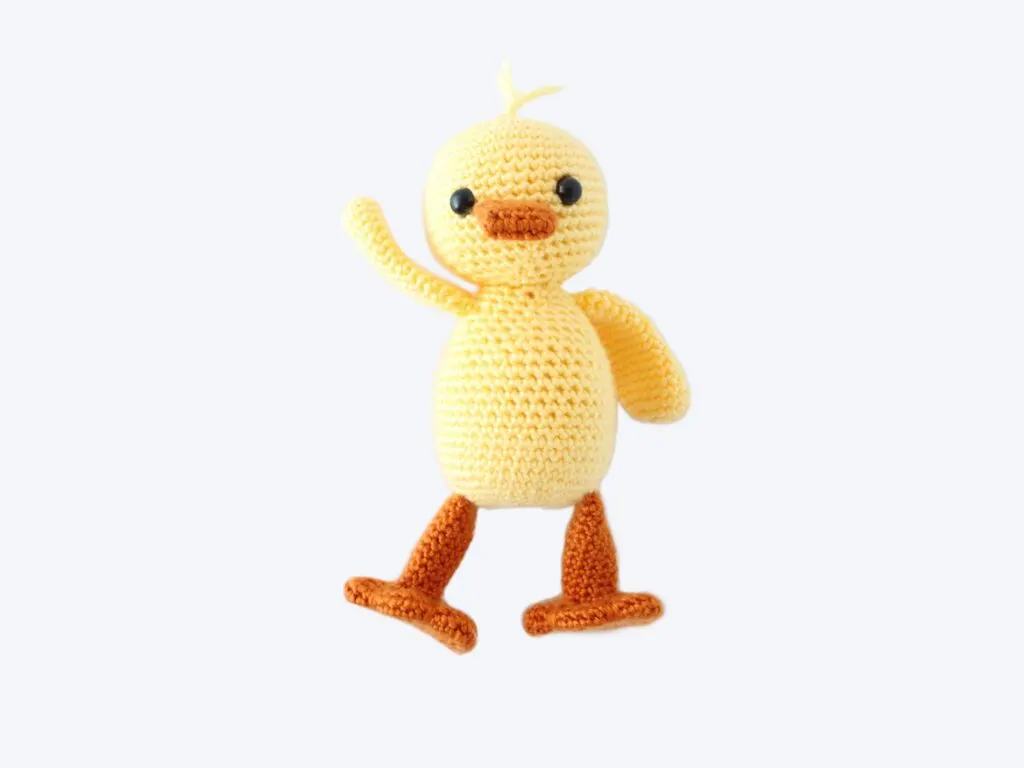 Ready for today's free crochet plushie pattern! I love how Duncan the Duckling turned out, and I think he would make a great baby shower or Easter present!

The Blue Elephants
Coupon Code: EXPIRED
Let's Get Crafty!
Looking for lots of crafty inspiration, tips, tutorials, and a great crochet community? Join my Facebook group!
Day 6
Striped Spring Baby Dress
March 6, 2023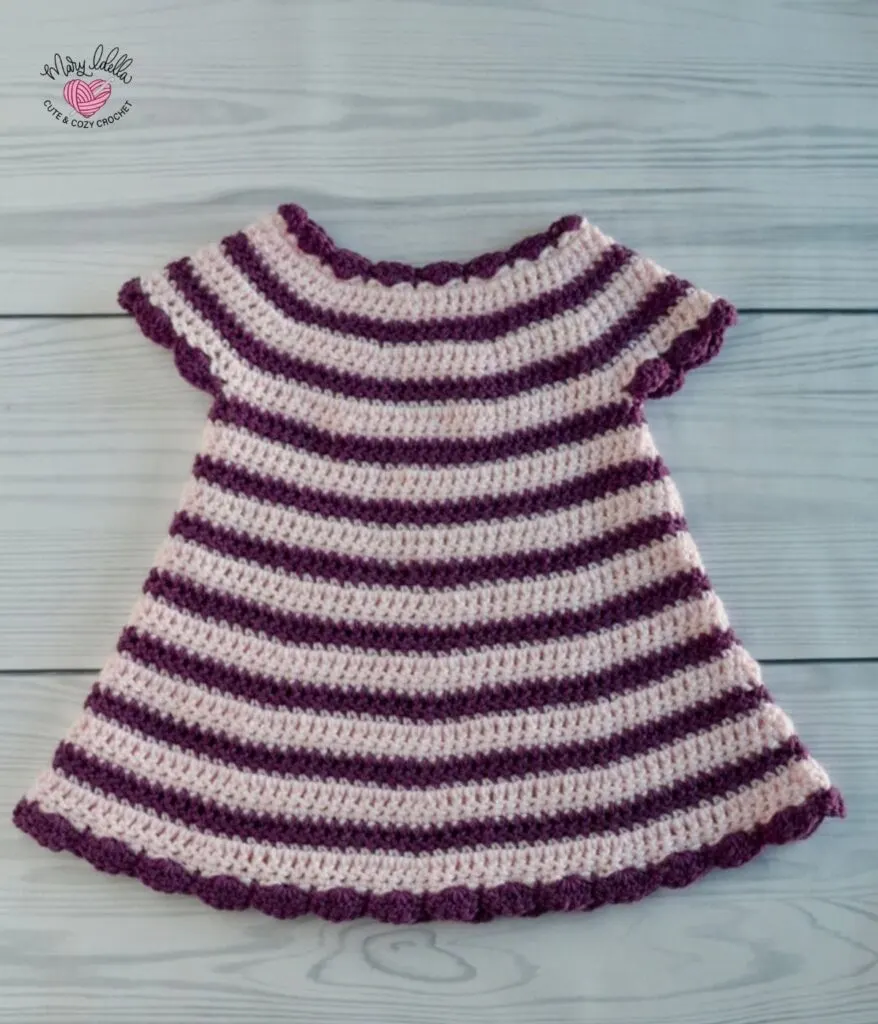 The Striped Baby Dress is the perfect springtime dress for your baby or toddler. It has an adorable striped pattern throughout with a beautiful shell pattern for the edging. Sizes come in 0-3 month up to 3T.

Cute & Cozy Crochet
Coupon Code: EXPIRED
Day 7
Bruges Lace Capelet
March 7, 2023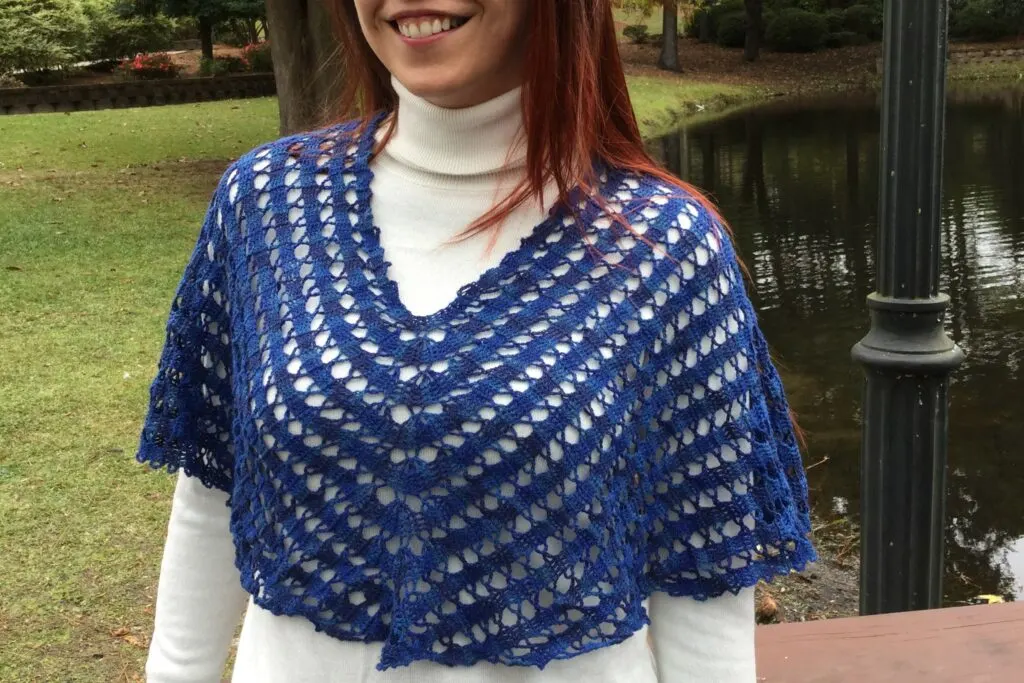 Worked from the top down in the simplest of Bruges "ribbons", this light-as-a-feather capelet will add a touch of elegance to any occasion. Each round is attached to the round before as you stitch, leaving only the smallest amount of finishing left to do at the end. A perfect project to start your exploration of all that the Bruges technique has to offer.


Hooked for Life
Coupon Code: EXPIRED
Don't want to hop from post to post each day?
Get access to all 31 PDFs in the Hello Spring Bundle!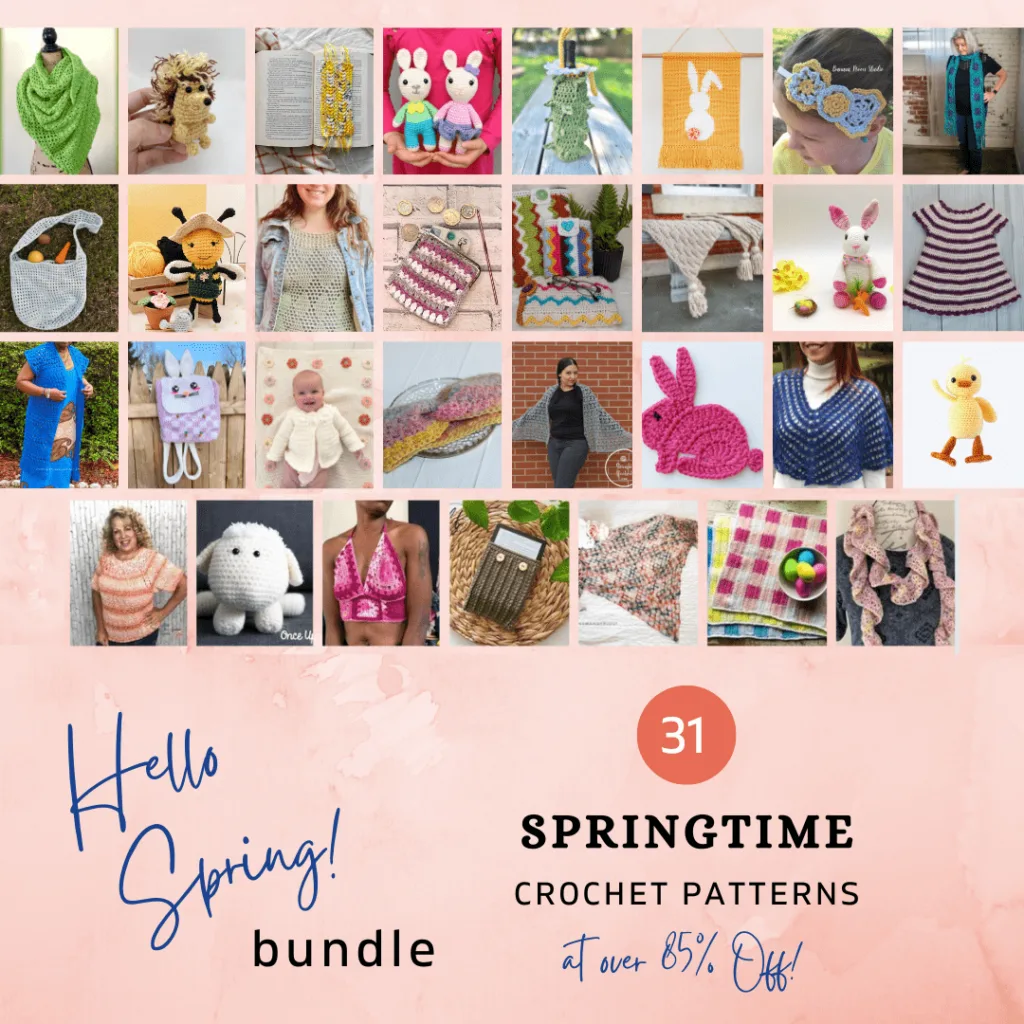 Day 8
Betty the Bunny – Amigurumi bunny pattern
March 8, 2023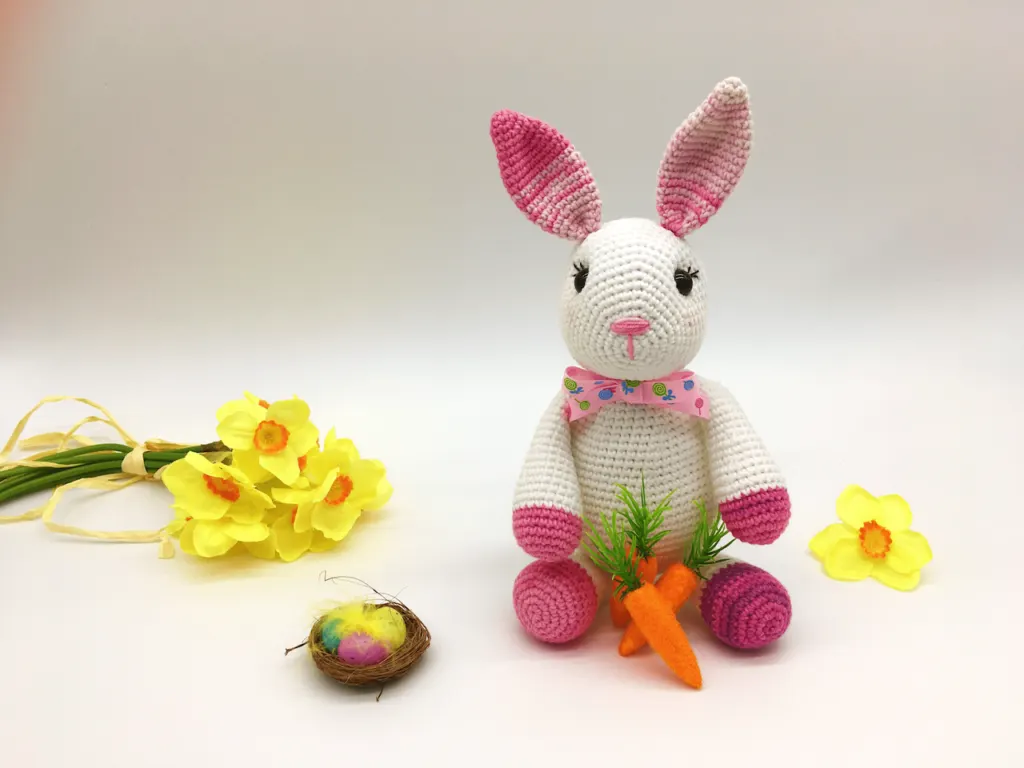 This pumpkin is perfect for halloween home decor. With a cinnamon stick stem it adds a little warmth to the room.Meet Betty the Bunny, cute and super cuddly addition to your Amigurumi family. This free crochet bunny rabbit pattern is perfect for beginner crocheters who would like to try making crochet toys. The pattern is easy to follow with plenty of photos to guide you through it. So if you are looking for a quick and simple pattern to try or would like to surprise your loved ones with a beautiful handmade toy then give this pattern a try.

Cuddly Stitches Craft
Coupon code: EXPIRED
Day 9
Mixed Cluster Knotted Headband
March 9, 2023
The perfect accessory to add a touch of color to your spring wardrobe!

Three Fates Creations
Coupon Code: EXPIRED
Day 10
Darling Daisy Wine Bottle Cozy
March 10, 2023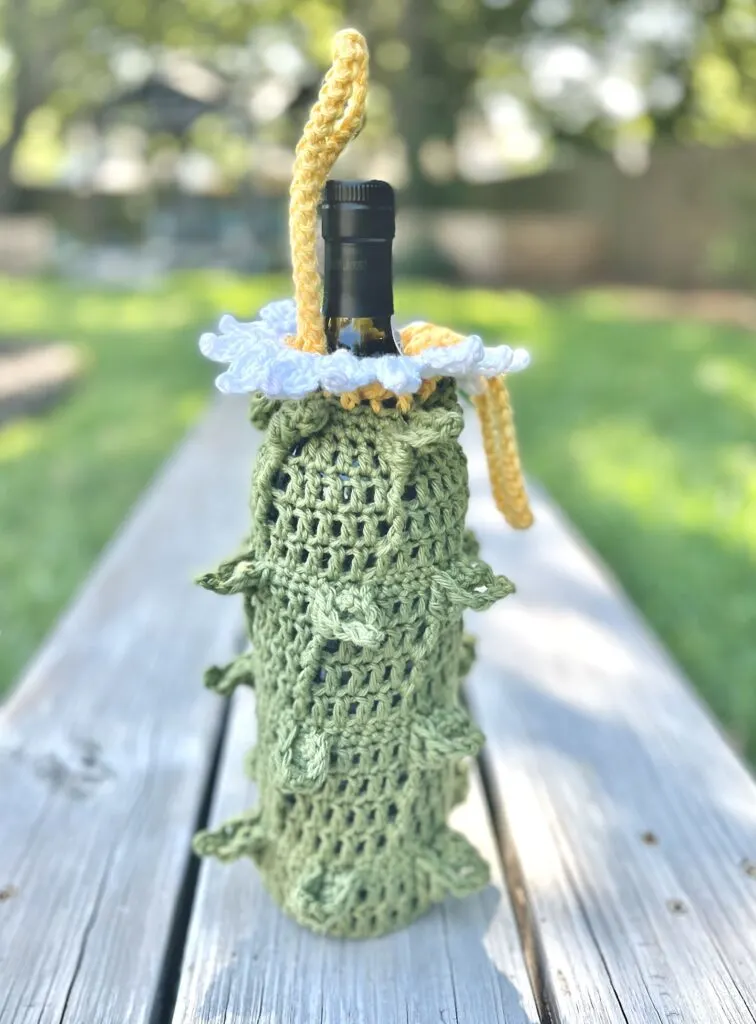 This stylish new Darling Daisy Wine Bottle Cozy is so happy and is perfect to brighten up your spring home decor.


SASS Crochet Designs
Coupon Code: EXPIRED
Day 11
The Flower Fairy Blanket
March 11, 2023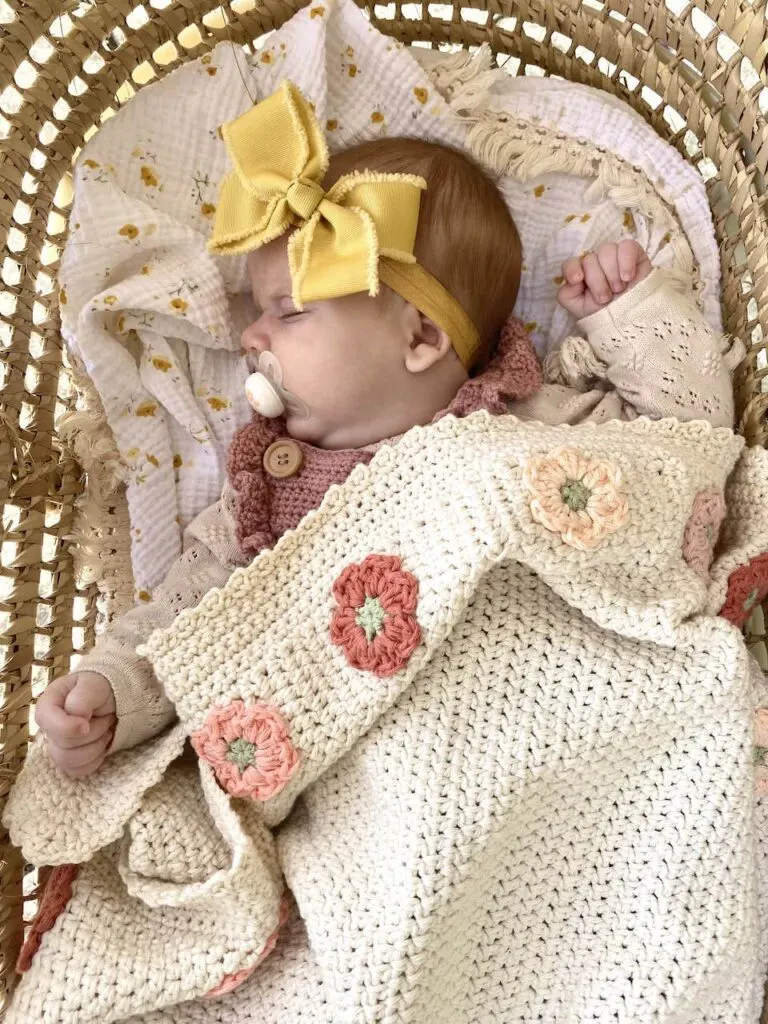 When I wrote the pattern for the Flower Fairy Blanket in May 2020, I had know idea it would become one of my most popular patterns. The simple, clean stitches and the gorgeous colour palette has become a favorite baby girl crochet blanket. The pattern comes in 5 sizes so you should be able to make it in the exact size you need. The gorgeous crochet flowers include an easy to follow video. You might be adding them to many more of your crochet projects.

The Moule Hole
Coupon Code: EXPIRED
Love Pinterest?
I do!
PIN this pattern to your Pinterest boards for later.
You can also follow all my boards!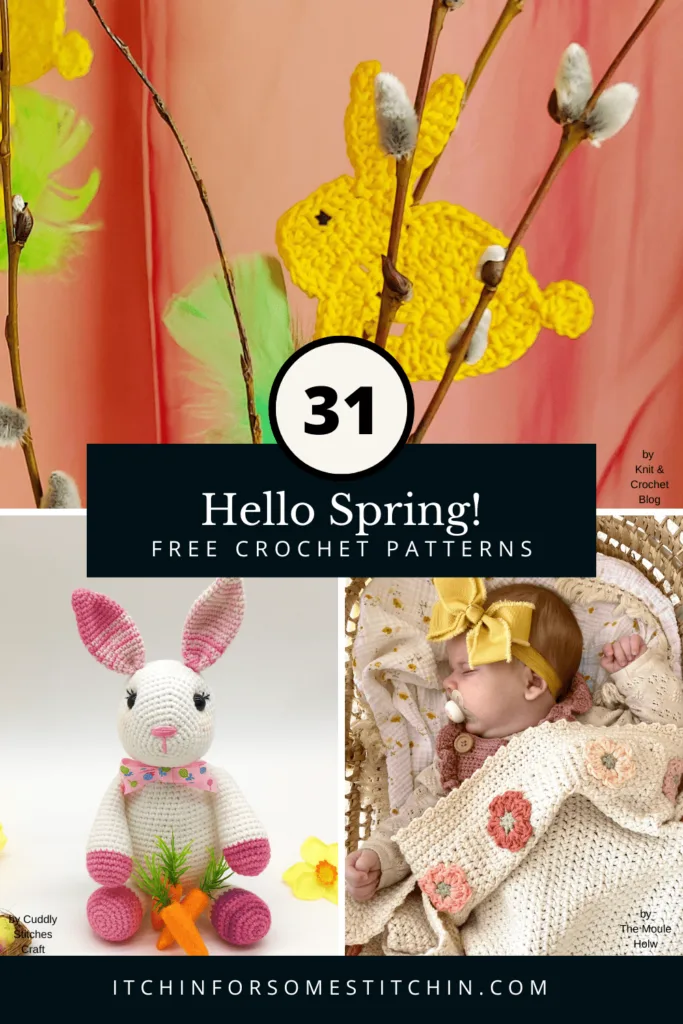 Day 12
Amigumuri Hedgehog
March 12, 2023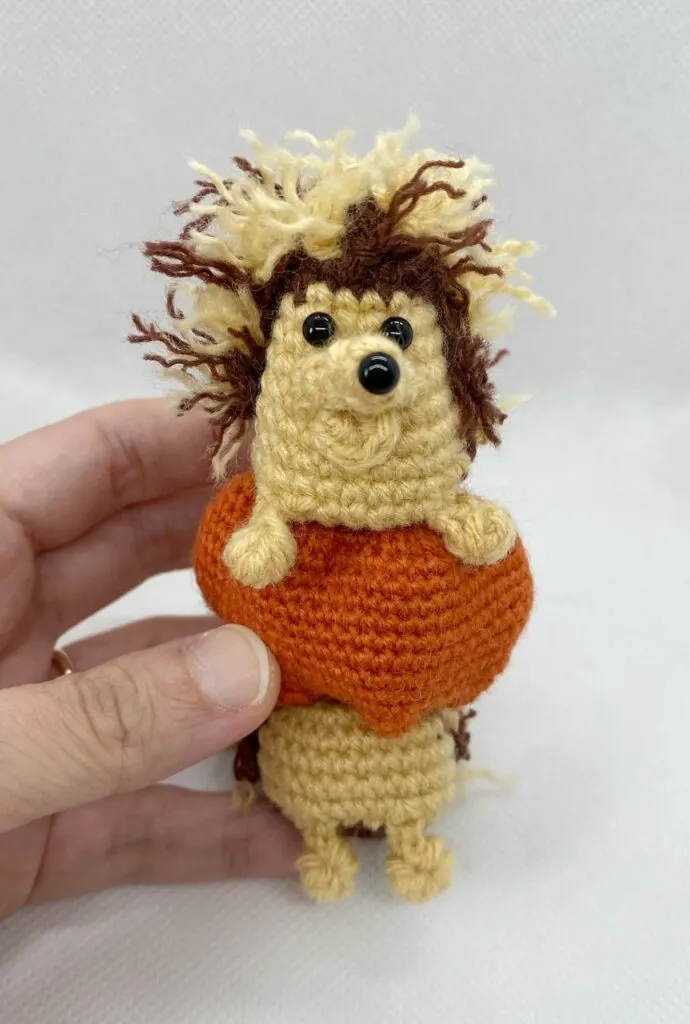 This little hedgehog works up quite quickly with 3 different parts, his top half, bottom hair and a little pumpkin. Insert magnets in each part to make for a interactive exchangeable toy when you can combine the different parts with varying outcomes, perfect for little preschool hands!

Pocket Yarnlings
Coupon code: EXPIRED
Day 13
Fireside Blanket
March 13, 2023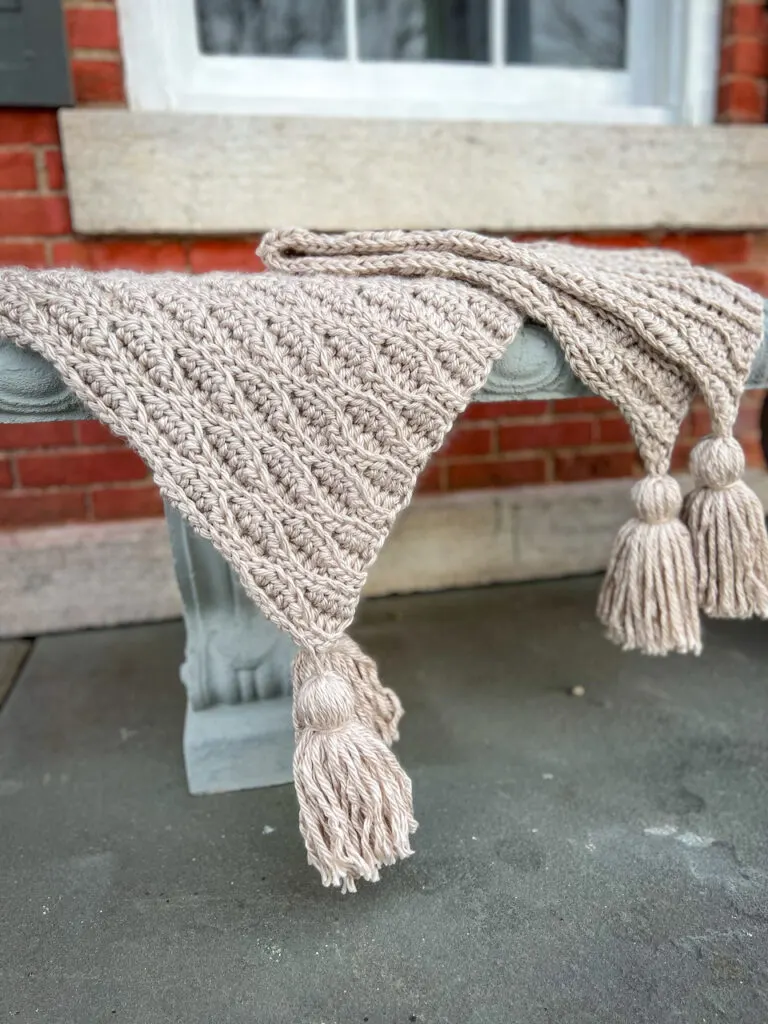 The Fireside Blanket is a soft and chunky blanket featuring wave-like rows outlined by knit-look ridges. Add fringe or tassels to complete the look.

Spotted Horse Design Co.
Coupon code: EXPIRED
Have you missed a few days or don't want to hop from post to post each day?
Get access to all 31 PDFs in the Hello Spring Bundle!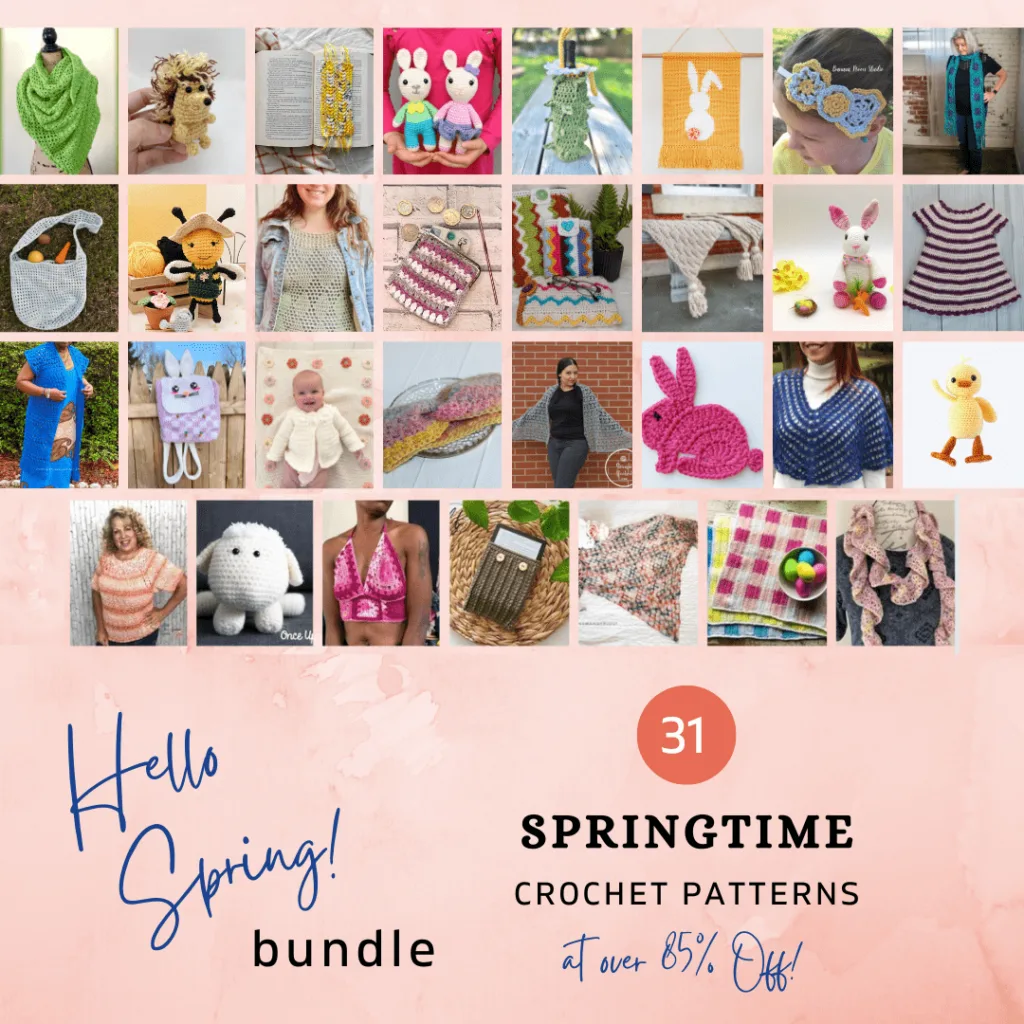 Day 14
Ides of March Coin Purse
March 14, 2023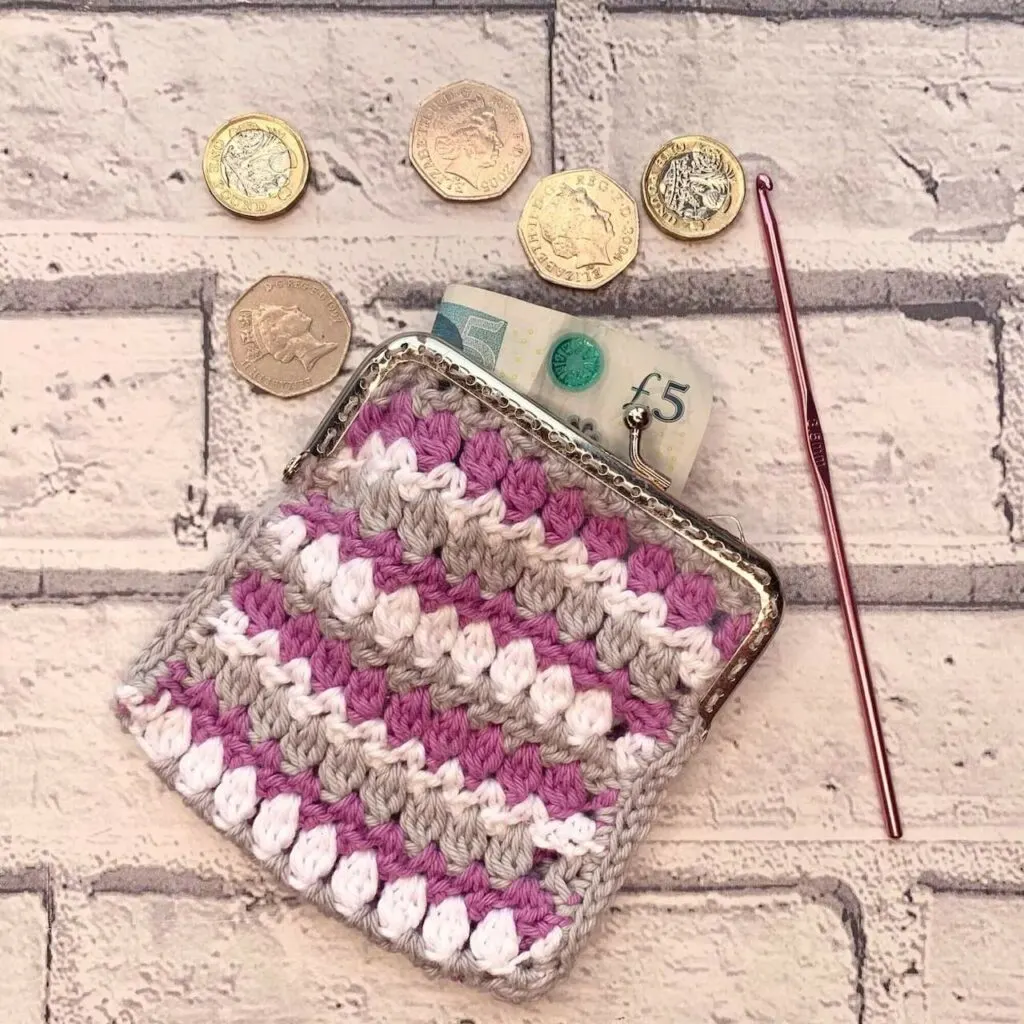 Everyone needs somewhere to store their pennies and I can think of nowhere prettier than in this crochet coin purse!

Cosy Rosie UK
Coupon code: EXPIRED
Day 15
Cloria Wrap
March 15, 2023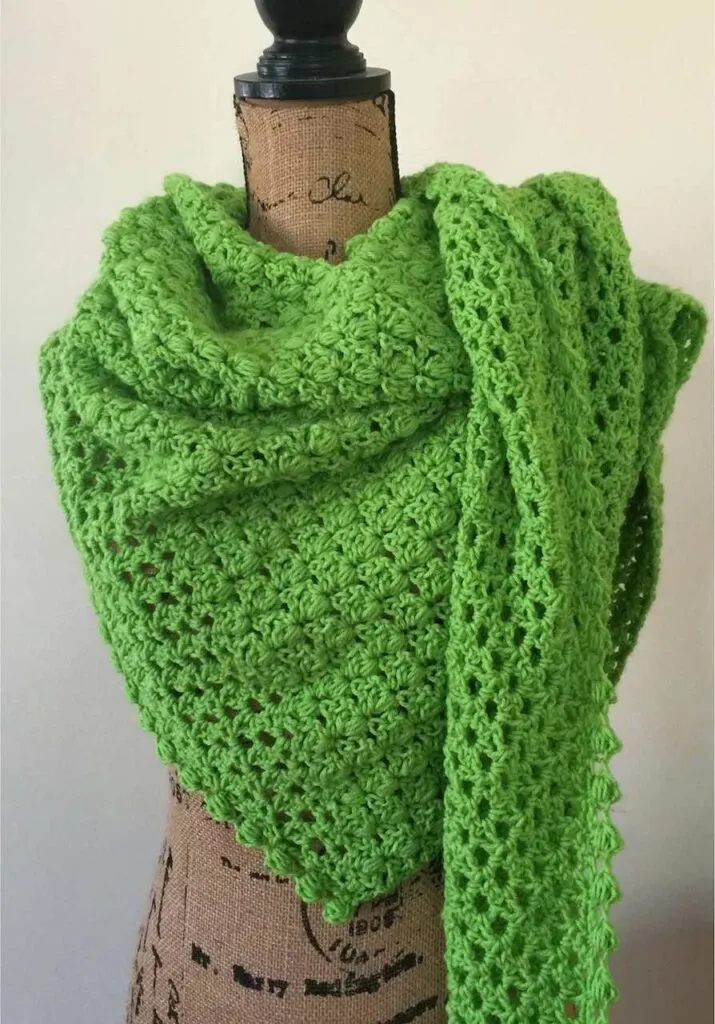 Make a beautiful spring shawl with this advanced beginner pattern that will have you wishing for warmer temps.

Ambassador Crochet
Coupon Code: EXPIRED
---
Other Patterns & Posts that May Interest You: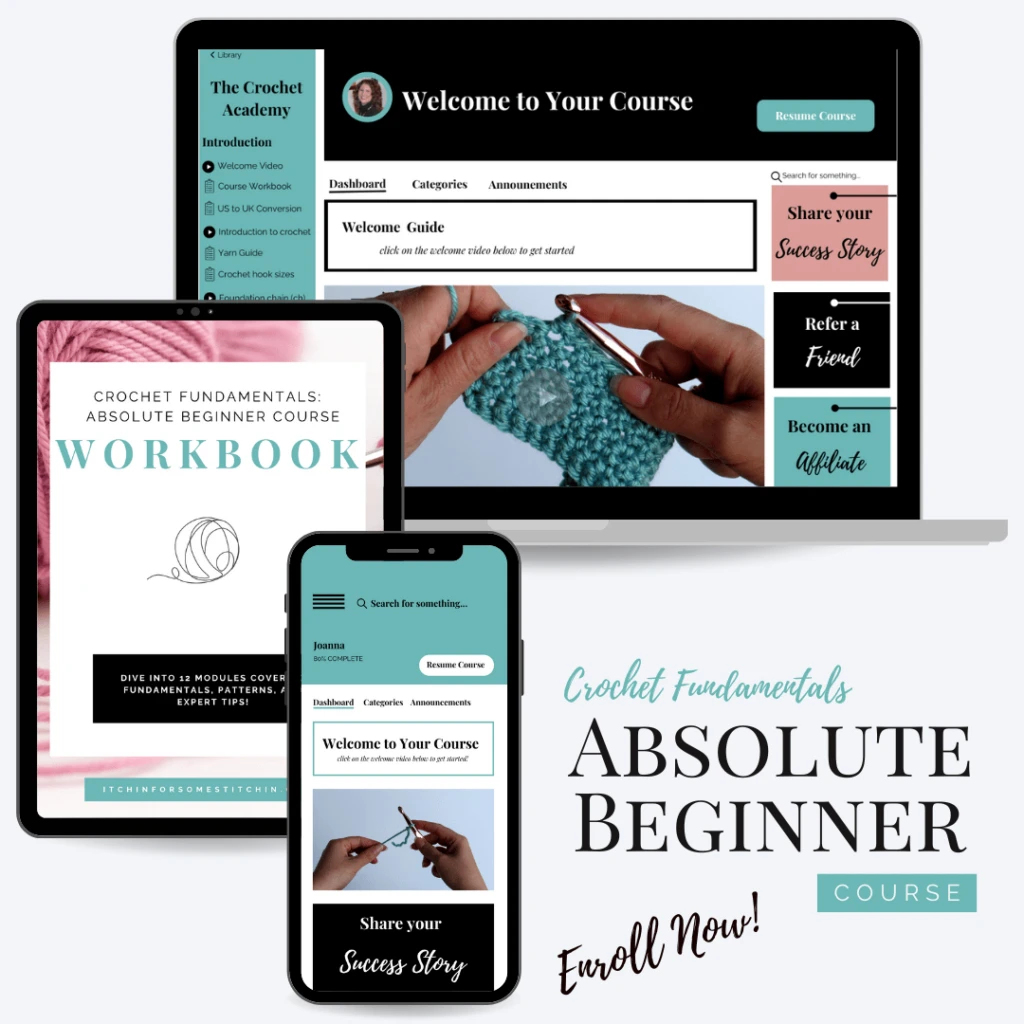 Dive into the world of crochet with my enriching Crochet Fundamentals: Absolute Beginner Course. …
Day 16
Mariposa Bookmark
March 16, 2023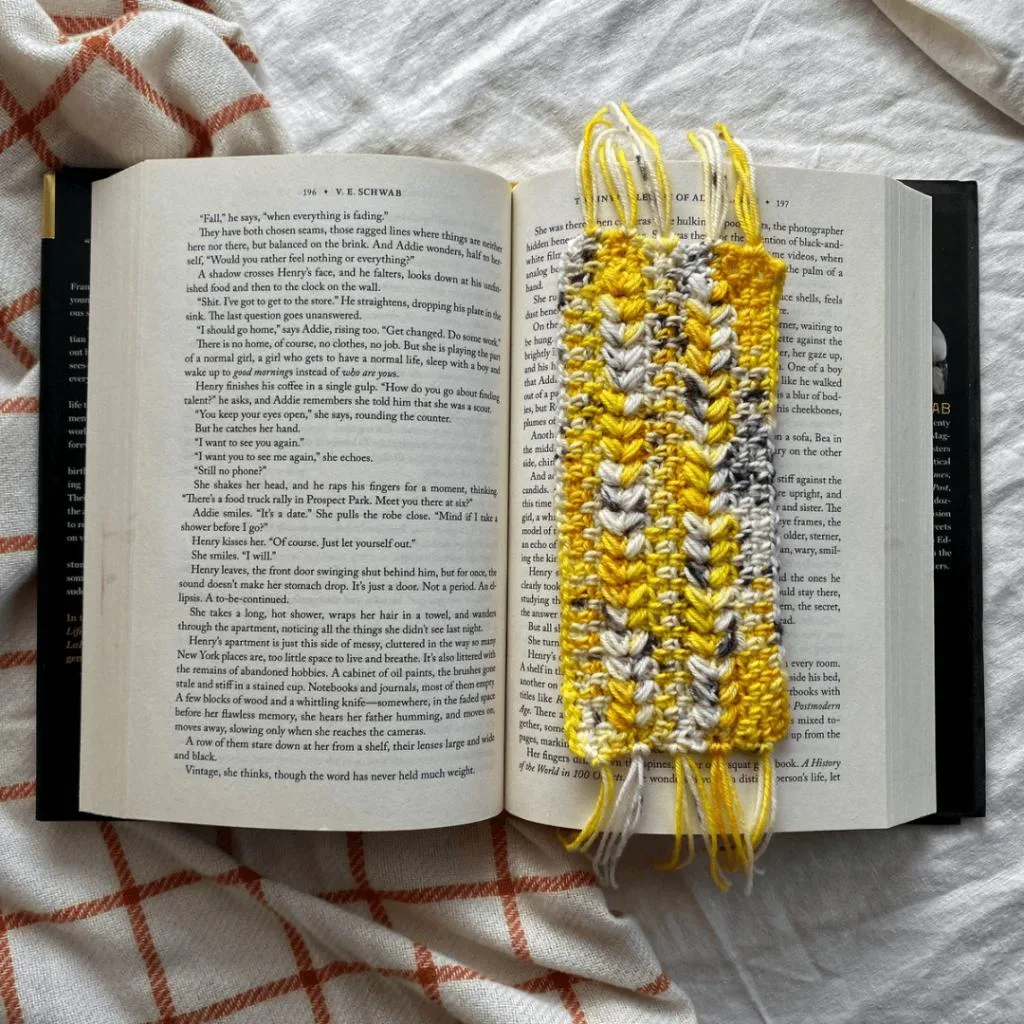 A lovely delicate pumpkin earring or pendant! Whip these up in just over an hour! It's the perfect pattern for a last minute fall or Halloween accessory!The Mariposa Bookmark is a must-make for every book lover. This simple, pretty bookmark uses less than 50yds of a fingering weight yarn. Perfect for a leftover skein of hand dyed yarn!

High Desert Yarn
Coupon Code: EXPIRED
day 17
Lovely Ruffle Scarf
March 17, 2023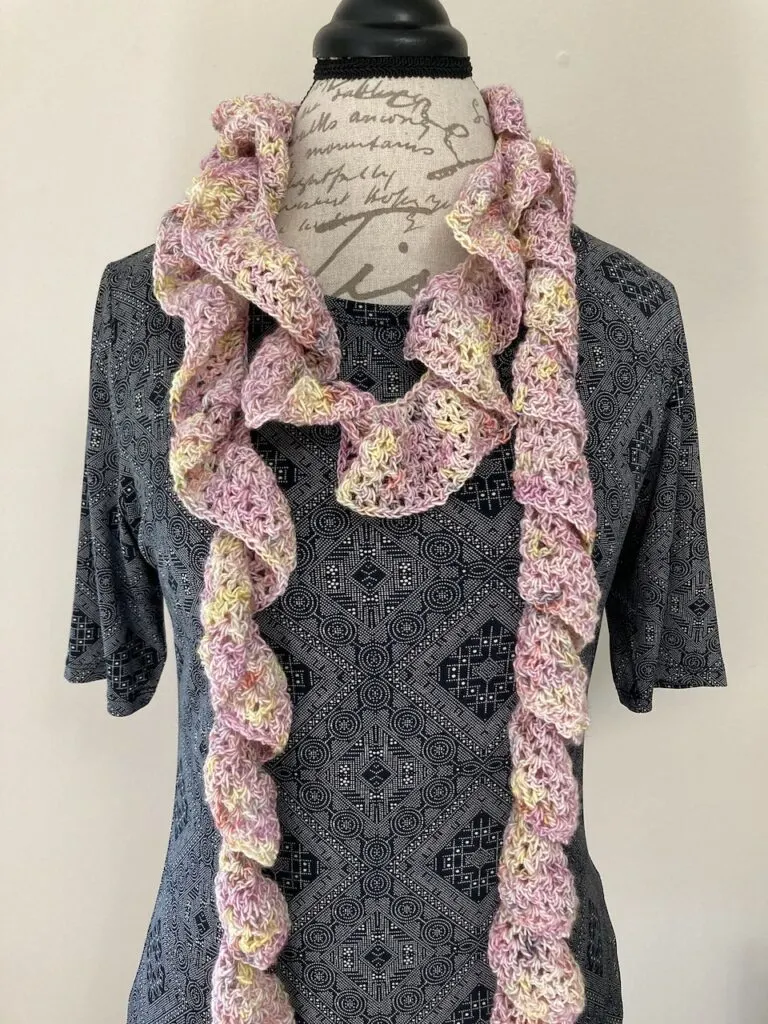 This is a nice and light airy scarf design. The ruffle pattern paired with a light colored yarn just brings in memories of Spring. This can be made using 1 skin of a hand dyed fingering weight yarn using double crochet stitches and chains throughout the pattern.

Simply Hooked by Janet
Coupon Code: EXPIRED
Day 18
Kelly Kindle Cover
March 18, 2023
The Kelly Kindle Cover is a quick project that will protect your eReader device while looking classic and stylish. Featuring columns of raised stitches, this kindle cover not only looks good but also protects the screen by keeping it slightly raised from hard surfaces.

The Loophole Fox
Coupon Code: EXPIRED
Day 19
Diamond Crochet Top
March 19, 2023
I love the spring and summer months because it means more of light weight wears. I decided to add this crochet diamond mesh top with its distinctive filet design to my list of tops as it is very light and perfect for spring and summer. This diamond mesh crochet top pattern will definitely be a lovely extra to your closet.

Toyslab creations
Coupon Code: EXPIRED
Day 20
Practical Pashmina
March 20, 2023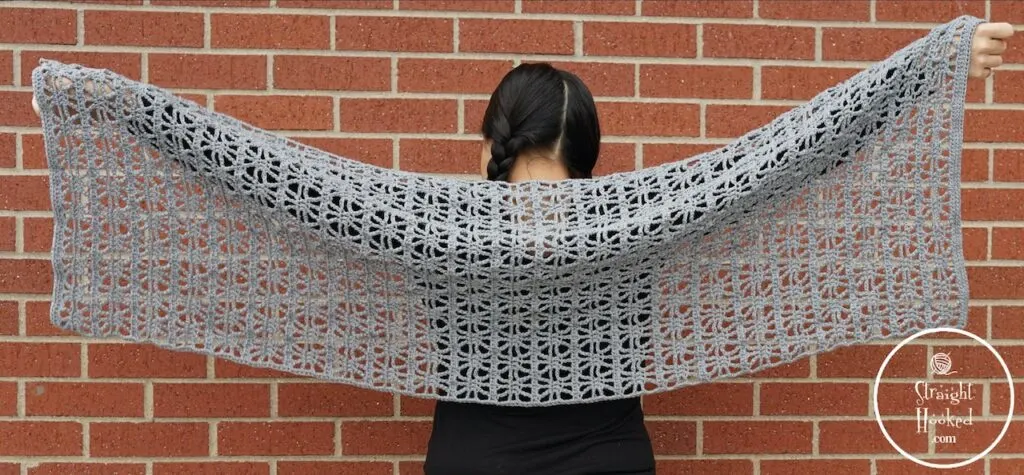 The Practical Pashmina is a fun project with simple row repeats that result in a stunning lace. This wrap is so versatile, wear it anywhere from weddings to campouts and everywhere in between!

Straight Hooked
Coupon Code: EXPIRED
Day 21
Phyles Cardigan
March 21, 2023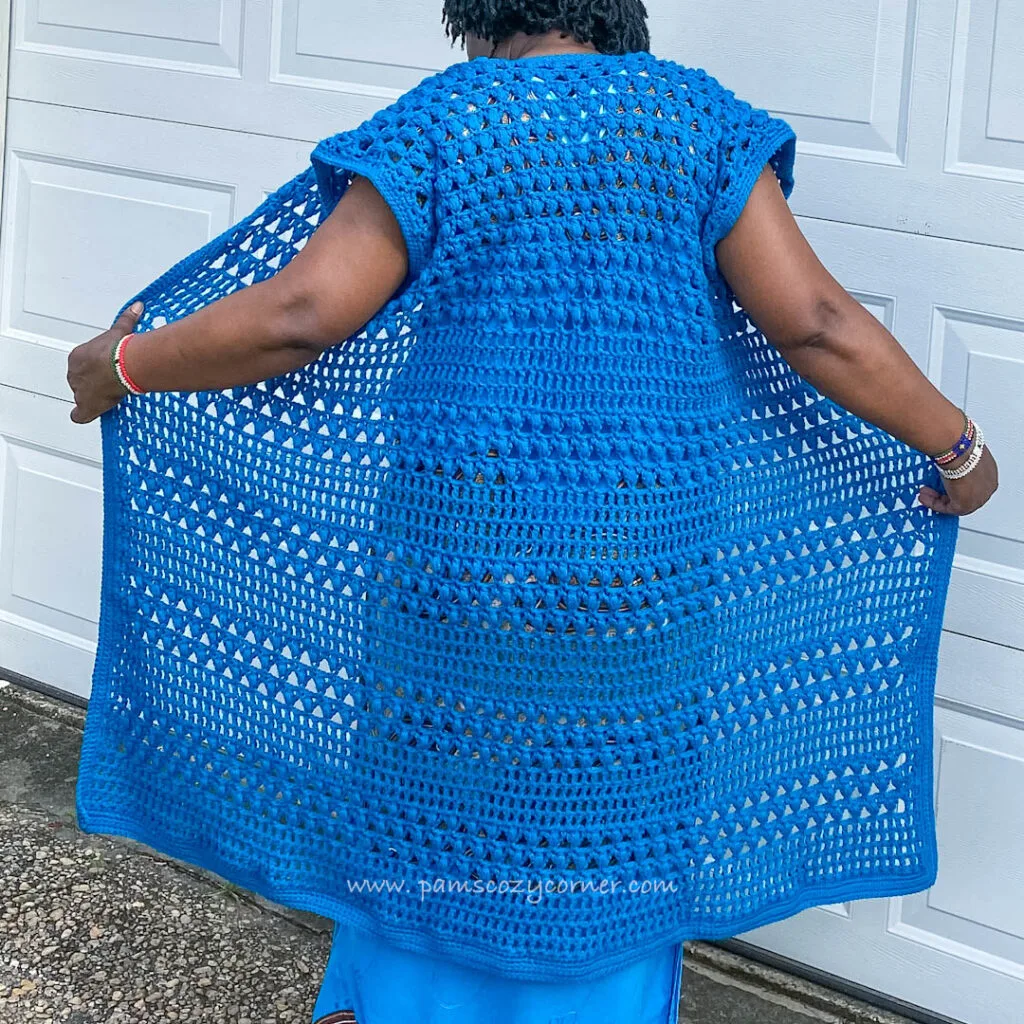 A light and airy puff stitch long cardigan perfect for spring and summer!

Pam's Cozy Corner
Coupon Code: EXPIRED
Have you missed a few days or don't want to hop from post to post each day?
Get access to all 31 PDFs in the Hello Spring Bundle!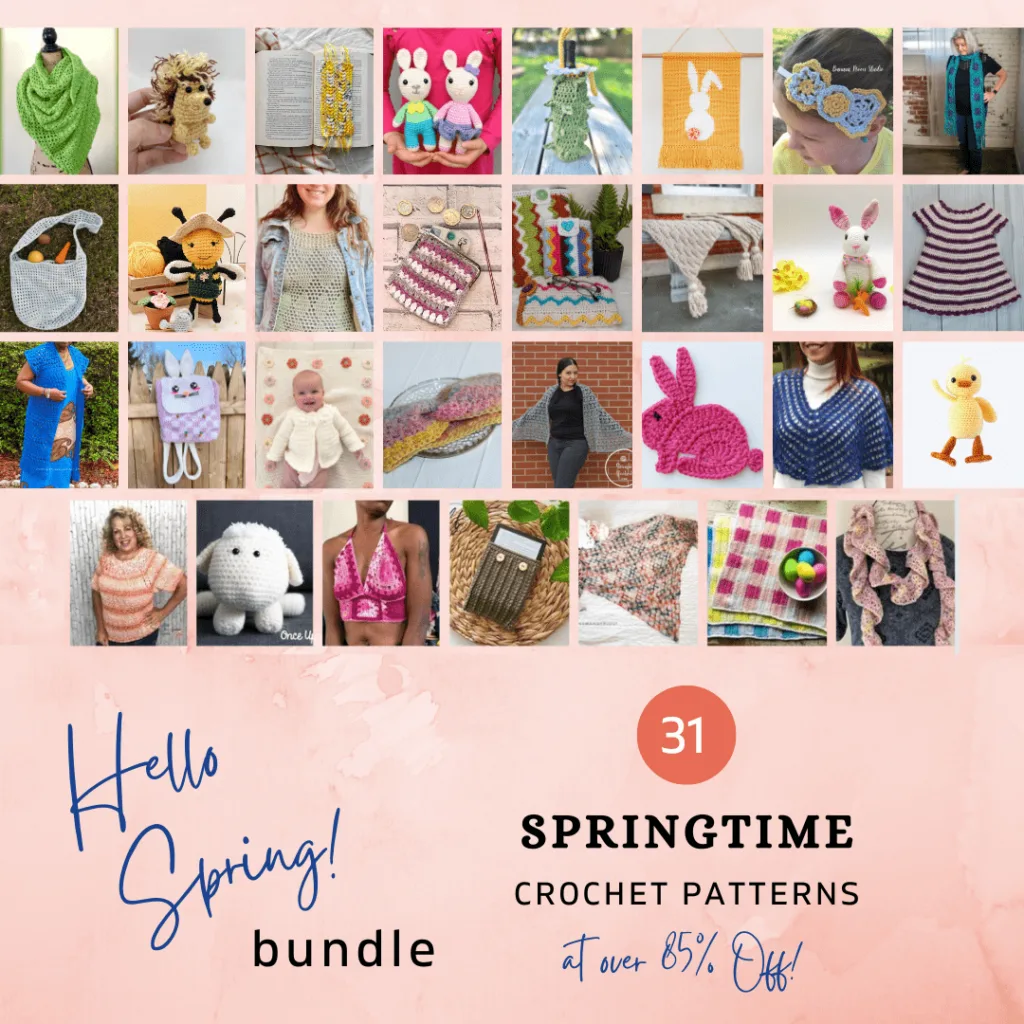 Day 22
Mini Bunny Amigurumi
March 22, 2023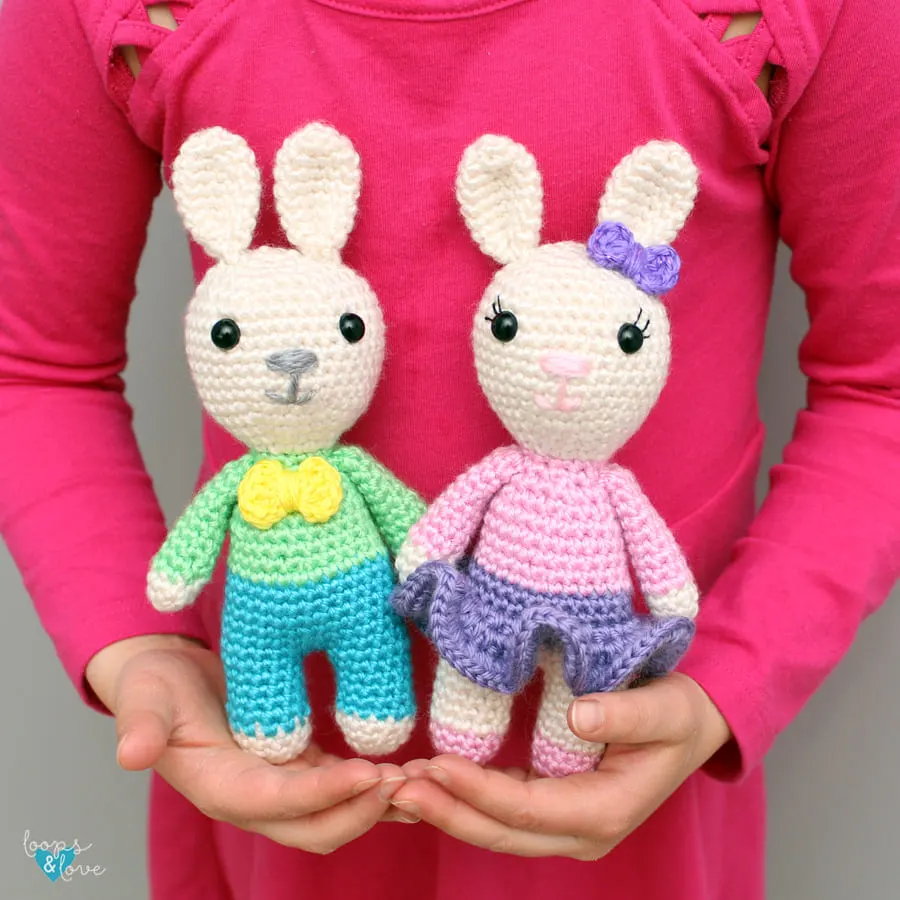 These mini bunnies are such fun ones to work up, plus they're so cute too! Celebrate Spring by making a little boy or girl bunny (or both) for someone special!

Loops & Love Crochet
Coupon Code: EXPIRED
day 23
Iris Shawl
March 23, 2023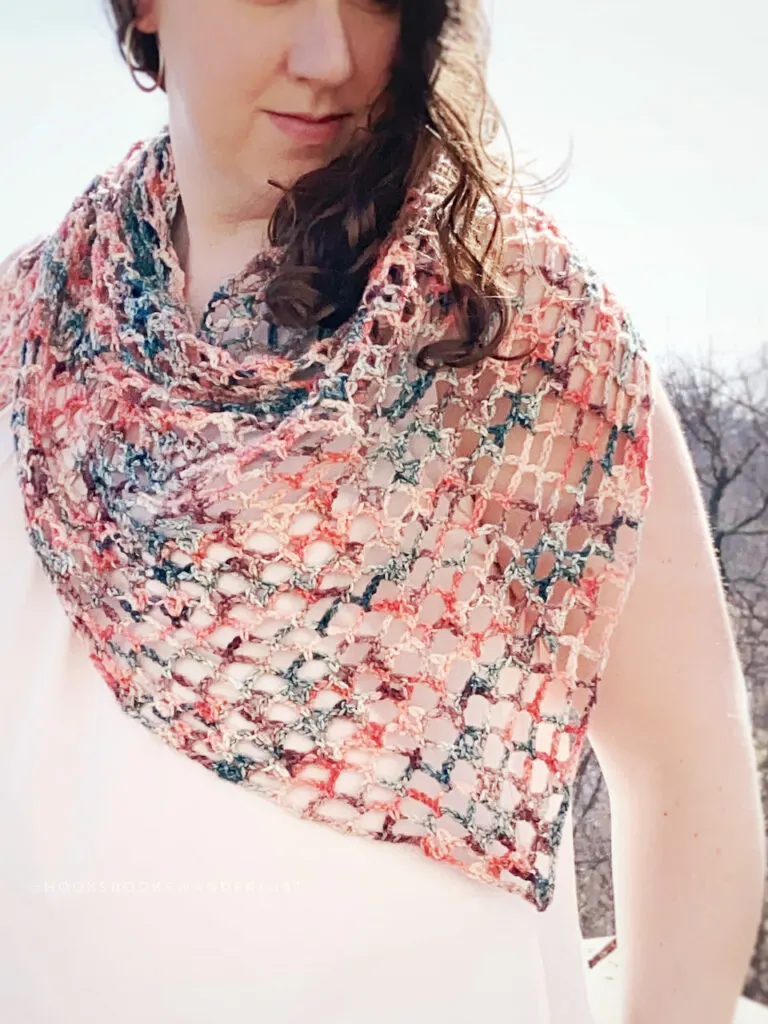 This pattern is the perfect pattern for all your special, saving-it-for-the-right-project, hand-dyed, sport or fingering weight yarn. Starting at the center point of the triangle, you work the pattern repeat until you run out of yarn. And don't let the working size fool you, because once you block it, you'll not only see it grow, but it will open up your stitches so beautifully!

Hooks, Books, & Wanderlust
Coupon Code: EXPIRED
Day 24
KEELY Scarf
March 24, 2023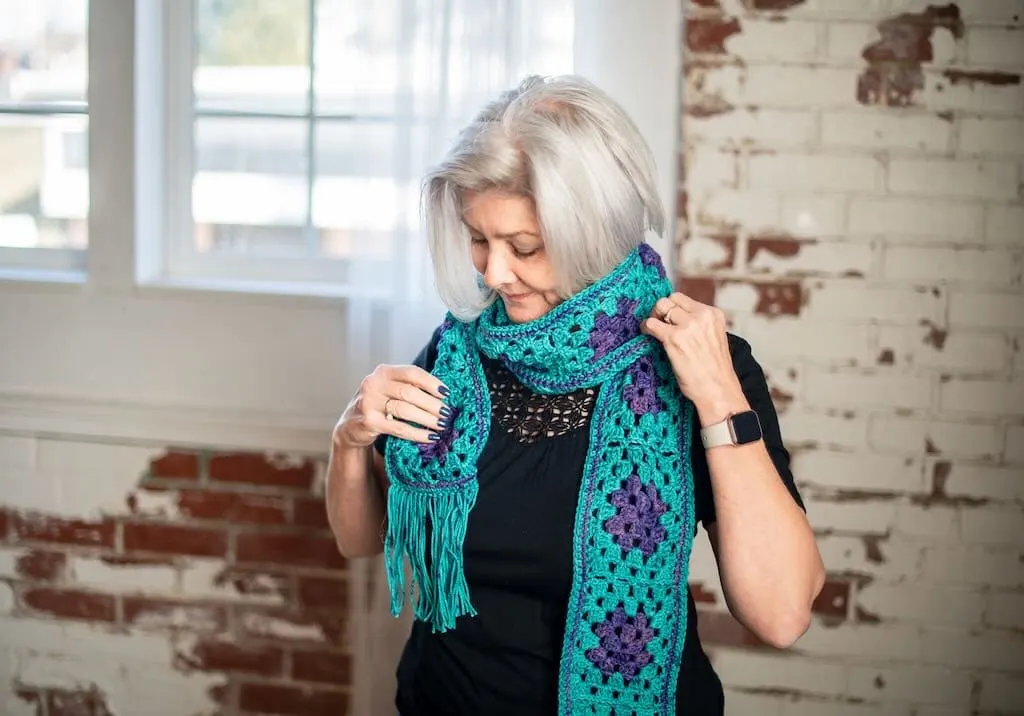 Add a touch of vintage charm to any outfit with a granny square scarf made with beautiful DK weight yarn. Join as you go for no seaming and add some fun fringe when you're done!

MadameStitch
Coupon Code: EXPIRED
Day 25
Crossbody Market Bag
March 25, 2023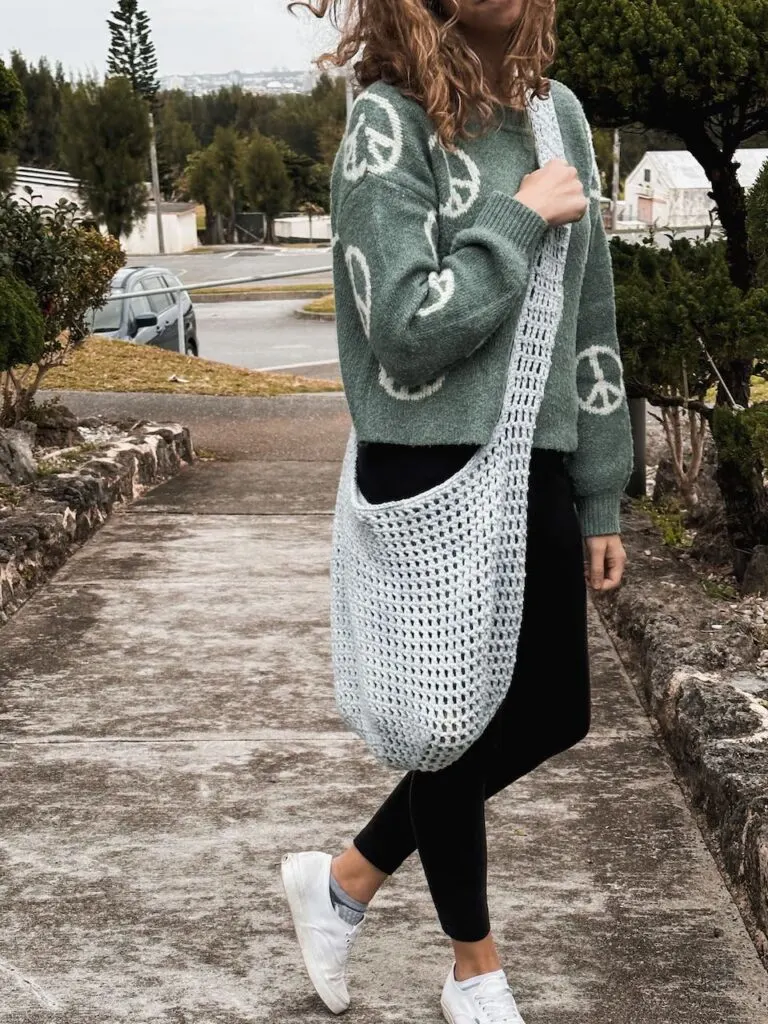 This Crossbody Market Bag would be the perfect companion on the next trip to your local farmers market. It's made using cotton yarn and double strands, making it durable yet lightweight. The strap crosses over your body comfortably so you can easily grab and go. Plus, the roomy interior is large enough to fit stacks of fruits and veggies!

Sigoni Macaroni
Coupon Code: EXPIRED
Spring Pattern Collections
Day 26
Bunny rabbit applique
March 26, 2023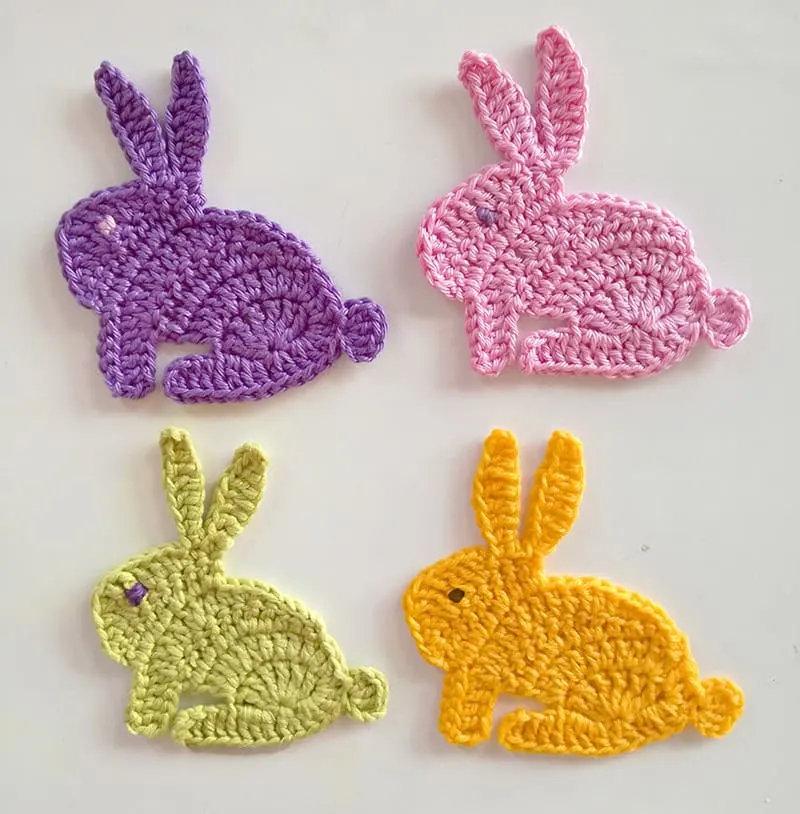 Make these little bunnies to use as decoration in kids' rooms or on clothes, or Easter decoration or cards, sew on baby blankets or make a mobile or bunting.

Knit & Crochet Blog
Coupon Code: EXPIRED
Day 27
Rosemary the Amigurumi Sheep
March 27, 2023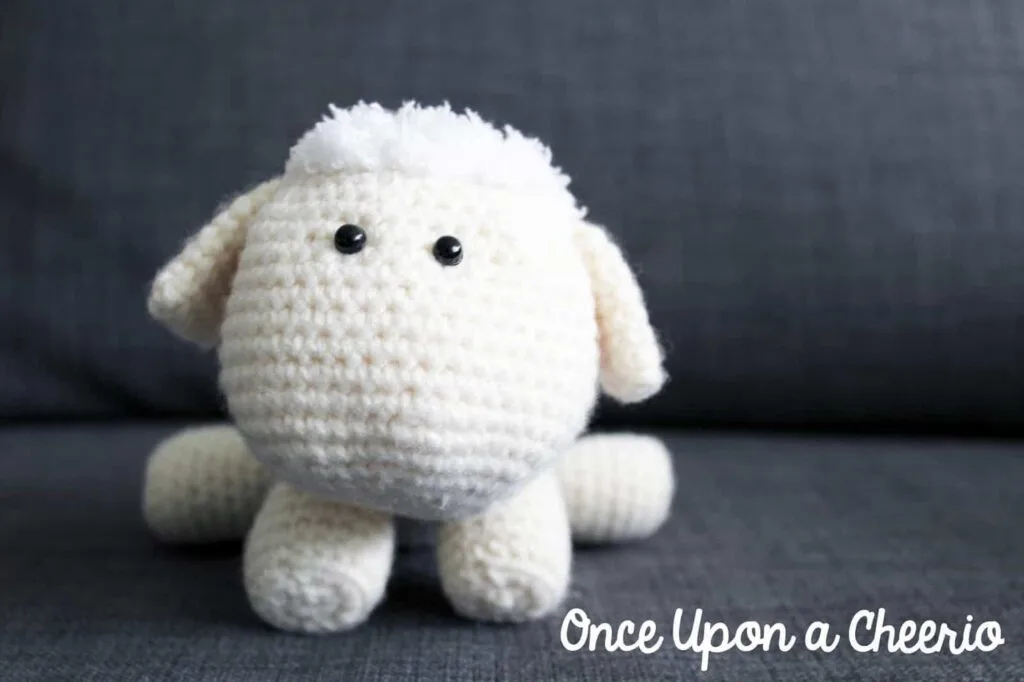 Adorable amigurumi sheep made using eyelash yarn that is so soft to hold and cuddle!

Once Upon a Cheerio
Coupon Code: EXPIRED
Day 28
Betty the Bee Amigurumi
March 28, 2023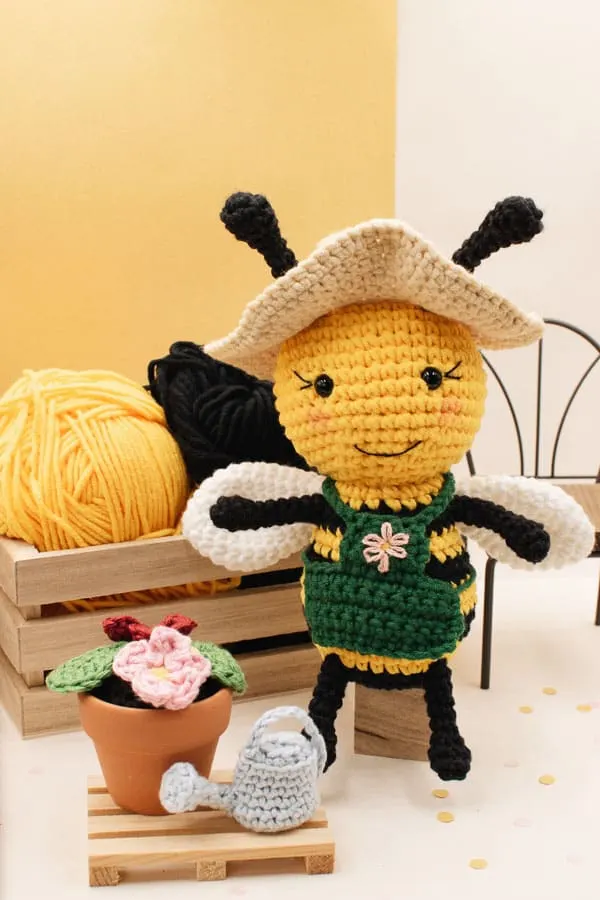 Spring time! Betty bee is gardening, mindfully watering her precious flowers with love and good vibes for the future pollen collection. Gardening is believing in tomorrow. Bees are hope for tomorrow's world. A super joyful amigurumi pattern to make when come Spring and Summer, accessible to beginners + to intermediate crochet lovers. Detailed pattern with step by step pictures.

Octopus Crochet
Coupon code: EXPIRED
Day 29
gingham Bunny BackPack
March 29, 2023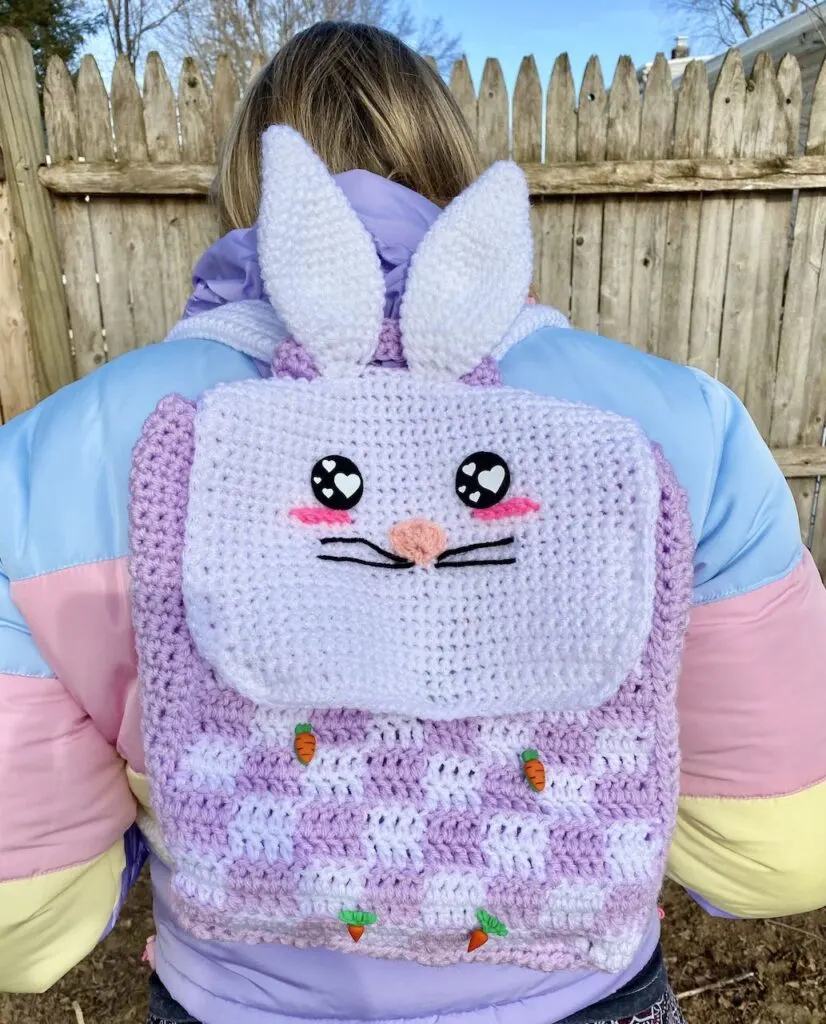 Hop on over to this adorable bunny backpack pattern! It features a kawaii rabbit face and gingham / checkered / plaid print for a cottagecore twist! The pattern works up easily in a series of panels, and it can be customized with a variety of colors, felt eye styles, and even little carrot buttons. Use this as an Easter basket alternative, a cute way to carry essentials at events like conventions, or an all-season kawaii fashion staple – the possibilities are endless!

Crafty Kitty Crochet
Coupon code: EXPIRED
Day 30
Bunny Wall Hanging
March 30, 2023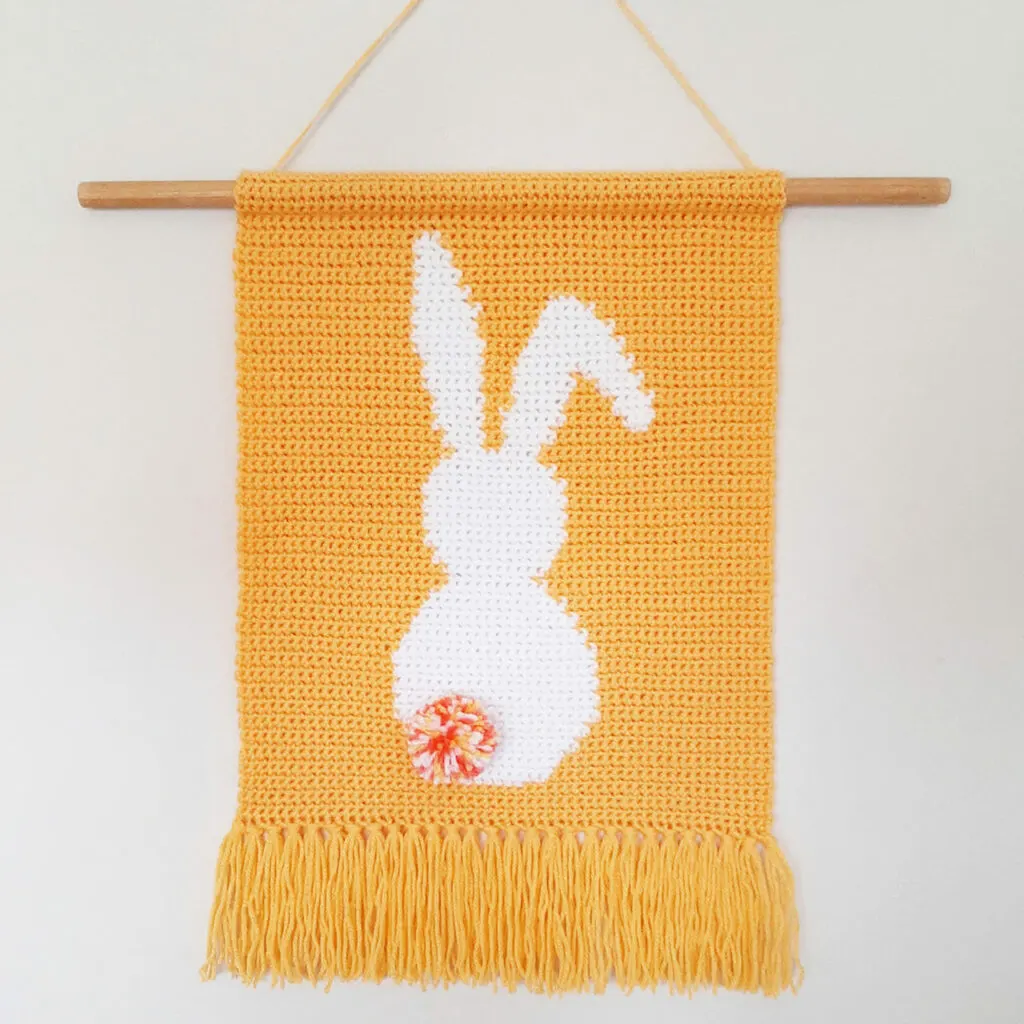 This cute bunny crochet wall hanging is a perfect for a baby nursery or for some Easter decor! As crochet colorwork goes, this is a really easy project; perfect if you want to dip your toe (or hands!) into the world of intarsia crochet.

Ned & Mimi
Coupon code: No Coupon Code Needed. This is a DIRECT DOWNLOAD on the designer's website.
Day 31
Granny Merge Bralette
March 31, 2023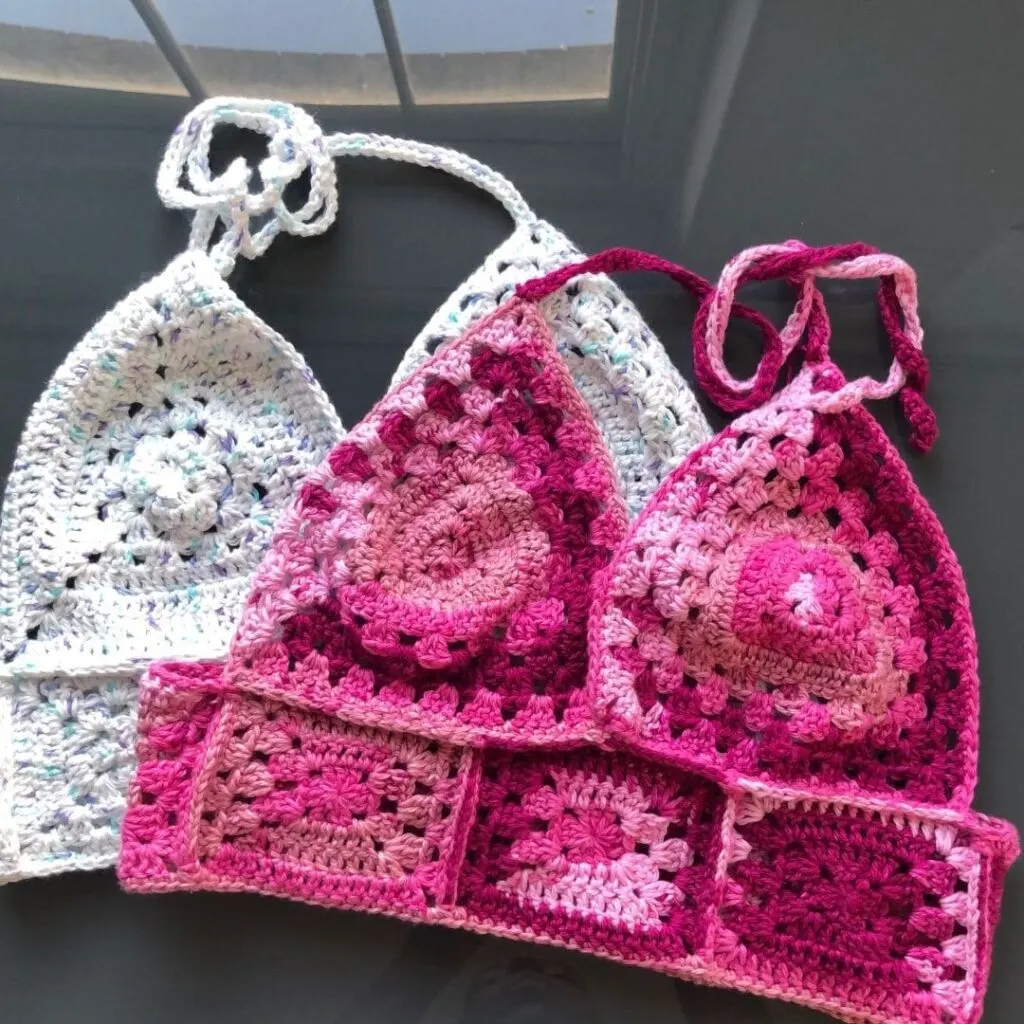 Simple fun size inclusive bralette featuring granny merge triangles and squares.

Me 'n' My Hook
Coupon code: SPRINGVIBE
Did you miss the blog hop?
Get access to all 31 PDFs in the Hello Spring Bundle!
Available until April 7, 2023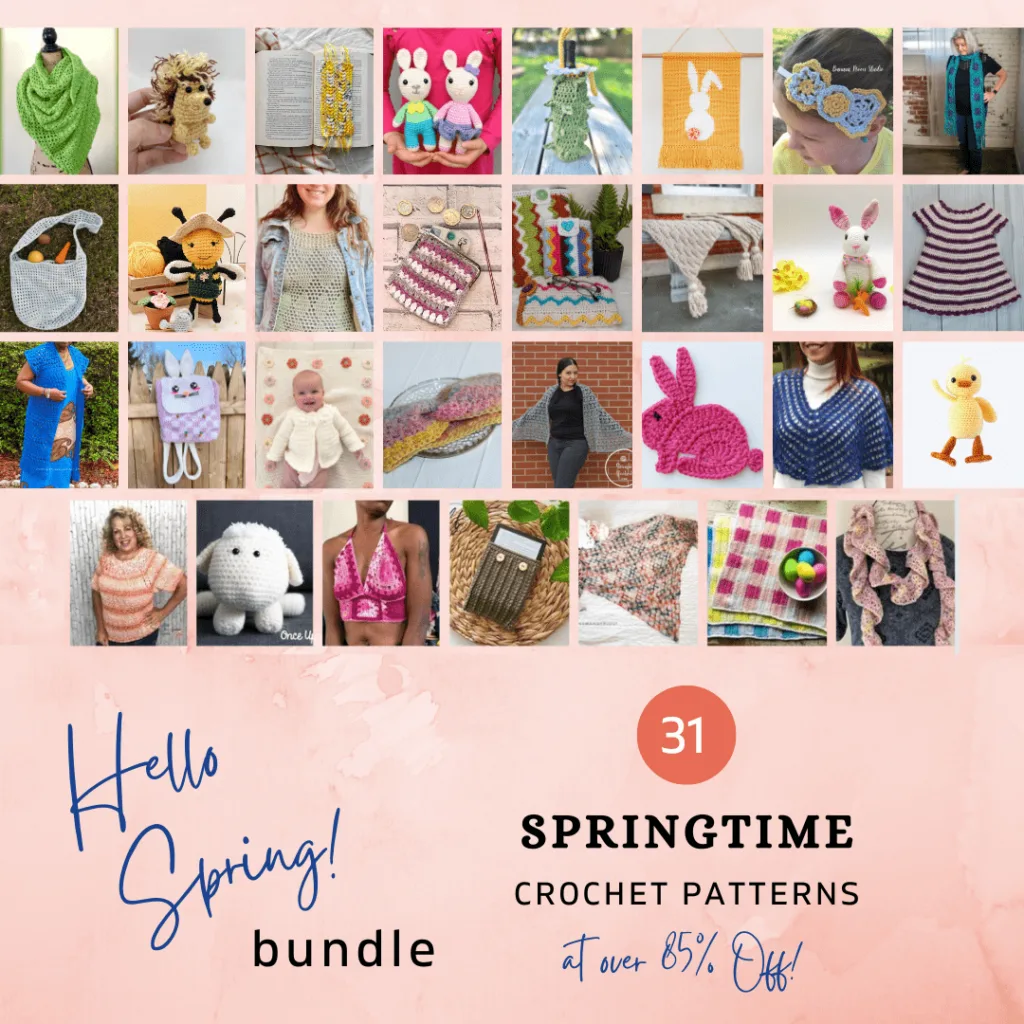 ---
Wow! What a fabulous collection!
Don't you agree?
From amigumuri to wearables, and home decor projects there is just so much in this springtime collection to love!
---
Thank you for coming to my blog! By sharing my content and/or making a purchase you are making it possible for me to continue producing and sharing free content for everyone to enjoy. I sincerely appreciate your support!
Until next time… Happy Crocheting!
Please share!