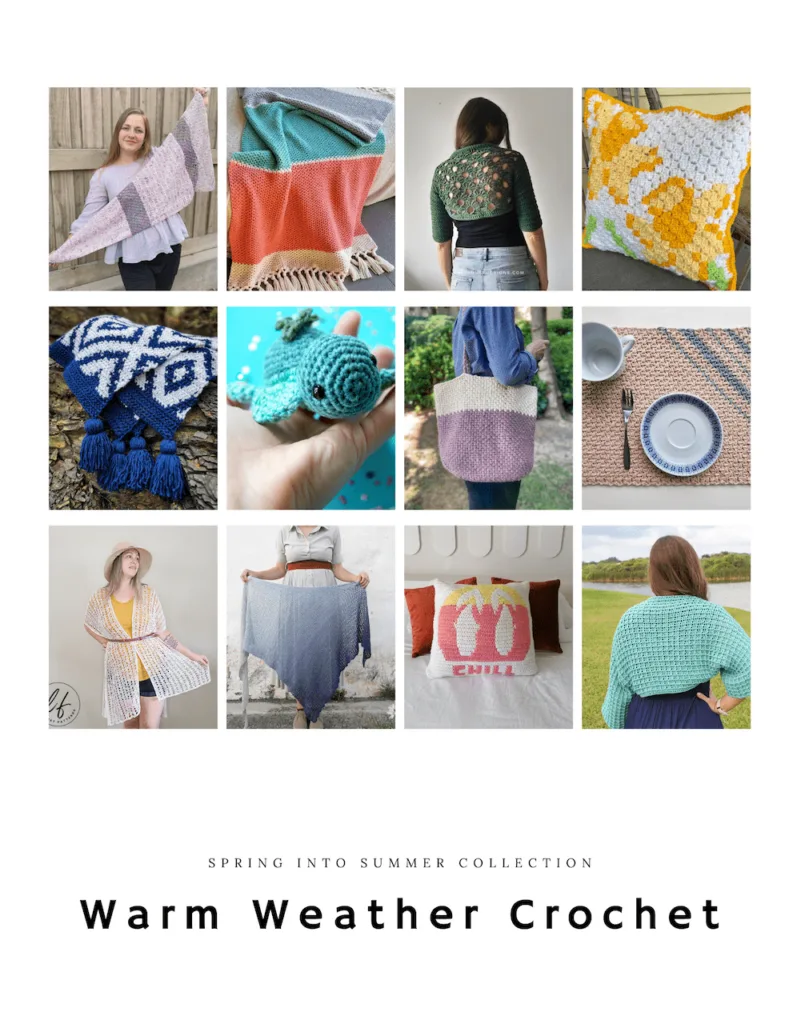 33 Warm Weather Crochet Projects to Brighten Your Spring and Summer
As the temperature rises and the flowers bloom, it's time to switch to lighter and breezier crochet projects.
So, my crochet designer friends and I banned together and created a super fun blog hop to kick off the warm weather season.
Here's a snippet of the amazing designers who participated in the event!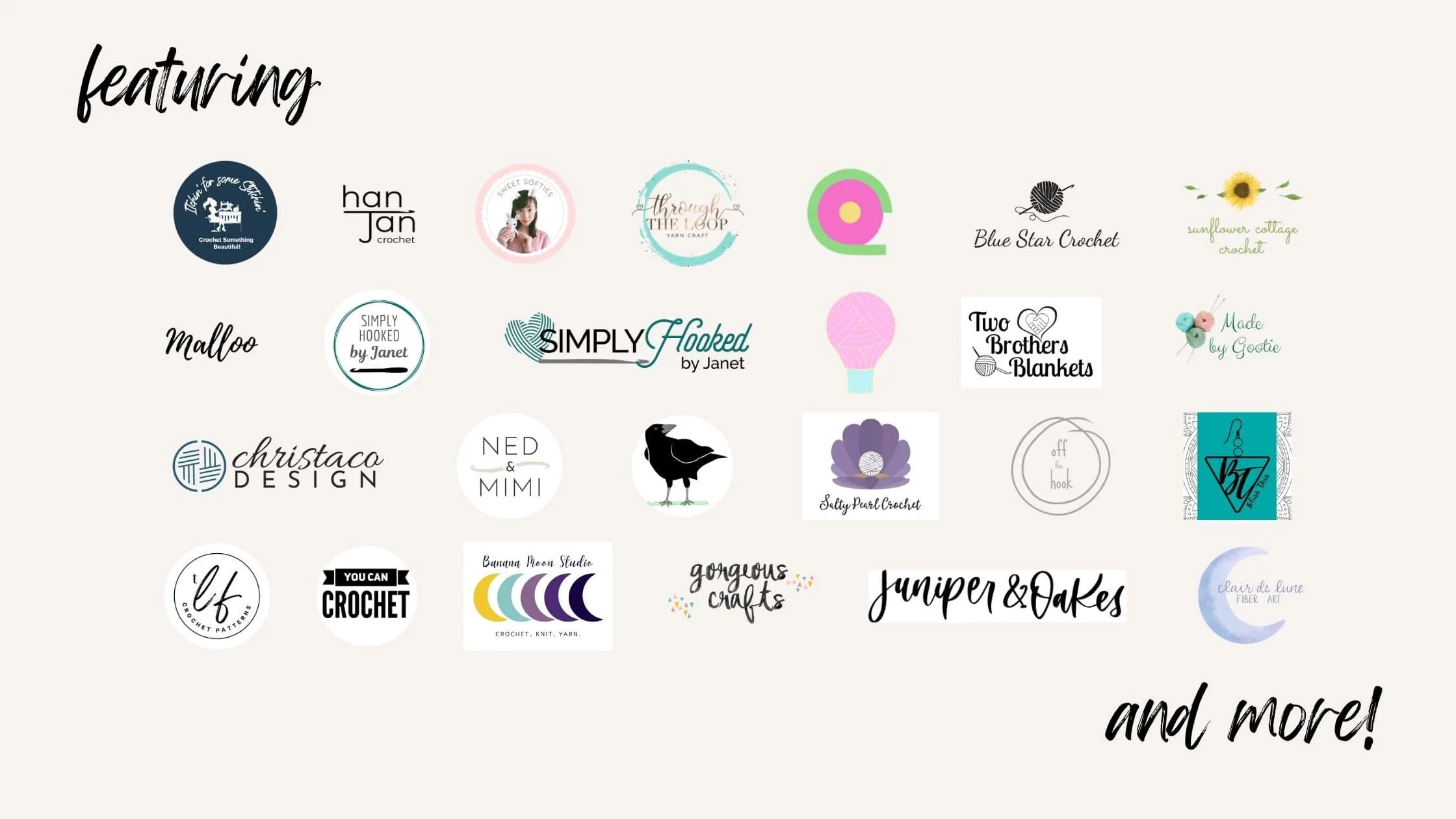 From trendy accessories to stylish garments, there are countless warm weather crochet ideas to keep you busy and fashionable and decided to share 33 of them with you!
We made one featured pattern available to download in PDF format for FREE each day for 33 days.
Although the event is now over, you can still get many of the patterns for free on the designer's website by clicking on the black "GET PATTERN" button below the photo of the design you are interested in.
So, get your hooks ready and let's dive into the world of warm weather crochet!
First up is our fantastic collection of bags and other crochet accessories.
Bags & Other Accessories
Enhance your spring and summer style with our collection of crochet bags and accessories. From trendy tote bags to stylish hats, discover crochet projects to complement your warm weather outfits.
Embrace the colors and textures of the season and create your own unique accessories that are both fashionable and functional.
Get inspired and start crocheting your way to a stylish spring and summer!
1. Botanical Japanese Knot bag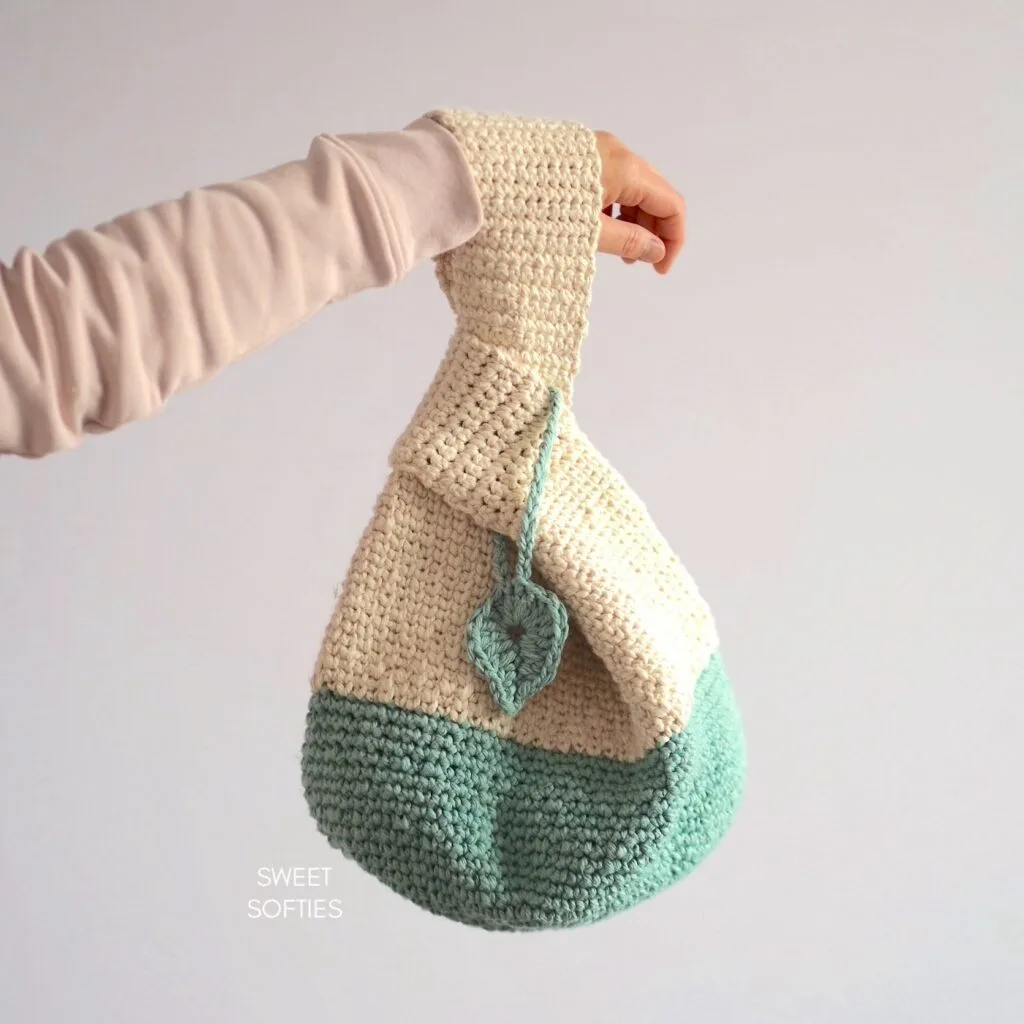 The Botanical Knot Bag is a no-sew crochet project that is quick, easy, and functional! This Japanese-style knot bag has a minimalist look with color blocks or a single tone, but is also a perfect pattern to use with variegated or ombre yarn.

Sweet Softies
2. Billow Tote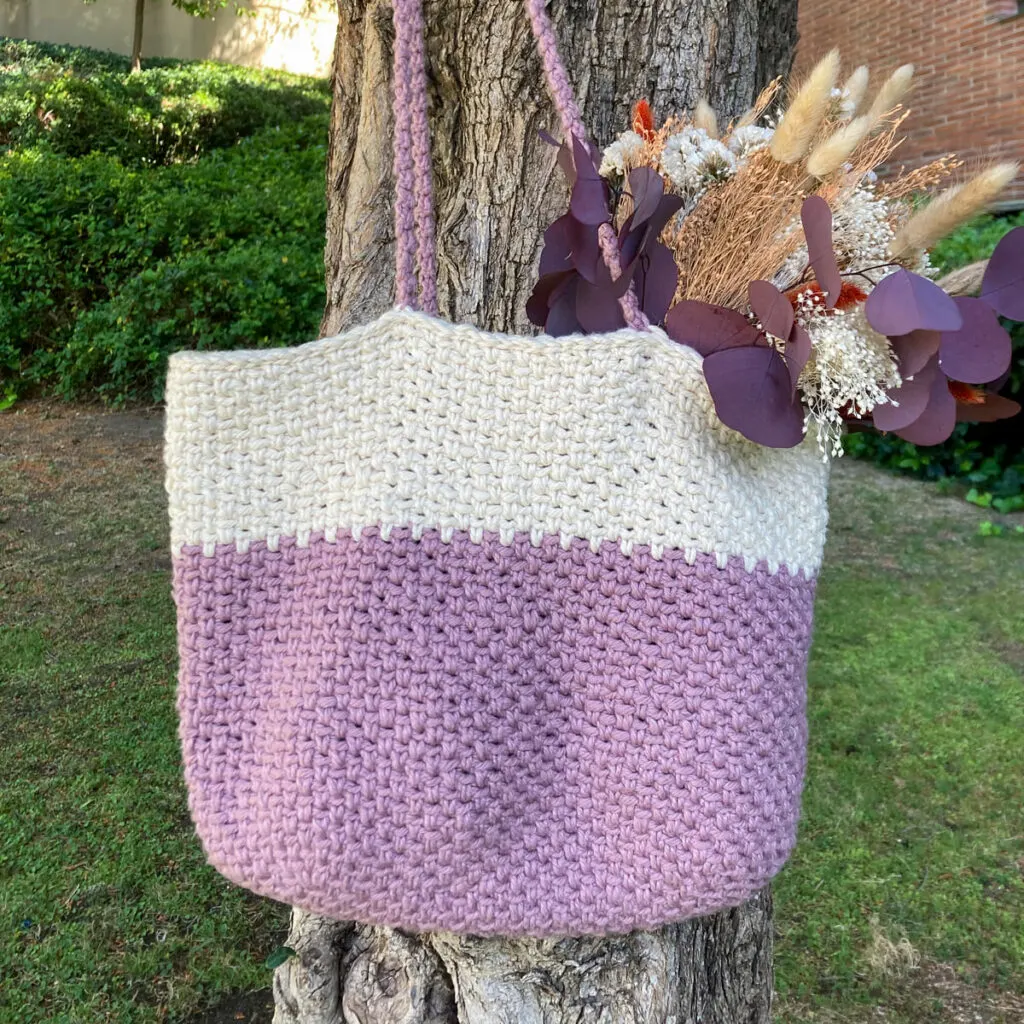 The Billow Tote is a quick and stylish make thanks to the bulky yarn and easy pattern repeat. Make yours in one or two colors or go for full-on stripes for a super colorful accessory!

Ned & Mimi
3. chloé cloche Hat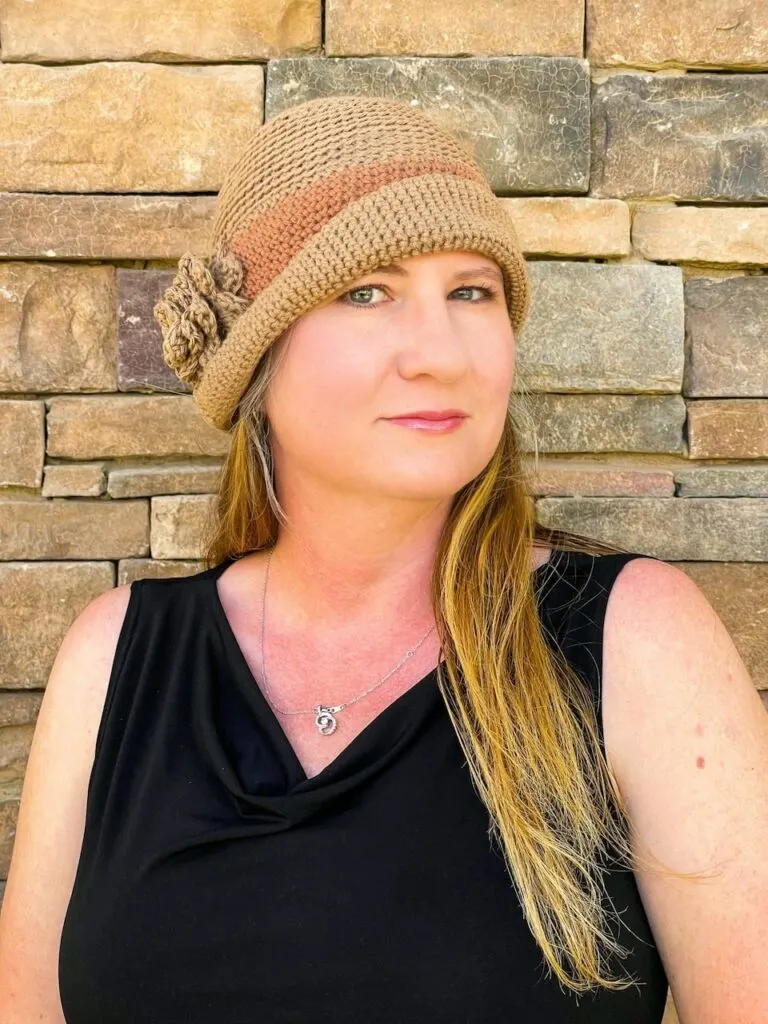 A timeless crochet piece. The Chloé Cloche is an easy crochet hat with classic style. Worked entirely in the round, this lovely hat comes together in a snap and takes only a few hours to work up. A beautiful crochet accessory that's the perfect addition to any wardrobe.

Itchin' for some Stitchin'
4. Chunky bobble Stitch Bag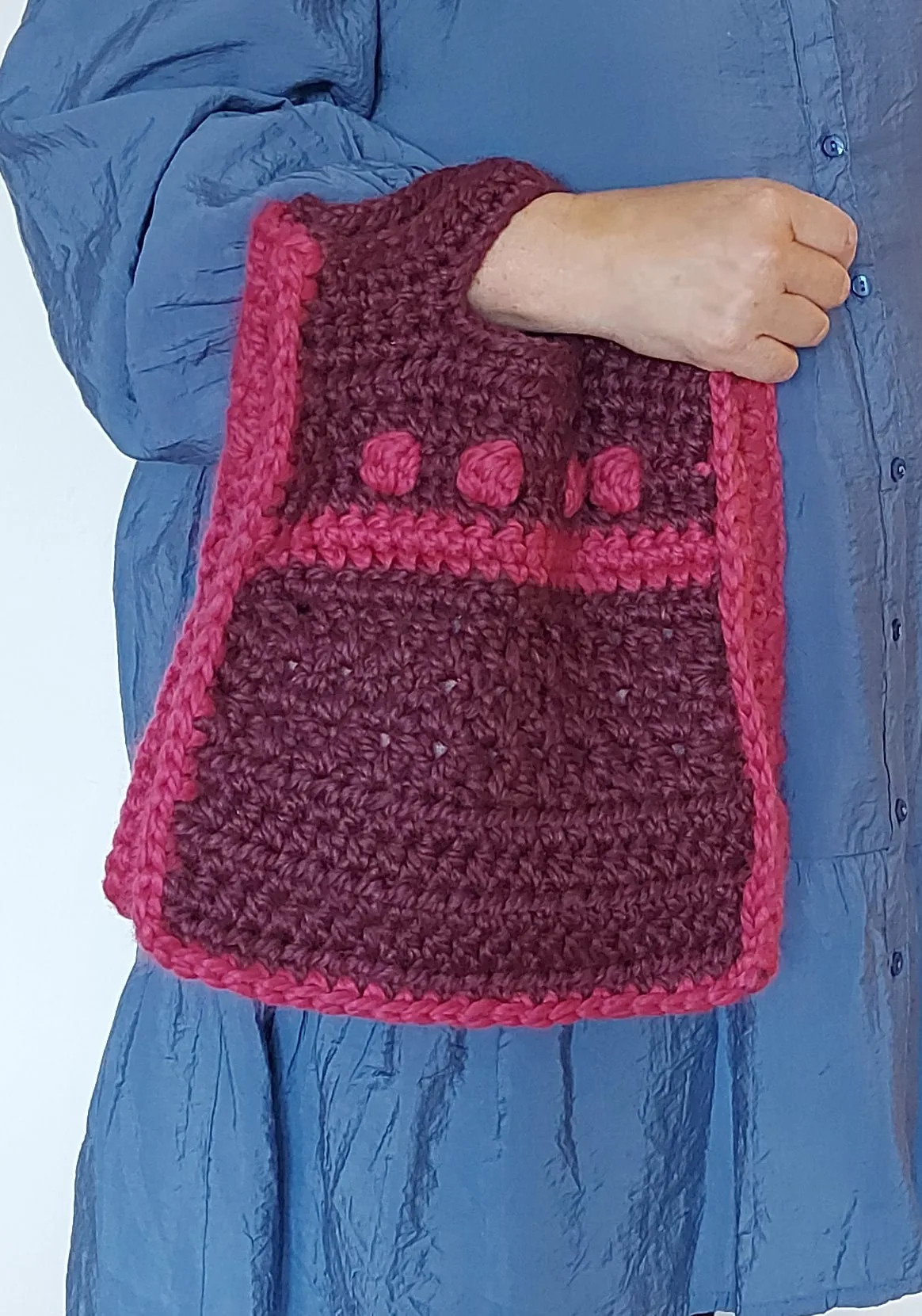 The chunky bobble stitch bag is a quick project, with no separate handles. Interesting detail of a bobble stitch row in a different color from the background.

Knit & Crochet Blog
5. Starburst market bag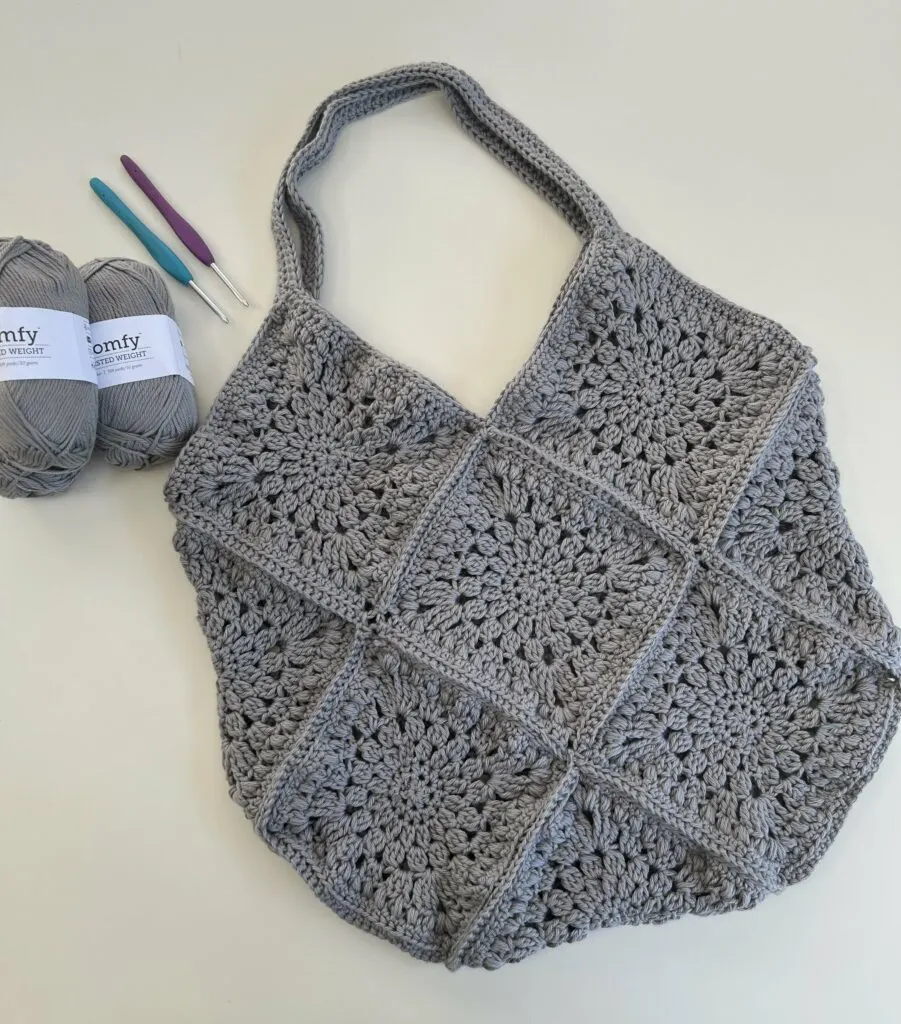 The Rustic Pines Stocking is a textured crochet Christmas stocking. This beautiful stocking uses a fun cable stitch to create the effect of trees. This pattern is written for worsted weight yarn and creates a stocking with plenty of space for all your Christmas goodies.A versatile market bag made from fancy starburst granny squares

Off the Hook for You
6. Crochet Cat Mask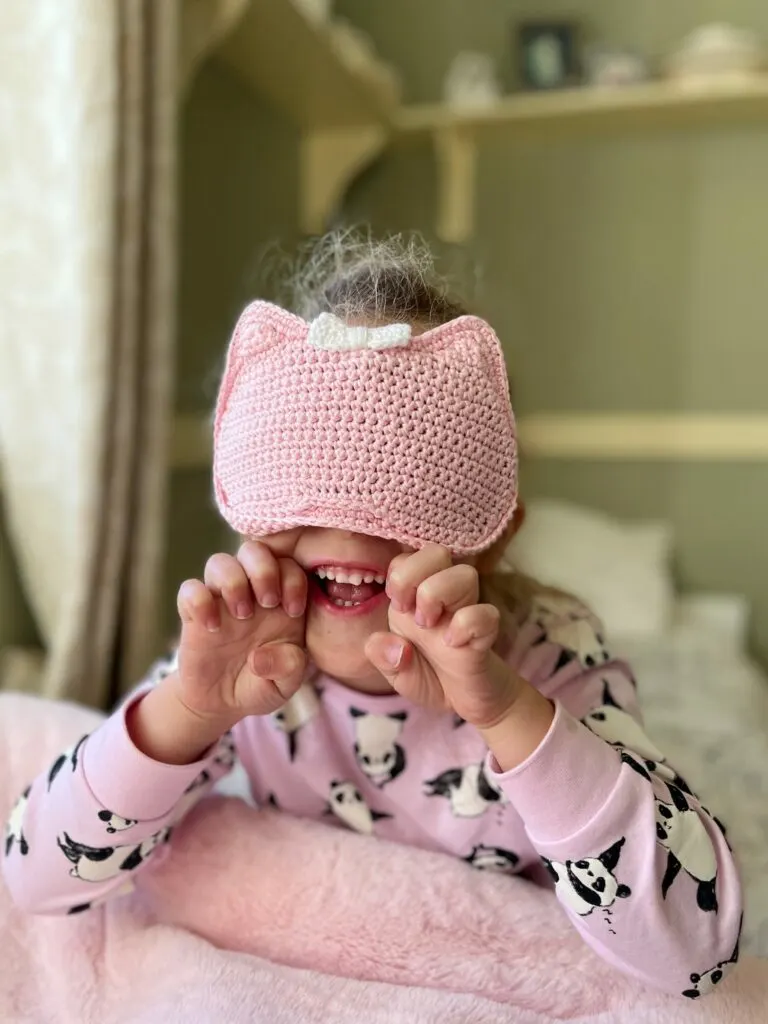 With teeny little ears and a simple bow to finish off, this cute crochet eye mask is just the thing for cat lovers! Easily adjustable to fit anyone by adding the length of elastic you want it's the perfect thing for sleeping or just chilling!

HanJan Crochet
7. The Coastal Sun Tote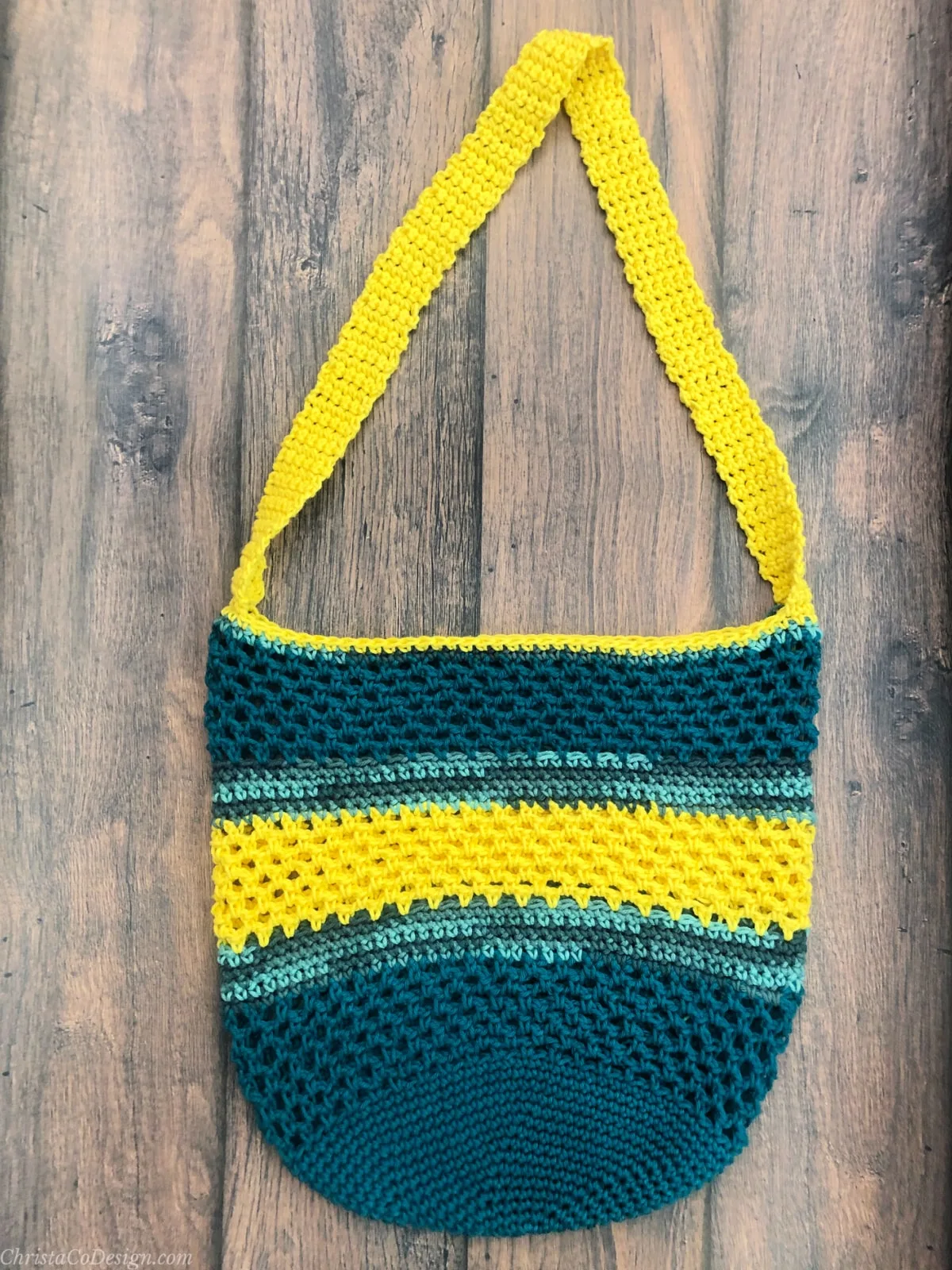 The Coastal Sun Tote features bright colors and alternates easy crochet mesh with solid single crochet sections. This bag is great for everyday use or even for a beach day.

Christa Co. Design
Next up… gorgeous spring and summer garments!
Garments
Step into the warmer seasons with style and comfort with these crochet garments perfect for spring and summer. From breezy tops and lightweight cardigans to lacy tops, these crochet designs are made to keep you looking chic and feeling cool.
Enjoy the versatility of these crochet projects and create your own unique pieces that reflect your personal style.
Embrace the joy of crocheting our garment collection and enjoy the season in fashionable and handmade style.
8. Little City Summer Top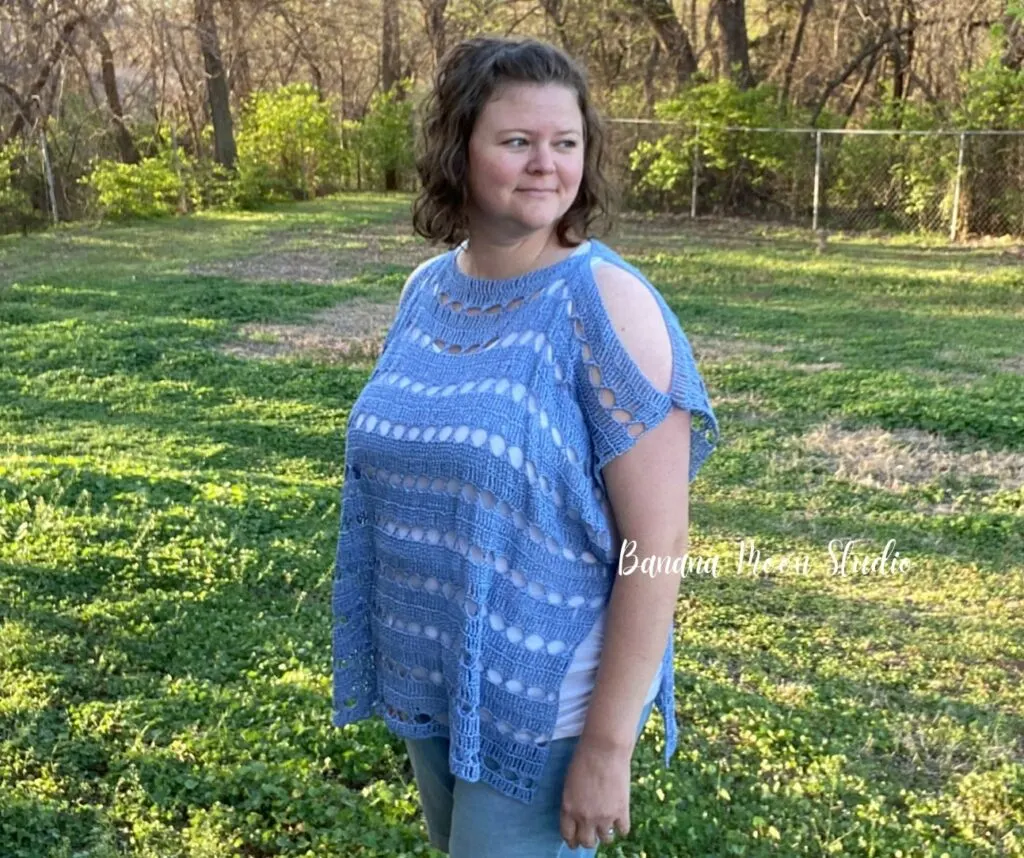 Enjoy the summer sun in this breezy lace top! Looks lovely over a camisole, tee, or sundress.


Banana Moon Studio
9. Milana Sweater vest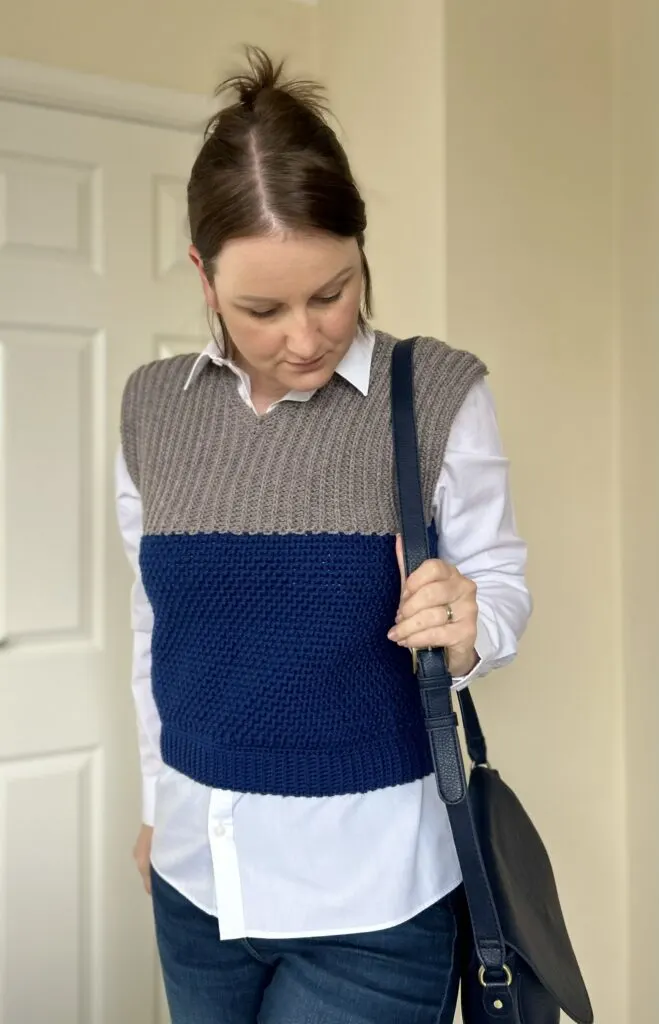 Milana Sweater vest is a timeless and simple layering piece that will complement your wardrobe. Designed as size inclusive pattern in sizes XS-5XL, it is easy and quick to make. The simple construction and easy stitches make this pattern suitable for an adventurous beginner!

Blue Star Crochet
10. Glitzy Bolero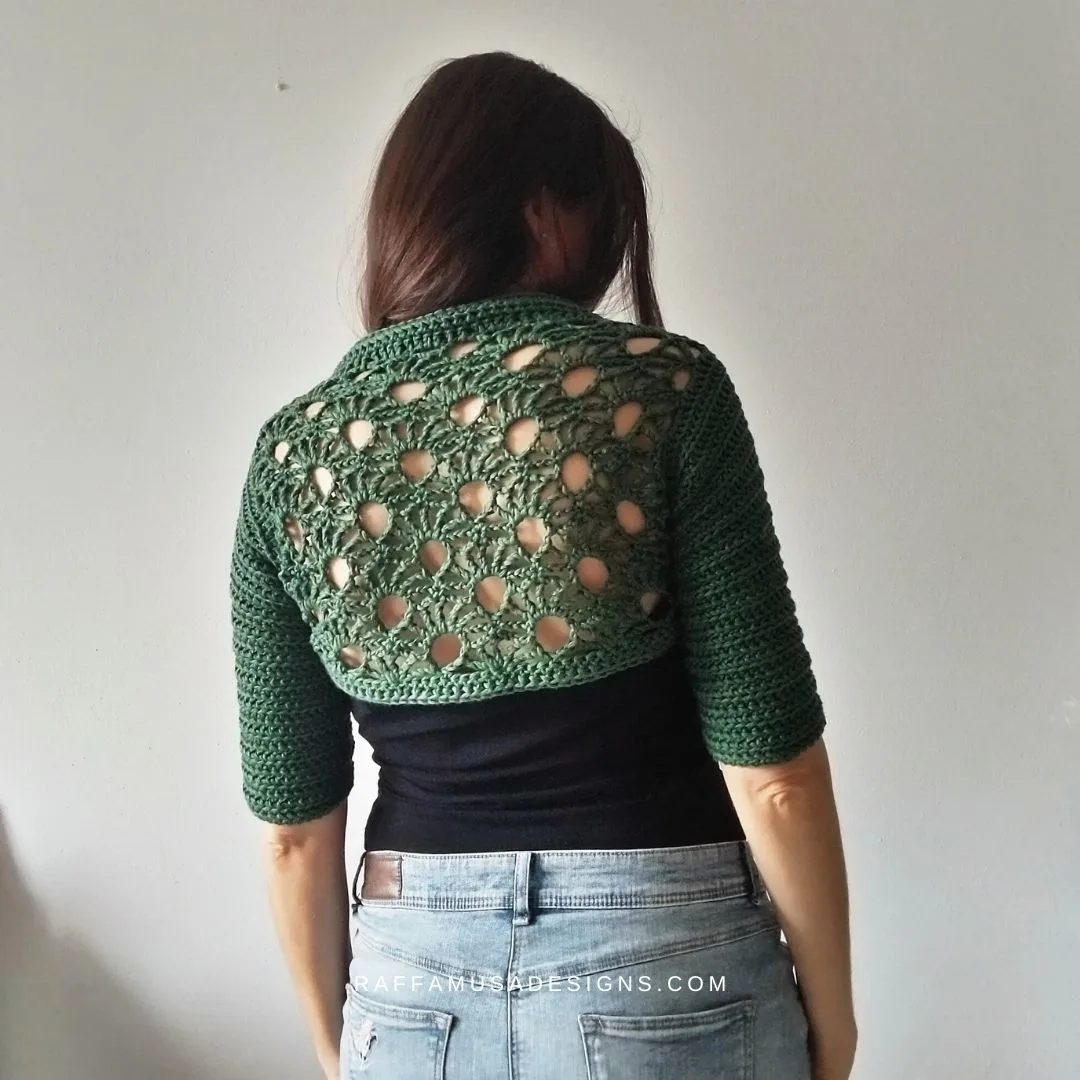 The fine elegance of the lace Glitzy Bolero will add a touch of glamour to the most simple or your outfits! Crocheted in Worsted-weight yarn, this crochet shrug works up quickly and comes in 4 sizes.

Raffamusa Designs
11. The Lacy Tee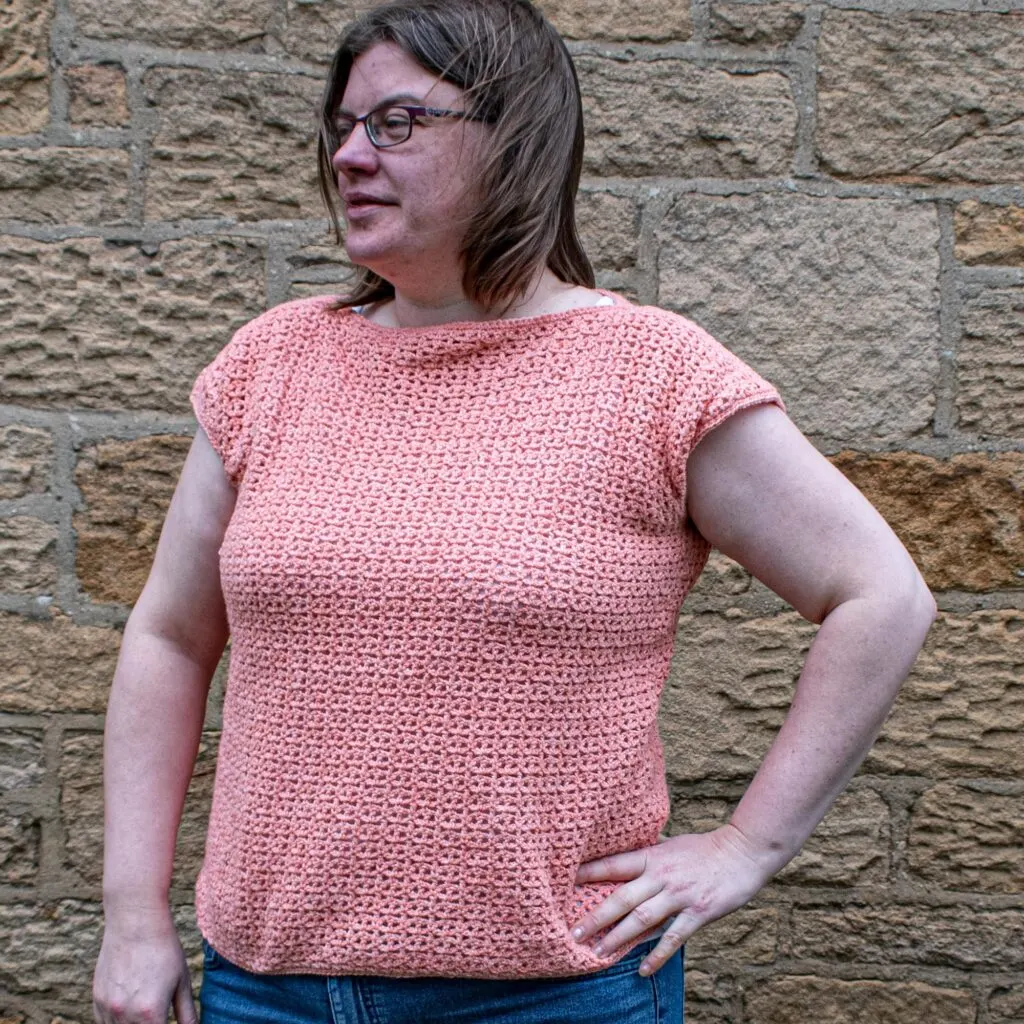 A simple crochet tee with loads of style!
Sunflower Cottage Crochet
12. Spider Stitch Cami Top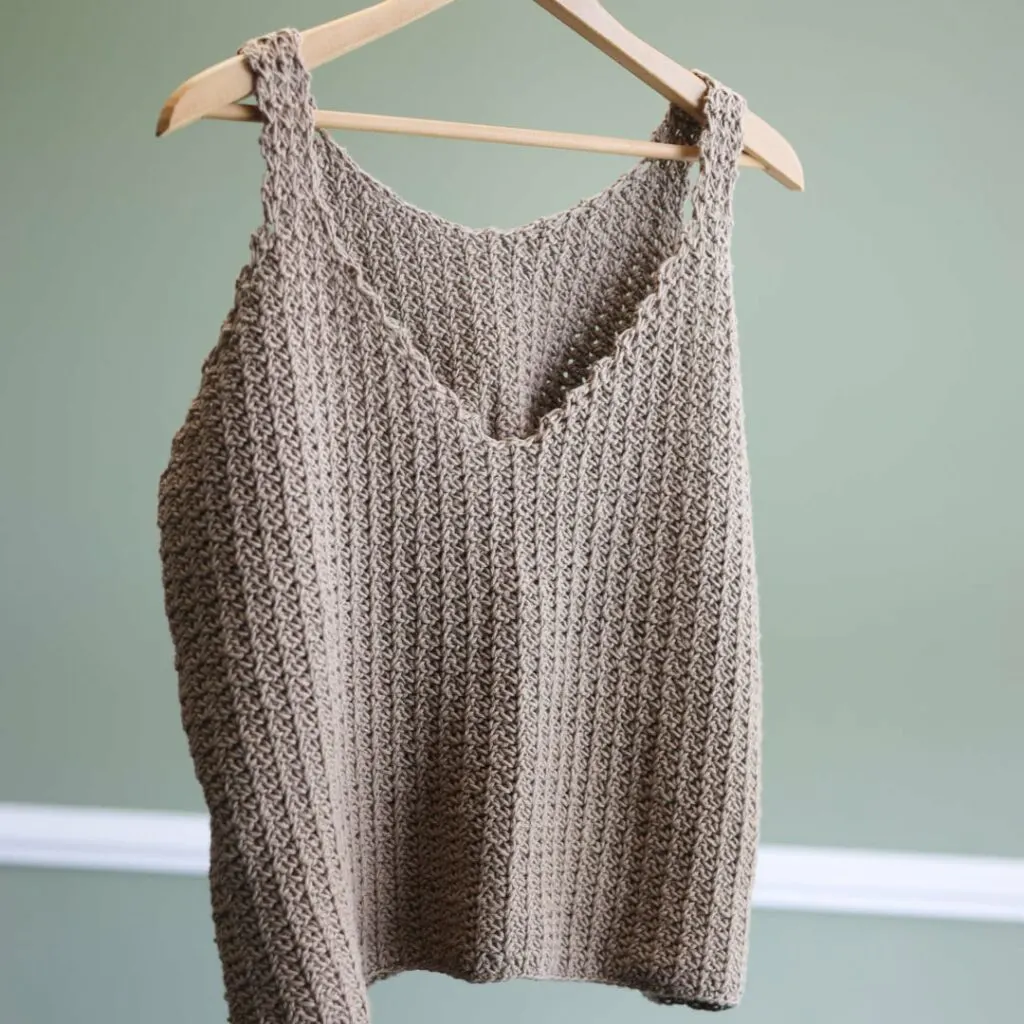 Crochet a gorgeous cami top with a stunning spider stitch texture. You won't believe how easy it can be to crochet your own clothes!

Salty Pearl Crochet
Let's Get Crafty!
Looking for lots of crafty inspiration, tips, tutorials, and a great crochet community? Join my Facebook group!
13. Tulip Sweater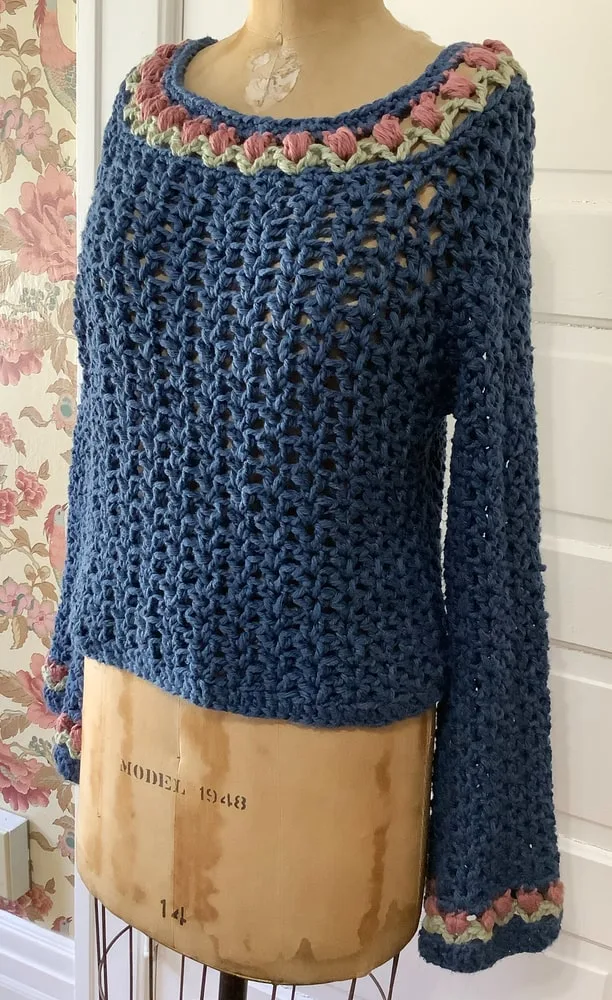 Crocheted in butter soft cotton, this bottom-up raglan sweater with tulip stitch details has an airy stitch pattern and an oversized fit. It is slightly cropped and has a relaxed round neck, but the fit is easily customized! Perfect between seasons sweater to add to your wardrobe.

Hooked for Life
14. Ladder vest top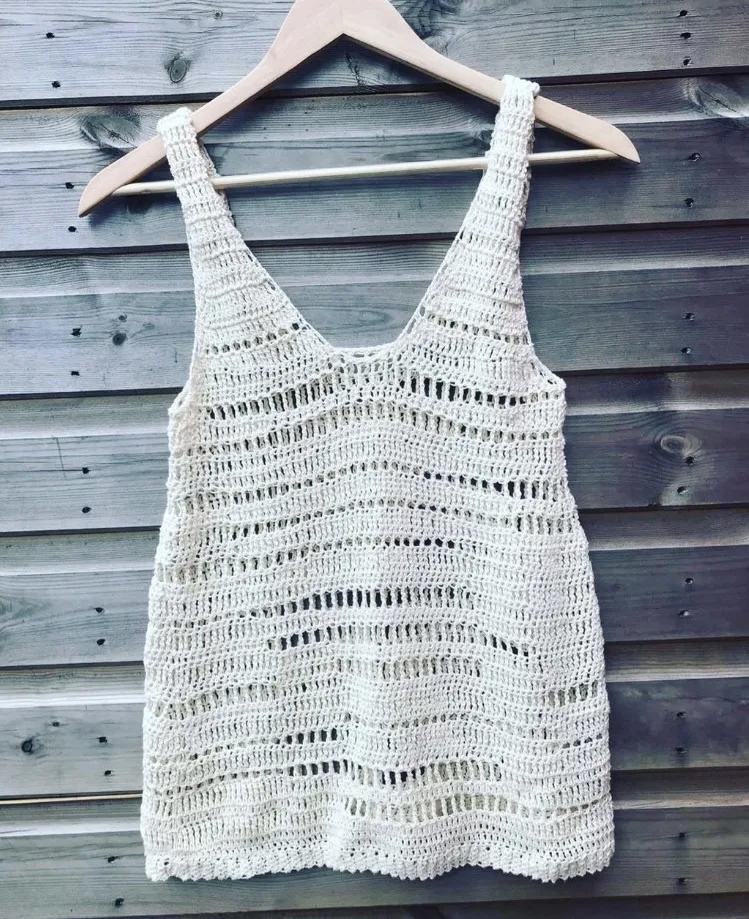 This pretty Summer vest top is perfect as a beach cover up, or over a vest to wear with shorts or jeans.

You Can Crochet
15. The Sunday Brunch ShRug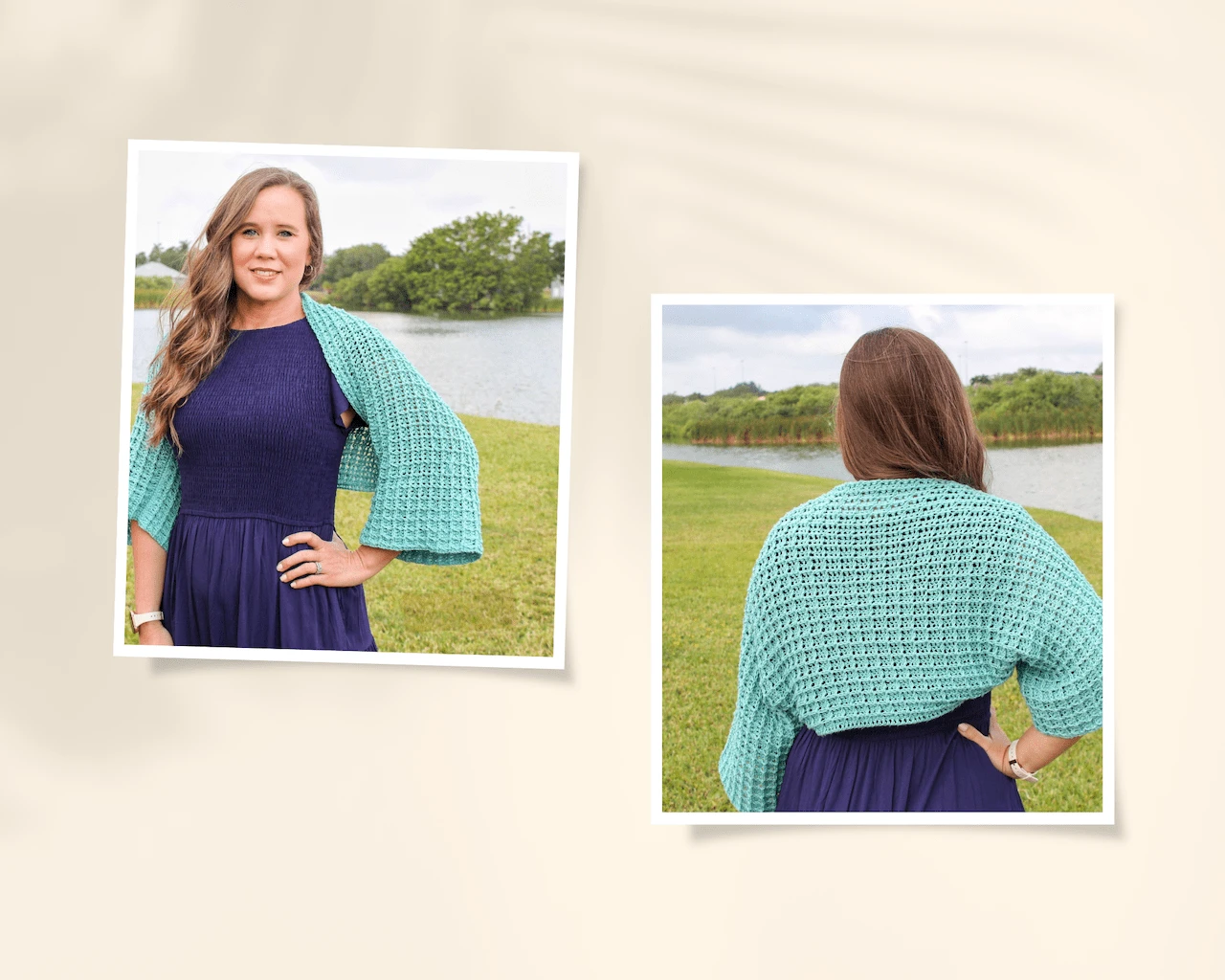 The Sunday Brunch Shrug uses the fun and unique waffle stitch to create this perfect spring accessory!

Two Brothers Blankets
Enjoy our stunning collection of shawls, wraps, and ruanas up next!
Shawls, Wraps, & Ruanas
Wrap yourself in elegance and style with these crochet shawls, wraps, and ruanas designed for spring and summer.
Whether you're looking for a lightweight cover-up for a breezy evening or a stylish accessory to complement your outfit, these crochet projects have you covered. From delicate lace wraps to cozy pocket shawls, there's a design for every taste and occasion.
Discover the joy of crocheting shawls and wraps and add a touch of handmade luxury to your spring and summer wardrobe with our collection of gorgeous patterns.
16. All Strung together shawl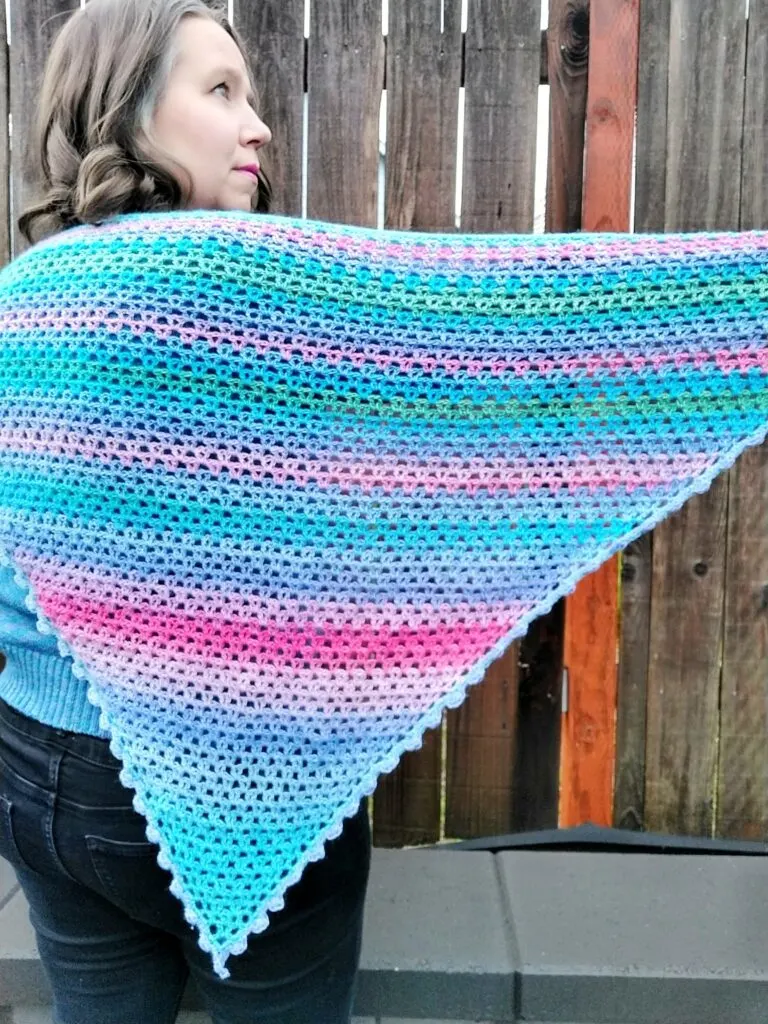 The All Strung Together Shawl has simple V-stitch construction, is worked bottom up, and has a unique edging. You'll enjoy making this in any weight yarn! It is perfect for an elegant summer evening stroll.

Bliss This
17. Furrow & flourish filet crochet shawl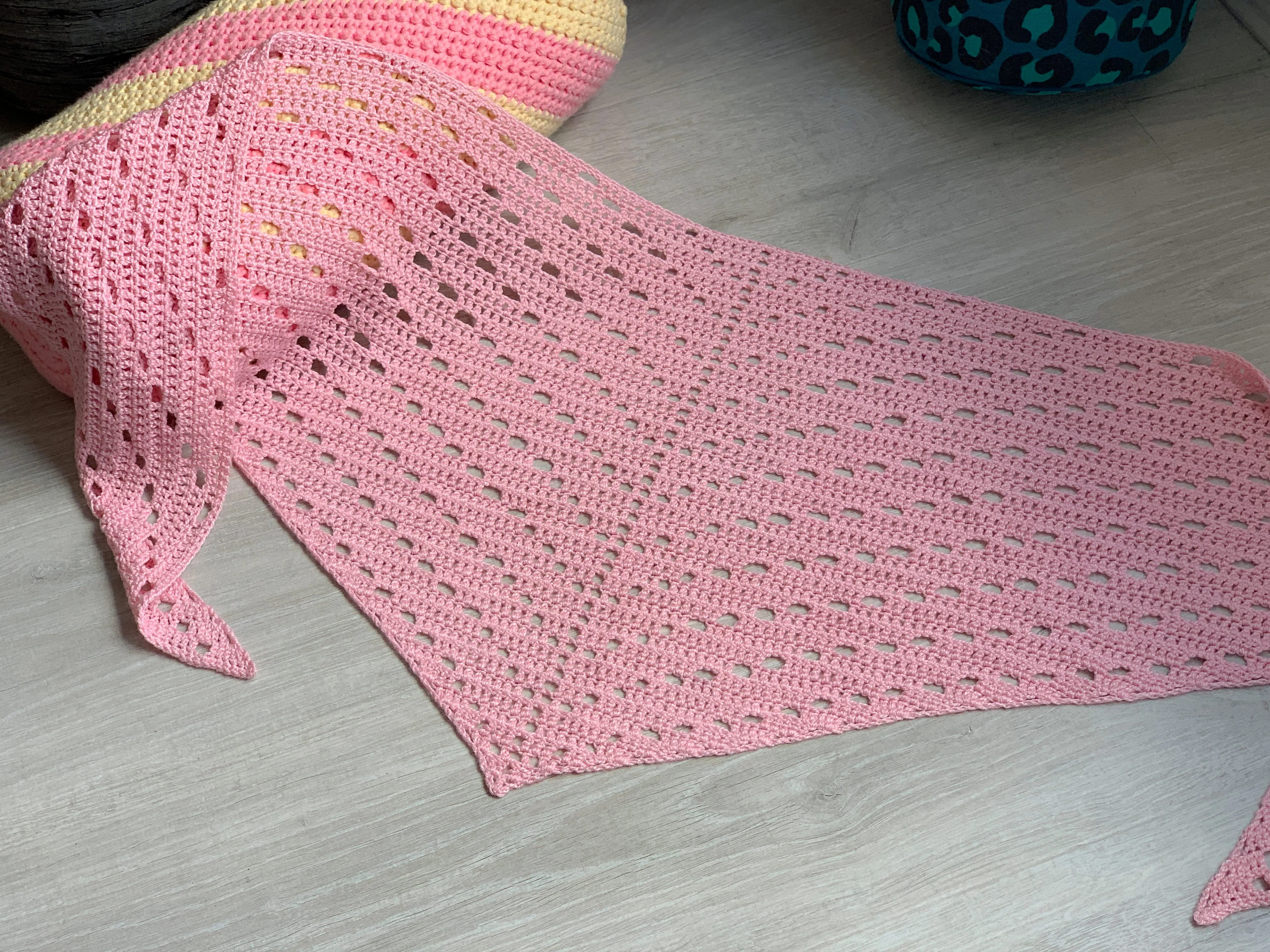 This elegant, shallow triangle crochet shawl is worked in rows using filet crochet techniques to create arced lines blooming out from a central furrow. The furrow and flourish shawl is an engaging crochet project that will keep you interested from start to finish, using a memorable but interesting pattern repeat. It can be made in different yarn weights for a lighter or more cozy finish.

Dora Does
18. Marion berry pi shawl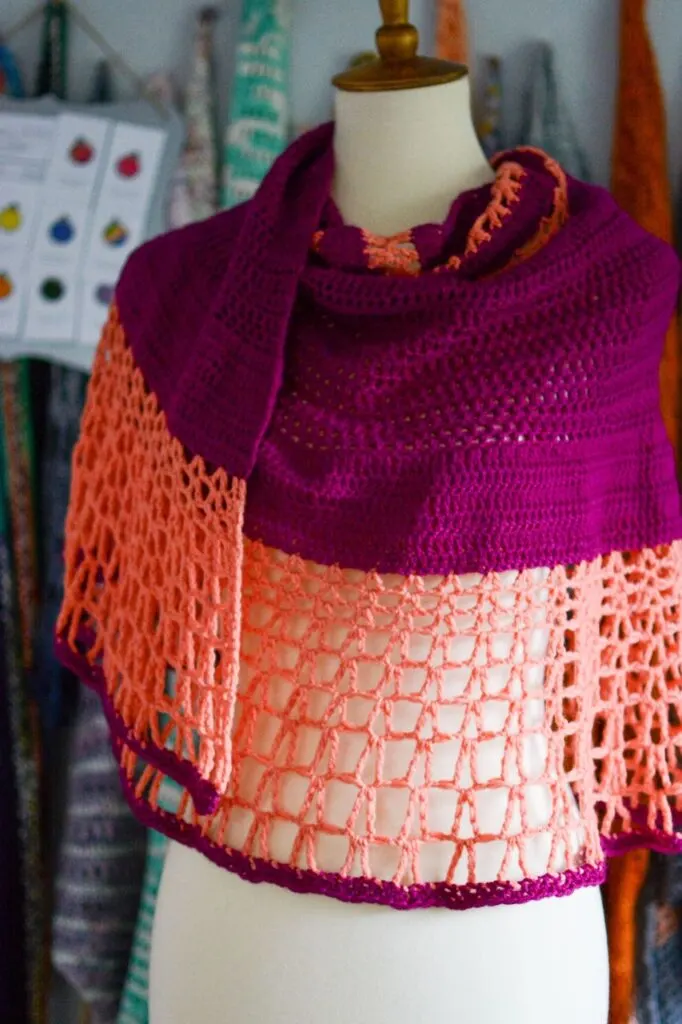 Beautiful crochet beanie using the houndstooth crochet stitch that creates modern winter accessory for the whole family. Pick a main color with different contrasting colors for the stitch pattern to stand out and make matching hats for the whole family.What is summer without pie? Enjoy this Pi Shawl inspired by Washington's State Pie, the Marionberry! Simple yet creative shaping and a beautiful lace pattern makes this a fun make that will have you ready for that evening chill perfectly matched with your dessert at your next BBQ. Enjoy!


Knot Bad Britt
19. Summer Convertible Wrap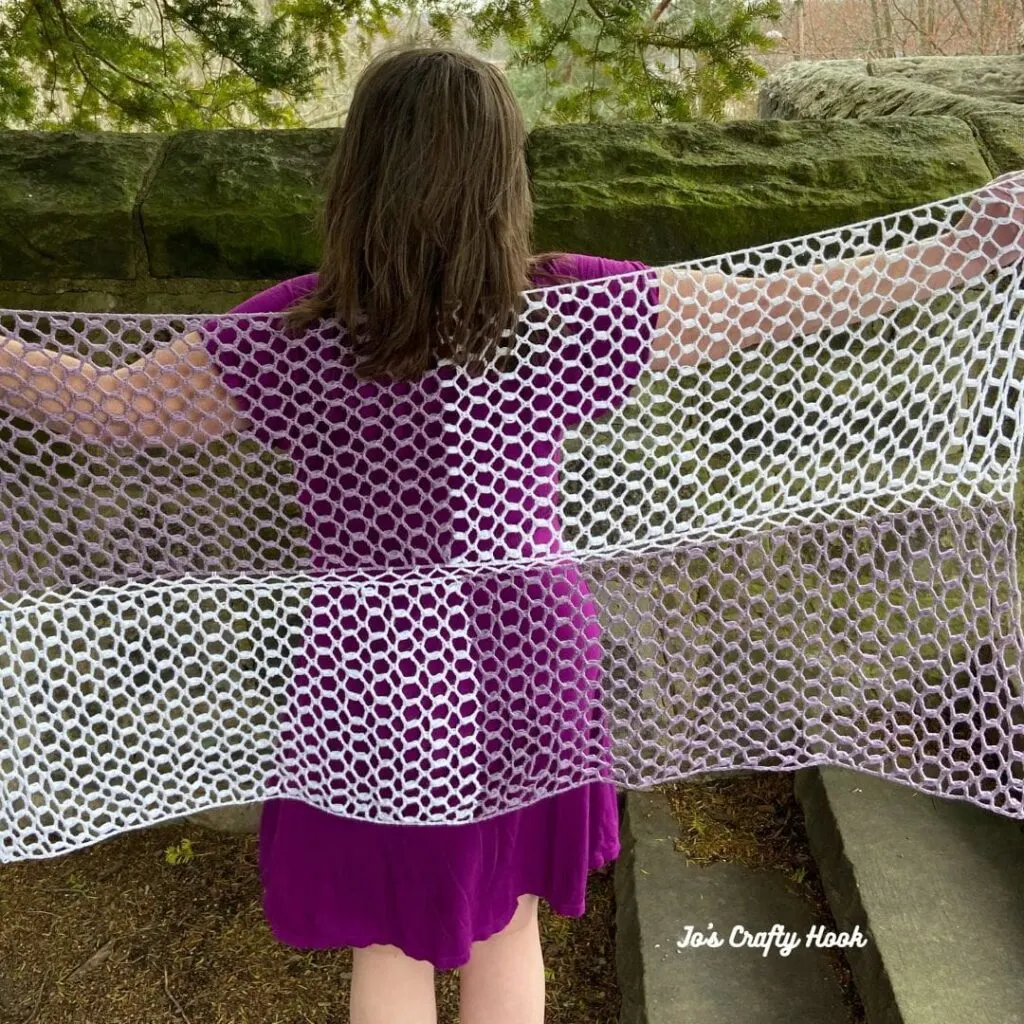 This is a nice light and airy wrap that can be converted from a Wrap to a Beach Coverup.

Jo's Crafty Hook
Love Pinterest?
I do!
PIN this pattern to your Pinterest boards for later.
You can also follow all my boards!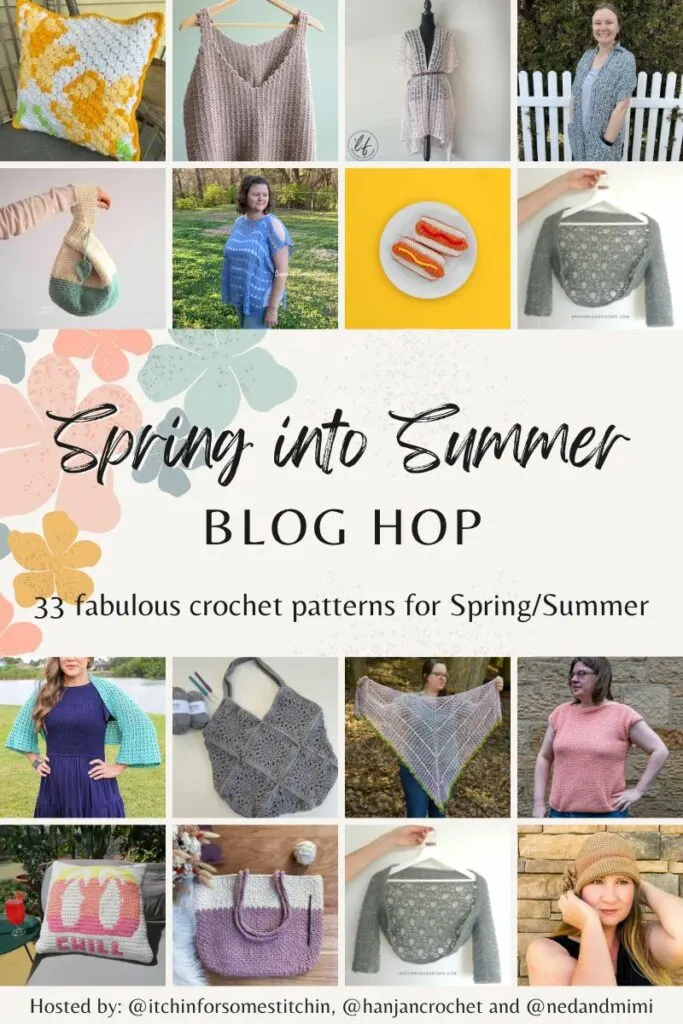 20. the milos shawl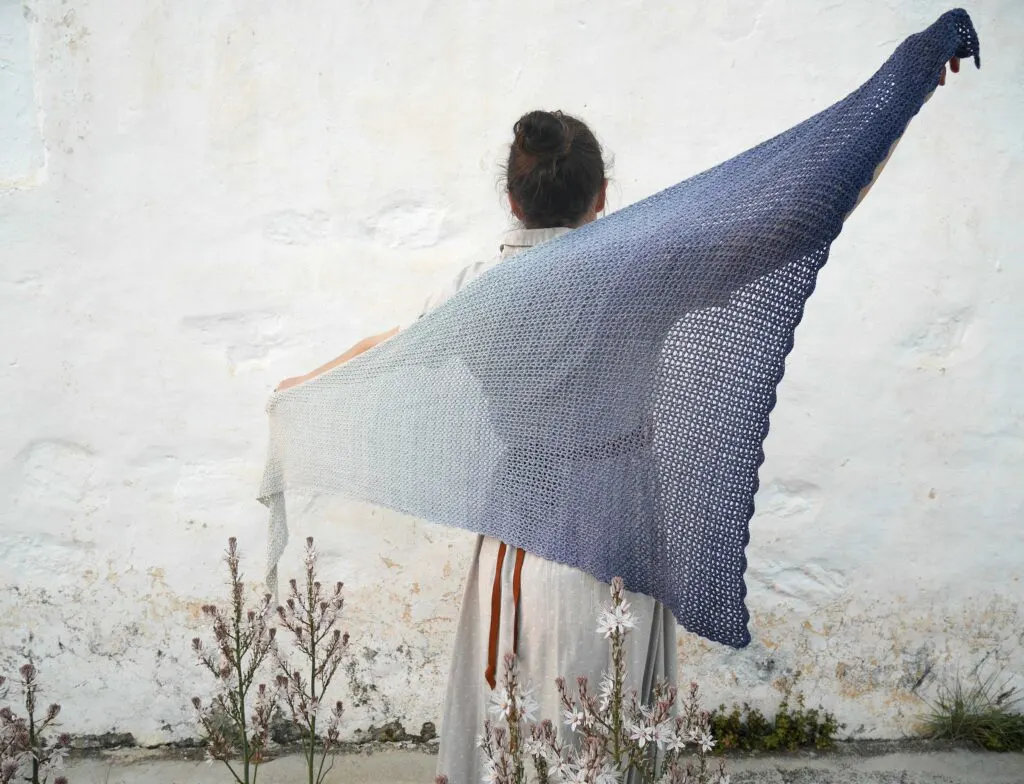 The Milos shawl is an airy asymmetrical shawl with the loveliest drape you will ever feel. It's named by the Greek island of Milos with the white beaches and rocks and all shades of blue.

Malloo Knitwear
21. Cotton Candy Sky Shawl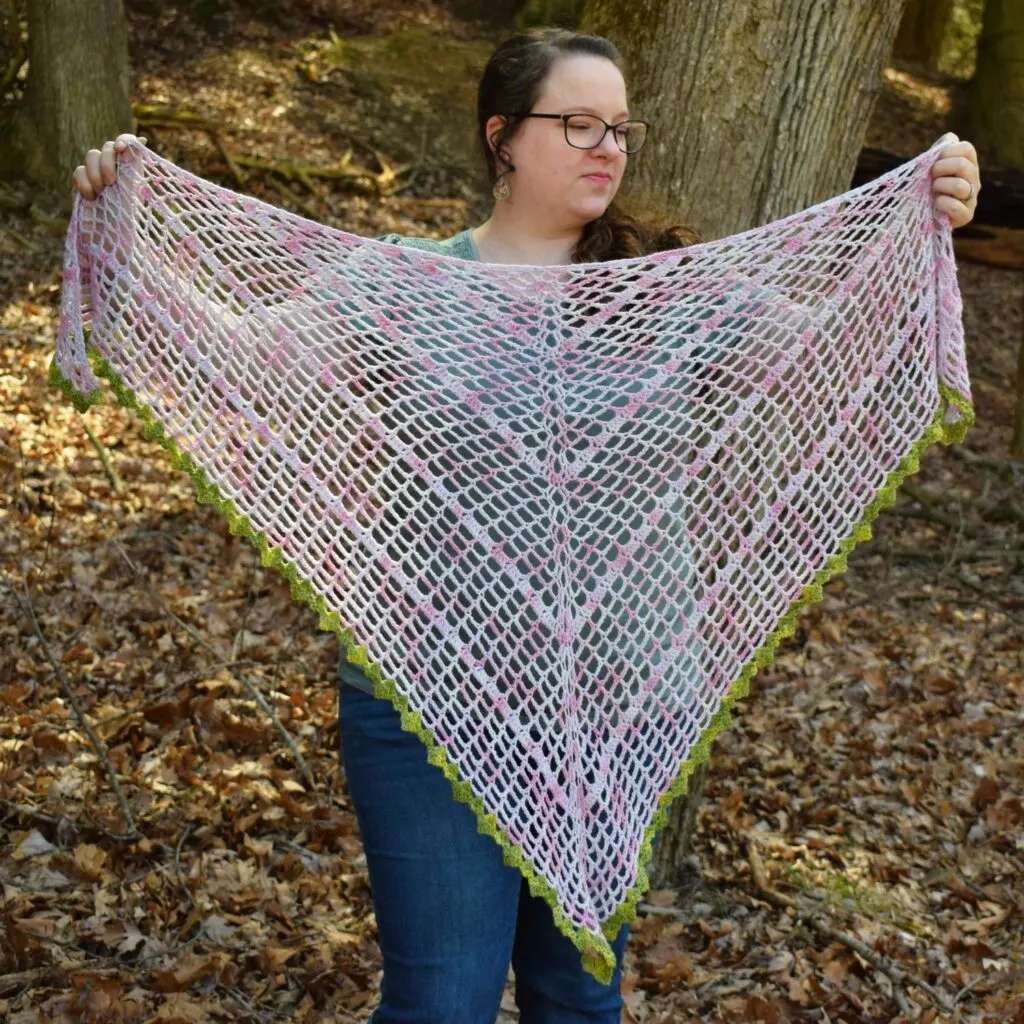 This triangle shawl uses a mesh stitch pattern that provides a nice lightweight lacy shawl for warmer weather. A fingering weight yarn is used to keep this shawl as lightweight as possible.

Simply Hooked by Janet
22. Stellate Shawl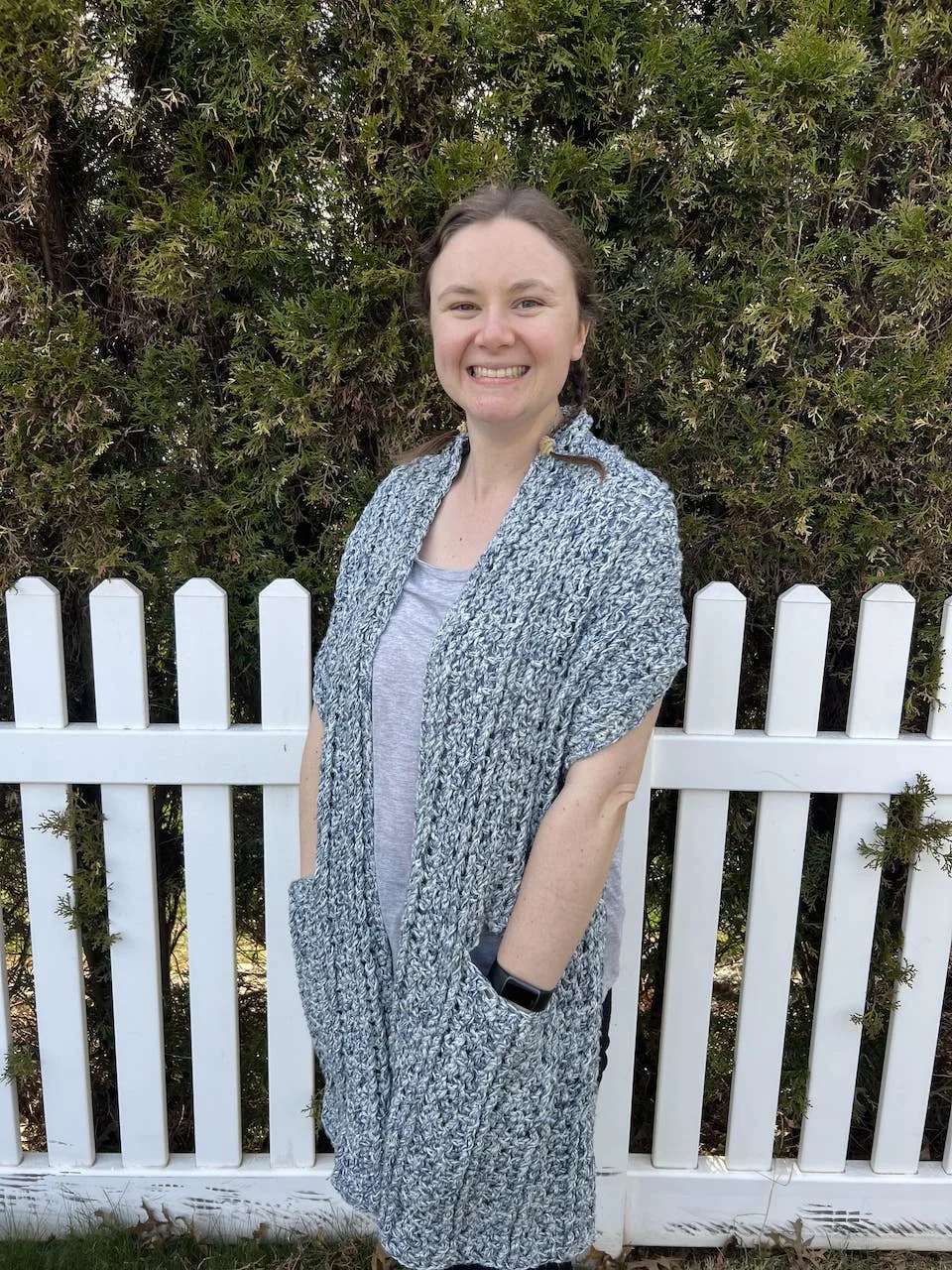 The Stellate Shawl is a pocket shawl that addresses my personal issues with the standard design. First, it is worked from short end to short end, allowing for easier length customization (plus, you don't have to chain/foundation stitch a bazillion times!). Second, it is designed so you can access the pockets from both the right side and wrong side of the shawl, meaning that you don't have to expose your arms to the chill to use the pockets! Cute buttons keep the outer flap closed when not in use.

Clair de lune Fiber Art
23. Aestas ruana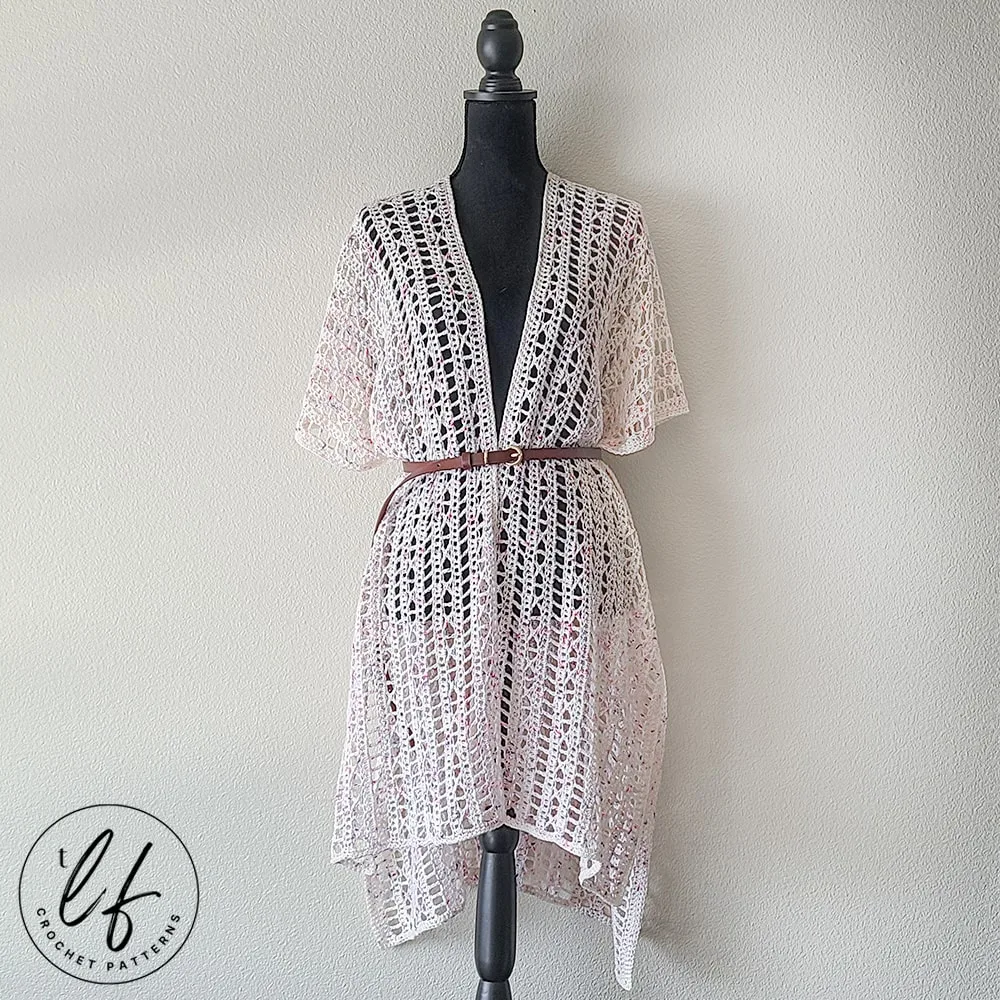 The Aestas Ruana is a lacy shawl or cover up that is perfect for enjoying summer. With a straightforward construction, simple 4 row repeat and beautiful texture, this project is easier than it looks and is absolutely stunning. Designed as one size fits most but is easy to customize.

The Loophole Fox
24. Sweet Pea small Shawl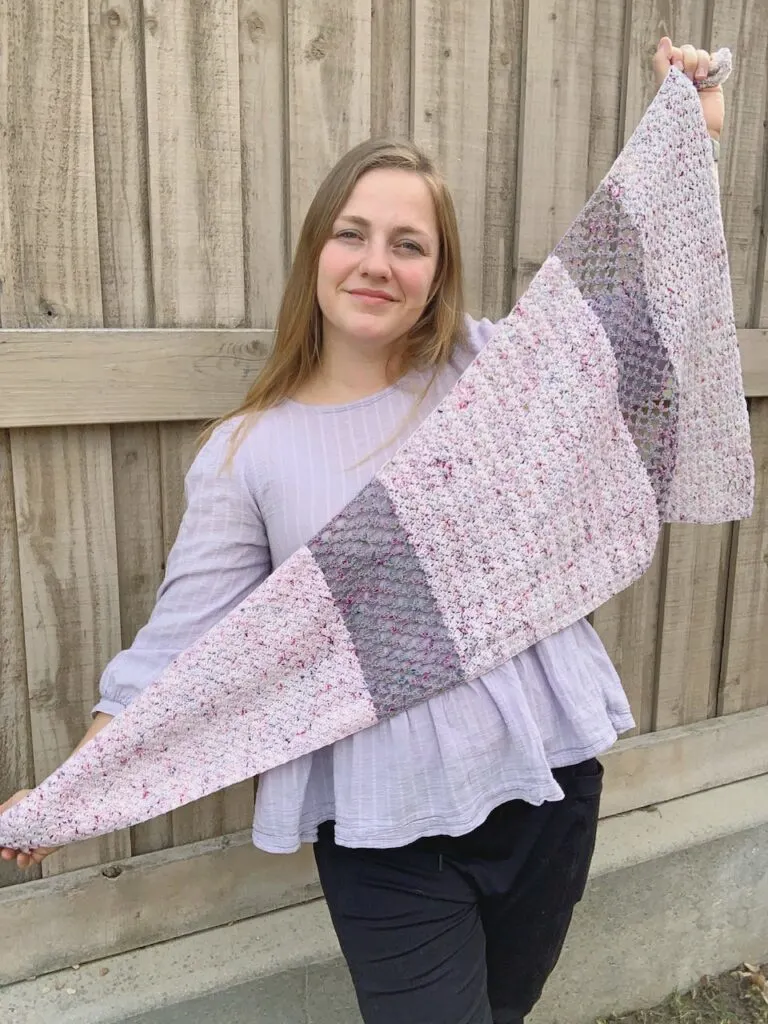 The Sweet Pea Small Shawl is an experiment with color and shaping within the realms of the Sweet Pea collection textures. Clustered stitches give a subtle squish throughout that showcases variegated and speckled yarns, and the picot mesh sections break up the clusters for some contrast. This shawl is shaped in an asymmetrical triangle and uses a unique loop and button closure to hold the shawl in place on the neck. This pattern is a great way for you to experiment between fading two colors together in a simple yet interesting shape.

Crowchet Creations
25. Dolphins & Diamonds Shawl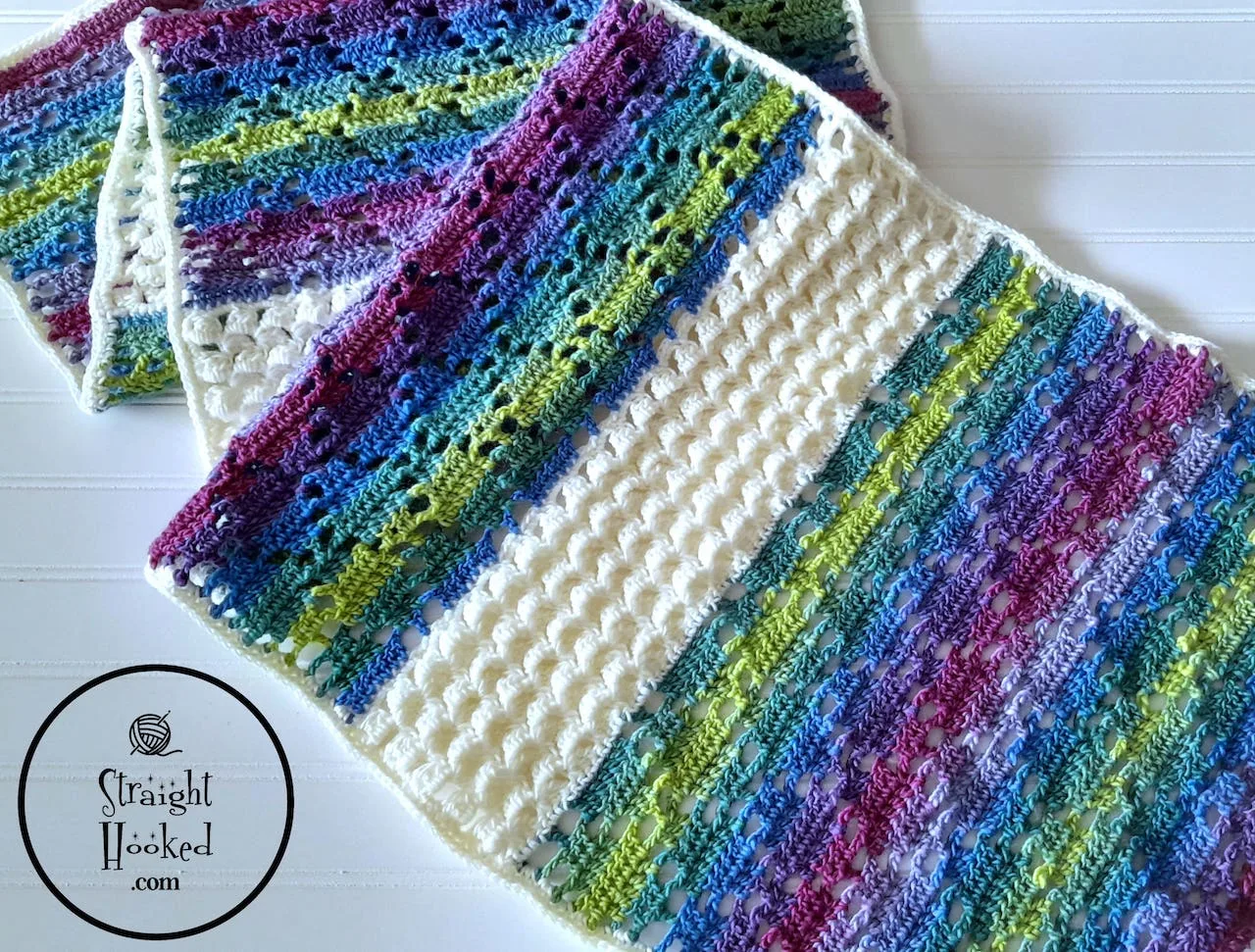 A fun and fabulous summer shawl designed to brighten your day and wardrobe!

Straight Hooked
Love plushies, toys, and more? See what's in our amigumuri collection next!
Amigumuri
Our amigumuri collection is small, but mighty!
Delight in the whimsy of spring and summer with these adorable crochet amigurumi patterns. Let your crochet skills shine as you bring these delightful creations to life with vibrant yarn and creative stitches.
Get ready to crochet your way into a world of cuteness and creativity!
26. Amigumuri hot dogs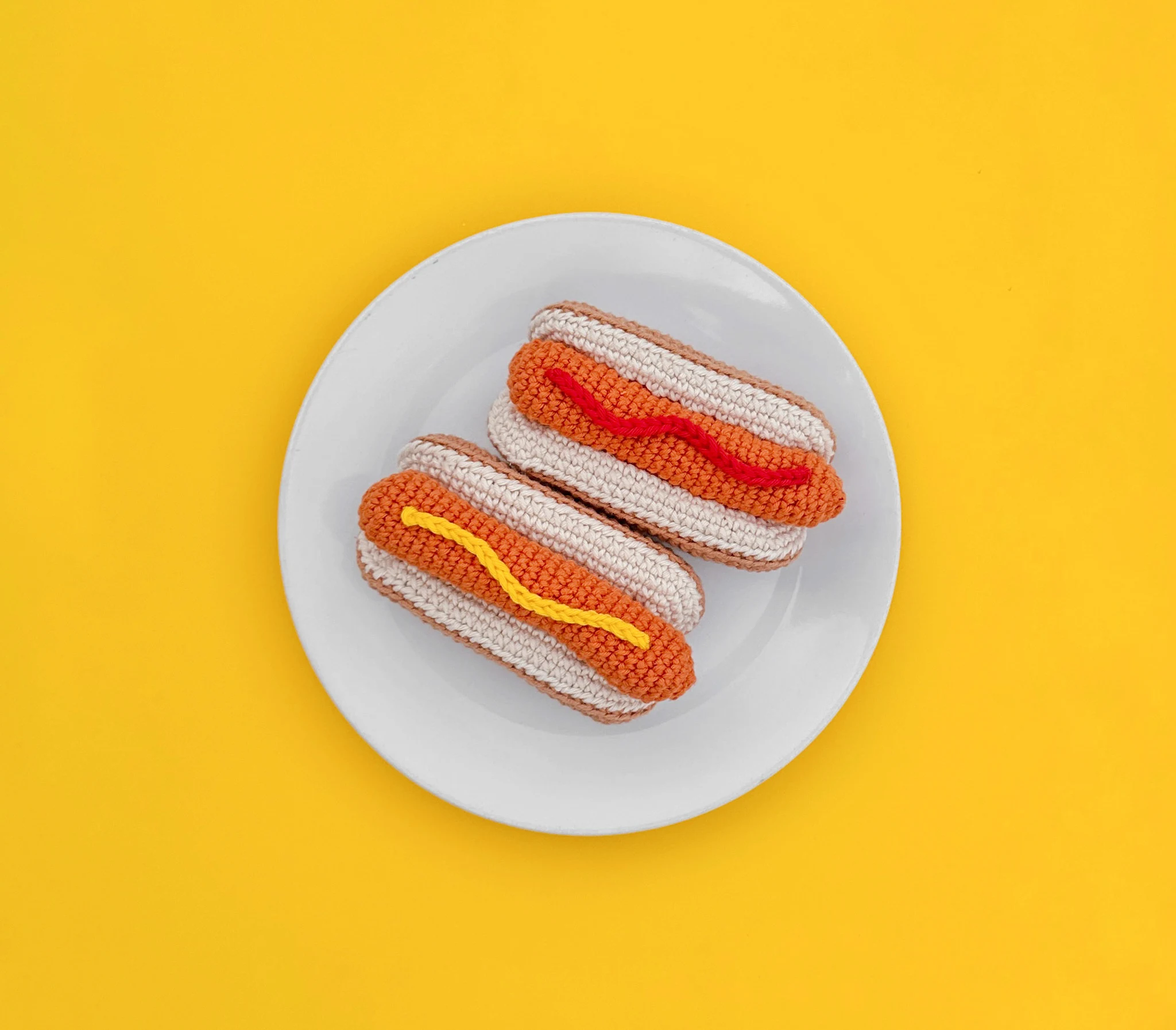 Get your summer grillin' on! Who doesn't love a bbq on a summer day? These savory hot dogs are the perfect addition to your play food collection.

Curious Papaya
---
Other Patterns I Love & You Will too!
Modern Granny Infinity Scarf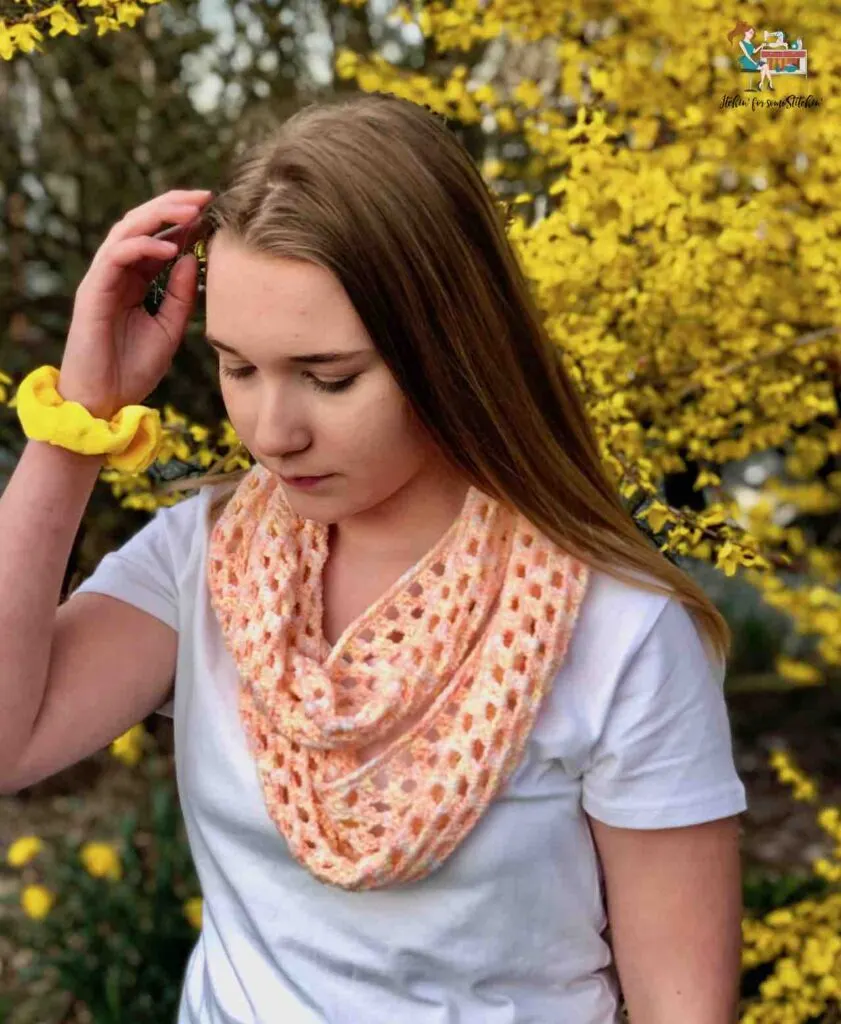 Spring Gingham Placemats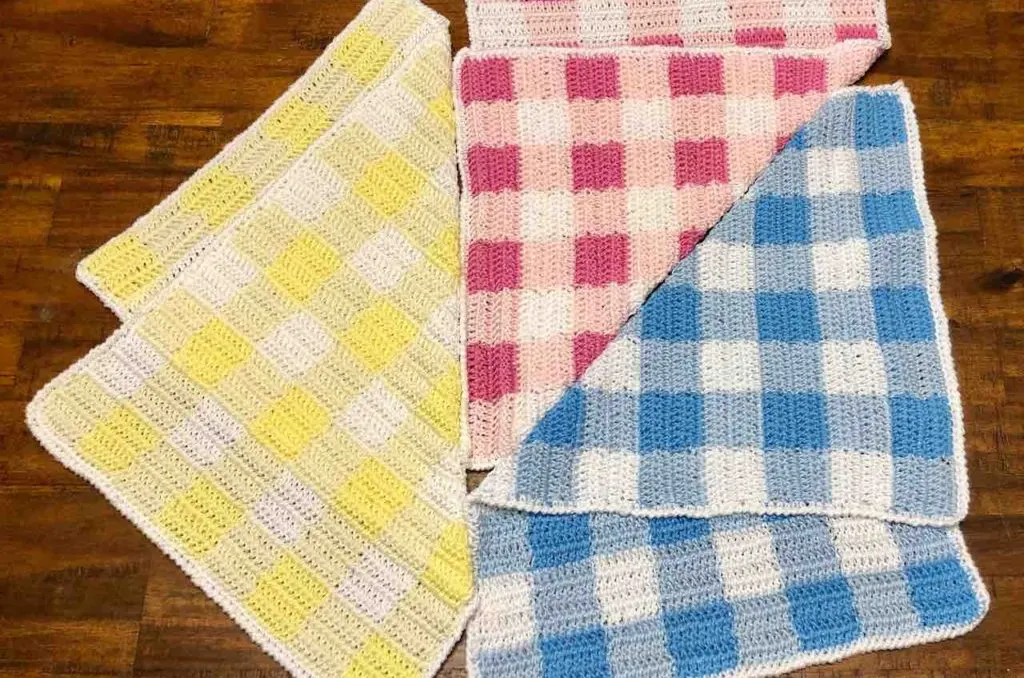 Boho Godess Kimono Cardigan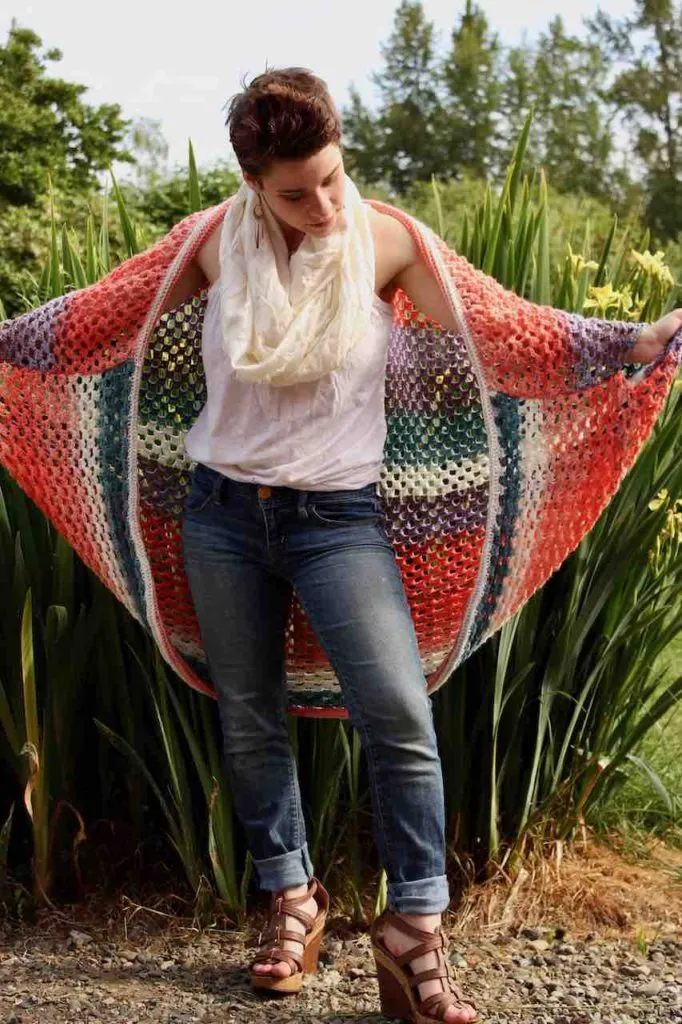 ---
27. Tiara The Turtle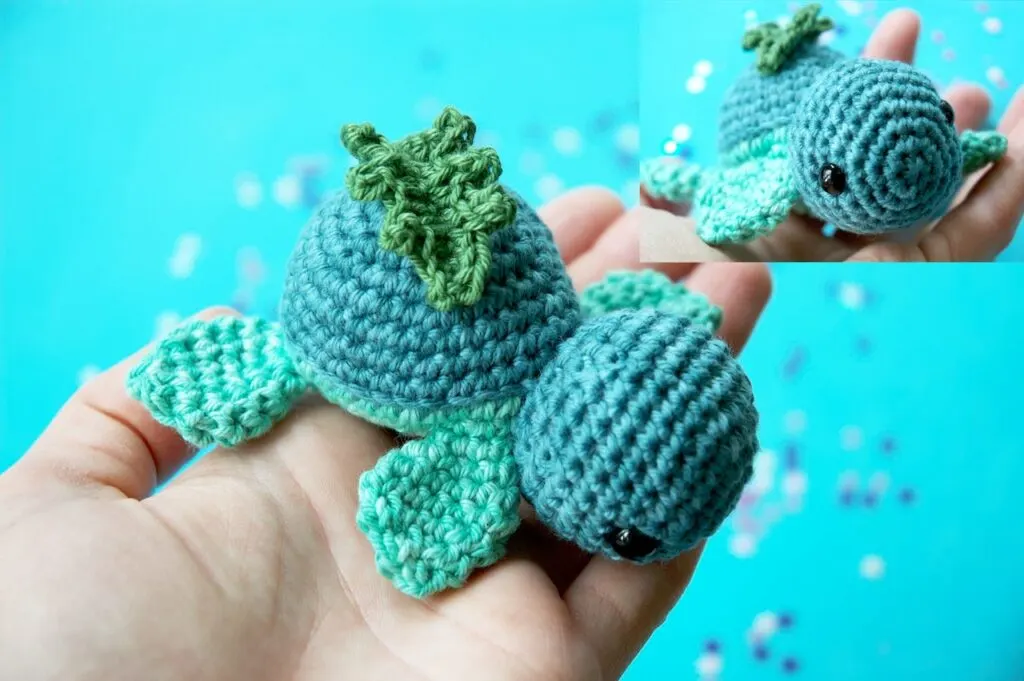 This cute Sea Turtle is the perfect gift for a baby shower.

Roxy's Crochet
Our spring and summer home decor is stunning! You must check these out!
Home Decor
Spruce up your living space with our gorgeous collection of crochet home decor patterns. From vibrant blankets to cheerful daffodil pillows, these projects add a touch of warmth and charm to any room.
These patterns offer a wonderful opportunity to showcase your crochet skills while adding a fresh and inviting atmosphere to your home.
Embrace the beauty of handmade decor and infuse your space with the joy and colors of the spring and summer seasons.
28. Summer Breeze throw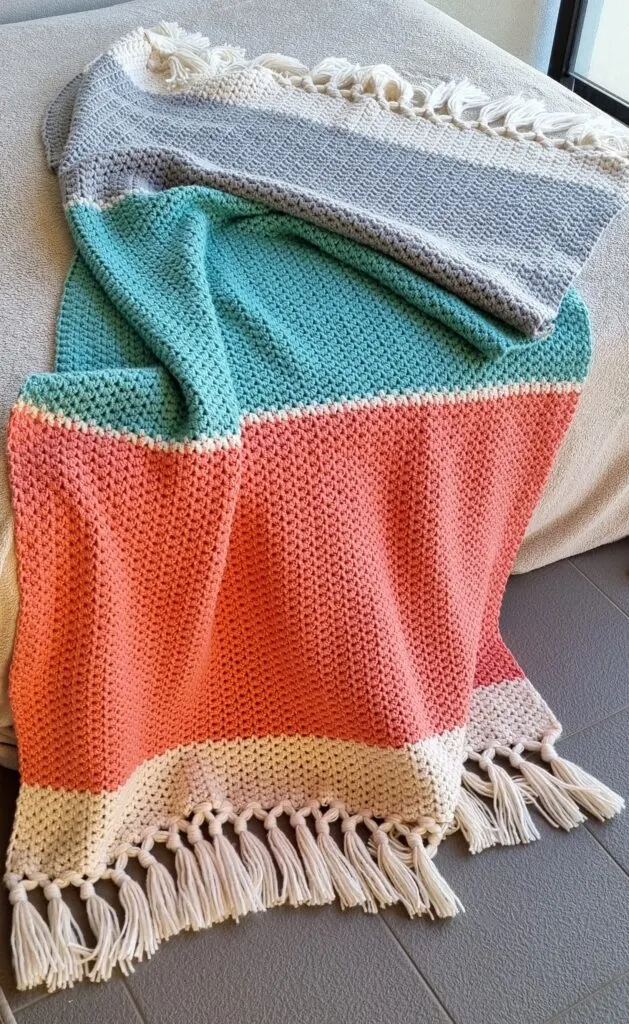 This stylish throw is the ideal addition to any home looking for a touch of summer charm and comfort. Made with an easy crochet stitch, this project is not only relaxing and enjoyable to make but also produces a lovely texture.

My Crochet Space
29. The daffodil pillow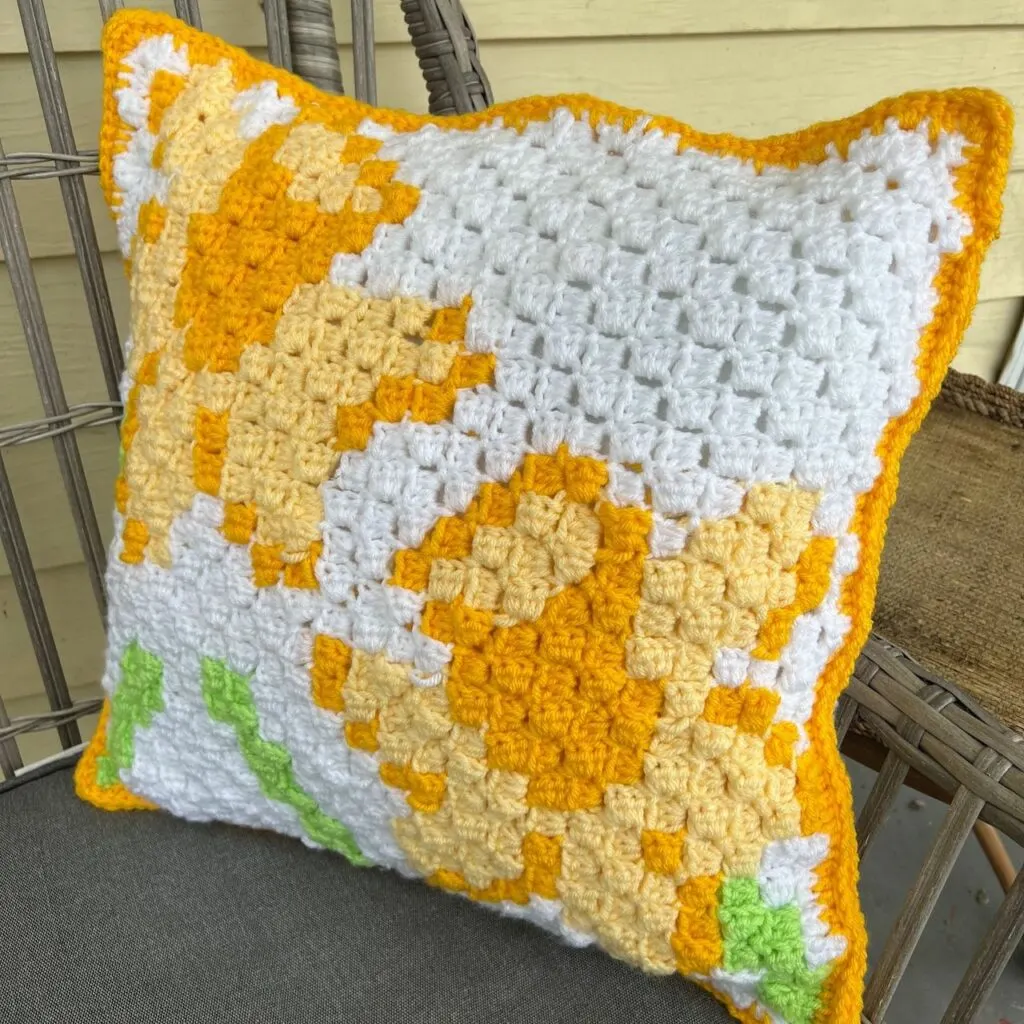 The Daffodil Pillow is the perfect wamer-weather crochet pattern to brighten up your home or adorn your porch swing. It features the corner-to-corner (C2C) crochet technique.

Juniper & Oakes
30. crochet wash & scrub set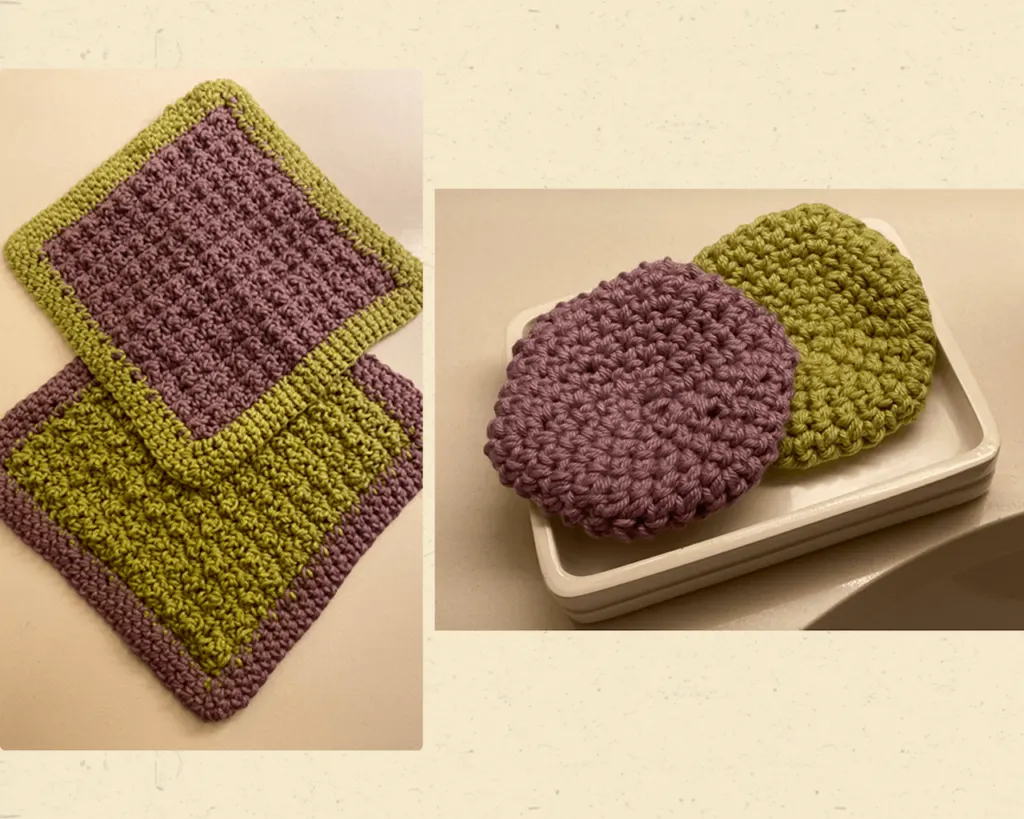 nubby washcloth

This is my favorite pattern for a washcloth not only for its cute appearance but also for its powerful action. The nubs on the surface add texture and are a bonus for an enhanced cleaning experience. These same features also make it an ideal and versatile pattern for use as a dishcloth.

Face scrubby is a double thick circular face cleaning pad is perfect for removing dirt, oil, and makeup from your face. Its design allows for easy use on all areas of the face, even hard-to-reach places like the corners of your nose and eyes. It is durable and reusable, making it an eco-friendly choice for your skincare routine. Cleanse your skin with ease and achieve a fresh, glowing complexion every time.

Try It, Like It, Create It
31. The Lakeside Throw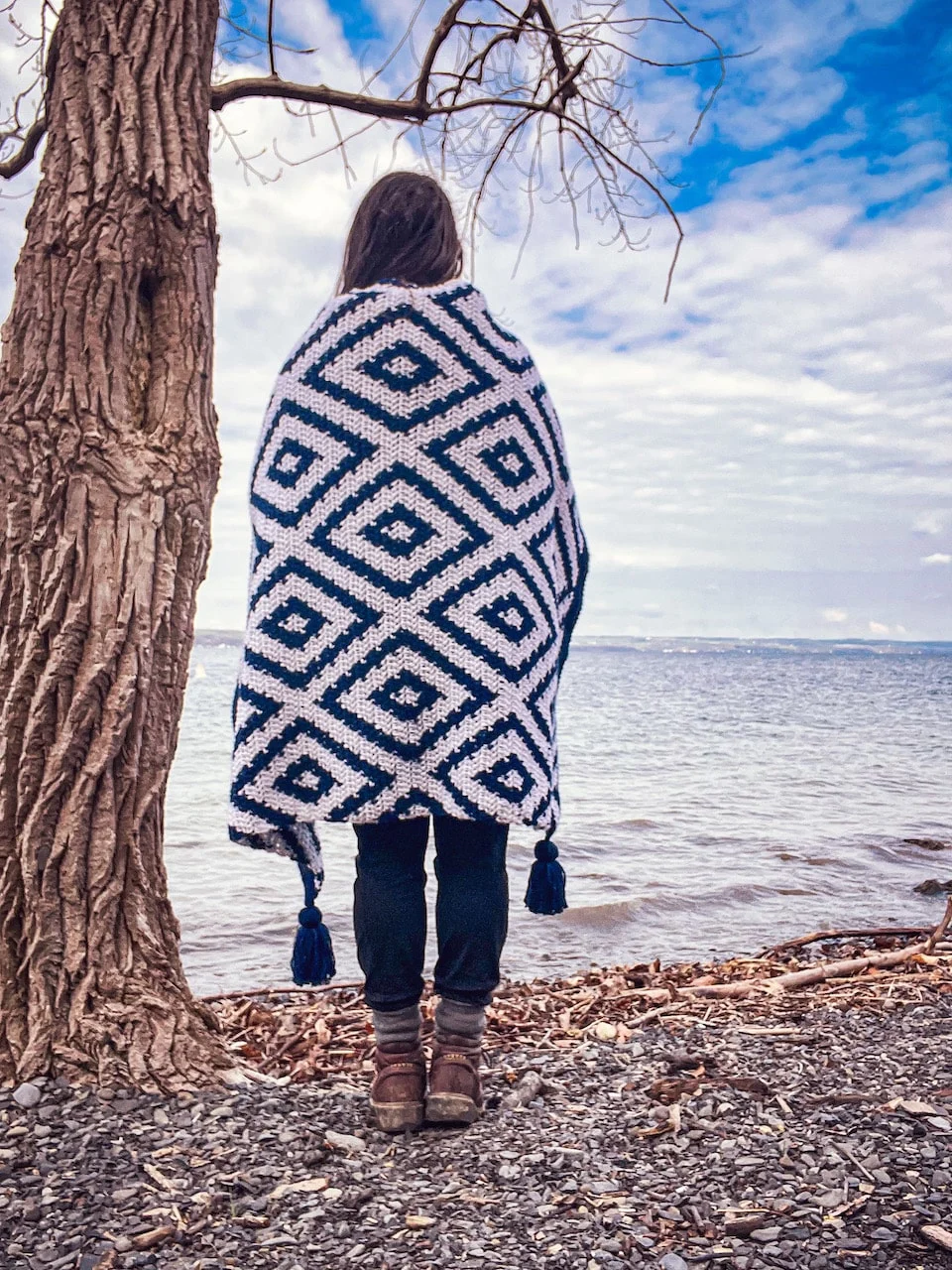 Tapestry crochet throw featuring a diamond pattern using the Rice Stitch. This blanket features optional tassels on the ends.

Spotted Horse Design Co.
32. Seashore bliss placemat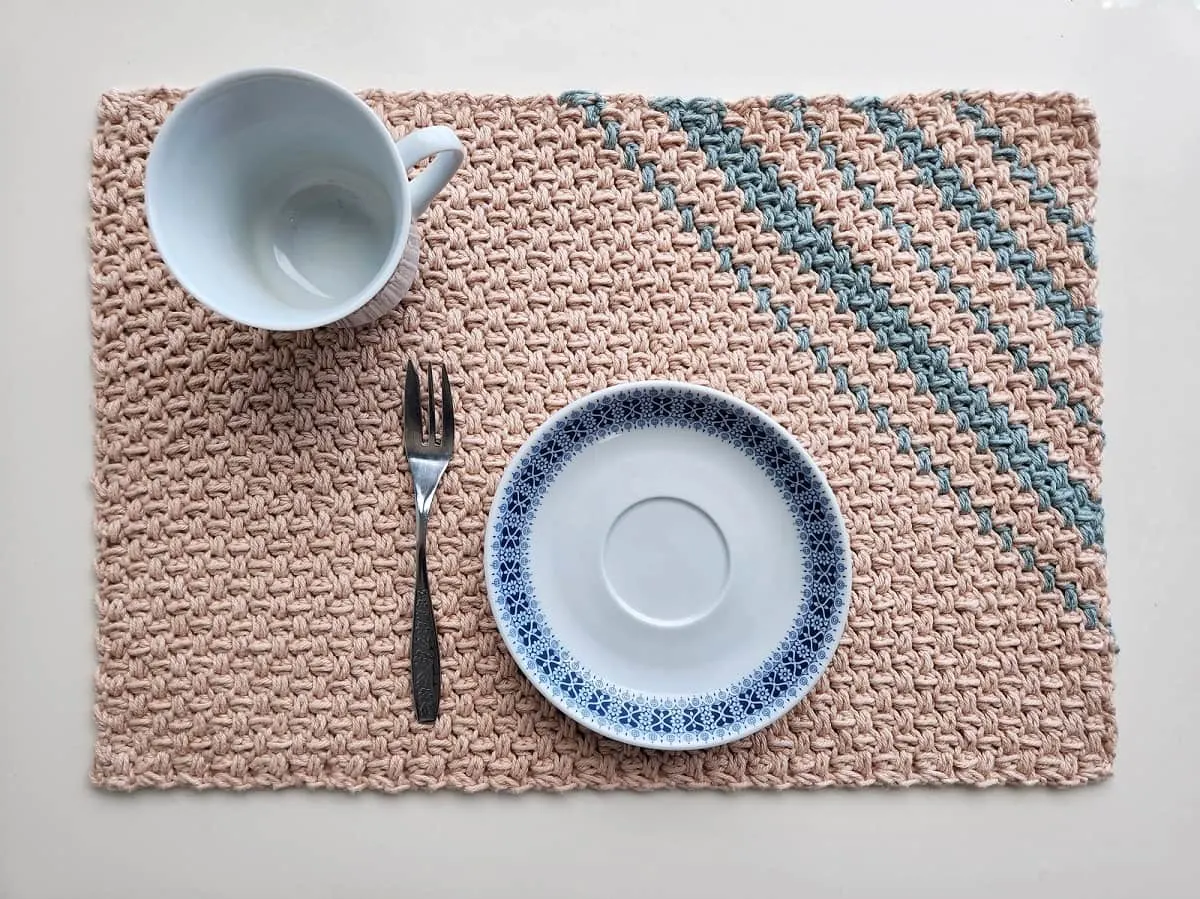 The Seashore Bliss Placemat is worked from corner to corner using the Mini Bean stitch, and a perfect mindless crochet project.

Made by Gootie
33. Summer flip flop cushion
Upgrade your summer décor with this stylish Summer Flip Flop Cushion featuring a stunning mosaic crochet pattern. This eye-catching furnishing is ideal for revamping the patio or beach hut, bringing retro vibes with a modern flair to any outdoor setting.

Gorgeous Crafts
---
With these 33 warm weather crochet projects, you'll have plenty of options to keep your hooks busy and your summer wardrobe and home beautifully adorned.
From blankets to tops, lightweight shawls to plushies, there's something for everyone to enjoy!
Embrace the joy of crochet and create stunning pieces that will make your spring and summer even more vibrant and stylish.
If you're interested in joining the next blog hop and the potential to grab up 33 (sometimes more!) crochet PDF patterns, be sure to sign up for my newsletter for event announcements and daily reminders!
---
Thank you for coming to my blog! By sharing my content and/or making a purchase you are making it possible for me to continue producing and sharing free content for everyone to enjoy. I sincerely appreciate your support!
Until next time… Happy Crocheting!
Please Share!