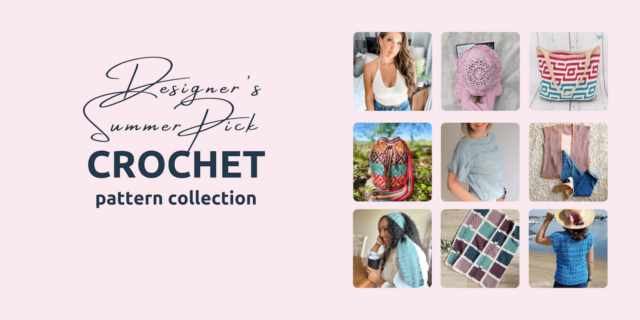 This post was originally a blog hop that I co-hosted with Ned & Mimi and HanJan Crochet and lasted the entire month of June 2022.
Although the event is now over, you can still get most of the patterns in the blog hop for FREE by clicking on the black "get pattern" buttons below.
It will take you to the designer's website where the pattern is often posted on the blog or you can purchase the individual PDF.
However, until July 10, 2022 you can still get all 33 patterns in the blog hop in PDF format for one super low price in the Designer's Summer Pick pattern bundle.
---
---
Designer's Pick for Summer
Pattern Bundle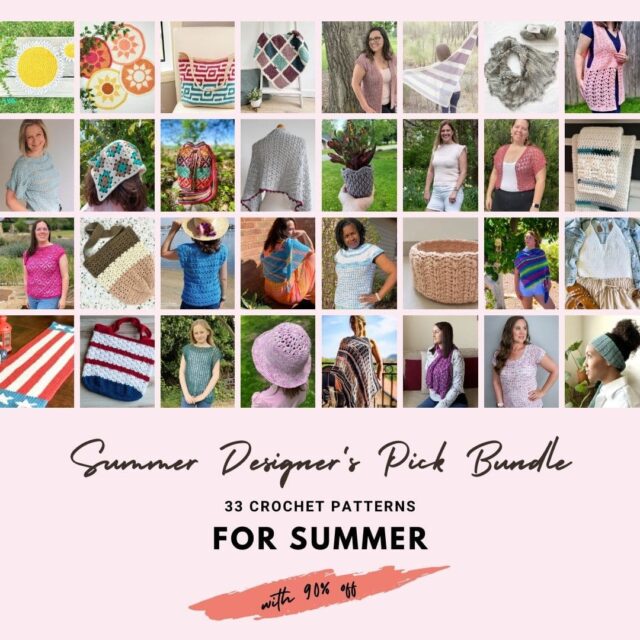 This bundle is valued at over $155, but you can get it today for only $12.99 – that's over 90% off compared to purchasing each pattern individually, so it's absolutely a fantastic deal!
Cozy Alpine Plant Pot Cover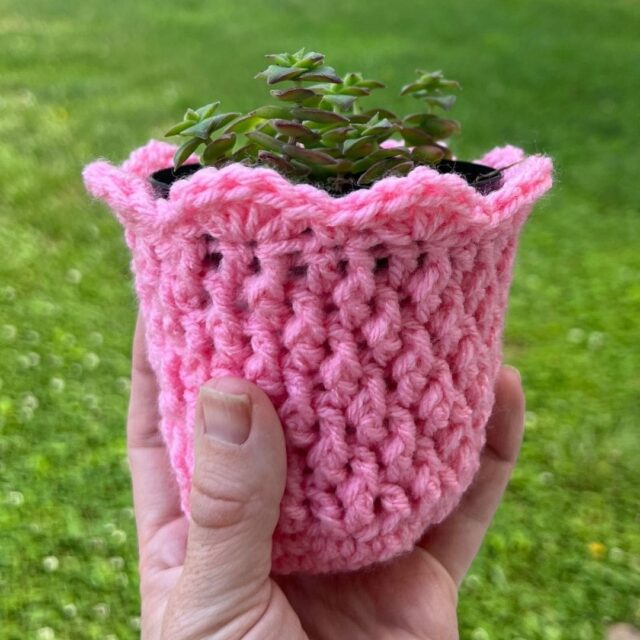 Looking to combine your love of yarn & plants? This Cozy Alpine Plant Pot Cover is a quick and easy pattern that will leave your plants looking extra fancy this summer. Will you use bright colors to add a pop of color to your decor, or will you stick with neutrals to let the plant speak for itself?

Erin of Juniper and Oakes
Darling Daisy Placemat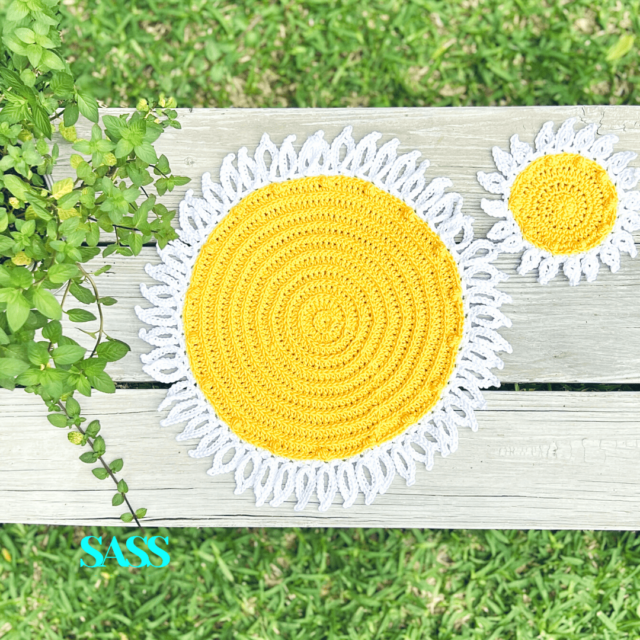 The Darling Daisy Placemat is so cheery and is the perfect addition to your summertime home decor. This farmhouse style pattern features amazing texture and looks beautiful in almost any color.

Angie of SASSy A's Specialty Shoppe
Let's Get Crafty!
Looking for lots of crafty inspiration, tips, tutorials, and a great crochet community? Join my Facebook group!
Pearlescent Shawlette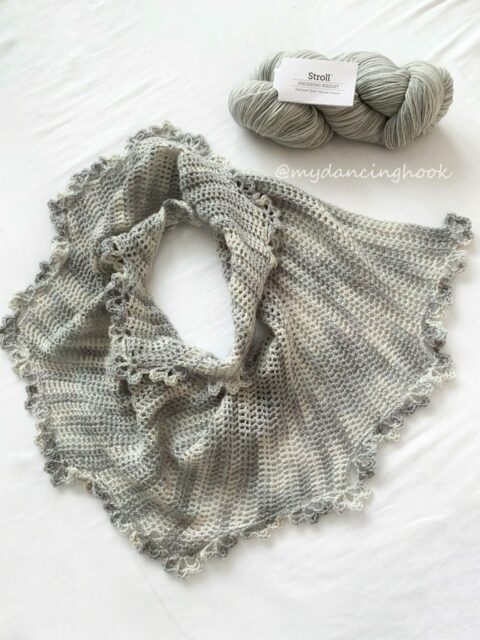 The Pearlescent Shawlette is just right for all seasons year round. It is super easy and quick to make, ideal for that special skein of hand dyed yarn from your stash! It makes a perfect relaxing project, a great last-minute gift too!

Maria of My Dancing Hook
Glowing Embers Vest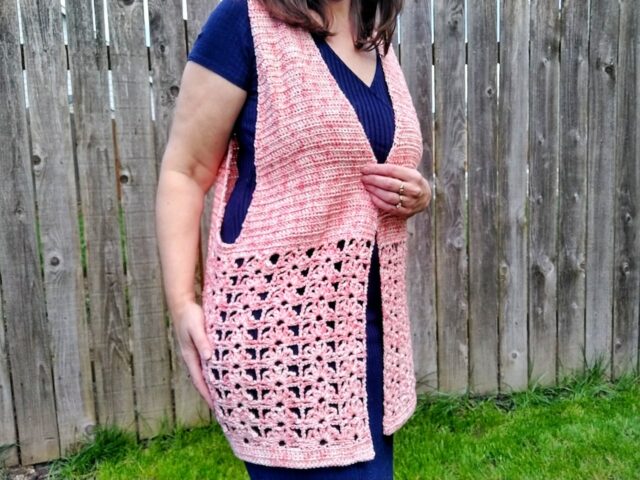 The Glowing Embers Vest is a quick work up, made all in one piece with only 2 seams at the shoulder. The open and lacy flame stitch pattern combined with the solid extended half double crochet stitches make this ideal for a beach or pool cover up, or simply a stylish addition to your summer wardrobe.

Amber of Bliss This
Abbie Tee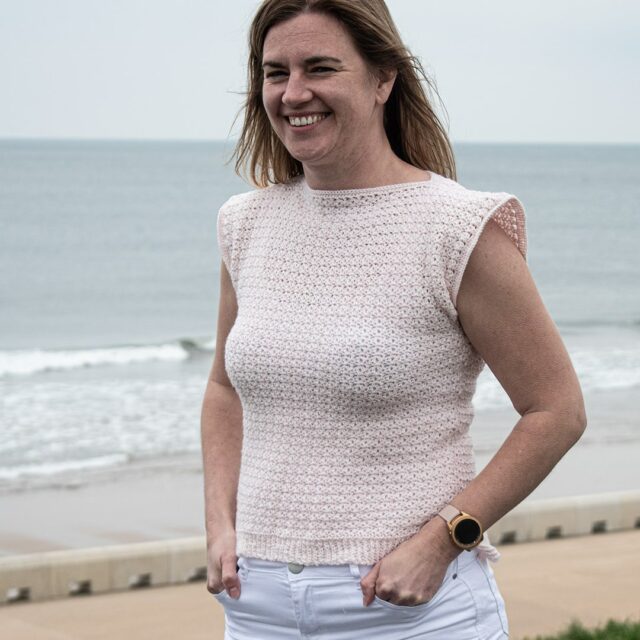 This summer tee is perfect for wearing over a swimming costume or vest this summer. It has a beautiful elegance to it that you will adore and works up much quicker than you would think!

Helen of Sunflower Cottage Crochet
Sunburst Coaster Placemat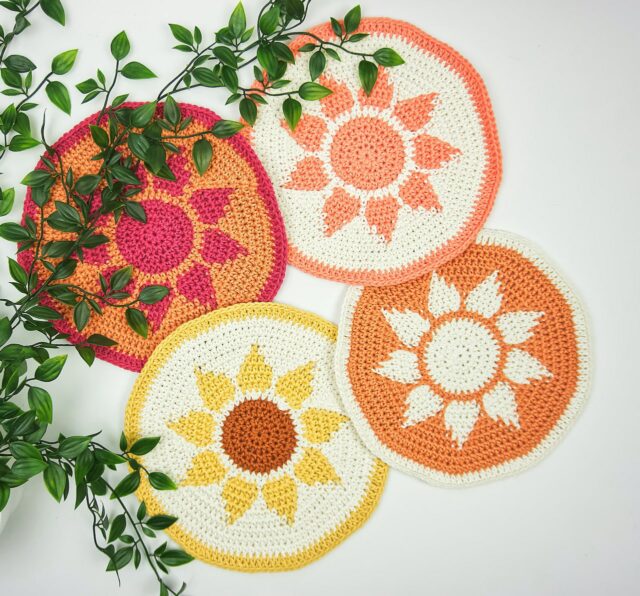 Bring some sunshine to your table with the sunburst place mat!

Sophie of Sophie Stitches UK
Lotus Blossom Cardigan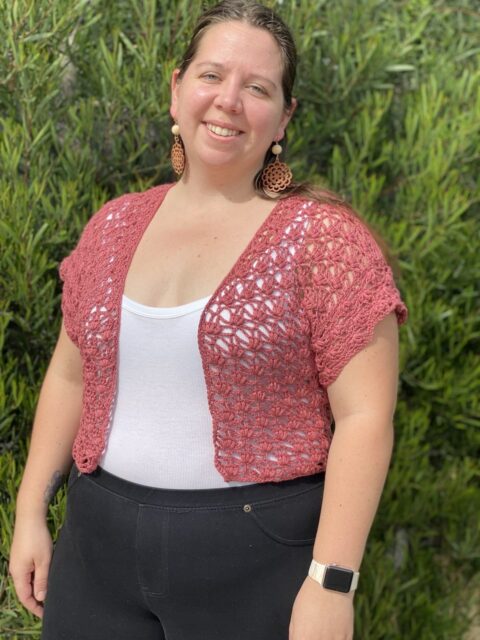 The Lotus Blossom Cardigan is a customizable lace cardigan, perfect for spring and summer layering! Size up 1-2 sizes for the perfect lacy coverup for the pool or beach.

Cassie of Sunshine Queen Fiber Arts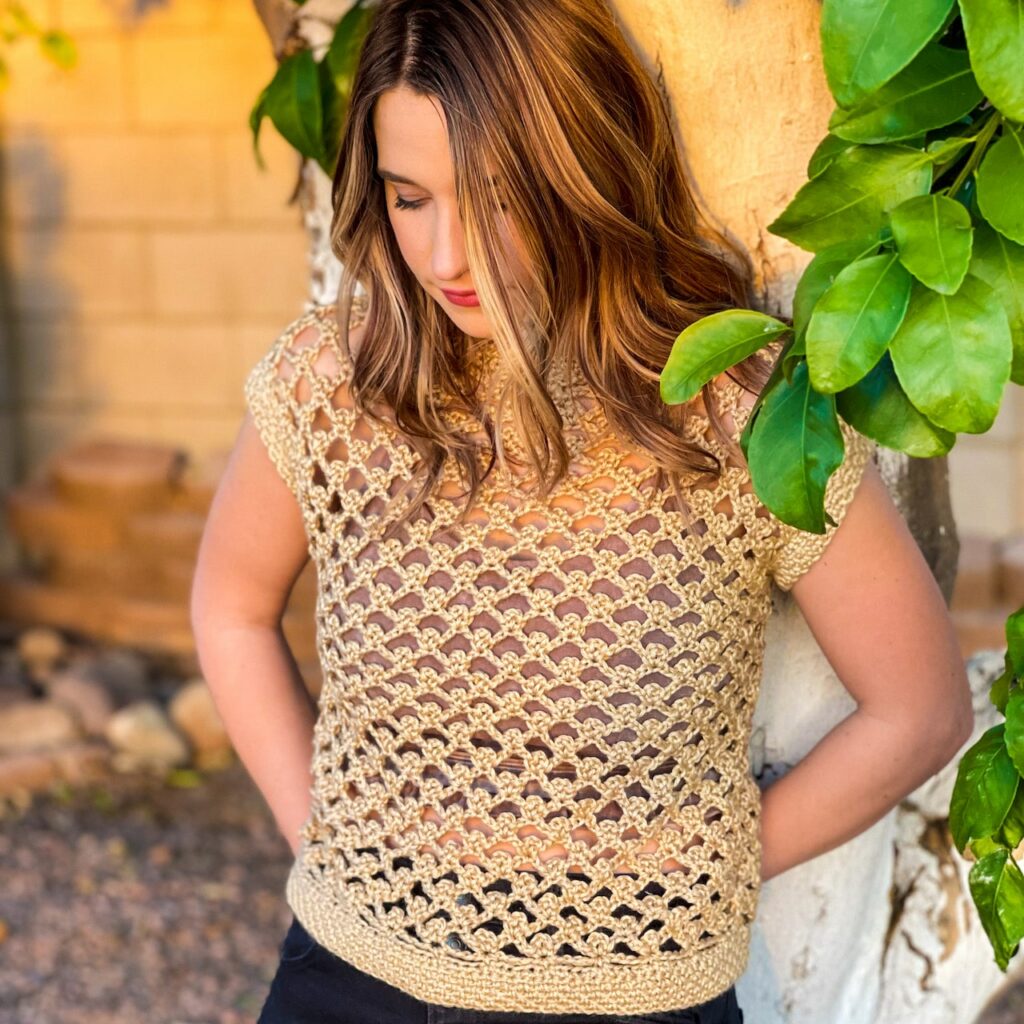 Join the Newsletter!
Subscribe to get our latest content by email & receive a Ravelry coupon code for a FREE crochet PDF pattern of your choice!
Lobelia Nesting Basket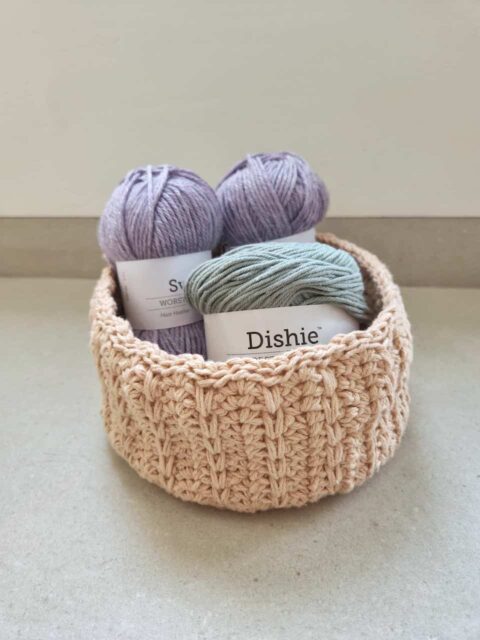 Get organised with the Lobelia Nesting Basket. This beautiful textured basket can be used to hold you WIP, or and all the little scattered things you want to keep in one place!

Agat by Made by Gootie
Sea Glass Towel + Washcloth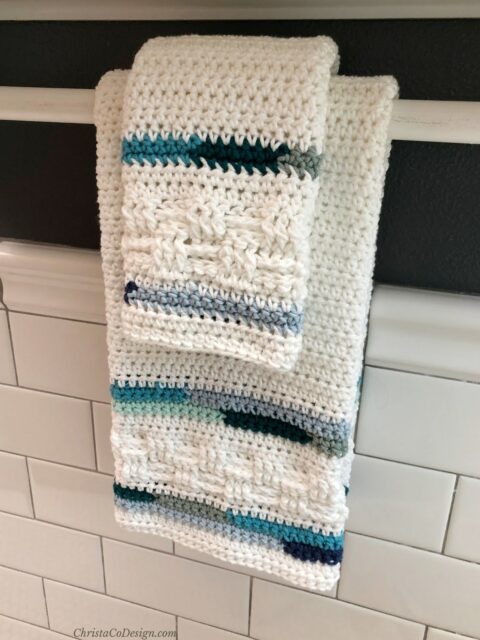 The Sea Glass Set is a crochet hand towel pattern and washcloth featuring a beautiful basketweave texture. This section is highlighted by an arrangement of blues and greens that capture the feel of sea glass.

This crochet towel and washcloth set make a stunning gift, especially when you pair it with a lovely hand made soap.

Crystal of Christa Co. Design
Tweedie Summer Top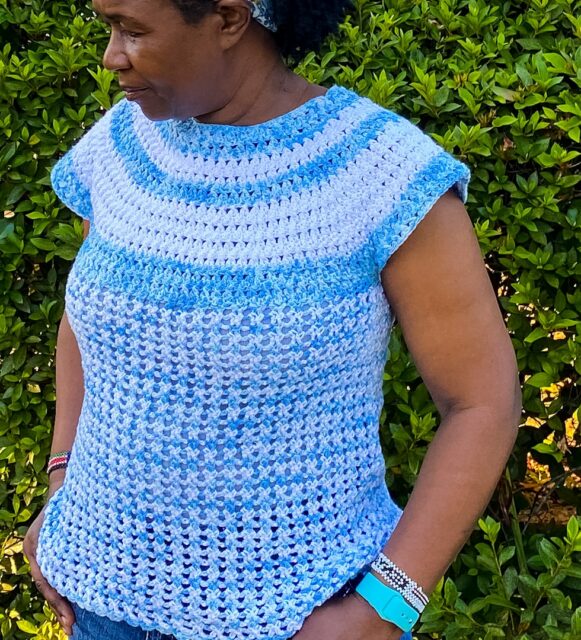 A beautiful crochet lace top that is comfortable and is perfect for spring and summer.

Pamela of Pam's Cozy Corner
Rainbow Gala Shawl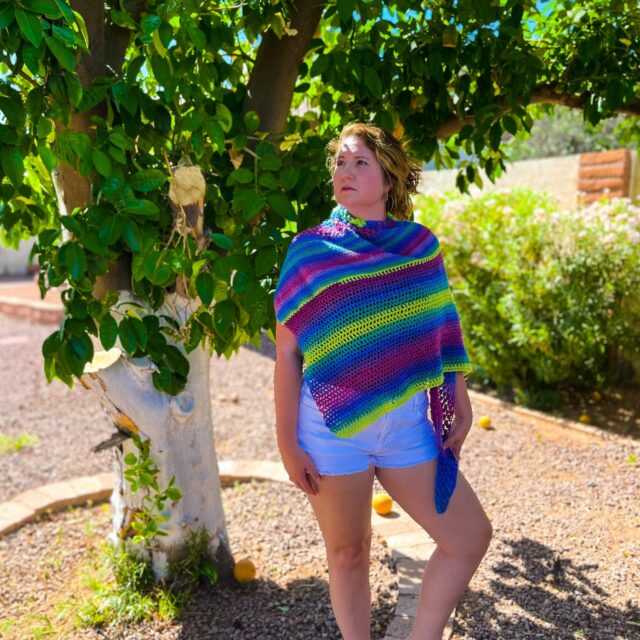 Bold, beautiful, and absolutely perfect for summer. The Rainbow Gala Crochet Asymmetrical Shawl is easy to work up and fabulous to wear! Designed using basic crochet stitches combined in three unique ways to create a fun shawl that is sure to add some vivid style to your casual warm weather wardrobe.

RaeLynn of Itchin' for some Stitchin'
Briallen Shawl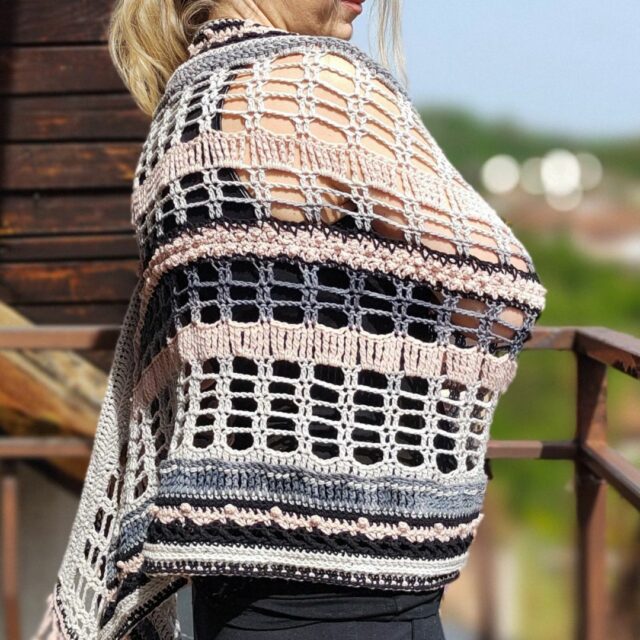 Briallen Shawl is like a beautiful primrose, praising the sun, beautiful weather and a free spirit. It is made of light weight, DK cotton blend and it brings a variety of stitches, which will make your crochet exciting and your shawl exquisite, with a final touch of the popcorn baubles.

Katarina of Frankie Kate
Aliyah Cardigan
The Aliyah Cardigan is the perfect short-sleeve cardigan for spring or summer. You can dress it up or down! Pair it with a cute little summer dress for a wedding or a date. Or throw it on with a pair of jeans for a day of shopping. It is the perfect little cardigan to keep your shoulders warm on a cool summer evening.

Amy of Another Mum Fights the Dust
Diamond Boho Bag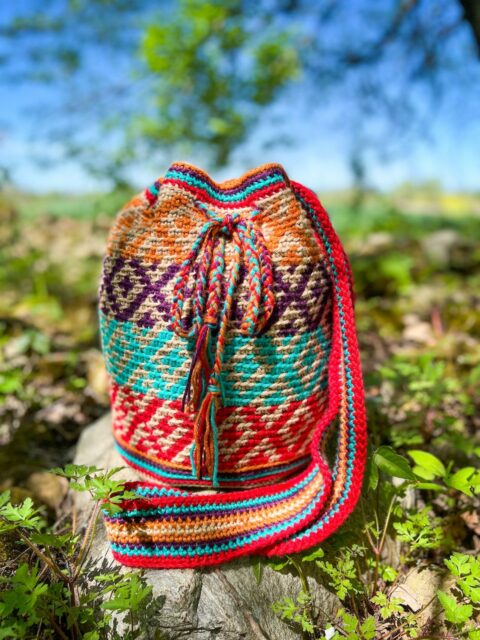 The Diamond Boho Bag uses tapestry crochet to create a beautiful diamond pattern and the braided drawstring adds a boho fun vibe.

Christine of Spotted Horse Design Co.
Stroll In The Park Halter Top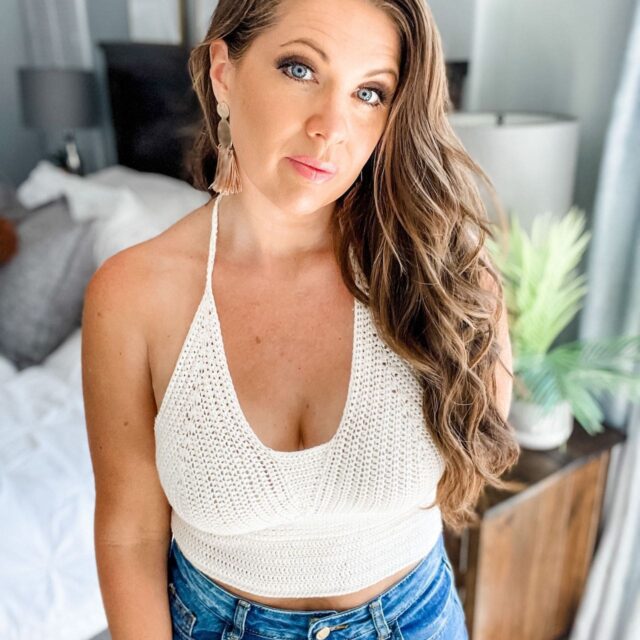 The Stroll In The Park Halter Top makes the perfect addition to your summer wardrobe. The halter top has an open back with straps to tie around your neck. The top is crop length but can easily be altered to any length. Bra size from 30-46 and includes a YouTube tutorial for size 34. Style guide included featuring different outfits for every season. Designed in Knit Picks/WeCrochet Stroll fingering weight yarn.

Michelle of MJ's Off the Hook Designs
Diamonds For Flora Shawl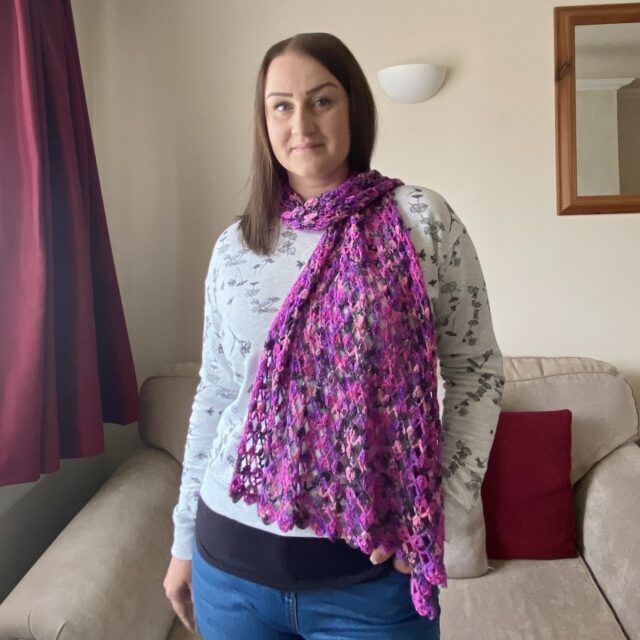 Diamonds For Flora is a super easy crochet shawl pattern for beginners with easy to memorise lace stitch pattern. It is worked from the bottom point towards the widest edge so you can repeat the pattern as many times as you like and completely customise the finished size. It is a great accessory for day to day wear as well as a statement piece when dressing up for a special occasion.

Veronika of Blue Star Crochet
Jayda Tee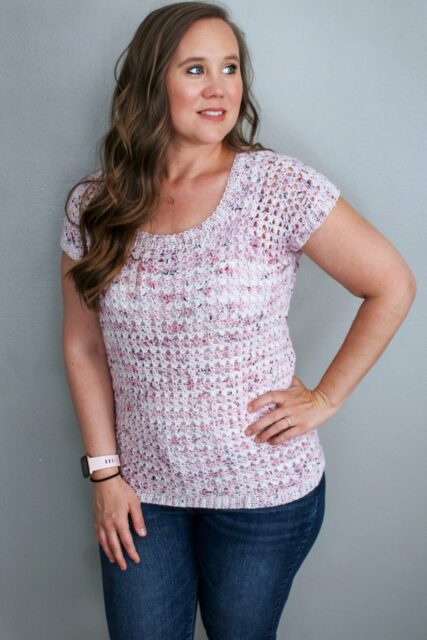 The Jayda Tee is lightweight, lacy, and has a stunning square neckline! It's the perfect tee for summer fun!

Michelle of Two Brothers Blankets
Kimberly Crochet Shawl
DAY 1 6 – JUNE 16TH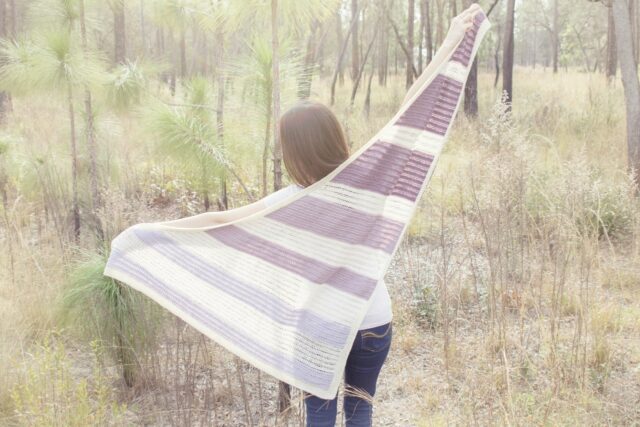 This stunning and light Kimberly Crochet Shawl Wrap Pattern uses a combination of two yarn weights to create a light and airy effect. The color combinations for this shawl are endless, with either an ombre effect or complementary colors, either is sure to turn heads.

Briana of Briana K. Designs
Love Pinterest?
I do!
PIN this pattern to your Pinterest boards for later.
You can also follow all my boards!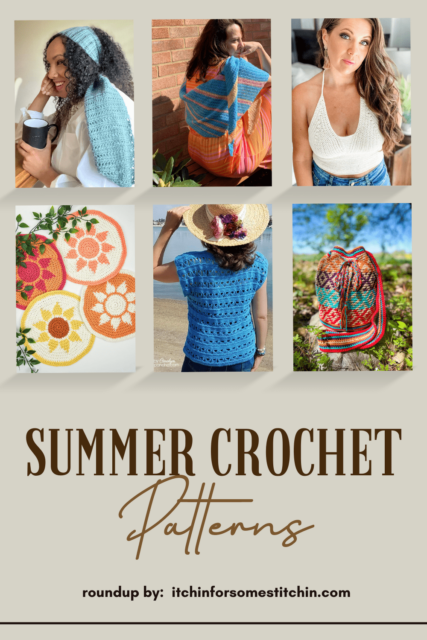 Shell Stitch Market Bag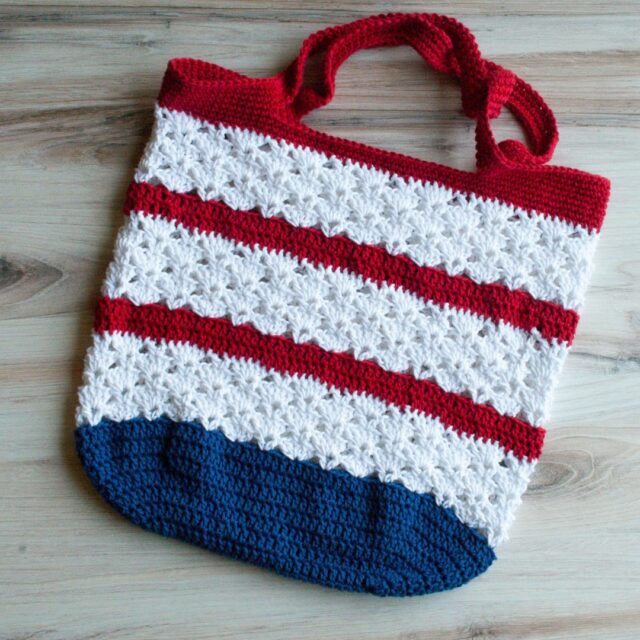 A quick market bag perfect fo Summer. Choose three of your favorite colors. Or make it in red, white, and blue for the Fourth of July!

Suzanne of Crafting Each Day
Luminance Hair Scarf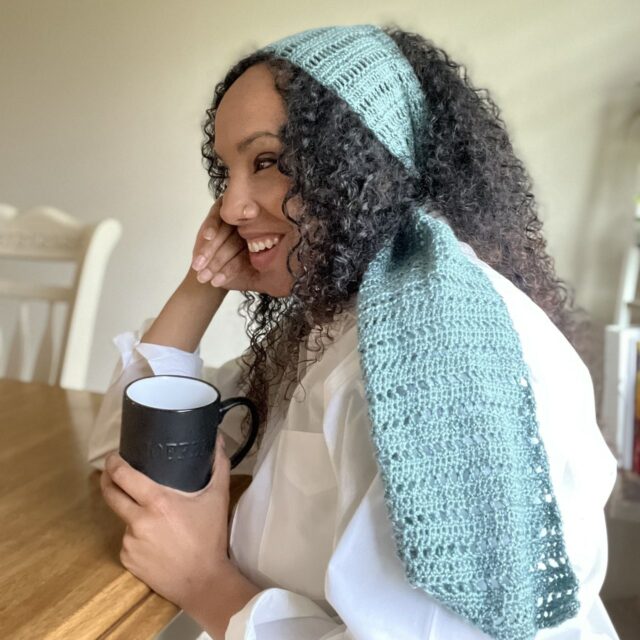 The Luminance Hair scarf is the summer accessory you didn't know you needed! This meditative project features mulberry silk yarn and a simple stitch repeat that makes it an easy project to bring on your summer outings. Plus the soft silk is perfect for keeping yoi cool and your summer hair styles looking great.

Kelsie of Crafting for Weeks
Mosaic Summer Tote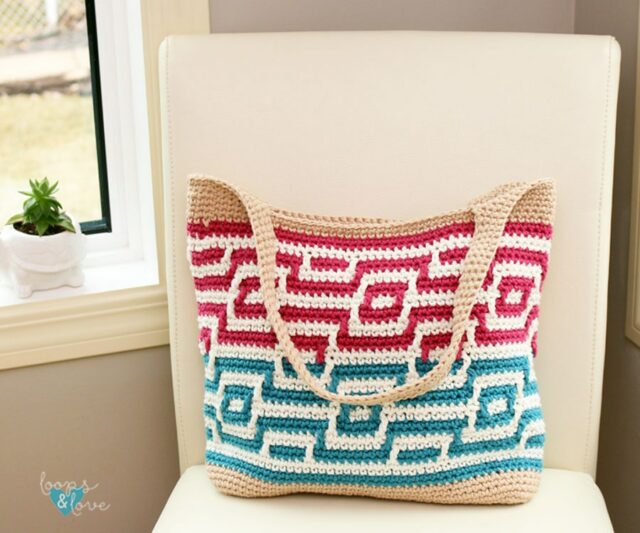 The Mosaic Summer Tote is a generously sized bag that is perfect for all of your summer adventures. It will quickly become your go-to bag to grab as you head out to the beach, pool, park, or anywhere on-the-go! This bag has beautiful texture and an eye-catching design created with the mosaic crochet technique. Have fun taking this bag with you everywhere this summer!

Amanda of Loops and Love Crochet
The Billow Blanket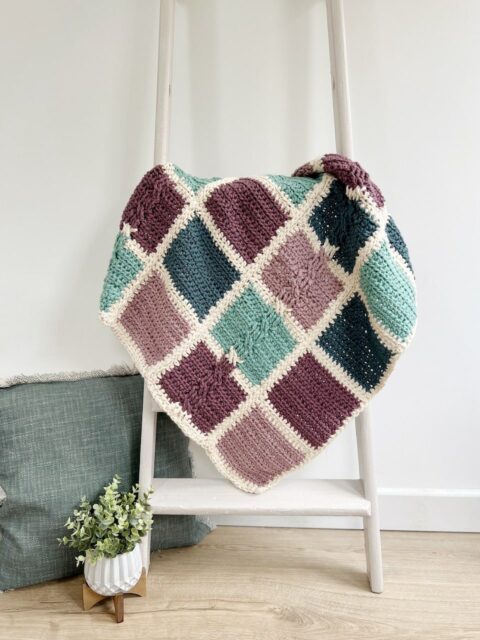 Easy and fun, this summer baby crochet blanket pattern is the just the thing for those warm weather arrivals. Don't let the bulky yarn fool you though, it's light and gentle and the simple construction means there's hardly any seams to create the patchwork look.

Hannah of HanJan Crochet
Tavira Tee
DAY 11 – JUNE 11TH
A versatile tee that you can wear in all seasons. I added a half sleeve just to add a bit of warmth and to protect those shoulders from the sun – plus there are a lot of us out there who aren't too happy with upper arms! In the colder months, it works really well with a polo neck under too!

Claire of King and Eye
Rowyn Tote Bag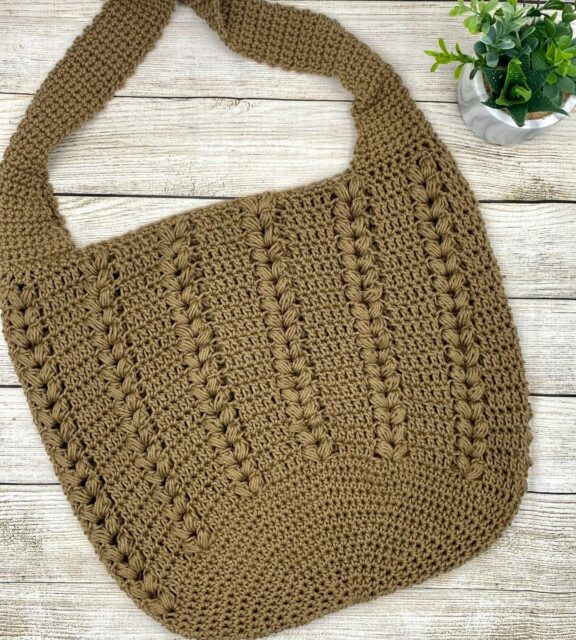 The Rowyn Tote Bag is beautifully textured for a sophisticated look. The pattern works up quickly using a combination of stitches.

Ashley of Through the Loop Yarn Craft
Granny Head Scarf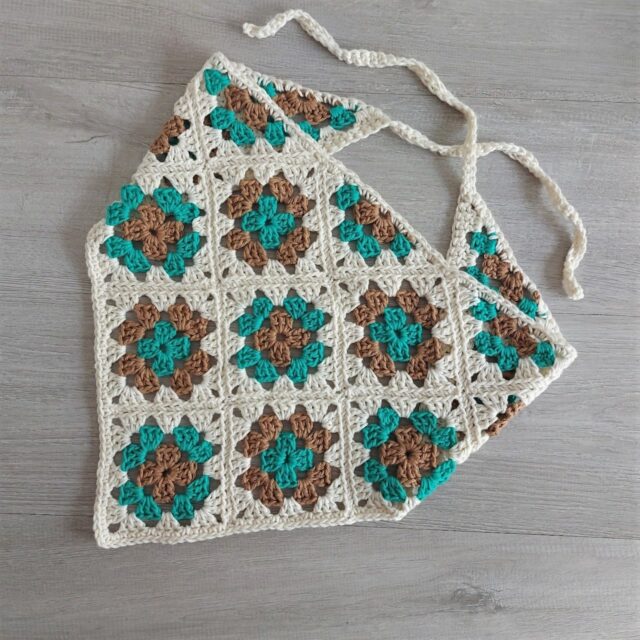 A fun crochet granny square head scarf for that trendy summer vibe!

Carmen of Annie Design Crochet
Plumeria shawl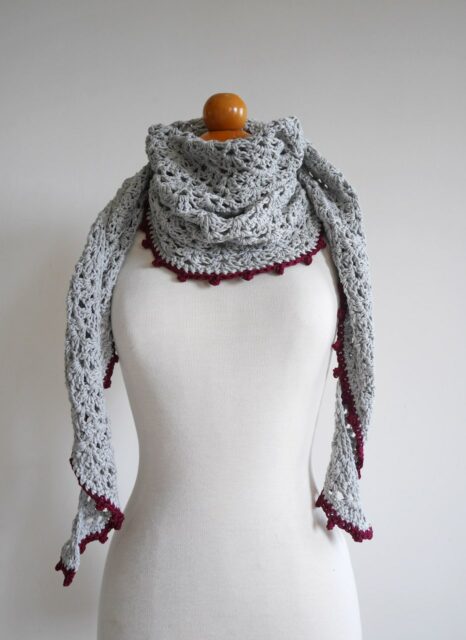 Lightweight and versatile, the Plumeria shawl can be worn around your shoulders or as a scarf for those chilly summer nights.

Lou of Mallo Knits
Magnolia Market Tote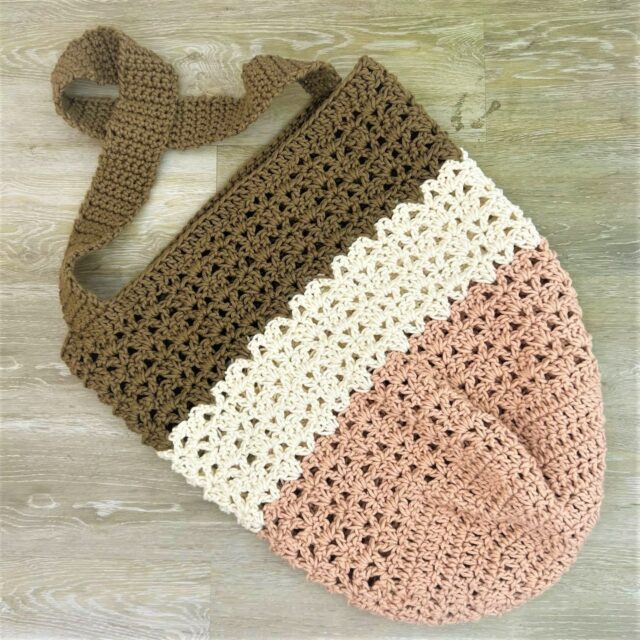 Hit the local market with your Magnolia Market Tote to tote around your fresh produce or flowers. The Magnolia Market Tote makes a great bag to bring to the beach too!

Trista of Crochets by Trista
Tropic Top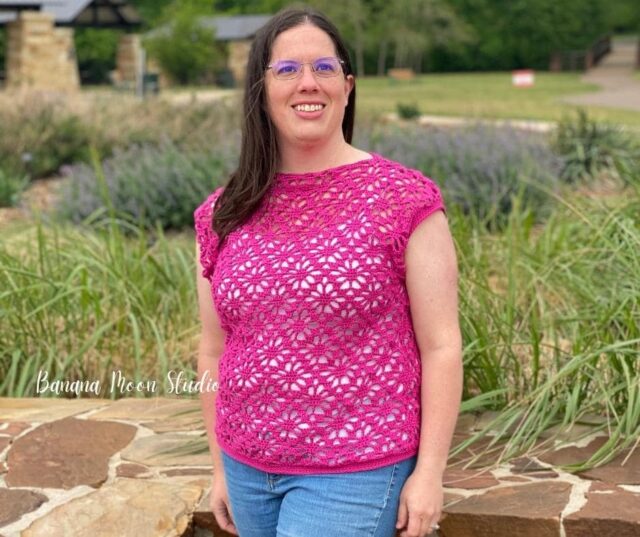 Shine this summer with this bright crochet spider lace top over a cami or tank! This top is as easy as making two rectangles and crocheting them together.

April of Banana Moon Studio
Borlotto Top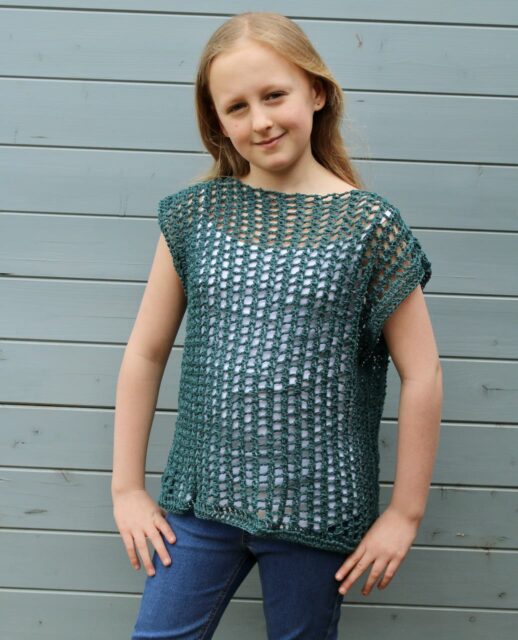 A lightweight crochet top that can be worn over a vest top. Vertical Stripes make this strikingly different.

Vicki of Off the Hook for You
Slice of sunrise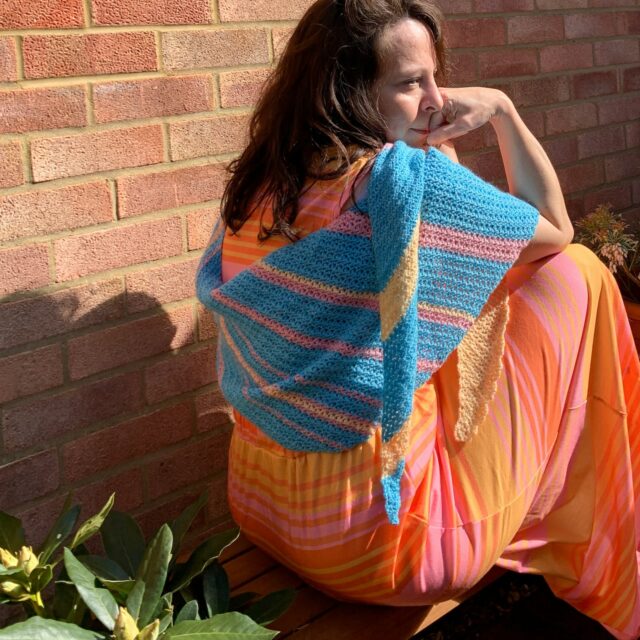 Slice of sunrise is a long asymmetric, shallow crescent-shaped shawl which uses less than 150g of 4ply yarn. Its stripes and colour blocks are inspired by morning views of pink fluffy clouds in blue skies at sunrise.

Michelle of Dora Does
Heritage Table Runner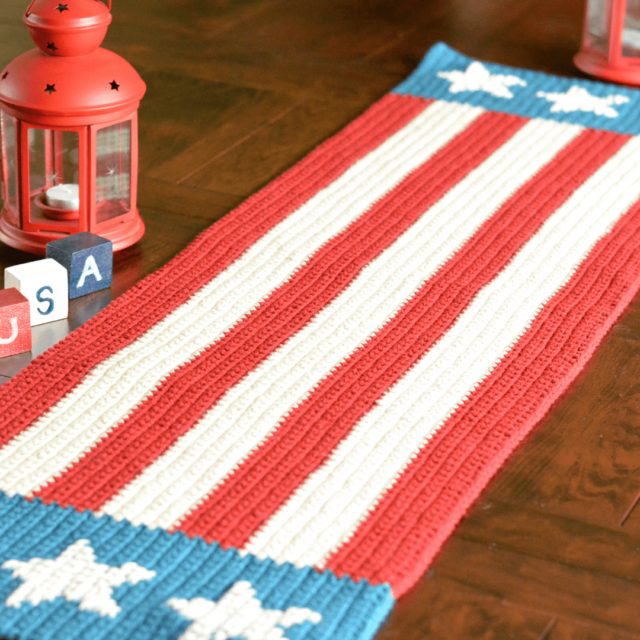 Get your table ready for summer with this simple and fun table runner that's perfect for any Fourth of July party. It's worked in one piece with simple color changes making it perfect for advanced beginners wanting to test their colorwork skills. The Heritage table runner is customizable to any length you like, and you can make the stars your own by adding them using crochet colorwork, cross-stitch, or leave them off entirely!

Jamie of Remington Lane Crochet
Bayshore Crochet Tee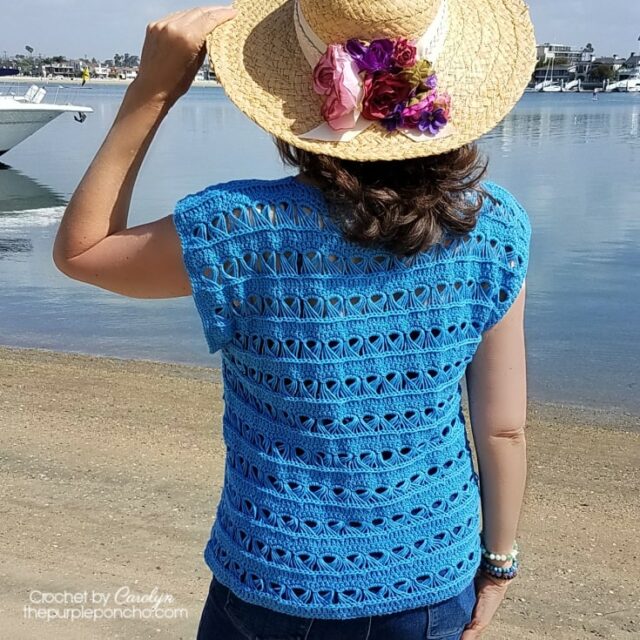 The Bayshore Crochet Tee is a pretty top featuring Broomstick Lace. The unusual and repetitive stitching is fun to make as you use a knitting needle and a crochet hook in basic single crochet and double crochet stitches.

Carolyn of The Purple Poncho
DAHLIA SUN HAT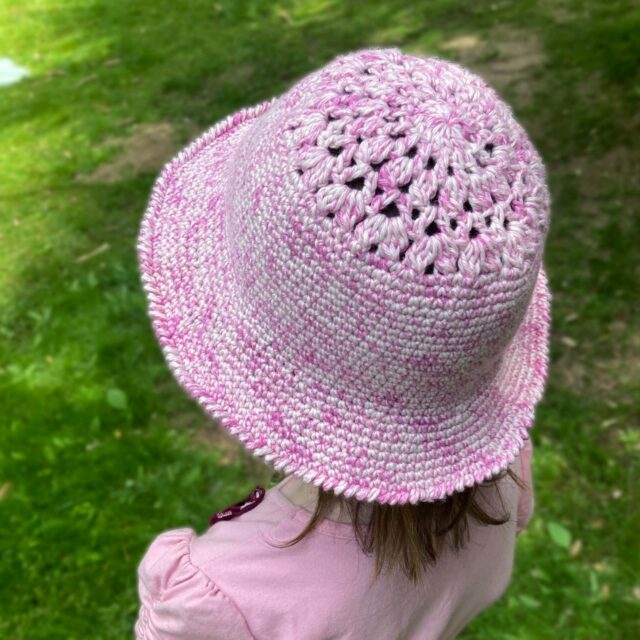 This crochet sun hat is the cutest way to keep little heads safe in the hot summer months. With a fun floral motif on the crown, and a simple single crochet body, the hat is so quick to work up. And the pattern is written for 6 sizes (from Baby to Adult), so it's perfect for making sun hats for all the family!

Sarah of Ned & Mimi
---
Folks, I truly love all these beautiful patterns.
From garments to accessories and home decor projects there is just so much in this collection to love!
What's your fave?
I have too many to say 😉 – they are all so fabulous!
---
DID YOU MISS THE BLOG HOP?
Don't worry !
You can still get all 33 patterns from the blog hop in the Designer's Pick for Summer 2022 Pattern Bundle.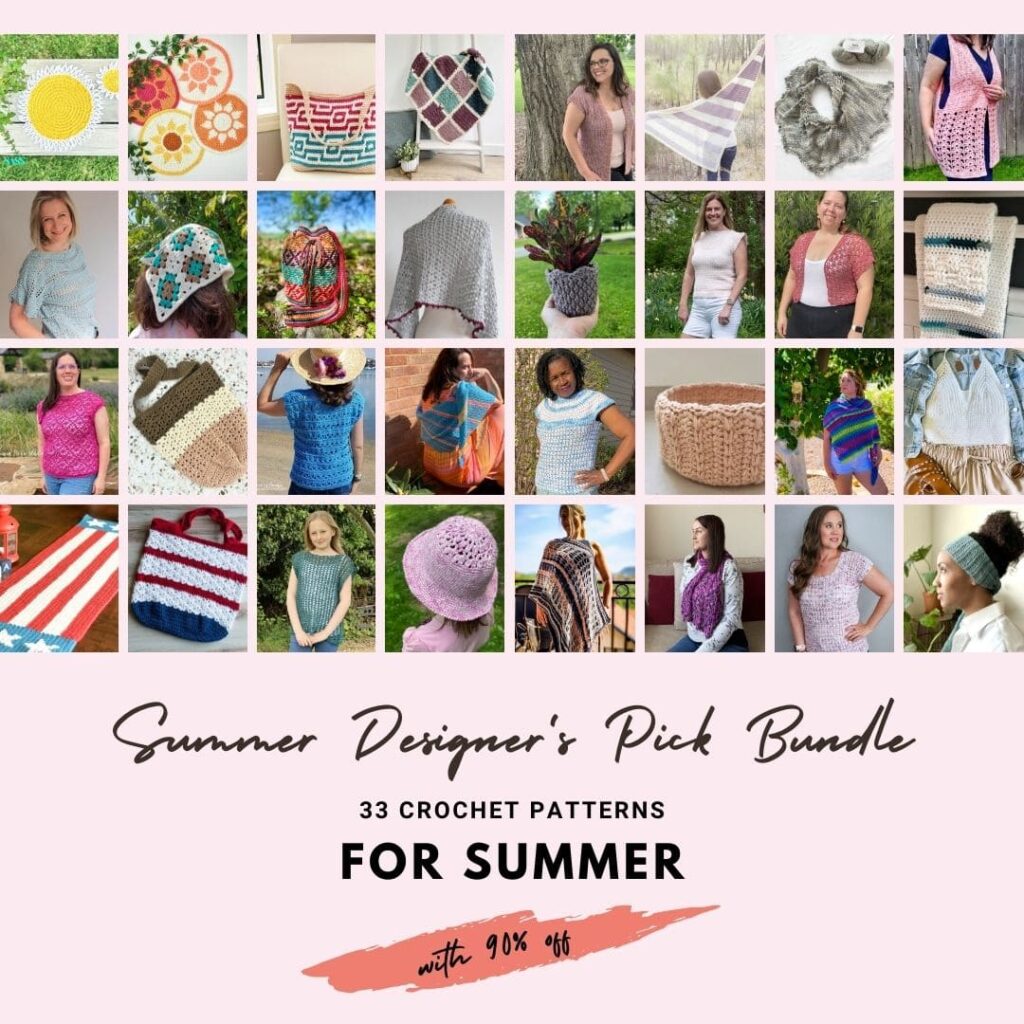 ---
---
Other Patterns I Love & You Will too!
Kalina Duster Cardi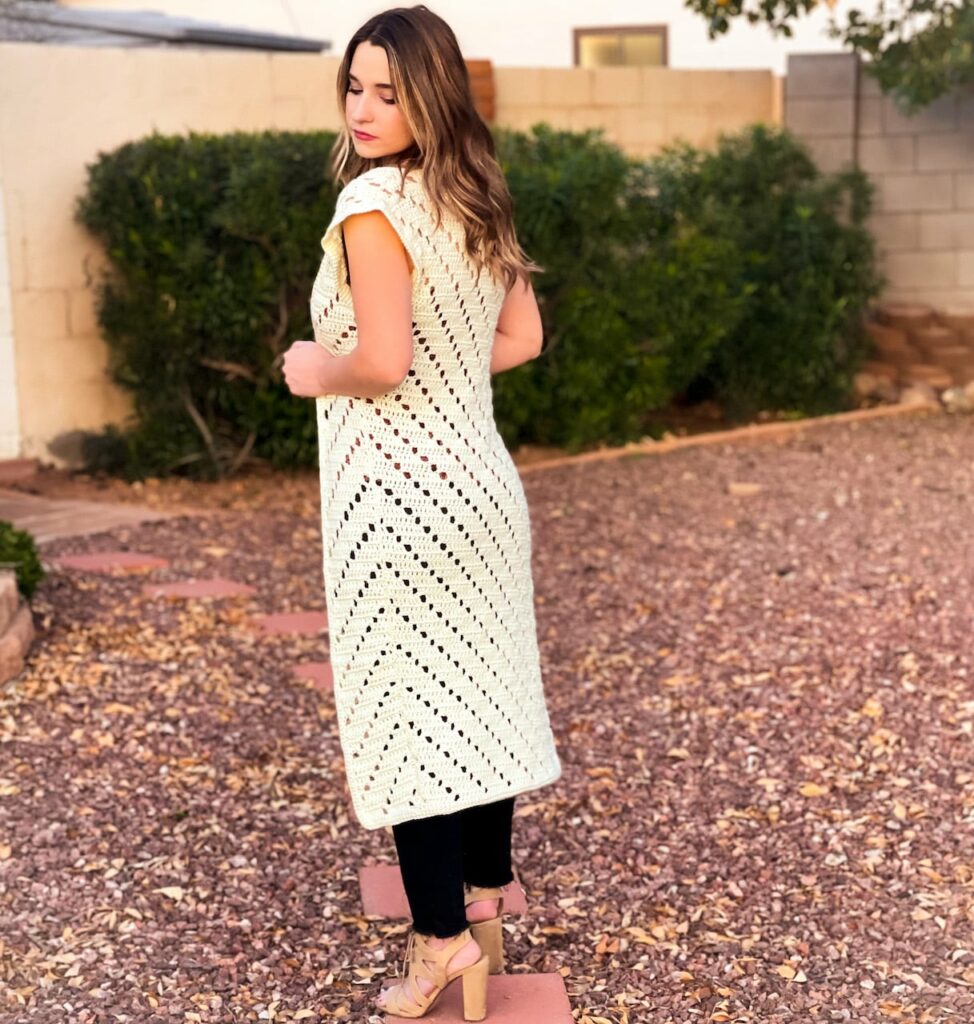 Seaglass Beach Bag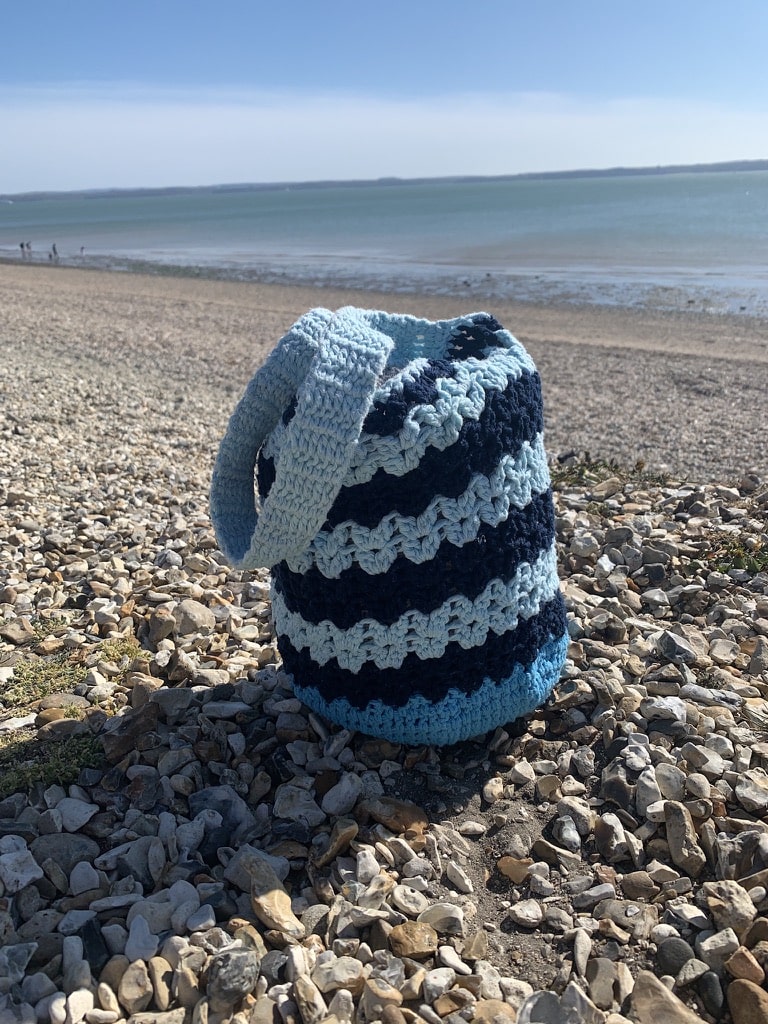 Daphne Lace Cardigan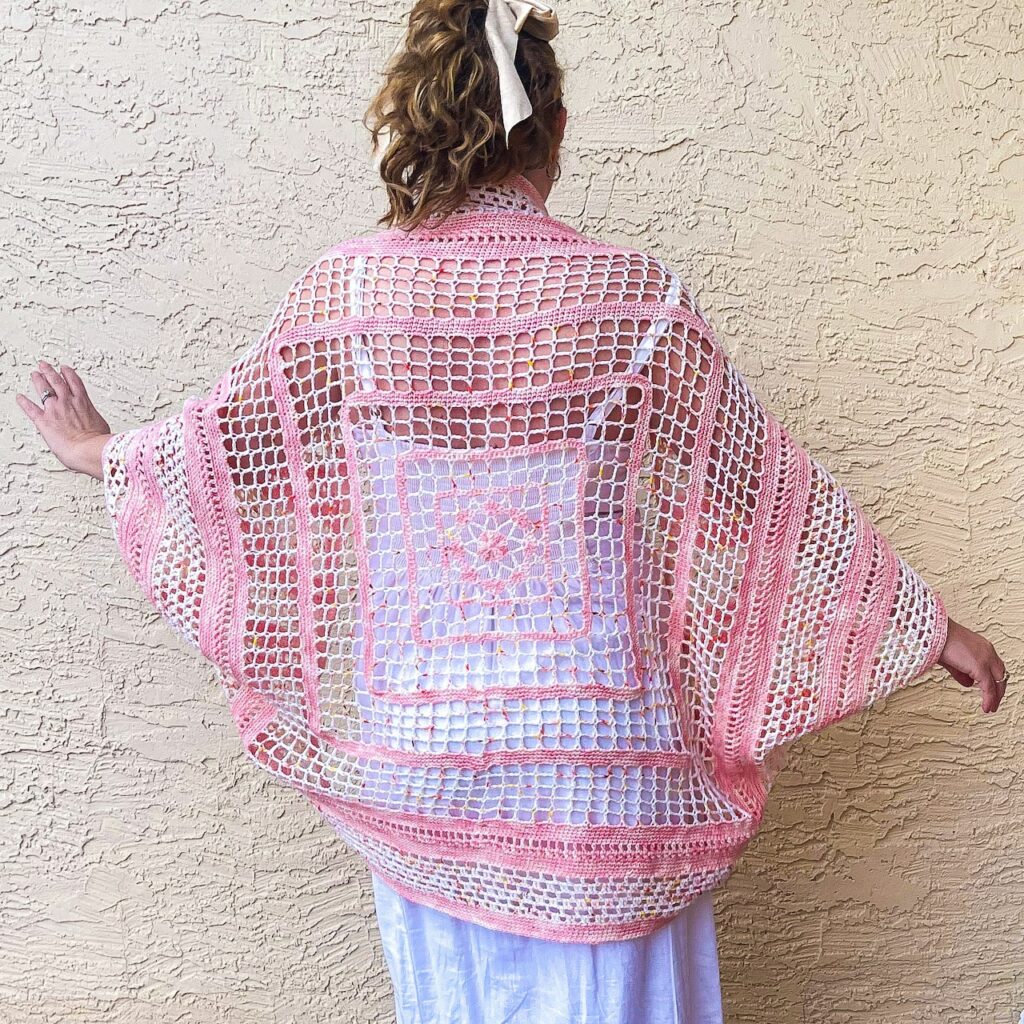 My Latest posts
Summer Pattern Collections
---
---
Thank you for coming to my blog! By sharing my content and/or making a purchase you are making it possible for me to continue producing and sharing free content for everyone to enjoy. I sincerely appreciate your support!
Until next time… Happy Crocheting!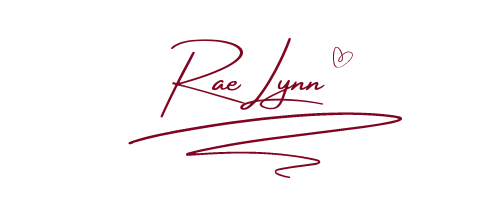 Please share!