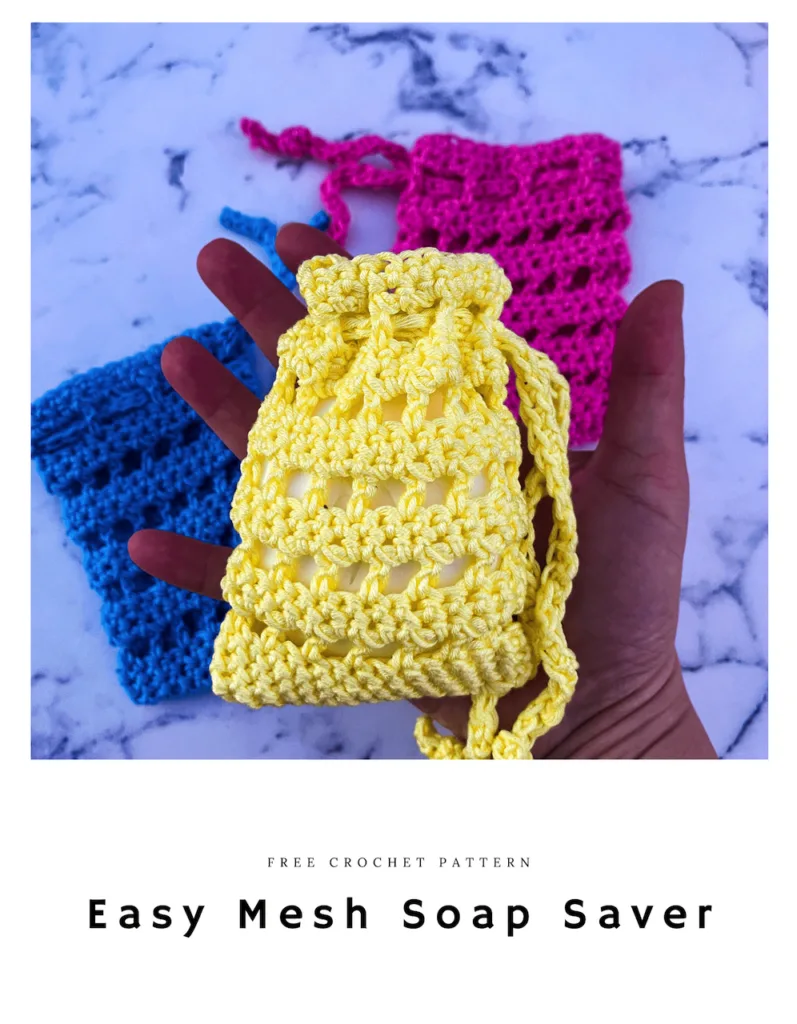 Looking for a quick and practical crochet project? Try this simple mesh crochet soap saver pattern! This beginner-friendly pattern creates a textured pouch that holds your soap, allowing it to dry between uses and extending its lifespan. It's a great way to reduce waste and add a handmade touch to your bathroom essentials. Get started on this eco-friendly 30 minute project today!
What is a soap saver?
Never heard of a soap saver? Let's change that!
Soap savers are essentially small bags or pouches in which you can place bars of soap and then use them to wash your hands, hair, body, etc.
As the name suggests, it is a bathroom accessory that can extend the life of your soap bars by keeping the bars off the ledge where it never completely dries.
Why use a soap saver?
Soap savers can be beautiful additions to your bathroom decor, but the are not just for looks. They are practical and useful with numerous benefits!
One
As previously mentioned, it extends the life of the soap bar. Using a soap saver will prevent your soap from becoming soft and mushy.
Don't like that goopy slimey soap bar?
Rather than placing the soap bar on a bathroom ledge or in a dish where it stays continually wet, soap savers lift the bar off the surface allowing it to dry more thoroughly.

A dry soap bar lasts longer.
When the bar stays wet, all that goopy soap gets wasted down the drain.
Two
It is a clean way to store soap. Believe it or not, bacteria builds up in a soap dish or bathroom ledge and this gets transferred to the soap bar.
Allowing the soap to dry in the soap saver bag reduces bacterial production and thus, keeps the soap much cleaner.
Three
Depending on the material used for your soap saver, it can work nicely as an exfoliating surface to smooth your skin.
Soap savers can actually create a rich luxurious bath/shower experience!
Four
Soap savers are eco-friendly!
Going "green" is a huge focus to many people. Getting rid of those plastic liquid soap containers and icky unsanitary plastic loofahs is a major benefit for those who may be eco-minded.
What is the best yarn for a crochet soap saver?
Soap savers can be made from many different materials. If you're looking to make a crochet soap saver, then natural fiber yarns are probably the best way to go.
You could try using sisal, hemp, or cotton. I personally use cotton for my soap savers because they are durable, absorb water well, and and easy to wash.
Can you use acrylic yarn?
The short answer is yes. Some people actually like the texture of acrylic for exfoliation an it holds up well to repeated washings.
However, I personally would not use or recommend acrylic simply because it it isn't as absorbent as cotton and, for me, is a bit too scratchy for my sensitive skin.
Additionally, acrylic is not environmentally friendly. Thus, if you are an eco-minded individual, you should avoid using acrylic.
I also suggest a medium 4 worsted weight yarn. Some people do choose to use a chunkier yarn, but I think it holds the water too much and could end up making the soap goopy – exactly what we want to avoid!
How to crochet a simple soap saver
Crochet soap savers are generally simple to make. Although you can crochet them in two pieces and then seam them together, I think the best ones are crocheted mostly in the round.
How to crochet in the round
Depending on the pattern, a drawstring is often added at the top to cinch the bag closed once the soap bar has been added.
I've provided a free crochet soap saver pattern below.
Easy Mesh Crochet Soap Saver Pattern
**THIS IS AN ORIGINAL PATTERN. Please see my Copyright Statement for details.
The PDF version of this pattern is currently available for FREE when you subscribe to my newsletter. See "Unlock This Exclusive Content" at the end of this post.
Or, you can purchase it as part of The Stash Busting Challenge Pattern Bundle by clicking on the image below.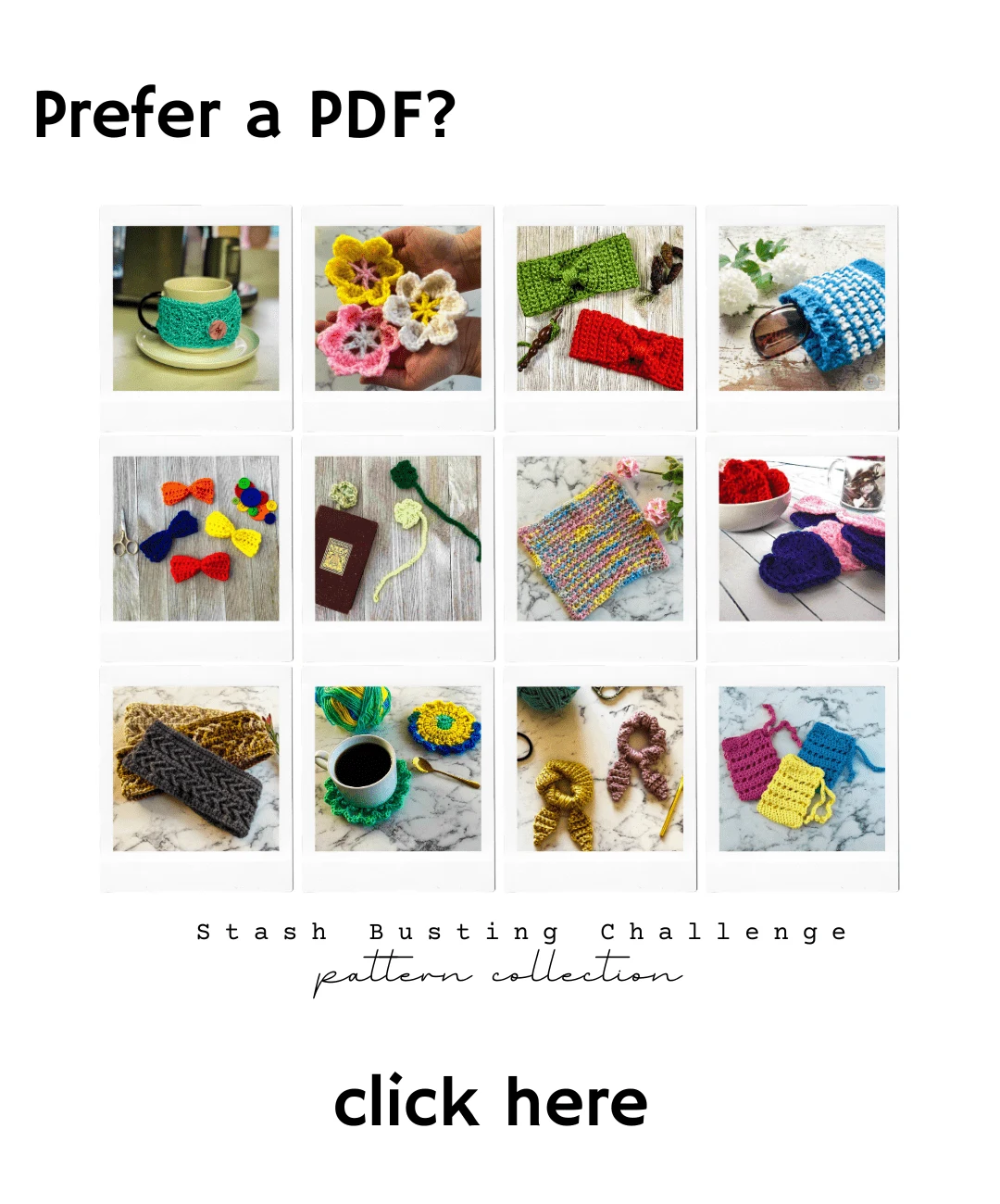 Some of the content on this website may contain affiliate links. This means if you make a purchase through one of these links, I will receive a small commission at no cost to you! Please see my full Disclosure Policy for details.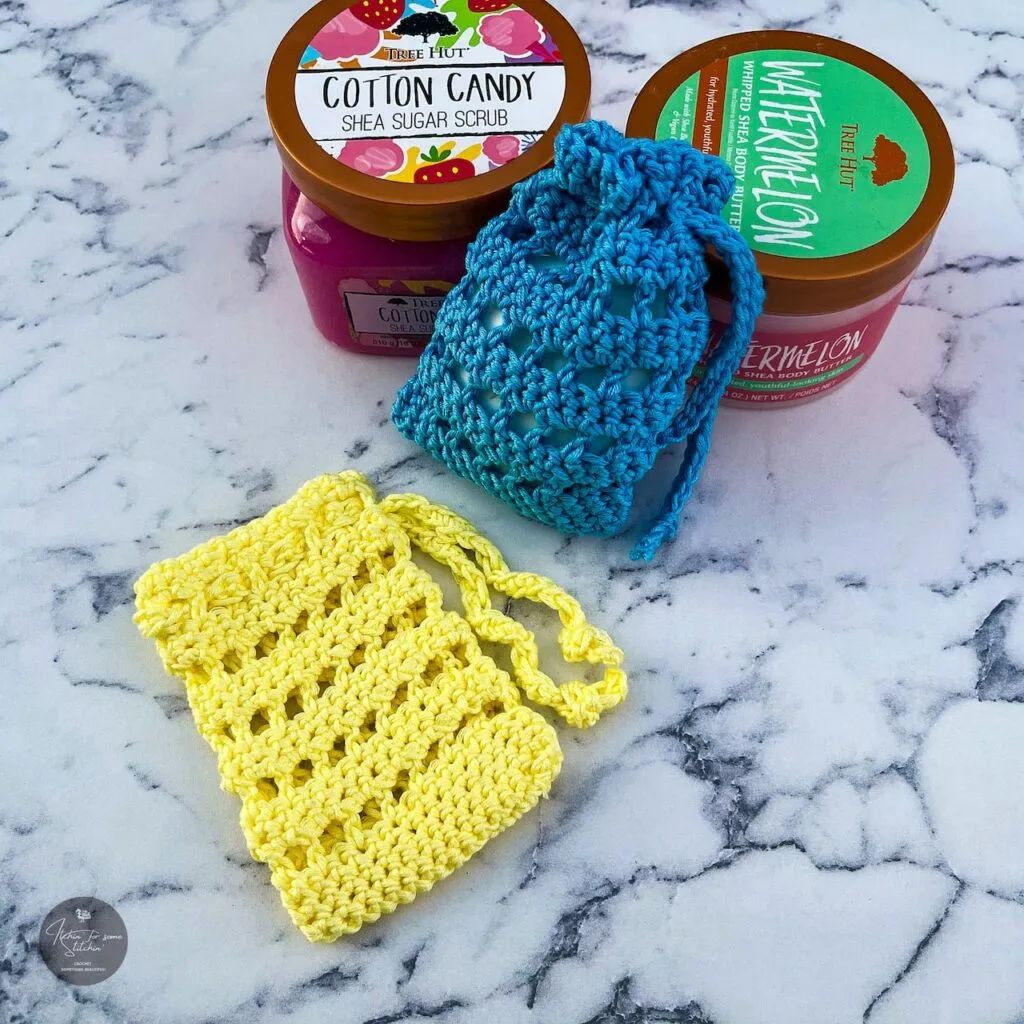 Keep your bar soap clean and bacteria free with this easy mesh crochet soap saver! This handy crochet accessory helps your soap last longer and creates a great exfoliating surface for your smooth skin. Worked mostly in the round and easy to whip up. Crochet one up in about 30 mins or less!
It also makes a great stash buster project!
Construction
The easy mesh crochet soap saver is constructed in two pieces: the bag and the drawstring.
The bag is constructed by working a small flat foundation chain and then working around that foundation chain to create a project that is formed in the round. (Images 1 -2)
The draw string is worked flat in rows. (Image 3)
The draw string is threaded into the top of the bag for final assembly. (Image 4)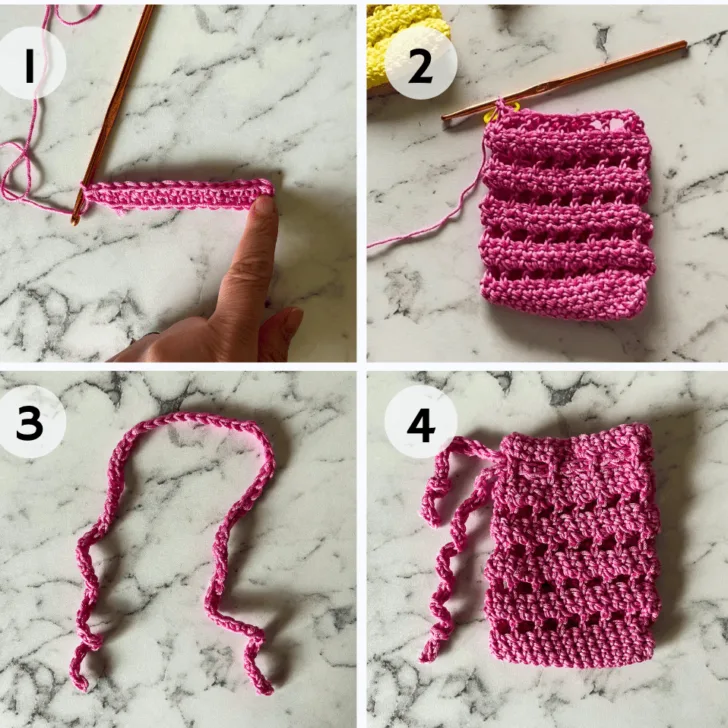 Difficulty level
Difficulty level : Advanced Beginner
Gauge/Tension
16 stitches and 8 rows = 4 x 4-inches in double crochet using G/6 4.25mm hook in double crochet (dc)
Recommended yarn
Rico Essentials Cotton DK, %100 Cotton, 50g, 142yds/ 130m per ball. Colorways: Blue Yellow White
Yardage requirements
*provided requirements are estimates only
Total yardage: 70yds / 64m to 80 yds /73m
Other Materials
Crochet Hook size G/6 4.25 mm or whatever hook is necessary to obtain the correct gauge.
Measuring tape (optional)
Stitch markers (optional)
Scissors
Tapestry needle for weaving in ends
Abbreviations
Pattern is written in US terms.
Stitch / es (st / sts)
Yarn over (Yo)
Skip (sk)
Slip stitch (slp-st)
Double crochet (dc)
* ___ * Repeat indicated instructions
Finished Dimensions
All measurements are approximate, measured flat pre-use, and are provided in inches.
Bag measures 4.5 – inches long and 3 – inches wide.
Draw string measures 20 – inches long and 0.25 – inches wide.
Additional Notes
Read all pattern notes, instructions, and other provided details carefully before starting the project to make sure you understand everything. It could save you hours & a lot of headaches!
The gauge/tension is not critical for this pattern, however, if you want to be sure you meet the gauge for this pattern then make a swatch of each square that measures at least 10 x 10 cm / 4 x 4 inches using the stitch provided under the Gauge Section. If your swatch matches the gauge, then you are all set to start the project. If the gauge is wrong, you might need to change your crochet hook – increase your hook size if your stitches are smaller & decrease your hook size if your stitches are larger.
All given measurements are unblocked and measured pre-wear and as fabric pieces may stretch during/after blocking, and wearing.
Provided measurements are as exact as possible, but are given as approximates. This is because yarn variances, crochet tension & individual technique might give variations in the result, which changes from person to person.
The bottom of the bag and the drawstring are worked flat in rows.
The main body of this pattern is worked in continuous rounds. There will be NO joining at the end of each round, or turning and chaining.
Stitch counts are given in [ ] at the end of each round. If no stitch count is given, then the count is the same as the previous round.
Care Instructions: Hand wash & lay flat to dry or follow instructions on the yarn label.
Love Pinterest?
I do!
PIN this pattern to your Pinterest boards for later.
You can also follow all my boards!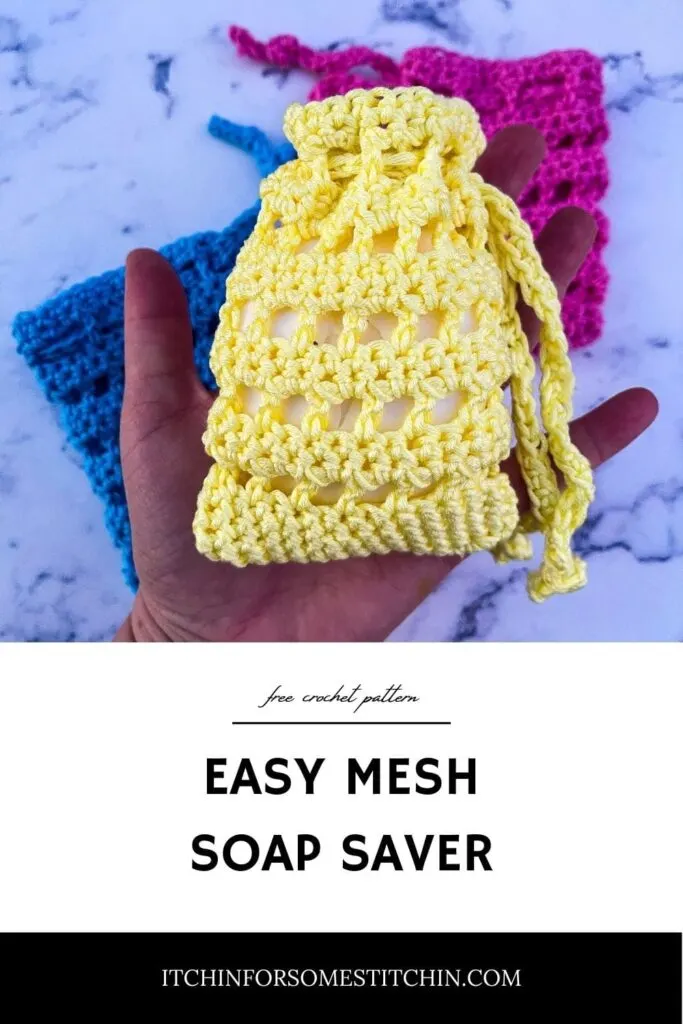 Instructions
Bag
Ch 16, sc in the bpo of the 2nd ch from the hook and in the bpo of each ch across. Place a st marker in the final sc. [15]
Round 1: Sc in each ch around the bottom of the foundation chain and in each st all the way back around to the st with the st marker. Move the st maker into the last st worked. [30]
Rounds 2 – 3: Crocheting continuously; Sc in each st around the bottom of the foundation chain and all the way back around to the to the st with the st marker. Move the st maker into the last st worked. [30]
Round 4: Crocheting continuously; Ch 4 (counts as 1 dc and a ch1), *skip the next st, dc in the next st, ch 1* Repeat from * to * 13 more times, slp-st to the 3rd ch of the ch 4 to close. [15 dc, 15 ch1]
Round 5: Crocheting continuously; Work 2 sc into each ch 1 – sp around. Mark the last sc with a st marker. [30]
Round 6: Crocheting continuously; sc into each st around working the last sc into the st with the st marker. [30]
Round 7: Crocheting continuously; Slp-st into the next sc, ch 4 (counts as 1 dc & a ch 1), *skip the next st, dc in the next st, ch 1*. Repeat from * to * 13 more times, slp-st to the 3rd ch of the ch 4. [15 dc. 15 ch 1]
Repeat rounds 5 -7 three more times. Then repeat rounds 5 – 6 one more time. Slp-st to the 1st sc of the round to close.
Bind off & weave in ends.
Draw String
Ch 76, turn work, sc in the bpo of the 2nd ch from the hook and in the bpo of each ch across. [75]
Bind off & weave in ends.
Assembly
Thread the draw string through the top layer of dcs and chs.
Tie the ends of the draw string.
Crochet Soap Saver FAQs
Let's answer some of the common questions people have about soap savers!
How long do soap savers last?
There is no specific lifetime for a crochet soap saver, but I promise, you will not need to throw it out any time soon. These bags are reusable for a very long time!
If you think your crochet soap saver is dirty, simply throw it in the wash!
After repeated washings (many many washings) the soap saver the stitches may become loose. That's when it's time throw it out and make new one!
How do you clean a crochet soap saver bag?
The process is simple!
First, remove the soap bar from the bag and rinse the soap saver.
Next, toss it in the washer and wash it on the cold cycle.
I would recommend laying it flat to dry. If you use the dryer it will most likely shrink a bit, especially if it is 100% cotton.
Are crochet soap savers sanitary?
Absolutely!
And I can tell you this much, they are much cleaner than using a loofah.
Just be sure to hang your soap saver to dry so it doesn't mold or mildew.
Is a soap saver worth crocheting?
I personally believe so!
They are cleaner than loofahs, are eco-friendly (no more plastic soap bottles!), are great for your skin, and actually save you a little money as your soap bar is't wasted down the drain!
More crochet patterns for the home
Thank you for coming to my blog! By sharing my content and/or making a purchase you are making it possible for me to continue producing and sharing free content for everyone to enjoy. I sincerely appreciate your support!
Until next time… Happy Crocheting!
Please share!