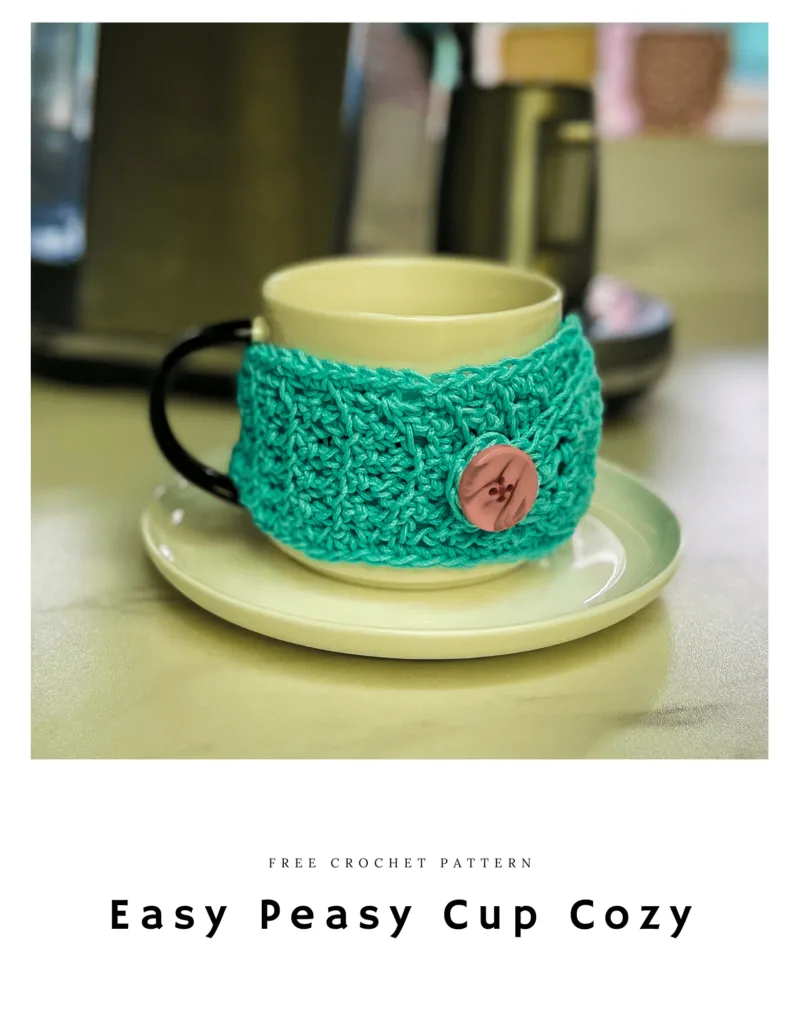 Learn all about crochet cup cozies; what they are, if they work, the best yarn to use when crocheting one, and a free pattern for a easy peasy crochet cup cozy that can be whipped up in 30 minutes or less!
What is a cup cozy?
Ever got a latte at a Starbucks or other coffee stand?
You may have heard cup cozies called to-go hot cup sleeves and they are usually made from cardboard.
You may also know them as coffee cozies or mug cozies.
Simply put, a cup cozy is a cover that goes around your cup. It keeps the liquid in the cup warm and protects your hands from heat and condensation.
Yet hot to-go coffee drinks are not the only cups that need sleeves. Your regular coffee mugs and even your cold drinks held in your favorite non-disposable cups at home benefit from them too!
That's where crochet cup cozies shine!
Do crochet cup cozies work?
In short, yes they do!
In fact, I designed the Easy Peasy Crochet Cup Cozy for two reasons:
One
Because my husband doesn't like his coffee or tea "too hot". Not only does it burn his tongue, but it burns his dainty lil' fingers too. 😉
Two
I'm a sipper. And I like my drinks pipping hot! I want them to stay warm a long time because I can drink one little cup over several hours. (yes, the hubs and I are complete opposites – 😂)
So, I wanted to design a cup cozy to protect my hubs precious digits and keep my coffee warm longer. I have to admit I was pleasantly surprised at how well they worked.
We now use them every day with our morning cuppa joe!
What is the best yarn for a crochet cup cozy?
I think the best yarn for a crochet cup cozy is cotton yarn.
I particularly like Lion Brand 24/7 cotton because it is absorbent, durable, and has bit of a stiffness to it so it holds it shape well and stays on the cup better than a lot of other yarns.
However, there is on caveat to using cotton yarn.
All yarn stretches with use and time, but cotton yarn doesn't have a lot of flexibility and thus does not return to its original shape as well as some other yarns.
Can you use acyrlic yarn to make a crochet cup cozy?
Yes you can, but I personally believe that cup cozy crocheted using acrylic yarn is more for decorative purposes rather than a functional one.
Acyrlic yarn does not have the absorbency that cotton yarn does. So if there is a small spill or if it is on a cold glass with moisture, the cozy may slip in the condensation causing an even bigger spill or perhaps even a dropped cup.
Additionally, be aware that acrylic can melt when exposed to heat. Although it is unlikely this will happen on the low heat of a coffee mug, but it is something to keep in mind when deciding what yarn to use when making a crochet cup cozy.
How to crochet a cup cozy for beginners
I think the best crochet cup cozy for beginners is a simple single crochet rectangle that does not require any increases or decreases.
Making increases and decreases in crochet isn't difficult, but they are often not skills that a crochet beginner possesses.
Here is a beginner crochet cup cozy pattern that suits the bill!
Easy Peasy Cup Cozy Pattern
**THIS IS AN ORIGINAL PATTERN. Please see my Copyright Statement for details.
Pin this pattern to your Pinterest Boards to Save It
The Easy Peasy Crochet Cup Cozy PDF is currently only available for purchase as part of the the Stash Busting Challenge Pattern Collection.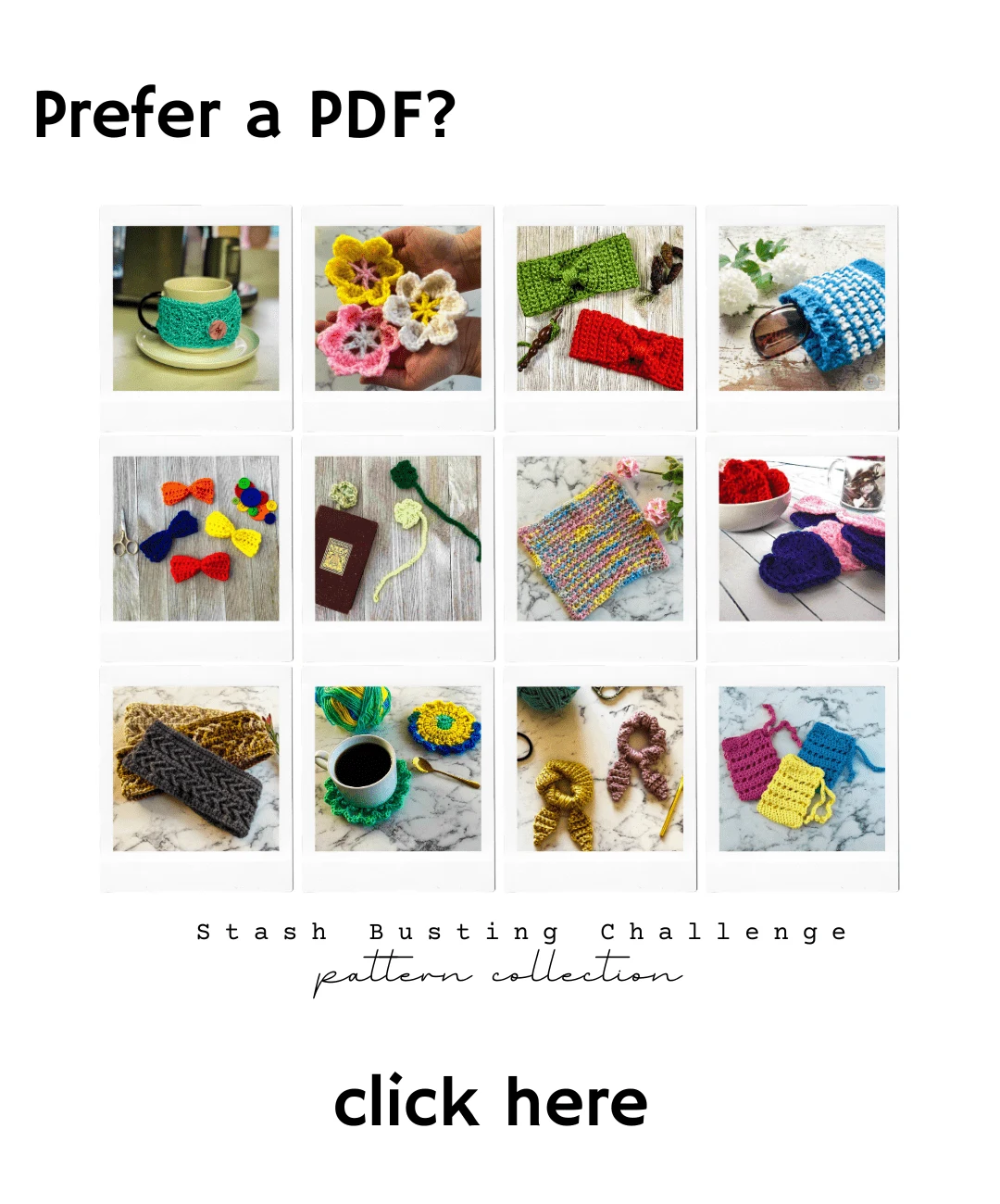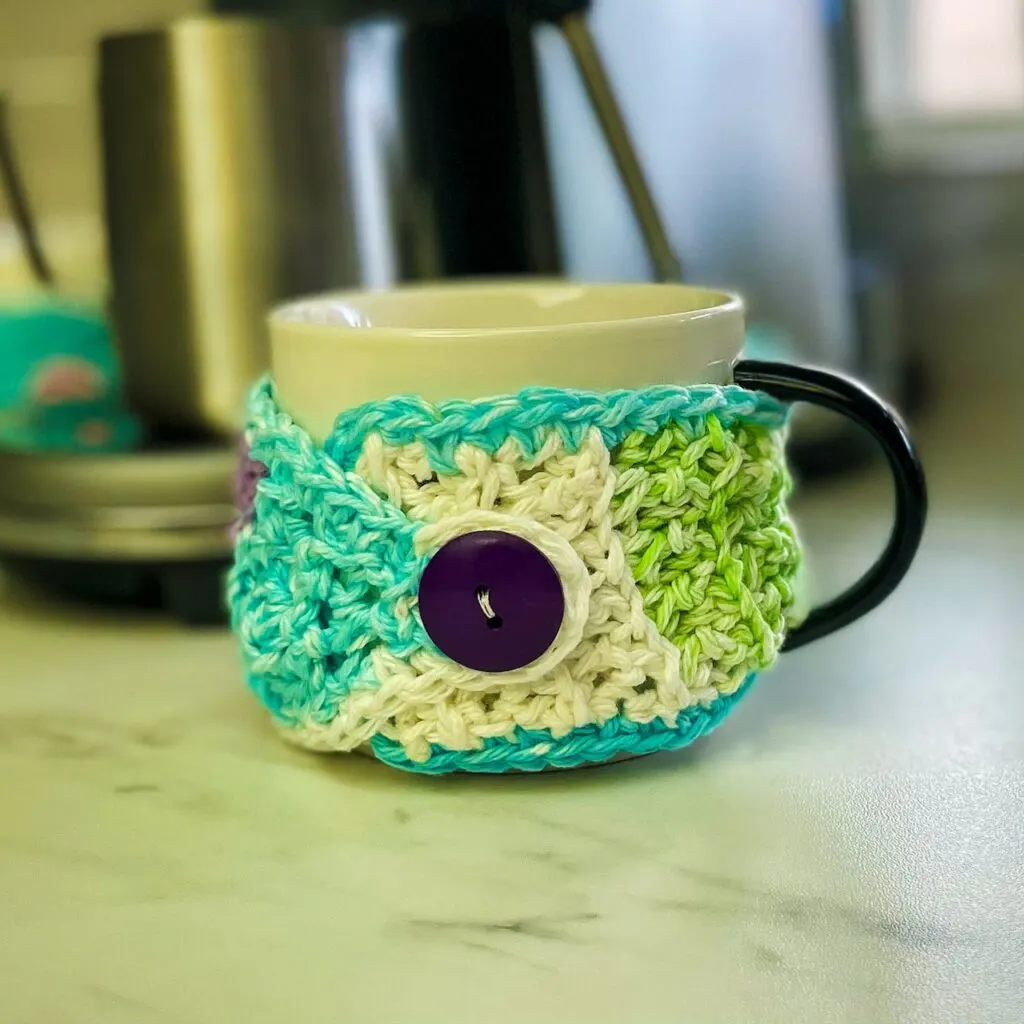 The easy peasy cup cozy is both decorative and useful. Keep your fingers safe while sipping your favorite hot drink in style! This coffee cozy is quick and easy to work up, has a unique stitch pattern, and beautifully textured. Whip one up i n 30 minutes or less!
It also makes a great stash buster project!
Construction
The Easy Peasy Cup Cozy is constructed flat in rows as one piece.
Chain to the desired width based on the particular cup for which the cup cozy is being designed. See figure 1.
Work the pattern around the cup with indicated (see pattern instructions) overlap (this creates the length of the cozy). See figures 2 – 3.
Add button. See figure 4.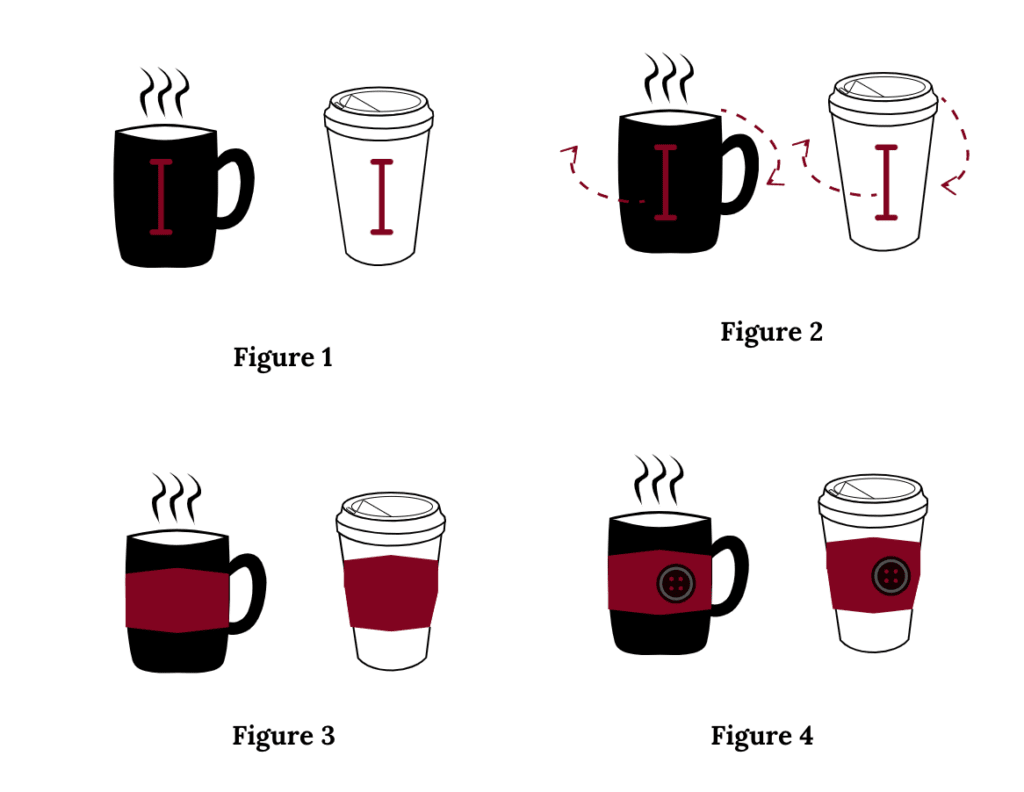 Difficulty level
Difficulty level : Intermediate/Easy

Gauge/Tension
10 stitches and 16 rows = 4 x 4-inches in double crochet using J/10 5.75mm hook in pattern (See Instructions Below).
Recommended yarn
Lion Brand 24/7 Cotton, 100% mercerized cotton, worsted weight, 3.5oz / 100g, 186 yds / 170m per skein, color Aqua.
Yardage requirements
*provided requirements are estimates only
Total yardage: 50yds / 46m to 60 yds / 55m
Yarn alternatives
Other Materials
Crochet Hook size I/9 5.50 mm or whatever hook is necessary to obtain the correct gauge.
Measuring tape (optional)
Stitch markers (optional)
Scissors
Tapestry needle for weaving in ends
Coordinating thread
1 button ( 1 – inch)
Abbreviations
Pattern is written in US terms.
Stitch / es (st / sts)
Yarn over (Yo)
Skip (sk)
Turning chain (tch)
Back Loop Only (BLO)
Back Post Only (BPO)
Slip stitch (slp-st)
Half double crochet (hdc)
* ___ * Repeat indicated instructions
Special Stitches
Single crochet 2 together (sc2tog) – insert hook into the stitch to be worked, yarn over, pull up a loop (2 loops on hook), insert hook into the next stitch to be worked, yarn over, pull up a loop (3 loops on hook), yarn over, pull through all 3 loops.
Finished Dimensions
All measurements are approximate, measured flat pre-use, and are provided in inches.
This pattern has no specific finished dimensions because it can be made to suit any desired cup simply by altering the number of chains and rows to each crocheter's personal preference and specifications.
The cup cozy on the cup pictured in these images is 15.5 inches long and 2.5 inches wide.
Additional Notes
Read all pattern notes, instructions, and other provided details carefully before starting the project to make sure you understand everything. It could save you hours & a lot of headaches!
The gauge/tension is not critical for this pattern, however, if you want to be sure you meet the gauge for this pattern then make a swatch of each square that measures at least 10 x 10 cm / 4 x 4 inches using the stitch provided under the Gauge Section. If your swatch matches the gauge, then you are all set to start the project. If the gauge is wrong, you might need to change your crochet hook – increase your hook size if your stitches are smaller & decrease your hook size if your stitches are larger.
All given measurements are unblocked and measured pre-wear and as fabric pieces may stretch during/after blocking, and wearing.
Provided measurements are as exact as possible, but are given as approximates. This is because yarn variances, crochet tension & individual technique might give variations in the result, which changes from person to person.
This pattern is worked flat in rows as one piece, however, for ease, instructions are split into sections 1, 2, Trim, and Finishing.
Care Instructions: Hand wash & lay flat to dry or follow instructions on the yarn label.
Instructions
Section 1
Chain in multiples of 2 + 1 (add 1 for base chain) until you reach your desired length. See figure 1.
Row 1: Turn work, sc in the bpo of the 2nd ch from the hook (counts as 1 hdc, *sc2tog the next 2 sts in the bpo, ch 1*, Repeat from * to * ending with 1 hdc in the last ch.
Row 2: Ch 2 (counts as 1 hdc), turn work, skip 1 st, *sc2tog in the blo of the next ch then into the blo of the next st, ch 1*, Repeat from * to * ending with 1 hdc in the top ch of the tch, turn work.
Repeat row 2 until cozy reaches desired length around the cup with 0.5 – 1 inches overlap. See figures 2 – 3.
Bind off & weave in ends.
Section 2
Row 1: Ch 2 (does not count as a st), turn work, skip 1 st, sc2tog the next ch and the next st*, Repeat from * to * ending with 1 sc in the top ch of the tch.
NOTE: Stitch count should be half of your original stitch.
Row 2: Ch 2 (does not count as a st), turn work, sc2tog the next 2 sts*, Repeat from * to * ending with sctog the last st and top of the tch OR 1 sc in the top ch of the tch (depending on your initial stitch count).
Repeat row 2 until only 1 st remains.
Ch 5, turn work, slp-st into the 1 remaining st.
Trim
Sc evenly around the entire cozy (the exact st count does not matter), until back at the ch 5-sp, slp-st into the ch 5-sp, work 5 hdc sts into the ch5-sp, slp-st to the first sc of the round to close.
Bind off & weave in ends.
Finishing
Using coordinating colored thread, sew button onto cozy where the buttonhole will go over it.
Wrap cozy around the cup and button to close.
Crochet Cup Cozy FAQs
Let's answer some of the common questions people have about soap savers!
Do crochet cup cozies sell well?
I'd love to tell you from personal experience that they are great sellers, but I tend to be more of a pattern designer.
That being said, I have talked to a lot crocheters who do in fact sell crochet cup cozies and they actually do sell quite well!
So, if you are just starting a crochet business, crochet cup cozies would make a great addition to your shop!
How do you clean a crochet cup cozy?
You can wash crochet cup cozies in a machine washer on gentle cycle choosing the cold or warm water options.
I personally recommend laying them flat to dry, however, depending on the yarn used gentle cycle on the dryer works well too.
I actually prefer to hand wash my cup cozies to be sure no harm comes them in a washing machine.
The process is simple:
Add cool to warm water to a large bowl or bucket and add a few drops of detergent
Submerge and gently rub the cup cozy, focusing on any areas that may have had spills on them
Rinse gently in cool to warm water
Lay flat to dry or use gentle cycle in a dryer
If you used cotton yarn for your cozy and it has stretched out a bit, I highly recommend using the dryer to help shrink it back into shape a bit.
More crochet patterns for the home
Thank you for coming to my blog! By sharing my content and/or making a purchase you are making it possible for me to continue producing and sharing free content for everyone to enjoy. I sincerely appreciate your support!
Until next time… Happy Crocheting!
Please share!