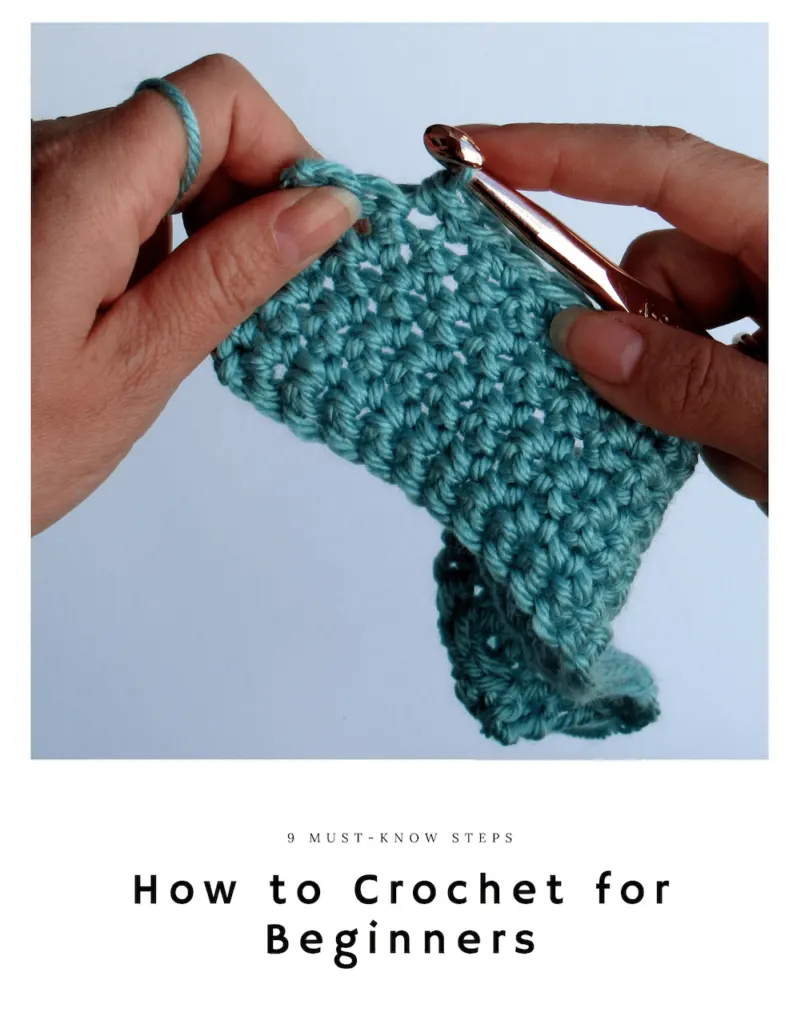 Learn the amazing skill of crochet with our beginner's guide. Learn how to crochet with 9 essential steps, from choosing the right yarn and hook to mastering basic stitches. Start your crochet journey and create stunning projects with confidence!
Howdy Crochet Newbies!
Get prepared – because today's tutorial is chalk full of super helpful and super easy steps that you must know as a crochet beginner.
If you have been dreaming about learning to crochet, but have never picked up a hook before or simply don't know where to start – this is for you!
The steps I am going to share with you today really are the key to taking you from crochet clueless to crochet confident!
And quickly too!
**This post may have affiliate links. See my full Disclosure Policy for details.
What is Crochet?
Okay… let's back up for just a sec.
I know you are excited to get on with it, but when you are new to a craft, it's important to know exactly what you are getting into.
So, if you don't know, crochet is a craft in which a patterned fabric is created by looping yarn, thread, or other material with a hooked needle.
Like knitting, crochet consists of pulling loops through other loops, but with the addition of wrapping the working material around the hook one or more times.
Unlike knitting, in crochet only one stitch is active at one time (there are a few exceptions, but this is true for the most part).
Also, crochet uses a single crochet hook instead of two knitting needles.
There are literally hundreds of different forms of crochet with more in development!
If you're interested, CrochetWithDee.com gives a great list of many types of crochet.
Now, hundreds of crochet methods means tons of "advanced" crochet stitches, yet, there are only a few basic stitches.
If you can learn these, then you can create loads of fun and unique crochet patterns!
Okay… on with it! Here we go!
9 Basic Crochet Steps
NOTE: Click on the highlighted words for step-by-step tutorials.
Step 1.
Make a slip-knot.
Simply put, this is a knot that can easily be undone. Okay, there's a smidge more to it, so check out the tutorial. 😉
Step 2.
Make a foundation chain.
This is a chain that consists of chain stitches (ch).
I know, if you know nothing about crochet, then you're probably saying – uh what's a chain stitch? Read the tutorial folks – it even has a video.
Now, when first learning to chain stitch, you should use a hook that is at least one size larger than what your project calls for. This keeps the foundation chain looser so it is easier for you to make the next round of stitches.
This is an important tip because beginning crocheters often chain too tightly. Once you become more skilled in the art of crochet, this may no longer be necessary.
Just FYI, I started out with a 9.0 mm (size N) hook, but now have no issues with using smaller hooks right from the beginning.
Step 3.
Insert your hook into a chain on the foundation chain.
Okay… I don't mean to make this confusing, but note that I said insert your hook into "a chain" – not a specific chain number.
The reason for this is because the first chain you insert your hook into is determined by the stitch you are going to make.
For instance, if you are going to be working the single crochet (see tutorial link below) you would typically go into the 1st chain from the hook (there are exceptions).
On the other hand, if you are going to be working the double crochet (see tutorial link below) you would typically go into the 2nd chain from the hook.
Thus, it is important that you know or are learning at least one basic stitch at this point. (again, see tutorials below for help)
Now, just to make things a bit more complicated (don't panic, I am going to walk you through it!) – you also need to know where you want to place your hook.
There are at least 3 locations.
Location 1: Insert the hook under the 2 top loops. These are the loops that make a < shape.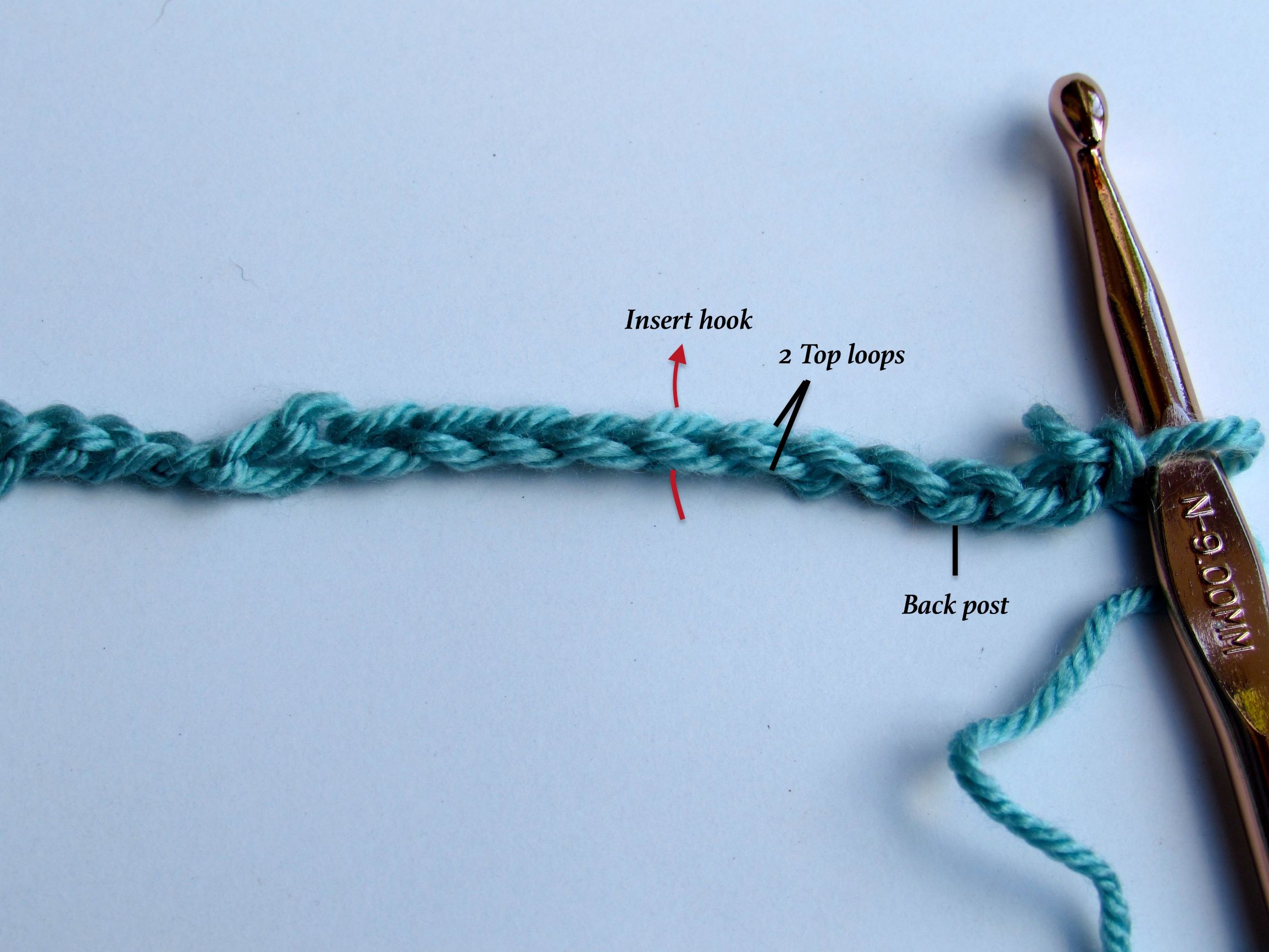 Location 2: Flip the foundation chain so that the 2 top loops (<'s) are on the bottom and the back posts are on top. Insert the hook under the back post. This called crocheting into the back post only and it is abbreviated BPO in patterns.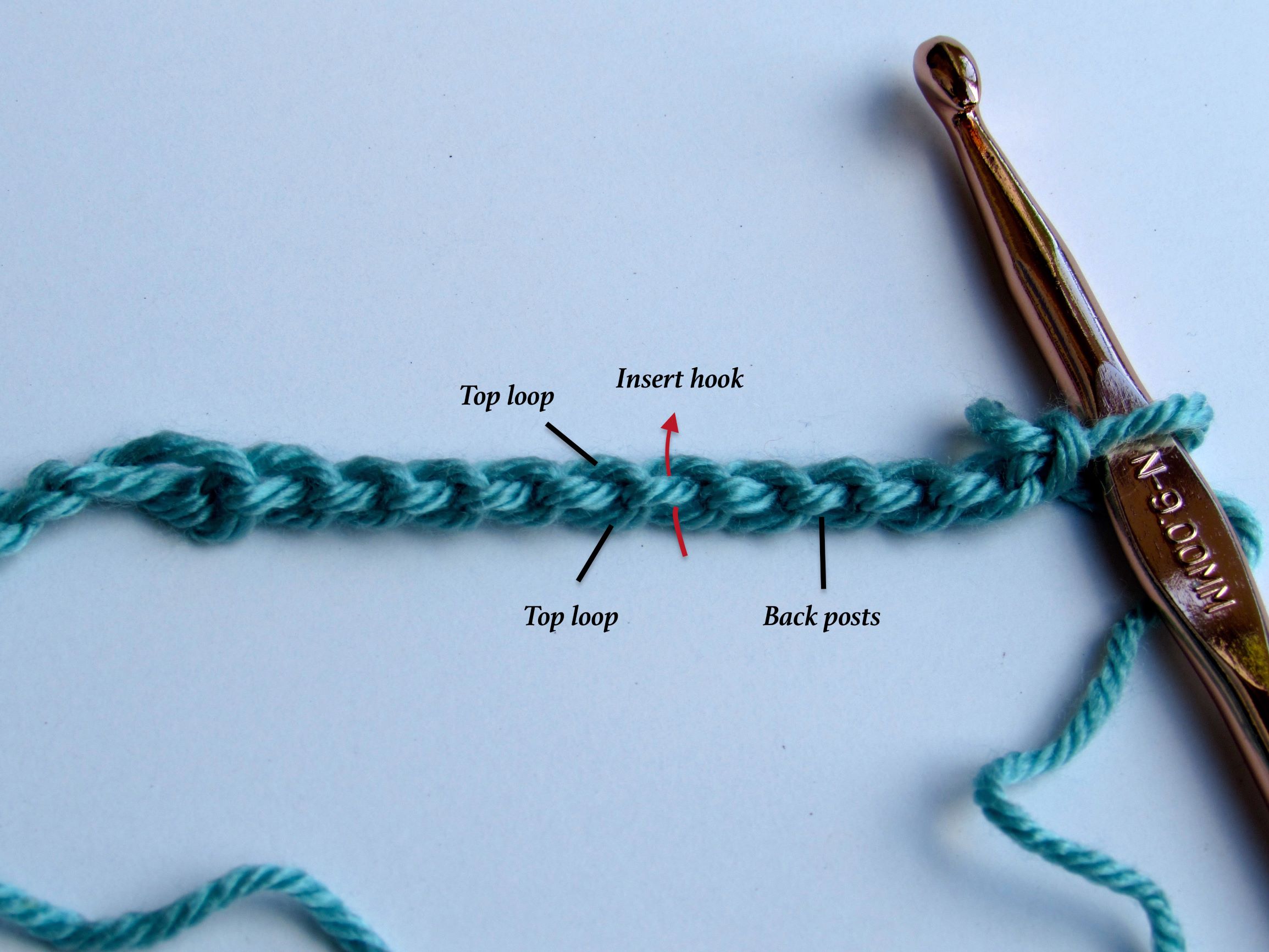 Location 3: Insert the hook under 1 of the top loops and the back post.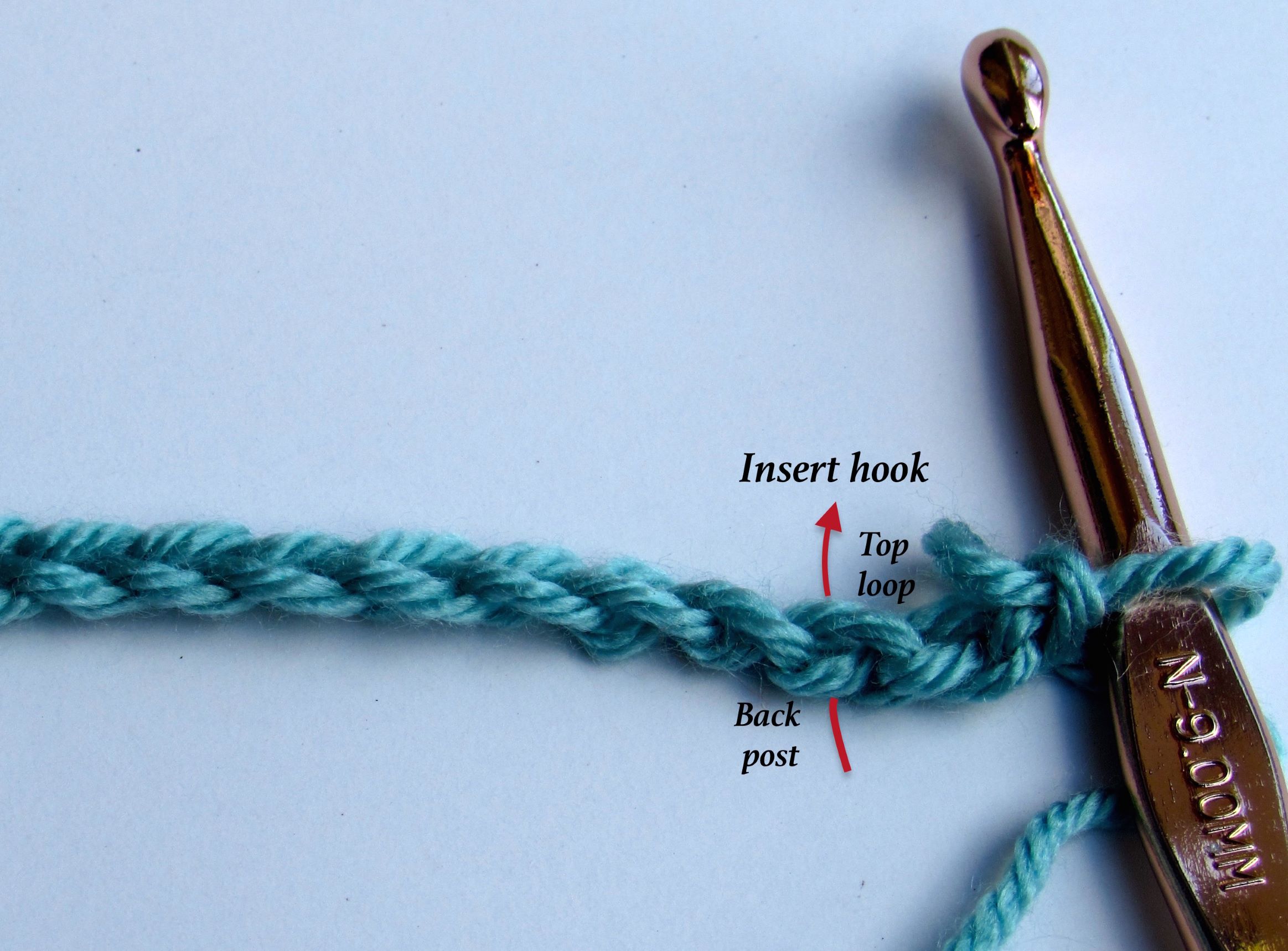 Step 4.
Crochet the first row.
After you have inserted your hook into the proper chain for the stitch you will be doing – then make your first stitch.
Use the stitch designated in your pattern, or, whatever stitch you wish if you are designing your own pattern or simply doing a practice swatch.
Then, work each new stitch into the next chain stitch until you have stitched all the way back to the slip-knot.
Love Pinterest?
I do!
PIN this pattern to your Pinterest boards for later.
You can also follow all my boards!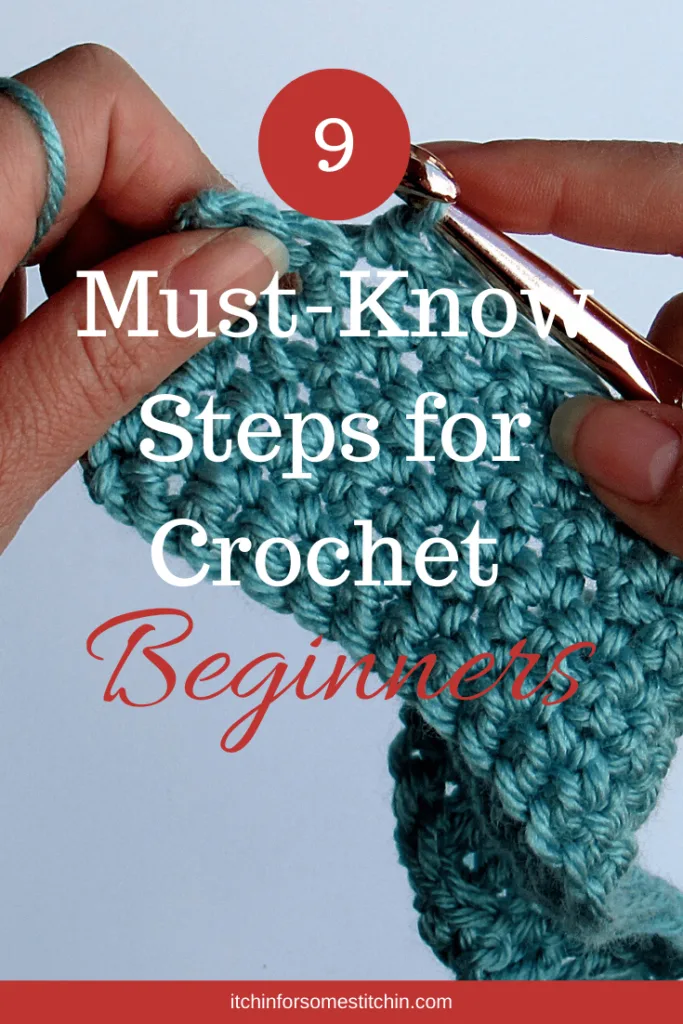 In general, the basic crochet stitches are:
1. Chain Stitch (ch)–used to make the foundation chain and the turning chain (See Steps 1 & 5).
2. Single Crochet Stitch (sc)–creates a tight, dense fabric. You can repeat this stitch over and over or in combination with other stitches to create a pattern.
3. Half-double Crochet (hdc)–half of a double crochet, is simple and versatile and creates a snug stitch.
4. Double Crochet (dc)–twice the height of the single crochet and creates a solid, but not stiff fabric. It is often used for making afghans, sweaters, shawls, etc… You can combine this stitch with others to create unique patterns and textures.
5. Slip Stitch (slst)–the smallest of the basic stitches, used in decreasing, for decorative work, and for joining other stitches together.
6. Triple or treble crochet (tr)–taller than the double crochet, is used in a variety of ways and/or worked into different configurations including rows, circles, triangles, squares, and other shapes.
Generally, the chain stitch (foundation chain), single crochet, and double crochet are the three stitches crochet beginners learn first.
Thus, these three stitches are the ones I have highlighted and linked to step-by-step tutorials as part of this beginner's guide.
Step 5.
Make the turning chain.
In other words, make more chain stitches. That's right folks, a turning chain is nothing more than a series of chain stitches!
Now, the number of chains you make depends on the stitch you are using.
See picture in step 7 below for an example of a turning chain and click the link above for a step-by-step tutorial.
---
Do you struggle with reading crochet patterns?
This ebook may be just what you need!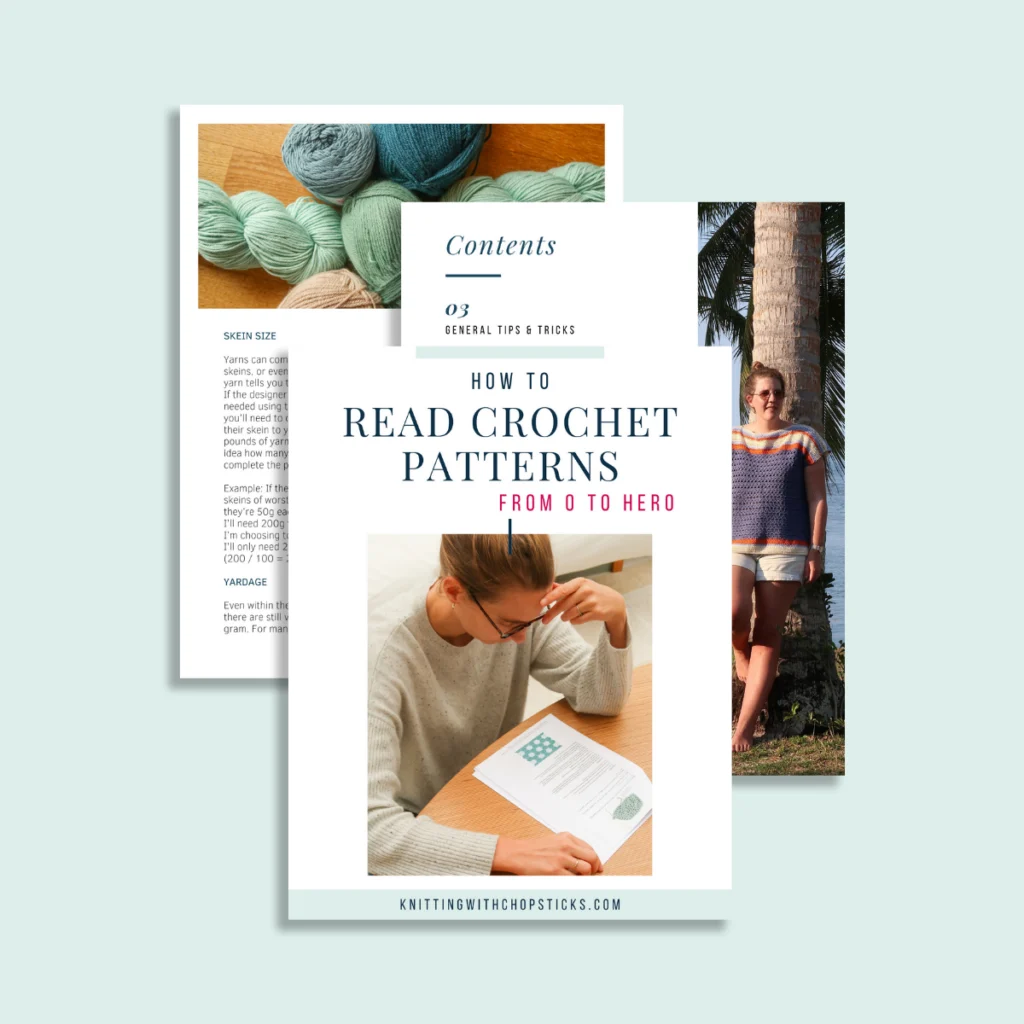 ---
Step 6.
Turn your work.
This means, rotate your work so that the end with the hook goes from the left to the right.
Before you turn your work, the end without the hook will be on the right side of the crochet hook.
After you turn your work, the end without the hook will be on the left side of the crochet hook.
NOTE: This example is for a right-handed crocheter. I assume that vice versa is true for left-handed crocheters, but I am not left-handed so I cannot say this with 100% certainty.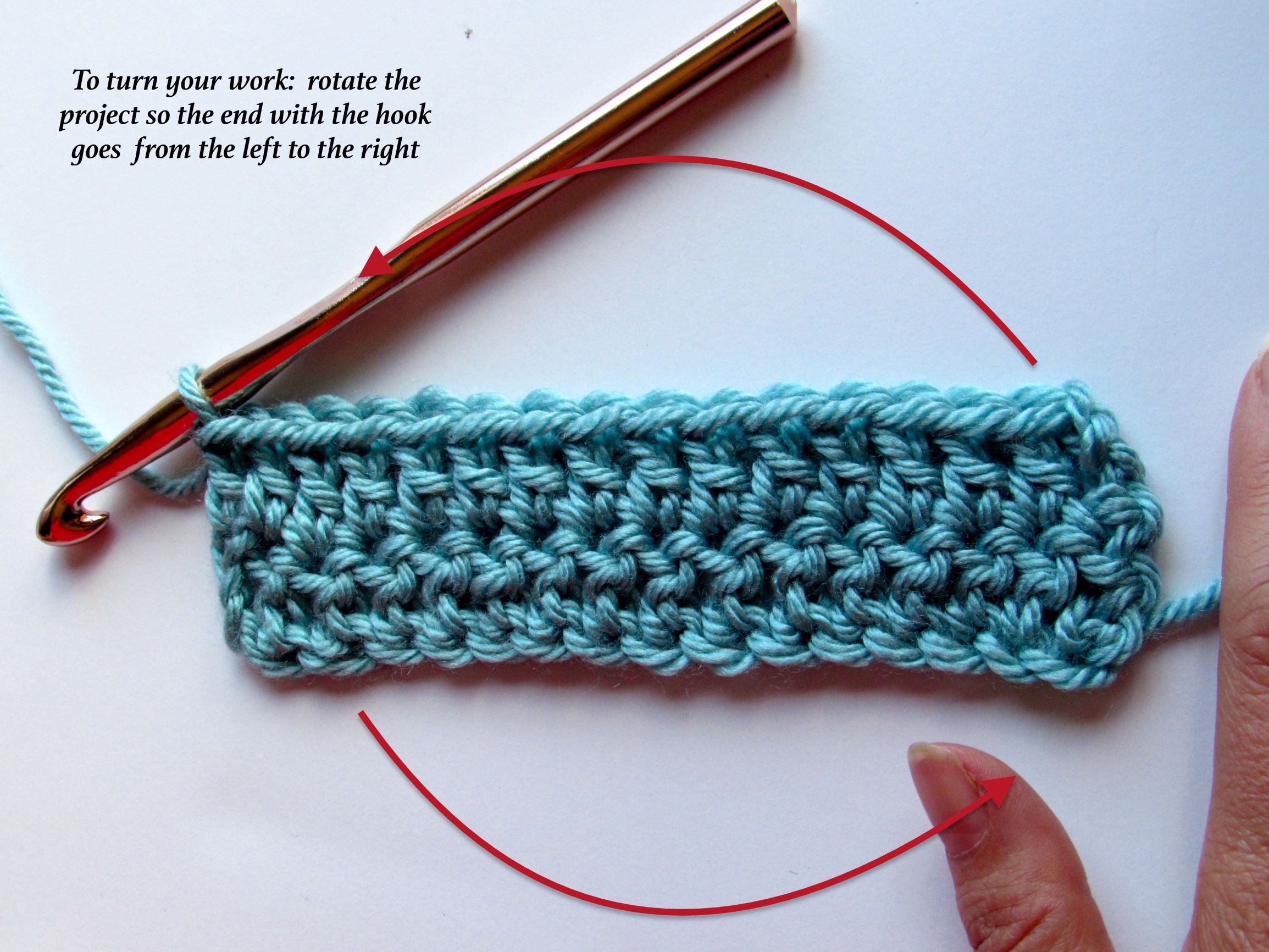 Step 7.
Insert your hook into the first stitch (unless directed otherwise by your pattern).
The first stitch is the stitch at the end of the turning chain.
To find it, start from the hook and count the number of chains in your turning chain.
The first stitch you come to that is NOT part of the turning chain, is the stitch in which you insert your hook.
For instance, in my demonstration, I chained 3 for my turning chain, so, starting from the hook I count 3 chains. The next stitch is my first stitch.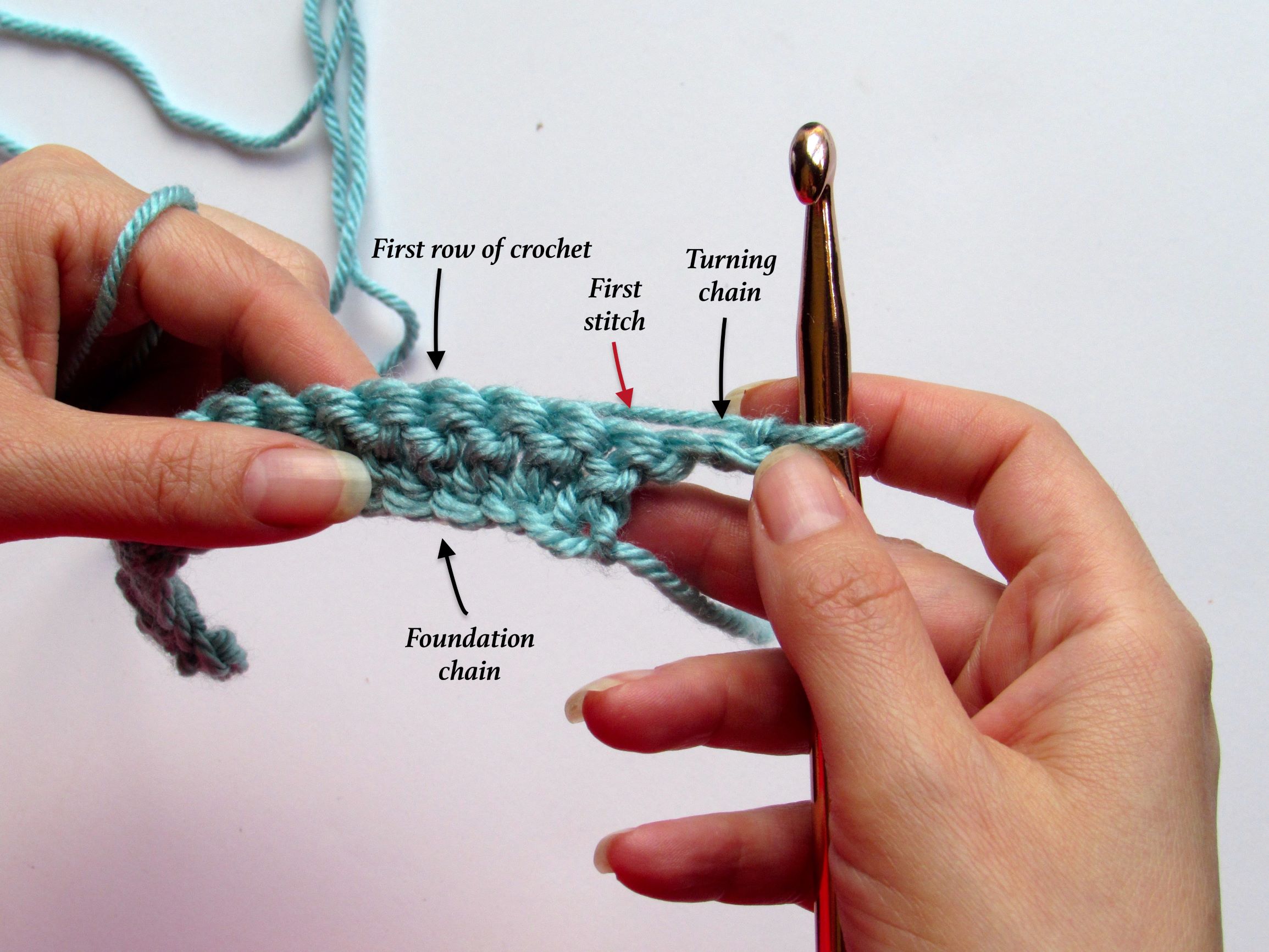 Step 8.
Repeat steps 4-7 for each additional row until the project is complete.
Step 9.
Bind off and weave in the tails.
This is no minor detail folks. Binding off and weaving in your ends is actually one of the most important parts of your project.
Please see my tutorial (click link above) to make sure you do it properly.
I would hate for you to do so much work only to have it unravel – seriously, this happens folks!
---
More Crochet Tips & Tutorials
Ready to learn more? Check these out!
1. How to Hold the Yarn When Crocheting
3. How to Yarn Over in Crochet
4. The 10 Best Crochet Tips for Absolute Beginners
5. How to Read a Crochet Pattern
7. How to Crochet for Absolute Beginners Video Course
---
Additionally, you can follow me on Facebook and join my Facebook group for crochet beginners!
I share lots of tips & tutorials to help you along in your crochet journey!
Plus, since it's open to experienced crocheters too, you can get some really great advice from different perspectives – all the while gaining new friends and crafty inspiration!
---
Thank you for coming to my blog! By sharing my content and/or making a purchase you are making it possible for me to continue producing and sharing free content for everyone to enjoy. I sincerely appreciate your support!
Until next time… Happy Crocheting!
Please share!