Plaid is in! Especially buffalo plaid.
And I am so excited to share with you my crochet Buffalo plaid cowl pattern!
It's super special because it's my very first magazine submission!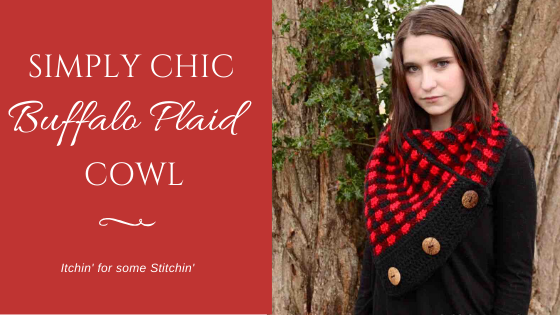 That's right!
This beauty, the Simply Chic Buffalo Plaid Cowl, has been published by Happily Hooked Magazine.
Now, I actually discovered the plaid stitch last year.
And fell in LOVE!
It can seem a little complicated, but that's really only because you do have to coordinate three strands of yarn.
But, if you've ever done tapestry crochet, it'll be a breeze for you.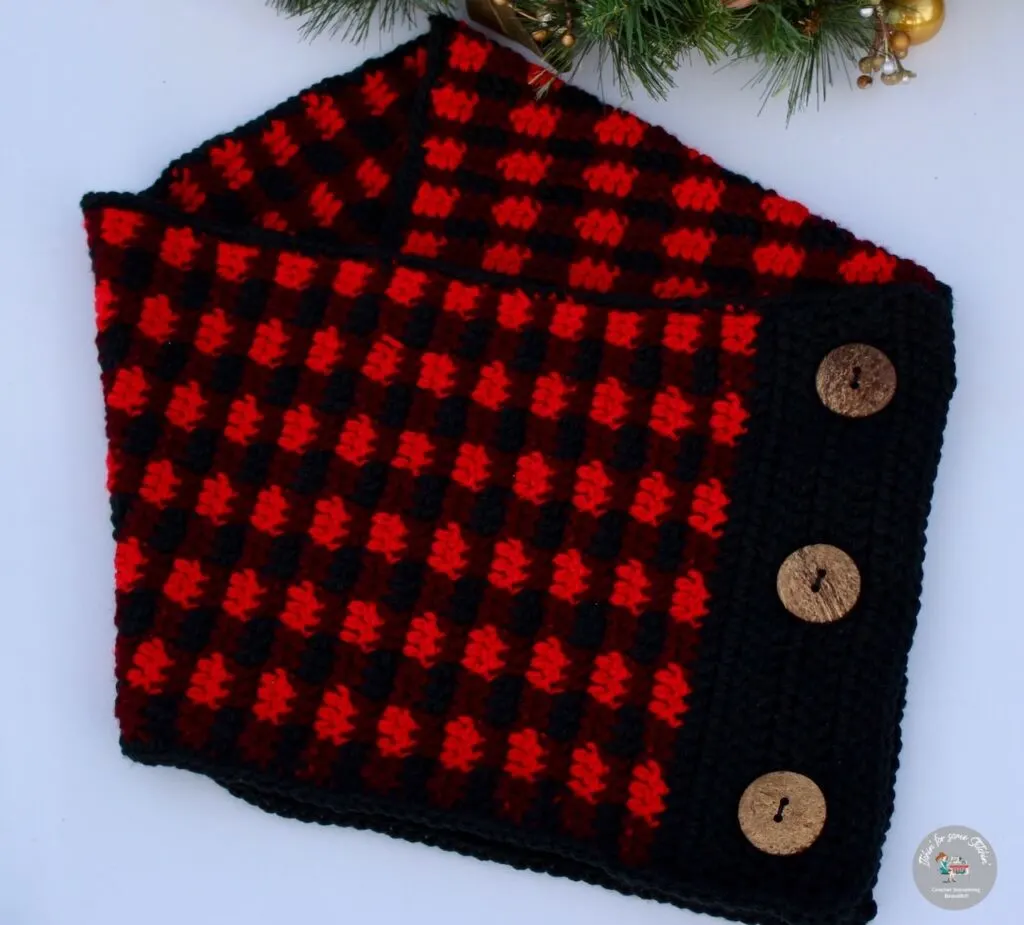 And once you get passed that – it's super simple.
It's actually all double crochet!
So, the actual stitches are very easy.
And if you are struggling to keep your three strands of yarn separate, you could always invest in bag with individual sections for each skein of yarn.
In fact, that's what I ended up doing when I first started learning the plaid stitch and I still use it to this day because it's so useful!
I use the Procase Knitting Bag/Yarn Organizer Tote and you can get it through my affiliate link on Amazon HERE.
---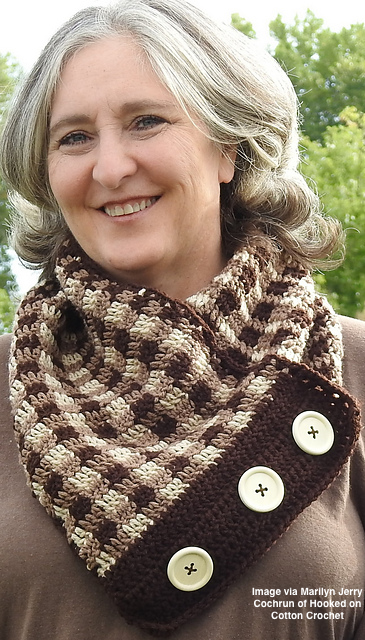 Note: The Simply Chic Buffalo Plaid Cowl pictured above was crocheted by one of my wonderful pattern testers, Marilyn Jerry Cochrun of Hooked on Cotton Crochet.
---
I chose Red Heart Super Saver in Claret and Black and Red Heart with Love in Cherry Red for this cowl for multiple reasons.
The first and most important reason is that these three colors blend perfectly to create the plaid look.
Secondly, Red Heart is generally budget-friendly and can be readily found at your local fabric store or in the craft section of Walmart.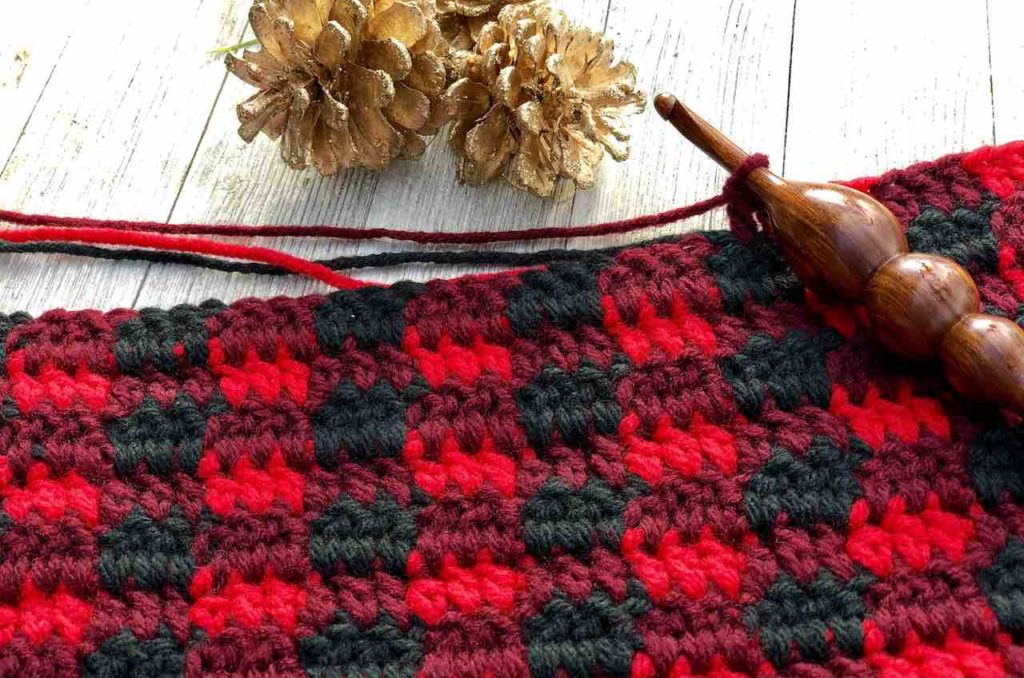 And finally, lucky me, I just happened to have all three in my yarn stash at the time I designed this!
Woo hoo!
And even luckier, I had enough to design three projects!
---
The Simply Chic Buffalo Plaid Cowl
This, of course, is one.
This pattern was originally published in the Happily Hooked Magazine, Issue #69, December 2019 or Pattern Pack Pro | 62 | November 2019 | Give Yourself A Hand.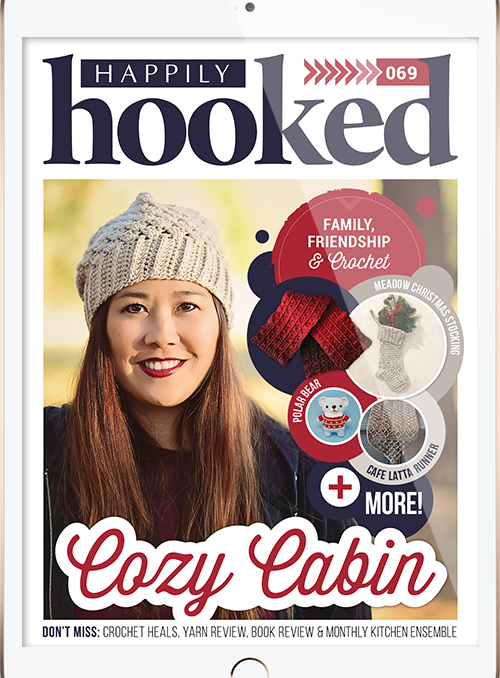 Unfortunately, the issue is no longer available so you cannot get it that way.
But… there is still another way you can get it!
---
Looking for lots of crafty inspiration, tips, tutorials, and a great crochet community? Join my Facebook group!
---
---
The Simply Chic Buffalo Plaid Collection
You can get the Simply Chic Buffalo Cowl in the Simply Chic Buffalo Plaid Collection along with the ear warmer and fingerless gloves patterns.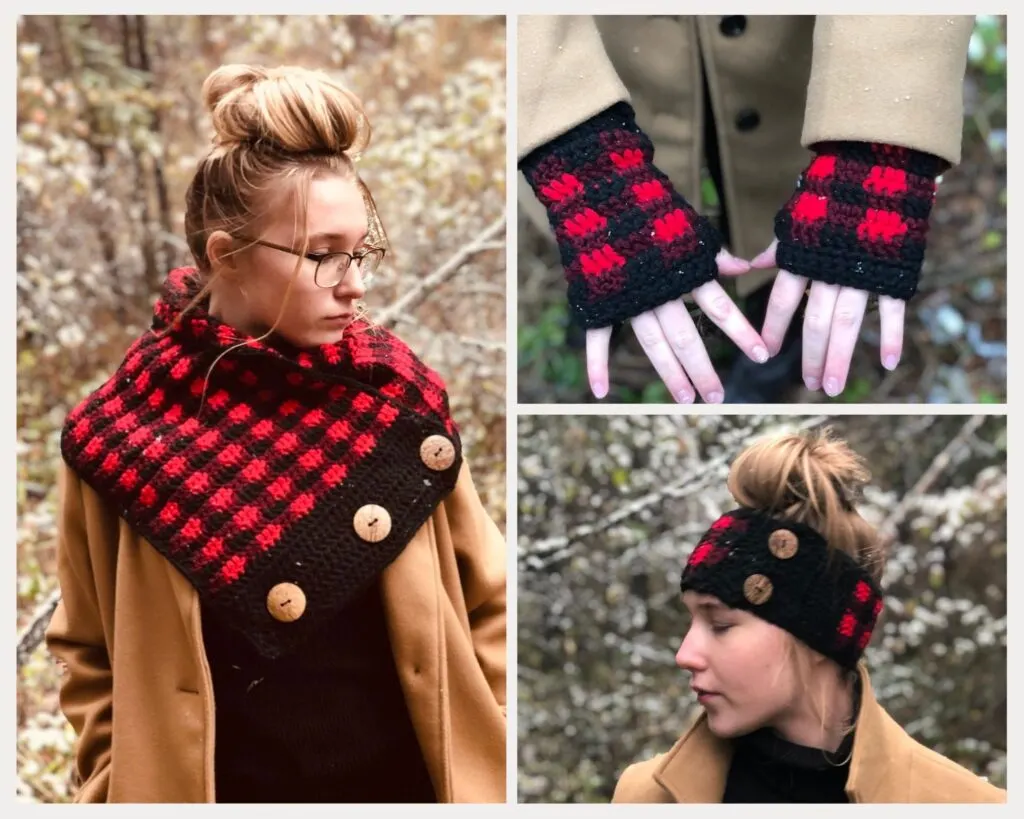 ---
You can find the free versions of the ear warmer and fingerless gloves via the links below:
Simply Chic Buffalo Plaid Ear Warmer
Simply Chic Buffalo Plaid Fingerless Gloves
---
Please be sure to follow me on Instagram and share your makes with #itchinforsomestitchin, #HappilyHookedMagazine, and #simplychicplaidcowl. Also, be sure to tag me!
---
The Simply Chic Buffalo Plaid Jacket
This one is currently in the design phase. I had hoped to have it out for the holidays this year, but, well, life sometimes gets in the way!
I am debating on whether to finish it and get it out to you in the New Year or wait until next winter.
Either way… you can expect this one to be added to the collection as soon as possible.
---
I hope at least one of these patterns tickled your fancy!
I, of course, love them all and honestly can't decide which one is my fav.
If you love buffalo plaid, but didn't see a pattern you just "have to make" – that's okay.
I'm not done with buffalo plaid yet so more designs will be coming!
Let me know if you if have a special request.
---
Other Patterns I know you'll LOVE!

Also, checkout this awesome roundup of crochet projects that will keep you busy all winter long!
---
Thank you for coming to my blog! By sharing my content and/or making a purchase you are making it possible for me to continue producing and sharing free content for everyone to enjoy. I sincerely appreciate your support!
Until next time… Happy Crocheting!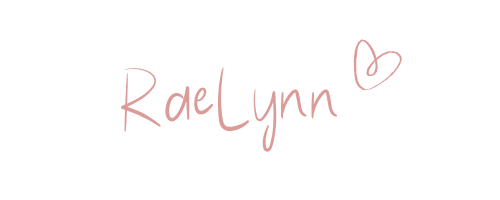 Please share!