It's summertime and I am getting so excited about all the gorgeous bright colors out there. I just had to jump on board with this bold and beautiful crochet cowl pattern!
I call it, The Samantha. It's soft and light so it's perfect for summer, plus it's so fashionable! Cowls are in folks!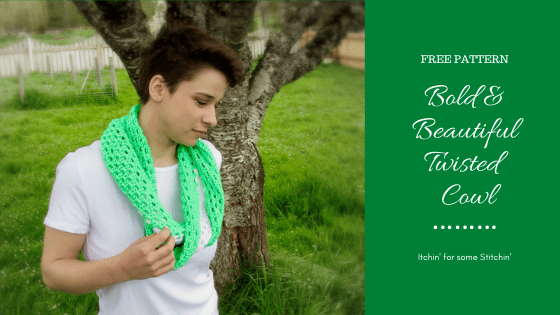 * This post may contain affiliate links. Your support is appreciated! See my full Disclosure Policy for details.
Crocheted in lime green, white, and with just a hint of navy this eye-catching cowl is sure to turn heads!
To top it off, this pattern is so easy to do! The cowl is crocheted in one piece so there's no seaming and it comes together in just a few short hours.
It's light-weight so it works well in moderate summer heat, plus, it's so soft. I just love wearing it!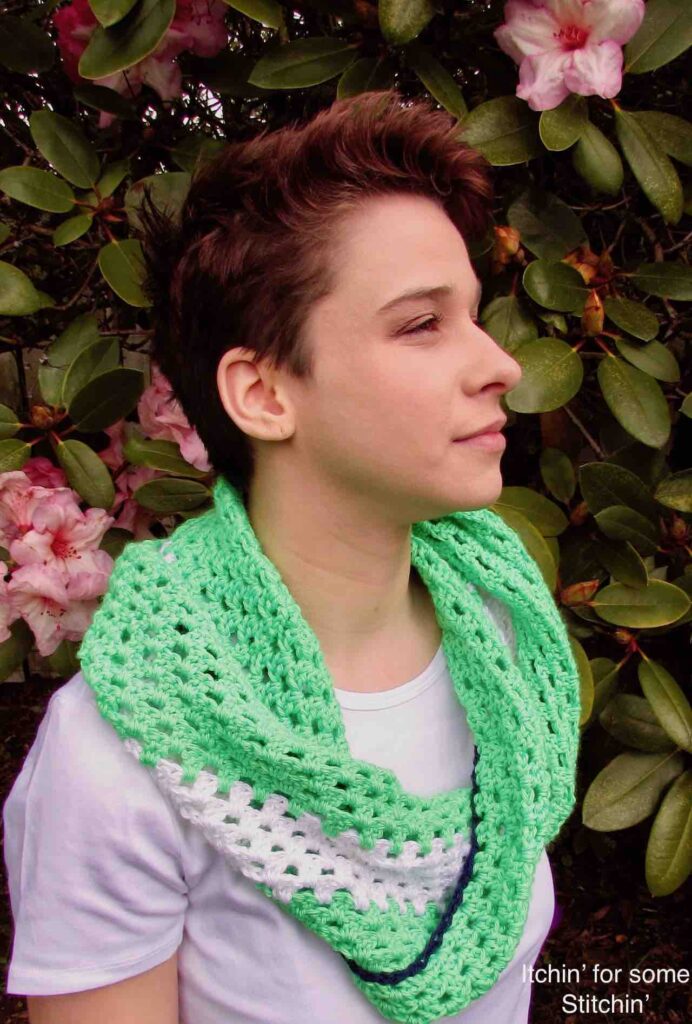 ---
Looking for lots of crafty inspiration, tips, tutorials, and a great crochet community? Join my Facebook group!
---
Yarn Details: It's All About the Yarn Baby!
I used Caron Simply Soft yarn to design this pattern, it is a medium 4 worsted weight yarn that's got a lovely sheen and whole lotta softness!
If you are not familiar with Caron Simply Soft, be sure to check out my review here:
---
This beautifully bold twisted cowl is worked using only basic crochet stitches so it's also a great pattern for those who are new to crocheting.
The only thing that might be tricky for new crocheters is changing colors, but it's actually really easy to do!
---
Check Out These Other Patterns I LOVE!

~ I am so pleased to announce that the crochet seed stitch baby blanket is now available on Allfreecrochet.com as well as the blog!
---
---
How to Crochet a Twisted Cowl
**THIS IS AN ORIGINAL PATTERN. Please see my Copyright Statement for details.
Summary:
Get ready to liven up your summer wardrobe with this bold and beautiful twisted cowl! Worked using simple crochet skills, it's easy enough for crochet beginners and it whips up quickly. It's light-weight so you won't overheat in the moderate summer weather and you'll love wearing it because it's so soft! Bright, modern, and trendy, this eye-catching crochet cowl has loads of appeal.
---
Prefer a PDF?
This pattern is available as a large print, ad-free, printable PDF pattern.
Get it in these places:
---
Love Pinterest? I do!
PIN this pattern to your Pinterest boards for later HERE.
You can also follow all my boards!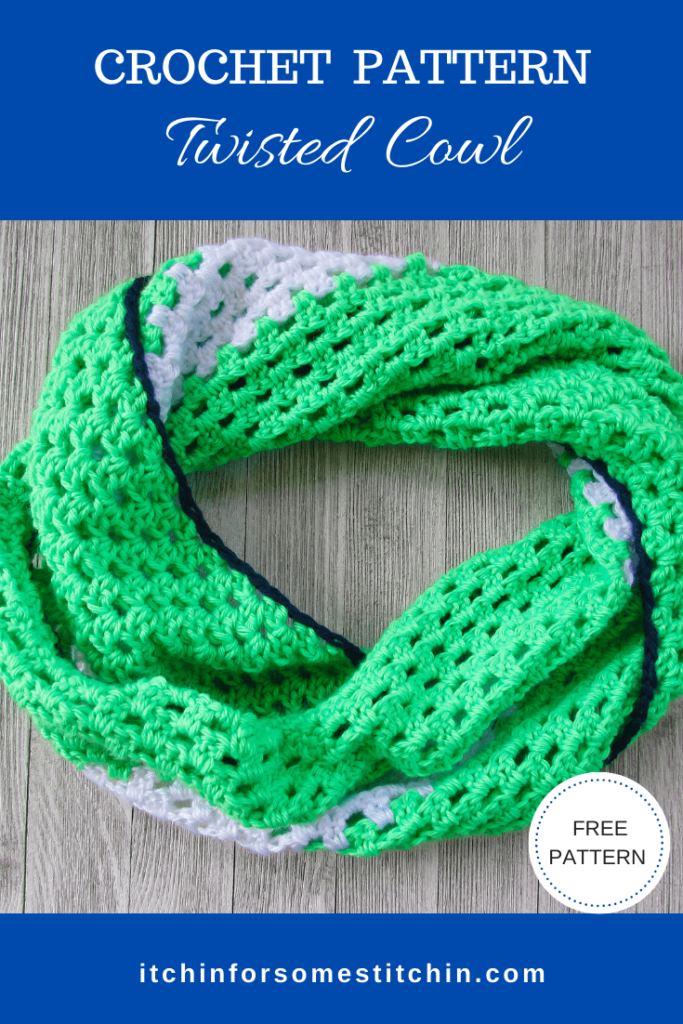 ---
Add this pattern to your Ravelry que HERE.
---
Not a member of my crochet community?
Click on the button below to sign up and receive a my free crochet journal, as well as all future updates, freebies, promos and more!

---
Difficulty level: Level 1 – Beginner
Finished Dimensions:
Measures about 35 -inches around
Gauge:
15 stitches and 4 rows = 4-inches in double crochet
Materials:
~ All yarn in this pattern is medium worsted weight (4).
Crochet Hook size H – 5.5 mm (I use a hook made by Nelsonwood)
(Click HERE to find my favorite crochet tools & resources)
Abbreviations:
Additional Notes:
Read all pattern notes, instructions, and other provided details carefully before starting the project to make sure you understand everything. It could save you hours & a lot of headaches!
Make a swatch that measures at least 10 x 10 cm / 4 x 4 inches using the stitch provided under the Gauge Section. If your swatch matches the gauge, then you are all set to start the project. If the gauge is wrong, you might need to change your crochet hook – increase your hook size if your stitches are smaller & decrease your hook size if your stitches are larger.
All measurements given are unblocked.
Provided measurements are as exact as possible, but are given as approximates. This is because yarn variances, crochet tension, & individual technique might give variations in the result, which changes from person to person.
This pattern is worked in the round.
In this pattern, a cluster is equal to two double crochet stitches (cluster = 2dc), but will be written in the pattern as a cluster or 2dc cluster.
All color changes in this pattern are made using the slip-stitch.
Instructions:
See picture below.
With Color A ch 83.
Change to Color B and ch 3 – this puts 3 chains of color B at the end of your first foundation chain of 83 (83 + 3 = 86 chs).
Twist the foundation chain – this will give make the cowl a "twisted" cowl.
With Color A, slp-st the first and last Color A chs together to make a ring.
Bind Off Color A.
~ You should now have one big circular chain with the 3 Color B chains hanging off.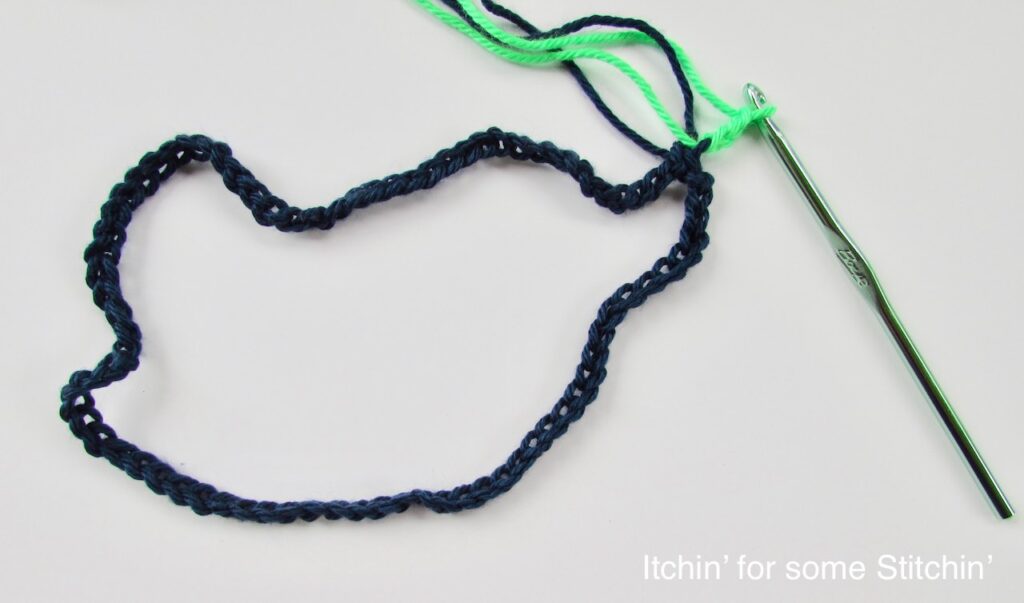 Row 1:
1. Continue with Color B by making 1dc in the first Color A ch in the BPO, *ch1, skip one ch, 2dc in BPO of the next ch (after the skipped ch)*
2. Repeat from * to * around.
Additional notes:
The first 3 Color B chs count as one double crochet.
You should end by working 2dc in the BPO of the last Color A ch.
Each ch1 creates a ch1-space.
3. Ch1, slp-st to the top ch of the first Color B ch3.
Row 2: Ch4 (counts as 1dc and 1ch), skip the first 2dc cluster, ch 1, 2dc in the first ch1-space, *skip the next cluster, ch1, 2dc in the next ch1-space*
Repeat from * to * around to the second to last ch1-space. Ch1, work 1dc in the last ch1-space, slp-st to the 3rd ch of the first ch4.
---
Additional notes:
When working the last slp-st you should be slip-stitching into the 3rd ch from the bottom, so it should actually be at the top of the ch4, but not the very top chain.
Row 3: Ch3, work 1dc into the first ch1-space, *ch1, skip the next 2dc cluster, work 2dc into the next ch1-space*. Repeat from * to * around. Should end with 2dc in the last ch1-space. Ch1, slp st into the top ch of the ch3.
Rows 4-9: Repeat rows 2-3.
Row 10: Repeat row 2.
Bind Off.
Change to Color C.
Row 11: Repeat row 3.
Rows 12-15: Repeat rows 10-11.
Row 16: Repeat row 2.
Bind Off.
Change to Color B.
Row 17: Repeat row 3.
Rows 18-25: Repeat rows 16-17.
Bind Off.
Change to Color A
Row 26: Sc in the same stitch that you just slip stitched into when adding Color A, sc in each dc and ch1-space around, slp-st into the first sc. Bind Off.
Weave in all tails. Want to learn how to weave in ends so they don't come out?
---
There you have it!
This crochet cowl pattern may seem a little complicated at first, but it goes smoothly once you get the hang of it.
And before you know it, you are ready to boldly take on the summer with your bold and beautiful twisted crochet cowl!
By the way, if any of you are Seattle Seahawk football fans, like EVERYONE in my family, this cowl is a perfect way to show off your Seahawk pride.
In fact, I originally came up with this pattern for our upcoming family picture day.
We are all going to be wearing Seahawk colors.
I think this cowl will do nicely!
Don't you?
---
Interested in more summer crochet projects?
Check out:
11 Refreshingly Fun & Fashionable Summer Cardigans
---
Thank you for coming to my blog! By sharing my content and/or making a purchase you are making it possible for me to continue producing and sharing free content for everyone to enjoy. I sincerely appreciate your support!
Until next time… Happy Crocheting!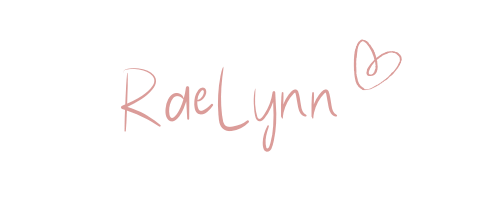 Please Share This Post!