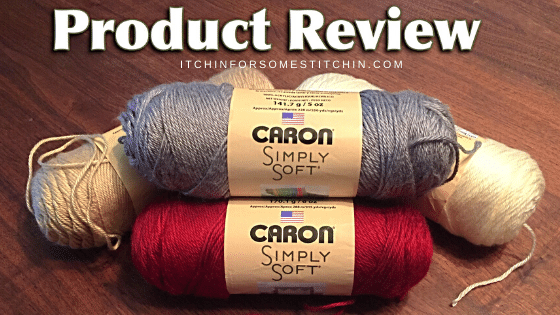 When I started knitting and crocheting, I had no idea what kind of yarn to use. The ladies in my knitting group told to me to get a medium 4 yarn. The brand didn't matter.
As I surveyed the yarn aisle in the Craft & Sewing section of my local Walmart, I was overwhelmed by the choice of products and brand options. Brand doesn't matter? Then why the heck are there so many of them, I wondered?
I settled on Super Savor yarn by Red Heart because it was the cheapest one I could find. Today I would never pick a yarn based solely on its price tag, but at the time, it was the right decision. I was a new knitter and crocheter, which meant that I made a lot of mistakes. I was constantly pulling out rows and reworking them. Sometimes I overstretched or even broke the yarn. It was wise not invest too much initially.
As I became more experienced, I began experimenting with other yarns. Sometimes I wanted softer yarns, thicker or thinner yarns, and even sparkly yarns. One of my favorite yarns is Caron Simply Soft and that's the yarn I'd like to review for you today.
Please note that I do not work for the Caron company nor am I being compensated for this article. I am simply a user of the Caron Simply Soft yarn and would like to give my honest opinion of the product.
---
Product Review Summary
Weight: Worsted medium 4
Material: 100% acrylic
Colors: Multiple
Texture: Soft
Price range: $4.00-$7.00 per skein
Amount per skein: 141.7g/5-oz (Approx 228 m/250 yds) or 170.1g/6-oz (Approx 288 m/315 yds)
Pros:
Soft enough to use for some baby projects
Multiple color schemes available
Lustrous sheen
Easy to work with
Cheaper than some other yarns of similar quality
Cons:
More expensive than some brands of differing quality
May have lots of knots
Requires more skeins for the same project than some other brands
Thinner than other medium 4 yarns
Possible alternatives:
Lion Brand's Vanna's Choice
Red Heart Soft
knit picks Brava
I Love This Yarn from Hobby Lobby
---
Caron Simply Soft is a 100% acrylic worsted medium 4 weight yarn available in multiple colors schemes. I typically use what I consider "classic" or "royal" colors like Autumn Red and Plum Perfect, but there are also bright colors and pastels as well. It is also, as stated in its name, a soft yarn. In fact, the reason I initially bought this yarn was because I wanted to make some baby items in Seattle Seahawks colors. If you know anything about yarns specifically designed for baby projects, then you know that they do not come in Seahawk colors. I needed yarns in navy blue, gray, white, and bright lime green, but they also needed to be soft and gentle enough for a baby's delicate skin. Caron Simply Soft had the colors and texture I needed, albeit, the yarn is a bit thicker than what is usually used in baby projects. An added bonus is that this yarn has a lustrous sheen that I love. It makes my projects seem richer, more elegant. Caron simply soft yarn slides smoothly on a crochet hook or knitting needles making it very easy to use with little or no snags.
I truly enjoy working with this yarn, but that does not mean that it's not without its pitfalls. You only get 5 to 6-oz per skein, but it costs a bit more than some other brands. For instance, you can find Caron Simply Soft at Wal-Mart for about $4.00-$7.00, but Red Heart Super Savor is only about $2.00-$3.00 for 10-oz. On the whole, Caron Simply Soft is more expensive and will need more skeins to complete the same project when compared to Red Heart Super Savor, but this isn't a fair comparison because the yarns are of different qualities. If you compare Caron Simply Soft to brands of similar qualities like Lion Brand's Vanna's Choice or Red Heart Soft, then Caron Simply Soft is actually less expensive. Vanna's Choice typically runs $3.99-$7.00 for 2.5-oz to 3.5-oz and Red Heart Soft is about $4.99-$6.00 for a 4-oz or 5-oz skein, of course, I am not including sale prices in this comparison. If you find any of these three brands at a discount, I say snap them up!
One thing I'd like to note is that Caron Simply soft seems to be the thinnest worsted medium 4 with which I have ever worked, even compared to Vanna's Choice or Red Heart Soft. This could mean that you may have to adjust your project gauge because your stitches may be smaller (or larger if you are creating a baby item, because in this case, the yarn is actually a little thicker than the norm), although I have successfully made multiple projects without having to do this so far. Just keep this in mind if you decide to use Caron Simply Soft yarn.
Another thing to keep in mind, and honestly, this would be a deal breaker for me if I didn't love the product so much, is that I have found that the skeins are usually more knotted than other brands. What I mean by this is that when I pull the end of the yarn out of the middle of one end of the skein, it pulls out in one big knotted lump or is sometimes so knotted that it won't pull out at all. I have spent hours untangling the knots before I have even made one stitch in my project! One time I decided to make a bunch of football beanies for babies while on a 14-hour road trip and four of the six skeins I used had this issue. Can you imagine trying untangle yarn while jammed packed in a car while on the road? Frustrated doesn't cover how I felt. Angry is more like it. So angry, in fact, that I almost contacted the Caron Company to complain. Now folks, you may argue that this was simply a case of bad luck, and I would agree with you, if this was an isolated incident, but it's not. This knotty issue has occurred more often with Caron Simply Soft than with any other yarn I have ever used and let me tell you folks, I have used A LOT of yarn. To me it seems as if Caron makes a good product, but fails to wrap it into a skein properly.
If this is an issue that's above and beyond what you'd care to deal with, there are some alternative brands you could try. Lion Brand's Vanna's Choice and Red Heart Soft are two I have previously noted in this review. I have read that knit picks Brava and I Love This Yarn from Hobby Lobby are also suitable choices, but I have no personal experience with them.
Overall, I feel that if Caron could fix the knot issue, then their Simply Soft brand may be the best yarn of its type that I have tried so far. It is affordably priced when compared to similar yarns and is available in a multitude of colors and patterns. It's softness, shine, and ease of use makes it great for both knit and crochet works. It is so soft that I often use it for baby projects, despite the fact that it is a little thicker than yarn typically used for baby items.
Here is a picture of a baby set I made with Caron Simply Soft yarn in Seattle Seahawks colors.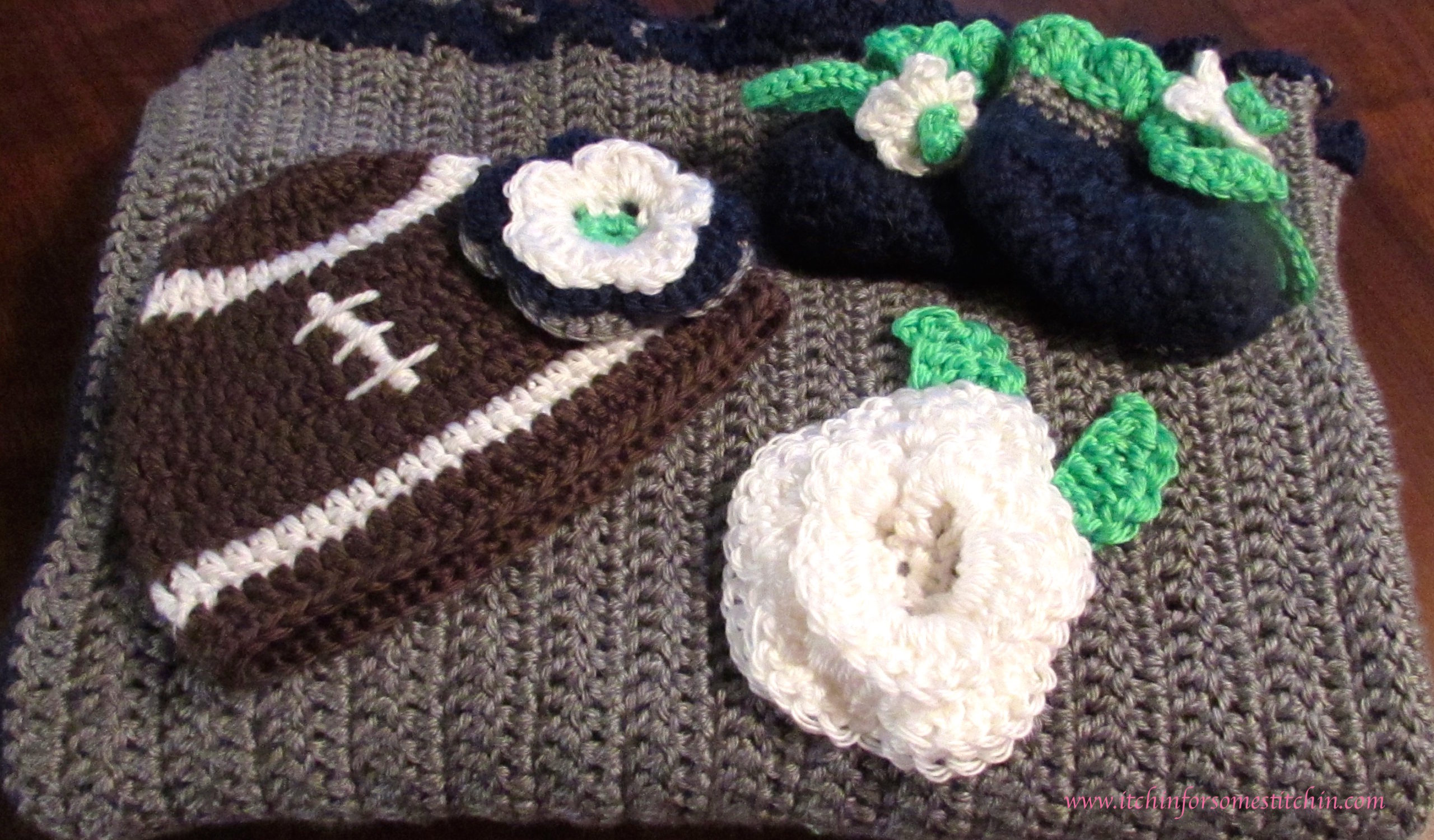 It turned out quite lovely, don't you think?
By the way, if you are looking to purchase Caron Simply Soft or any of the other brands of yarn mentioned in this review, you can find them on Amazon in varying price ranges, some higher and some lower than you can find in a brick and mortar store. Click on the following links to be directed to Amazon.
Caron Simply Soft yarn Lion Brand Vanna's Choice Red Heart Soft knit picks Brava yarn
I Love This Yarn from Hobby Lobby
NOTE: These are affiliate links. If you buy an item via these links I will receive a small compensation, which is necessary for the upkeep of this blog.
If you decide to try Caron Simply Soft after this review or already use it, please leave a comment and tell us what you think!
Until next time, happy crafting!