Fourth of July Sewing Ideas
Do you realize that the 4th of July is only a few months away? It will be here in two shakes of a lamb's tail!
Yes, I'm from the South folks. LOL
Anyway, now is the perfect time to get started on all those patriotic projects. Here is a great roundup of eleven sewing projects to get you going!
Do them now and you'll be ready for the big day with no last minute rushing around!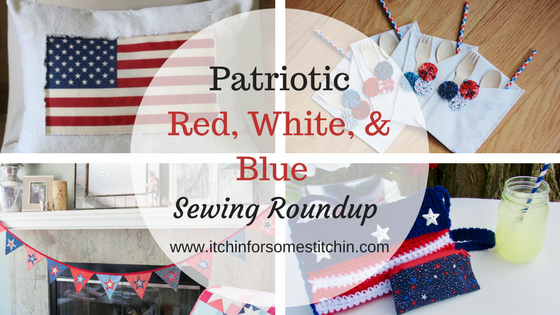 It's okay if you can't get to them right away. They'll still be here if you're one of those last minute kind of gals or guys.
Honestly, that's usually me. But not this time. This time I am ahead of the game. Oh yeah!
11 Red, White, and Blue Sewing Projects
By the way, did I ever tell you how much I love the 4th of July? It's my favorite holiday. Well, next to Christmas. Okay, it's my second favorite holiday. But still, it's really high up there!
The point is, I love it. It brings back so many awesome childhood memories of entire days picnicking with mom's fried chicken & potato salad while we waited for the evening fireworks & dad to jump out of an airplane.
I swear I'm not lying.
My dad was a paratrooper in the Army and every Independence Day we watched him and his troops jump out of an airplane as part of the festivities. Usually right before the fireworks went off.
So, whenever I see an American flag or anything red, white, and blue for that matter. I always think of my dad and all the fun I used to have every Fourth of July as a kid.
Boy, do these patriotic sewing projects bring up some great memories. Bring on the smiles!
1. Patriotic Drop Cloth Pillow
Um… HELLO! Can you say cute! This patriotic drop cloth pillow looks super easy to make and wow… what a way to add some patriotic flair to your home decor this year. This would be a great project for those of you who are new to sewing because it only requires basic stitching. What a fabulous and fun way to celebrate Independence Day!
2. DIY Yo-Yo Silverware Holder
Having a 4th of July BBQ party? Well, then you just gotta have these! Talk about super crazy cute! These DIY yo-yo silverware holders are the perfect way to add some red, white, and blue fun to your table decor. Plus, they are a cinch to put together. Break out your sewing machines, you're going to love making these!
3. Star Spangled Table Runner
Every 4th of July party table needs to sparkle and this one certainly does! Thanks to all the fabulous stars on this star-spangled table runner, that is. Another super easy sewing project to dress up your home decor and let your patriotism shine!
4. Scarlet's 4th of July Halter
I only have one word to say. Simply ADORABLE. Okay, technically that's two words, but you get my drift. Scarlet's 4th of July Halter is cute as can be! Have a little All American Girl in your life? Then you just have to make her one of these. She'll be rockin' her red, white, and blue this year!
5. Patriotic Apron Top & Shorts
Have a couple kiddos in your life? These awesome patriotic apron top and shorts would be a perfect way for them to show off their patriotic style this Independence Day! I just love the flag shorts for boys and the apron top, well, you've just got to see the back! It's fabulous! Plus, the tutorial is very easy to follow so you should have no problem whipping up these festive pieces.
6. 4th of July Star Bunting
Here's a wonderful decoration you can use for your indoor or outdoor Independence day festivities! You can put this 4th of July star bunting over your fireplace, across a wall, or from beam to beam on your deck. Heck, these are so easy to do you can just make two or three and add one to each place. They are sure to bring some extra patriotic spirit to your Fourth of July holiday!
7. Quilted Patriotic DIY Coasters
Need a quick and easy DIY project to spruce up your Independence Day decor? Then these lovely quilted patriotic coasters are perfect for you! Add these to your summer BBQ decorations, offer them as gifts to your patriotic family & friends, or even use them to teach your little ones how to sew – yep, they're that easy! A great beginner project. 🙂
8. DIY 4th of July Toddler Dress for Girls
Okay… it's true. This one isn't exactly a "sewing" project, but it was just so darn adorable I just couldn't leave it out! You have to admit, this DIY 4th of July toddler dress for girls is eye-catching. Now, I don't have a toddler girl, but if I did, I would make her this! It's just so easy, but looks amazing! Heck… I have toddler boy. Maybe I'll make him the t-shirt version with this great tutorial. 🙂
9. Flag Pillow & Block Tutorial
If you're a quilter, this one's for you! This flag pillow and block tutorial are fabulous! It takes you through how to make the flag block, which, doesn't look overly complicated so I think anyone with a little bit of quilting experience could do it just fine. Then all you have to do is turn it into a pillow. Easy peasy! Your house just got more festive. You're welcome. 🙂
10. Quilted Fourth of July Table Mat
Here's another one for all you quilters out there… and… it's an awesome one! The rockets on this quilted Fourth of July table mat are literally the bomb. It will have all your friends talking. Everyone will want to know how you did it! It's the perfect way to add some fireworks to your home decor this Independence Day.
10. Patriotic Tote Bag
Display your patriotism with pride this 4th of July and take it everywhere you go! This patriotic tote bag tutorial will show you step by step how to do it. It's fashionable, fun, and festive. You'll be the talk of the town, the bbq, the picnic, the waterfront… or wherever it is you choose to enjoy the Independence Day celebration!
11. Patriotic Coin Purse
This cute little coin purse is the perfect 4th of July accessory! It goes with all your patriotic decor and it's super simple to whip up, which makes it great for sewing beginners. I designed it to go with my stars & stripes crochet purse and think it really complements it! If you're looking for an extremely easy sewing project you can get done in about 10 minutes flat, then this is the tutorial for you!
There you have it, folks! Eleven free fabulously festive Fourth of July sewing projects! Try saying that 10 times fast! LOL
Which one will you start with? They're all so great, it's hard to pick, right? 😉
Happy Independence Day!
Until next time… Happy Sewing!
Love this roundup?
Share It!

Enter your text here…