Happy Fall Ya'll!
Today I am going to share a super easy, but also super stylish crochet seed stitch scarf pattern.
And you know what's super great about this scarf?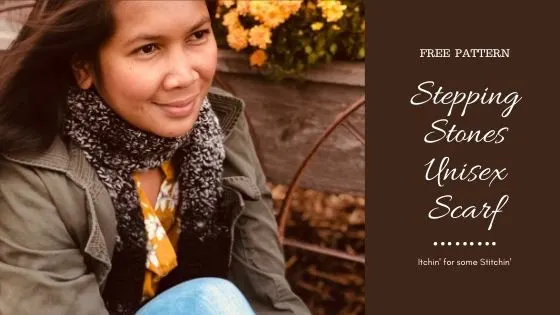 It can be worn by both women and men!
That's right – it's a gender neutral pattern. 😎
Granted, maybe most scarves are gender-neutral, but this one is super simple with no frills.
And yet still super stylish!
Girls will love it because it goes with anything and guys will love it because it's not "girly"
Besides, everyone – male or female – needs a scarf to combat the cold, right?
---
Yarn details: It's all about the yarn baby!
I chose Lion Brand Scarfie for this project because, well, the name says it all – it's designed for scarves!
And folks, this yarn does not disappoint.
It's an acrylic/wool blend that it not only super soft, but also super warm.
Scarfie yarn also comes in a beautiful array of colors.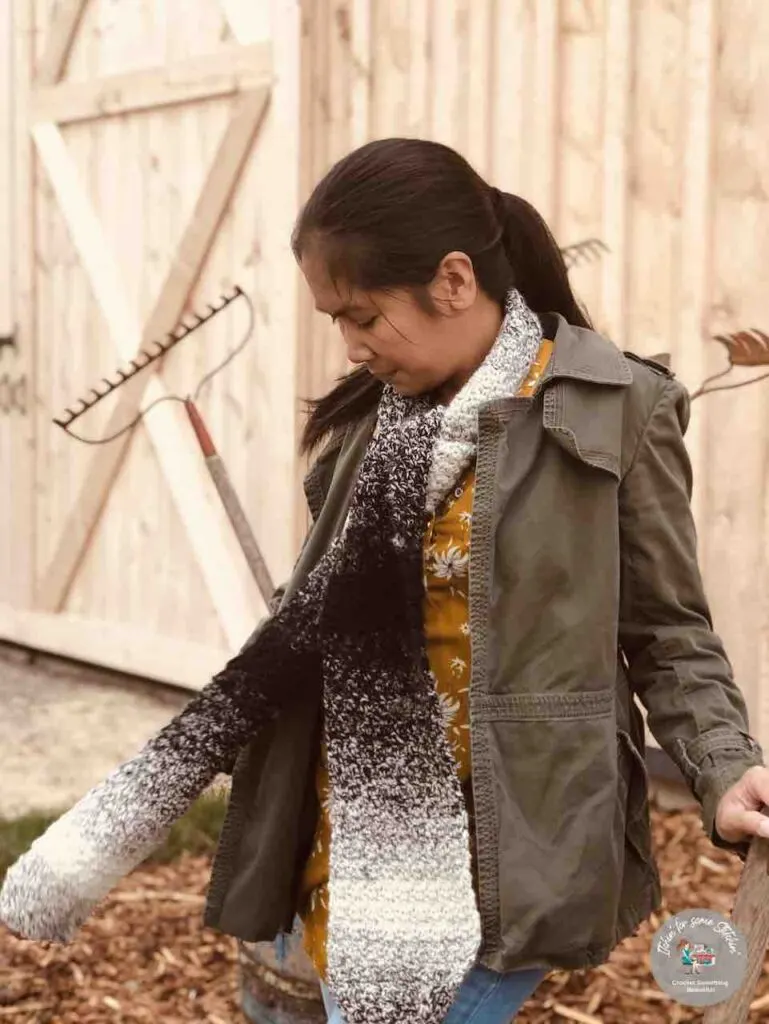 And since I wanted to make something that both gals and guys could wear I went with black and cream, which both genders can not only wear, but can wear with almost anything!
You can grab some Lion Brand Scarfie yarn through my affiliate link HERE.
---
Looking for lots of crafty inspiration, tips, tutorials, and a great crochet community? Join my Facebook group!
---
Special stitches/techniques
After picking the perfect yarn, I then searched for the perfect stitch.
I wanted something simple, but with a lot of glorious texture.
So, of course, I just had to use one of my favorite stitches of all time – the seed stitch.
If you are not familiar with the seed stitch, let me assure you – is super simple!
If you know how to single crochet and double crochet, then you can do this stitch!
Just click on the button below if you need a tutorial.
One of the best things about this stitch, other than the fact that even beginners can do it, is that it creates an amazing texture!
The pattern actually looks like little pebbles to me, hence the name "Stepping Stones".
And the feel?
I love it and if you like crochet with a lot of texture you will too!
---
Looking for more great patterns?
Check Out These Other Patterns I LOVE!

---
---
How to Crochet an Easy Seed Stitch Scarf
**THIS IS AN ORIGINAL PATTERN. Please see my Copyright Statement for details.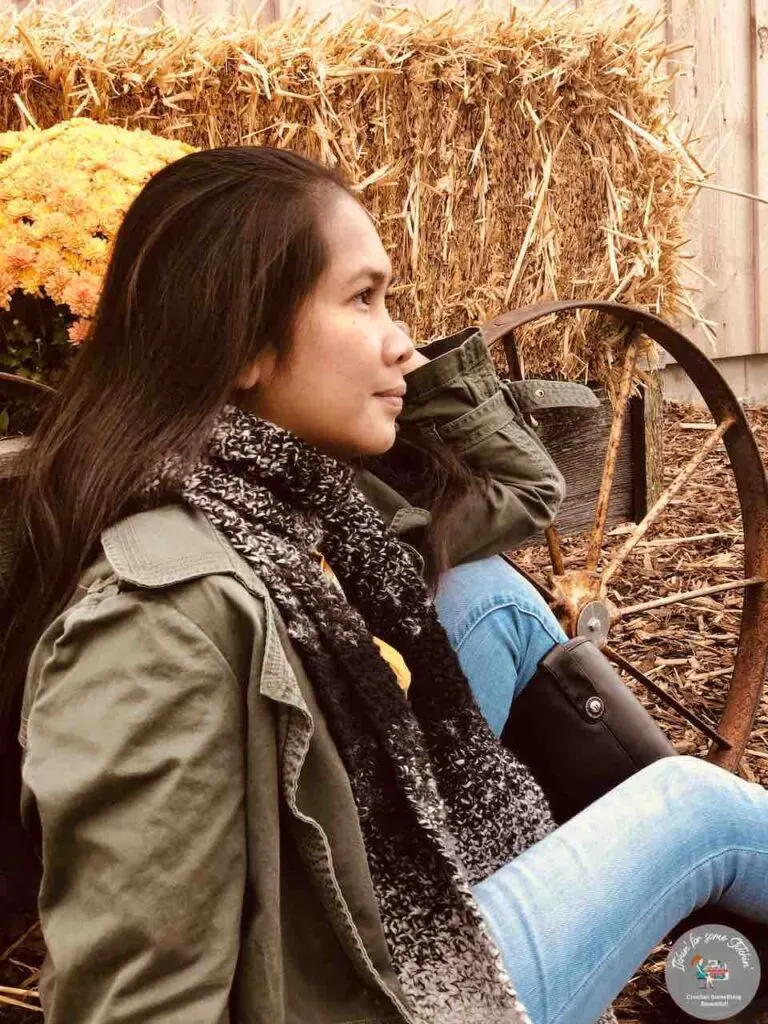 ---
Prefer a PDF?
This pattern is available as a large print, ad-free, printable PDF pattern.
Get it in these places:
---
Love Pinterest? I do!
PIN this pattern to your Pinterest boards for later HERE.
You can also follow all my boards!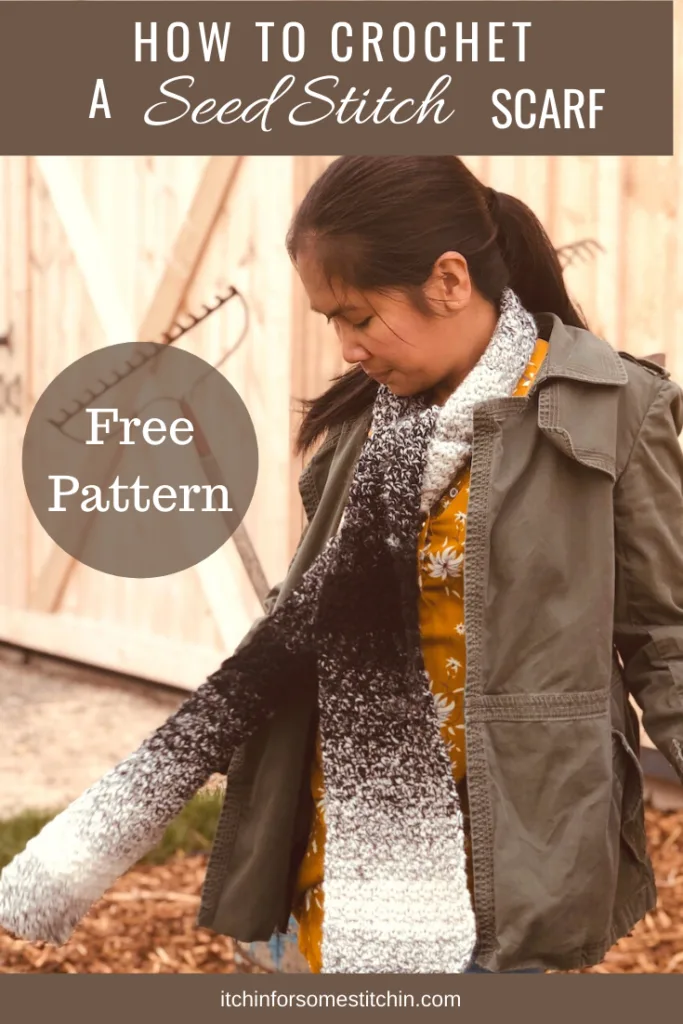 ---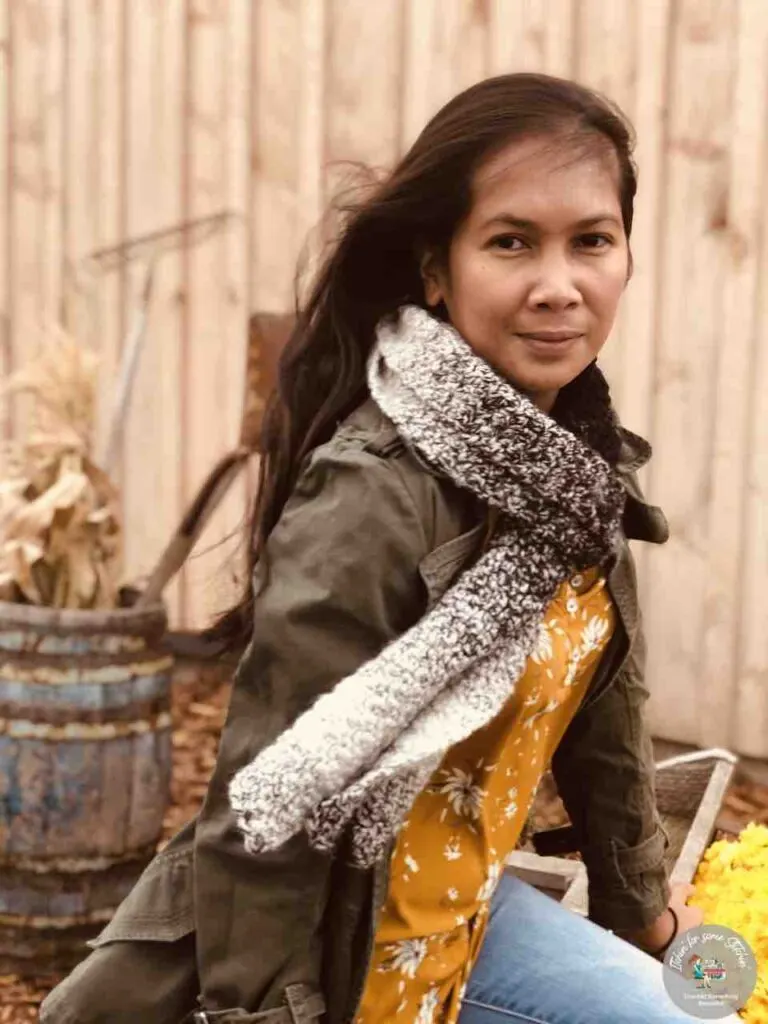 Summary:
A fun scarf with a lot of texture! This scarf uses the beautiful seed stitch to create a unique pattern that looks like little pebbles and a wool blend yarn for extra warmth on those cold weather days. It comes together in only a couple hours and makes a great gift. The Stepping Stones Unisex Scarf is perfect for both men and women and super stylish too!
Difficulty level: Level 2 – Easy
Finished Dimensions (in inches):
Approximately 60 (L) x 6.5 – 7 (W)
Gauge:
12 stitches and 11 rows = 4-inches in seed stitch (see instructions below)
Materials:
1 skein Lion Brand Scarfie (affiliate link), colorway Cream/Black, 78% acrylic, 22% wool, 5.3oz/150g, 312yds/285m, bulky weight 5.
~ Total Yardage – 312yds/285m
Hook size – K 10.5/6.50mm
Scissors
Tapestry needle for weaving in ends
(Click HERE to find my favorite crochet tools & resources)
Abbreviations:
Pattern is written in US terms. *Click on abbreviation names for tutorials
Stitch/es (st/sts)
Special Stitches/Techniques:
Seed stitch – alternating sc and dc stitches where the sc in worked in the dc stitch from the previous row and the dc stitch is worked in the sc from the previous row.
Additional Notes:
Read all pattern notes, instructions, and other provided details carefully before starting the project to make sure you understand everything. It could save you hours & a lot of headaches!
Make a swatch that measures at least 10 x 10 cm / 4 x 4 inches using the stitch provided under the Gauge Section. If your swatch matches the gauge, then you are all set to start the project. If the gauge is wrong, you might need to change your crochet hook – increase your hook size if your stitches are smaller & decrease your hook size if your stitches are larger.
All measurements given are unblocked.
Provided measurements are as exact as possible, but are given as approximates. This is because yarn variances, crochet tension, & individual technique might give variations in the result, which changes from person to person.
Lion brand Scarfie can easily stretch and/or compress as you crochet and as it is worn. As you work it the width will start out at 7.5 – inches and then as you crochet can compress to 6.5 -7 inches. Final length should be approximately 60 – inches, but as it is worn it will stretch an additional 10+ inches. If you do not want a scarf this long or this thin, please make adjustments accordingly (see instructions below).
Wash individually on a gentle cycle cool (86° F/30° C), lay flat to dry.
This pattern is worked using the seed stitch. The seed stitch is worked by alternating sc and dc stitches.
This means that every time you work a sc, you should be working it into a dc from the previous round. Every time you work a dc, you should be working it into a sc from the previous round.
Also, every time you work a sc, the next stitch you work should be a dc. Every time you work a dc, the next stitch you work should be a sc.
Instructions:
Ch 21
Row 1: Dc in the 2nd ch from the hook (does not count as a stitch), *sc in the next ch, dc in the next ch*. Repeat from * to * to end – should end with a sc, turn work. (20)
Row 2: Ch 2 (does not count as a stitch), dc in the first sc, *sc in the next dc, dc in the next sc*. Repeat from * to * to end – should end with a sc, turn work. (20)
Rows 3 – 160: Repeat row 2. (20)
Adjustments:
Chain more to make the scarf wider or chain less to make the scarf thinner. **REMEMBER: The scarf will compress in width as you wear it.
Increase the number of rows to make the scarf longer. Decrease the number of rows to make the scarf shorter. **REMEMBER: The scarf will stretch in length as you wear it.
---
Not a member of my crochet community?
Click on the button below to sign up and receive a my free crochet journal, as well as all future updates, freebies, promos and more!

---
See, now didn't I tell you it was super easy?! 😃
I'd love to see your finished Stepping Stones Unisex Scarf!
Please feel free to share it with me on one or even all of the following platforms:
---
Thank you for coming to my blog! By sharing my content and/or making a purchase you are making it possible for me to continue producing and sharing free content for everyone to enjoy. I sincerely appreciate your support!
Until next time… Happy Crocheting!
Please share!