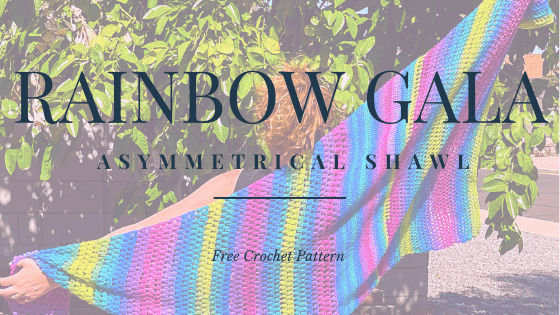 INTRODUCING
The Rainbow Gala Asymmetrical Shawl
Bold, beautiful, and absolutely perfect for summer. The Rainbow Gala Crochet Asymmetrical Shawl is easy to work up and fabulous to wear! Designed using basic crochet stitches combined in three unique ways to create a fun shawl that is sure to add some vivid style to your casual warm weather wardrobe.
About Rainbow Gala
Difficulty Level
This is a level 3 – Easy / Intermediate

Gauge
19 stitches and 10 rows = 4 x 4-inches in double crochet (dc) using E /4 3.50mm hook.
Finished Dimensions/Sizing
60-inches long from tip to opposite end.
34-inches wide measured along the widest part of the shawl.
Construction (See Schematic Below)
This pattern is worked starting in one piece. There is no seaming.
Project is worked from the tip to the widest part of the shawl, making increases on only one side of the shawl to create an asymmetrical triangle shape.
There are three sections to this shawl:
A. Bead stitch section
B. Bobblet stitch section
C. Double crochets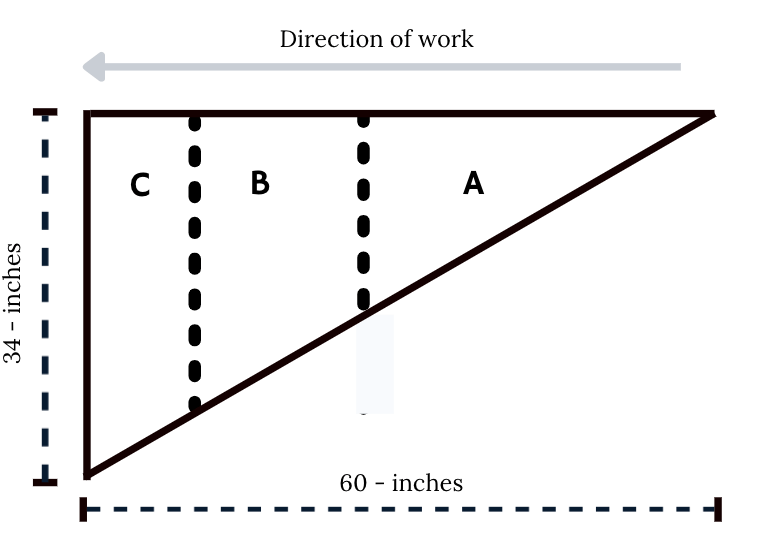 Abbreviations
This pattern is written in US terminology.
Stitch/es (st/sts)
Skip (sk)
Slip st (slp-st)
*____* Repeat indicated instructions
Special Stitches
Bead stitch (bst) – *yarn over, insert the hook behind the previous double crochet from front to back, yarn over and pull up a loop* Repeat from * to * 2 more times (3 times total = 7 loops on the hook). Yarn over and pull through 6 loops, yarn over and pull through remaining loops on the hook.
Bobblet stitch – insert hook in stitch, yarn over pull up a loop ( 2 loops on the hook) yarn over, pull through one loop, yarn over pull through one loop, yarn over pull through the last 2 loops on the hook.
Recommended Yarn
KnitPicks/We Crochet Chroma, Fingering weight 1 (70% Superwash Wool, 30% Nylon, 396 yds / 100 grams), colorway Pegasus – 4 Balls.
Total yardage: 1287 yds / 1177 m to 1584 yds / 1448m.
US/UK Conversion
US terminology UK terminology
Single crochet (sc) = Double crochet (dc)
Double crochet (dc) = Treble crochet (tr)
Yarn Alternatives
Fingering weight yarn
Other Materials
Crochet Hook size E/4 3.50 mm or whatever hook is necessary to obtain the correct gauge.
Measuring tape
Stitch markers (optional)
Scissors
Tapestry needle for weaving in ends
Inspiration
I've long wanted to try my hand at an asymmetrical shawl design. I admit that my wardrobe is a bit neutral. It is filled with earth tones, grays, and black. With this shawl I had a desire to branch out and add something bright and vivid. Something that would make my summer clothes pop. So I pick a gorgeously vibrant and lightweight yarn and worked up this fun shawl using three of my favorite stitches!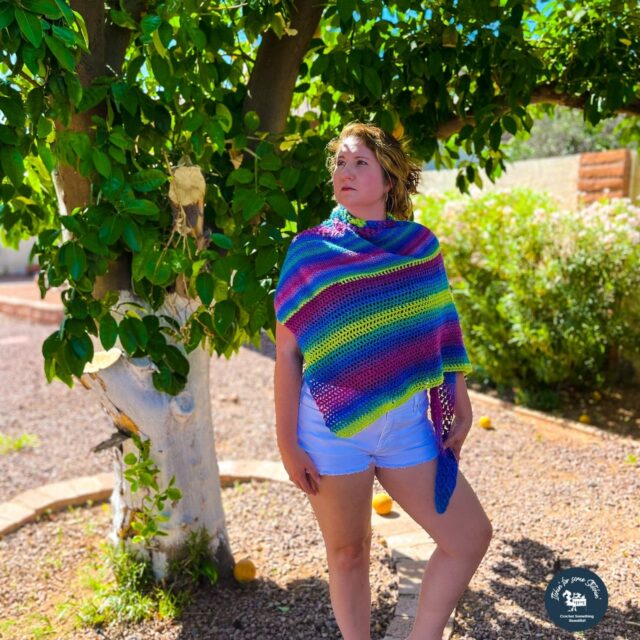 Prefer a PDF?
This pattern is available as a large print, ad-free, printable PDF pattern, which includes a stitch chart as well as written instructions.
Get it in these places:
---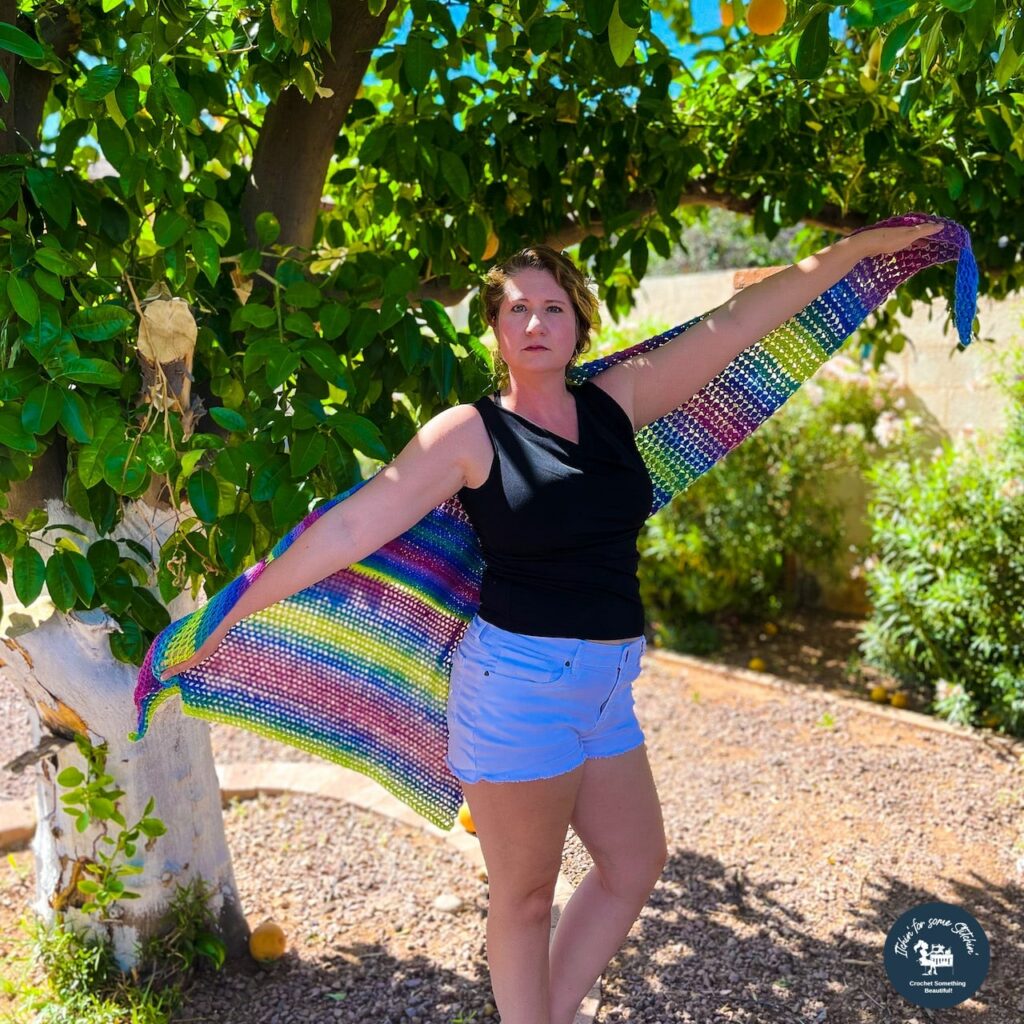 Join the Newsletter!
Subscribe to get our latest content by email & receive a Ravelry coupon code for a FREE crochet PDF pattern of your choice!
---
Yarn Details
The concept behind the Rainbow Gala Shawl was fun.
I wanted to design a summer shawl that was not only lightweight, but vibrantly beautiful. Something that could be worn with any neutral based warm weather outfit to add that fantastic pop of eye-catching color.
I found KnitPicks Chroma from We Crochet and fell in love with the stunningly brilliant Pegaus colorway.
It comes in a fingering weight and I felt it would be perfect for the summer shwl I had in mind.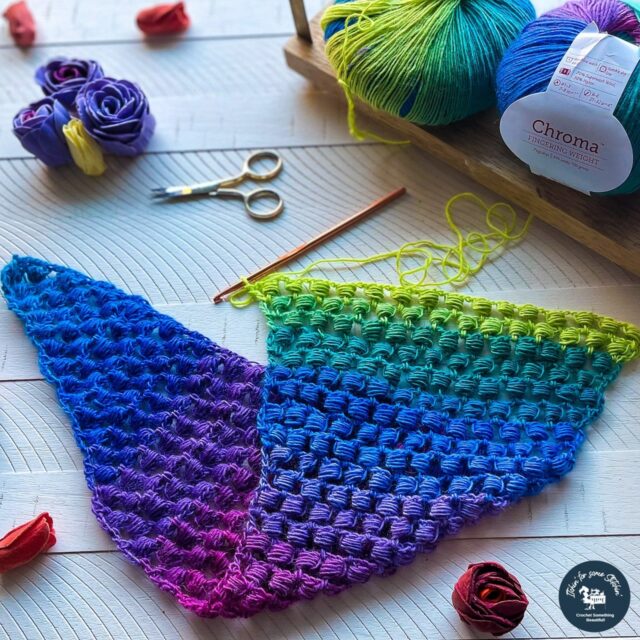 And it turned out just as fabulous as I thought it would. 😃
This was my first time working with Chroma and I will definitely use it again for summer projects because I love how pliable it is.
However, I would say that there is one slight caveat – I found it a little difficult to frog. I learned that you have pull the yarn out very slowly and at a slight angle, otherwise it knots up and you can't get it out.
Once I figured this out I had no problem when I needed to frog, but it is a very important point to remember when working with this yarn.
You can purchase it via my affiliate link below.
---
Other Patterns I Love & You Will too!
Honeycomb Bolero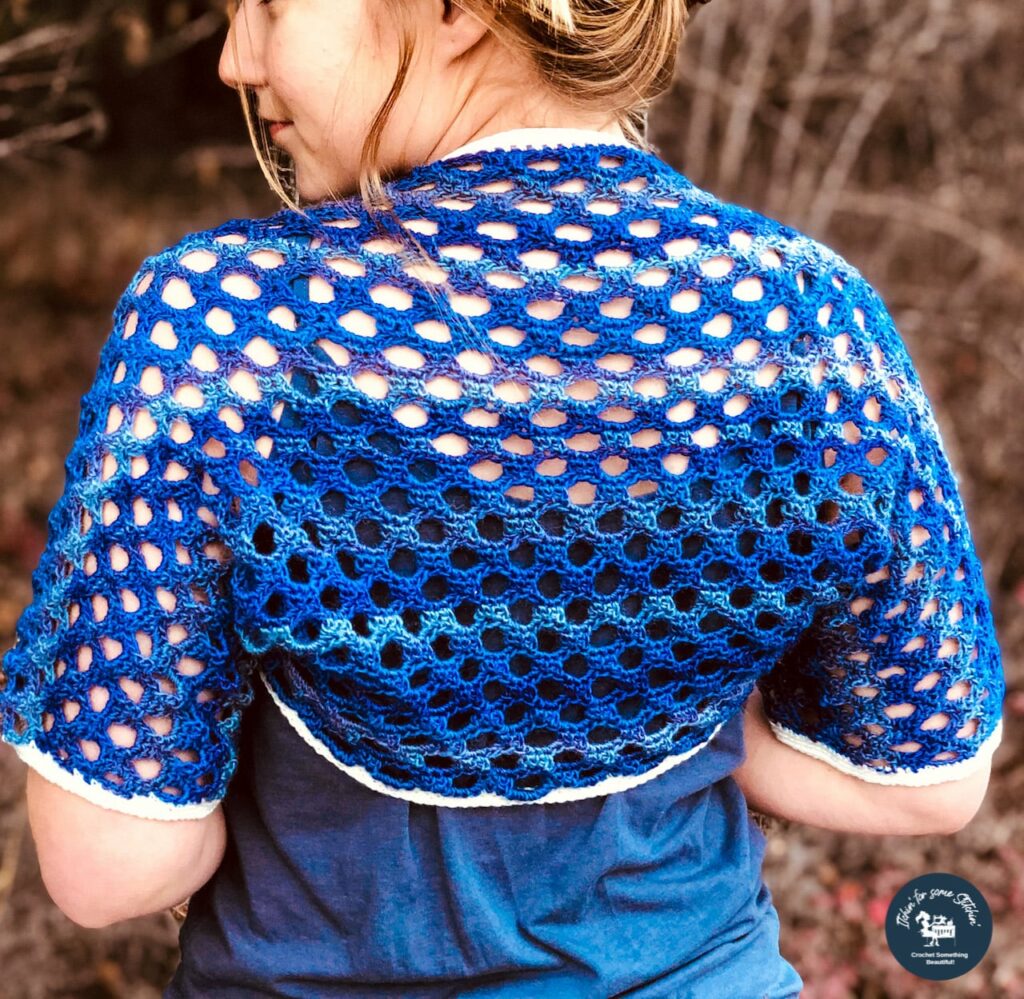 Kalina Duster Cardi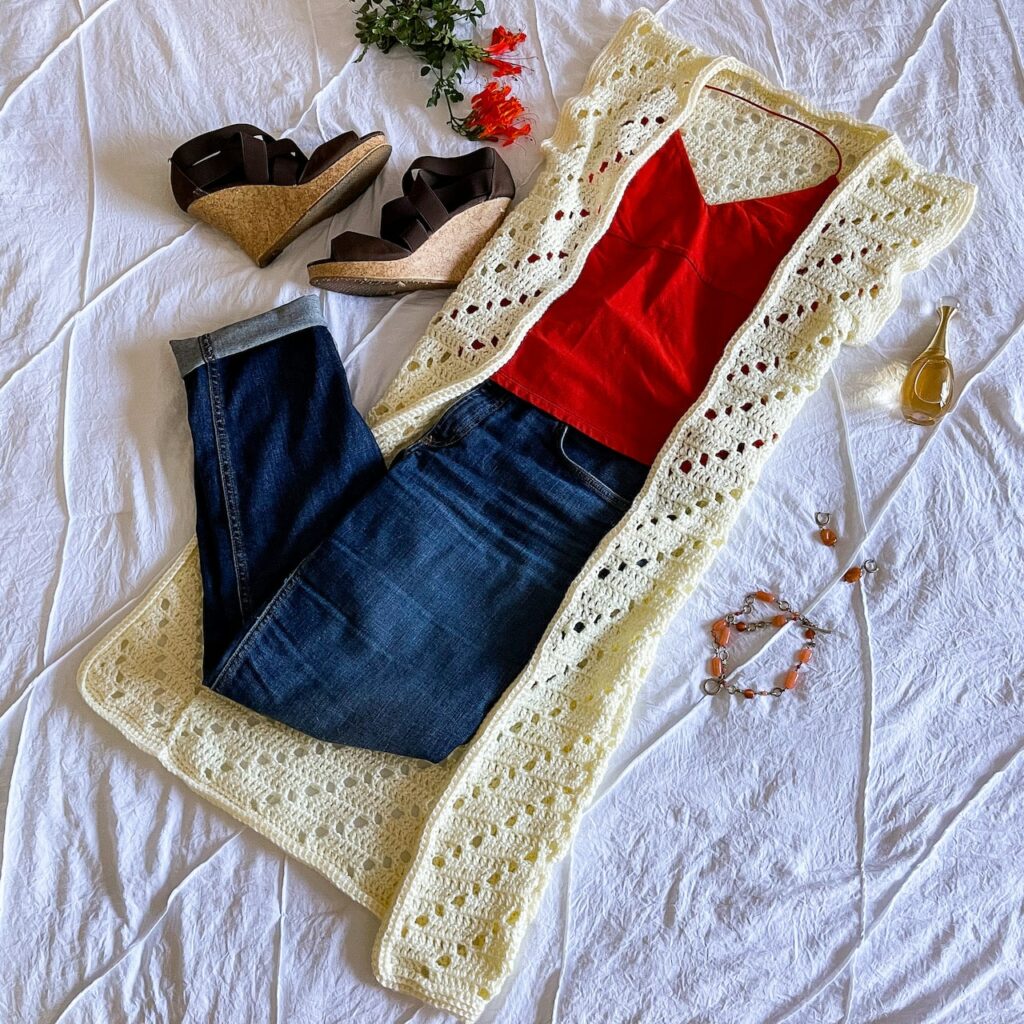 Piper Handbag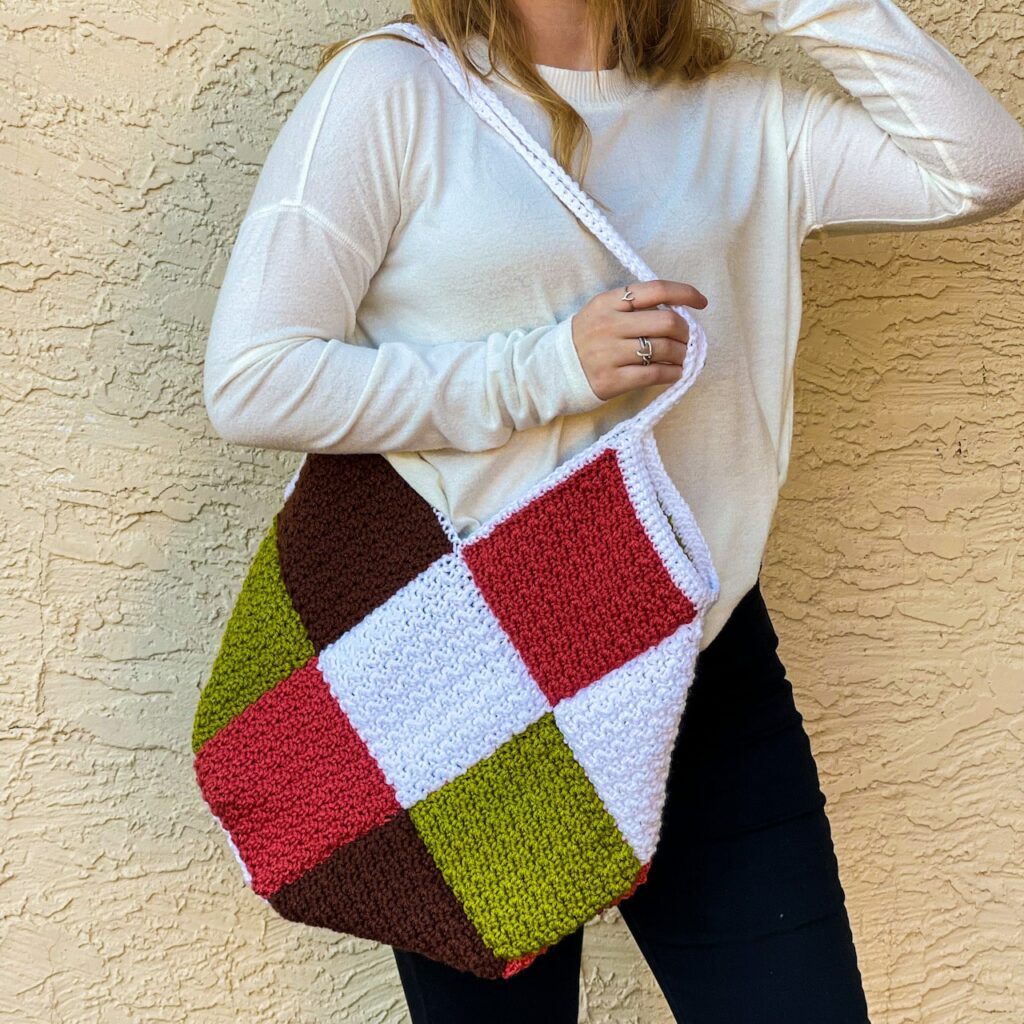 Let's Get Crafty!
Looking for lots of crafty inspiration, tips, tutorials, and a great crochet community? Join my Facebook group!
---
Pattern Notes:
Read all pattern notes, instructions, and other provided details carefully before starting the project to make sure you understand everything. It could save you hours & a lot of headaches!
Make a swatch that measures at least 10 x 10 cm / 4 x 4 inches using the stitch provided under the Gauge Section. If your swatch matches the gauge, then you are all set to start the project. If the gauge is wrong, you might need to change your crochet hook – increase your hook size if your stitches are smaller & decrease your hook size if your stitches are larger.
All measurements given are unblocked and measured flat pre-wear and pre-seaming as fabric pieces may stretch during/after blocking, wearing, and seaming.
Provided measurements are as exact as possible, but are given as approximates. This is because yarn variances, crochet tension & individual technique might give variations in the result, which changes from person to person.
This pattern is made by making an increase on one side of the shawl. The Increases in this pattern always occur in the WS rows and are noted with a WS-inc (Wrong Side – Increase).
Stitch counts are given in [ ] at the end of each row. If no stitch count is given, then the count is the same as the previous row.
Care Instructions: Hand wash & lay flat to dry or follow instructions on the yarn label.
All turning chains count as stitches.
---
Love Pinterest?
I do!
PIN this pattern to your Pinterest boards for later.
You can also follow all my boards!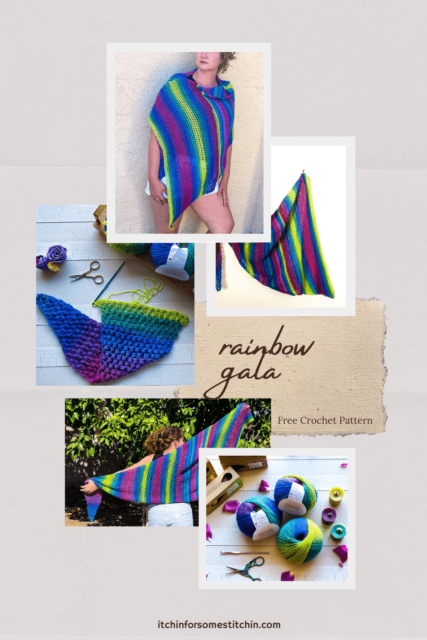 ---
**THIS IS AN ORIGINAL PATTERN. Please see my Copyright Statement for details.
Instructions
Section One: Bead Stitch
Row 1 (RS): Work 1 bst into the 4th ch from the hook, ch 1, skip 1 ch, 1 dc into the last ch, ch 3, turn work. [1 bst]
Row 2 (WS-inc): Skip 1st dc, 1 bst into the 1st ch1-sp, ch 1, sk 1 bst, (1 bst, ch 1, 1 dc) into the top of the turning ch, ch 3, turn work. [2 bst]
Row 3 (RS): Skip 1st dc, 1 bst into the next ch1-sp, ch 1, skip 1 bst, bst into the next ch1-sp, skip last bst, ch1, 1 dc into the top of the turning ch, ch 3, turn work. [2 bst]
Row 4 (WS-inc): Skip 1st dc, bst into the next ch1-sp, ch 1, skip next bst, bst in the next ch1-sp, ch 1, (1 bst, ch 1, 1 dc) into the top of the turning ch, ch 3, turn. [3 bst]
Row 5 (RS): Skip the 1st dc, bst in the 1st ch1-sp, *ch 1, skip next bst, bst into next ch1-sp* Repeat from * to * up to the last bst, ch 1, skip the last bst, work 1 dc into the top of the turning ch, ch 3, turn work. [3 bst]
Repeat rows 4 and 5 until there are 74 rows ending on a row 4 repeat and only ch 1 before turning. [38 bst]
Section Two: Bobblet Stitch
Row 1 (RS): Sc each st across ending with a sc in the top of the turning ch. [116 sc]
Row 2 (WS-inc): Ch 1, turn work, work 2 sc into the 1st st, sc in each st across to end. [117 sc]
Row 3 (RS): Ch 1, turn work, sc in the 1st st, *bobblet in the next st, sc in the next st* Repeat from * to * across, ending with a sc in the final st. [117 st]
Row 4 (WS-inc): Ch 1, turn work, work 2 sc into the 1st st, sc in each st across to end. [118 sc]
Row 5 (RS): Ch 1, turn work, bobblet in the 1st st, *sc in the next st, bobblet in the next st* Repeat from * to * across, ending with a sc in the final st. [118 sts]
Repeat rows 2 – 5 until there are 36 rows ending on a row 4 repeat [134 sts]
Section Three: Double crochets
Row 1 (RS): Ch 4 (counts as a dc and a ch1), turn work, dc in the next st, skip the next st, ch 1, *dc in the next st, skip the next st, ch1*. Repeat from * to * end, work 1 dc into the final st. [68 dc, 68 chs]
Row 2 (WS – inc): Ch 4 (counts as a dc and a ch1), turn work, dc in the first ch1-sp, *ch 1, skip the next dc, dc in the next ch1-sp* Repeat from * to * to the last ch1-sp, ch 1, dc into the top of the turning chain. [69 dc, 69 chs]
Row 3 (RS): Ch 4 (counts as a dc and a ch1), turn work, dc in the next st, skip the next st, ch 1, *dc in the next st, skip the next st, ch1*. Repeat from * to *the last ch1-spaces, skip the next dc, skip the last ch1-sp, ch 1, dc into the top of the turning chain. [69 dc, 69 chs]
Repeat rows 2 and 3 until there are 35 rows ending on a row 3 repeat [84 dc, 84 chs)]
---