Hey there fellow crocheters!
Today I am going to share with you a tutorial on how to crochet the bead stitch.
I recently discovered this stitch and absolutely fell in love!
I used in two of my St. Patrick's Day patterns this year and I am currently creating two more.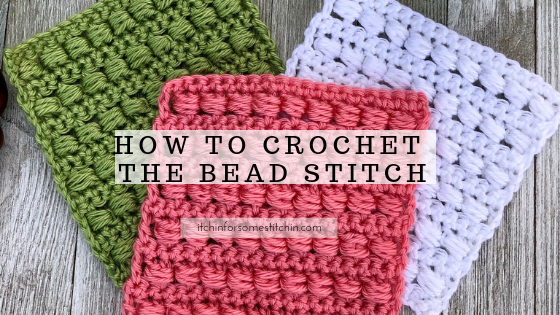 *This post may have affiliate links. See my full Disclosure Policy for details.
One for Easter and one for Spring – so keep coming back – they'll be out soon!
I know this stitch may look a little complicated, but it's really not!
It's actually super simple.
Although I would not classify it as a beginner stitch, I would say that it is easy enough for crochet beginners to do.
If you can single crochet and double crochet, you can do this stitch!

---
Check Out These Patterns I LOVE!

My Patterns on Allfreecrochet.com
Crochet Seed Stitch Baby Blanket
Ribbed Baby Beanie Pattern for Beginners
The Boho Goddess Kimono Cardigan
---
Bead Stitch Video Tutorial
Now that you've seen the bead stitch in action, why not test it out on some new patterns?
---
Check Out These Bead Stitch Patterns!

---
Need a little more step-by-step instruction? That's okay!
Check out the full photo tutorial below and then try your hand at these awesome bead stitch patterns!
---
Bead Stitch Photo Tutorial
Prefer a PDF?
[list style="style6″] [li]This tutorial is available as a large print, ad-free, printable PDF tutorial. Get it
HERE
.[/li]
Love Pinterest? I do!
[li]PIN this pattern to your Pinterest boards for later
HERE
. You can also follow
all my boards
![/li][/list]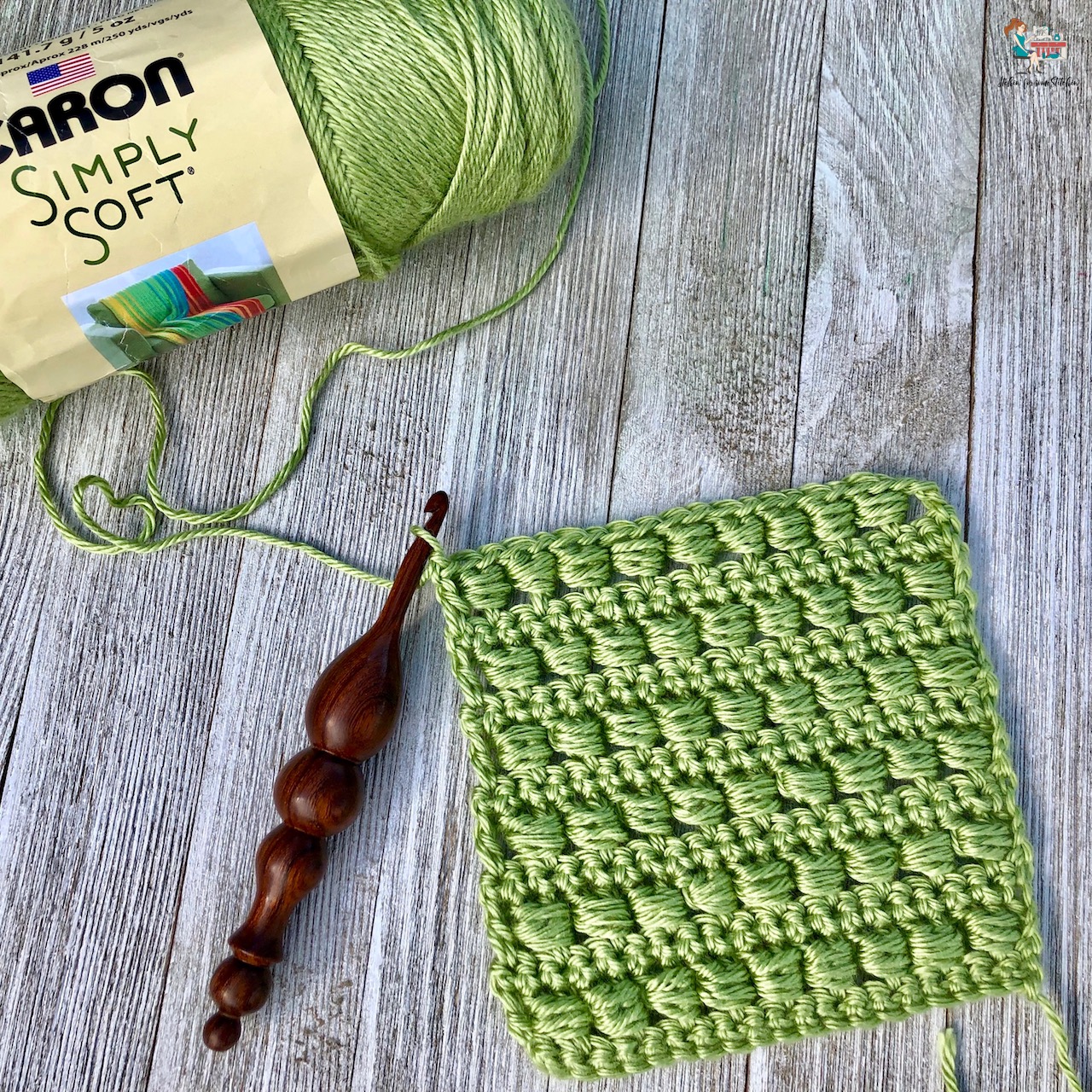 Summary:
The bead stitch is a beautifully textured stitch that may look a bit complicated, but really isn't! It only takes a few simple stitches worked in a specific way to create these little tornado-like stitches. So fun and easy to do!

Materials:
Medium #4 worsted weight yarn
~ In this tutorial I used Caron Simply Soft color Pistachio (for the cover photo also colors White and Persimmon).
NOTE: Caron Simply Soft is absolutely one of my favorite yarns. For a full review please see Product Review: Caron Simply Soft.
Crochet Hook size H-5.00mm (I personally love using light up hooks & will be doing a review soon)
NOTE: The wooden hook in the photo above is a wonderful ergonomic crochet hook by Nelsonwood. If you have arthritis or limited hand strength, I highly recommend them. You can see 5 Reason to Love Nelsonwood Crochet Hooks! for my full review.
(Click HERE to find my favorite crochet tools & resources)

NOTE: You can use thinner or thicker yarn, just be sure to use a hook size that is appropriate for your yarn weight.

Abbreviations:
Tutorial is written in US terms.

Stitch/es (st/sts)
Bead stitch (bst) – *yarn over, insert the hook behind the previous double crochet from front to back, yarn over and pull up a loop* Repeat from * to * 2 more times (3 times total = 7 loops on the hook). Yarn over and pull through 6 loops, yarn over and pull through remaining loops on the hook.

Instructions:
Create foundation chain.
Make a foundation chain to the length of your choice as long as the number of chains is even.
NOTE: For this tutorial I have chained 20.
Work the first row.
Row 1: Ch 1, sc in the 1st ch and in each ch across. (20 sts)
Start the second row.
Step 1: Ch 3 for the turning chain.
Step 2: Skip the 1st sc and work one dc in the next sc.
Make a bead stitch (bst).
Step 1: Yarn over.
Step 2: Insert the hook behind the previous double crochet from front to back.
Step 3: Yarn over and pull up a loop.
You should now have 3 loops on your hook.

Step 4: Repeat steps 1-3 two more times.
~You will have done steps 1-3 three times total and should have 7 loops on your hook.
Step 5: Yarn over.
Step 6: Pull through 6 loops.
You should have 2 loops left on your hook.
Step 7: Yarn over.
Step 8: Pull through remaining loops on the hook.
Finish the second row.
Repeat steps 1-2 of the "start the second row" section and steps 1-8 of the "make a bead stitch" section all the way to the last stitch.
NOTE: from here on out step 1 of the "start the second row" section now becomes skip the next sc instead of skip the 1st sc.
Skip the last stitch and work 1 dc in the top of the ch 3 turning chain.
NOTE: You should have 9 bead stitches (bst).
Additional Rows.
For additional rows, simply repeat all steps of rows 1 and 2 until the fabric is to your liking.
You should be alternating rows of sc and rows of bst stitches.
NOTE: From this point on, the row of single crochets (row 1 above) will be worked in each stitch of the bead stitch row (row 2 above).
**When working the sc across rows, be sure to sc into the top of the ending dc from the previous row (bead stitch row). Otherwise, you will end up reducing your stitch count by one.
Final photo above shows the start of the second bead stitch row. Continue as outlined above to finish the row.
Then continue on to make the fabric as long as you like.
---
There now, that wasn't so hard, was it?
Of course not!
Like I said, this stitch may look intricate, but it's really not that complicated once you learn how to do it.
Just take your time with the tutorial, check out the video, and give it a little practice and you'll have this beautifully textured stitch under your belt in no time!
---
Did you like this stitch?
Then you may like this one too!
My Other Videos
---
Please Share!
Until next time… Happy Crocheting!
Looking for fun crochet community filled with lots of crafty inspiration?
[list style="style6″]
[li]Join Our New Facebook Group – Itchin' for some Stitchin' Beginner Crochet Community[/li]
[/list]
(Experienced crocheters also welcome!)