Brantley's Lacy Shell Stitch Baby Blanket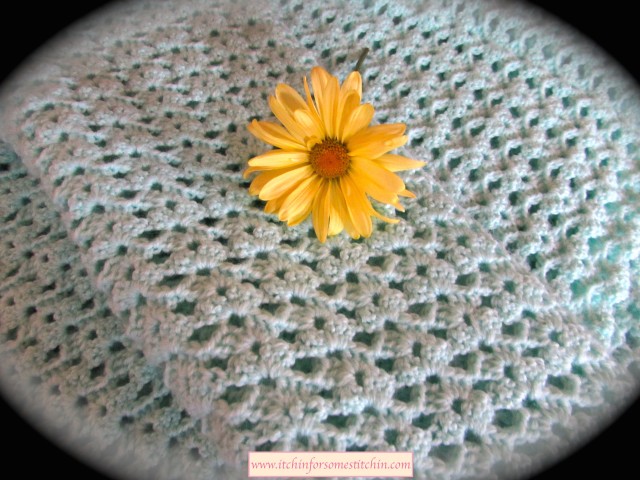 Last June (2014) I opened my Facebook account and saw this picture of my baby sister.
Now, I have to admit I was a bit upset by the fact that I had just found out that my sister was expecting a new little one via Facebook. That is until I checked my phone and saw that she had already tried to contact me three times. Oops… I guess I should check my messages more often!
Of course I had to make something for the new baby, but I was super swamped at the time. I needed a simple pattern that I could whip up quickly in my spare time. And my spare time was in short supply. Quick, easy, but also beautiful. I thought immediately about the shell stitch.
The shell stitch is a stitch pattern whereby multiple double crochets are worked into the same stitch creating arcs and semicircles within the crocheted piece. There are both simple and complex versions of this stitch making it a fun and versatile pattern. No matter which version or combination of versions you prefer, the shell stitch's usefulness is nearly limitless! It's great for creating afghans, shawls, gloves, backpacks, headbands, beanies, shirts, skirts, etc…. This list goes on and on.
Since the due date for my little niece or nephew to-be was late winter I wanted to make an afghan that would be somewhat cool. That probably sounds counter intuitive. You may think I should have created a warmer blanket, but the baby would be using it from late winter into summer. Plus, my sister and her family live in Texas where winters are generally mild and summers can be HOT! Thus, I decided to make a baby afghan using the lacy shell stitch, which would give the blanket an airy, but elegant look.
General Instructions:
–Use whatever yarn & hook size you wish.
Row One: Chain in multiples of 6, leaving 3 chains on each end.
Row Two: Single crochet (Sc) all the way across starting in the 2nd chain from the hook, chain 3, and turn.
Row Three: Double crochet (Dc) in 4th chain from hook (NOTE: this includes the chain with the final chain 3 from row two) 3 times, chain 2, Dc 3 times, *skip 5 chains, in the 6th chain Dc 3 times, chain 2, Dc 3 times*. Repeat * until the last 3 chains on the row. Dc in the last chain, chain 3, turn.
Row Four: Dc 3 times in the 1st chain 2 of the 1st shell, chain 2, Dc 3 in the same place. *Dc 3 times in the next chain 2 of the next shell, chain 2, Dc 3 in the same place.* Repeat * to the end of the row. Dc in the top chain of the Dc at the very end of the row, chain 3, turn.
Row Five to End: Repeat row four.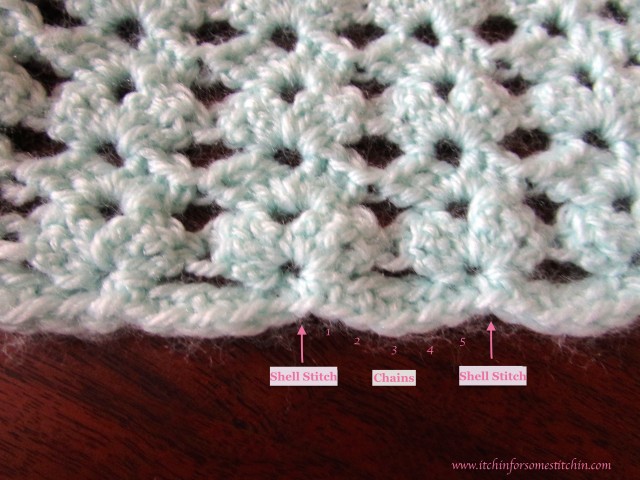 __________________________________________________________________
Using Bernat Big Ball Baby yarn in Green (Light 3 weight) and a "G" (4.25mm) hook, I spent every spare moment I could creating a baby blanket made entirely of shell stitch repeats. Unfortunately, I did not write down how many shells I repeated per row, nor did I measure the blanket. Honestly folks, I had never intended to publicize my creations and kick myself now because I cannot share with you my exact process.
Typically the afghan size is dependent on the use of the blanket. I assumed it would be used as a simple covering, but made the afghan larger just in case my sister wanted to use it in the crib or wanted to thoroughly wrap the baby in it. However, if you are making a baby blanket and need a guideline, standard security blanket size for babies is 14-inches by 17-inches. This should be large enough to just cover the baby, but really, I think you can make it to any size you see fit.
By February my project was complete. Just in the nick of time too as my beautiful nephew, Brantley, was born February 12, 2015. I hope he loves his blanket as much as I ❤ him!