The Magic of the Magic Ring and How to use it to Crochet a Simple Five Petal Flower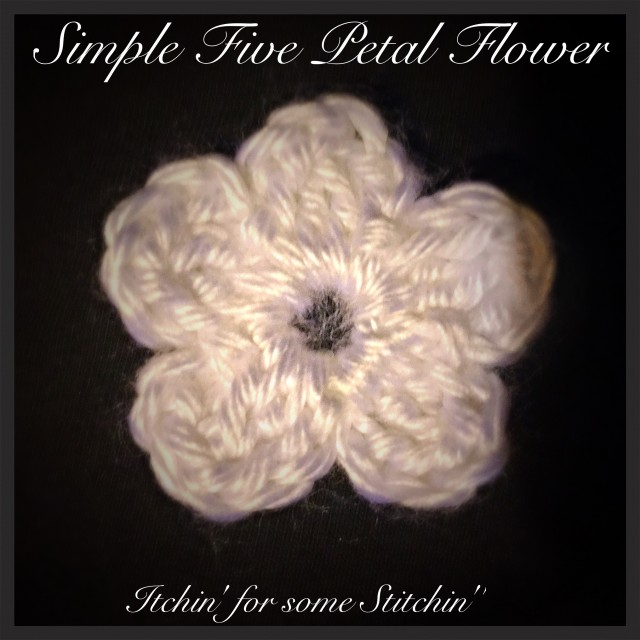 Hi everyone!
It's back to the truly fun stuff… the fabric arts!
Enough blah blah blahing in "My Soapboax"… for now anyway.
I was just so excited to share with you all that I am learning about blogging AND the Grand Opening of my Etsy shop that I just had to shout it to the world for a while.
But, now it's back to my fabric arts adventures. And what an adventure it has been is!
When I was first learning to crochet, one of my first projects was a granny square afghan.
It's been almost three years and the blanket still isn't done. LOL.
Don't judge folks, these afghans are very time-consuming & I've had a lot on my plate these last few years! I will finish it and you will get to see it, I promise.
I'll even teach you how to make a basic granny square in an upcoming post, so keep your eye out for it!
Anyway, I bring this up only because over these last three years the technique I use to begin a granny square has evolved.
A granny square and many other projects such as hats, flowers, potholders, coasters, etc… is crocheted by what's called "working in the round".
In order to work in the round you must first create a center ring and then crochet the first round, then the second round, and so on. Originally I learned to make this center ring by the following steps.
The Chaining Method (Alternative to Magic Ring)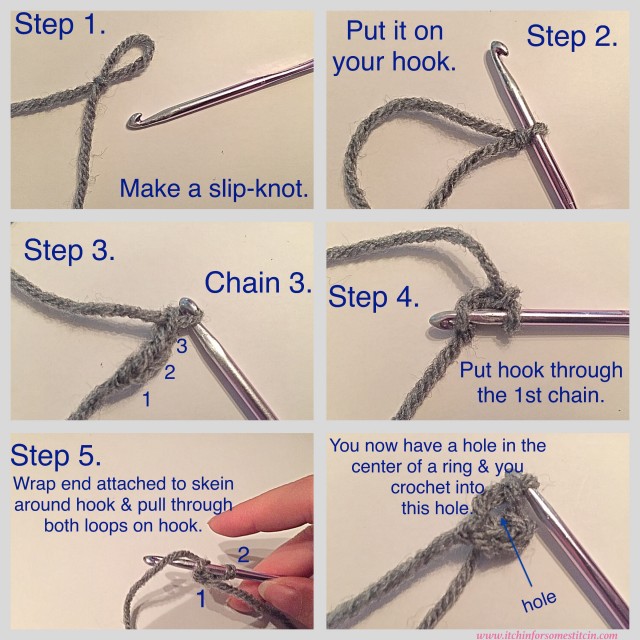 This technique works just fine and there is nothing wrong with using it. However, it does tend to leave a hole in the center of the ring and I often don't like that hole.
Enter the magic of the magic ring!
The magic ring, also known as the magic circle, is an easy technique used to create a center ring that allows you to close the hole in the middle.
Mind you, depending on my project, I don't always close that hole, as you can see in the picture at the top of this post.
However, I still continue to use the magic ring to make my centers because I find it to be a quicker, easier technique than chaining method. I suggest trying both methods to see which one you prefer.
---
The Magic Ring Video Tutorial
Want to see it in action? Check out the YouTube video!
Now, what did you think of that? Easy, right? And it gets rid of that pesky hole in the middle for those projects that you would rather be seamless.
Since you have now mastered the magic ring… and I know you have… even if it took a little practice, it's time to put your education to work. Let's start with something easy, like the simple five petal flower pictured in this post. After you get your feet wet a few times with simple projects, you'll be able to dive effortlessly into the more complicated ones!
---
Simple 5 Petal Crochet Flower Video tutorial
Want to see it in action? Check out the YouTube video!
---
Simple 5 Petal Crochet Flower
I love this flower because it is beautiful, quick, easy, and flexible.
In the video tutorial, I used Caron Simply Soft medium worsted weight yarn and a 4-3.50mm (E) hook. This created a small delicate flower perfect for attaching to baby booties, headbands for little girls, socks, or on any crochet project in which a small decorative touch needs to be added.
However, this flower can easily be made bulkier or in a larger size by using a thicker yarn and/or a larger hook.
Remember that all yarn brands are slightly different so test it out using various yarn weights, brands, and hook sizes to see how versatile this easy flower can be.
---
Thank you for coming to my blog! By sharing my content and/or making a purchase you are making it possible for me to continue producing and sharing free content for everyone to enjoy. I sincerely appreciate your support!
Until next time… Happy Crocheting!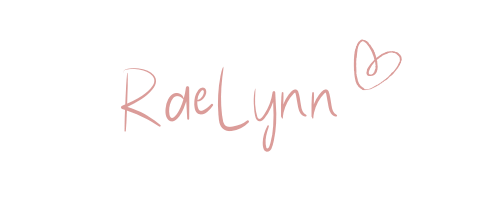 Please Share!