Hi crochet beginners! Today's pattern is just for you!
It's a super easy chunky headband that I like to call the Simple and Sweet Chunky Bowtie Headwarmer.
I decided to design this beginner friendly ear warmer because even though the ear warmer I created a few months ago – The Simply Chic Plaid Ear Warmer – was a smashing success, it was also a little more advanced.
And I wanted a head warmer that even the newest of crochet beginners could make as well.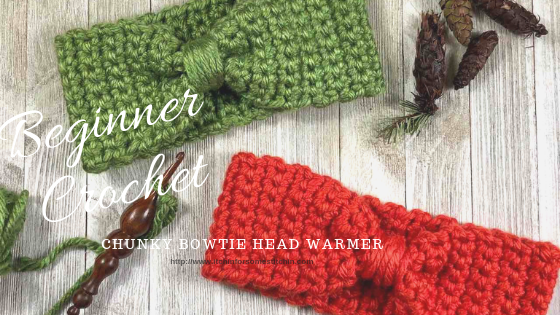 So, I did a quick inventory of my yarn stash and found some really soft and thick yarn. Before you know it, this easy beginner crochet ear warmer pattern was born!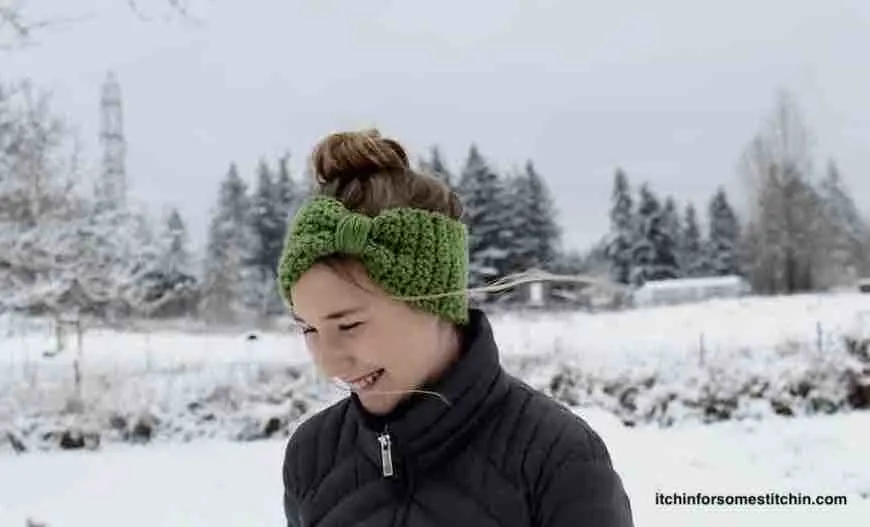 Since I wanted this to be really easy for beginners, I chose to do this pattern entirely in single crochet (sc) stitches.
That's right!
It only uses the single crochet (sc), thus, even if you are very new to crochet, you should be able to do this pattern.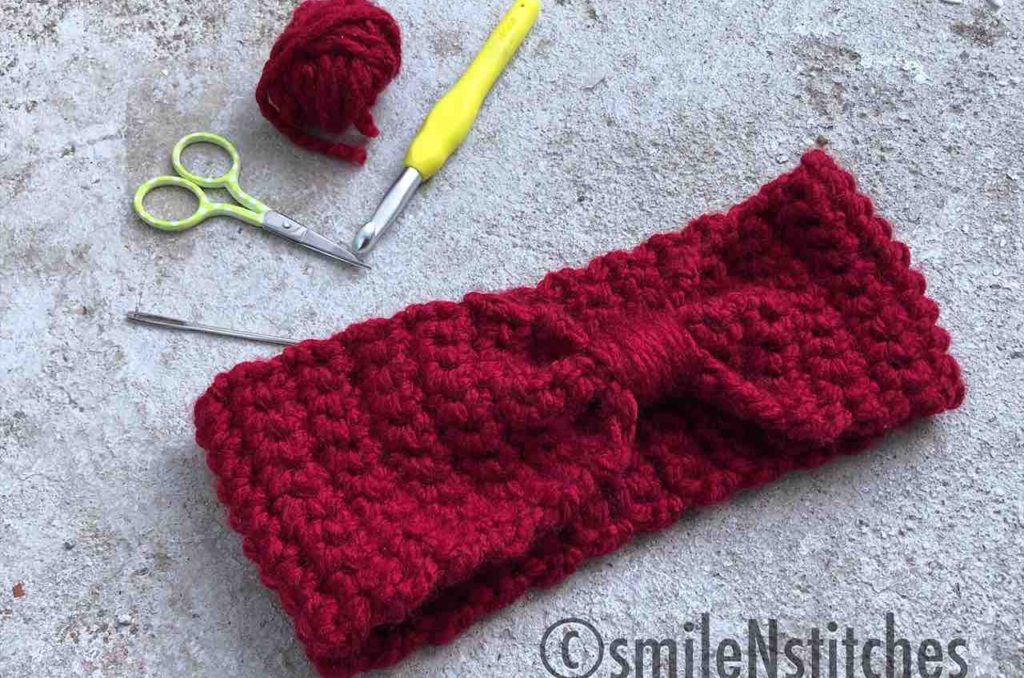 Note: The chunky crochet headband pictured above was crocheted by one of my wonderful pattern testers, Nikki Barker of smileNstitches.
---
Now, this head warmer does require some seaming, which is typically considered to be an advanced-beginner skill.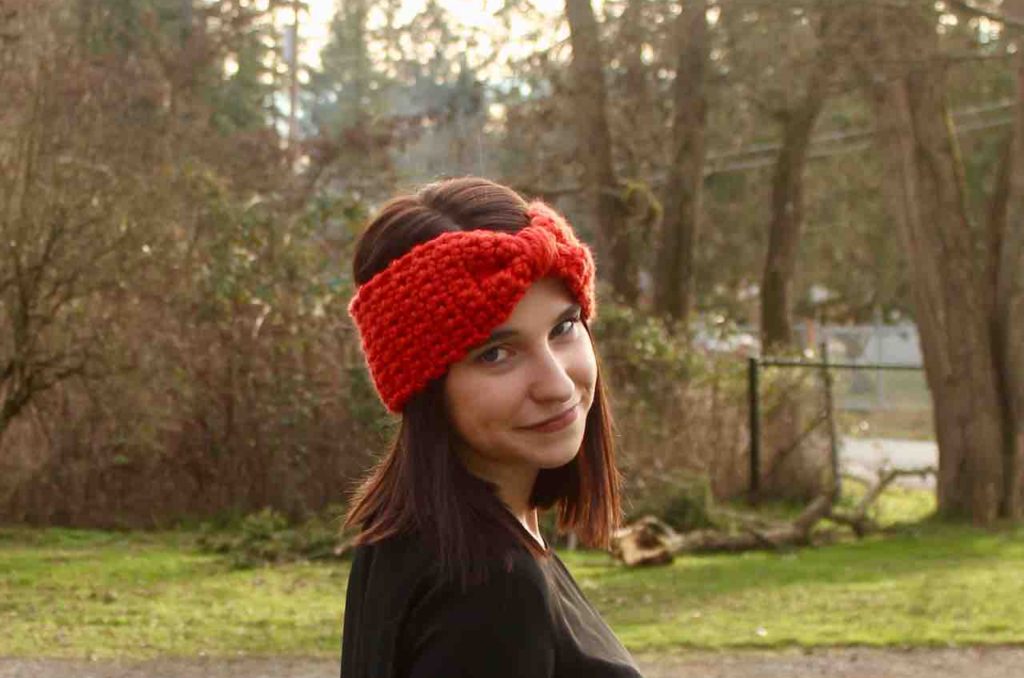 But honestly, there is so little of it in this pattern and it is so simple that I feel any beginner can do it.
---
Check Out These Other Patterns I LOVE!

---
How to Crochet an Easy Beginner Ear Warmer
**THIS IS AN ORIGINAL PATTERN. Please see my Copyright Statement for details.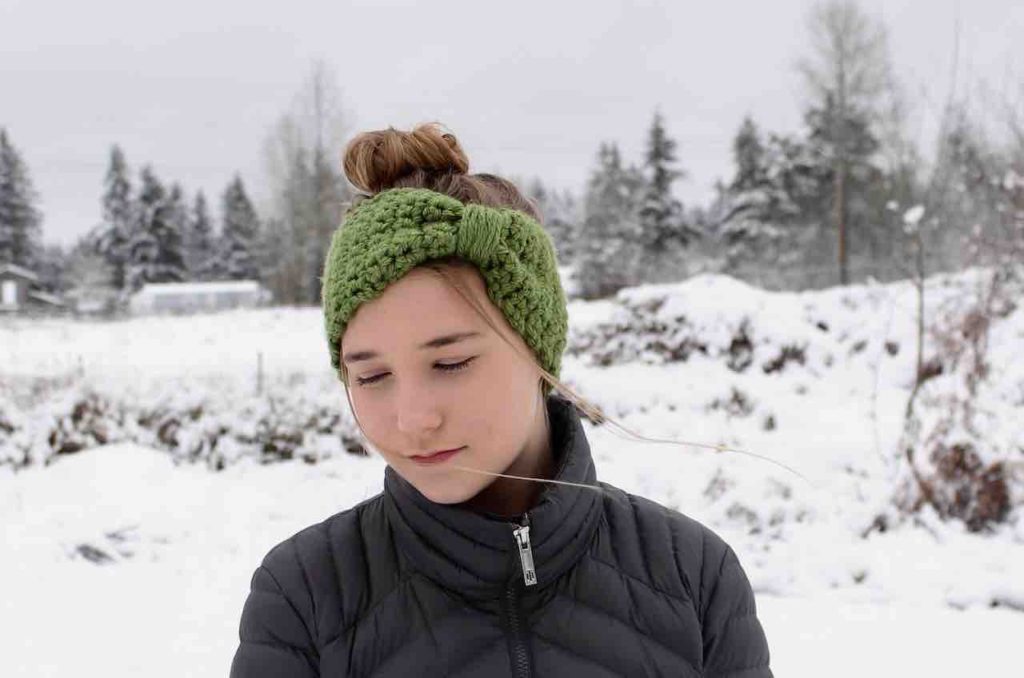 I just love how this pattern turned out!
It's simply sweet style has been a big hit with both my pattern testers, as well as my models (my two beautiful daughters). ❤️
Plus, it can be completed in 30 minutes or less!
Yep, you read that right. 🙂
---
This pattern is currently available in the Stash Busting Challenge Pattern Collection.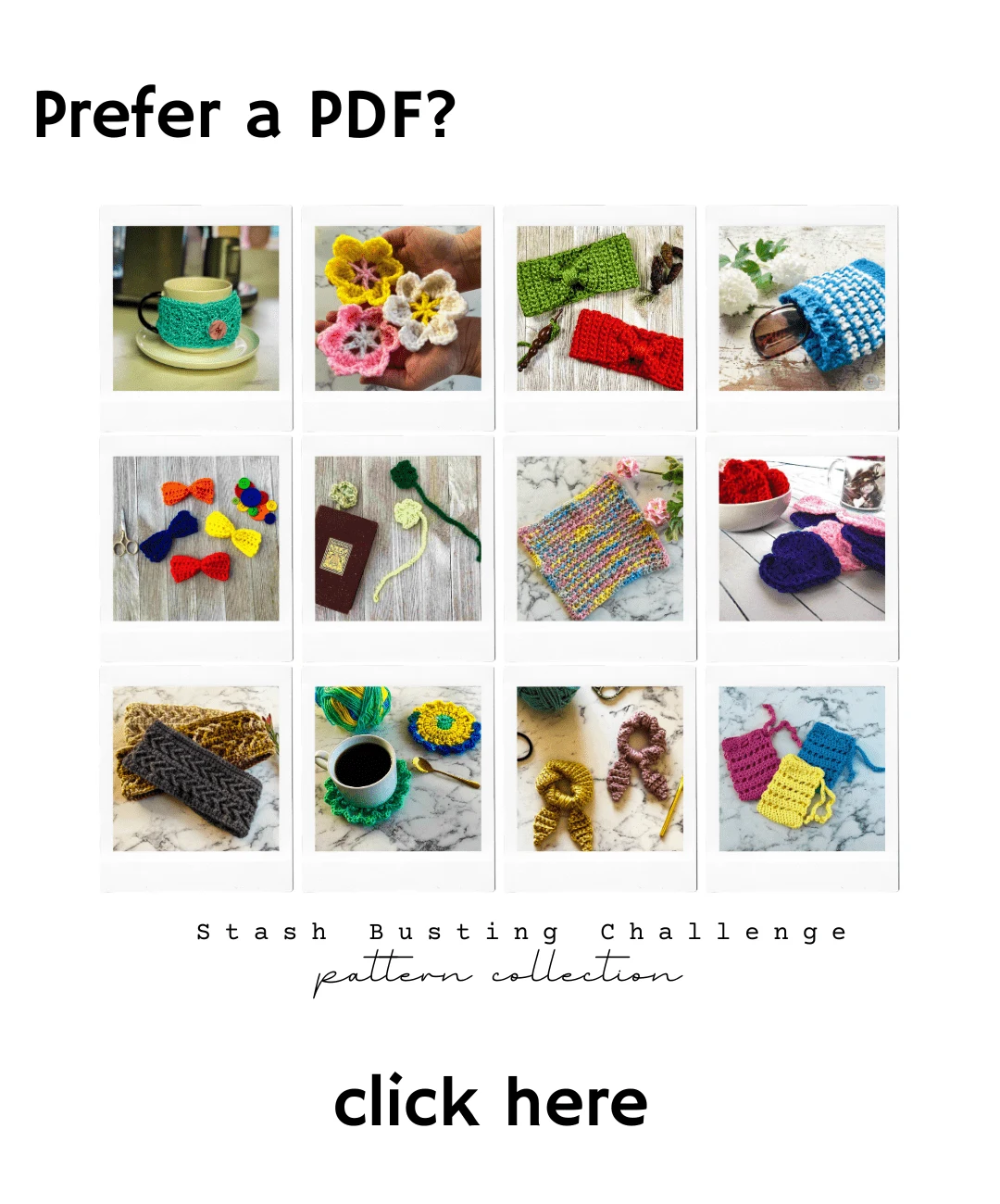 Love Pinterest? I do!
PIN this pattern to your Pinterest boards for later
HERE
. You can also follow
all my boards
!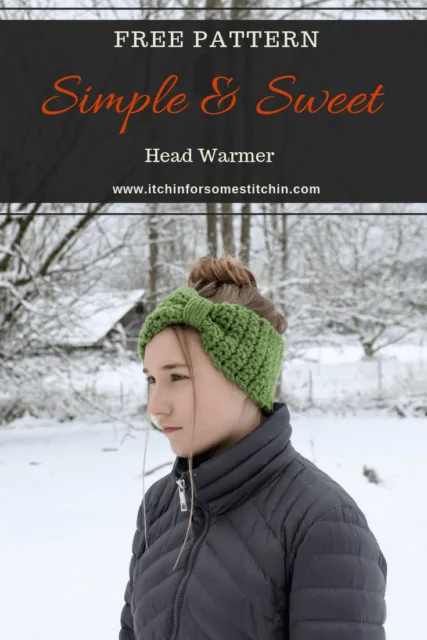 ---
Summary:
Simply sweet and super easy, this chunky bowtie head warmer is fresh and feminine. Plus, it's a cinch to put together! Perfect for even the newest of crochet beginners and whips up in less than 30 minutes. It couldn't be simpler to create a fabulous head warmer you'll love to wear!
Difficulty level: Level 1 – Beginner
Finished Dimensions:
The ear warmer can be easily made to any of the following dimensions according to your needs. See pattern for details.
NOTE: Width is 2-4-inches depending head size or personal preference. See additional notes below.
Gauge: 10 stitches and 10 rows = 4-inches in single crochet
Materials:
1 skein Lion Brand Hometown USA – super bulky 6 yarn
~ In this pattern I used colors : Tennessee Tango and Oklahoma City Green

~ Total yardage: 25 to 81 yards (depending on the size made)

Crochet Hook size N-9.00mm
Large tapestry needle
(Click HERE to find my favorite crochet tools & resources)
Abbreviations:
Pattern is written in US terms.

Stitch/es (st/sts)

Additional Notes:
Head warmer for age group 1-3 years may need to be 2-inches or 4-inches depending on the child's head size. There is a large fluctuation for this age group. If your child needs 2-inches, please use instructions for Newborn to 6-12 months.
Because all people are different and all children grow at different rates, you could, of course, choose to make either the 2-inch width or 4-inch width head warmer depending on the head size for which you are crocheting or your personal preference.
Instructions:
For Newborn to 6-12 months

Ch 5

Row 1: Sc in the 2nd ch from the hook and in each ch to the end. (4 sts)

Row 2: Ch1, turn work, sc in each sc across to end. (4 sts)

**Repeat row 2 until your head warmer reaches your desired length per the chart provided.

~ Headband should be 2-inches in width.
For 1-3 years to adult

Ch 10

Row 1: Sc in the 2nd ch from the hook and in each ch to the end. (9 sts)

Row 2: Ch1, turn work, sc in each sc across to end. (9 sts)

**Repeat row 2 until your head warmer reaches your desired length per the chart provided.

~ Headband should be 4-inches in width.
Finishing:
Fold head warmer in half and seam the two edges together. Leaving long tails of yarn on each end.
NOTES:

When seaming the two edges together you can either leave the yarn attached to the project and use it to seam across -or- cut the yarn, weave it in, and then use a new piece of yarn to seam the two edges together.
The length of the tails is up to you. On one end I used the excess from seaming and on the other I used at least 24-inches.
I prefer seaming the edges together with a tapestry needle to reduce bulk at the seam, but you can also sc or slp-st them together using a crochet hook.
Fold or scrunch the head warmer along the seam line.
NOTE: I try to fold or scrunch mine like an accordian.

Wrap the long tails of yarn around the scrunched together middle until the middle section is to your liking.
NOTE: I wrap the shortest tail first and then the 24-inch tail and then tie the two ends together on the underside of the head warmer once I am done wrapping.
---
I have to tell you that so far, this has been one of m simplest designs, but also one of my most loved.
People have fallen in love with the "look," but also the simplicity of the pattern.
Complicated can be beautiful too, but sometimes simple is best.
And this pattern hits the mark!
---
Looking for more quick & easy projects?
Well, you're in luck! Check these out!
15 Stash-buster Projects To Keep You Busy While "Staying In"
29 Quick Crochet Projects You Can Do In a Weekend or Less!
---
Thank you for coming to my blog! By sharing my content and/or making a purchase you are making it possible for me to continue producing and sharing free content for everyone to enjoy. I sincerely appreciate your support!
Until next time… Happy Crocheting!
---