Hi folks!
Today I am sharing a review of the Snowflake Hooded Cape for Baby pattern designed by Lillian Rather.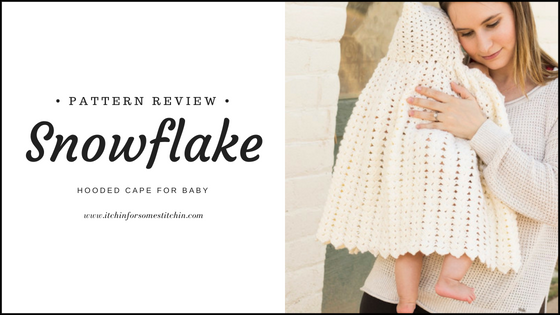 *This post may have affiliate links. See my full Disclosure Policy for details.
I don't normally do pattern reviews, but a while ago I published my tutorial on the Absolute Best Way to Make Pom Poms and it featured a photo of my grand-daughter Lilly in her hooded cape, which, of course, has pom poms on it.
I then began to receive some feedback from readers asking about the cape pattern.
Since I did not design the pattern, I cannot legally share it with you.  However, I can share my experience and thoughts on the pattern and you can decide whether you would like to try the pattern for yourself.
It's actually one of my favorite things to make for little baby girls!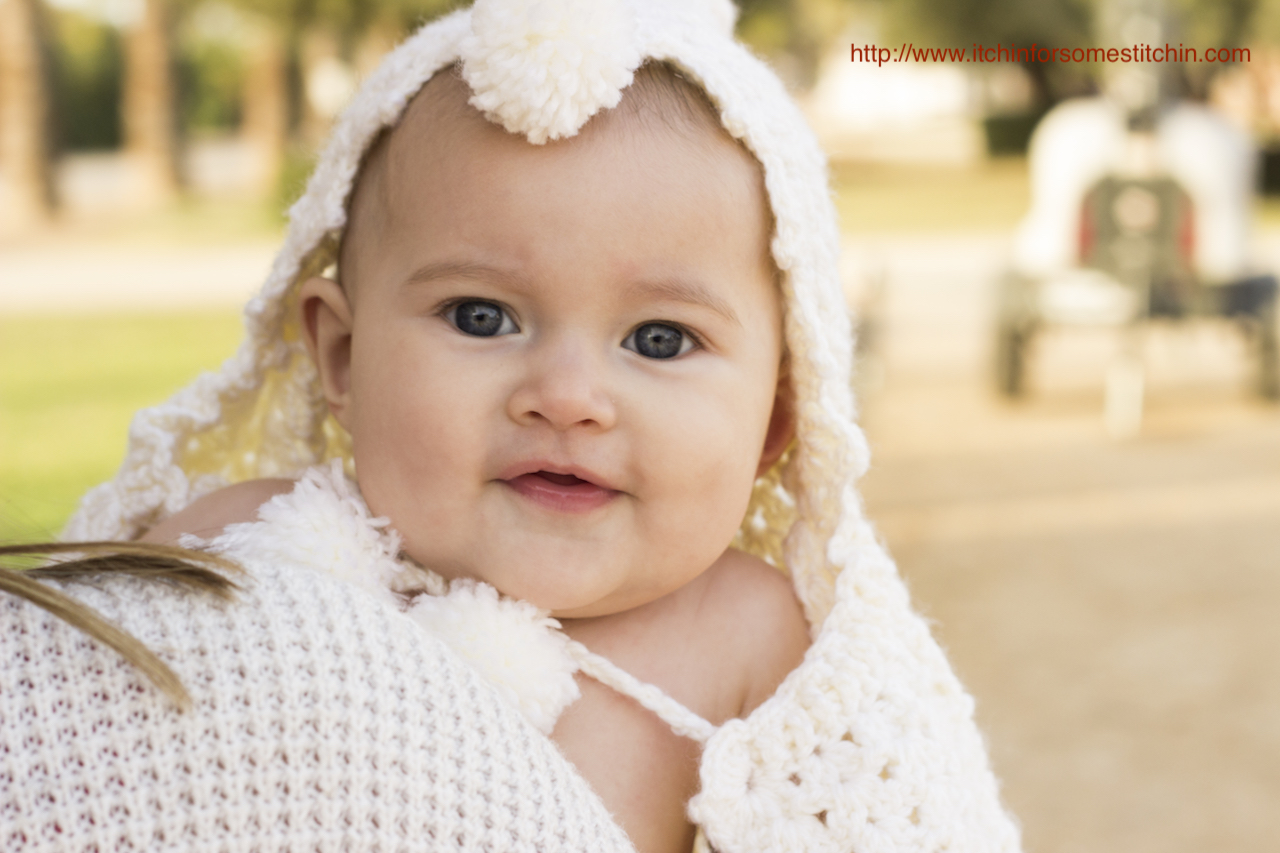 I think it is such a classically beautiful crochet cape pattern.  If you have a new baby girl in your life, this would be such a wonderful thing to make for her.  🙂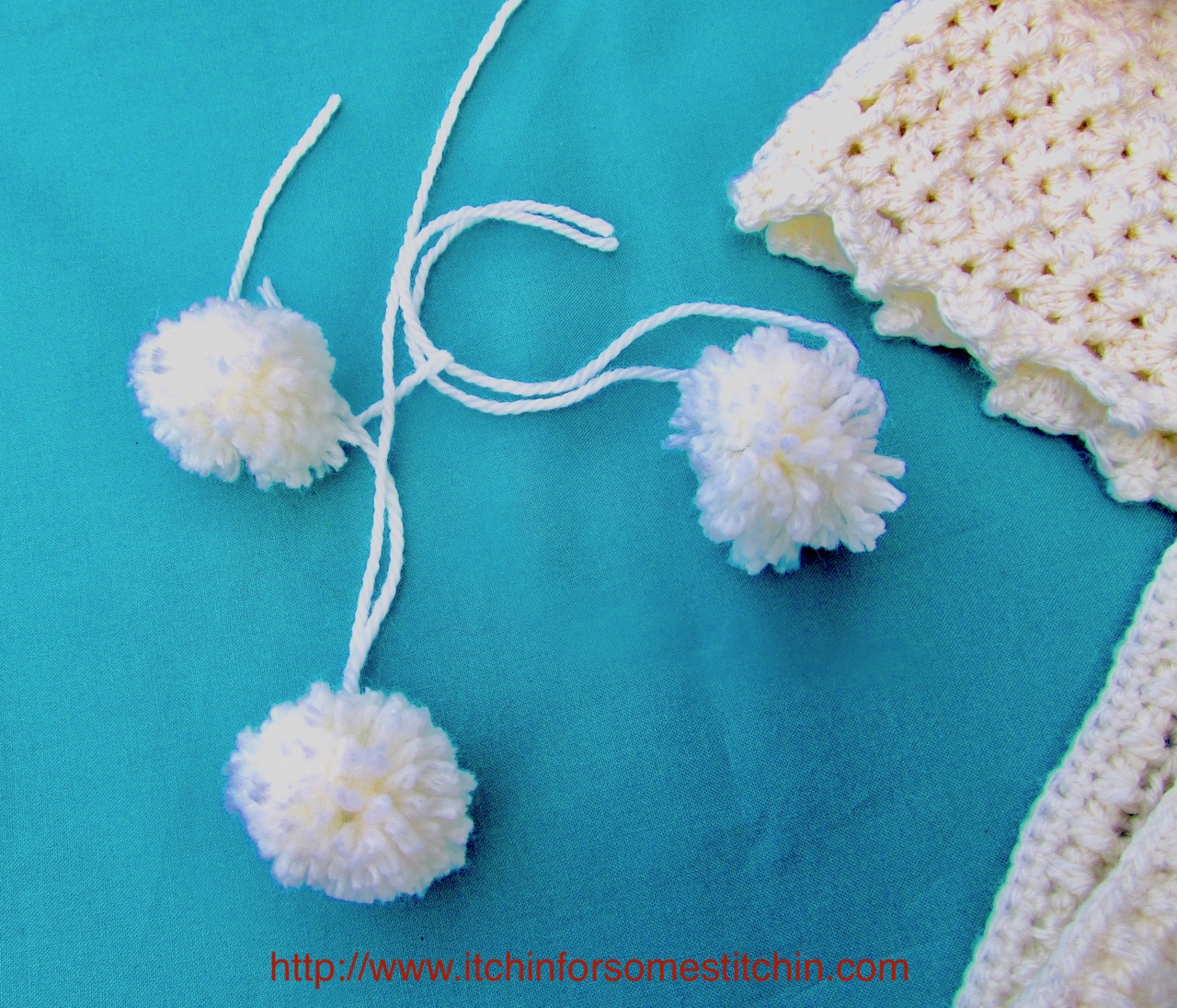 Check Out These Other Patterns I LOVE!


~ I am so pleased to announce that the crochet seed stitch baby blanket is now available on Allfreecrochet.com as well as the blog!  Find it HERE.
My Other Videos
Snowflake Hooded Cape Pattern Review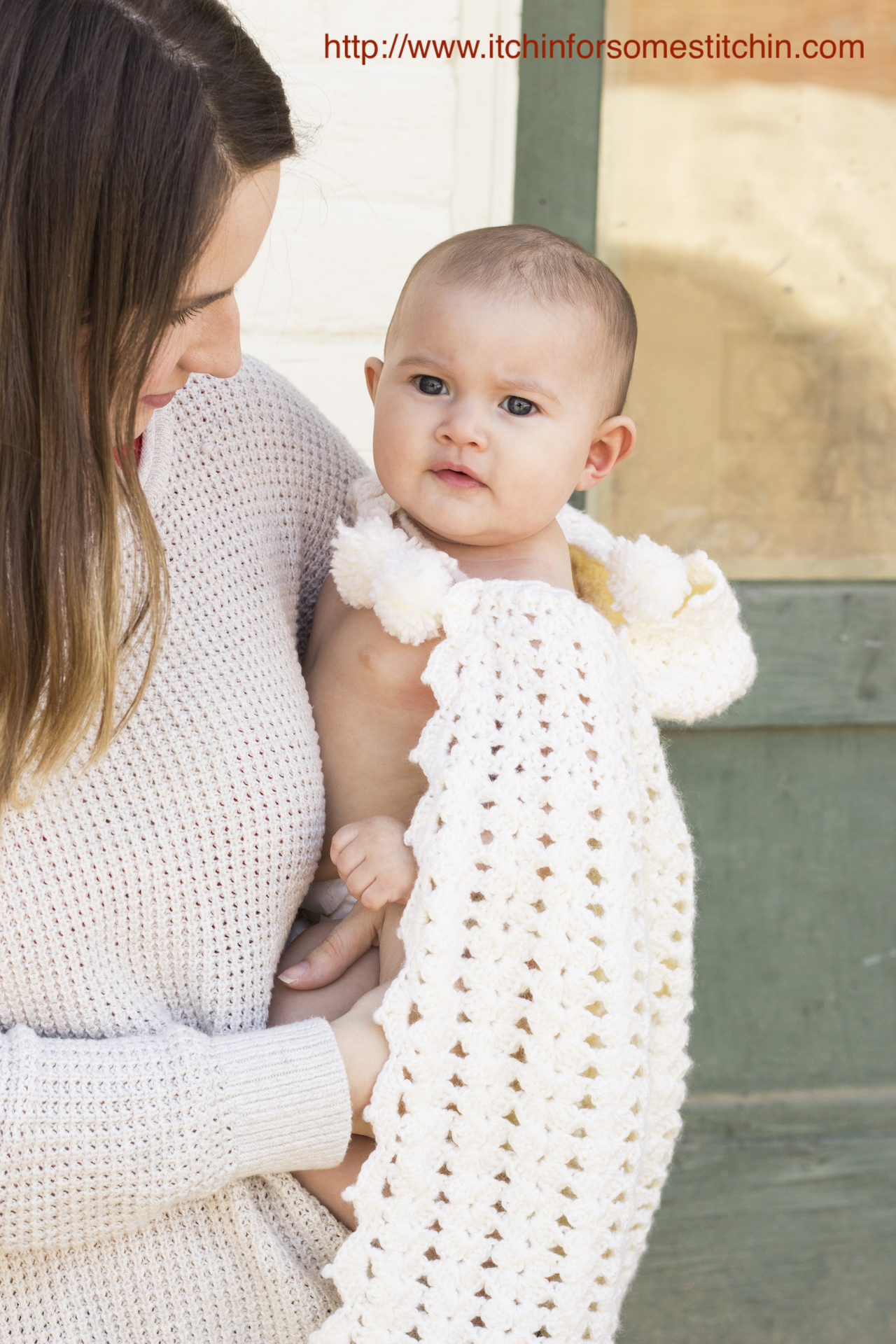 Summary:
This snowflake hooded cape for baby is a timeless crochet pattern.  Worked by making various groups of shells, it creates a lovely classic look.  From a simple pattern comes a beautiful cape of heirloom quality that is perfect for adding a touch of elegance to your baby's first photo shoot.
Original Publication:
Leisure Arts Leaflet #4, Baby Talk, 1973.  Find the pattern HERE.
Difficulty Level:
There is no difficulty level indicated in this pattern.  This could be because the pattern is so old.
After working the pattern myself, I would give it a difficulty level of EASY.
My personal system for determining crochet difficulty level is very much in line with Craftsy's article on How to Determine Crochet Skill Level.  Another good reference is the Craft Yarn Council.
These two articles differ in how they name each level but are similar in how they define each level.
I use Craftsy's naming system:  Beginner, Easy, Intermediate, and Advanced.
Finished Dimensions:
The pattern does not provide finished dimensions for the cape but does state that it is one-size that will fit a newborn to 3-month old.
Materials:
3-ply baby acrylic yarn
What the materials section doesn't tell you is that a hook size 0 is a 3.25mm hook.  This was very confusing to me at the time because I am used to patterns that provide both the hook size and the size in millimeters (mm).
I used Bernat Softee Baby in Antique White. It is a Light 3-ply yarn.
I started out with a steel hook size 0, but actually lost my hook at some point and was able to successfully complete the pattern with a steel hook size 00/3.50 mm with no changes or problems with the pattern.  The stitches looked exactly the same as when I used the zero size hook.
Please note, these are very small hooks and although 3-ply yarn is thin, I still found it difficult to keep the yarn from slipping off the hook.
Although I eventually found a technique that reduced the issue, this problem persisted throughout the entire project and it is one of the reasons I don't think this pattern would be good for absolute crochet beginners.
Body:
The instructions for the body of the cape are nicely written and easy to follow as long as you have some experience with crochet pattern reading.
If you struggle with pattern reading but want to try this pattern, please see How to Read a Crochet Pattern for review.
 Hood:
The instructions for the hood of the cape are also well written, but you must know two things that are beyond an absolute beginner's skill level.
You must know how to attach new yarn with a slip-stitch (slp-st).
You must know how to seam two edges together.
These are skills that an advanced beginner should be able to do and thus, puts this pattern in the EASY rather than BEGINNER pattern difficulty level.
Edging:
The instructions for the edging may look intimidating, but they really are not.  The instructions are actually fairly simple, but for an absolute beginner and maybe even a few advanced beginners, there could be a couple of things that can be a little confusing.
The confusion seems to be near the beginning of the pattern.  The pattern states to…
…skip starting ch 3 of 1st Row, * 3 dc, picot (ch 3, slip st through 1st st of chain–picot made) 3 dc in ch 3 of next Row.  Repeat from * around edge of hood.
First, you must understand how to make a picot.  You chain 3 and then slip-stitch through the first chain of that chain 3 you just made.
Second, you must understand that you are making shells of (3dc, picot, 3dc) around the edge of the hood.
Third, you are making these shells in the chain 3-spaces created when you worked the last row of the hood.
So, to clarify, you skip the first chain 3 of the first row.  Then make a shell of *(3dc, picot, 3dc) in the next chain 3-space* and repeat from * to * all the way around the edge hood until you get to the left front edge of the cape.  Then continue on as the pattern states.
Unfortunately, at the time I worked this pattern I didn't know that I would later be writing a review.
Otherwise, I would have step-by-step pictures to help you with this part.
However, I think you can probably understand how this part of the pattern should look from this picture below.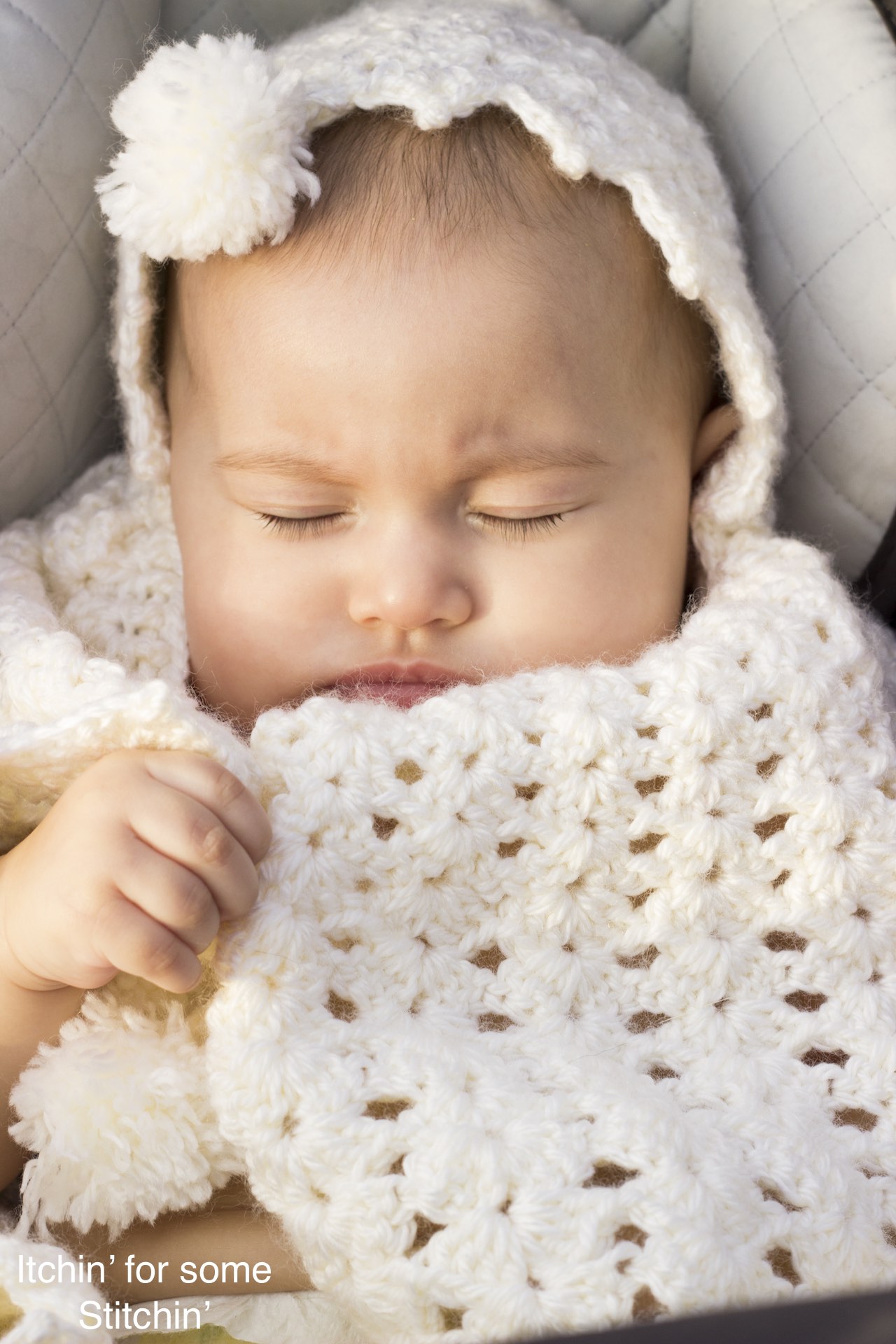 Finishing:
To finish this pattern, you make a cord that goes into the neck of the cape at the junction of the hood and the body of the cape.
You also make three pom poms.  Making these pom poms is why I wrote my Pom Pom tutorial.  If you need to learn how to make pom poms, then please check it out!
NOTE:  If I make this pattern again, I would omit the pom pom at the top of the hood.  It seems to shift a lot on the baby's head and thus, never really looks centered, which, for whatever reason, bothers me.
However, this is simply a matter of personal taste.
If you like it, then by all means, keep it! 🙂
_________________________________________________________________________________________________________________________
There you have it folks.  This is how I made that lovely cape for my grand-daughter Lilly that so many of you have been asking about!
This would be a wonderful pattern for an advanced beginner to try.  I simply love it!
If you're still an absolute beginner, no worries, if you've been following along on the blog, I am sure you've been putting all the tutorials to good use and will be ready for this project in no time!
If you're a beginner who is new to Itchin' for some Stitchin', you can sign up for our mailing list and receive our free Crochet Quick-Start Guide for Beginners to get you started.  You're welcome.  🙂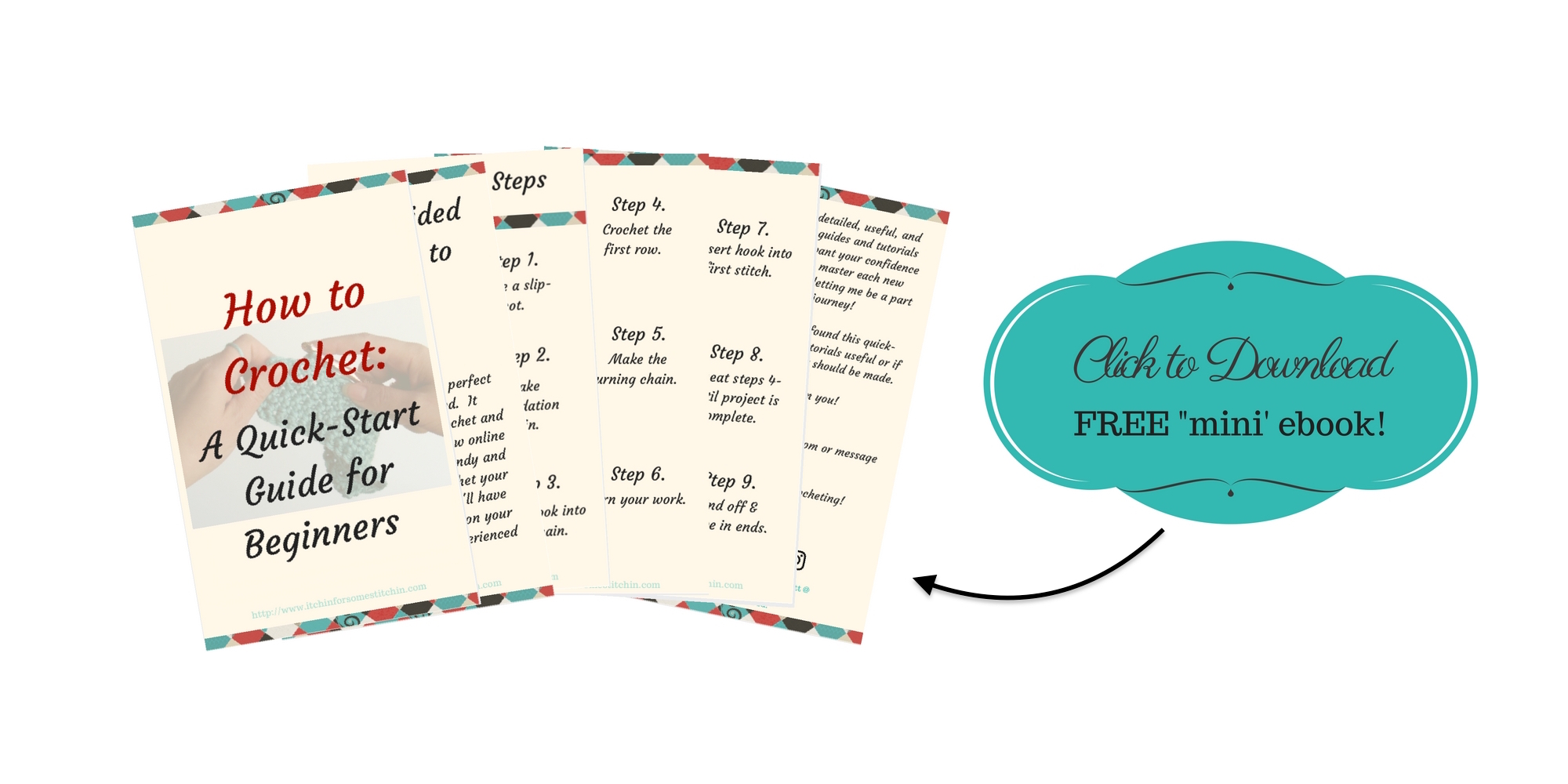 Until next time…  Happy Crocheting!
Please Share!
Insert Image