* This post has affiliate links. See my full Disclosure Policy for details.
Spring-Action Fabric Scissors
Are They Right For You?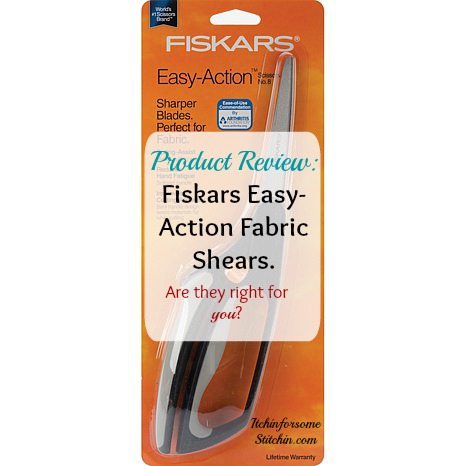 I do not work for the Fiskars Corporation nor am I being compensated for this article. I am simply a user of the Fiskars Easy Action Scissors and would like to give my honest opinion of the product. However, this post does include affiliate links. If you purchase an item through the links, I will receive a small compensation, which is necessary for the upkeep of this blog. Please see my Disclosure Policy for details.
I had a stroke when I was twenty. No, really. It's true. I did. It left me a little weak on the right side of my body. As luck would have it, I am also right-handed.
This can make sewing, knitting, and crocheting a bit difficult. If you're a crafter who suffers from ailments like arthritis, fibromyalgia, or even Multiple Sclerosis then you understand exactly what I am talking about.

That's why when I decided to start sewing as a hobby a few years ago, my fiancé insisted that I spend a little extra and purchase sewing scissors designed to ease the effort needed to cut fabric. I purchased Fiskars Soft-touch Spring-Action Titanium Nitride 10-inch sewing scissors (Fiskars Easy Action Scissors) from JoAnn's Fabric for about $35.00, but you can easily find it online at Amazon by clicking here for about $21.00. There are also smaller pairs of Fiskars Easy-Action scissors for a bit cheaper.

The Fiskars Corporation is a metal and consumer brands company founded in 1649 at FiskarsBruk, a locality now in the town of Raseborg, Finland. They specialize in long-lasting, durable craft supplies and gardening tools that provide
"(s)uperior ergonomics and intuitive designs that make doing the things you love easier than you ever imagined". ~Fiskars Design Philosophy
If you are a crafter suffering from arthritis or simply have limited hand strength, Fiskars Easy Action Scissors are the perfect choice. The shears have a spring-action design that opens the blades after each cut, which greatly reduces the effort needed for the basic cutting motion. Made with high-grade, stainless-steel blades with a specially ground edge, these shears are extremely sharp, which is vital for cutting fabric.
The bent handle design keeps material flat for precise cuts and is ergonomically sculpted with a soft grip to provide comfort and excellent cutting control. They also have an easy slide-lock for safety and a coating that resists scratches, wear and corrosion.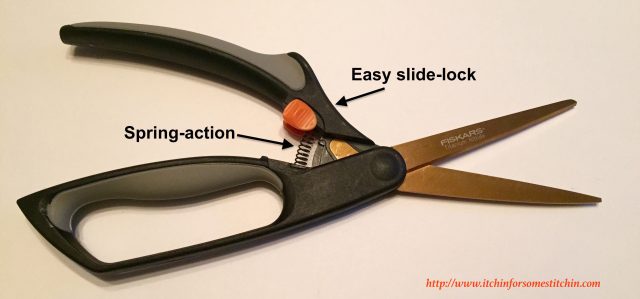 Did you know that more than 53 million adults and 300,000 children in the U.S. suffer from some form of arthritis? (source: Arthritis Foundation) This can keep them from participating in meaningful hobbies, including sewing. Fiskars Easy Action Scissors is the winner of the Arthritis Foundation Ease-of-Use Commendation. These and other spring-assisted scissors help those with arthritis or people who, like me, are manually challenged enjoy some of their favorite activities!
Personally, I love them! I honestly couldn't sew without them. They cut smoothly and thus far I haven't experienced any pain or fatigue in my hand or wrist even after a significant amount of cutting.
Admittedly, I don't own another pair of fabric scissors, but that does not mean I have never used another pair. My mother, who was once an avid seamstress, had two pairs, both Fiskars, by-the-way. One with large orange handles and one with black metal handles. I have used them to cut fabric before my stroke. This was back in the day when my right arm was strong. Let me tell you folks, after only a few cuts, my hand and wrist was tired. After a moderate amount of cutting my hand and wrist ached. I can't image how tiring and painful it would be for me to use those scissors today. I'll stick with the spring-action shears!
I also really like the slide-lock feature. It's so easy to slide that I can do it with my thumb while holding the scissors in the same hand. This comes in super handy in a house with small children! I can keep them closed and tucked safely away.
If this product has a flaw, then I would have to say it's the top part of the handle where the thumb presses. It's a flat elongated handle. I prefer a small circular handle that you can place the thumb inside. However, this could be because I am used to a circular handle with other scissors and it always takes me a few seconds to mentally adjust when I use my fabric shears. It's also important to note that if the thumb handle was circular you may not be able to use the slide-lock feature with your thumb. If I had to choose one feature over the other, I would keep the shears the way they are, with the ability to use my thumb to slide the lock.
Now, of course Fiskars isn't the only brand of spring-action fabric scissors available on the market. It just happens to be the brand I purchased, use, and love. Alternative brands include, Clauss, Wescott, and ICAR. Sizes for these shears range from 4-8 inches, I have yet find them in the 10-inch version. Depending the size you choose, these scissors range from about $11.00 to $30.00 in price, which is comparable to Fiskars 10-inch shears. However, since I have never used these brands, I honestly can't tell you how they compare to Fiskars in utility or comfort.
Have you used Fiskars or any other brand of spring-action sewing shears? Can you tell me how they compare? I'd love to hear what you think!
Until next time… Happy Crafting!
Did you enjoy this post? Then don't miss out!
Subscribe to the blog to get posts in your inbox.
This post has attended the following link parties: