Hi there crochet newbies!
Today I want to go over something you may not think is all that important, but actually is.
It's how to hold a crochet hook.
Now, for a lot of people, holding a crochet hook while crocheting comes naturally.
Yet, for many others, it does not.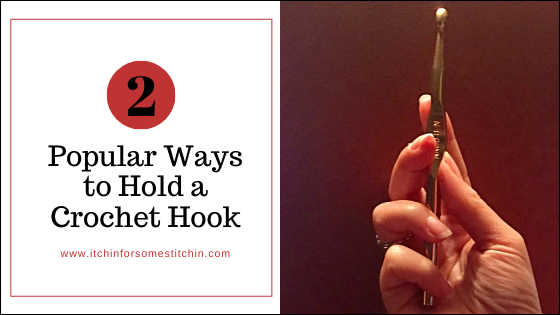 Believe it or not, but I have actually known people who have quit crocheting because they struggled with this very thing!
It can be very frustrating when you can't seem to hold the hook in a way that works and flows comfortably with the yarn.
For these people, holding a crochet hook can take some practice – and that's okay!
Why Is Learning to Hold a Crochet Hook Important?
You may be asking yourself, is this really a big deal?
Can learning different crochet hook hold techniques really make a difference?
Yes it can!
Holding the hook in a way that does not work best for you can will make your hand uncomfortable while crocheting.
If your hand isn't comfortable it may cause your stitches to be uneven and make your project look misshapen.
Additionally, your hand could seriously cramp up causing unnecessary pain.
Crocheting should be relaxing not a struggle!
What's the Best Way to Hold a Crochet Hook?
As an absolute crochet beginner, perhaps someone who has never even picked up a hook before, or simply someone who struggles with using the hook while crocheting, you may be wondering – what's the best way to hold the hook?
Well, the truth is. The best way to hold a crochet hook is the one that is most natural and comfortable for you.
There is no right or wrong way to hold a crochet hook!
Seriously, if you understand this from the beginning it takes all that – "omg, how do I do this? " or the "I'm doing this all wrong!" – pressure and fear away from the get go.
You don't have to hold you hook like that your grandma, your best friend, or that person you saw in the YouTube video.
And you're not going to do it wrong! Because there is not wrong way!
That being said, there are some common ways that a lot of people do hold their hooks and practicing these methods may give you some guidance while you are determining the way that works best for you.
As a quick note – for those of you who are so new to crochet that you've never held a hook or have never crocheted even one stitch before – the crochet hook goes in what's called your working hand. This is typically your dominant hand.
Your other hand holds the yarn.
---
Things to know before you start:
---
2 Popular Ways to Hold a Crochet Hook
Want to save this for later?
Be sure to Pin It on Pinterest HERE, you can also follow all of my boards!
---
If you don't yet have a crochet hook, you can get them HERE via my Amazon affiliate link.
---
Position One
Called the over-the-hook position, a.k.a. the knife position because and is similar to holding a knife.
Here's how to do it:
Place your hand over the crochet hook with the handle resting against the palm of your hand and your thumb and third finger grasping the thumb rest.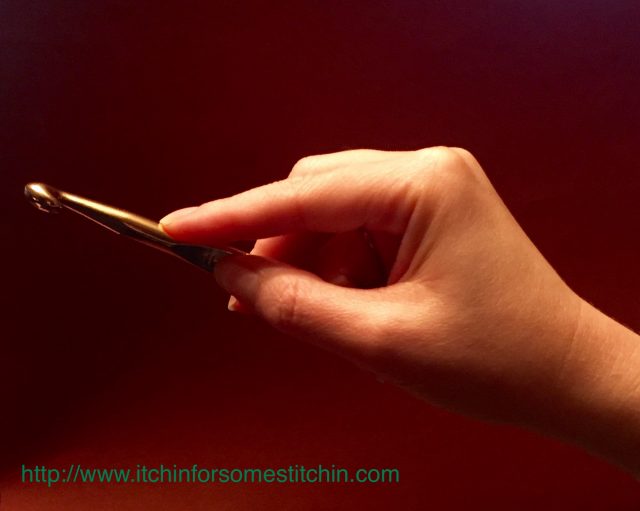 Position Two
Called the under-the-hook position, a.k.a the pencil hold because it is similar to holding a pencil.
Here's how to do it:
Hold the crochet hook as you would pencil with the thumb rest between your thumb and forefinger. The third finger should be near the tip of the hook.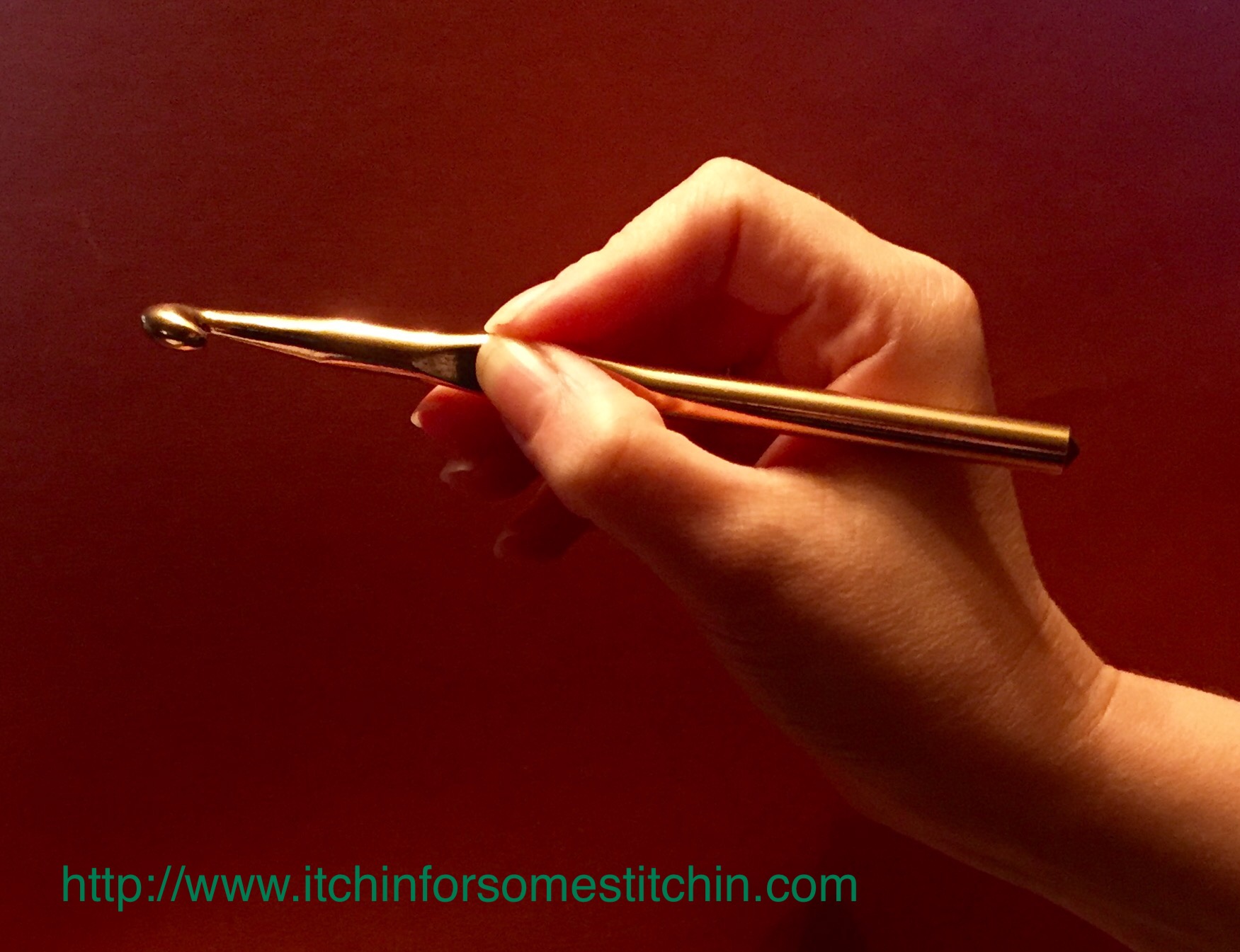 Tips for Holding a Crochet Hook
When crocheting, the crochet hook should be turned slightly toward you, not facing up or down.
The crochet hook should be held firmly, but not tightly.

At first you will find yourself gripping tightly but over time, once you feel more comfortable, you will find your hand relaxes.
---
Did you practice each technique? Which one feels best for you?
It's totally fine if neither of these methods works for you. As I said, there really is no right or wrong way to hold a crochet hook.
However, experimenting with these two methods can give you a starting point. You can then make adjustments to find the technique that is right for you.
If you use a different hold or you've decided to make of up your own then please share, I'd love to know!
---
More Crochet Tips & Tutorials
Ready to learn more? Check these out!
1. How to Yarn Over in Crochet
2. How to Read a Crochet Pattern
4. How to Crochet a Foundation Chain
---
You can also download my free Beginner's Guide: How to Go From Crochet Clueless to Crochet Confident in Just 9 Steps! (sign up below)
---
Additionally, you can follow me on Facebook and join my Facebook group for crochet beginners!
I share lots of tips & tutorials to help you along in your crochet journey!
Plus, since it's open to experienced crocheters too, you can get some really great advice from different perspectives – all the while gaining new friends and crafty inspiration!
---
Thank you for coming to my blog! By sharing my content and/or making a purchase you are making it possible for me to continue producing and sharing free content for everyone to enjoy. I sincerely appreciate your support!
Until next time… Happy Crocheting!