Hi everyone! Today I want to share with you my review of the KISS Laser Line for Sewing and Craft. This is a laser that helps you to cut a straight line.
It is available through my Amazon affiliate link HERE. See my full Disclosure Policy for details.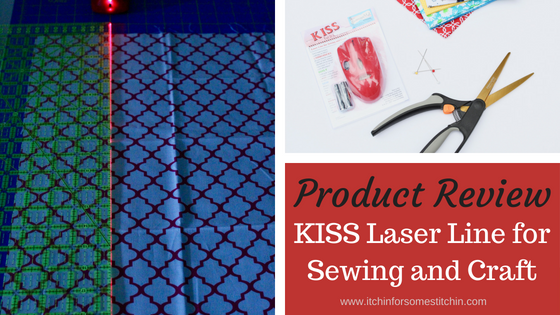 *This post may have affiliate links. See my full Disclosure Policy for details.
Now, I don't often do product reviews, but a couple of weeks ago I had a member of my sewing community contact with an issue that had been plaguing her for a long time.
No matter what she did, she simply could not cut a straight line.
As luck would have it, I had just learned about lasers that could potentially help you keep your line straight while cutting fabric.
Unfortunately, I had no personal experience with one at the time. I had no idea if the product would work or if it was worth purchasing. Thus, I could not actually recommend it to her.
I realized that she is probably not the only person with this struggle and since lasers for sewing seem to be relatively new on the market, few people may know if it's worth the money or not.
I decided I didn't want my community member or anyone else to waste her/their money if it's not necessary. Thus, I made a quick Amazon purchase and learned how to use the laser so I could share my honest review with you!
---
Please note that I do not work for Sew Concept Mall, the manufacturer of the KISS Laser Line for Sewing and Craft nor am I being compensated for this article. I am simply a user of this laser and would like to give my honest opinion of the product.
However, some of the links on this website are Amazon affiliate links. This means that if you choose to purchase this laser via the links on my website I will receive a small compensation. Please read my full Disclosure Policy for more details.
---
Product Review Summary
Love Pinterest? I do!
[list style="style6″]
[li]PIN this pattern to your Pinterest boards for later HERE. You can even follow all my boards! [/li][/list]
The KISS Laser Line for Sewing and Craft is manufactured by Sew Concept Mall, a sewing, quilting, and embroidery division of K-Hill, Inc out of Fort Worth, Texas.
KISS stands for Kut It Sew Straight, which is a clever way of saying cut it so straight. I had to repeat it several times for me to get it, but then I can sometimes be a little slow on the uptake! 😉
Product Overview:
The purpose of the KISS laser line is to provide a straight laser beam across the surface of your project, usually fabric in the case of sewing, quilting, or embroidery, that you can cut along and, thus, end up with a perfectly straight cut.
It is or has:
battery operated, uses 2 – AAA batteries that are included
2 levels to ensure you are cutting on a flat surface
a button that when pressed creates a red laser beam across your fabric – press once to turn on & again to turn off
an arrow marking where the laser beam will come from
The packaging is adequately labeled with simple instructions for use. It also has a warning that reminds users that the product is not a toy, took keep it out of the hands of children, and to either wear eye protection or not to look directly into the beam.
Pros:
lightweight, weighing only 1/4 of a pound
easy to use
simple easy-to-follow instructions
can be used for multiple crafts: embroidery, sewing, quilting, and even paper crafting.
does produce straight cuts when used properly
will help you keep a straight line if your ruler slips while cutting
Cons:
More expensive than some brands of differing quality
laser beam is not very intense so it requires a slightly darker room lighting to work properly
fabric must be perfectly flat to avoid skipped areas in the laser beam
works best with a rotary blade as cutting the fabric with scissors will distort the fabric and thus, the laser line
[list style="style6″][li]You can purchase the KISS Laser Line for Sewing and Craft via my affiliate link HERE.[/li][/list]
Possible alternatives:
Central Machinery Laser Marker
Sewing Fabric Laser Guided Scissors (cannot use a rotary blade with this laser)
PAL Perfect Alignment Laser (more expensive than KISS)
---
Other Things That May Interest You:
Also, be sure to check out my Sewing Resources page!
---
Does The Product Work?
Overall, I found the KISS laser line easy to use and the product does what it claims, it creates a straight laser beam to guide you while you cut your fabric.
This is great for those who use rulers and a rotary cutter to cut their fabric, but who also have trouble with ruler slippage as they cut. If your ruler slips, simply stay on the laser beam line and your cut will still come out straight!
However, if you like to use scissors to cut your fabric, you may want to invest in laser-guided scissors because the fabric has to be lifted to cut with shears and this distorts the fabric and the beam.
That being said, I was able to keep my fabric low while cutting with scissors and still follow the KISS laser beam. The cut was not perfectly straight, but it was the best cut I had ever made with scissors!
What Is Needed So The Product Works Properly?
As I said, the KISS laser beam does what it is supposed to do. That being said, I found that there are a couple of "environmental factors" that contribute to how well the product works.
One, just like all laser beams it works best under darker lightening. I found I had to dim the lightening in my sewing room to get the beam intense enough to be brightly visible. Dimming the room did not affect my ability to cut the fabric in any way.
Second, the fabric you are cutting has to be perfectly flat. Make sure you press it so there are absolutely no bumps or ridges. Otherwise, the beam with skip over these raised areas.
How Do You Use The Laser Beam for Cutting?
The instructions for use are simple and straightforward.
Place fabric on cutting board.
Line your KISS laser at the opposite end to cut line.
Turn on laser and algin cutting point to point.
Place scissors or rotary blade at the cut line where you should see the red laser at the tip of your scissors/rotary blade and across fabric cutting line.
Cut fabric while keeping the scissors cutting on the KISS laser line.
It couldn't be any more simple!
However, a full tutorial on how to use the KISS laser beam for cutting fabric is something I think would benefit many sewers, especially those new to the craft.
So, I will be creating one just for you! Expect it out soon. 🙂
Are you going to try the KISS Laser Line for Sewing and Craft or have you already tried it? If so, please comment and let us know your experience!
Until next time, Happy Sewing!