* This post contains affiliate links. See my full Disclosure Policy for details.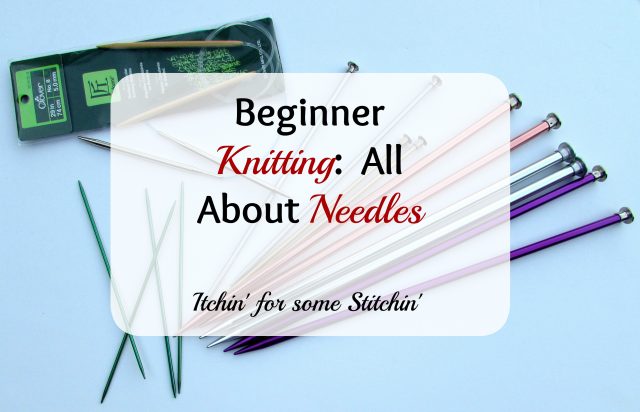 Hi folks! This post is for all you knitters out there, especially if you are a newbie knitter. Knowing how to cast on, make stitches, and deciding on a pattern are not the only important things you need to do when starting a knitting project. You need to make sure that you are picking the correct yarn and needles as well.
When I started knitting I went to the craft store and stood in the aisle staring at all the needle choices. Long ones, short ones, shiny ones, thick ones, round ones, plastic ones, wood ones… it went on and on. I had no idea which ones I needed. As a beginner the array was overwhelming.
So today I want to review the different types of knitting needles available so you can pick the right tool for your project and hopefully save you some of the frustration I suffered as a knitting newbie.
Knitting Tools of the Trade
Materials
It is important know what type of material knitting needles are made of because it can affect both your project and your technique. Aluminum needles are the ones most people are familiar with, but there are many other knitting needle types to choose from.
Metal
These needles are usually made of aluminum or nickel and are the heaviest and the most durable type of knitting needle. Aluminum knitting needles are cheaper and easier to find than the nickel plated ones. However, nickel knitting needles are smoother and lighter than aluminum. This can make them easier to use and allow you to knit more quickly.
Comparatively, metal needles are smoother than needles made from other materials, which can make knitting faster. They are good for all types of yarns, but work best with wool, wool blends, and acrylic.
Wood/Bamboo
These needles are very smooth, which makes them perfect for knitting in the round because the yarn glides nicely over the needle. They work well with all yarn types and are also comfortable to use because they are lightweight.
Wooden/Bamboo knitting needles are ideal for beginners because they have a slightly rough surface and smooth finish, which allows stitches to be easily formed in a slow and precise manner. Needles made from bamboo tend to be less expensive and easier to find than those made from traditional wood.
Plastic
These are lightest and the least expensive of all the knitting needles. They are perfect for beginners because if you decide that knitting just isn't for you (WHAT? Is that even possible?:)) you haven't invested a lot of money in the supplies.
These needles are flexible and work great for all yarn types and yarn weights. They can be extendable and are considered the best choice if you need to create large stitches. Some projects that need plastic knitting needles are shredded plastic bags, rags, and ropes.
Other Materials
Sometimes knitting needles are made from organic ingredients such as milk protein, bone, ivory, glass, and pearl. The type of material will determine how smoothly and quickly a knitter can make the stitches.
Styles
Circular
Circular needles are the most versatile of the knitting needle types and are typically used for knitting things that are round, like hats, sweaters, and large blankets. However, I also use them for things that are not round, like prayer shawls, because they are light weight.
Circular needles consist of shorter pointed sticks that are attached to one another through a smooth nylon cord. They are great to take when you are traveling because you don't have to execute a wide array of moves to complete a stitch. They come in lengths of 16", 20", 24", and 32". Craftsy has a great article on what kinds of project to use with each length.
Straight/Single-Pointed
These are the needles that generally come to mind when people think of knitting. Straight needles come in pairs and in the lengths of 10″ and 24″. They can be used for anything that's knit flat, such as scarves, wraps, and small blankets.
However, you don't want to use them on heavy projects. As the knitting gets heavier it becomes harder to hold up the needles. This can quickly wear out your arms and wrists. Using these needles to knit heavy prayer shawls was one of my biggest mistakes when I first learned to knit. In cases like these, it is best to use long circulars instead.
Double-Pointed (DPNs)
These are knitting needles that have points on both ends and are designed for knitting small round items without seams, such as tiny circles and tubes. Double-pointed needles are used for the crowns of hats, socks, seamless garments.
Interchangeable
Interchangeable needles are a set of short needle tips that are similar to circular knitting needles. They can be used for both circular and straight point purposes. They are more expensive than other knitting needles, but they are also more efficient. They come in sets of different sizes and lengths, which is particularly useful for dedicated knitters.
Cable
These are short needles that can be straight or hooked. They are a specialized tool used for a type of knitting called cable knitting, where it is used to hold stitches either to the front or back of the work when forming cables.
They are inexpensive, but not necessary if you don't do a lot of cable knitting. However, if you do cable knit and can't find your cable needle when you need it, try using a DPN the same size or slightly smaller.
Okay, now that you know all about the types of knitting needles and what they can be made from, you might be wondering how on earth do you choose the correct needle size for your project?
Well, first, your pattern will often tell you. The needle size used in the pattern can normally be found under the materials section, but be sure to consider how tightly or loosely you knit. If you knit more tightly, you may want to use a larger size needle and vice versa.
A needle gauge can also help find the right needle size needed for a particular project. A gauge is also important for identifying the number of stitches per inch that a knitter creates horizontally in ratio with the number of rows knitted vertically. As you become a more experienced knitter, you will eventually learn the different target gauges for each knitted craft.
Tips
Here are some things to remember about knitting needles and picking out the best ones for you and your project.
1. If you have a yarn with a lot of texture, it is best to choose a smoother needle.
2. If your yarn has a slippery surface, you should choose a needle with a rougher grip.
3. Feel the needles before you buy them to decide if they are smooth or rough.
4. If you can, but the yarn and knitting needles at the same time to see if they suit each other.
5. In the UK thinner knitting needles have larger numbers (sizes).
6. In the US thicker knitting needles have larger numbers (sizes).
The most important thing to remember about the different types of knitting needles is that, like yarn, everyone has their own preference. So, do your homework. Test out different needles types, made from different materials, to decide what works best for you.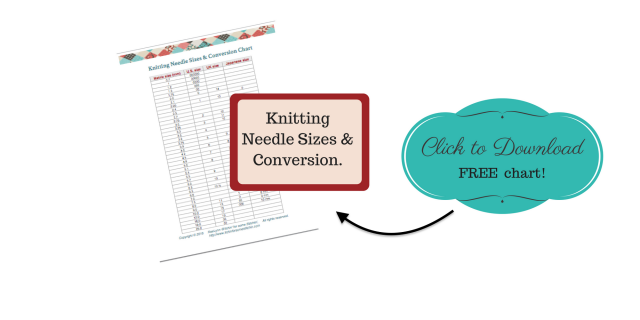 What knitting needles to you use the most?
Until next time… Happy Knitting!