Hi there fellow crocheters!
Today I want to share with you a quick little tutorial on how to crochet a turning chain.
If you are new to crochet then you've probably heard of a turning chain, either from a pattern or another crocheter.
The first time you heard about it I am sure your brain went "uh… what the heck is that"?
I am sure because that's what my brain did.
**This post may have affiliate links. See my full Disclosure Policy for details.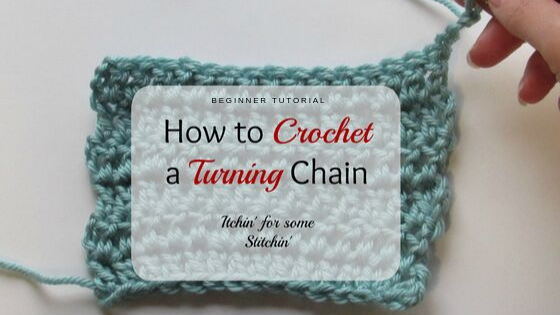 If your brain didn't do this and you've already figured it out then that's awesome!
Kudos to you!
My brain, however, as a crochet beginner (about 23 years ago!), just couldn't grasp it.
The potholder I was making just kept getting smaller and smaller – I could't figure out why!
Years later, I finally mastered the turning chain and realized that this was why I failed at crochet all those years ago. And I do mean failed. Massively.
Now I know now that I wasn't making a turning chain at the end of each row and if I was, I wasn't doing it properly.
I didn't even truly understand what the turning chain was!
If this sounds familiar, then let me help you out. 🙂
What is a Turning Chain in Crochet?
When crocheting, the turning chain is one or more chain stitches you make at the end of a row. You do this before you start the next row.
NOTE: If you need a refresher on chain stitches see How to Crochet the Foundation Chain.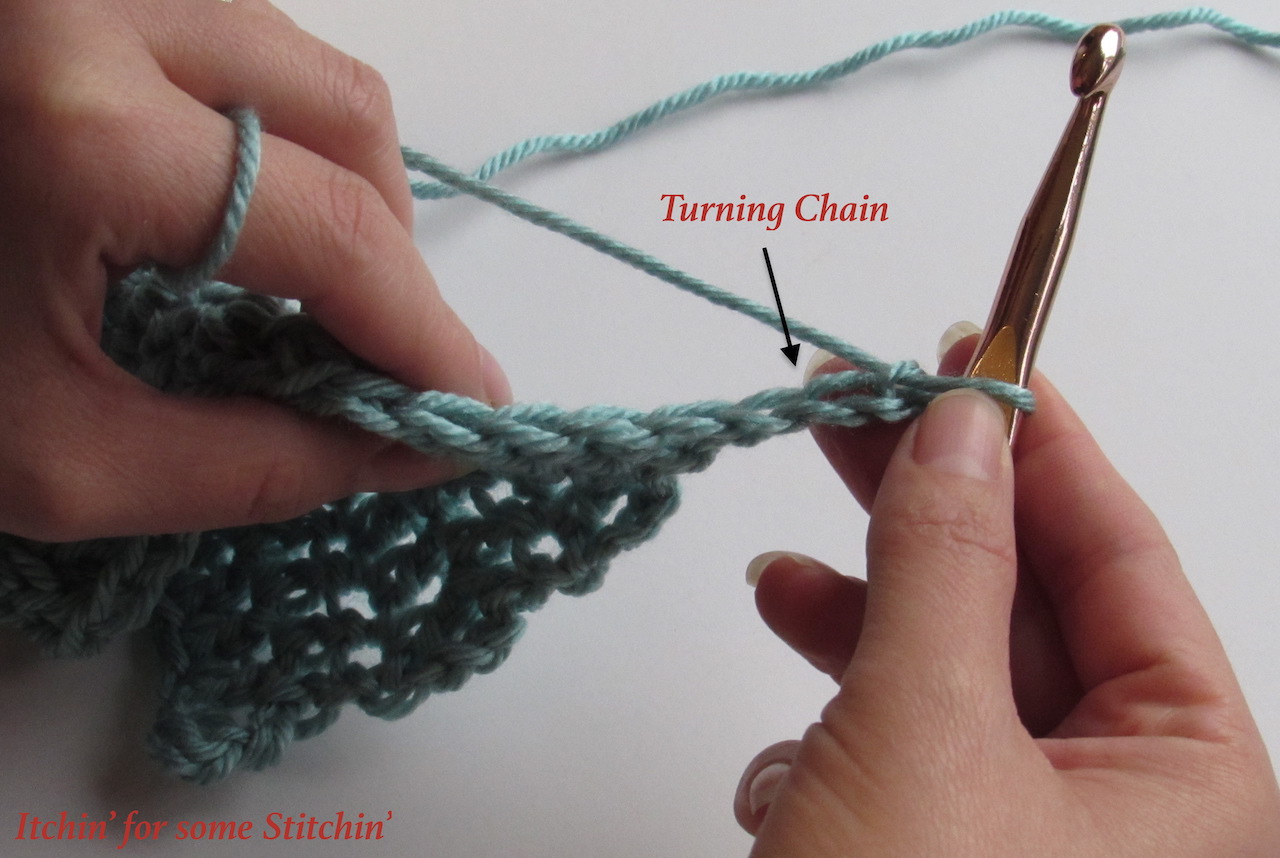 This is super important because the turning chain is necessary in order to bring your yarn to the height needed so you can work the first stitch of your next row.
Because some stitches are taller than others, the number of chain stitches you make for the turning chain depends on the type of stitch that you will be making in the new the row.
Take a look a this handy chart (see below) for a list of the most common stitches and the number of chains required in the turning chain for each stitch type.
[list style="style6″]
[li]Pin to Pinterest for later HERE and be sure to follow all my boards![/li]
[/list]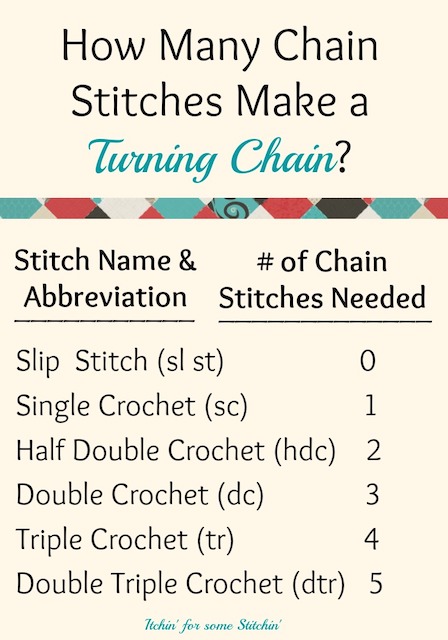 ---
Tips & Things to Know
One.
Now, with a few exceptions, it is important to note that the turning chain almost always counts as the first stitch of the next row.
One exception is when the first stitch of the next row is a single crochet.
In this case, the turning chain does not count as the first stitch in the next row because the single crochet turning chain is not wide enough to substitute for the first single crochet of the row.
Another exception would be if the pattern you are working specifically states that the turning chain does NOT count as a stitch.
Two.
Most patterns and perhaps even most crocheters will tell you to turn your work and then make the turning chain.
However, this doesn't work for me. It didn't work for me 22 years ago and it doesn't work for me now!
That's because when I turn and chain in this order, my stitches get twisted and tangled. I don't know why. It just happens!
I actually make the turning chain first and then turn my work.
Yep, I do it completely the opposite. Just call me a rebel!
If you are struggling with the turning chain you might be a rebel too. Try it this way and see if it works. 😉
Three.
No matter which order you choose to chain and turn, make sure you are not skipping the turning chain at the end of your rows and that you are adding the correct number of chains.
This was my problem all those years ago. I either skipped the turning chain altogether or didn't make the right number of chains for the stitch I was making in the next row.
Please don't make the same mistake(s)!
For me this issue was so frustrating that I actually quit this wonderful hobby for many years. 🙁
I'd hate for you to do the same.
---
More Crochet Tips & Tutorials
Ready to learn more? Check these out!
1. How to Hold the Yarn When Crocheting
3. How to Yarn Over in Crochet
4. The 10 Best Crochet Tips for Absolute Beginners
5. How to Read a Crochet Pattern
---
You can also download my free Beginner's Guide: How to Go From Crochet Clueless to Crochet Confident in Just 9 Steps! (click on the photo below)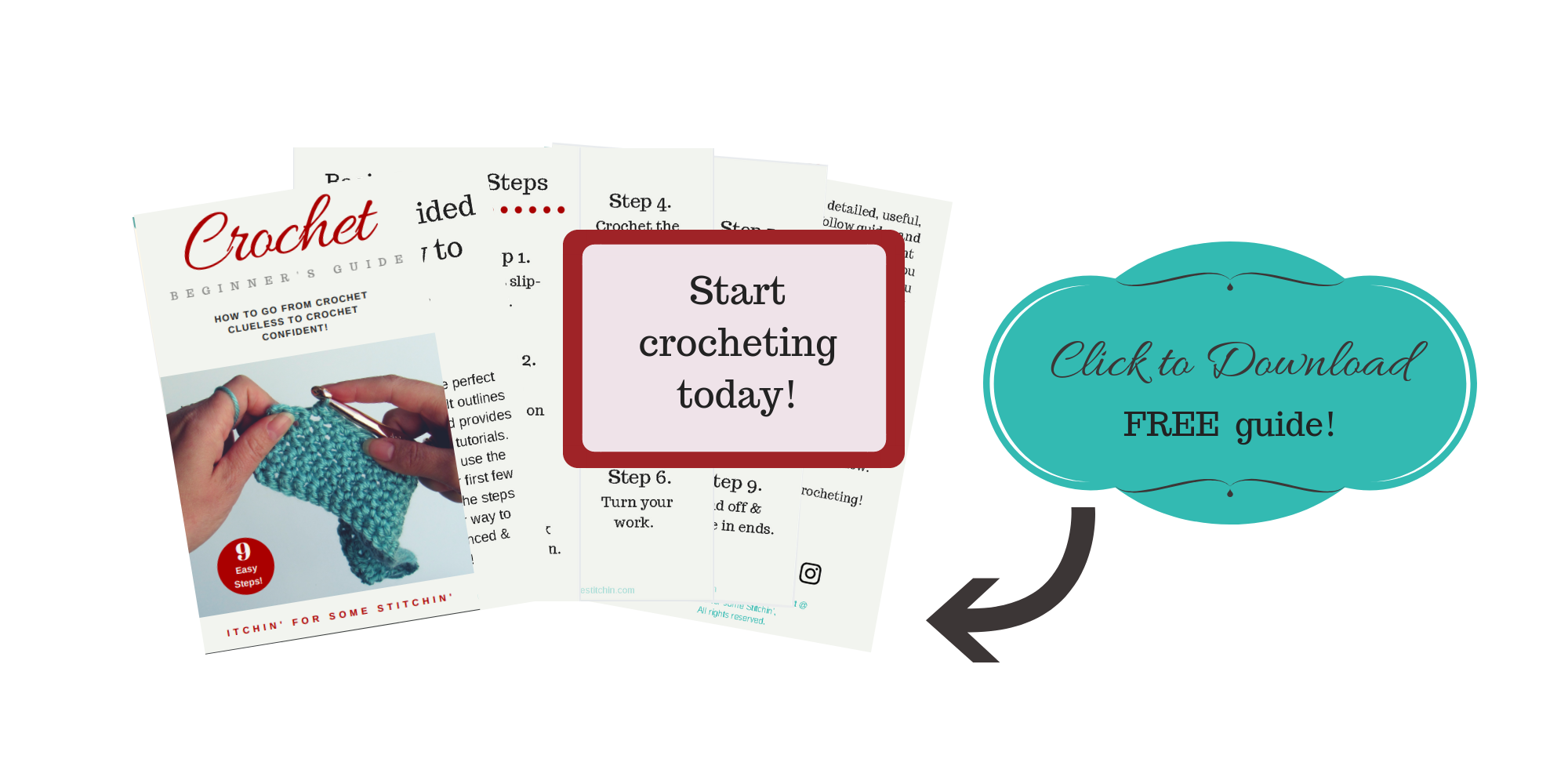 But… these steps are really just the tip of the iceberg – there's so much more to learn!
If you want to be able to crochet beautiful blankets and afghans, gorgeous clothing, fun handbags, and even simple squares (and more!) – mastering the beginning steps and stitches are critical!
And there are definitely some ways I can help you!
---
Additionally, you can follow me on Facebook and join my Facebook group for crochet beginners!
I share lots of tips & tutorials to help you along in your crochet journey!
Plus, since it's open to experienced crocheters too, you can get some really great advice from different perspectives – all the while gaining new friends and crafty inspiration!
---