Hi folks!
I am super excited to introduce to you today a new guest crochet designer!
She is my friend and colleague, Chelsea Roberts of The Crafter Life, and she simply makes some of the cutest creations I have ever seen.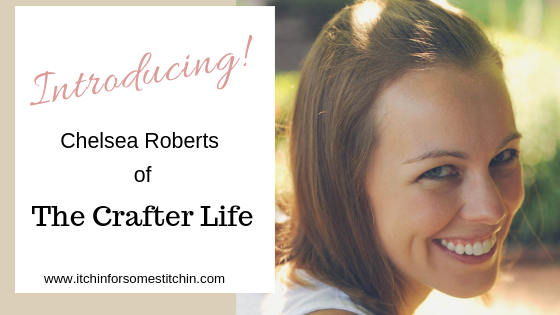 In fact, I actually made one of Chelsea's designs years ago before I even knew her!
I found her baby sneakers pattern on Pinterest right around the time my son was born and they were so adorable that I just had to make them!
My son looked pretty adorable in them too, I must say. 😉
So let me tell you little more about Chelsea…
Chelsea has always loved all things creative and crafty. As a kid, she enjoyed latch hook and cross stitch.
After graduating from Hood College with a Mathematics degree, she worked as a Math teacher until she and her husband moved across the country.

During her time off with her first child, she taught herself to crochet which reignited her passion for fiber arts.
After having her third child, she decided to be a stay-at-home mom and focus on her blog, TheCrafterLife.com.
Chelsea continues to create her own patterns that she loves to share with the hopes of inspiring others. She also blogs about crafts for kids and DIY projects.
If you haven't checked out Chelsea's blog, you simply must!
Not only are her crochet creations AMAZING, but she is a great resource if you have kids. Trust me, I know this for a fact because her blog has given me tons of ideas for my 3-year old son!
I actually have plans to do her Father's Day Frame. It's such a cute idea!
And if you don't have kiddos as we do, that's okay, as I said before, Chelsea has fabulous crochet designs I know you'll love.
Just check out the awesome creations she has shared with all of us here at Itchin' for some Stitchin'!
Do you hear that? It's a BEE-autiful crochet sunglass case that's both fun and useful! Simply slip your sunglasses in, cinch the drawstring, attach it to your favorite Spring or Summer handbag and you'll have cute crochet accessory that your friends and family will be BUZZING about!