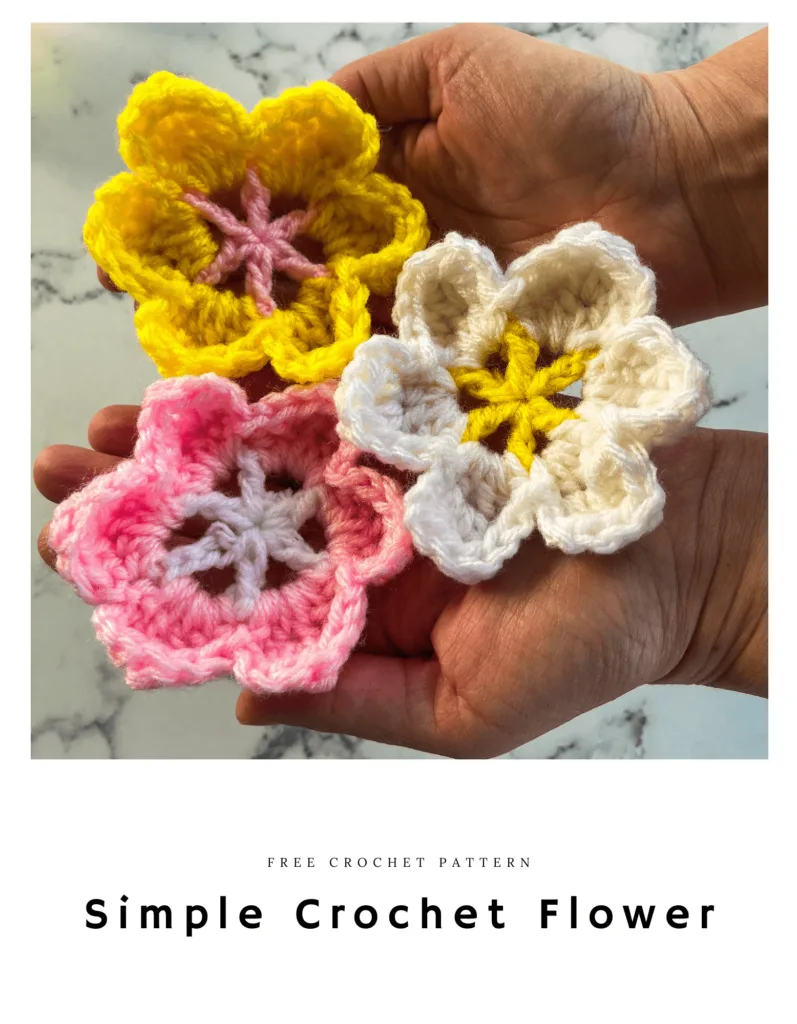 Learn how to crochet a small simple flower in only three rounds! A great crochet flower for beginners as it uses only the basic stitches and can be whipped up in just a few short minutes!
Are crochet flowers easy to make?
The complexity of crochet flowers really does depend on the designer, the design itself, and the individual crocheting them. What may seem difficult to one person might be easier for someone else.
The simple crochet flower pattern provided below definitely fall into the "easy" category.
They can be worked up in just three short rounds and using only simple crochet stitches, which makes them a great project for crochet beginners!
What size yarn is best for crochet flowers?
The answer to this question really depends on the flower you are crocheting and the size you want it to be.
Most crochet flowers are worked using DK weight or medium 4 worsted weight yarn, but if you want to make smaller crochet flowers you'll want to use fingering weight or even crochet thread.
Whatever yarn you use, just be sure to use an appropriate size hook to match!
How long does it take to crochet a flower?
The length of time it takes to make a crochet flower depends a lot on quite a few factors.
Your skill level
The number of petals you choose to make
The size of your crochet flower
The stitches used
Yet, generally speaking, you can whip one up in just a couple of minutes or perhaps a bit longer if the stitches used are new to your or if the design calls for a technique that may be unfamiliar to you.
If it is a smaller flower, perhaps worked using fingering weight or crochet thread, there may be somewhat of a learning curve if you are not used to crocheting with very thin yarn or using a smaller crochet hook.
How do you crochet flowers for beginners?
That's a great question!
I think the best crochet flower designs for beginners can have multiple petals, but should be completed in only 1 – 3 rounds.
Additionally, you should be able to start it using both the magic ring and the chaining method. The chaining method is an easy alternative to the magic ring, which a lot of crocheters have trouble grasping, especially when just learning.
And, of course, it should be designed with only simple basic crochet stitches that beginners would generally be familiar with even when first learning to crochet, such as the single crochet and the double crochet.
The simple little crochet flower provided below meets all these criteria so it is a great pattern for crochet beginners!
How to crochet a small simple flower
So, without further ado, let's learn how to make some small simple crochet flowers!
The flower I will show you how to make has six little petals, only three rounds, and takes only minutes to work up.
Simple Crochet Flower Pattern
**THIS IS AN ORIGINAL PATTERN. Please see my Copyright Statement for details.
Pin this pattern to your Pinterest Boards to Save It
This pattern is currently only available as part of the Stash Busting Challenge Pattern Collection.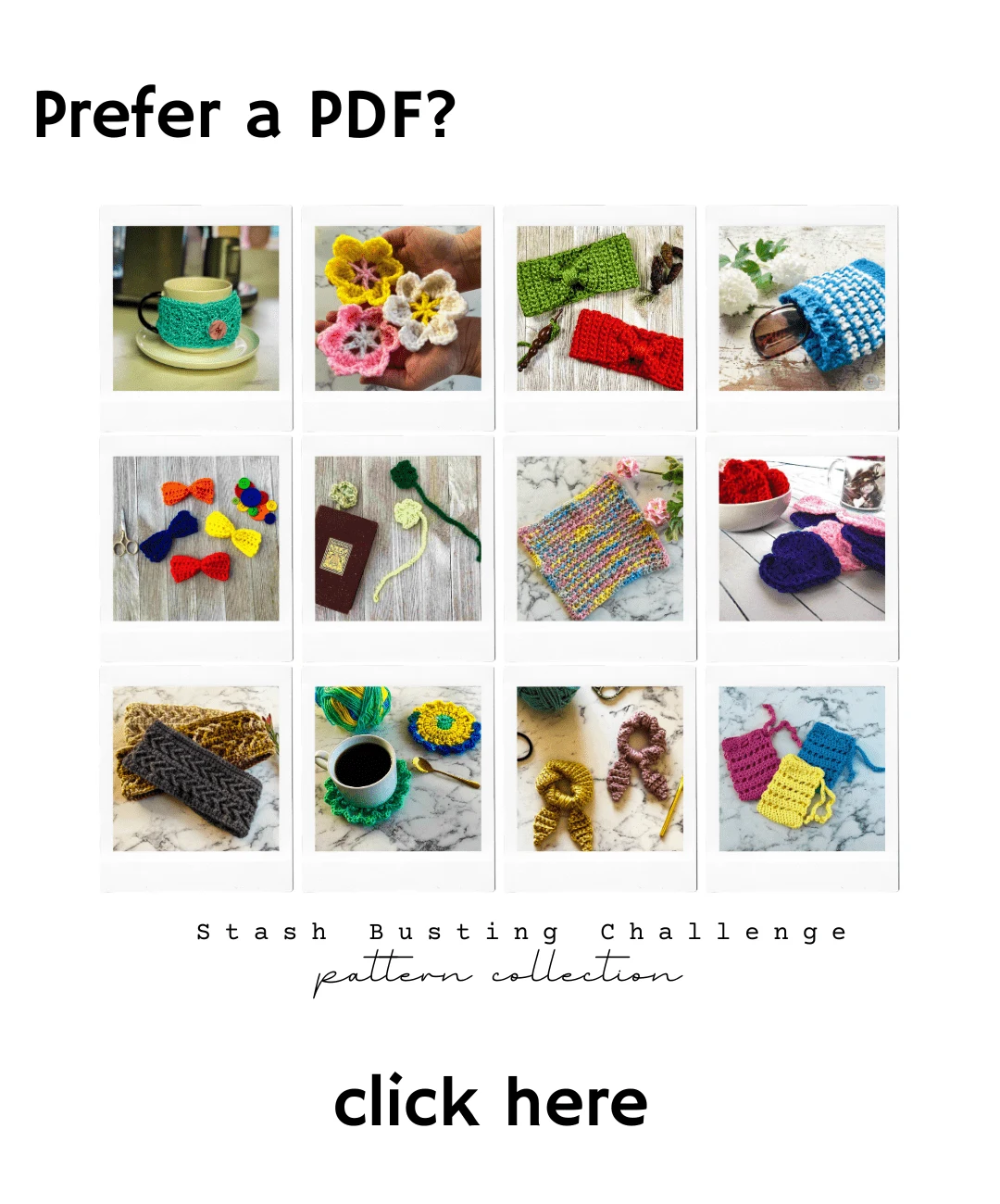 Some of the content on this website may contain affiliate links. This means if you make a purchase through one of these links, I will receive a small commission at no cost to you! Please see my full Disclosure Policy for details.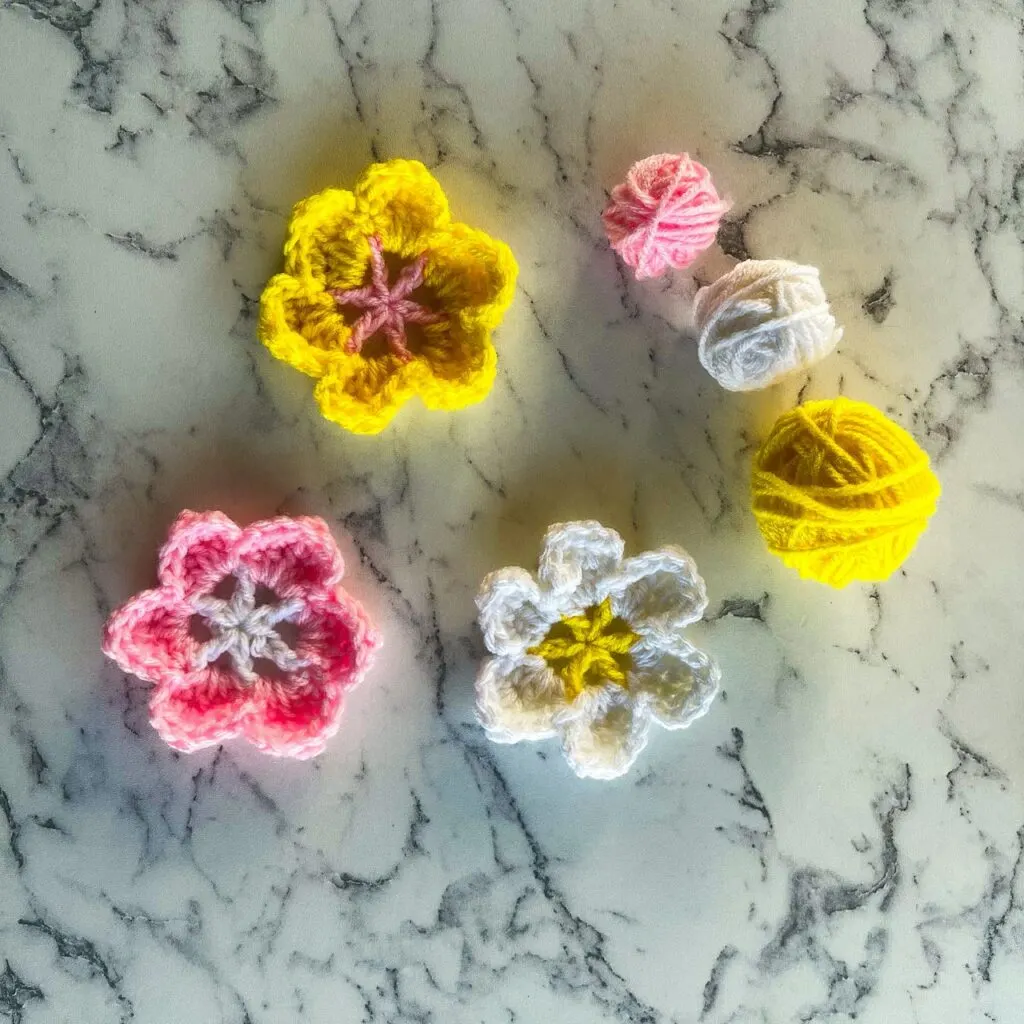 These pretty little simple crochet flowers can be whipped up in only a few minutes. They make great appliqués, attach them to hair clips, or use them to fill gifts boxes as a unique and fun stuffing!
It also makes a great stash buster project!
Construction
This pattern is constructed as one piece.
First form the center pistil and then work 2 crochet rounds to form the petals.

Difficulty level
Difficulty level : Advanced Beginner
Gauge/Tension
12.5 stitches and 8 rows = 4 x 4-inches in double crochet using H/8 5.00mm hook in double crochet.
Recommended yarn
2 colors (A & B) of your choice of Red Heart Super Saver, medium 4 worsted weight, 100% acrylic, 198g/7oz, 364yds/333m per skein.
Yardage requirements
*provided requirements are estimates only
Total yardage: 3yds / 2.7m to 5yds / 4.6m
Yarn alternatives
Medium 4 worsted weight yarn
Other Materials
Crochet Hook size H/8 5.00 mm or whatever hook is necessary to obtain the correct gauge.
Measuring tape (optional)
Stitch markers (optional)
Scissors
Tapestry needle for weaving in ends
Abbreviations
Pattern is written in US terms.
Stitch / es (st / sts)
Yarn over (Yo)
Skip (sk)
Turning chain (tch)
Slip stitch (slp-st)
Half-double crochet (hdc)
Double crochet (dc)
Treble crochet (Tr)
* ___ * Repeat indicated instructions
Special Stitches
Magic ring (MR) – make a loop of yarn and work the first round of stitches into that adjustable loop. Pull one end of the loop to tighten it.
Finished Dimensions
All measurements are approximate, measured flat pre-use, and are provided in inches.
3.25 inches from petal to petal
Additional Notes
Read all pattern notes, instructions, and other provided details carefully before starting the project to make sure you understand everything. It could save you hours & a lot of headaches!
The gauge/tension is not critical for this pattern, however, if you want to be sure you meet the gauge for this pattern then make a swatch of each square that measures at least 10 x 10 cm / 4 x 4 inches using the stitch provided under the Gauge Section. If your swatch matches the gauge, then you are all set to start the project. If the gauge is wrong, you might need to change your crochet hook – increase your hook size if your stitches are smaller & decrease your hook size if your stitches are larger.
All given measurements are unblocked and measured pre-wear and as fabric pieces may stretch during/after blocking, and wearing.
Provided measurements are as exact as possible, but are given as approximates. This is because yarn variances, crochet tension & individual technique might give variations in the result, which changes from person to person.
This pattern is worked in joined rounds. There will be no turning at the end of each round, but there will be chaining to move to the next round.
Care Instructions: Hand wash & lay flat to dry or follow instructions on the yarn label.
Instructions
Center
Round 1: With color A; Make a magic ring, ch 5 (counts as 1 dc and a ch 2), *dc, ch 2* 5 times into the ring, slp-st to the 3rd ch of the ch 5 to close.
Alternatively: Ch 3 and slp-st the 1st and last sts together to form a ring, *dc, ch * 6 times into the ring, slp-st to top of the first dc to close.
NOTE: This will leave a larger hole in the center than what is seen in the flower pictures in this post.
Petals
Change to color B
Round 2: *Slp-st into the next ch 5-sp, [ch 2 (counts as a hdc), hdc, dc, 2 hdc] into the same ch 5-sp*, Repeat from * to * 5 more times, slp-st to the 1st slp-st to close.
Round 3: *Ch 3 (counts as 1 dc), skip the ch 2, dc in the next hdc, tr in the next dc, dc in the next hdc, dc in the next hdc, slp-st into next slp-st* Repeat from * to * 5 more times.
Bind off & weave in ends.
Finishing
Curl petals inwards, if needed.
Crochet Flower FAQs
Let's answer some of the common questions people have about soap savers!
Are crochet flowers a good gift?
Well, it is said that "beauty is in the eye of the beholder".
I think the same could be said for gifts, especially handmade gifts.
I think crochet flowers are an excellent gift!
Especially for special occasions such as Mother's Day or Valentine's Day.
Crochet flowers and bouquets last so much longer than traditional flowers.
Plus, I personally feel extra special when I receive a handmade gift because I know the gift giver put a lot of time and effort into creating something beautiful for me.
For me, handmade gifts like crochet flowers are a treasure that I can hold onto for a long time, if not forever.
How do you keep crochet flowers from curling?
Curling in crochet is caused by tight stitches. This causes them to bend and create an arch.
Now, this is a feature you want in some crochet flowers.
It's exactly what I was going for when I designed my simple crochet flowers.
I wanted the tips to curl upwards so I purposefully chose a combination of stitches that would create that tightness and thus bend in the final round.
However, if your crochet flowers were not designed to purposefully curl, there is something that may help!
Crochet the part of the flower that is curling with a hook at least one size larger than the recommended hook size.
This will make those particular stitches a bit looser and less prone to curling.
How do you crochet a 5 petal flower?
The process is simple!
A 5 petal flower is actually one of the first things I mastered when learning how to work a magic ring.
You can find my tutorial for the magic ring and the 5 petal flower below.
More crochet flower patterns
How to Crochet a 5 Petal Flower
Thank you for coming to my blog! By sharing my content and/or making a purchase you are making it possible for me to continue producing and sharing free content for everyone to enjoy. I sincerely appreciate your support!
Until next time… Happy Crocheting!
Please share!