I cannot tell you how excited am about today's tutorial on how to use a sewing laser to cut fabric straight!
That's because I think it could really help a lot of people, especially new sewists, and it's super easy to do!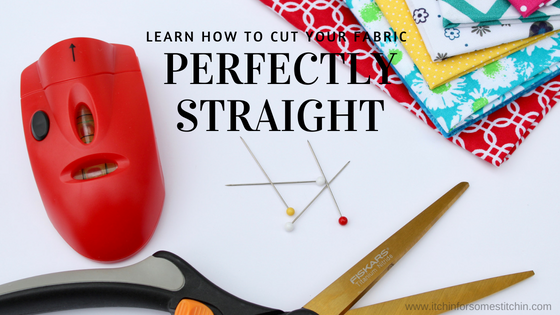 *This post may have affiliate links. See my full Disclosure Policy for details.
All it requires, in addition to your cutting tool of choice, is one other small sewing tool – a sewing laser. Yes, that's right! A sewing laser.
I'm sure you've heard about these by now. They are relatively new on the market but can be oh so helpful.

When I first learned about sewing lasers it was in the context of using them to sew a straight line.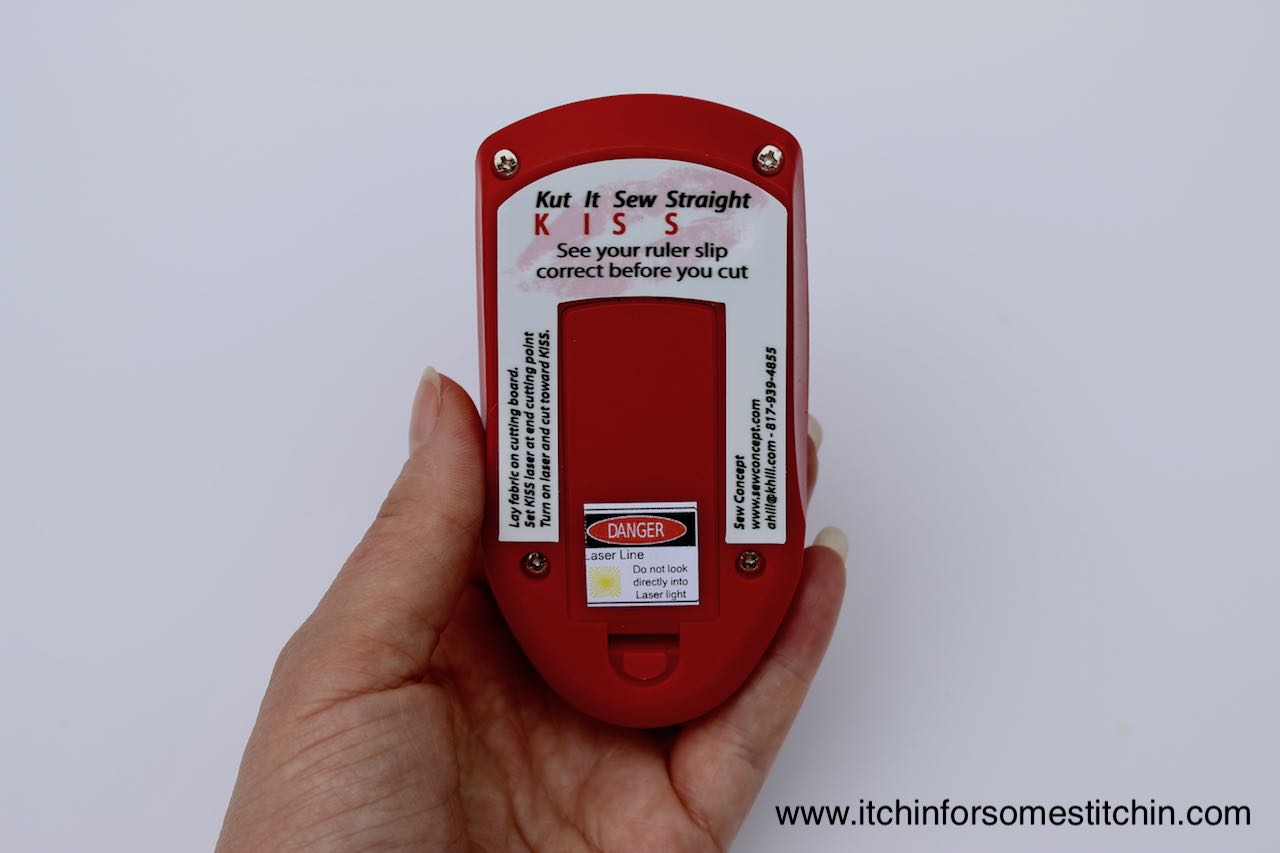 However, I had a sewing community member contact me with a problem. She couldn't cut a straight line to save her life!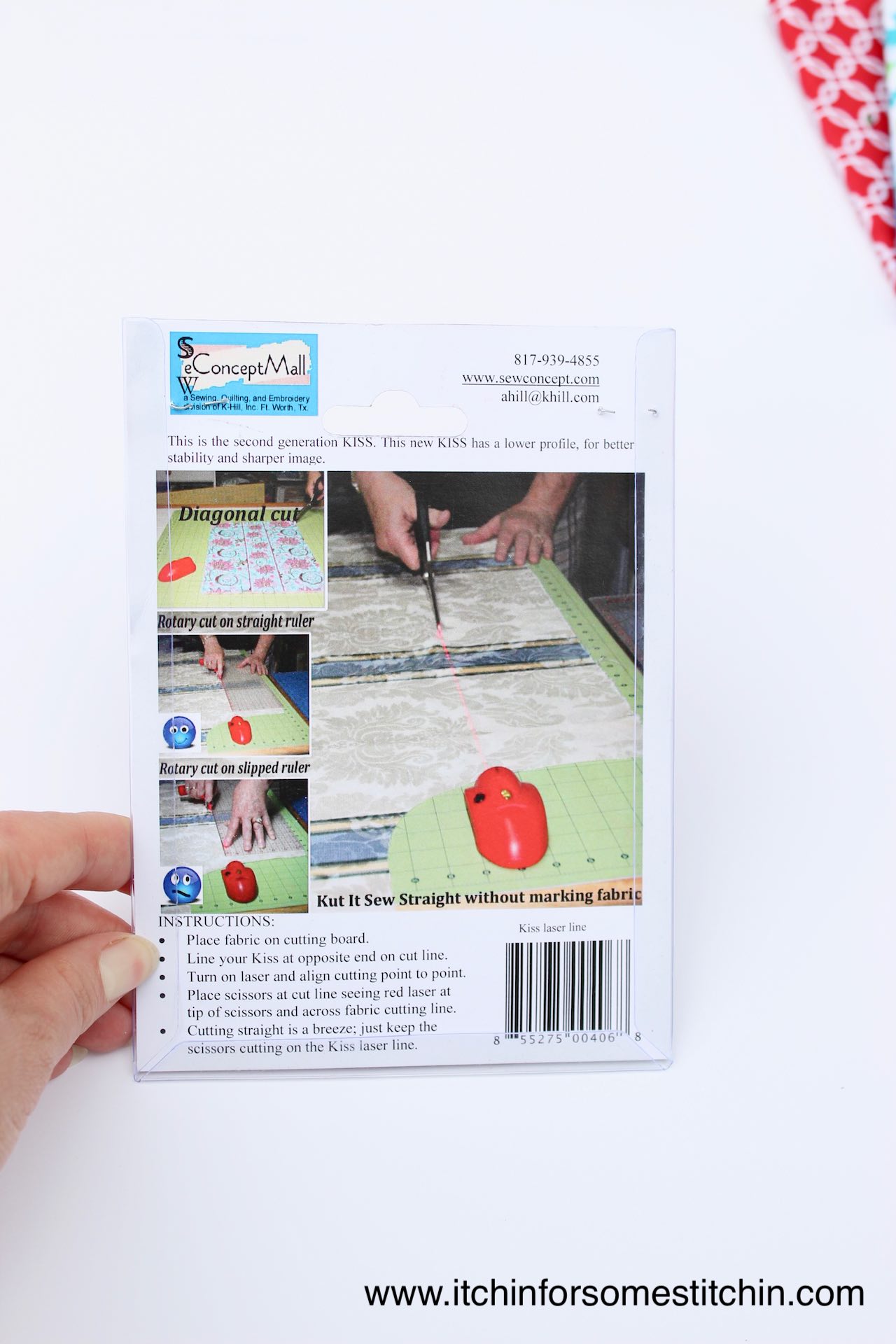 We had both heard about lasers to help you sew a straight seam, but were there any to help her cut a straight line?
I did a quick search and it turns out that there is!
So, one Amazon purchase later I decided to do a tutorial on this amazing tool to help others who may be struggling just like my community member. 🙂
Check Out These Other Tutorials I LOVE!

1. How to Make a Simple DIY Taggie Toy / 2. How to Sew Scented Sachets / 3. How to Sew a Floor Pillow
My Other Sewing Resources
_____________________________________________________________________________________________________________________
Please note that I do not work for Sew Concept Mall, the manufacturer of the KISS Laser Line for Sewing and Craft nor am I being compensated for this article. I am simply a user of this laser and would like to give a thorough tutorial on how to use it.
However, some of the links on this website are Amazon affiliate links. This means that if you choose to purchase this laser via the links on my website I will receive a small compensation. Please read my full Disclosure Policy for more details.
________________________________________________________________________________________________________________________
How to Use the KISS Laser Line for Sewing and Craft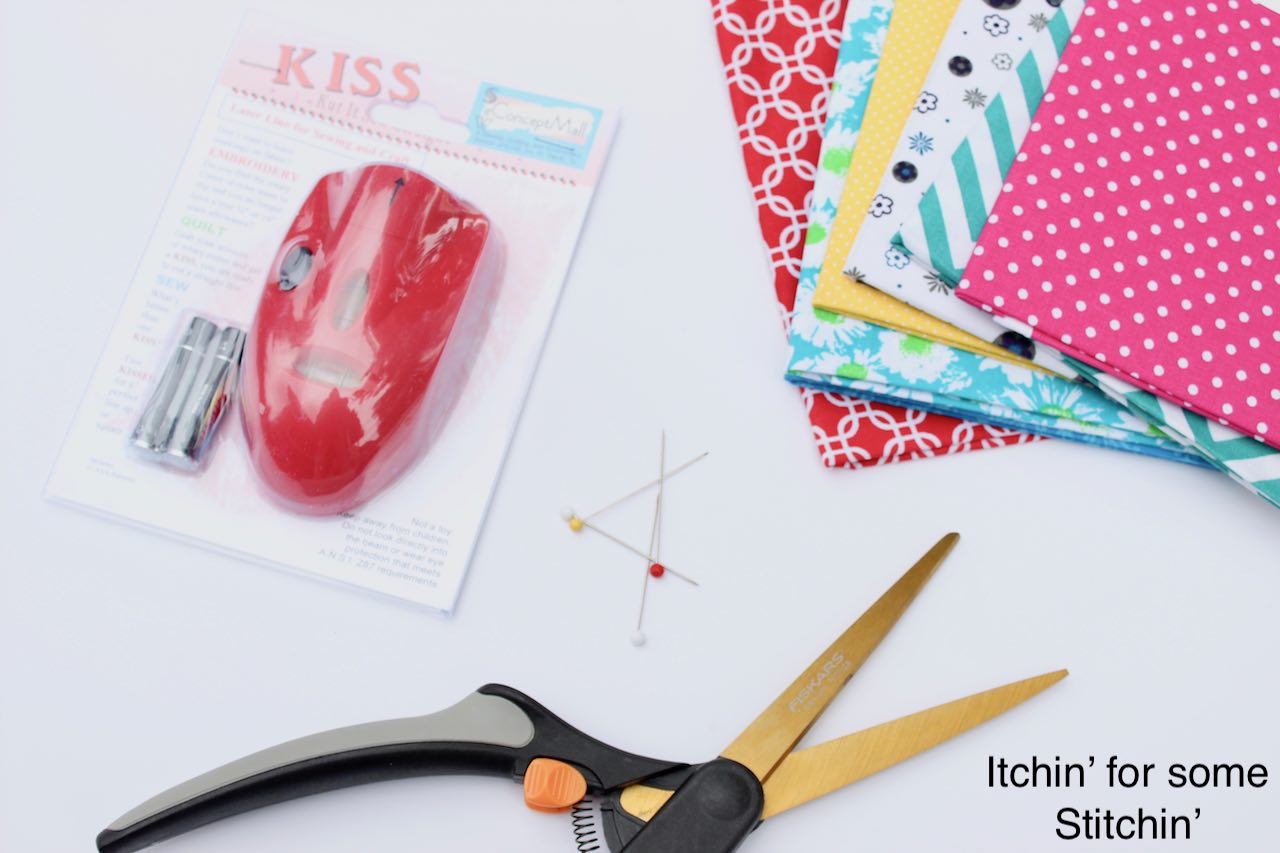 Love Pinterest? I do!
[list style="style6″]
[li]PIN this tutorial to your Pinterest boards for later HERE[/li]
[/list]
The KISS Laser Line is available through my Amazon affiliate link HERE.
Summary:
The KISS Laser Line for Sewing and Craft is a tool that can help you to cut your fabric in a straight line. It's useful for multiple crafts, such as sewing, embroidery, quilting, and even paper crafting. It's moderately priced and very easy to use.
Please check out my full review: KISS Laser Line for Sewing and Craft.
**Based on my personal experience with this product, I have added a few details and steps to the instructions for use that I feel are necessary and beneficial to users of this product. Some of these steps may seem simple, but they are important for the proper use and function of the KISS sewing laser.
Instructions:
Step One
Press your fabric. You must do a thorough job pressing out all the creases, ridges, and bumps. The KISS laser works best if your fabric is perfectly flat. Otherwise, the beam will "skip" when it hits these raised areas.
Step Two
Place your fabric on your cutting board. Although you can use the KISS laser beam to help you cut with scissors, I found it works best if you use a rotary cutter. See my full review for details.
Make sure the bubble on the two levels is between the two black lines. This ensures that your cutting board is level before you make your cuts.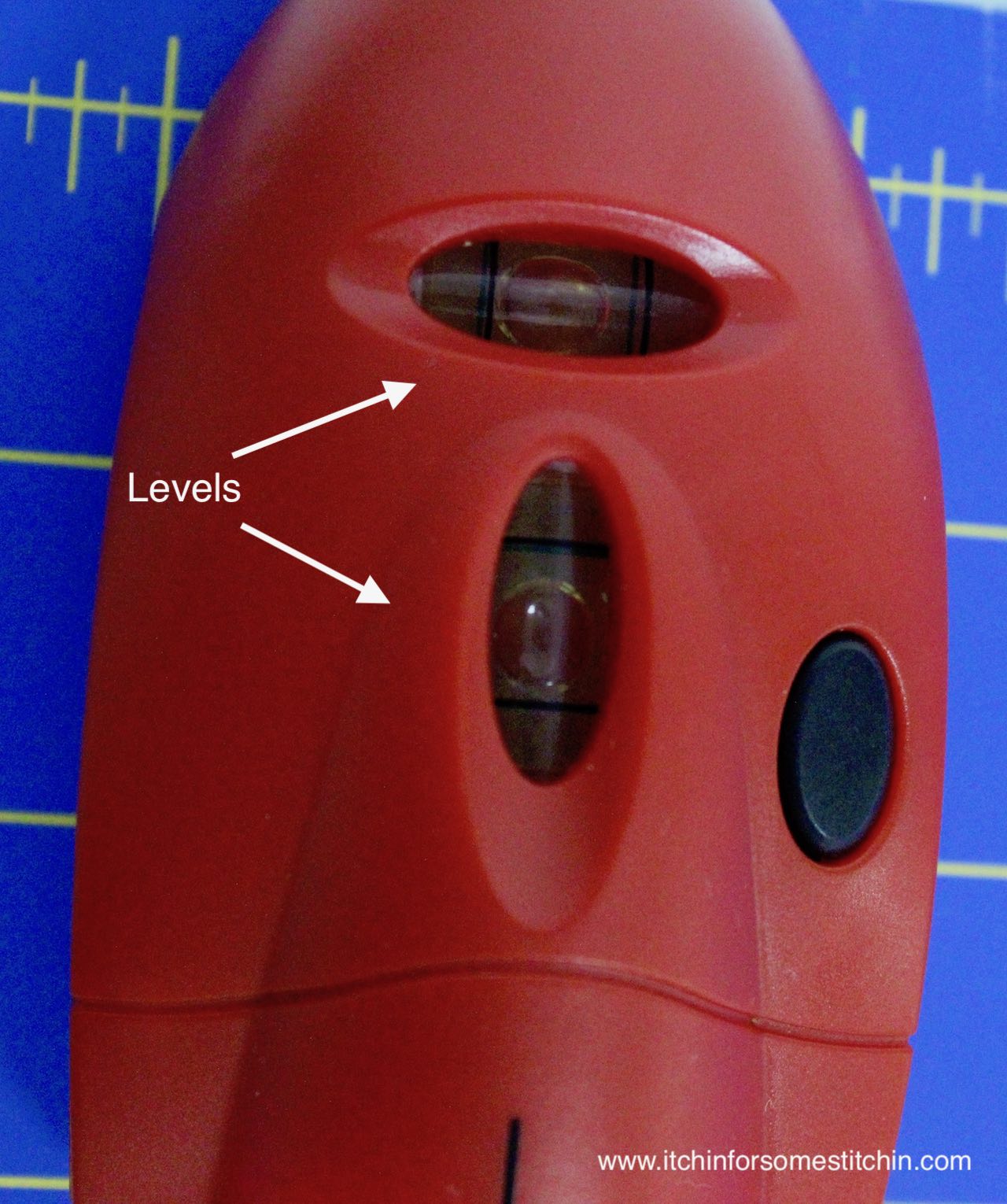 Step Three
Dim the lights in your sewing room. I know this seems to like a strange step, but it is an essential one.
Like all laser beams, the intensity of the red beam of the KISS laser increases in a darker environment. I found that for me to properly see the beam, the room has to be dim.
However, just be sure you don't make the room too dark. You will need to find a balance between finding a visible beam and still be able to see what you are doing!
Step Four
Place the KISS on the opposite end of your fabric so that you will be cutting towards the KISS. Line it up with your cutting line.
If you are using a ruler, this would mean lining it up with the edge of your ruler.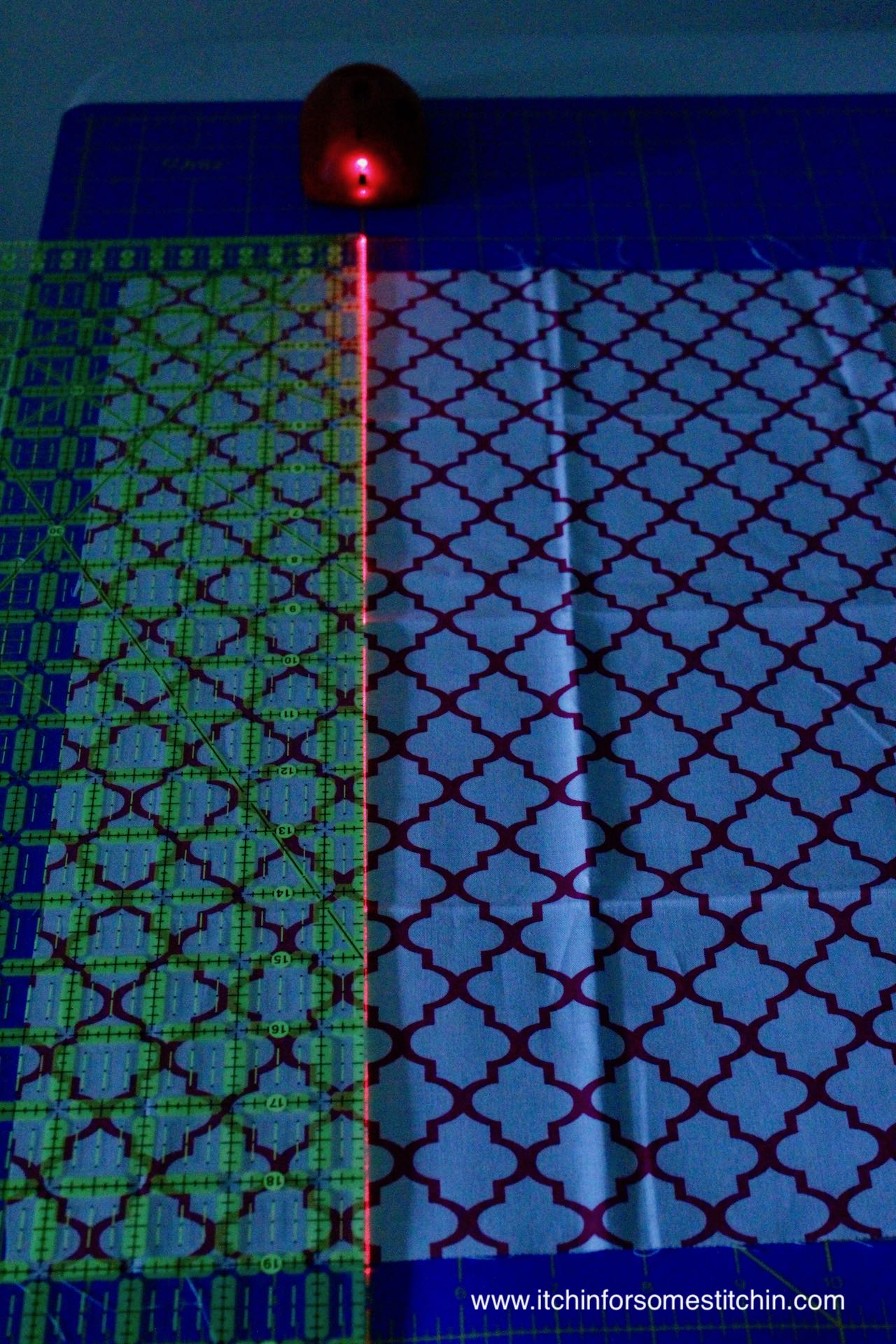 Step Five
Turn on the laser by pressing the black button once. The beam will come from the tip of the KISS and is indicated by a black arrow.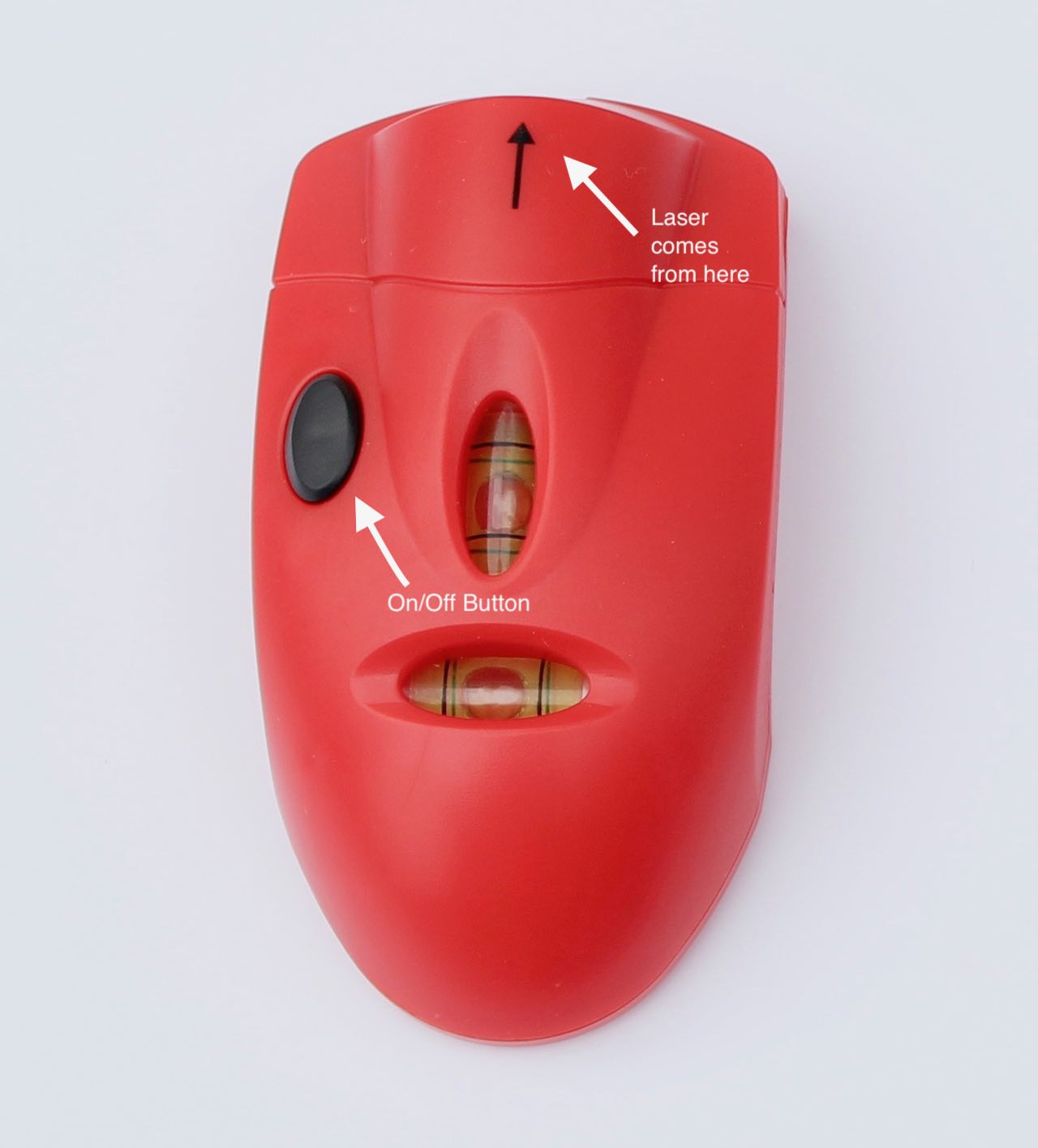 Step Six
Place your scissors or rotary blade at the cut line. The red beam should be at the tip of your scissors or edge of your rotary blade and across your fabric along the cutting line.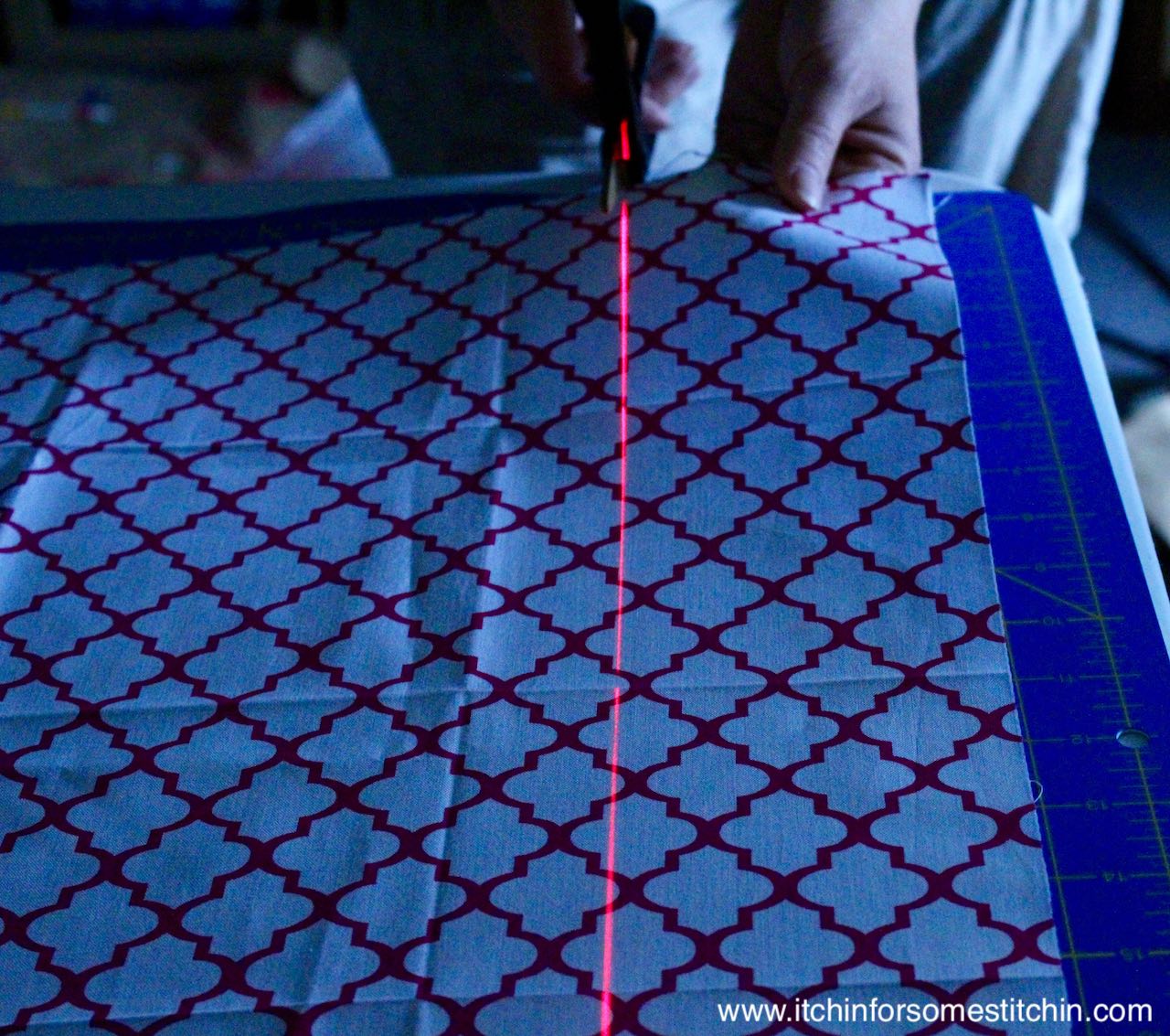 Step Seven
Make your cut. Be sure to keep the scissors or rotary blade cutting on the KISS laser line.
That's it! Your cut should be perfectly straight.
That being said, as I noted before, the KISS works best with a rotary blade. This is because when using scissors you have to lift the fabric, which distorts both the fabric and the beam on the fabric.
A perfect cut can still be done if you are very careful and can still remain on the laser line.
I will admit that I could not keep my cut perfectly on the laser line when using scissors, but that's me. Others may do better than I could.
I will say that I made the best cut I have ever made with scissors following the laser line, even though it wasn't perfect!
On the other hand, using a rotary blade gave me a perfect cut.
Now, one thing to note is that when using a rotary blade, you also use a ruler and often mark your fabric with a line using a sewing marker. Then your cut is made along the ruler's edge/marker line.
Since you have the ruler's edge to guide your cut, you may ask, is the laser guide even necessary?
__________________________________________________________________________________________
Here's my answer. It depends.
It's a cruddy answer I know. LOL. But it's the truth.
If you can make perfect cuts with a ruler and rotary blade, then you probably don't need this product.
However, if you are like my community member who struggles to make perfect cuts even with a ruler, marker, and rotary blade or if your ruler tends to slip while you are cutting or marking – then the KISS laser may greatly benefit you!
You can get it HERE.
Think of it like a back up for your ruler. If your ruler slips while cutting, simply continue along the laser beam and your cut should be perfectly fine.
No marker is needed if you use this laser, which is great if you are someone who often has the ruler slip while marking your line.
Genius!
Have you tried the KISS Laser Line? If so, what's your experience?
Until next time… Happy Sewing!
Please Share!