I am so pleased to bring you this seed stitch baby blanket pattern!
It's so easy to work and it's made with super soft yarn, which makes it gentle enough for even the newest of little ones.
* This post contains affiliate links. Your support is appreciated! See my full Disclosure Policy for details.
I actually designed it for my newborn nephew Waylon.
You know, it seems to me that sometimes specific genders tend to run in families. In my family, it's boys.
In fact, out of my six siblings, I only have one sister. And out of all our children, there are 13 in total, only two are girls.
So, when my sister announced that she would be having her third child, I was not surprised to learn that it would be a boy.
---
Check Out These Other Patterns I LOVE!
1. Stars & Stripes 4th of July Purse / 2. Quick & Easy Small Dog Sweater Pattern / 3. Ribbed Baby Beanie Pattern
---
And this time, I was determined to send him a special handmade gift on time. I was late with the last one.
I'm notorious for being tardy.
But not this time!
Nope, this time his gift would arrive early.
It would be ready and be waiting for his arrival. Ready to wrap him in comfort and love from his auntie Rae.
My intentions were good, but little Waylon had no patience.
He couldn't wait to discover all that this beautiful world had to offer. He made his grand entrance over a month early!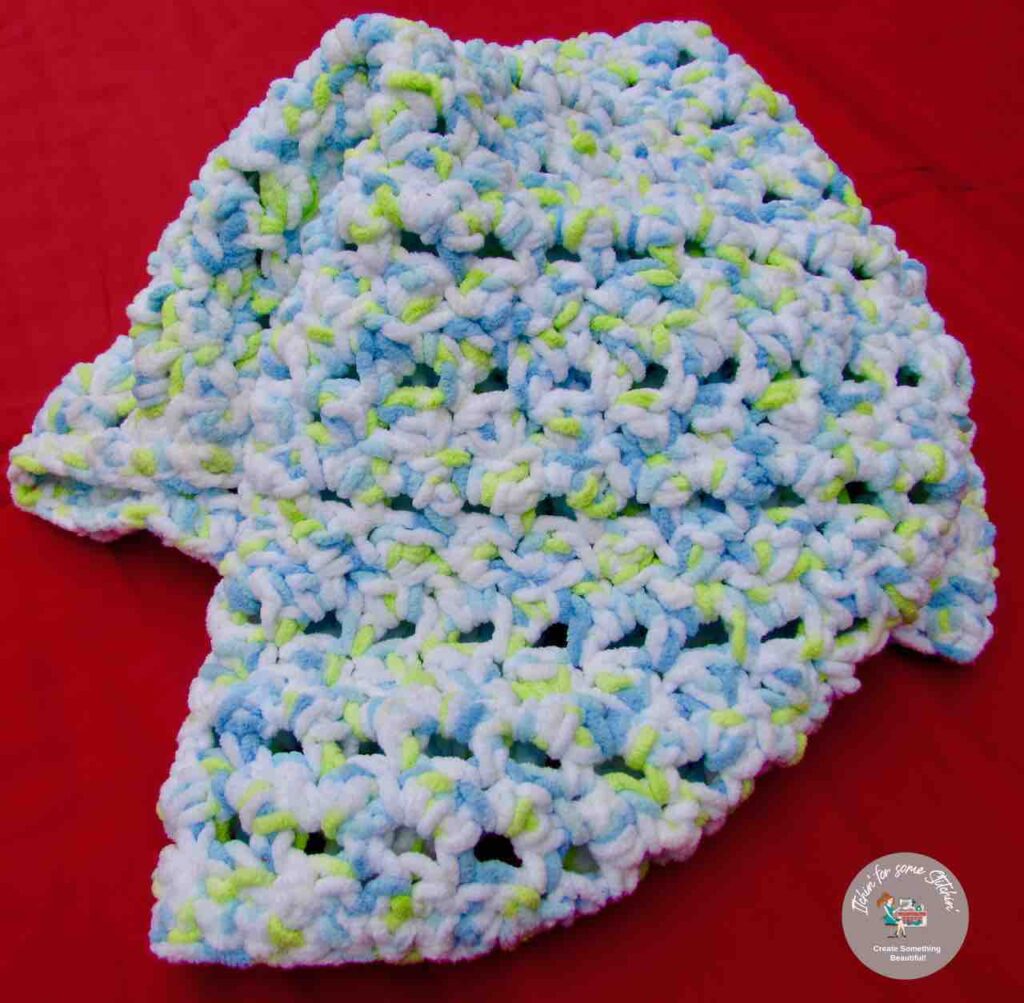 Unfortunately, his lovely seed stitch blanket was only half done.
I finished it as quickly as I could, intending to send it off ASAP, but here it is… on my dresser… unshipped.
And he is now a month old. Shame. On. Me. 😂
---

Looking for lots of crafty inspiration, tips, tutorials, and a great crochet community? Join my Facebook group!Join the Crochet Community!
---
The issue is that I needed to hold onto the baby afghan so that I could write this post.
I had to take pictures of it, do a video of it, and write down the pattern. I have a terrible habit of writing the pattern after the project is finished — this is a no, no folks.
Don't follow my lead on this one!
So, you see, my nephew's warm and cozy zero-year birthday present is late because I just had to share with you. It's really all your fault folks. 😉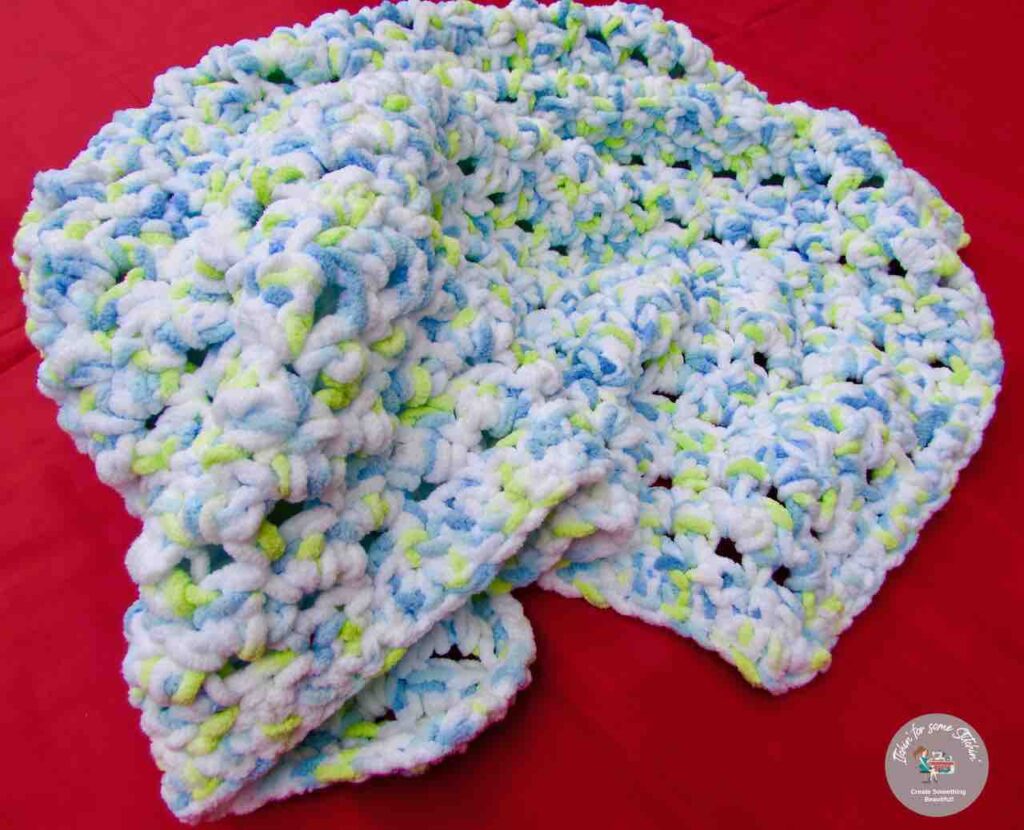 All blaming aside, if you're looking for a fabulous and super easy gift for that little newbie in your life, this gorgeous crochet seed stitch blanket is perfect!
And I am going to tell you exactly how to make it.
---
This pattern is featured in the 2022 Preemie Challenge hosted by Sunflower Cottage Crochet, which means that on June 29, 2022 you can get the PDF for FREE!
Each download of this pattern is taken as a pledge that you will make the blanket and donate it to the hospital, family, or charity of your choice.
See all the amazing patterns in the Preemie Challenge by clicking on the button below.
To get the PDF, scroll down to the bottom and click on the event download button.
How to Crochet a Seed Stitch Baby Blanket
**THIS IS AN ORIGINAL PATTERN. Please see my Copyright Statement for details.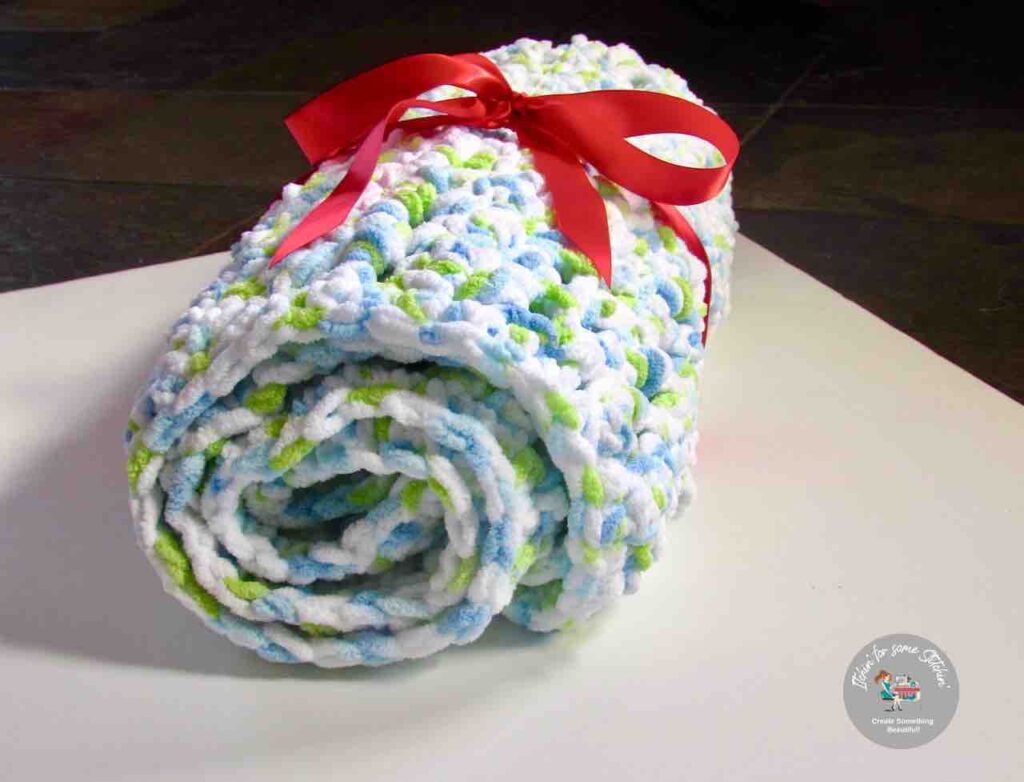 Summary:
This warm and cozy baby blanket is simple to make and oh so soft! Made with super thick yarn by Bernat babies will love to snuggle and cuddle it. Worked using the lovely seed stitch this baby blanket is a delight to behold. Plus, it's so easy even the newest crochet beginners can whip up this wonderful blanket in no time!
---
Prefer a PDF?
This pattern is available as a large print, ad-free, printable PDF pattern.
Get it in these places:
---
Love Pinterest? I do!
PIN this pattern to your Pinterest boards for later HERE.
You can also follow all my boards!
---
Add this pattern to your Ravelry que HERE.
---

Not a member of my crochet community?
Click on the button below to sign up and receive a my free crochet journal, as well as all future updates, freebies, promos and more!

---
Difficulty level: Level 1 – Beginner
Finished Dimensions: 30-inch X 30-inch
Gauge:
4 stitches and 3 rows = 4 inches in seed stitch
Materials:
Hook size: P-15, 10mm
Yarn Brand: Bernat Baby Blanket (100% Polyester)
Yarn Weight: 6-Super Bulky
Yarn Color: Funny Prints
Yarn Amount: 2 skeins, each 300g/10.5oz ~or~ 6 skeins, each 100g/3.5oz
Other: large plastic tapestry needle
(Click HERE to find my favorite crochet tools & resources)
Abbreviations:

Bet = Between
Ch/Chs = Chain/Chains
Dc = Double Crochet
FO = Fasten Off
Hk = Hook
Lp/Lps = Loop/Loops
Rep = Repeat
Sc = Single Crochet
Sk = Skip
Sl st = Slip Stitch
Sp/Sps = Space/Spaces
St/Sts = Stitch/Stitches
Special Stitches:
Seed stitch – repetitively alternating sc and dc stitches, thus a (sc, dc) is one seed stitch cluster.
---
Additional Notes:
Read all pattern notes, instructions, and other provided details carefully before starting the project to make sure you understand everything. It could save you hours & a lot of headaches!
Make a swatch that measures at least 10 x 10 cm / 4 x 4 inches using the stitch provided under the Gauge Section. If your swatch matches the gauge, then you are all set to start the project. If the gauge is wrong, you might need to change your crochet hook – increase your hook size if your stitches are smaller & decrease your hook size if your stitches are larger.
All measurements given are unblocked.
Provided measurements are as exact as possible, but are given as approximates. This is because yarn variances, crochet tension, & individual technique might give variations in the result, which changes from person to person.
---
Body:
Ch 50
Row 1: Sc in 2nd ch from hk, then sc in each ch across. Ch 1. Turn. (49sts)
Row 2: Sc in 1st sc, *ch2, sk next sc, sc in next sc; rep from * across. Ch 1. Turn. (25sc, 24 ch-2 sps)
Row 3: Sc in 1st sc, (sc, dc) in next ch-2 sp, then (sc, dc) in each ch-2 sp across. Sc in last sc. Ch 1. Turn. (24 seed stitches, 2 sc – one on each end)
Row 4: Sc in 1st sc, *(sc, dc) in next dc, sk next sc; rep from * across to last sc. Sc in last sc. Ch 1. Turn. (24 seed stitches, 2 sc – one on each end)
Row 5: Sc in 1st sc, *ch 2, sk next dc, sc in next sc; rep from * across to last 3 sts, ch 2, sk next 2 sts, sc in last sc. Ch 1. Turn. (26 sc, 24 ch2 sps)
Rows 6-49: Rep rows 3-5.
Row 50: Ch 1, sc in 1st sc , sc in the first ch-2 sp, sc in the next sc, *1 sc in next ch-2 sp, sc in next sc; rep from * across. Ch 1. Turn.
---
---
Edging:
Step 1: 3 sc into corner st, then sc 48 times down the side of the blanket until you reach the next corner.
Step 2: 2 sc in the next corner st, then sc in each sc across edge of the blanket to the next corner (this should be the bottom edge where you started the foundation chain).
Step 3: 3 sc into next corner st, then sc 48 times down the size of the blanket until you reach the next corner.
Step 4: 2 sc in the next corner st, then sc in each sc across edge of the blanket to the next corner (this should be the top edge, which should be row 50). Sl st into the corner.
Step 5: FO and weave in ends.
---
There you have it, folks! Simple as pie.
Honestly, I just love this pattern!
Not only are the results simply beautiful, but I also love how easy it is to whip up.
It may look a little complicated, but it's actually ideal for beginners because it requires only basic crochet skills.
But, I think even experienced crocheters will also enjoy making this warm and cozy blanket for the little darlings in their lives who need some extra comfort & softness.
I even made one for my son (pictured in the title photo) because I loved it so much and wanted him to enjoy snuggling with it.
In fact, I think all babies deserve a special cuddle blanket, don't you?
This crochet seed stitch baby afghan is perfect for that!
---

Thank you for coming to my blog! By sharing my content and/or making a purchase you are making it possible for me to continue producing and sharing free content for everyone to enjoy. I sincerely appreciate your support!
Until next time… Happy Crocheting!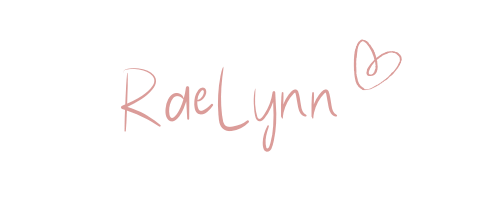 Please Share!
SaveSave
---
SaveSave
Click the button below to get the PDF for FREE from June 29 – July 1, 2022 as part of the Preemie Challenge.