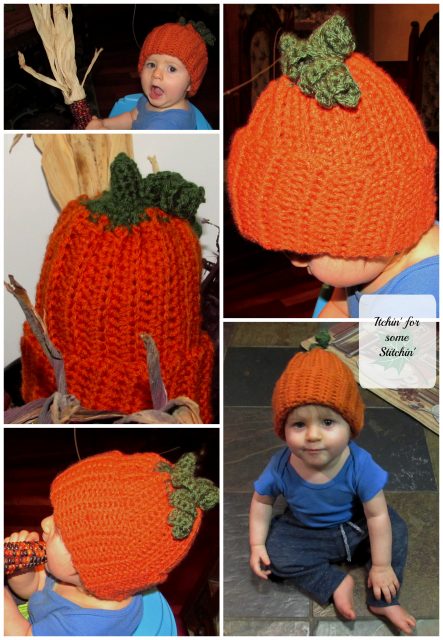 Omigsh…  Halloween completely snuck up on me!  I've actually been working on my son's costume for over a month now.  It's just that suddenly Halloween is right around the corner.  Thankfully, I finished the costume.  For his first All Hallows Eve my lil' pumpkin is going to be a pumpkin!
I decided to crochet it because I thought it would be super cute and fairly easy to do.  Admittedly, this was my first time designing a costume, but it was a wonderfully successful undertaking, if I do say so myself!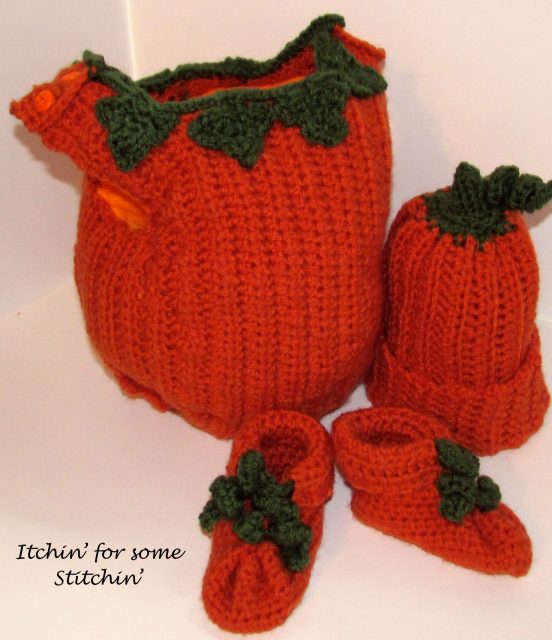 The hat was the easiest part of the costume and uses mostly basic crochet skills so it's good for beginners.  It's also a great project for experienced crocheters who want to quickly whip up an adorable pumpkin beanie for the little one in their lives.
Since I designed the beanie to fit my 11-month old son, the instructions are for a toddler size pumpkin hat.  However, the beanie is crocheted flat so it is easily adjustable.  The length of the hat is determined by the number of chains worked at the beginning.  You can make the hat smaller by chaining less or larger by chaining more.
This is actually a variation of my Ribbed Crochet Baby Beanie pattern so, if you tried that project then this one will be familiar to you.
---
Easy Crochet Pumpkin Beanie for Babies & Toddlers
 
Materials
Hook:
5.50mm (I) for hat & stem
3.75mm (F) for curly-cues
Yarn: Worsted #4 medium weight
Yarn Brand Used:  Red Heart
Other: Tapestry needle & scissors
Colors Used:
Carrot for the pumpkin (orange)
Medium Thyme for the stem and curly-cues (green)
Abbreviations
Ch = Chain
hdc = half double crochet
blo = back loop only
st = stitch
slp st = slip stitch
sc = single crochet
sc2tog = single crochet 2 stitches together
hdc2tog = half double crochet 2 stitches together
See How to Read a Crochet Pattern to review crochet symbols & abbreviations.
Hat  Pattern
Using orange yarn Ch 34
Row 1:  Work 1 hdc in the second ch from the hook and then work 1 hdc in each ch until you reach the end, ch 2, turn your work.
Row 2:  Work 1 hdc in the blo of each st to the end, ch 2, turn your work.
Row 3:   Work 1 hdc in each st (under both loops ) to the end, ch 2, turn your work.
Rows 4-32:  Repeat rows 2 & 3
If you want a beanie with a larger diameter, simply continue making rows in this manner until you reach your desired width.
Then slp st the first and last rows together.  Make sure you do this on the wrong side of your project.
Bind off and weave in tails.  Review How to Bind Off and Weave in End in Crochet for more details.
Stem Pattern
On the end of the hat that is to become the top, join with green yarn and work 1 hdc around so that there are only 18 sts at the end.  This can be a little tricky, but is made easier if you only crochet in the ridges or the grooves.
Round 1:  Work 1 hdc in each st. (18 sts)
Round 2:  *Work 1 hdc in the first st, hdc2tog in the next 2 sts, repeat from * all the way around. (9 sts)
Round 3:  Sc in each st around. (9 sts)
Round 4: Sc in the next st, sc2tog in the next 2 sts, repeat from * all the way around. (6 sts)
Round 5-7:  Sc in each st around. (6 sts)
Round 8: Sc2tog all the way around. (3 sts)
Round 9: Slp st the last 3 sts shut.
Bind off and weave in tails.
Curly-Cue Pattern
Hook:  3.75mm (F)
I made one short curly-cue and one long curly-cue.  My instructions will be for a medium curly-cue.  You adjust curly-cue length by chaining (ch) more or less.
With green yarn ch 27.
Work 2 hdc in the second chain from the hook.
Work 3 hdc in each st to the end.
Bind off leaving a 6-8 inch tail.  Use the tail threaded through the tapestry needle to attach the curly-cues to the base and/or stem of the hat.
***This is an original pattern designed by RaeLynn Endicott at Itchin' for some Stitchin'.  Any similarity to other patterns is completely unintentional and coincidental. You may sell items made using these pattern as long as you credit Itchin' for some Stitchin' for the patterns. Please to do sell these patterns or claim them to be your own. Thank you.
---
Usually when crocheting baby clothes I am careful to choose super soft yarn or yarn specifically  designed for babies if the child is very young.  But, as I said, I designed this pumpkin beanie for my son who is nearly a year old so I opted for the less soft, but more economical Red Heart yarn.
I then softened the yarn at home.  Doing this seems to work fine for my toddler.  As an alternative, you could add a lining to the beanie.  This was my original intention, but I ultimately decided against it due to time constraints.
Although I designed this pumpkin beanie as part of my son's Halloween costume, it has occurred to me that it is actually something he could wear throughout the entire Harvest season.  I am truly pleased with how it turned out and I hope you love it as much as I do!    🙂
If you would like this pattern in a pdf version you can find it in my shop by clicking here.
And don't forget to subscribe to the blog and download my free crochet journal so you can keep track this and all your projects & patterns!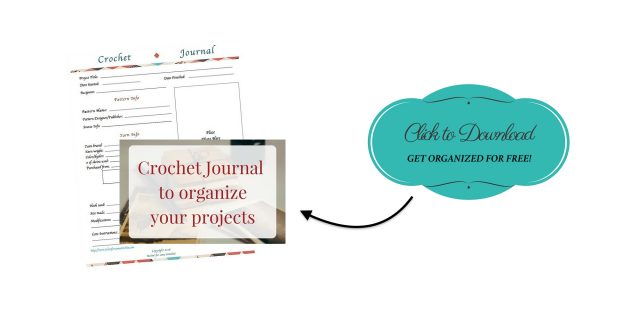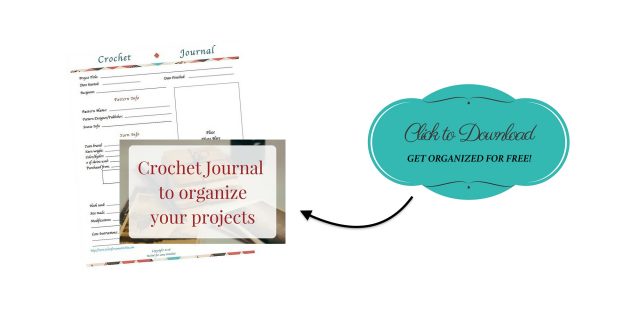 Like this pattern?  Then share it!
Please post it to your favorite social media so others can enjoy it too.
Until next time… Happy Crocheting!
This post has attended the following link parties: