Hi ya there folks!
Today I want to share with you a super easy crochet pillow pattern.
I actually designed this pillow for my husband last Valentine's Day, but am only just now getting around to posting it!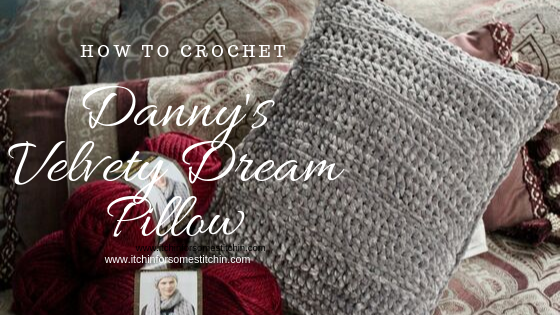 I know… shame on me! ?
But, that's life! We all get busy. It's here now and it's super easy!
You'll be able to whip this one up in no time!
Let me share a little bit about how this little jewel came to be.
Last year my husband and I decided – no Valentine's Day gifts.
No cards, no candy, no date night, nothing.
You see, we've been saving up to take our kiddos on a trip to Disneyland.
But, I just couldn't give him nothing! I love this man! I just HAD to get him something.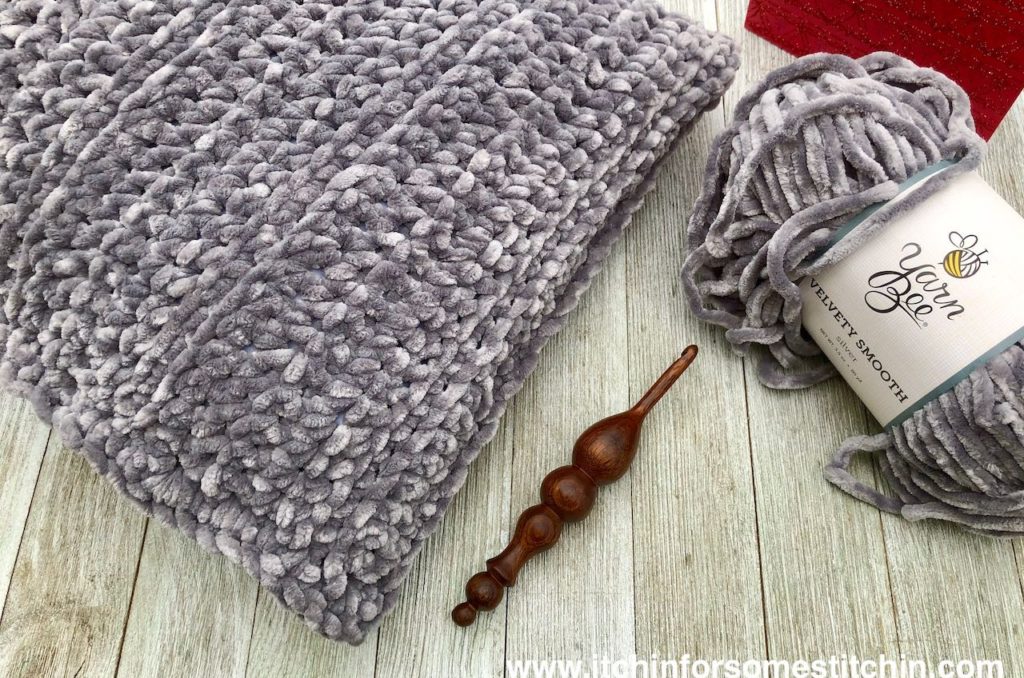 So I decided to go with the "straight from the heart" approach and craft him something. Nothing fancy, just something he actually needed.
A pillow. Yes, a pillow.
The issue is, my wonderful hubs has a bad back. It hurts him all the time and he often lays on a pillow, but he can't seem to find the perfect one.
So, I decided to make it for him!
---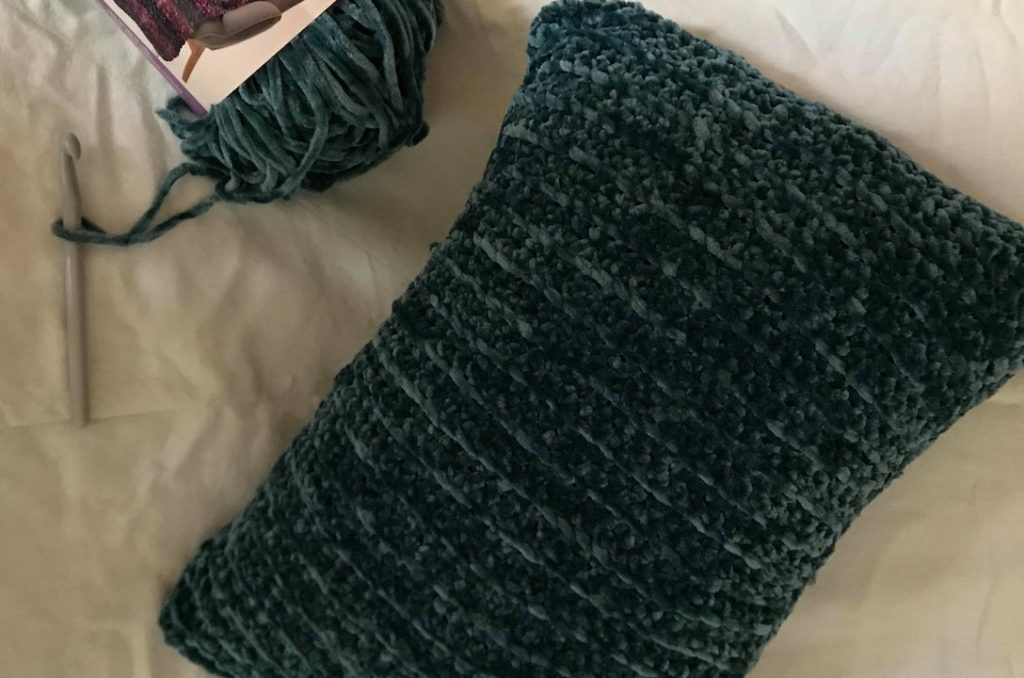 Note: The Danny's Velvety Dream Pillow pictured above was crocheted by one of my wonderful pattern testers, Angelina R T Labelle.
Would you like to be a pattern tester? Apply HERE!
---
I chose Yarn Bee Velvety Smooth yarn to make Danny's (the hub) dream pillow for several reasons.
One, velvet is incredibly soft! And I, of course, wanted the softest pillow for him to lie on.
Secondly, sweet Danny had actually bought me this yarn as an anniversary present the year before so I thought it fitting that I reward his loving gesture by turning it into my own loving gesture! ?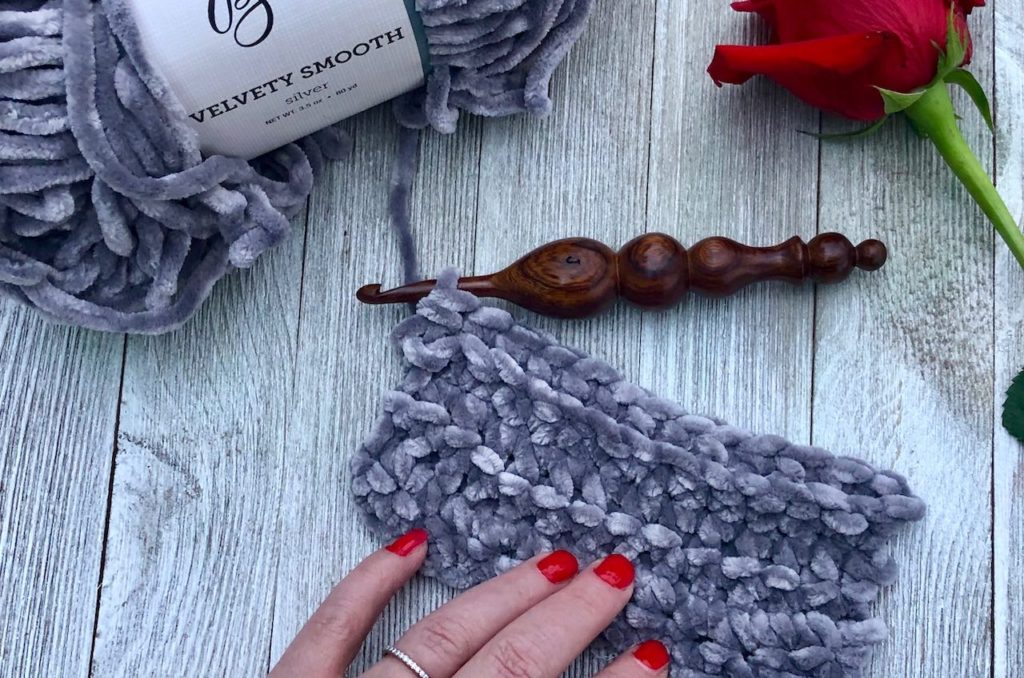 So, it simply worked out that I had the perfect yarn for the perfect crochet pillow for the perfect man in my yarn stash just waiting for the perfect day to be used! ?
---
Crochet Throw Pillow Pattern
**THIS IS AN ORIGINAL PATTERN. Please see my Copyright Statement for details.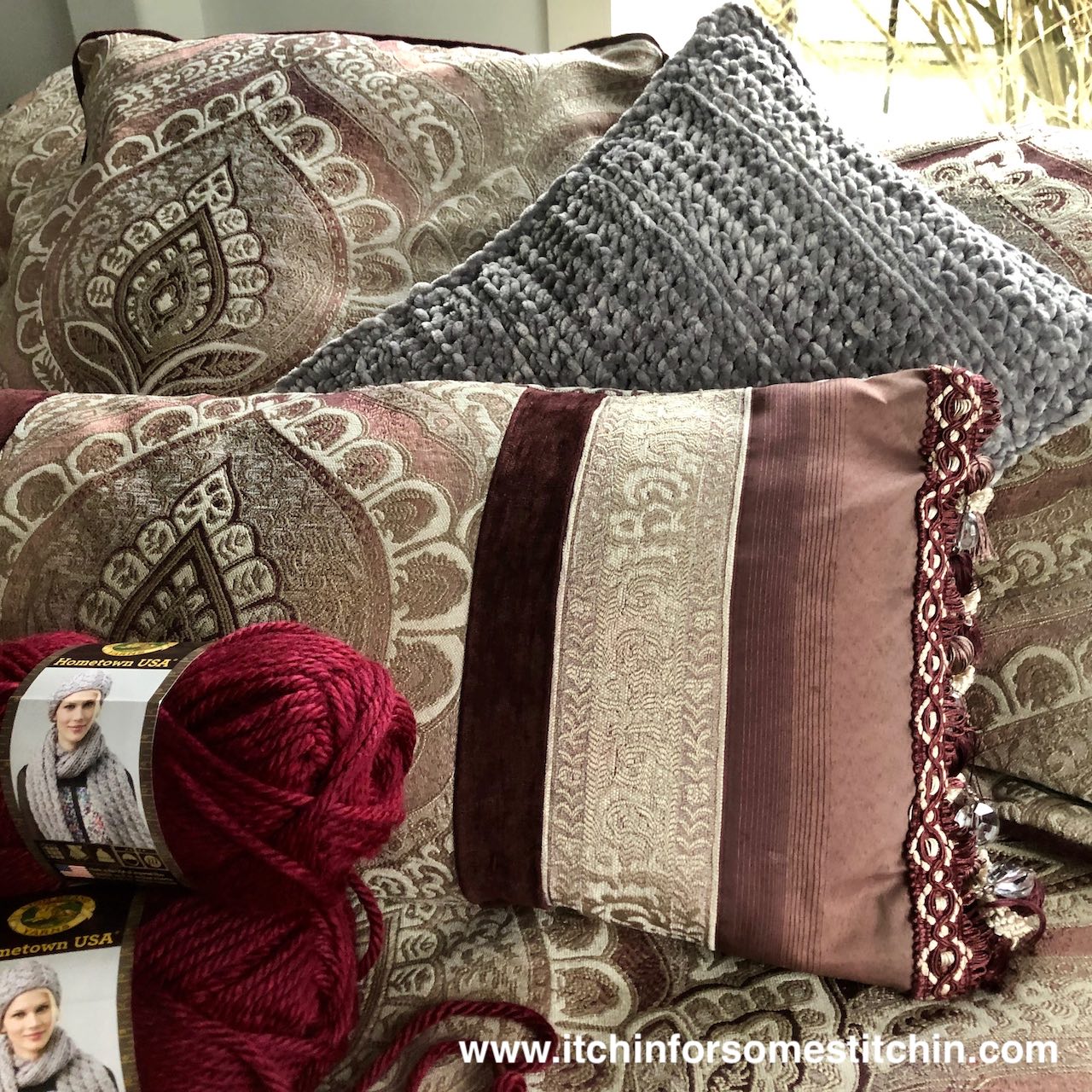 Prefer a PDF?
[list style="style6″]
[li]This pattern is also available for purchase as a large print, ad-free, printable PDF pattern. Get it in any of these places: My Shop.
Etsy.
LoveCrafts.[/li]

Love Pinterest? I do!
[li]PIN this pattern to your Pinterest boards for later HERE. You can also follow all my boards![/li]
Pattern
[li]Add this pattern to your Ravelry que HERE.[/li]
[/list]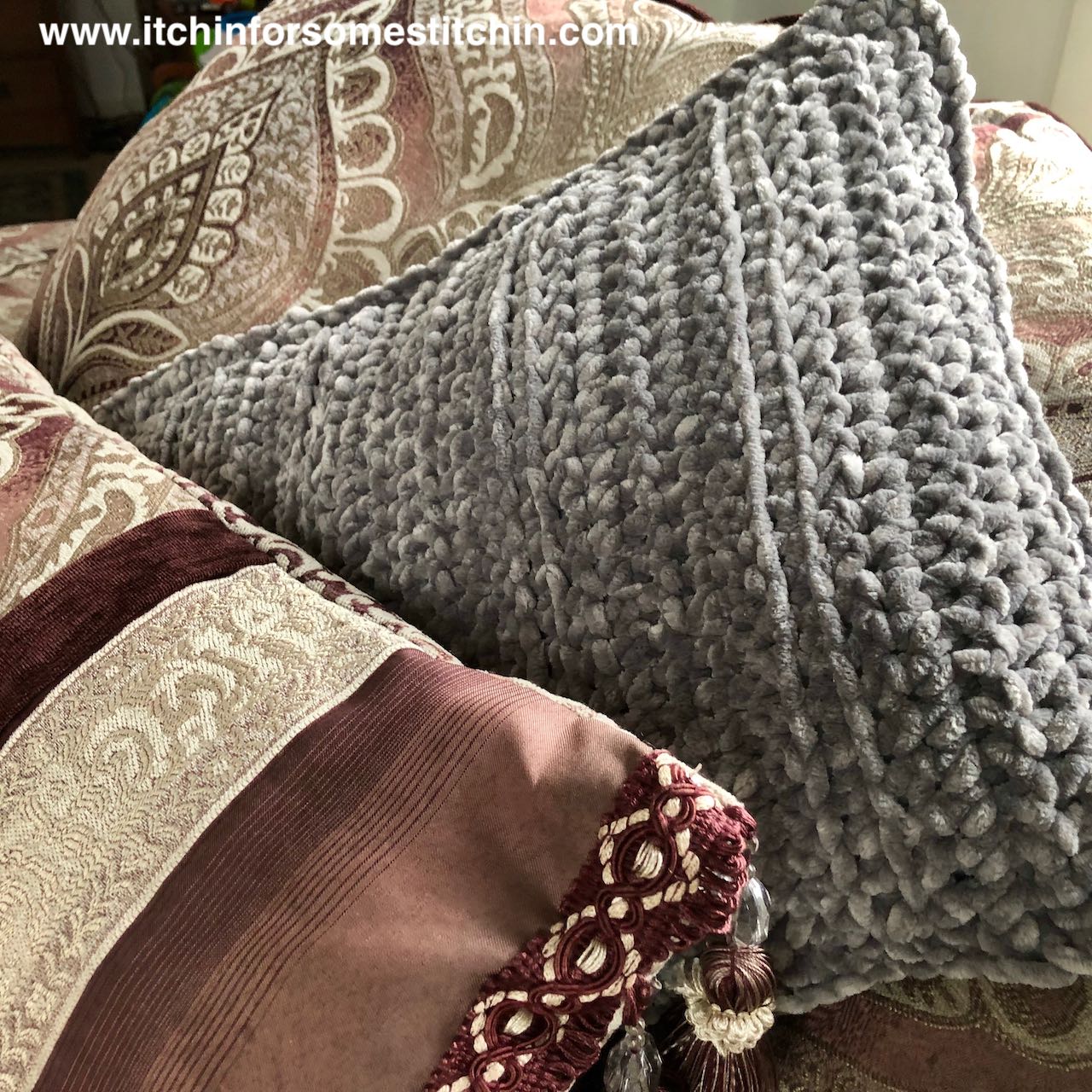 Summary:
This velvety pillow literally feels like you are sleeping on a billowy cloud. So soft and smooth! It's the perfect pillow to snooze and cuddle with. Plus, it's super easy to make! Beginners will love this one because it only uses one stitch, but will still advance their crocheting skills. Find out how easy and dreamy this pillow can be!
Difficulty level: Level 1 – Beginner
Finished Dimensions: 12.5-inches by 16.5-inches.
Gauge: 10 rows and 9 stitches = 4-inches in single crochet (sc).
Materials:
Bulky 5, Velvet yarn – I used Yarn Bee Velvety Smooth in Silver. Get it HERE via my affiliate link.
~ Total yardage: 100 to 160 yards
Hook: N-9.0mm.
12-inch by 16-inch pillow insert – you can find these at craft stores, Walmart, and Amazon (affiliate link).
Large tapestry needle (affiliate link)
Scissors
Abbreviations:
Pattern is written in US terms. *Click on abbreviation names for tutorials
Stitch/es (st/sts)
Additional Notes:
Read all pattern notes, instructions, and other provided details carefully before starting the project to make sure you understand everything. It could save you hours & a lot of headaches!
Make a swatch that measures at least 10 x 10 cm / 4 x 4 inches using the stitch provide under the Gauge Section. If your swatch matches the gauge, then you are all set to start the project. If the gauge is wrong, you might need to change your crochet hook – increase your hook size if your stitches are smaller & decrease your hook size if your stitches are larger.
All measurements given are unblocked.
Provided measurements are as exact as possible, but are given as approximates. This is because yarn variances, crochet tension, & individual technique might give variations in the result, which changes from person to person.
Instructions:
Fabric pieces – Make 2
Ch 30
Row 1: ch 1, sc in the first ch from the hook and in each ch across. (30 sts)
Row 2: ch 1, turn work, sc in the blo of the first sc and in each st across. (30 sts)
Row 3: ch 1, turn work, sc in the flo st of the first sc in each st around. (30 sts)
Row 4: ch 1, turn work, sc in the first st and in each st across. (30 sts)
Repeat rows 2-4 until fabric reaches 16.5-inches in length.
Finishing:
Place the pillow in between the two pieces of fabric (like a sandwich) and sc the edges of the 2 fabric pieces together all the way around the pillow.

---
Done!
And like I said, super easy, right?
I'd love to see your velvety dream pillows!
Please be sure to follow me on Instagram and share your makes with #itchinforsomestitchin and #velvetydreampillow. Be sure to tag me! ?
---
Other Patterns I know you'll LOVE!

My Patterns on Allfreecrochet.com
Crochet Seed Stitch Baby Blanket
Ribbed Baby Beanie Pattern for Beginners
The Boho Goddess Kimono Cardigan
Easy Knit-look Crochet Sweater
My Other Videos
---
Thank you for coming to my blog! By sharing my content and/or making a purchase you are making it possible for me to continue producing and sharing free content for everyone to enjoy. I sincerely appreciate your support!
Until next time… Happy Crocheting!