Hey there friends!
I am so excited to share this pattern with you today!
It's a festively chic St. Patrick's Day bowler hat embellished with a super cute clover appliqué.
Let me share with you how this little gem came about.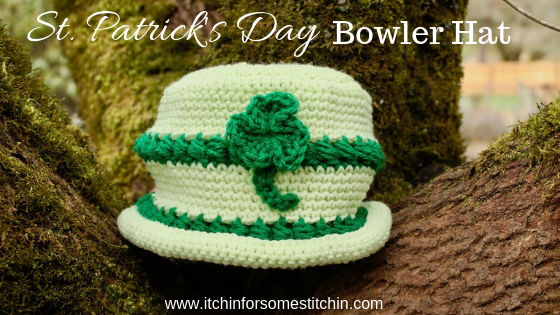 Several weeks ago I was thinking about creating a special pattern just for my crochet community.
I wanted to give them something special, just for them, as a thank you for subscribing to my newsletter and sticking by me for the last several years.
I was also in the middle of planning my St. Patrick's Day patterns.
That's when it hit me. I would make my loyal friends and followers the something green they would need to wear this St. Paddy's Day to avoid getting pinched.
So, I worked it up this fun little bowler hat in two different shades of green.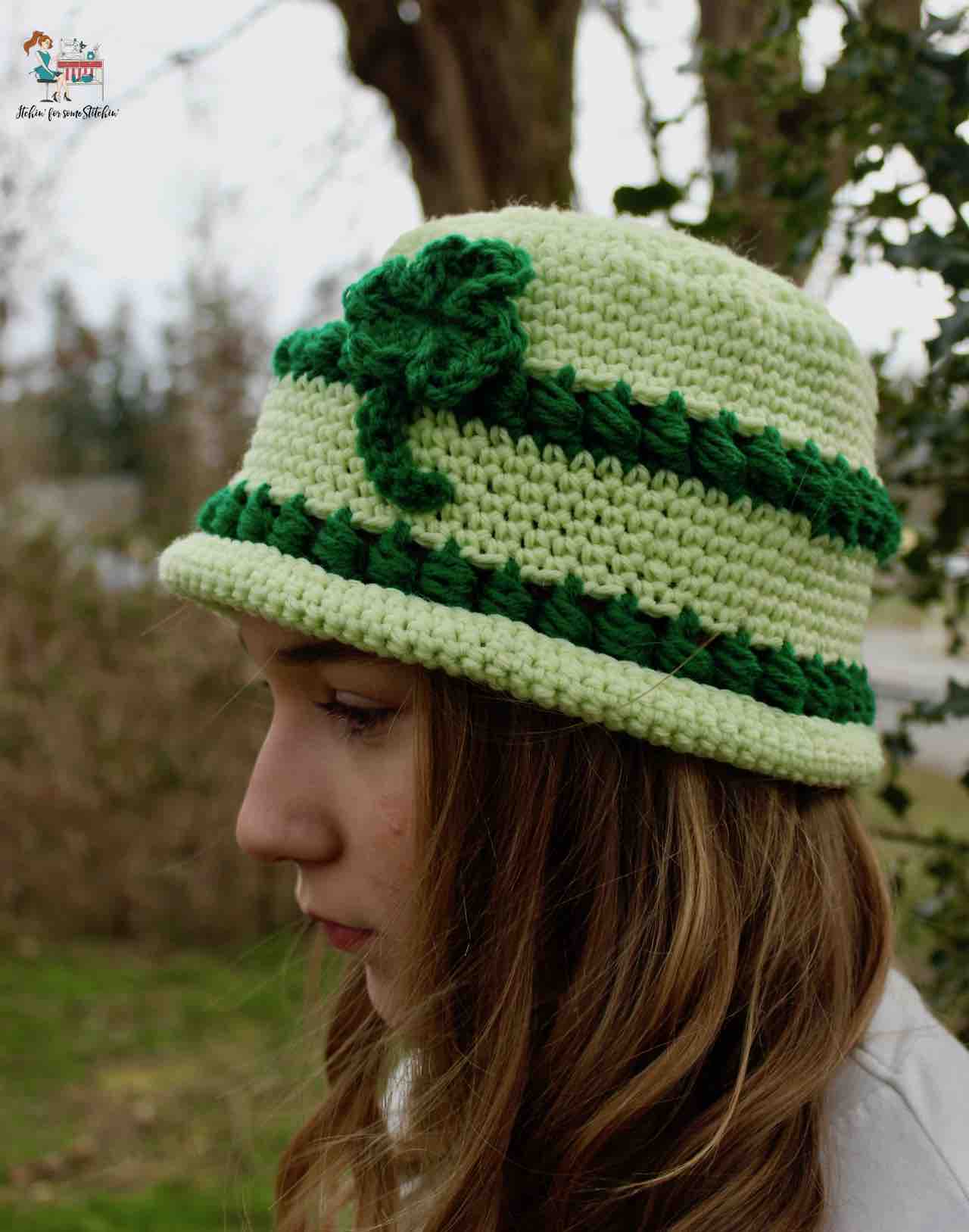 However, it looks great in other colors as well.
One of my pattern testers did the top hat version of this hat in shades of brown and it looks awesome!

---
I simply adore how this crochet bowler had ended up!
I honestly wasn't sure what I was going for when I started it. I just let the hook guide me. And I am so glad I did!
I love it! Plus, it's easier than you might think.

It uses two simple beginner stitches (dc and sc) combined with the bead stitch to give it a really awesome texture and look!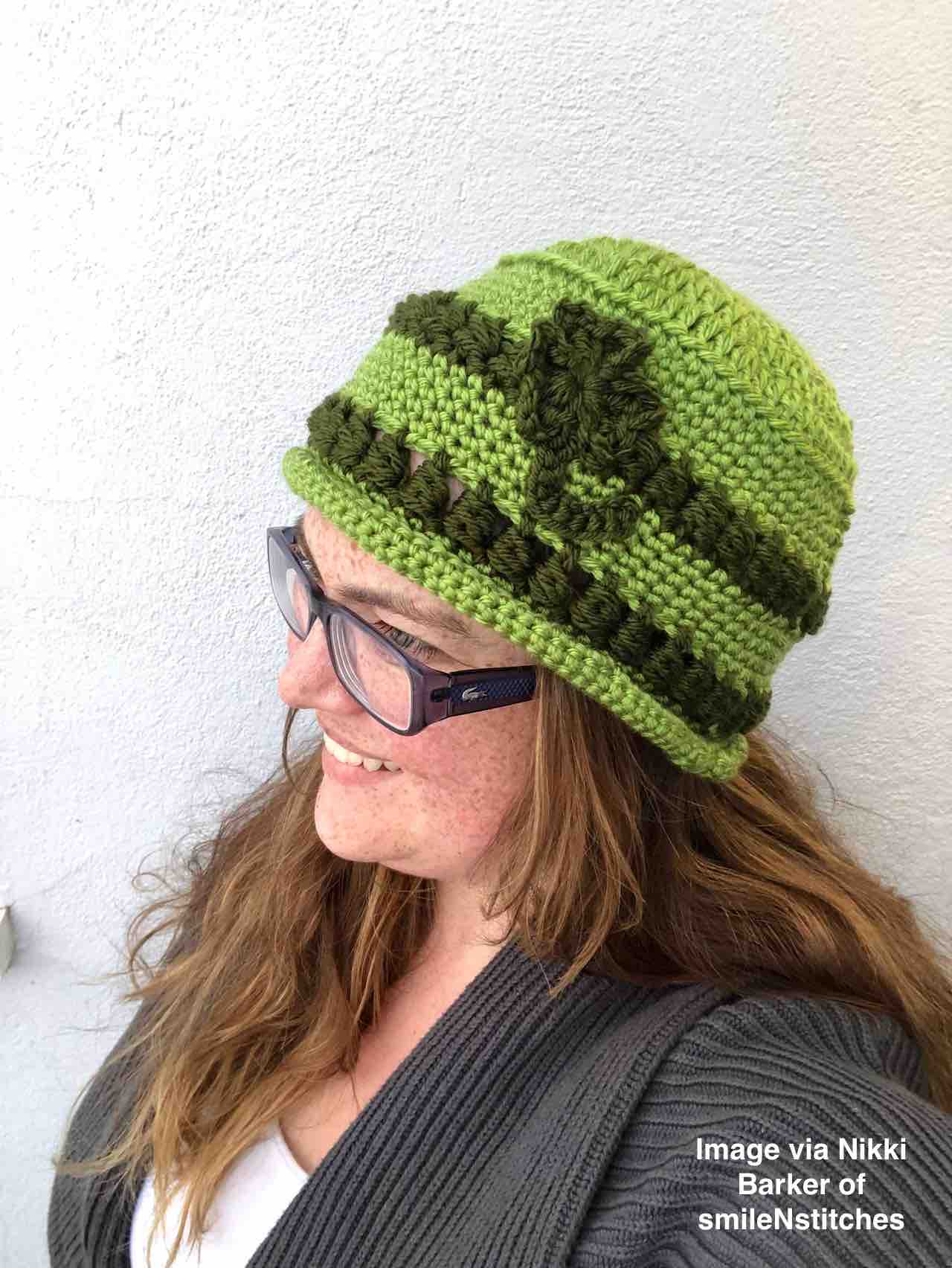 Note: The crochet shamrock bowler hat pictured above was crocheted by one of my wonderful pattern testers, Nikki Barker of smileNstitches.
---
Not familiar with the bead stitch? That's okay!
The pattern tells you how to do it and it's super easy!
---
Check Out These Other Patterns I LOVE!

My Other Videos
---
Now, since I made this lovely crochet bowler hat especially for my wonderful community of crocheters, I wouldn't feel right putting it here on the website for the public.
Exclusive patterns is one of the perks of being part of my community!
However, you can purchase the large print, ad-free, pdf pattern HERE.
~ OR ~
You can sign up for my newsletter and send me an email letting me know you've signed up and would like the pattern at [email protected] and I'll be glad to forward you the PDF for FREE!
---
Please Share!
Until next time… Happy Crocheting!
Looking for fun crochet community filled with lots of crafty inspiration?
[list style="style6″]
[li]Join Our New Facebook Group – Itchin' for some Stitchin' Beginner Crochet Community[/li]
[/list]
(Experienced crocheters also welcome!)