---
" CHRISTMAS WAVES A MAGIC WANT OVER THE WORLD, AND BEHOLD, EVERYTHING IS SOFTER AND MORE BEAUTIFUL."
~ Norma Vincent Peale
It's time to deck the halls, bring out the figgy pudding and embrace all things merry and bright!
Christmas is the season full of twinkling lights, vibrant colors, yummy foods, and cheerful music, but the holiday season is about so much more than festive decor and indulging in scrumptious delights.
It's also about laughter, nostalgia, and generosity. It's a time to focus on celebrating family, friends, and the little moments that bring you joy.
For crochet designers like us, it's also about creating something beautiful to share with the world knowing that it will become that special gift, that colorful decoration, or that favorite new item in someone's winter wardrobe. We are so pleased to be sharing some of our favorite designs with you this season!
The Countdown to Christmas Pattern Bundle presents over 35 Christmas crochet patterns by over 30 of the best designers on Etsy and Ravelry for only $12.99
That's over 90% off compared to purchasing each individually!
Take a look at what we have to offer below.
Preview the Designs & Designers
---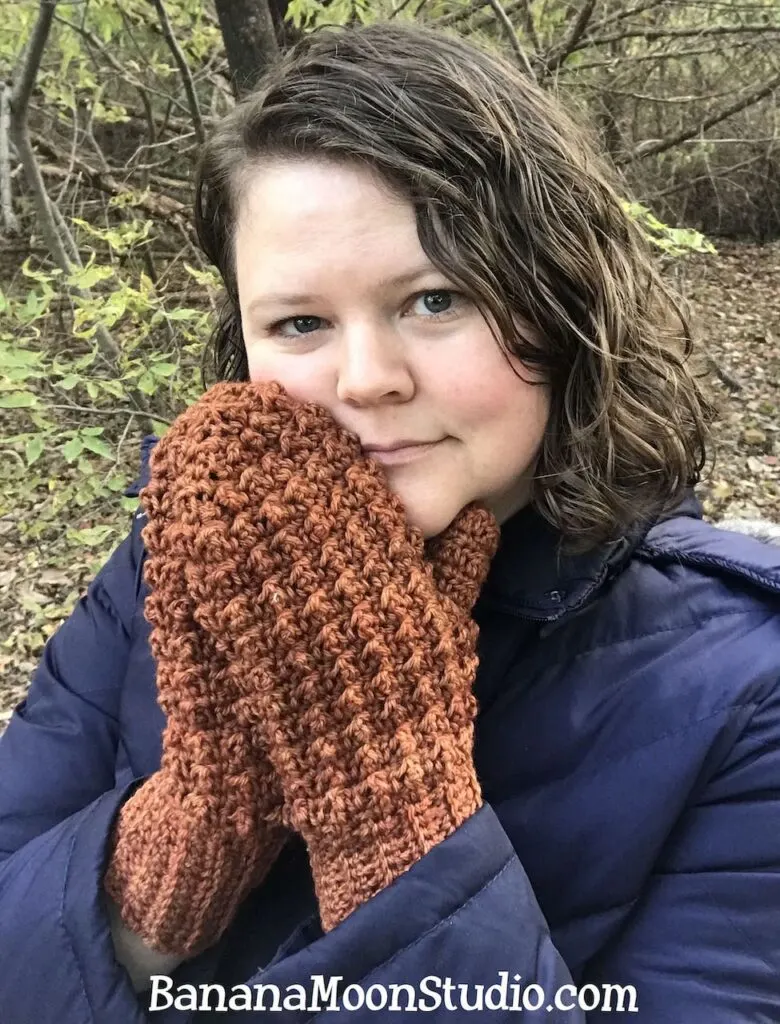 1. Pemba Mittens
Pemba Mittens are made in a textured stitch pattern that creates a bumpy surface. The warm pumpkin spice color is a comforting fall and winter favorite. The pattern is written in three sizes: children, women's S/M, and women's L. They are made in Ancient Arts Yarns Lascaux Worsted, which includes wool from the rare breed, Manx Loaghtan, so you help support the breed when you purchase this yarn. You'll need just one skein to make a pair of mittens!
Designed by Banana Moon Studio Regular price: $2.18
---
2. Easy Breezy Ruffle Top
This cute lacy ruffle top with 3/4 sleeve will make you feel like you are on your Christmas holidays! Made with cotton yarn and a basic lace crochet stitch, it is a great pattern for for both beginner and experienced crocheters.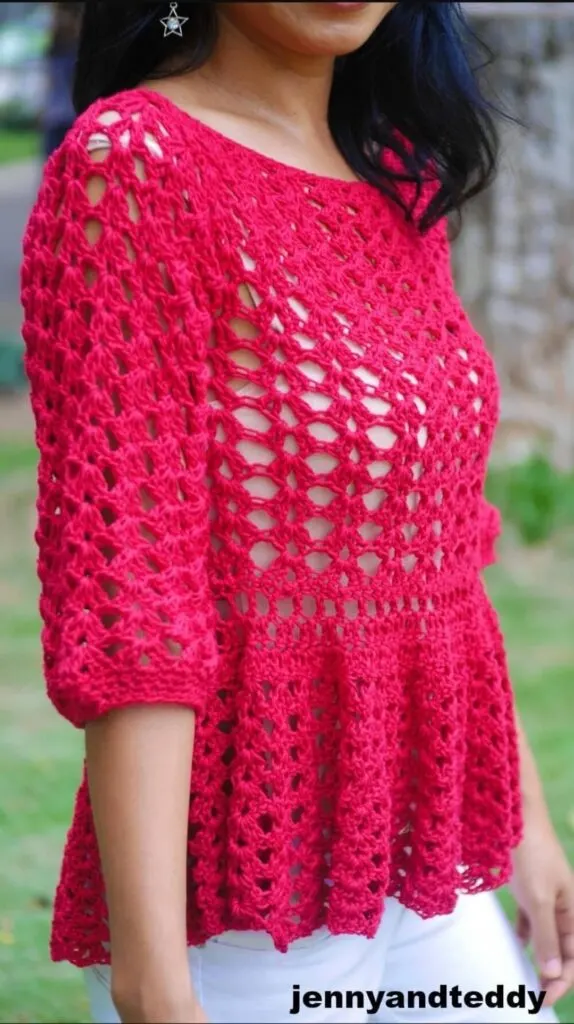 Designed by Jenny and Teddy Regular price: $5.00
---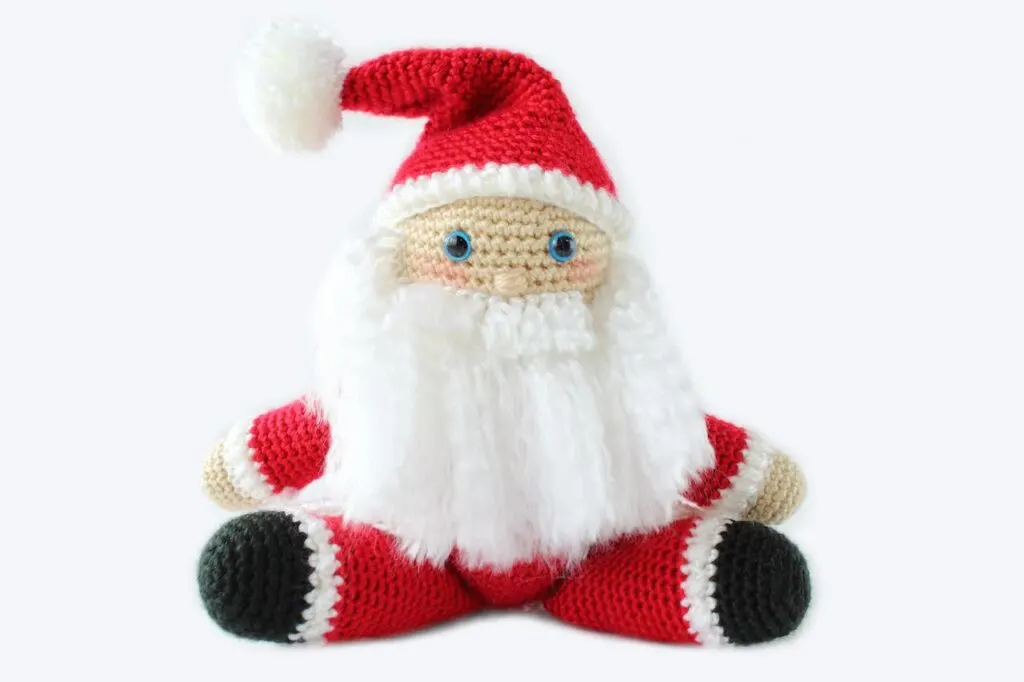 3. Crochet Santa Claus Plushie
This cheerful fella's a great guest to have around the home, he helps with the Christmas decor and gives the best ideas for Christmas gifts!!
Designed by The Blue Elephants Regular price: $5.45
---
4. Mini Bears in Stockings
These Mini Bears are all snuggled up in their own little stockings! They are only about 5 inches tall, making them the perfect size to work up quickly with only a little bit of yarn, plus they make great ornaments, stocking stuffers, and gifts!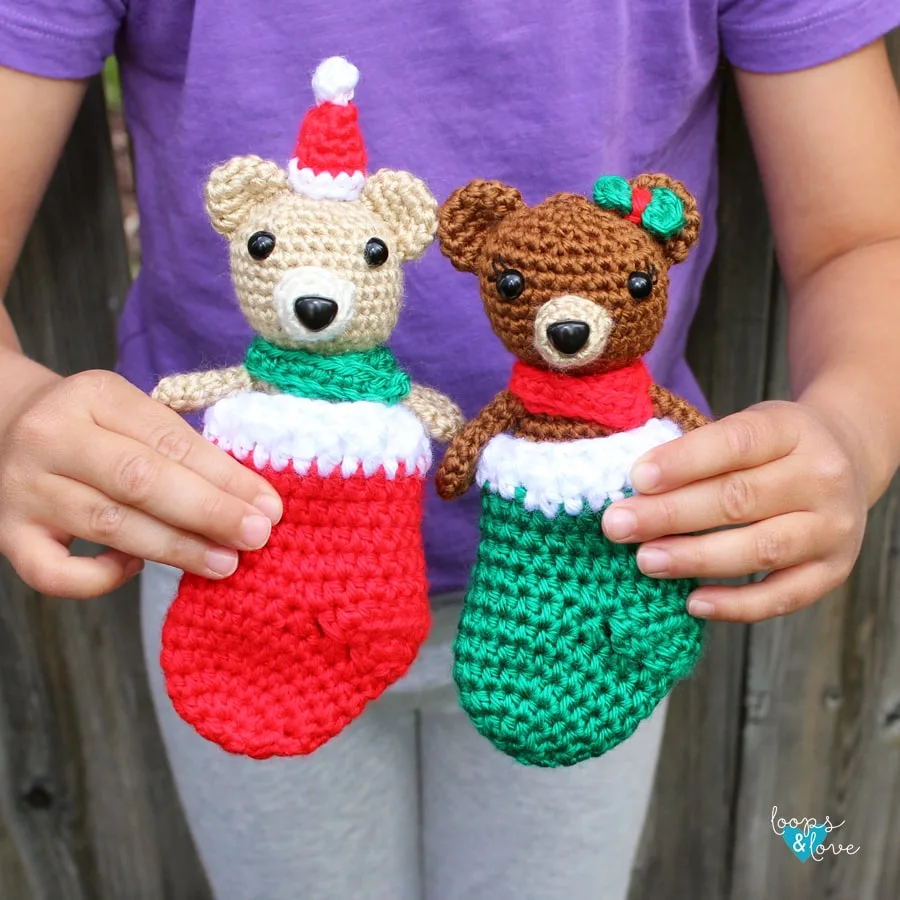 Designed by Loops and Love Crochet Regular price: $3.50
---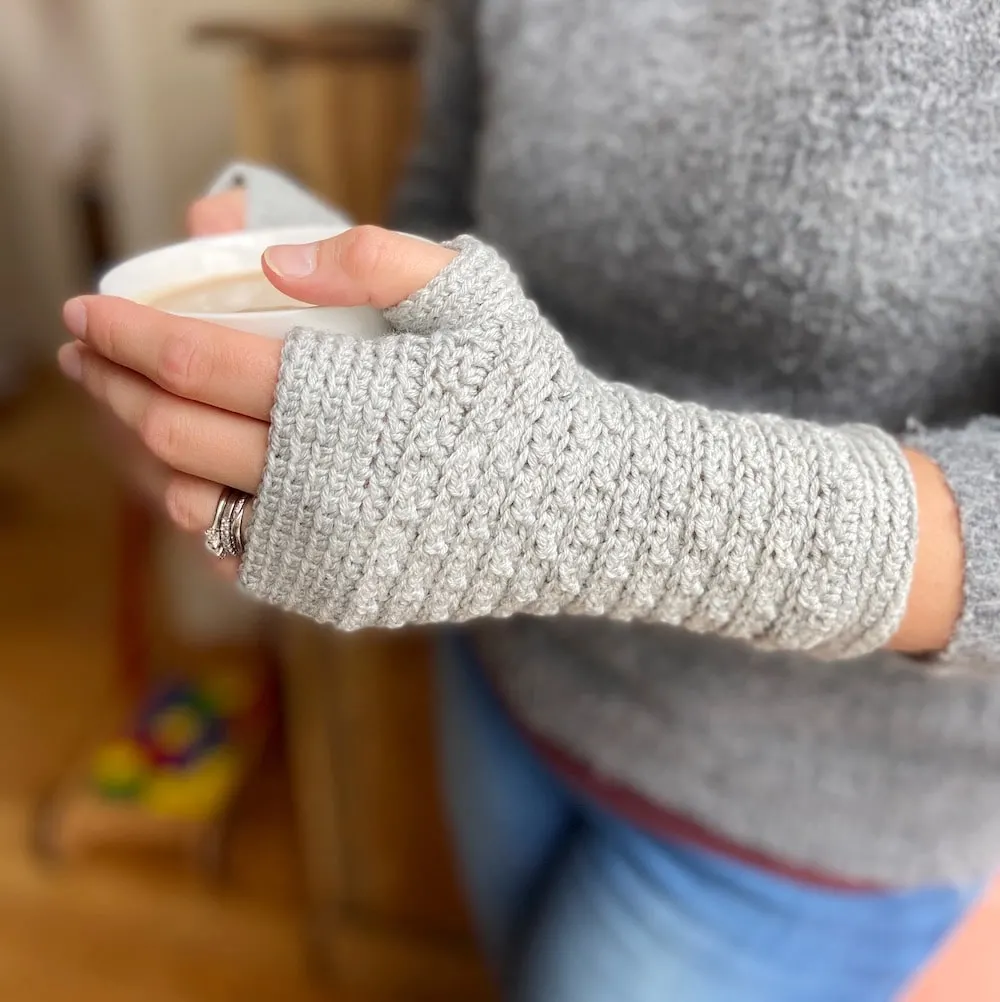 5. Mystical Mitts
The Mystical Mitts are packed full of crochet stitch texture, luxury and style. The fingerless crochet gloves are a dream to make, simply seam a rectangle and add a thumbhole. A quick and easy mitten pattern perfect for gifts for those selling their crochet too!
Designed by Hanjan Crochet Regular price: $3.21
---
6. Fall Cowlgirl
Fall Cowgirl is a cowl with a small shawl attached. This fun little neck warmer can be worn as an accessory to your fall outfits (or winter, or spring, have fun with the colors!) and is made to neatly tuck into most coats.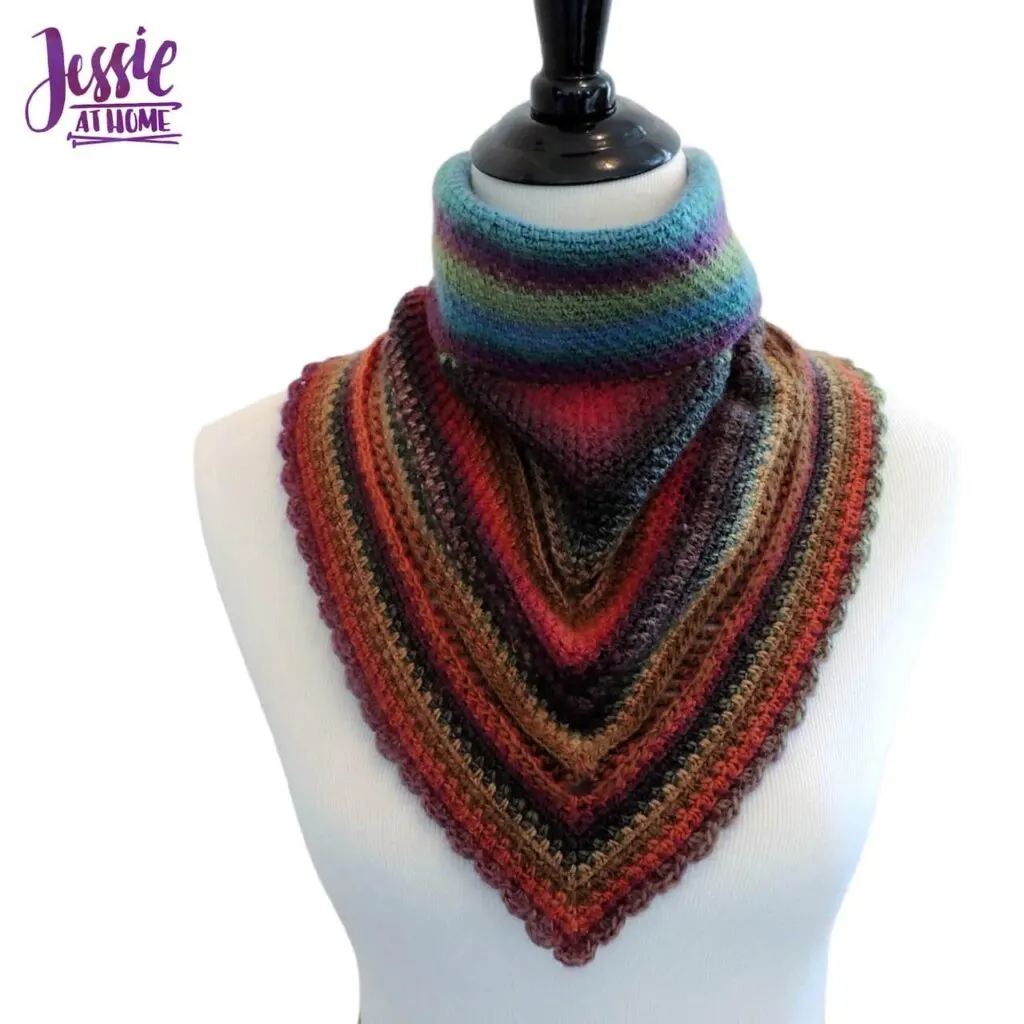 Designed by Jessie at Home Regular price: $3.15
---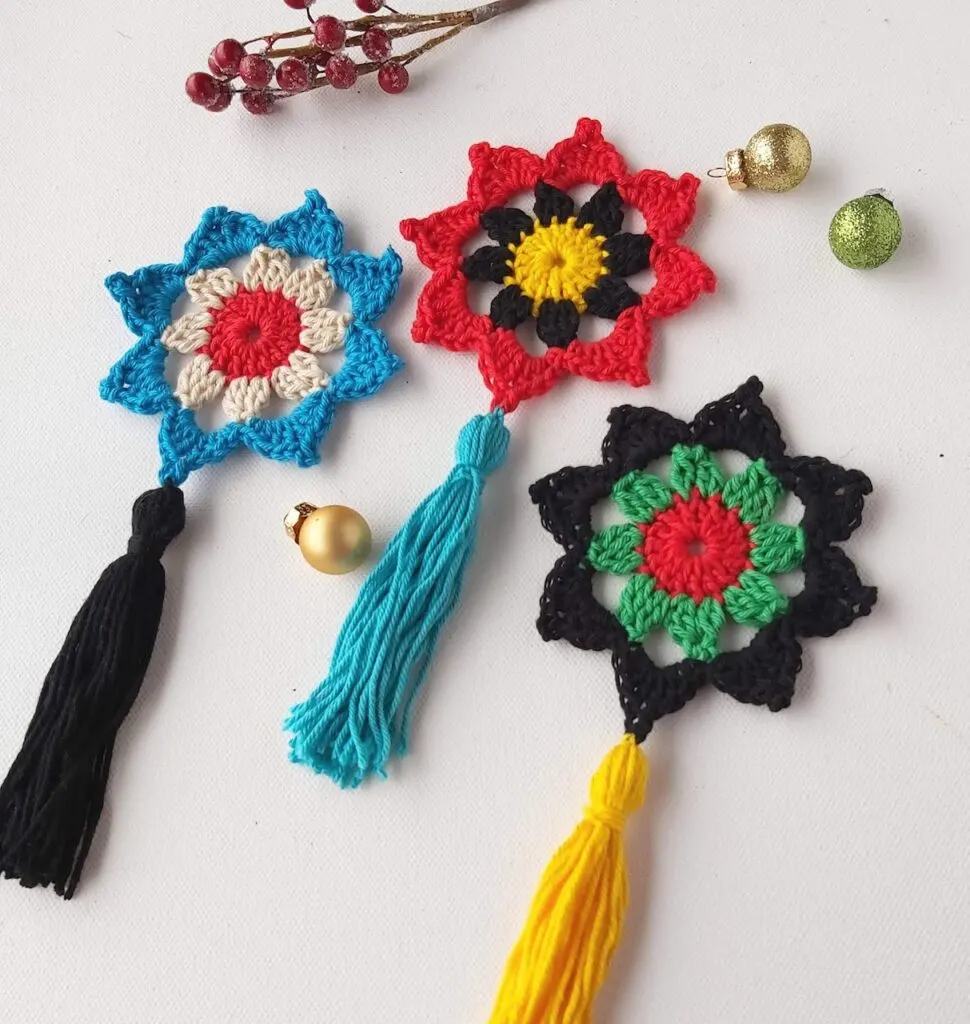 7. Tassel Stars
Crochet a Christmas Star decoration in 15 minutes! These quick and easy crochet Stars work up so fast with this free pattern, and you can have great fun using your favourite colours!
Designed by Annie Crochet Design Regular price: $3.55
---
8. Stocking Ornaments
The mini stocking ornaments are perfect for gifts and decorating any size tree.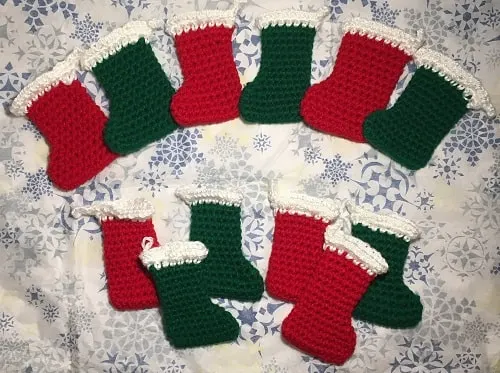 Designed by Jo's Crafty Hook Regular price: $1.50
---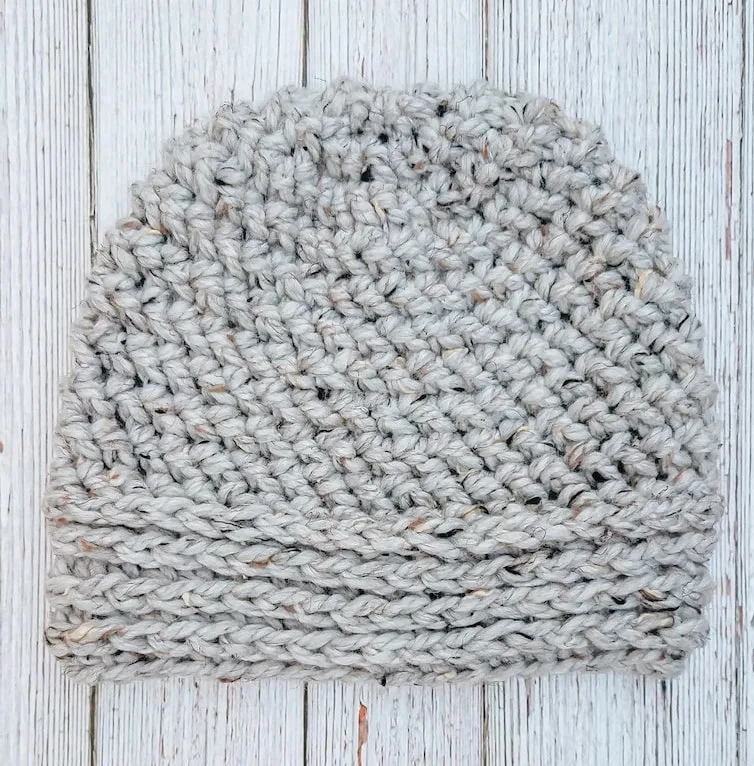 9. The Moxy Beanie
The Moxy Beanie is designed for everyone in the family! With 9 sizes available, this chunky beginner-friendly beanie pattern will be a quick repeat for you this season!
Designed by Crochetastic Boutique Regular price: $3.27
---
10. Crystalline Infinity Scarf
The Crystalline Infinity scarf is quick to make beginner-friendly Patterns. The super-soft yarn will make this a delightful gift for the holidays!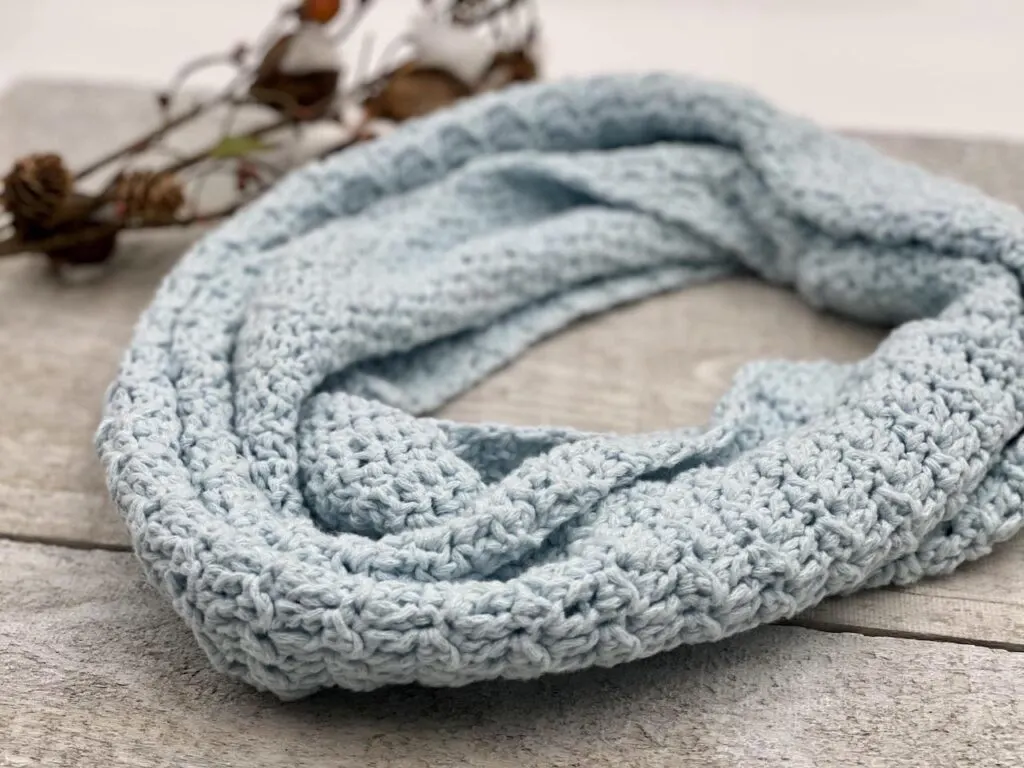 Designed by Through the Loop Yarn Craft Regular price: $3.75
---
As you can see typical pattern prices can range from around $3.00 to $6.00 or even more. That means this bundle is worth over $145 – but we are offering it to you for over 90% off.

That's a savings of over $130!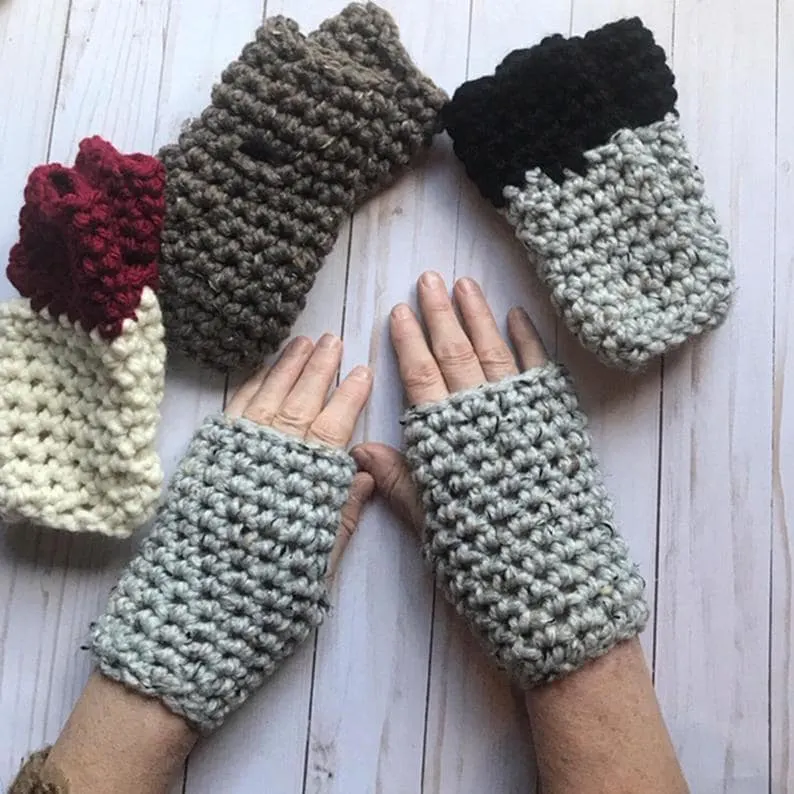 11. Short & Chunky Fingerless Gloves
These Short and Chunky Fingerless Gloves are the perfect Christmas Gift. They are trendy and whip up so quickly. A great last-minute make for a special someone.
Designed by Carroway Crochet Regular price: $3.27
---
12. Smells Like Fall Shawl
With this shawl, we switch up between stitches giving it a beautiful texture with the bobbles and cross stitches.​
This Shawl is a Beginner/Intermediate level, as long as you know how to do simple increases and sewing (for the hood) you can make this too!​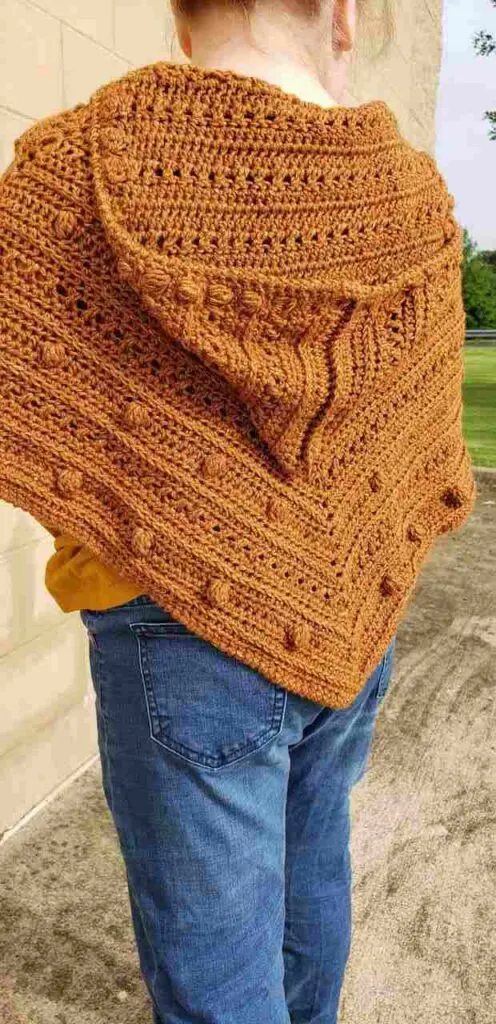 Designed by The Needle Klankers Regular price: $3.99
---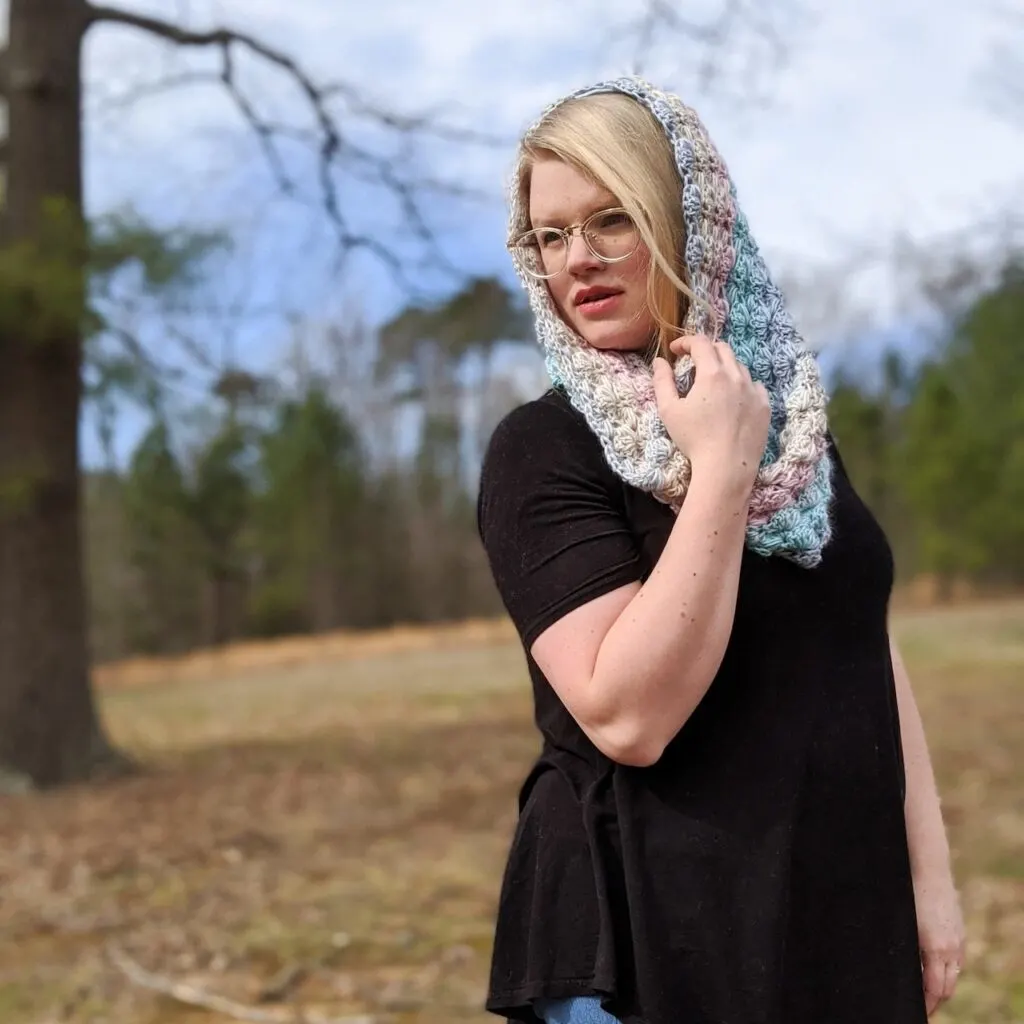 13. Spumiglie Hooded Cowl
This cozy cowl can be made for any size recipient and works up quickly – making it the perfect pattern to work up as a Christmas present. The puffed shell stitches create a thick, luxurious texture that anyone would love to wear!
Designed by Rebekah Haas Crochet Regular price: $3.27
---
14. Star Stitch Trio
Star Stitch Trio is a 3 piece set, ear warmer, cowl, and fingerless mitts.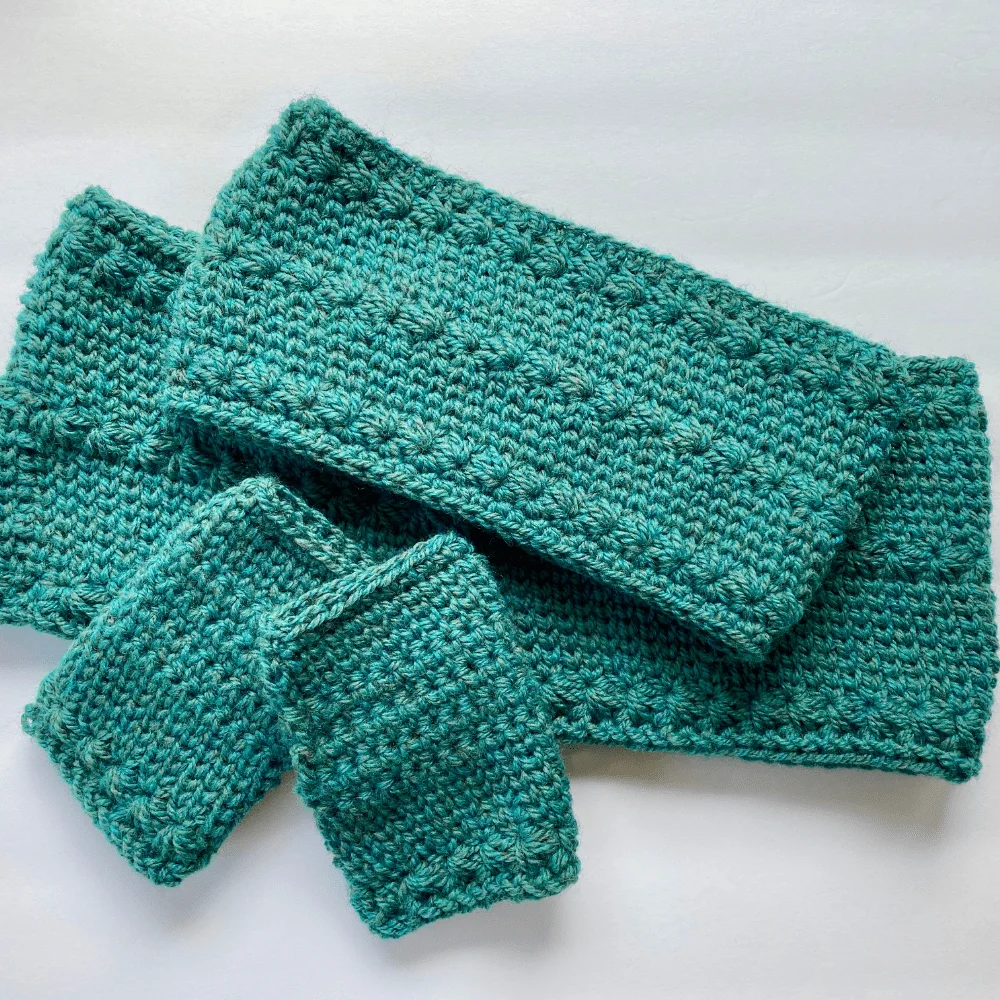 Designed by On Needles and Hooks Regular price: $3.50
---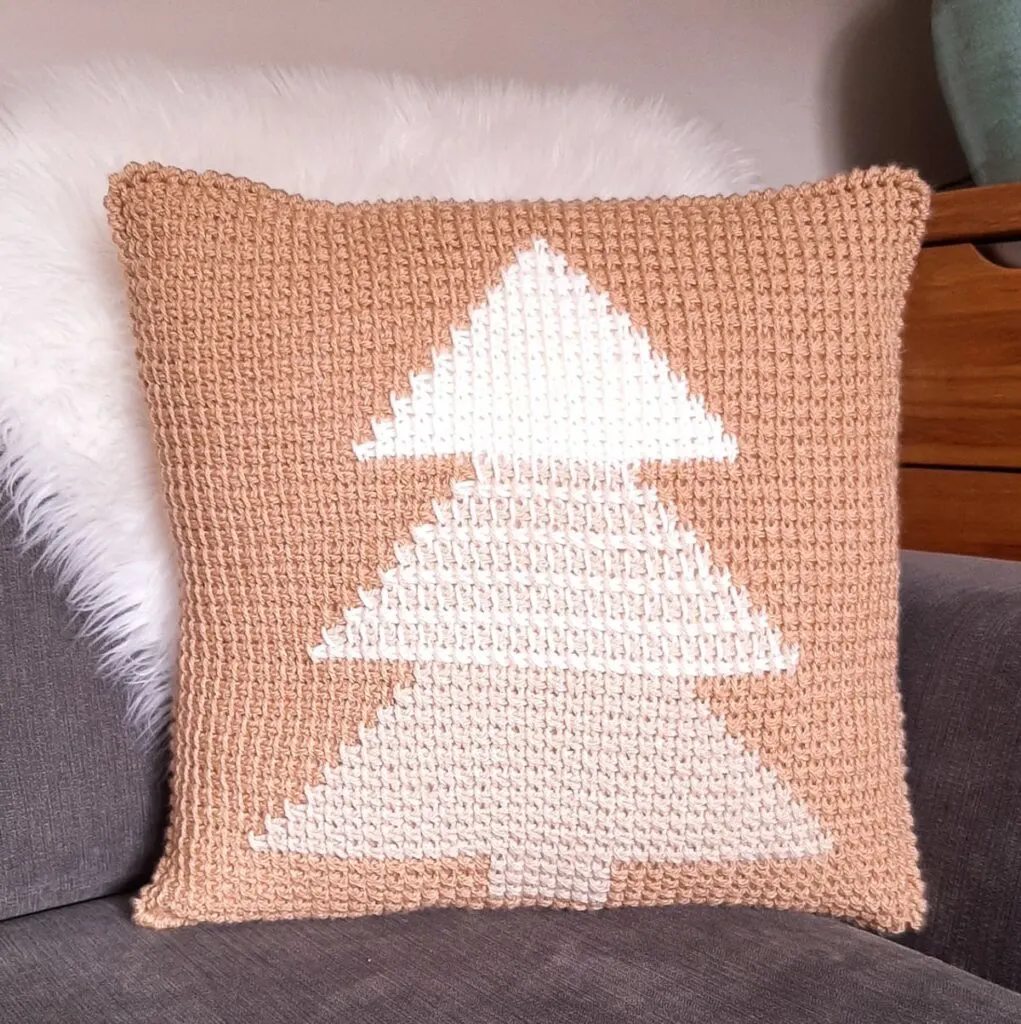 15. Tunisian Christmas Tree Pillow
The Tunisian Christmas Tree Pillow is the perfect cozy addition to your home this holiday season. This pattern is perfect who have dabbled in Tunisian crochet and would like to expand their skills a little! The front and back panels are joined with a round of reverse single crochet so there is absolutely no seaming.
Designed by Ned & Mimi Regular price: $5.25
---
16. Keep It Simple Ear Warmer
You will love how quick and easy this ear warmer is to make. It is a great pattern for a beginner. This ear warmer also comes in 4 different sizes so this makes for a perfect gift for anyone.
Designed by Simply Hooked by Janet Regular price: $3.27
---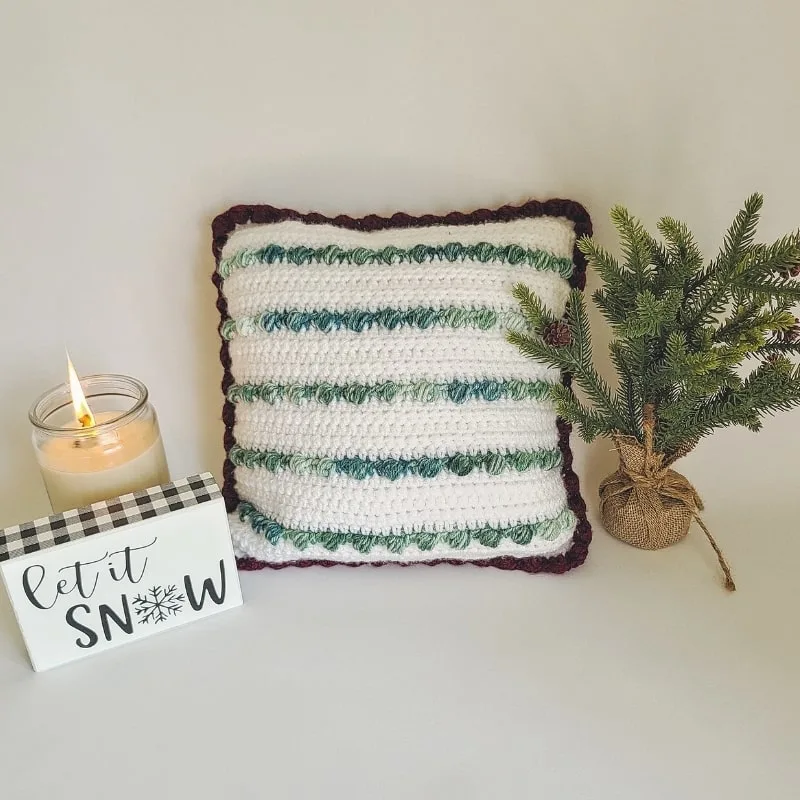 17. Christmas Bobble Pillow
Take a nostalgic trip back to Grandma's with this Christmas Bobble Pillow. This easy pillow cover pattern is great for beginners or advanced crocheters alike. This pillow cover features adorable bobbles in the cover and in the border which will send you straight back to grandma's house for Christmas gatherings.
Designed by The Loophole Fox Regular price: $2.49
---
18. Sleigh Ride Beanie
The Sleigh Ride Beanie is the perfect crochet hat for everyone on your list. This unique pattern features easy color changes and surface crochet for that linear detail. Pair it with the Sleigh Ride Scarf and you will have a go-to cozy combo for the entire cold-weather season.
Designed by Counting Crafty Sheep Regular price: $3.00
---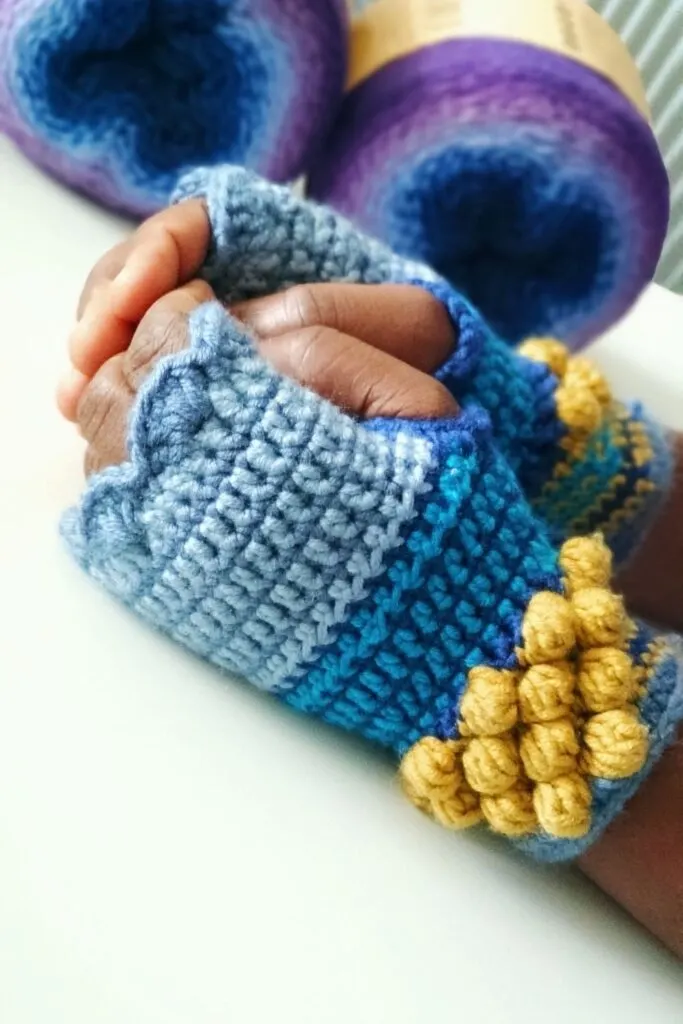 19. Two-way Fingerless Gloves
The 2-way fingerless glove is perfect for days when you wish to keep the functions of your fingers and still keep your wrist warm. You can wear this beauty in 2 different ways!
Designed by Fosbas Designs Regular price: $4.00
---
20. Honey Bear Hat Set
The Honey Bear hat, cowl, and mitten set is a fun and adorable pattern that will keep you cozy all winter long. The pattern comes in toddler, child, and teen sizes. Bulky & Quick crochet pattern worked holding together two strands of worsted weight yarn and an 8mm crochet hook.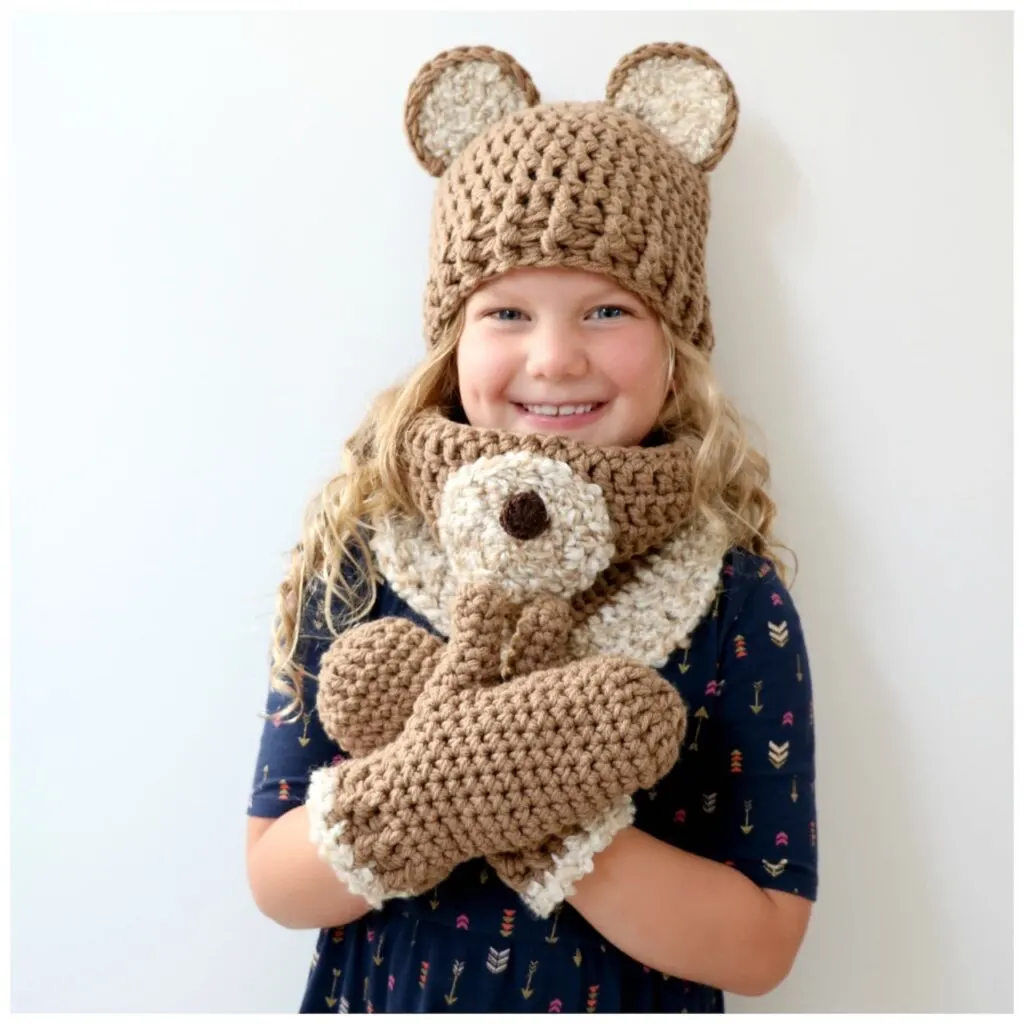 Designed by MJ's Off the Hook Designs Regular price: $5.99
---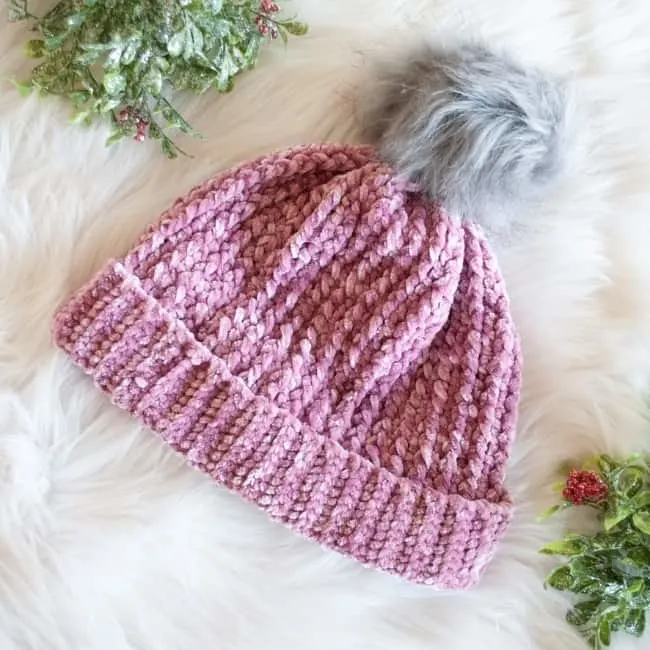 21.Velvet Yarn Hat
Snuggle under this deliciously soft velvet yarn hat this winter. Soft and easy to wear, this hat is perfect for babies, kids, and adults. The pattern includes nine sizes so you can make one for everyone on your gift list!
Designed by Crafting Each Day Regular price: $5.00
---
22. Clover Leaf Granny Square Pillow
The crochet Clover Leaf Granny Square pillow is made up of 50 cloverleaf crochet granny squares, 25 on each side.
You can make them in any colors you'd like & make a lovely crochet pillow.
This pillow is the perfect home decor crochet project & a great way to include crochet into your home.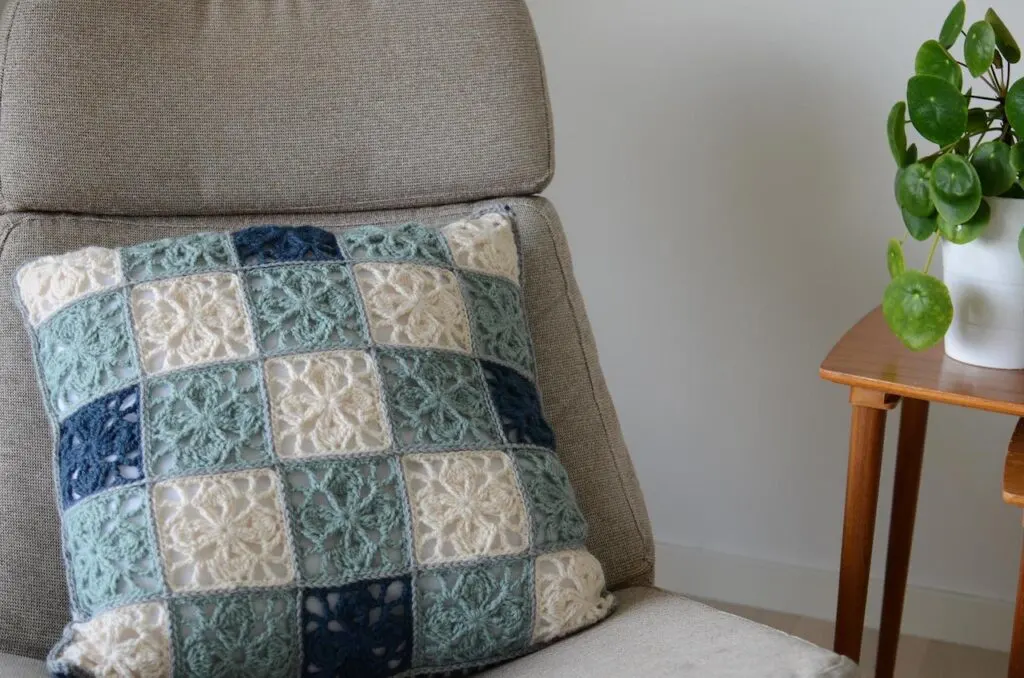 Designed by Joy of Motion Crochet Regular price: $3.50
---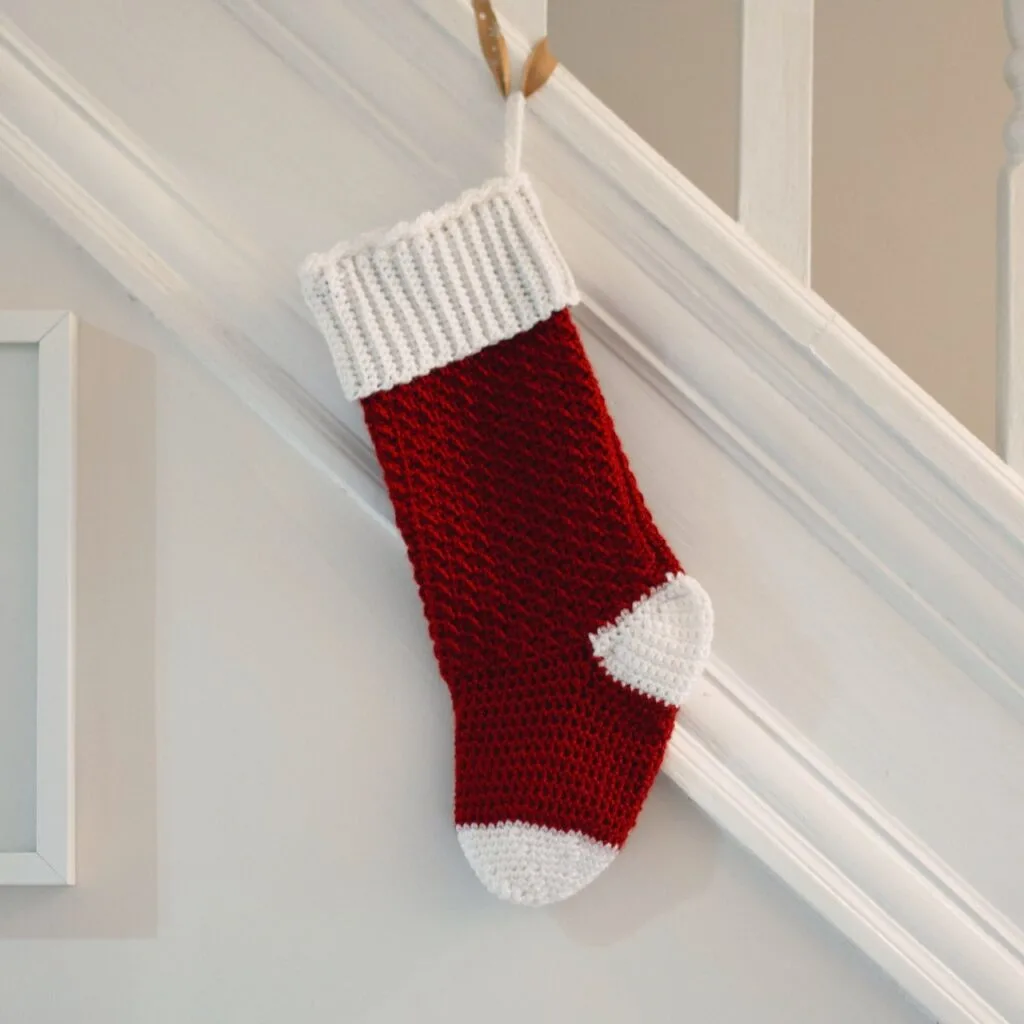 23. Fireside Cottage Stocking
No Christmas is complete without a traditional and textured stocking to decorate the mantle! This stocking is easy make with a link to a video tutorial on how to do the stitch involved. If you have never tried a stocking before this one is a great pattern to try. It has a wonderful texture which you can leave as is or embellish any way your heart desires!
Designed by Sunflower Cottage Crochet Regular price: $5.00
---
24. Star Stitch Beanie
The Star Stitch Beanie is a warm and soft crochet hat with a slight slouch and a fun pompom. The patterns is easy and quick, with plenty of step-by-step photos for the star stitch section. This beanie pattern comes in four sizes from toddler to adult, great for family presents and mum-and-me sets!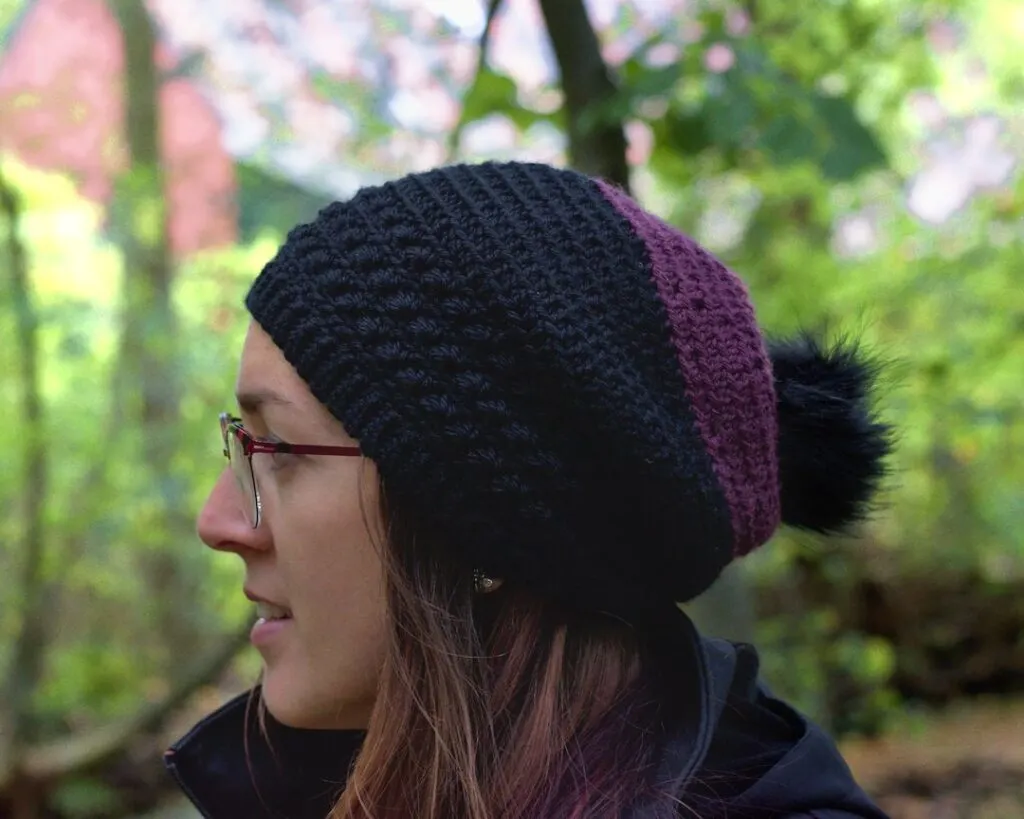 Designed by Raffamusa Designs Regular price: $4.86
---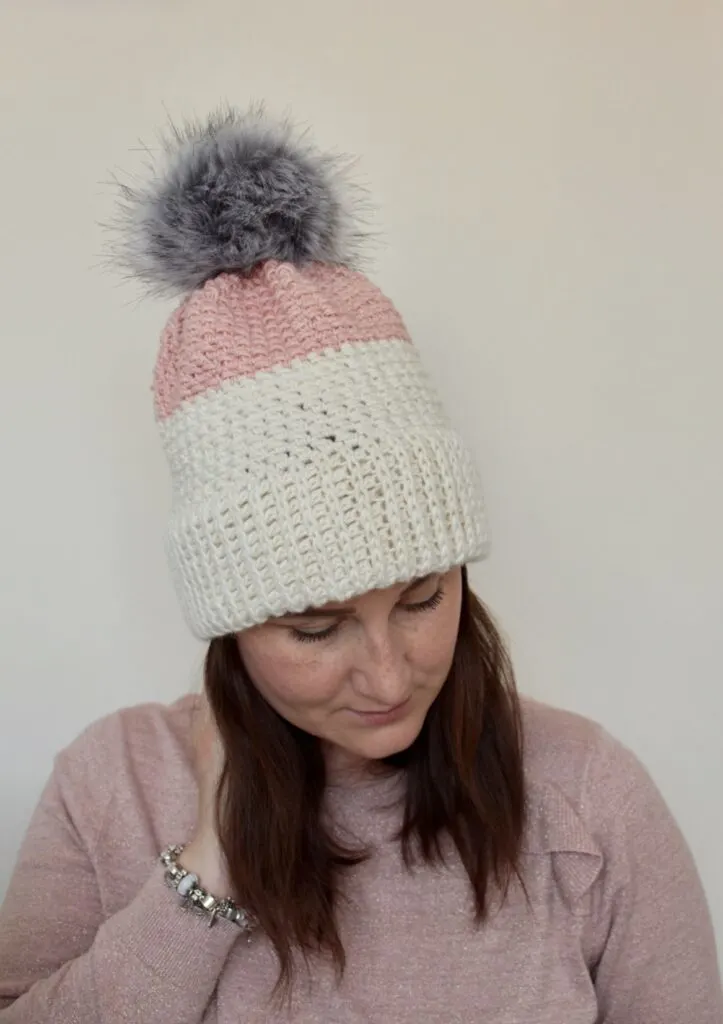 25. Napoly Hat
The Napoli Hat is a versatile hat with a double brim and a textured body. The double brim is worked in the round as a long tube with textured single crochet bobble stitch picked up along the long side. It is slightly slouchy in length but you can customize it to fit snug too!
Designed by Blue Star Crochet Regular price: $3.99
---
26. Mince Pie Bauble
The perfect Christmas treat without the calories. Make this cute mince pie to hang on your tree this year.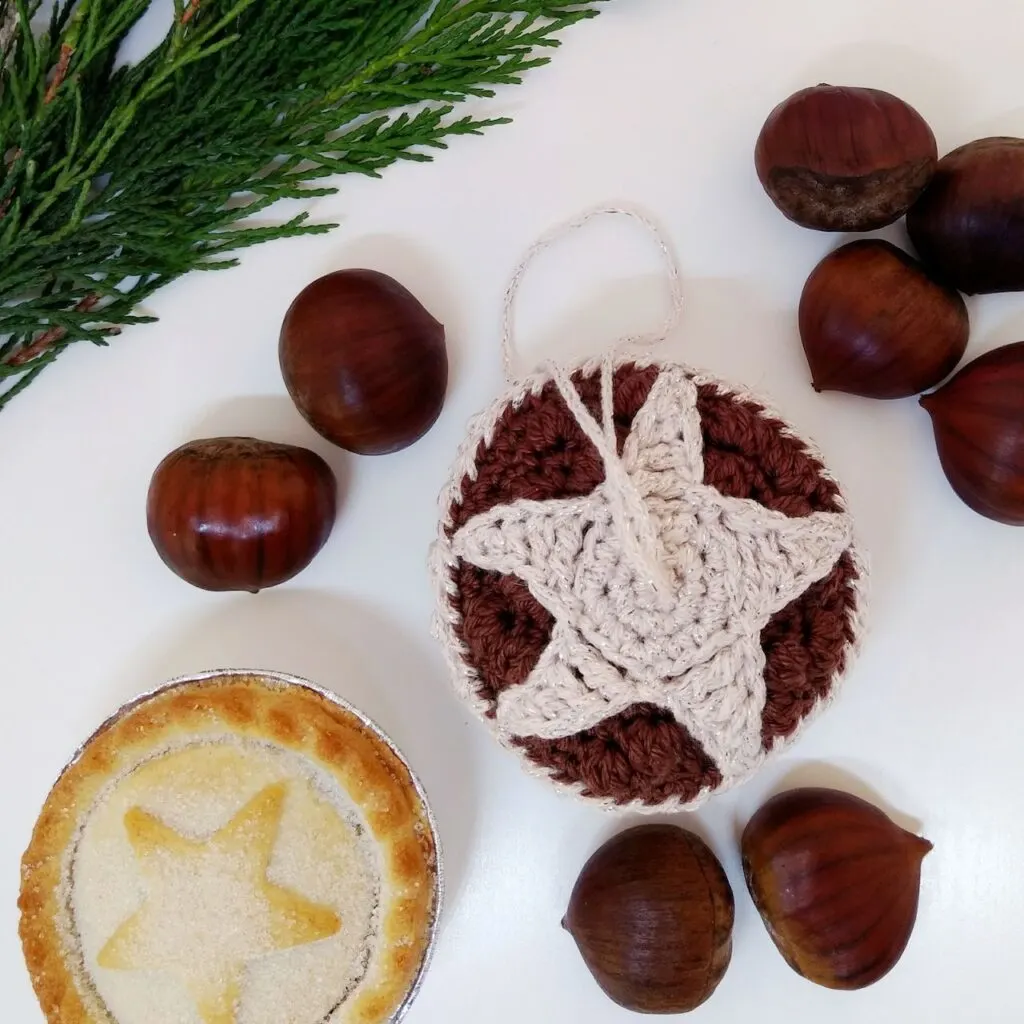 Designed by Crochet Cloudberry Regular price: $3.33
---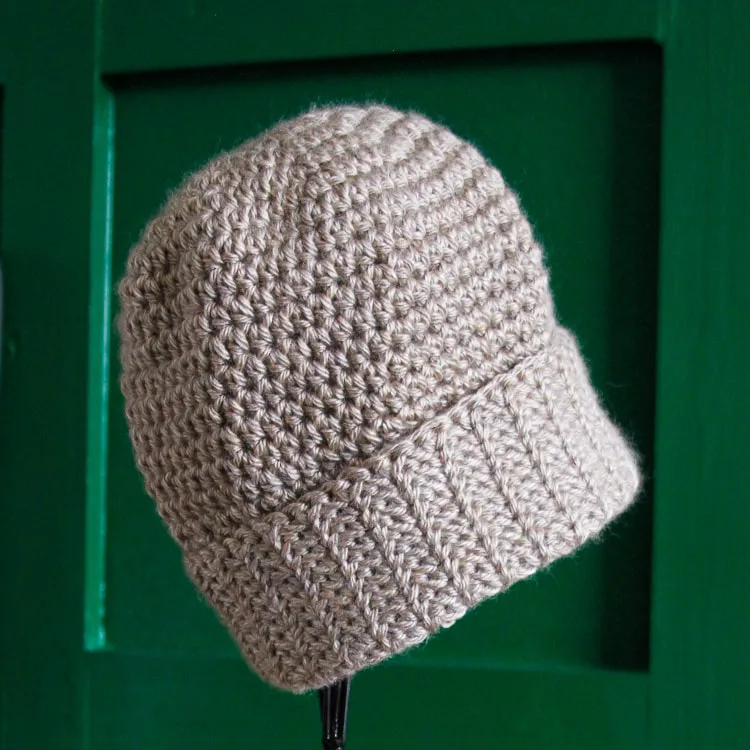 27. Spider Stitch Double Brimmed Hat
This simple hat pattern uses super soft yarn and the smooth textures of half double crochet and spider stitch to create an ultra-comfortable brimmed cap.
Designed by Salty Pearl Crochet Regular price: $4.00
---
---
28. Tunisian Lattice Cowl
The Tunisian Lattice Cowl is a textured beginner-friendly Tunisian crochet cowl in child and adult sizes. It's the perfect cowl for this winter! You can make it shorter as a neck warmer or continue for a few more inches to make it longer. The best part is you can make a matching one for your little one as well. Each cowl can be completed with a single skein of yarn so it's the perfect one-skein project! Make one for yourself and one for your mini-me this winter! ​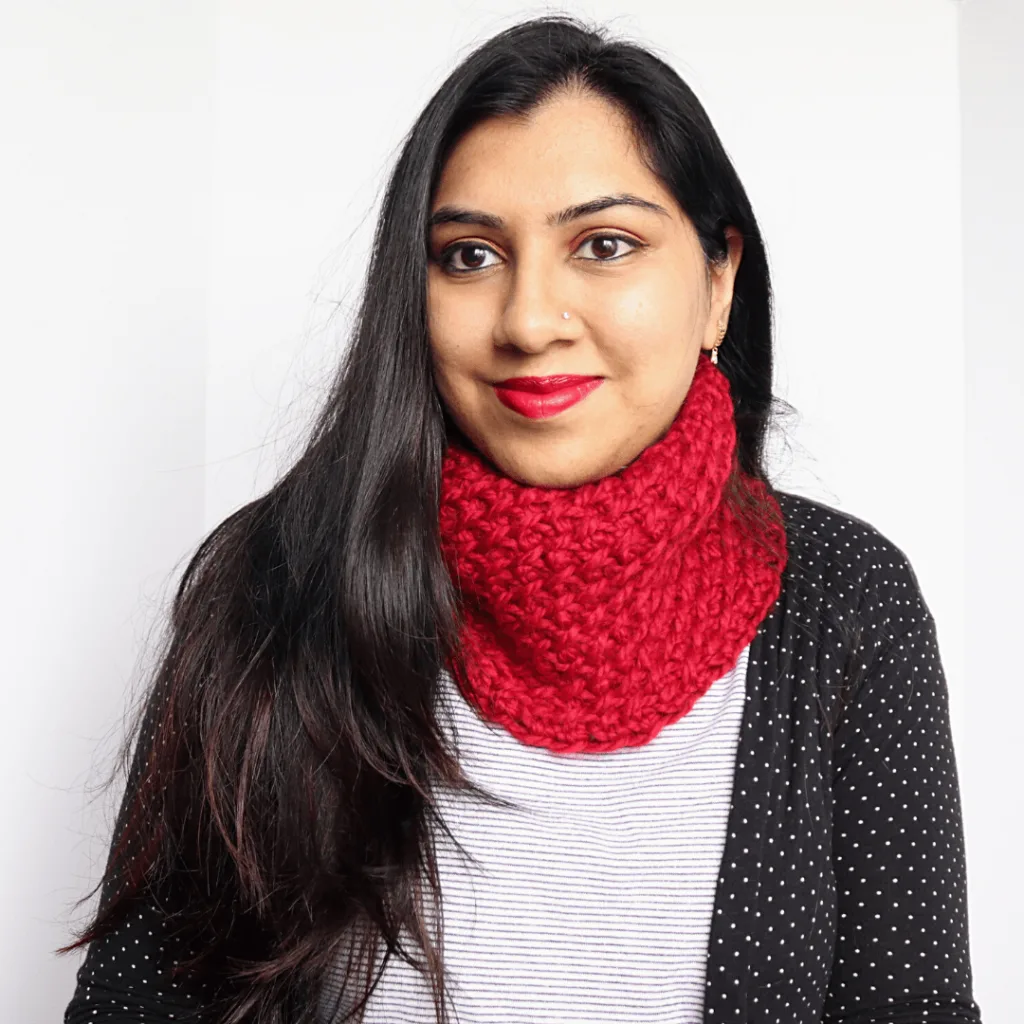 Designed by Noor's Knits Regular price: $4.00
---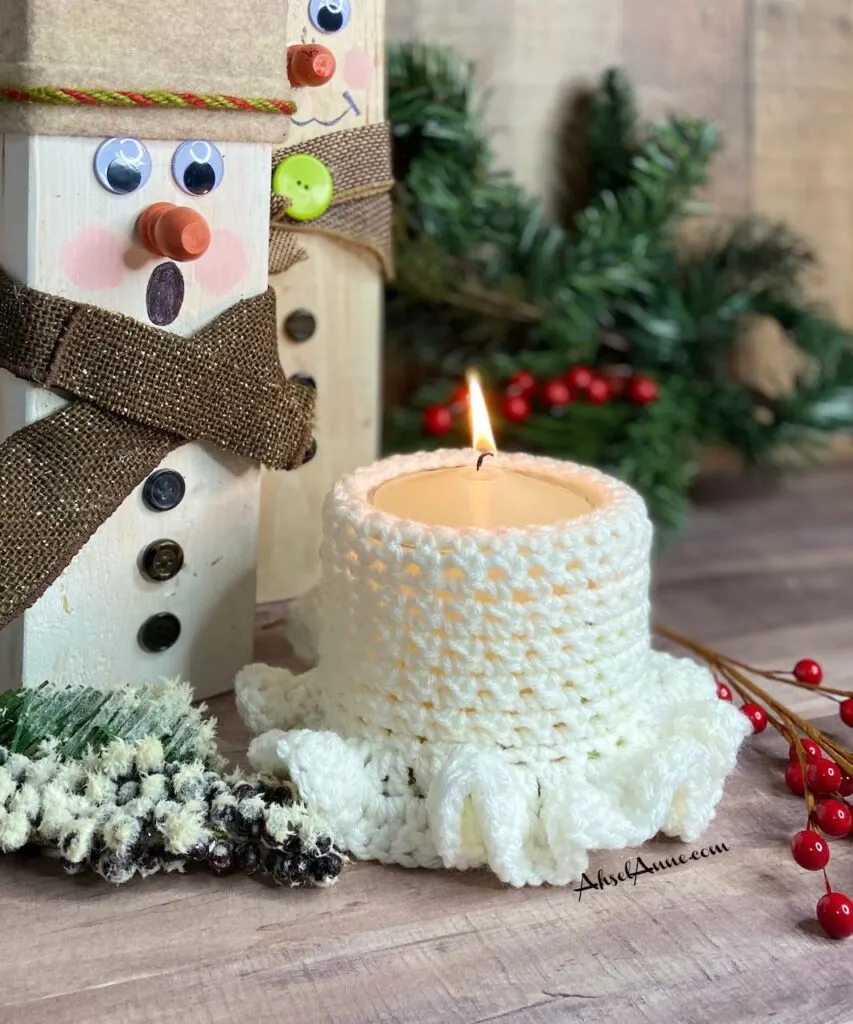 29. Crochet Vintage Candles
Crochet vintage candles mimic pillar-style candles. The frilly skirt, around the candle's bottom, adds to the vintage design. This is an easy-to-follow crochet design that can be easily customized. The crochet vintage candles can be paired nicely with real candles to add a nice ambiance to your holiday décor.
Designed by Ahselanne Regular price: $3.00
---
30. Winter Break Beanie
The Winter Break beanie is a great project for adventurous beginners. The textures of this one-row repeat beanie are absolutely amazing and it works up pretty quick too! This pattern includes 2 more bonus patterns!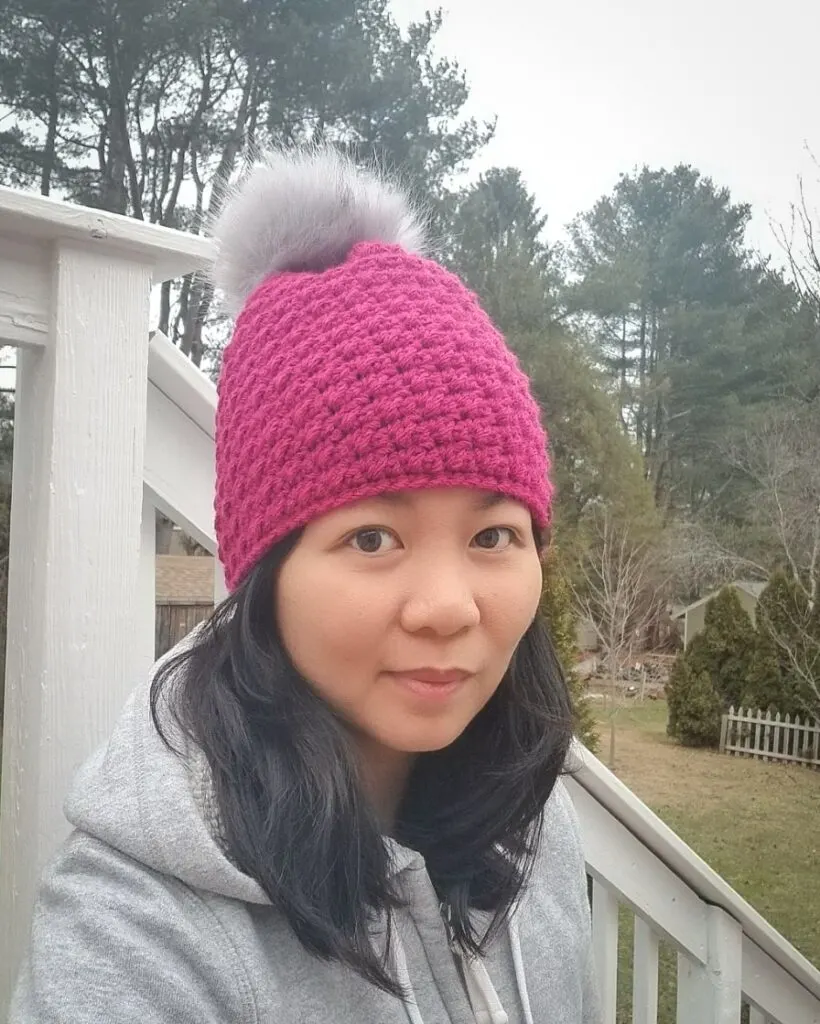 Designed by Strings and Cuddles Regular price: $5.00
---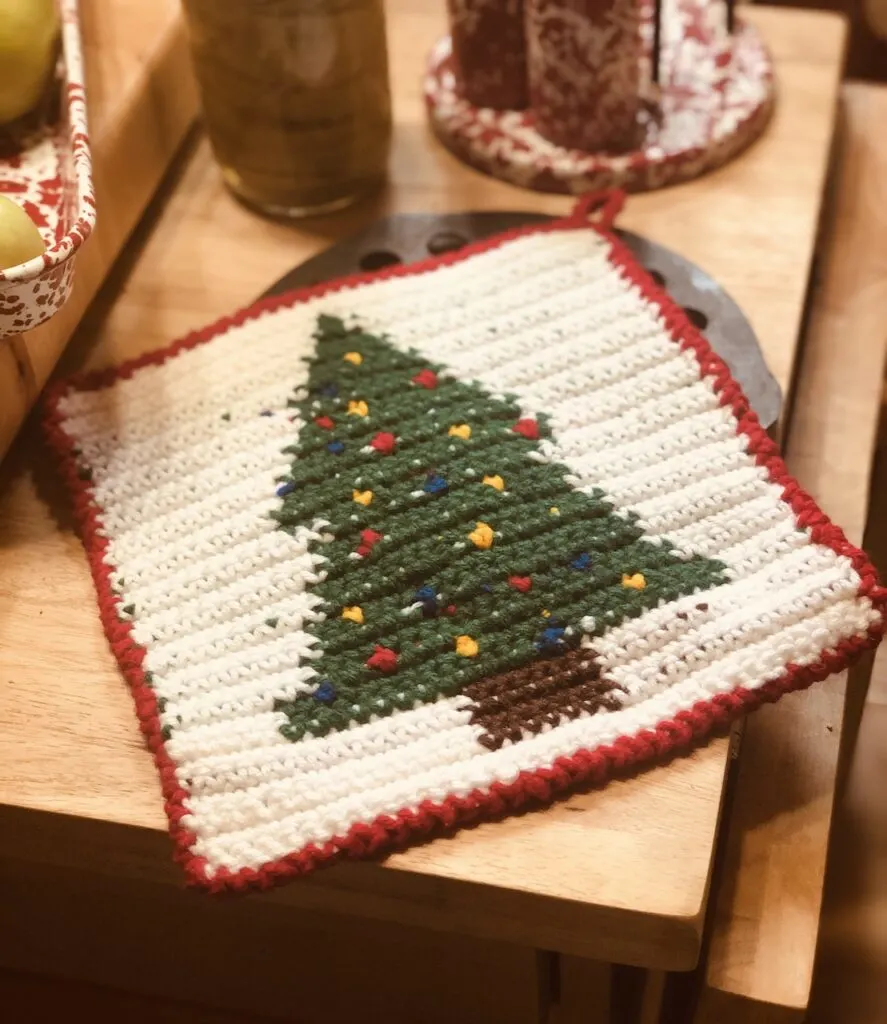 31. Tapestry Crochet Christmas Tree Potholder
Time to liven up your holiday home decor! This easy tapestry crochet Christmas tree potholder is perfect for adorning your holiday dinner table, for seasonal use in your kitchen, or even as an awesome Christmas gift for that chef, baker, or barbeque master in your life!
Designed by Itchin' for some Stitchin' Regular price: $3.99
---
32. Cheeky Elf Scarf
Every Santa needs their very own elf! What better way to reward your own Christmas helpers than with their very own Cheeky Elf Scarf. The Cheeky Elf Kids Scarf is a quick work-up Christmas project using a chunky weight yarn and specialty eyelash yarn. Stitches used are half double crochet, with increasing and decreasing techniques. Perfect for an advanced beginner.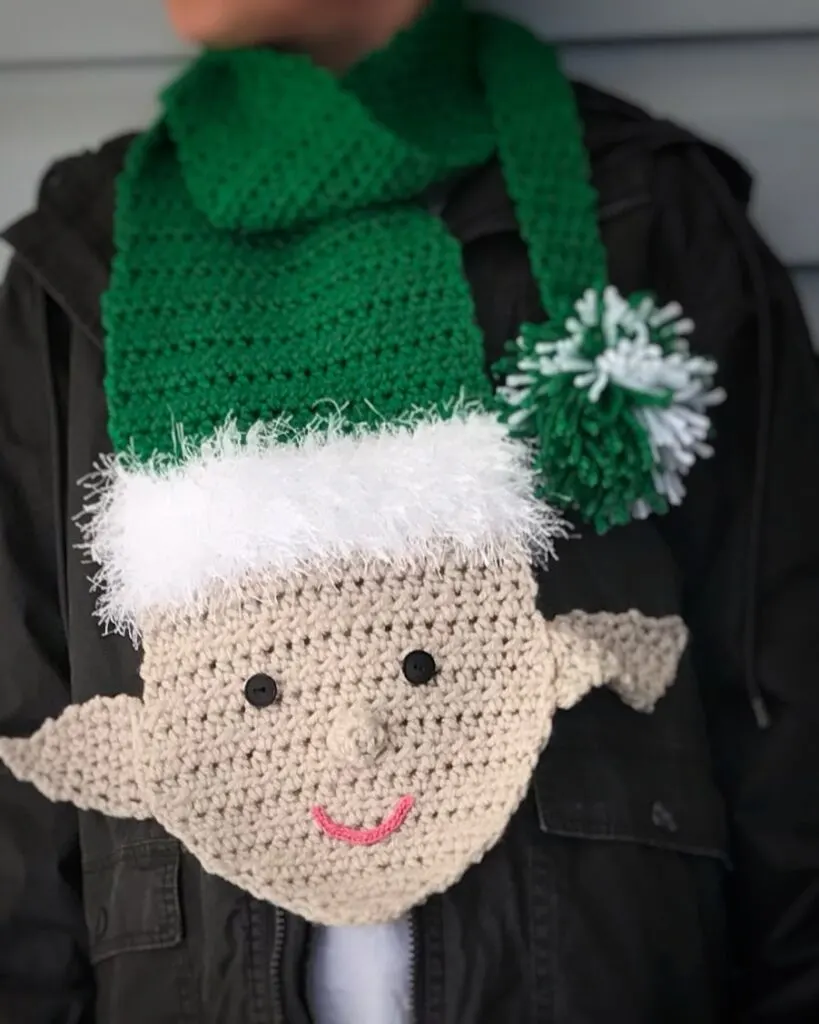 Designed by The Twisting Twine Regular price: $4.00
---
As if over 30 patterns weren't already enough – we decided to add an additional 7 bonus for a total of 39 patterns.
Four of which can only be found exclusively in this bundle!
At over 90% off, that's only $0.37 per pattern!
Check out the bonus patterns below.
---
Preview the Bonses
---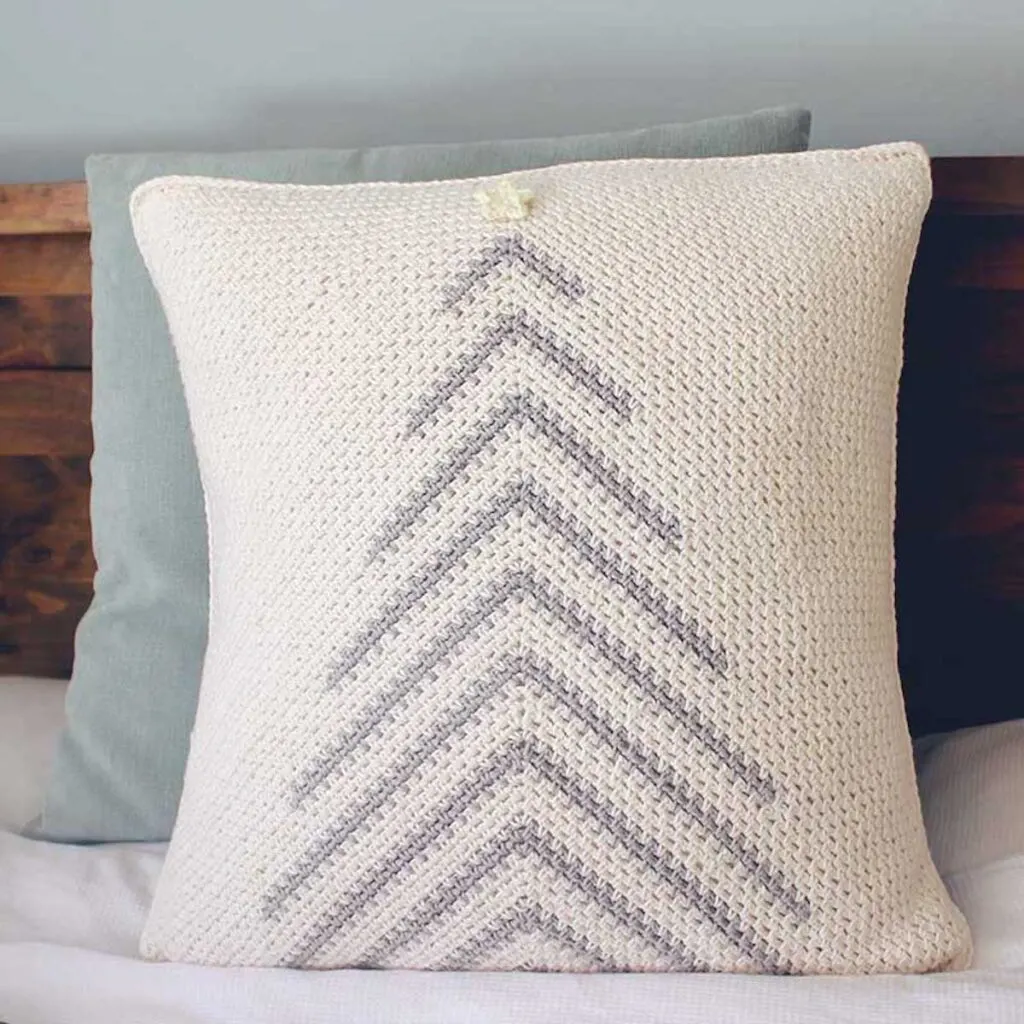 1. Christmas Tree Pillow
The modern Christmas Tree Pillow is a classic piece that you can have in your home, year after year, even if your home décor changes! The pillow is created using the moss stitch, worked diagonally to give a gorgeous "woven" look.
This pattern also creates a gorgeous wall-hanging if you don't feel called to make a pillow :-).
Designed by Ned & Mimi Regular price: $5.25
---
2. Winter Waves Cowl
The Winter Waves Cowl is a super fun way to stay stylish this season. Worked using the gorgeous diagonal basketweave stitch and some sparkly yarn this cowl is sure to become fashion fave! Add buttons of your choice and make it as unique as you are!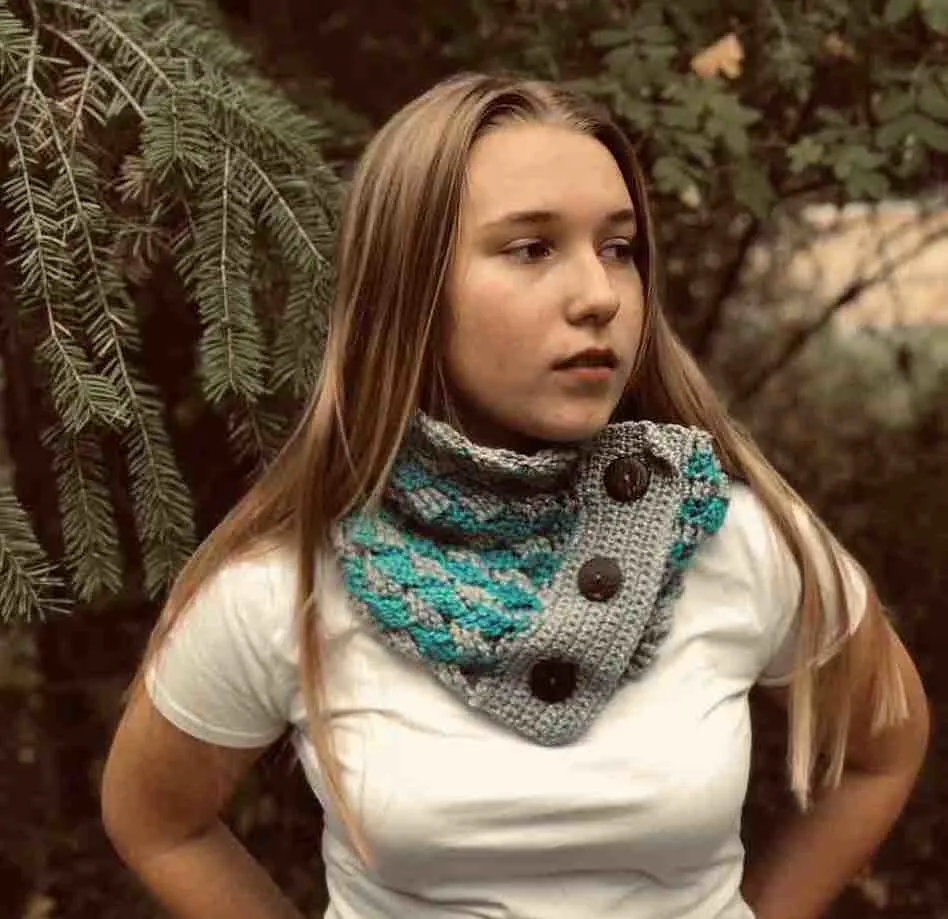 Designed by Itchin' for some Stitchin' Regular price: $4.99 – This currently a bundle exclusive!
---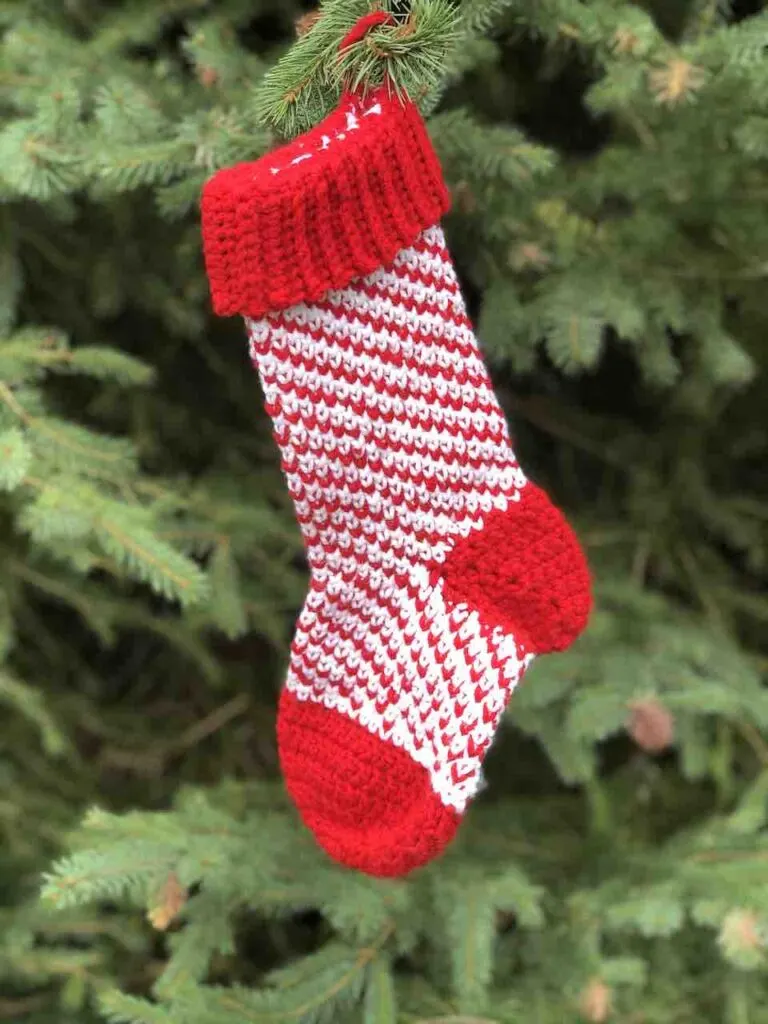 3. Stripes of Love Stocking
A fun and easy Christmas stocking that uses a special color pattern and the waistcoat stitch to create gorgeous stripes of little "hearts" throughout! Believe it or not, the stocking is crochet, but actually appears like it has been knitted! Whip one up in various colors to create a multitude of unique stockings that are sure to liven' up your holiday decor this year!
Designed by Itchin' for some Stitchin' Regular price: $5.99 – This is currently a bundle exclusive!
---
4. Double Oven Mitt
This double oven mitt is created with a super thick thermal stitch. It would make a perfect holiday gift for friends and family, but once you see how useful it is, you might just want to keep it for yourself!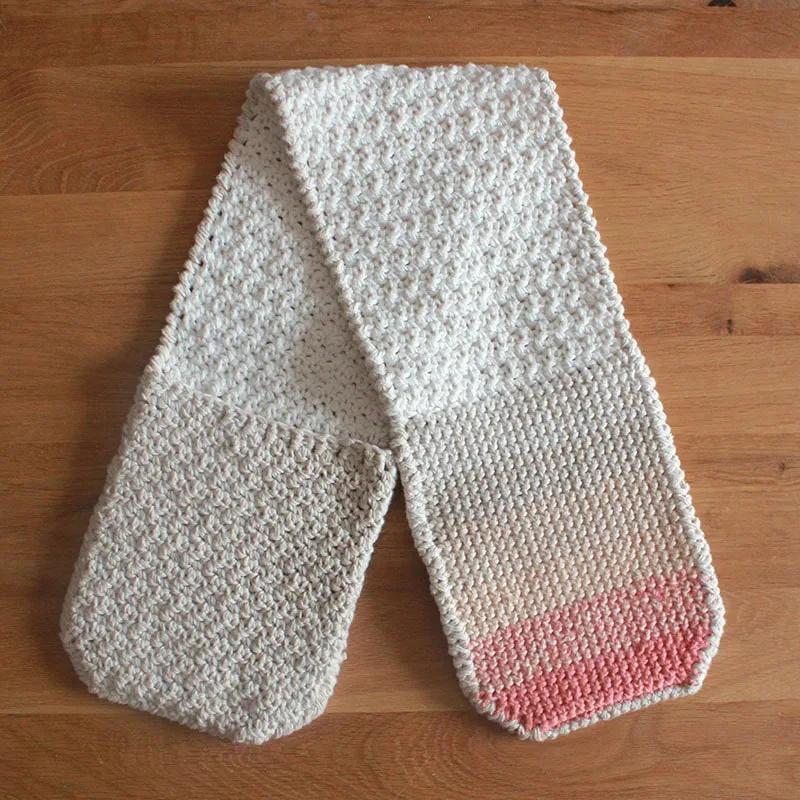 Designed by Ned & Mimi Regular price: $4.65
---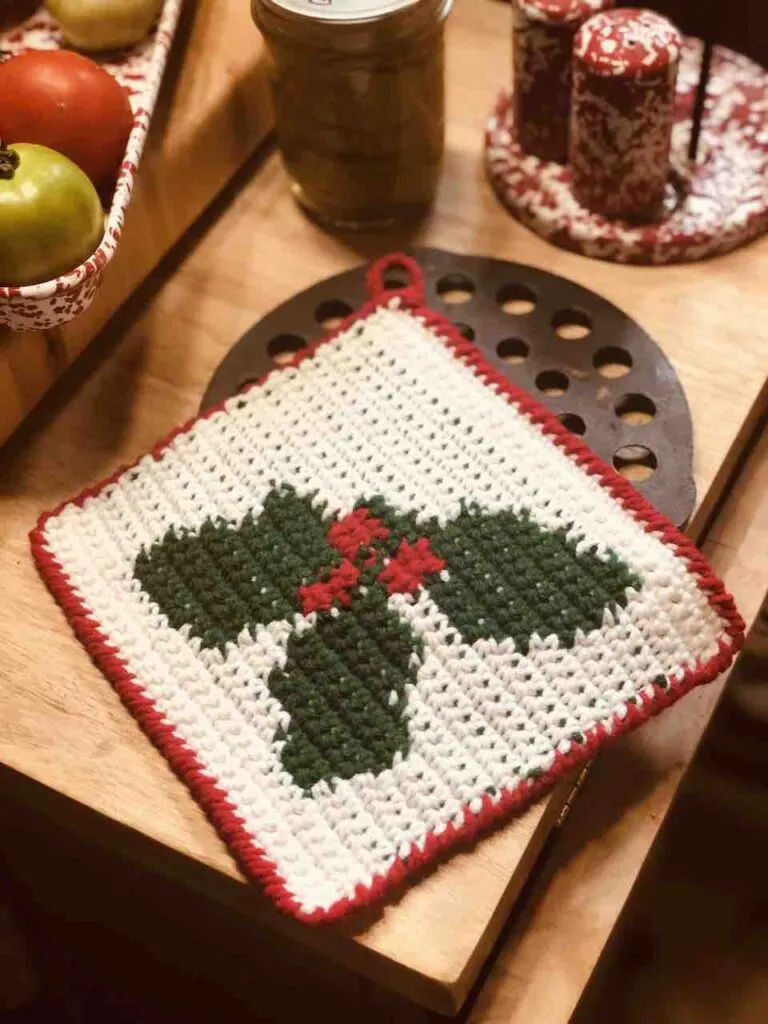 5. Tapestry Crochet Holly Potholder
Looking for a fun way to say Merry Christmas this year? This tapestry crochet holly potholder makes the perfect handmade gift or use it to spruce up your holiday home decor. Beautiful, useful, and super easy to make!
Designed by Itchin' for some Stitchin' Regular price: $3.99 – This pattern is currently a bundle exclusive!
---
6. Tapestry Crochet Stocking Potholder
Make the holiday season a little merrier this year with this easy tapestry crochet stocking potholder! Perfect for gift giving or a fabulous addition to your home decor. Whip this up in just a couple of hours!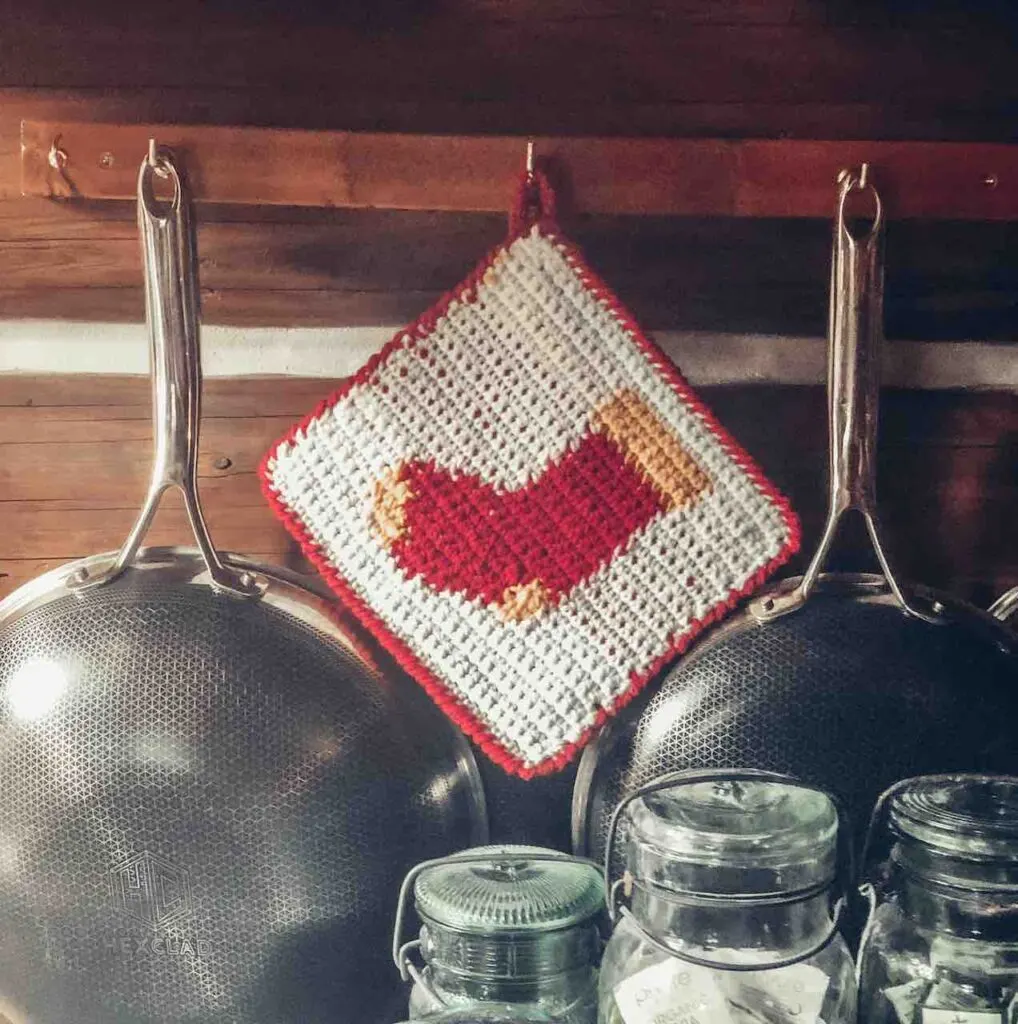 Designed by Itchin' for some Stitchin' Regular price: $3.99 – This pattern is currently a bundle exclusive!
---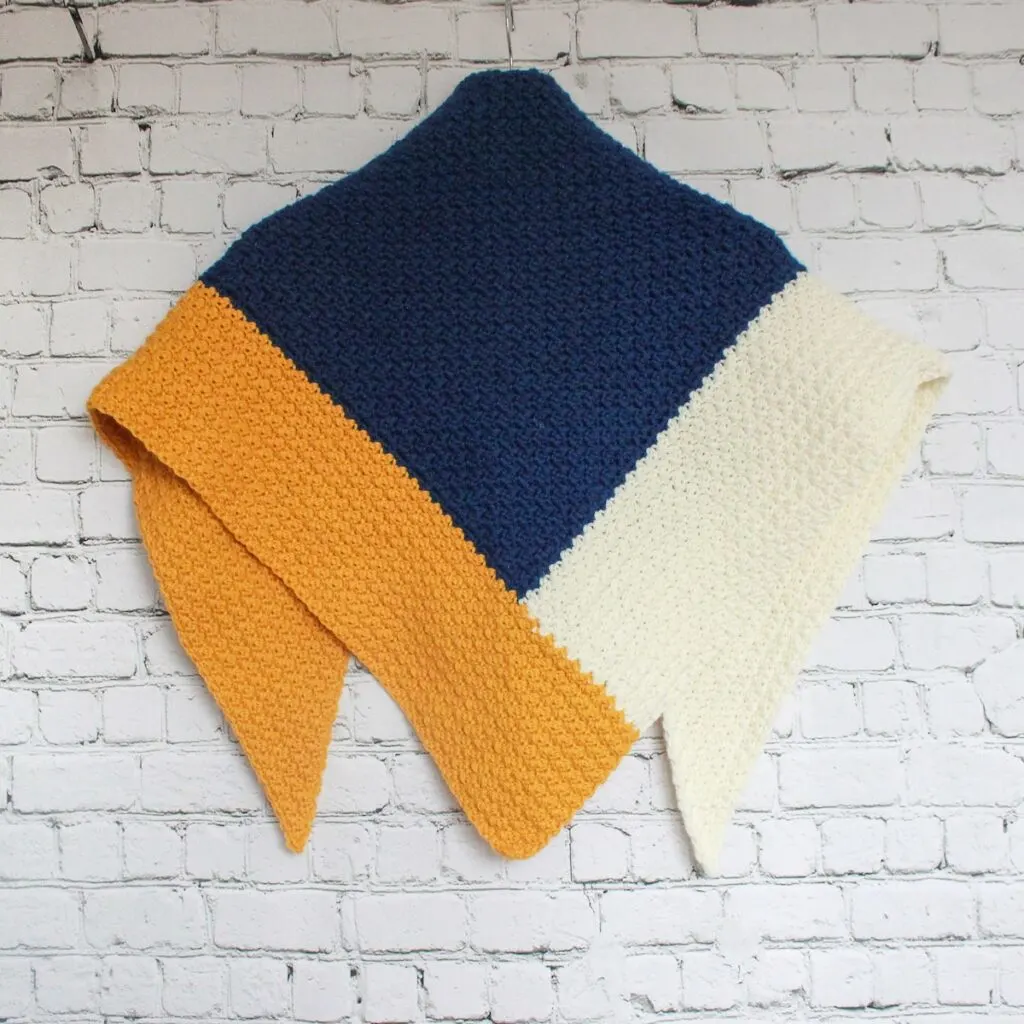 7. Color-block the Cold Triangle Scarf
This winter scarf is cozy and comfy and guaranteed to keep out the winter chills. It is super easy to crochet; aside from the increases required to create the triangle shape, it's really just a one-row repeat at its core. So, it makes a perfect couch project while requiring just a little bit of concentration. The color changes create handy little milestones so you will be finished before you even realize it!
Designed by Ned & Mimi Regular price: $4.65
---
Special Bonus!
---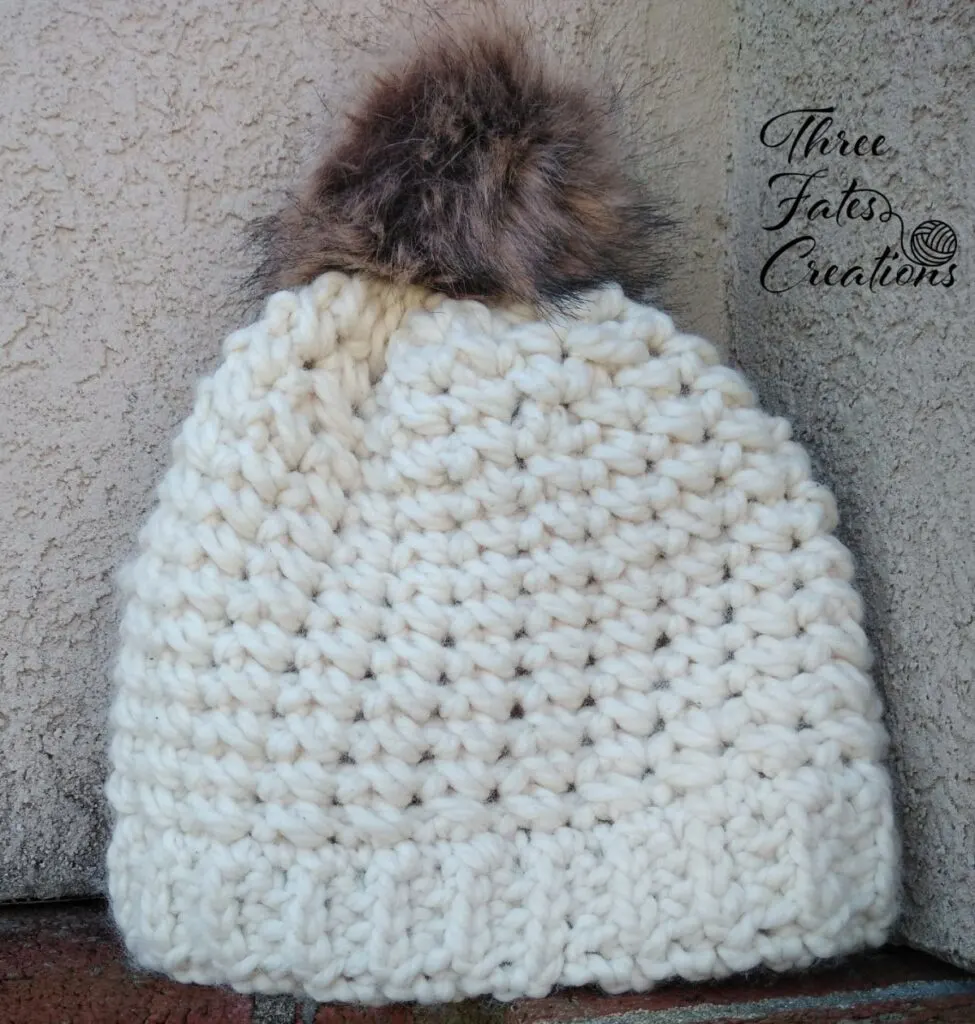 The Snow Day Chunky Beanie
The Snow Day Bulky Hat works up quickly and will keep you warm. The crossed single crochet is simple and makes this hat a perfect last-minute gift.
Designed by Three Fates Creations Regular price: $4.00
---
Don't miss out! Buy Now for $12.99!
FAQs
What will I get my patterns?
First of all, congratulations!
Once you complete your purchase, you will be immediately redirected to the patterns. Additionally, you will also receive a confirmation email and receipt. In the confirmation email, there will be a link to a folder – you will find all of the pattern PDFs in this folder.
Simply choose the patterns you would like to get started with and either save them to your device or print them on your home printer. If you don't have access to a printer you can arrange for printing at your local store (they will be able to help you out with this).
WHAT IS THE REFUND POLICY?
We want you to be happy with your purchase. And with 39 patterns valued at over $140, we are certain that this bundle is an excellent value for money.
However, if you don't feel that you have received more than $12.99 of value from these 39 premium and bonus patterns, send an email to raelynn@itchinforsomestitchin.com within 7 days of your bundle purchase and you'll be issued a full refund.
Will I receive anything in the mail?
You will not receive any physical items in the mail.
The pattern bundle contains digital crochet patterns only – all of which you can download and print at home at your convenience. You will not receive any printed material, yarn, or other crochet supplies in the mail.
Do you have another question about the bundle?
No problem! Just send an email to raelynn@itchinforsomestitchin.com and I'll be happy to help.