Let's Celebrate!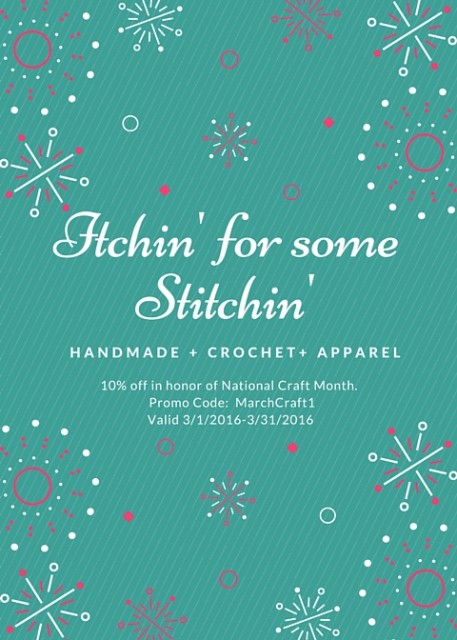 Did you know that March is National Craft Month?  This fun & fabulous month was designed by the Craft & Hobby Association in 1994 in order to
"help people learn about and re-discover the joy of crafting and all its many benefits."
Initially celebrated by only a handful of retailers  and manufacturers, National Craft Month has blossomed into an international celebration of creativity and innovation.  Now millions of craft enthusiasts 'get their craft on' during the month.  Then in 1998 the Crochet Guild of America (CGOA) declared March 16-22  as National Crochet Week and by March 2000 this week had grown to become National Crochet Month.
March is both
National Craft Month AND National Crochet Month.
How awesome is that?   Personally, I don't think it gets any better!
In celebration, I have decided to do my first Etsy promotion.  In honor of National Craft/Crochet Month, everything in my Etsy Shop is 10% off!   Use promo code:  MARCHCRAFT1.
Hurry!  This promotion ends March 31, 2016.
Did you enjoy this post?  Then don't miss out!
Subscribe to the blog to get posts in your inbox.