Linking Up to Link Parties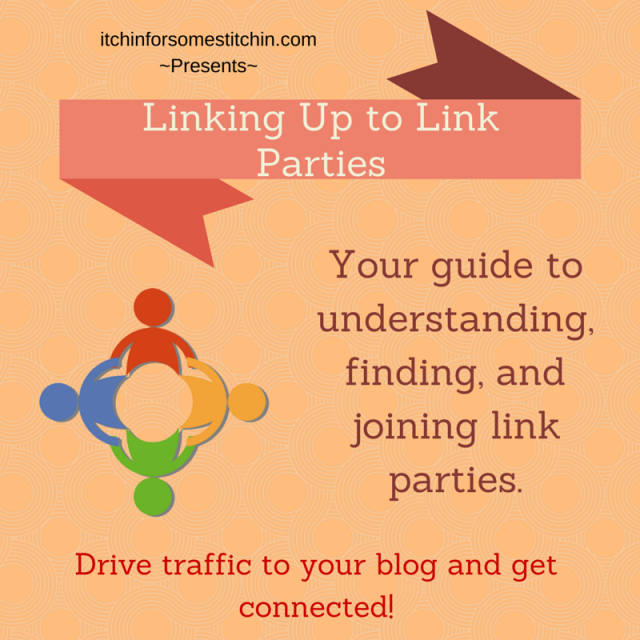 What is a link party:
The most recent thing I've learned about blogging is link parties. What in heavens name is a link party? Good question! A link party is essentially a collection of individual blog links hosted by another blog. I like to think of it like an actual party. In my case, a craft party. Your friend, let's say he/she makes jewelry, decides to host a party and all his/her crafty friends bring examples of their crafts, such as crochet, jams & jellies, woodworking, etc… to show off. In blogosphere terms, this would be a jewelry blogger hosting a party on his/her blog and all his crafty friends put links to their craft blogs on the party's site. Making sense? Good.
Although I've found a few that are invite only, most link parties tend to be open to all bloggers of that particular category (such as all craft bloggers). Link parties, dubbed "Linky parties", may or may not have a theme (i.e. Christmas, Quilting, etc…) and often the host will have a weekly or monthly party. Sometimes there is even more than one host. Link parties are a fun way show off your hard work, to get inspired, and meet new friends, but make sure you pay attention to the rules or guidelines. Typical rules include: you can only post a certain number of links, you must visit a certain number of other guests, share the host's link button, etc…
Don't be intimidated! These rules are generally not strict and they're for your benefit. They encourage etiquette and networking. Link parties are all about getting the word out about your blog… showing off your craft. Adhering to proper blogosphere etiquette will keep your blog in good standing and networking is exactly what you want! You want people to visit and share your blog and one of the best ways to do that is to connect with other bloggers. A final note about etiquette, it's generally polite to leave a "thank you" in the comments section of your host's blog. It's never polite to eat and run!
How to find link parties:
So now you know what a link party is, but how do you find them? This is an important question, especially for blogger newbies. The best answer is to connect with other bloggers. As a beginning blogger this can sometimes be easier said than done.
I am new to the blogosphere and new to link parties. So, let me share with you how I got connected. Social Media. Yep, it cannot be understated. Not only are there communities/groups on sites such as Google + and Facebook designed to help you find link parties, but I was on Google +, one of my many social media sites, promoting my latest blog post when I saw a post about how to keep track of your link parties. Now, I had heard about link parties, but didn't really understand them. I re-shared the post as a reminder to myself to look into link parties. The author of the post, Stella Lee, was appreciative of the share and invited me to #2usesTuesday, my first link party! Believe it or not, a few minutes later a post for another link party, open to all bloggers, came across my news feed. With the personal help of Stella Lee @ purfylle.com, via email, I was able to join several other link parties before joining her link party that week!
By following the guidelines of each party, which included reviewing other people's blogs, and I was able to find others hosting link parties. It was like a domino effect. I began to understand the true importance of Stella Lee's link party tracking tutorial and believe me folks, I put that tutorial to good use. It works fabulously! I strongly suggest that once you get start attending link parties that you also employ Stella Lee's tutorial. You'll need it. 🙂
Thus far I have discovered one more method for locating link parties. Since I am a crafter, I did an internet search for "craft link parties". Unfortunately, a massive list of link parties did not pop up, but what did pop up were bloggers who had attended link parties. Often these bloggers will have a "Link Parties" tab on their blog, just as I do now, which lists either by URL or button which link parties they have attended. Sometimes, if you click on the links you can find an active party and join in. Otherwise, keep checking back. Remember link parties generally occur on a regular basis so you should be able to join it soon as long as the blogger is still hosting.
How to join a link party:
When you get to your first link party you might be a little confused about what to do. Don't worry, it's actually very simple. I'll walk you through the one I did today. The party is called "Your Whims Wednesday" and it's hosted by My Girlish Whims.
Step One.
Go to the host's blog.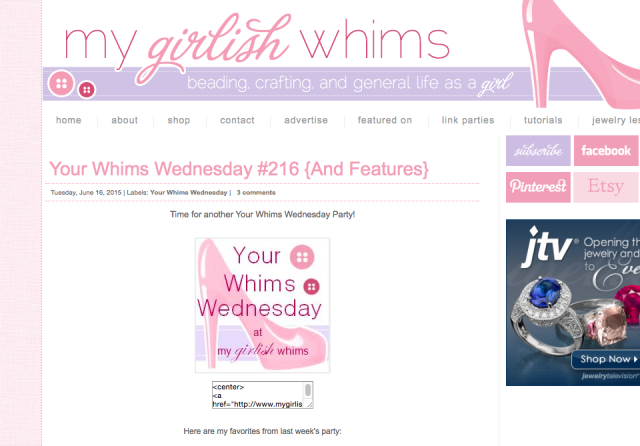 Step Two.
Read the rules.

Step Three.
Scroll down, passed all the blog posts that have already been linked.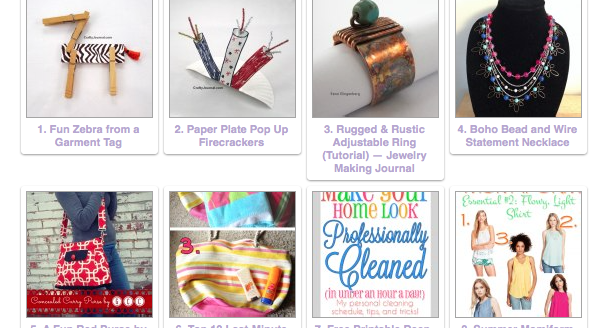 Step Four.
Click on the "Add Link" button to add your link.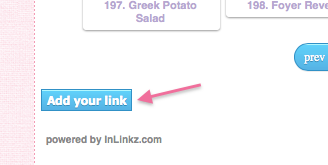 Step Five.
A new screen will pop up where you can add your link.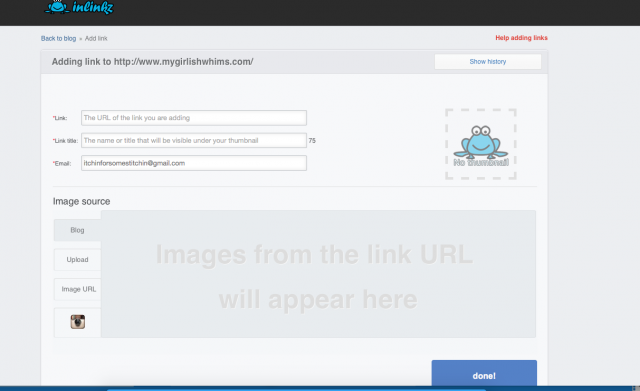 Step Six.
Add your information, select or upload the picture you want to use, and hit the "done!" button.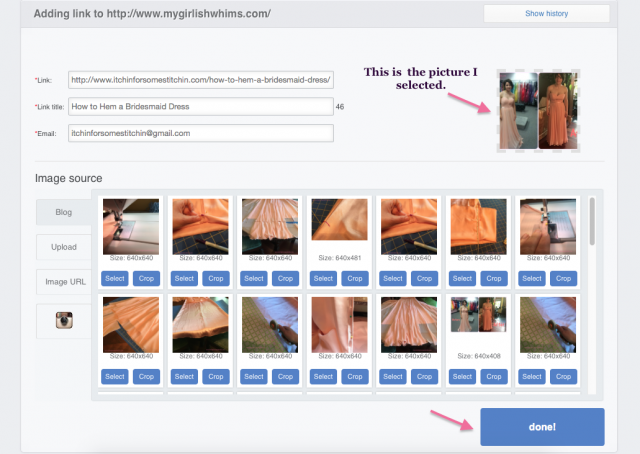 Step Seven.
A new screen will pop up. You can share to social media, if you do, you will be directed back to this same page so you can later go back to the link party.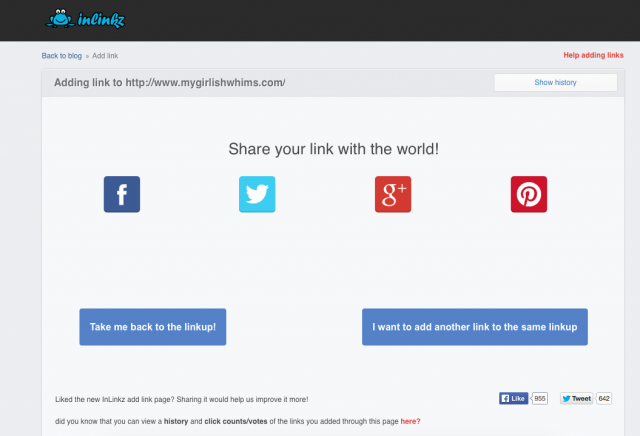 Step Eight.
This step may or may not be optional. Sometimes the link party host asks that you either link back to his/her page or add his/her link button to your blog. To do this, simply look on the hosts blog for a picture with some code. Copy the code.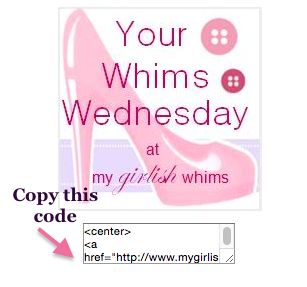 Step Nine.
Go into your blog's admin and open the page where you want to add the link button. Since, I use WordPress, my examples will be only applicable to WordPress users, but there should be a similar method for other blogging sites.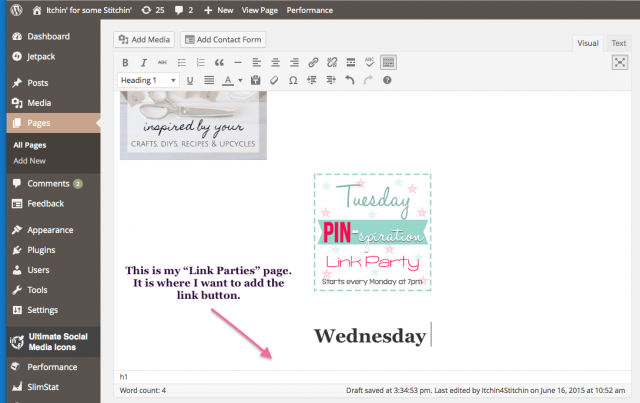 Step Ten.
To add the code, click on the "Text" tab, and paste the code where you want it to appear on your page.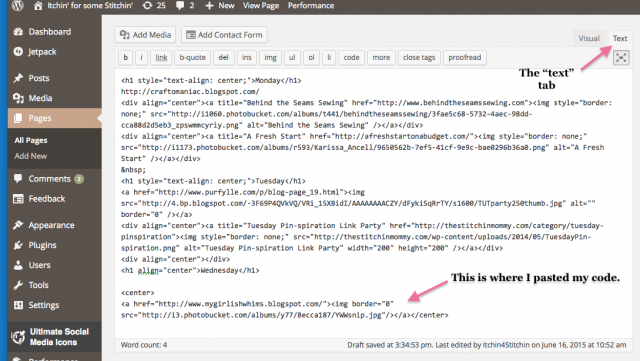 Step Eleven.
Click on the "visual" tab and see the link button you just posted. Then update or save your page as normal.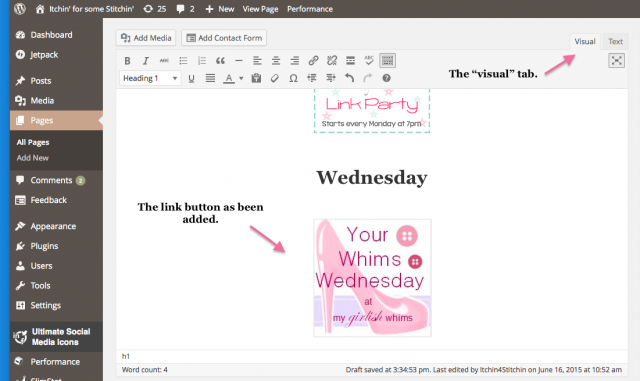 And there you have it folks, "easy peasy". Now you know how to find and join link parties. What are you waiting for? Go get started!
Did you enjoy this post? Then don't miss out!
Subscribe to the blog to get posts in your inbox.
This post has attended the following link parties: