You know, I really love crafting, especially crochet, sewing, and knitting. And I love teaching others how to do these wonderful hobbies just as much.
It puts a huge smile on my face each time a reader or subscriber writes to tell me how useful a tutorial was or how much they enjoyed working a pattern I have written.
Last week, a subscriber thanked me for my newsletter and told me that I had given her "probably the best tip ever!" It truly made my day. 🙂
However, I know that for some, step-by-step photo tutorials and tips just aren't enough. Sometimes, we need one-on-one instruction, and often, short videos don't cut it.
They may show how to do one particular technique, but they don't really help develop your skills in a fluid way. Classes, on the other hand, do.
So, today I want to share my recent experience with Craftsy classes, how you can sign up, and why it's so worth it!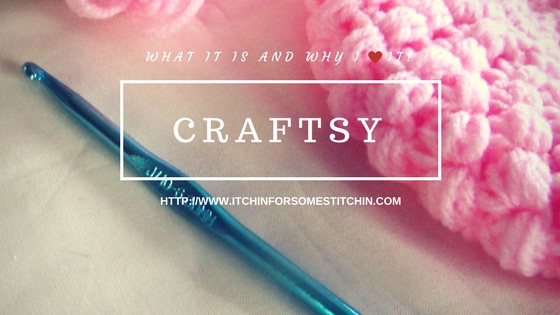 Classes offer a one on one experience where multiple skills and techniques can be taught and mastered sequentially in a set period of time.
And you can interact with your instructor! This is so valuable because you can get your questions answered right away and correct any mistakes you may be making.
But, I know not everyone has time to sign up at the local arts & crafts store, where you have to not only find time to take the class, according to the scheduled times offered, but also time to drive there and back as well. This can be one to three hours of your day or more.
That's why online classes can be so beneficial. They can supply almost all that a traditional class does, but you can hit the pause button when you need to. You can make the class fit into your schedule!
* This post may contain affiliate links. Your support is appreciated! See my full Disclosure Policy for details.
What Is Craftsy?
Okay, before I get into the classes I have taken and why I love them so much, it's important that you first understand what Craftsy is.
Craftsy is a worldwide craft community and online education platform for crafters of all genres. It provides both free and paid online classes, to include quilting, knitting, sewing, crochet, cake decorating, art, and more!
So far, Craftsy has over two million members and with more joining each day. This place definitely has something for just about everyone! Categories range from cake decorating, quilting, sewing, knitting, drawing, painting, photography, cooking, and more.
Don't worry, becoming a member is totally FREE! You can register HERE.
Why I Love Craftsy Classes!
If you are interested in the rigorous process Craftsy takes to create each class, then you definitely need to read this article by Rosa Bakes. However, I am just going to get to the punchline.
Craftsy creates fabulous HD-quality videos that take you on an in-depth journey into the topic of your choice, whether it is sewing, drawing, or even cooking.
Their classes are designed so that you get all the benefits of a traditional in-person class, without all the drawbacks like the ones I mentioned earlier in this article. They are fully interactive with instructors, discussions, fellow students, and live note-taking.
In addition, the classes are completely on-demand, which is one of my favorite things about them. You can pause, stop, and rewind whenever you need to and as many times as you need to. There's even a 30-second repeat feature that allows you to watch the same section over and over until you get it just right.
It's so awesome to have world-class instructors at your fingertips whenever you need them!
And, each class has a 100% money-back guarantee. How amazing is that?
My Craftsy Experience
I registered for Craftsy a long time ago, but honestly, I had never actually looked at the classes. I am an experienced crocheter, knitter, and sewer so, I usually went to Craftsy for all the great patterns.
Then I got an email from Craftsy announcing that all their classes would be free over the weekend. A free Craftsy weekend!
I thought, well, why not take a look. Maybe there would be something of value I could share with my readers.
I decided to take a beginner knitting class called Learn to Knit: Essential Skills for Beginning Knitters by Caddy Melville Ledbetter. Let me just say, I am quite impressed with how well together and through the class is.
It came complete with downloadable course materials, including Knitting Resources and a Metric Conversion Guide. It also had a discussion section where I could ask the instructor questions.
The class was over two hours in total, but was split into seven bite-sized sections: Introduction, Before Starting a Project, Five Most Common Cast-Ons, Shaping, Basic Stitch Patterns & Charts, Little Extras, and Finishing Touches.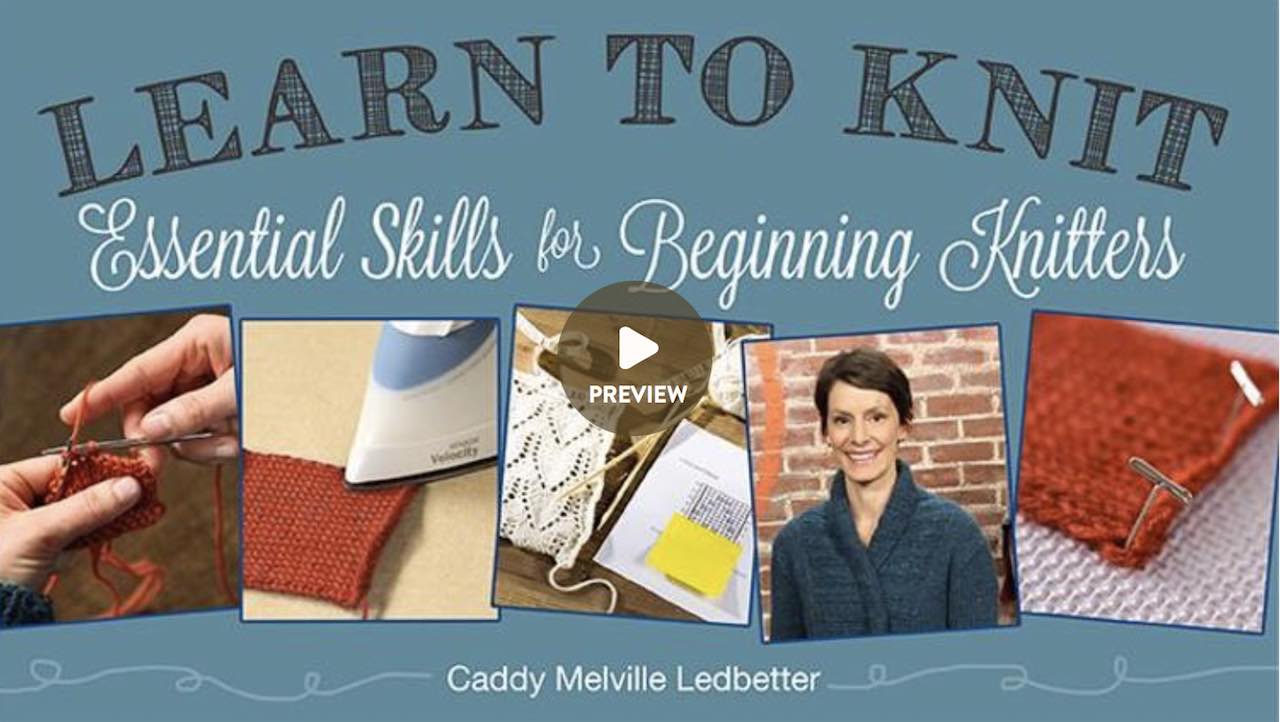 I have to admit, I took longer than two hours to finish the class. That's because I stopped to rewind the class multiple times. I took my time and practiced every technique I didn't know again and again until I was ready to move on.
It was so awesome to be able to watch and rewatch each section at my own pace!
And yes, there were skills that I didn't know. There were actually a couple of cast-ons I had never done before and a few shaping techniques that I had yet to experience. So, that just goes to show you that no matter how experienced you are at something, you can always learn more! You can always improve.
The Pros and Cons
Overall, I would say this is a great course for beginner knitters!
The instructor spoke slowly, explained everything in detail, and was quite skilled at her craft. She demonstrated every technique slowly and thoroughly.
However, I don't think this particular class would be good for the absolute beginner who does not yet know how to do the very basics of knitting, the knit stitch and purl stitch. The techniques demonstrated require one to already have that knowledge.
I also think that this class may be too much for an absolute beginner. Meaning that it covers quite a bit that the absolute beginner may not be ready for and could easily become overwhelmed by.
That being said, if you are a beginning knitter who has already mastered the basics and is ready to go just a little beyond, then this would be a wonderful class for you because it builds on the skills you already have. You will learn so much!
Yay for Craftsy Unlimited!
Okay, now let me confess something. I didn't finish the class. I only made it through the Stitch Patterns & Charts section.
My weekends are my family time. I do not work on the weekends and I only craft if it doesn't intrude on the time with my loved ones.
So, unfortunately, I didn't actually have a lot of time to devote to the class during the promotional "All You Can Watch Weekend". But, I made it through enough of the class to know that the class was top-notch and I definitely want to finish it!
Fortunately for me, there is something called Craftsy Unlimited.
What is Craftsy Unlimited?
Okay, so Craftsy Unlimited gives you the ability to watch any class you want whenever you want.
It's basically a subscription that gives you access to over 3,000 expert video tutorials. You can even access them on the go with the Craftsy Unlimited app for IOS or Android.
You can literally learn how to do the craft of your choice while at the bus stop, on your lunch break, or waiting to pick your daughter up from school, etc.
7 day FREE trial on Craftsy Unlimited
Now, it's okay if you are not ready for all that Craftsy Unlimited has to offer. Maybe you're only ready for a class or two. No worries! You can still purchase individual classes.
And folks, these online classes cost the same as it costs to physically go to an arts & crafts store to take a class, at least, in my experience anyway. An individual Craftsy class costs exactly the same as I paid to do my first quilting class at Ben Franklin's Crafts.
Here are links to Craftsy classes from my favorite hobbies. Remember, these are not the only genre of classes Craftsy offers. There literally seems to be a class for any crafter!
Craftsy Classes
Oh, and don't forget, Craftsy offers lots of free mini-classes as well. You can choose from 50 FREE Craftsy Classes ranging from drawing, painting, and cake decorating to sewing, knitting, crochet, and more.
What are you waiting for? It's free to register, so jump on over and have a look!
Until next time… Happy Crafting!
You May Also Be Interested In:
How to Cast Off in Knitting the Easy Way!
How to Crochet a Foundation Chain (chain stitch)
How to Fix Sewing Machine Thread Bunching Up