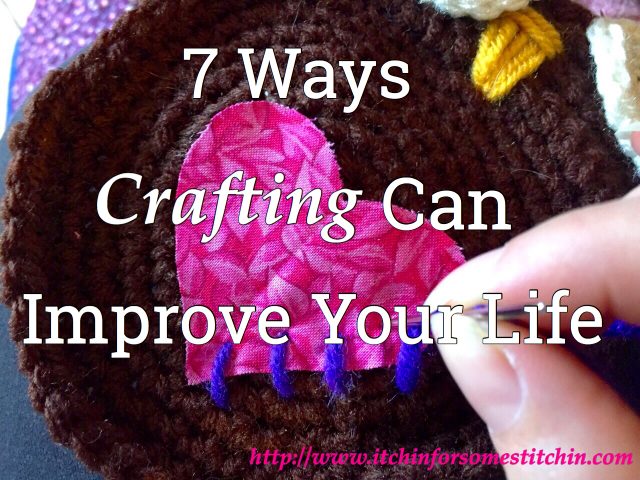 Hiya folks! First, let me say that I'm sorry. I know this post is coming late this week and, equally bad, it's not the post I had planned. It's my baby's fault. Truly it is.
My five month old's sleeping schedule suddenly became erratic this week and it is nearly impossible for me to work during his waking hours. If you have an infant at home then I know you understand. If you don't, well try to imagine my situation and forgive me anyway. ?
So, before I knew it, the week was over and it was too late to do all the work necessary to get my originally planned post finished. After my little man finally fell asleep, well past midnight last night, I laid in bed searching the recesses of my exhausted brain for a new idea. Yet, all I could think about was how much I missed my crochet hooks, knitting needles, and sewing machine.
I simply adore my son and I wouldn't give him up for anything, but having an infant, especially a no nap taking night owl infant, means little and often no "me" time. Heck, sometimes I am lucky if I get to brush my teeth, so when I do get to craft it feels like winning the lottery.
As I mourned my lack of craft time last night, I started to think of all the reasons crafting was so important to me in the first place and viola! I had this week's post!
Crafting is important to me because it improves the quality of my life. A little research has taught me that it also improves the lives of others. Let me share with you seven ways crafting can improve your life.
Crafting can…
1. Relieve stress
If you follow my posts regularly or have read my about page then you know I began venturing into the fiber arts through a church knitting group. What you don't know is that I joined the group because I needed to. My life was falling apart. My health was suffering and my personal life was in shambles. Knitting gave me focus. I put all my anger, sadness, fear, and frustration into each stitch. It kept my mind off my troubles and centered it on creating.
Nowadays, I not only knit, but crochet and sew as well, yet one thing hasn't changed. Crafting makes me feel better. It can seriously improve your mental health. I have read that needle crafts can actually curb anxiety and depression as well as reduce the symptoms of many medical issues, including Multiple Sclerosis and Fibromyalgia. Crafting is like medicine without the side effects!
2. Make you happy
Crafting is fun! Not only does it relieve tension, but it can bring joy as well. I actually love the process of crocheting, knitting, and sewing. Each stitch is like adding a brick to a house. I am building. I am being productive. And it is thrilling!
When I complete a project, especially a particularly challenging one, the sense of accomplishment can be exhilarating. I created something! I took a bit of material and turned it into something new & useful. A simple scarf or a complex blanket, it doesn't matter. I created it. Crafting can actually improve your self-esteem!
3. Improve your relationships
I love sewing with my two step-daughters Dakota and Kassidy. Crafting together is great bonding time. We chat, laugh, and learn. Sometimes I am the teacher, sometimes we learn together, and sometimes the girls teach me a thing or two!
Although it's harder now with a new baby, sometimes I still go to my grandma's and spend the day knitting or crocheting with her. It's our time to share our projects, trade tips, and just catch up on each other's lives. Crafting brings us closer.
Crafting can be a social outlet and lead to new friendships. If you craft in a group like my church knitting group be ready to meet some great new people and set up some wonderful friendships. The women in my knitting group were my first craft teachers and my first source of encouragement. I sometimes still contact them when I have a particularly frustrating knitting issue.
4. Stimulate your mind
Whether you use a pattern or choose to "wing it", needle crafts need a lot of thought. Knitting, crochet, and sewing patterns can be a bit like reading a foreign language. You have to understand and process the words, abbreviations, and symbols. If you are not using a pattern you are still taxing your mind as you are essentially creating your own pattern as you work.
Using or creating patterns involves math. When you knit or crochet you must count stitches and rows. Often you need to measure your project to make sure it meets the required dimensions. Sewing involves cutting fabric into specific sizes, putting the pieces together like a puzzle, and measuring seam allowances, which involves fractions. All three crafts need the math skills to determine the amount of material needed for a particular project.
But most of all folks, crafting is an art. It doesn't just need reading and math skills. It requires imagination. The fiber arts stimulate your creative thinking!
5. Beautify your home
I'm no interior designer, but I do know that just the right touch of color, a specific shape, or a particular texture can liven up a dull and dreary room. Sometimes the perfect accent pillow is all your favorite chair needs to stand out and be noticed. Can't find the perfect pillow? Make it yourself!
From pillows to blankets to curtains to rugs, the products of your creativity add personality to your environment. In fact, it adds your personality! The colors, shapes, and textures you create with, the type of projects you choose, and the style with which you create are all a reflection of who you are. So, surround yourself with the things you love and the things you create. Make your home as beautiful as you are!
6. Make others happy
Handmade gifts are all the rage now! Don't believe me? Check out Etsy. Better yet, hand make an item for someone and watch his/her face light up. When I started knitting and crocheting I considered it an "old" person's hobby. I was doing it, in part, for therapeutic reasons. I didn't think anyone would actually want any of my creations. Yet, after a while, I had so many hats, shawls, and scarves cluttering the house that I gave them a way just to get rid of them. And you know what? People LOVED them!
They loved them so much, in fact, that I began to purposefully create handmade gifts. One Christmas every gift I gave was either knitted or crocheted. Believe it or not folks, people love to receive handmade gifts because handmade gifts are usually made with love and intent.
It takes the creator time, effort, and thought to make something with his or her own hands. When someone puts energy into making something just for you, it shows how much you mean to them. The joy on the faces of those who receive my handmade gifts makes the effort worth while. I hope the joy on my face when I receive a handmade gift, like the crochet slippers or knitted leg warmers for my little boy that my grandmother made, expresses how thankful I am that he/she took the time to create something special just for me.
Now, don't forget charity gifts. Just because you don't know someone personally, doesn't mean you can't light up his/her life with something special made by hand just for him/her! For more information on how you can get involved in crafting for charity, please follow my crafting for a cause series where each month I highlight a specific cause in need of your crafting talent and generous heart.
7. Improve your finances
This may seem to be a strange addition to this list, but hear me out. However, if you don't need to improve your finances, feel free to skip this one. Or, perhaps you don't believe in adding a price tag to your work and choose to keep or give them away as gifts to charity or friends, that's fine too. To each his own.
I have chosen to not only use my craft for myself, gift giving, and charity, but also as a business. The reason is simple and his name is "DJ". I have a deep wish to stay at home and raise my little blessing, but I also need to help with the finances. It is difficult for a family to survive on only one income. I am sure there are tons of people in similar situations. Whatever the financial reason may be, selling your creations can be a viable source of income.
I opened my Etsy shop a while ago, but admittedly, I never put too much effort into it. I simply wanted to see if anything would sell. I thought maybe it could bring in a little extra here and there, and it did. Then my son was born and I have begun to take my hobby as a business more seriously. I am working hard in my spare time to replenish my shop (I just had a multiple items purchased. Whoot Whoot!) and hope to have it booming in no time!
God has blessed each of us with multiple talents. If one of yours is crafting and you have an entrepreneurial dream, I urge you to shake off any doubts and make it come true! Your crafting skills can improve your financial situation and make it possible to live the life you truly want. Believe in yourself, believe in your talent, and take action!
Now folks, this post is based on my personal experience with the fiber arts. Everything listed is mentioned because I have observed them personally in my life. Yet, it turns out that my observations are actually dead on! Particularly ways one through four.
I didn't realize it, but the health benefits of crafting, particularly needle crafts, are actually well documented. There is even scientific data suggesting that crafting can truly improve the quality of your life!
Curious about the supporting data? Then stay tuned to the blog because I will definitely be posting an in depth article on the health benefits of needle crafts. I am going to science geek it up! Oh yeah! Okay, okay, I'll only science geek it up a little.
What other ways do you think or know from personal experience that crafting can improve lives? Please share!
Until next time…. Happy Crafting!
Did you enjoy this post? Then don't miss out!
Subscribe to the blog to get posts in your inbox.
This post has attended the following link parties: