"It's for the Babies!"
~The Preemie Project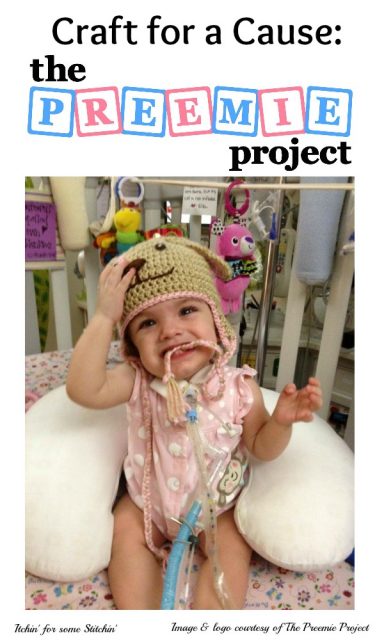 There is nothing more wonderful or amazing than a baby. There is nothing more challenging than watching your baby struggle to survive. And there is nothing more devastating that the loss of a little one. I say these things with heartfelt sincerity. Maybe I believe them because I just had my first little one 8 months ago, so now I have the love of a mother's heart, but I'd like to think that everyone believes them.
Since the birth of my son I can't stop thinking how lucky I am. How lucky I am to have him. How lucky I am that he was born perfectly healthy. How lucky I am that he was not premature and had to fight to stay in this world. Indeed, I am lucky. But not every baby story is as lucky as mine.
Some babies are born early. Some babies do have to fight to live. Some families spend weeks, even months, with fears, heartaches, and challenges that I will never know. Thank goodness for organizations like The Preemie Project.
The Preemie Project was founded in the spring of 2005 by Iowa native Laura Aker. Driven by a desire to use her knitting skills to help others, Laura decided to knit booties for the local children's hospital, University of Iowa Children's Hospital. After learning that the hospital's Neonatal Intensive Care Unit (NICU) would need hats, booties, and blankets for over 900 infants each year, Laura enlisted a host of others to join her in knitting and crocheting for premature and critically ill patients. Thus, The Preemie Project was born.
The mission of The Preemie Project is "to provide comfort and support to critically ill infants and their families in Newborn Intensive Care Units in Iowa". With the help of a devoted group of local and national volunteers The Preemie Project supports eight Iowa hospitals. Support comes in the form of handmade hats, booties, and blankets, blank sleepers, NICU bedding, family support, bereavement, and memory boxes.
The Preemie Project website provides patterns, donation tags, a yarn list, and detailed guides about how each item should be made, the items, sizes, and colors needed most, a measurement guide, and even particular crafting guidelines.
For hats, booties, and blankets, the greatest need is holiday and special event donations to bring some cheer into the NICU for families. They do still supply some regular hats, booties, and blankets, but generally they have plenty of these items.
The NICU Bedding Program creates a comfortable, non-sterile environment for families with donations of soft colorful sheets. Since infants in the NICU are initially critically ill, most of the caregiving activities are performed by the nursing staff. The first and often the only caregiving act parents are able to do is pick the sheets for their infant's bed.
Blanket sleepers are actually part of the Family Support Program. The Family Support Program strives to ease the financial stress that often comes with having a critically ill infant, as these preterm babies are often hospitalized for weeks or even months. Families receive gas cards, bottles, blanket sleepers, burp clothes, onesies, and more. The Preemie Project website provides a thorough list of items accepted in the Family Support Program.
The Bereavement Division of The Preemie Project seeks to give solace to families suffering from the loss of a child by providing remembrance items such as miscarriage blankets, memento bracelets, burial gowns, and burial blankets. Please see their website for details regarding colors, fabric choice, crafting guidelines, and other guidelines.
The Memory Box Program is a subset of the Bereavement Division and aims to provide a place to hold special items of remembrance for families. Although The Preemie Project holds periodic workshops to make the memory boxes, instructions are provided on the website.
If you live in Iowa, there are multiple donation centers where you can drop off your gifts. For all others, donations can be mailed to:
Include the following with your donation:
First and Last Name
Home Address
List of Items Donated
Email (Optional)
However, before you drop off or mail in your donations, I urge you to take a thorough look at The Preemie Project's website to be sure that you will create your heartfelt gift at according to the necessary guidelines and in the best way possible to meet the most urgent needs of the babies and families you will be helping.
As you are researching the website, please don't neglect the Thank You's tab. As you read about The Preemie Project it is easy to logically understand why the organization was created and definitely come to understand the mission–the what they do–of each program, but it is in the Thank You's that you truly feel the importance of The Preemie Project and the donations they provide. It is in the thank you letters that you truly feel why the organization does what they do.
Although each letter shared a different, but similar story, all of them were grateful for the gifts they received.
"There is nothing more heartbreaking than seeing your child near death, and then in turn feeling the joy of finally being able to put her back in your arms – wrapped in a blanket and a hat made with love". ~The Specht Family
This line in the letter from the Specht family literally broke my heart and made me cry. The family goes on to write that although their daughter has outgrown most of the gifts provided by The Preemie Project, they are still comforted by them.
One thing I know about being hospitalized is that the medical staff fills you with tubes. Tubes in your nose, tubes in your arms, tubes attached to your chest, and sometimes even tubes in other places. The same is true for these babies in the NICU. Only it must be worse for them because their bodies are so tiny. Can you imagine looking at your teeny little one and seeing mostly tubes? For many families with preterm babies, this is a reality.
The babies can often look like something out of a Sci-fi movie. Many of the letters expressed how finally seeing their child in an outfit, hat, or blanket donated by The Preemie Project helped to cover all the tubes making their baby seem more "real" and less like a "robot baby". These gifts add warmth, color, comfort, and humanity to an often surreal situation filled with fear, helplessness, and the feeling that you are completely alone.
What an honor it would be to be a part of something that gives so much to others, wouldn't it?
If you feel the call, please go to The Preemie Project's website and follow the guidelines for donating your handmade items of love to these beautiful babies and their families who desperately need the joy and comfort your gifts can provide.
Until next time… Happy Crafting!
This post has attended the following link parties: